What Is Ecommerce Marketing?
Ecommerce marketing involves using a campaign to bring in new customers and encourage returning customers. You can use eCommerce tactics for businesses of all sizes and can easily implement your ideas with the right tools. 
Here are 10 tips to help you with eCommerce marketing:
1. Maximize your Email Campaigns
Email marketing campaigns are a fantastic way to encourage direct contact between your company and your clientele. Customized emails provide a more personal reach than social media.
There are several strategies for email campaigns that can improve results.
Welcome emails: Let new customers know the benefits of subscribing to your emails.
Newsletter emails: Add a personalized touch with updates on the business as well as offers can improve traffic to your website.
Thank you emails: Since customers are likely checking for emails from you after a purchase, this is an ideal way to promote offers.
Promotional emails and free gifts: Show your customers what they could be buying, and sweeten the deal with a gift or discount.
Birthday emails: These add a personal touch to any a gift or special offer.
Shopping cart drop-out emails: Remind customers of what they could have while also adding information on related products and offers.
Here is an example of an email campaign for Uncle Jack's, offering customers a "Christmas in July" discount for ugly Christmas sweaters: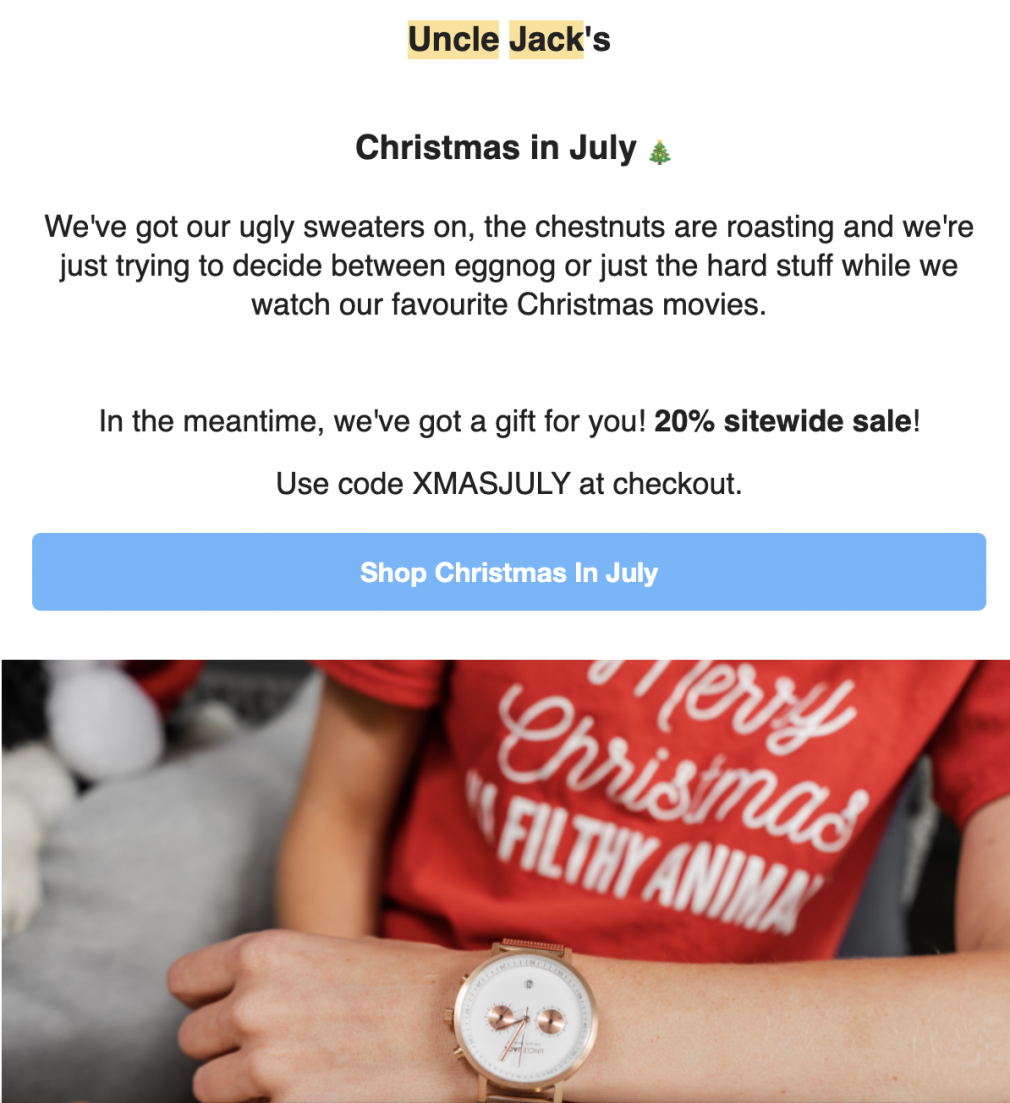 2. Make the checkout process easy
According to the Baymard Institute, 68% of shopping carts will be abandoned before a sale, so it's wise to make the checkout process as user-friendly as possible. Here are some common pitfalls to avoid:
Prompting to create accounts: Forcing customers to sign up to purchase can chase many customers away. Instead, allow direct purchases.
No progress bar: Show the customer how many steps they will need to take to complete the purchase, and make sure they know at every step how far they are. A process is much easier to understand if it is broken up into clear steps.
Lack of payment options: Ideally, you should be offering four or more options for payment. Many people are uncomfortable with putting credit/debit details into store sites, so consider adding options for paying via an app, payment gateways, and online banking.
Here is an example of a checkout page from Etsy. Notice the progress bar along the top showing 3 steps until checkout is complete, and it clearly shows this page is a secure page.
3. Make your website mobile-friendly
It is anticipated that this year 53.9 percent of all eCommerce transactions will occur via cell phone. It's no surprise that mobile shopping is popular and your eCommerce strategy should reflect this. 
However, there's nothing more discouraging to a shopper than discovering that the site they're shopping on is too big for their screen, or is harder to navigate on their smaller device. 
It's important that your customers can access your site anywhere, but there's an added incentive: Google's algorithm now rewards mobile-friendly sites with higher rankings.
It's impossible to test your site on all the different makes and models of cell phones and browsers available, which is why 3rd party tools come in handy.
4. Shop Socially
In the current climate, customers are turning to online shops for their necessities and wants. 
There is another thing your customers are doing more of: surfing social networks. Facebook and Instagram now have shopping features that you can utilize to increase sales and target audiences that may have missed you through other channels.
The benefits of these platforms include product tagging, where you can upload photos and videos with your product tagged, giving the user a more organic shopping experience. 
Checking out on each platform is also user-friendly, with platforms providing their own checkout system or allowing your business to nominate their own preferred options.
Below is an image from an Instagram post with products tagged and the option to view products. Clicking on a product tag takes you directly to the products, so you can add them to your cart and buy.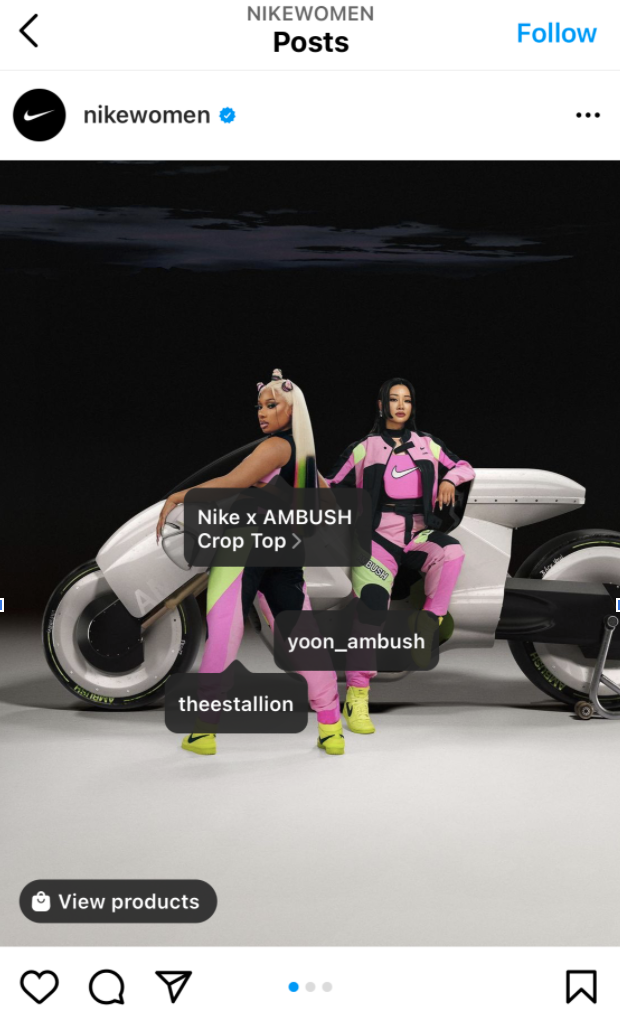 5. Posting user content (Referral marketing)
Publishing user-generated content is an excellent way to build trust in your company and to encourage shoppers to engage with your brand. It's also budget-conscious form of marketing, as other users are creating the content for you. 
Consumers are 2.4 times more likely to trust user-generated content than media created by the company, and that can translate to a lot more sales.
To successfully utilize user-posted content, you need to find your customer reviews. Once you have found a few reviews you want to share, it's important to gain permission from your customer before re-publishing their posts. 
6. Create a blog
Blogs are a great way to increase your online presence, but not all blogs are equal. Understanding your customers is vital to a successful blog.
Utilize different media within your blog posts. Break up text with videos, run webinars, and publish how-to guides featuring your products. 
The more useful the information in the blog post is to a customer, the more likely they will go forward with purchasing your product.
7. Invest in Micro-influencers
Influencer marketing can seem expensive, but micro-influencers are usually attainable on a small business budget. 
Social media users with 10-30K followers are considered micro-influencers and while they don't have the followings of the macro-influencers, they are still seen by a lot of people.
Micro-influences are often happy to promote your product for a small fee or free products from your business, so they are much more affordable. They also present as authentic, as they appear more home-based than a polished corporate machine.
A micro-influencer who is already posting content that aligns with your business's identity can help publicize your product, particularly if your business is in a niche market.
8. Invest in a PPC marketing campaign
PPC, or pay-per-click advertising, is present on many different platforms, but the most common place is search engines. For this brief overview, we'll look at Google PPC. 
Pay-per-click ads appear at the top of the SERP when a user searches a specific keyword or keyphrase. When a user clicks on your ad, you'll pay a fee. How much you pay will depend on how much you agree to pay via Google Ads, but it can also be reduced according to Google's algorithm. 
PPC advertising can be a quick way to get traffic to your site, but there are many variables involved. You can also use third-party tools to help you manage your PPC campaigns, like those found in the PPC Advertising Toolkit.
Use the Advertising Research tool to research your paid search competitors, any keywords they're currently bidding on, and their current live ads. Simply enter in their domain:
You can also use the PPC Keyword tool to help you optimize and organize your Google Ads keywords.
[create-campaign destination_url=" https://www.semrush.com/features/advertising-research/" show_input="false"header="Uncover Your Competitors' Search Ads" text="with the Advertising Research Tool" button_text="Try for Free" bg_images=" https://static.semrush.com/blog/uploads/media/96/fd/96fd495930d058321d5f78f5554aff88/trial-superbanner-1.png"bg_button="-success"]
9. Frequently Asked Questions
Frequently Asked Questions (FAQ) pages make navigating your site easier for your customers. You'll also spend less time answering queries you receive often.
While many business websites already have an FAQ section, a well-organized FAQ can be a valuable marketing tool.
The use of SEO data, keywords, and internal links can take your FAQ page from being helpful to customers to being a vital marketing tool to encourage purchases and lure in new customers.
FAQs should be seen as an ongoing project, not something to set up and forget. As new queries appear, update your FAQ to reflect this.
10. Target Repeat Customers
Repeat customers are the most accessible because they already know about your brand and have interacted with your product. Forbes Magazine reports that marketing to existing customers costs a fifth of the budget for targeting new customers.
That doesn't mean they will automatically shop with you again, so having some strategies to keep them coming back is important.
As we have examined above, email marketing is a great way to promote your products and services, and repeat customers are easily accessible by email.
Offering rewards and loyalty programs for repeat shoppers can drive traffic to your site and encourage further purchasing. These can take the form of special discounts for repeat customers which can be applied to products and/or shipping. 
Free gifts or samples can also be offered to repeat customers or included with the initial purchase to incite interest in other products you offer.
Final Thoughts
With these strategies, any business can develop or improve its eCommerce marketing strategy.
Add any necessary third-party tools so you can work smarter, not harder, when growing your business.