In the age of digital marketing, every business wants a blog that attracts large volumes of organic traffic.
Before you can achieve this, though, you need to know:
what a successful blog post looks like; and
why and how such a post attracts traffic.
One of the best ways to do this is by analyzing existing blog posts and identify what makes them so successful in terms of organic traffic volume.
We've selected three high-performing blog post samples (in terms of monthly organic traffic): a listicle, a "how-to" guide, and a checklist. We chose these formats as they are popular with most audiences and usually lend themselves well to effectively solving user queries.
We've highlighted what these posts do well and covered how to apply these practices to your blog posts.
Listicle Blog Post Example
Listicles ‒ articles presented in the form as lists ‒ are a trendy content format because:
They appeal to our brains' tendency to categorize things.
They promise a finite, quantifiable story, suggesting an "easy" reading experience.
They satisfy our need to consume and retain information with little effort.
In other words, their list-based structure aligns perfectly with how our brains process information. This suggests that the listicle format can be handy when covering a broad topic or breaking down a complex subject, allowing you to communicate your message more effectively.
To understand what this looks like in real life, let's analyze a listicle by Oberlo, an online drop shipping consultancy.
Their blog post, " How to Make Money Online: 28 Real Ways to Earn Money Online," ranks in Google's top spot for a highly competitive keyword ("how to make money online"), and the list-based structure of the post is a big part of this. Oberlo understands that when this query appears, searchers are likely looking for a list of ways to make money on the internet.
As we can see using the Domain Overview tool, Oberlo's listicle blog post receives vast amounts of organic search traffic. Crucially, it has excellent engagement metrics, too; readers tend to stay on the site for some time and visit other pages, and the bounce rate is low. 
When we look more closely at the post, we can identify some of the other factors that have contributed to this organic success:
It is practical and valuable content. As noted above, the listicle format can make your post more manageable for visitors to read and digest. However, structure alone is not enough. The content itself needs to offer them value.
Oberlo offers a wealth of helpful suggestions for readers and includes valuable sources of information for each listed item. This allows them to dive deeper into the subject should they choose.
For example, in the "print on demand" section, the author goes beyond just providing an idea; she explains very briefly how it works, what marketing channels to use, and which platforms to get started on.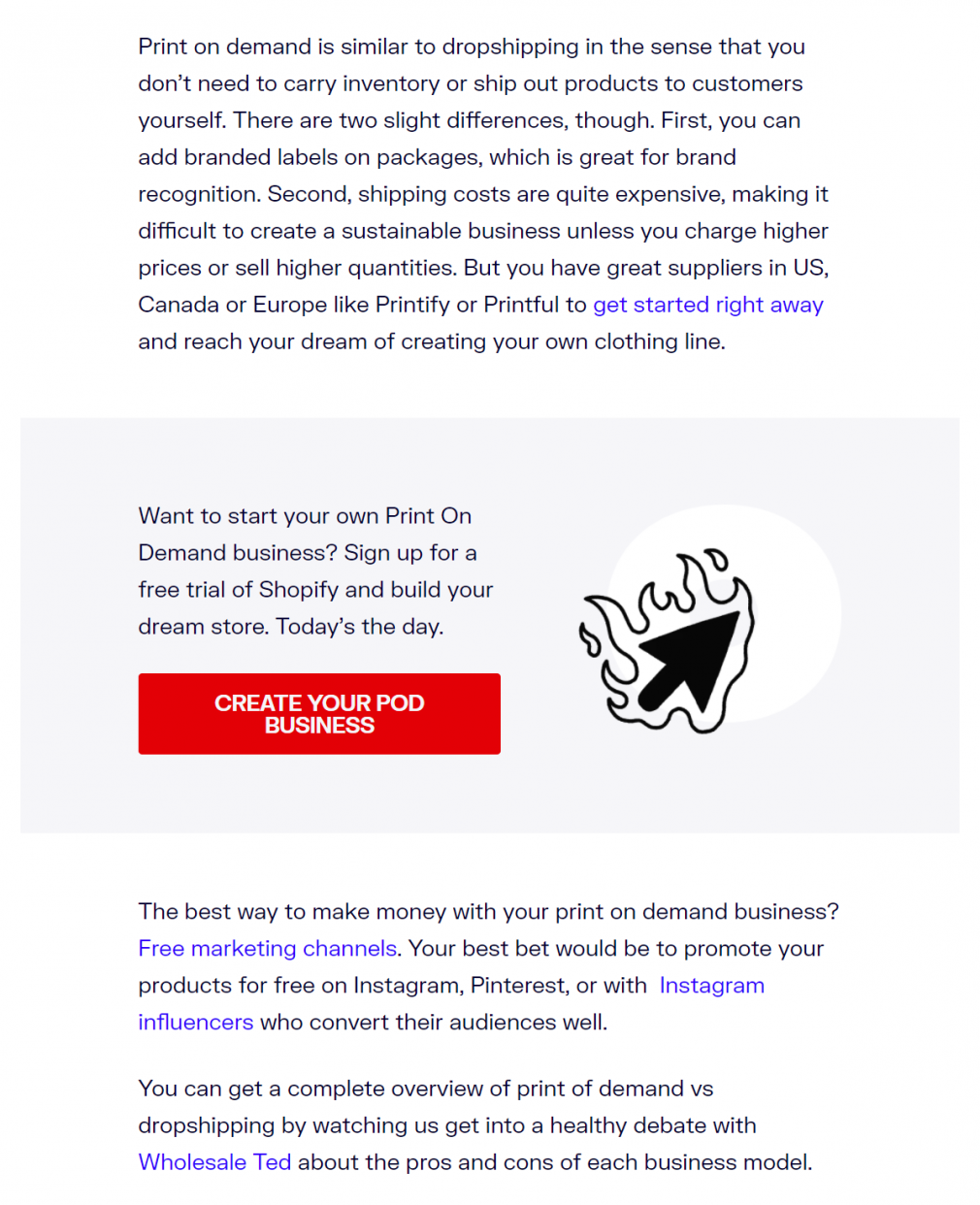 Instead of regurgitating second-hand advice from other sites, they've also included links to other authoritative and credible sources. This not only offers more value to the reader but can make for a powerful pillar resource. 
Consider this technique for your blog posts, as you want to establish credibility in your niche and create content that others will be willing to share and link to.
It provides a strong user experience. You can publish the most valuable and brilliant content ever created, but it doesn't matter if it's a struggle for your reader to process it.
To help ensure their content not only offers value but is also presented in an easy-to-read format, Oberlo has paid attention to:
Using white space to the text breathing room and assists in the reader's ability to consume information.
Incorporating exciting and relevant visuals to support the text and can significantly increase reader engagement.
Minimizing intrusive advertisements, which can negatively affect page ranking.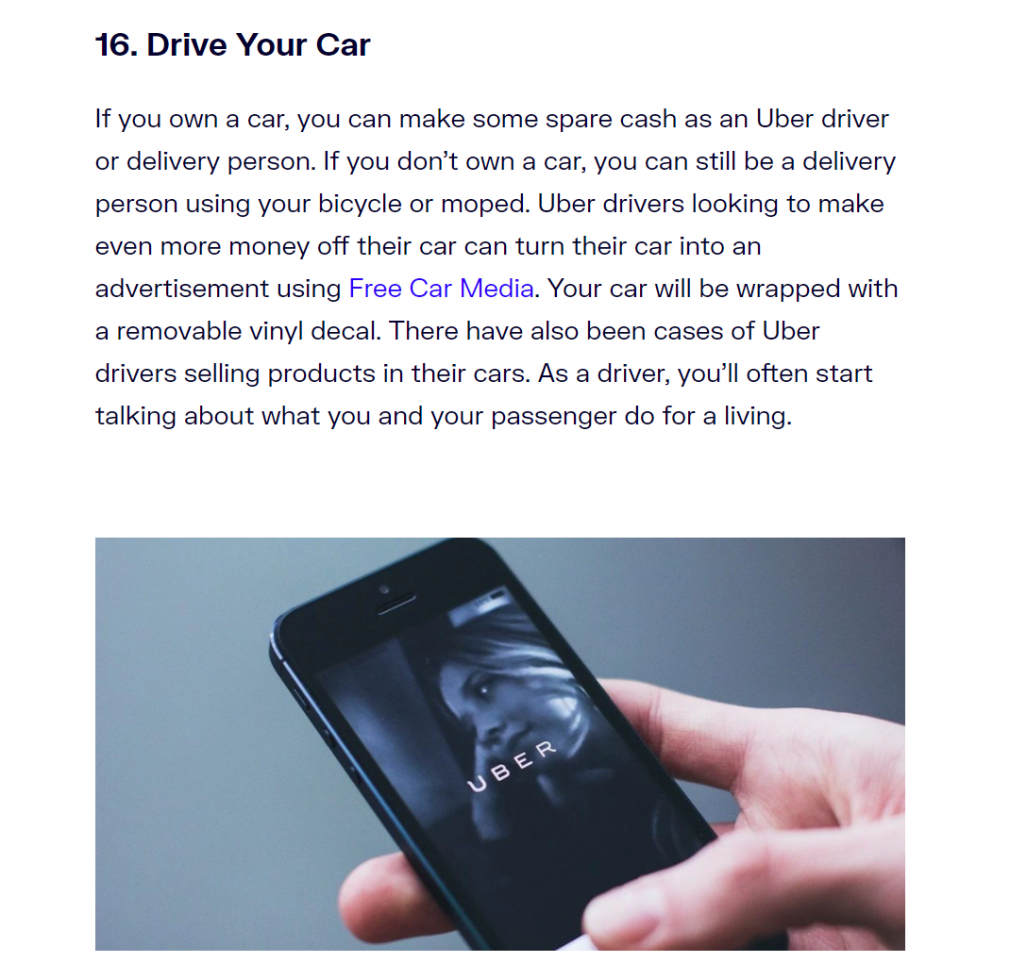 If the page layout is confusing, full of text blocks, or covered in ads, the content can become unreadable. People will likely hit the "back" button, resulting in a high bounce rate and, more importantly, a total lack of engagement with the piece.
It is optimized for search. A golden rule of content is that you should always write for humans – not search engines. However, that doesn't mean you should ignore on-page SEO.
In this regard, Oberlo's post ticks all the significant SEO boxes:
Contains main keywords in the title
Uses a logical header structure
Features a healthy number of working internal and external links
The On-Page SEO Checker can be a quick, easy, and reliable way to ensure they are effectively optimized for search engines when evaluating your blog posts.
It puts user intent before self-promotion. Oberlo demonstrates that they understand what users are and aren't looking for when conducting their search in their listicle. For example, take the first section on dropshipping, which is the company's core product.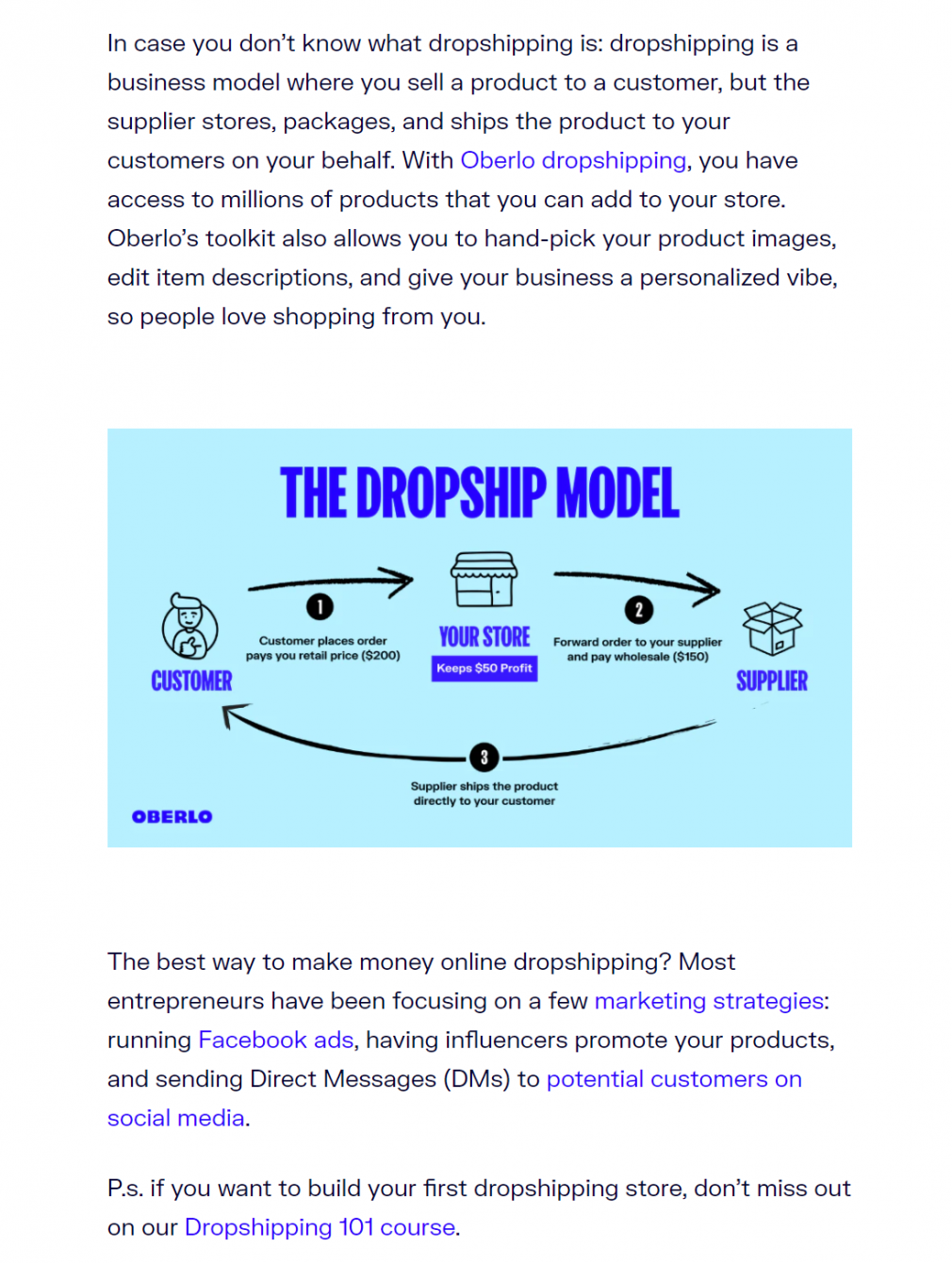 Dropshipping is an excellent way to earn money online, so it's a natural inclusion on the list. Conveniently, it's also an excellent opportunity to mention their own product and explain how it can help the reader should they wish to try dropshipping.
Oberlo knows that users are simply looking for a list of ways to make money online based on the search query. They are not necessarily interested in making purchases or signing up for subscriptions. This is an important consideration, as the crux of the content is to satisfy the user's search intent and provide a solution to their problem, not to try and sell them something.
Are you considering a listicle format for your next blog post? The Topic Research tool can help you spot new topic opportunities, generate headline ideas based on top-shared headlines, and even discover the top questions people ask about a topic.
"How-To" Blog Post Example
"How-to" blog posts generally focus on solving a specific user problem. They can range from addressing extensive topics (e.g., "How to Start a Business") to niche topics (e.g., "How to Change a Tire").
Looking once again at organic traffic as our prime metric, one company that has leveraged this approach is Novoresume with their blog post " How to Write a Cover Letter in 2021."
As we can see, this "how-to" guide has generated an impressive amount of organic traffic, as well as a good set of engagement metrics: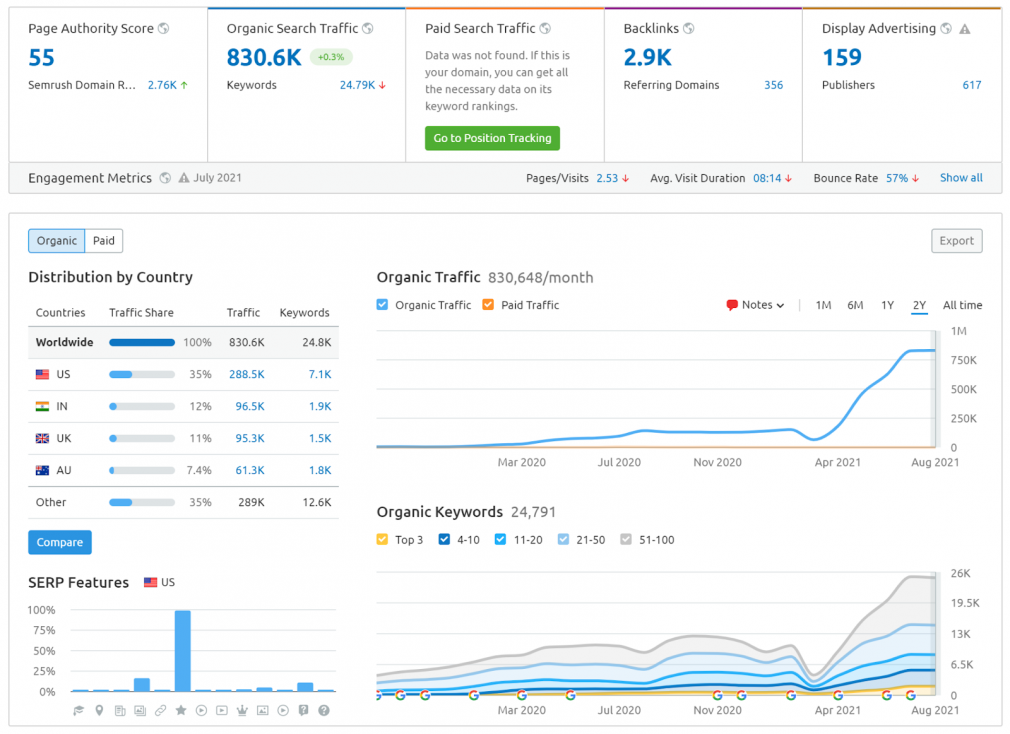 Here are some of the key factors that may have contributed to this metric:
The H1 title is compelling and optimized. It's essential to carefully consider your H1 titles because they provide an opportunity to include your target keyword. In turn, this influences your ability to increase organic traffic to your site.
A compelling H1 title should:
Clarify what the article is about.
Identify who it's relevant to.
Indicate how the content will benefit them.
Be between 40 to 60 characters.
Novoresume's post title illustrates this perfectly, as it:
Contains the target keyword ('How to write a cover letter').
Conveys that the information includes the latest trends and developments in this field ("in 2021").
Clarifies that the article targets those with limited experience or knowledge writing cover letters ("for beginners"). 
Is 54 characters in length, meeting the optimal suggested criteria.
These elements can help both humans and SEO bots know that the article is relevant to the search query.
The brand understands its target audience. If a user is using the search term "how to write a cover letter," then it's clear that they are looking for some form of assistance.
Novoresume understands this and addresses the reader in an empathetic and personal way, almost like a one-to-one coaching session. The tone is friendly, sympathetic, and reassuring throughout and communicated through short, clear sentences that do not overload the reader.
The article is structured. "How to" guides are often both instructional and chronological, so it's essential to structure the content in a way that is intuitive and easy to follow.
For example, Novoresume first establishes what cover letters are and why they are important: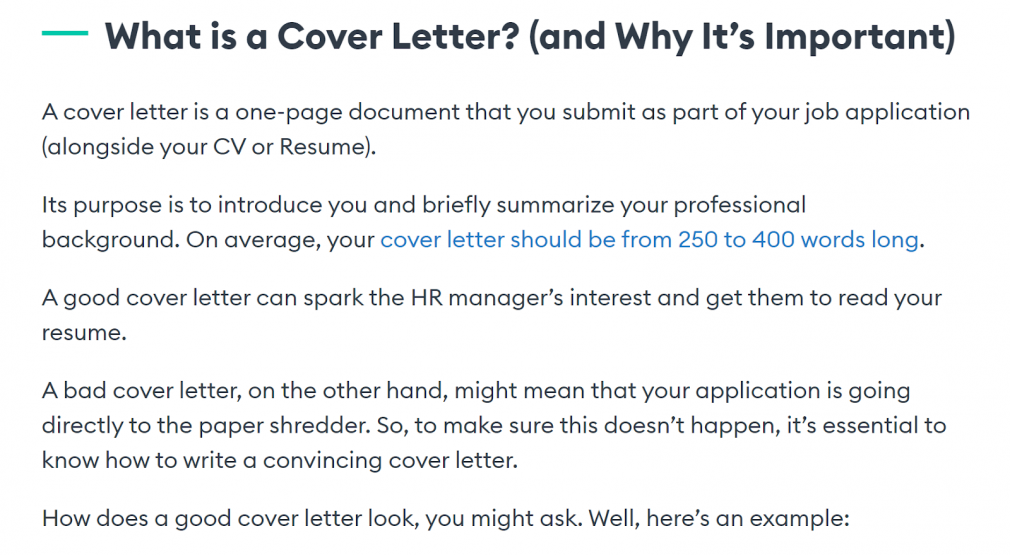 The content then segues into a comprehensive step-by-step approach of how to write one. This logical flow allows the reader to comprehend creating a cover letter and even build out their own as they read along.
The post also features intuitive visual aids within its design, such as green text boxes that display helpful supplementary tips and red text boxes that highlight things the reader should avoid.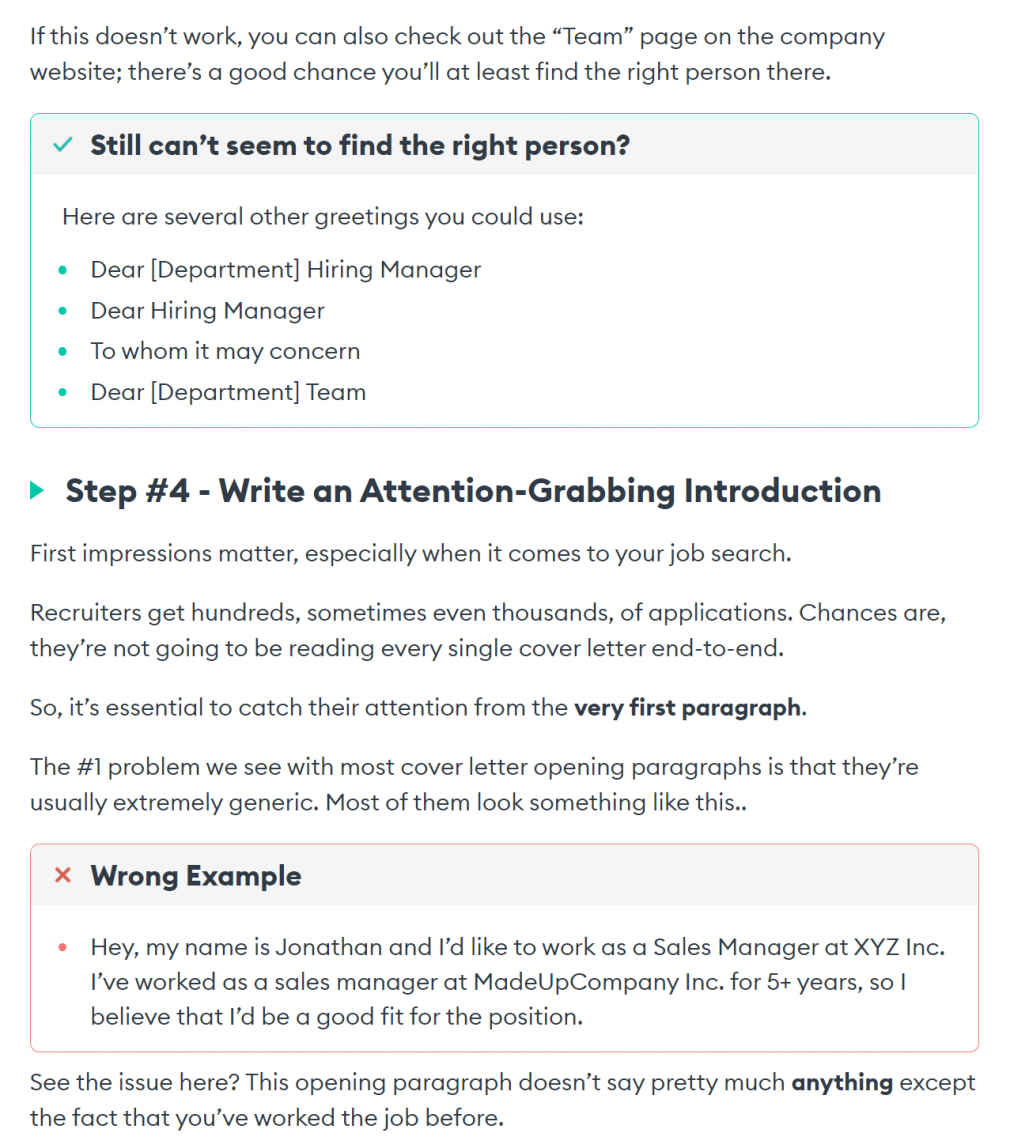 This helps to clarify specific points and provides a more straightforward instructional guide, which contributes to a more positive and valuable user experience.
It includes examples. In any "how-to" post, it can be difficult for readers to understand abstract concepts and instructions simply by reading about them. Therefore, it's important to give actual examples that illustrate and clarify the points you make.
Novoresume offers a whole section of examples of what a completed cover letter should look like and provides broken-down examples of individual sections of the cover letter.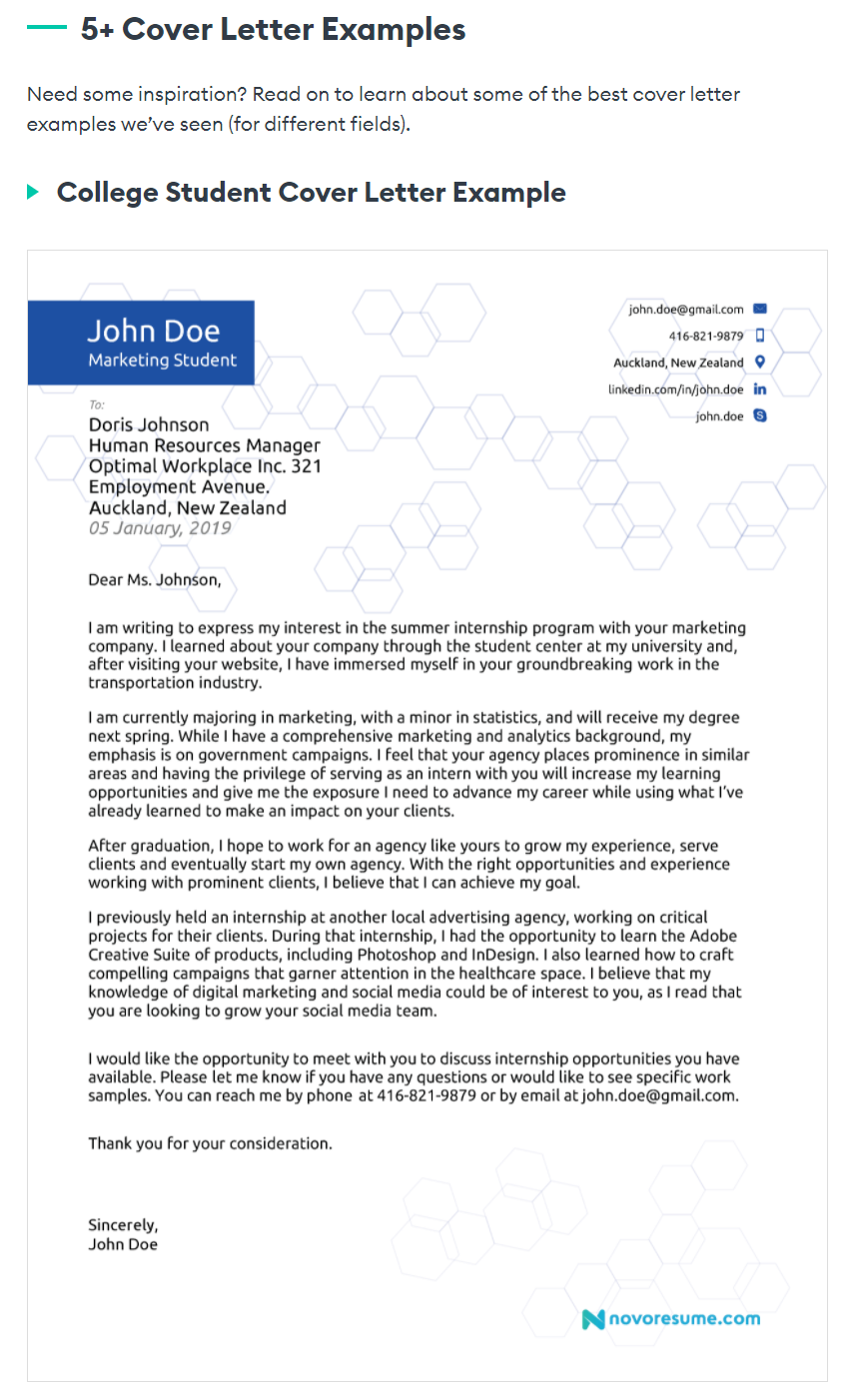 Including examples within how-to articles is useful for the reader and can significantly enhance the value of the content. This contributes significantly to its quality and usefulness, helping it to rank higher and attract more traffic.
It offers authority and expertise. While it may not be an outright ranking factor, the author's authority in a "how-to" guide can influence the level of trust and credibility you build with your audience.
Readers might question how the author is qualified to share such guidance. Therefore, it can be good to include a short bio about the author and why they are a reliable source of knowledge or expertise on the topic.
In Novoresume's post, the author has a short bio that highlights their professional writing of CVs and cover letters. It also contains a link to their LinkedIn profile.
 


 
Checklist Blog Post Example
While checklists have similarities to listicles, there is less of an emphasis on providing supporting content for each item of the list and more on simply showcasing the list itself. An excellent example of this is a checklist post by Smarter Travel titled " The Ultimate Packing List."
Unlike the other blog writing examples in this article, Smarter Travel is not directly marketing a core product within their content (they appear to generate revenue from commissions, affiliate deals, and advertising). As a result, organic traffic is a significant potential source of income for them.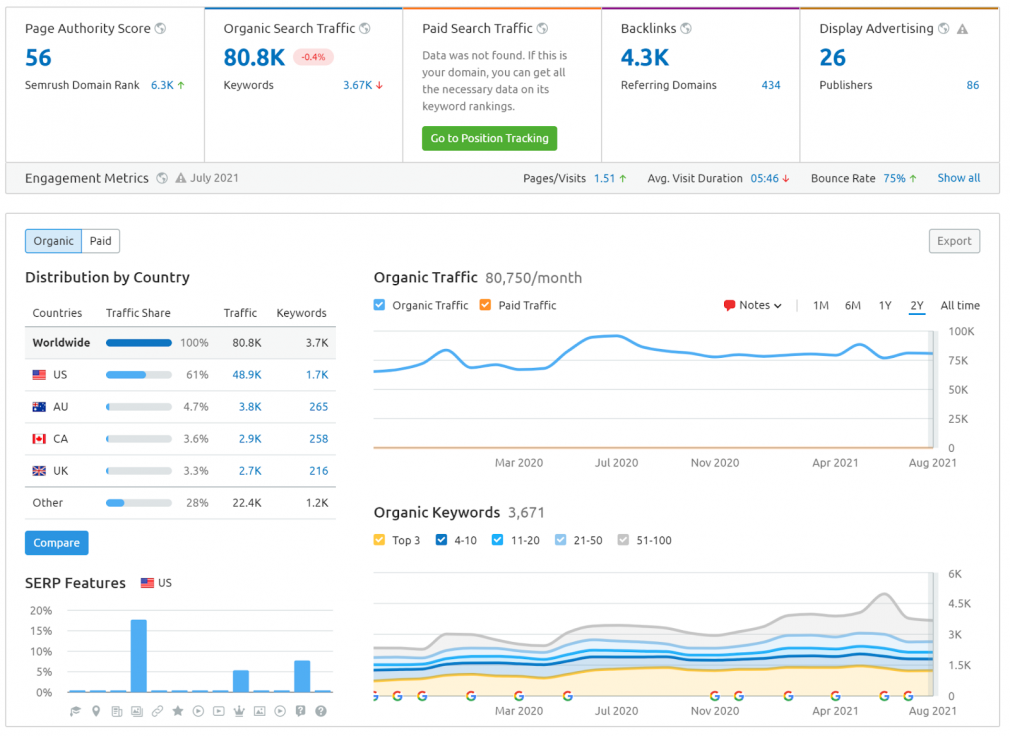 As we can see, Smarter Travel's checklist post has attracted significant amounts of organic traffic. Let's look at some of the factors that have enabled this:
The content is practical for the reader. Whenever you conduct an activity that requires a checklist, it's always beneficial to tick off what you've done. This is especially true for packing, where it can be easy to forget small things.
Smarter Travel solves this by offering a simplified, printable PDF version of the checklist. As a result, the content is useful, valuable, and aligned directly to searcher intent, making it more likely to rank.
Offering additional resources as part of your post may require some technical expertise behind the scenes and other input from writers and designers. If it provides value and provides a definitive solution to your audience's problem, then it's worth going the extra mile.
It provides added value to the reader. Smarter Travel's actual checklist is comprehensive enough in itself. The post also seeks to help the reader by offering additional tips on related subtopics, such as how to pack more effectively and how to conserve space.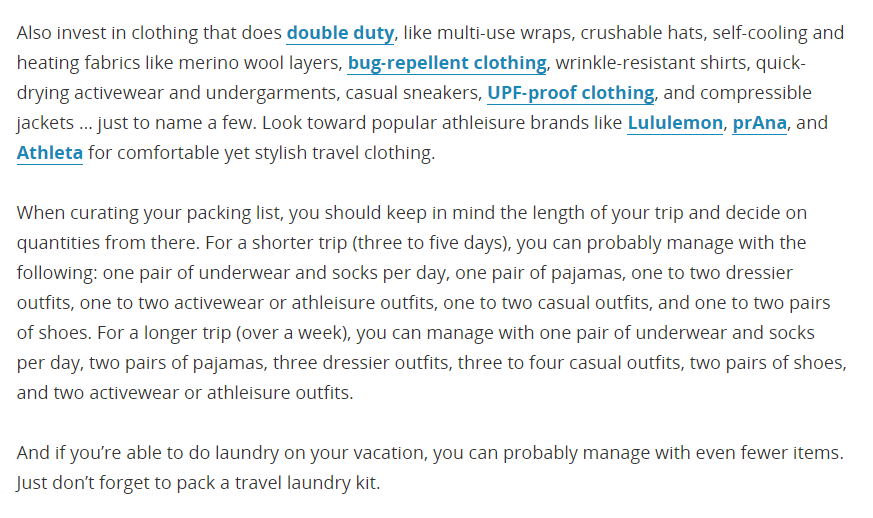 This might seem counterintuitive, as you don't want to diverge from the user's intent and provide content that is not useful. However, Smarter Travel's post is an excellent example of how to do this effectively, as the advice is directly related to the user's original query and can provide extra value.
It allows the reader to dig deeper into other resources. The term "checklist for vacation" is something of a catch-all; after all, packing for a hiking holiday in the mountains would require a radically different packing list than, say, a beach cruise in the Caribbean.
Smarter Travel understands this and includes internal links to a series of more niche packing lists for such journeys.
Not only is this a smart SEO strategy that enables them to build a real content hub, but it also keeps readers who may be looking for a more niche packing list on the website, as opposed to them hitting "back" and re-tweaking their search query. 
When you want to include search terms in your content related to your topic, a resource like the Keyword Magic Tool can offer valuable insights and make it easy to identify and analyze related keywords relevant to your audience.
It's up to date and accurate. According to an editorial post note, this checklist was initially published in 2013 but updated several times to reflect current trends and information.

Keeping your content up-to-date is essential. It ensures that you provide the most relevant information related to the user's query and keeps you competitive in search rankings. Search engines look at the intent of every search query and provide the content that will match that intent. 
This checklist has an entirely new section on COVID-19 and how this has affected what people need to pack for their vacations.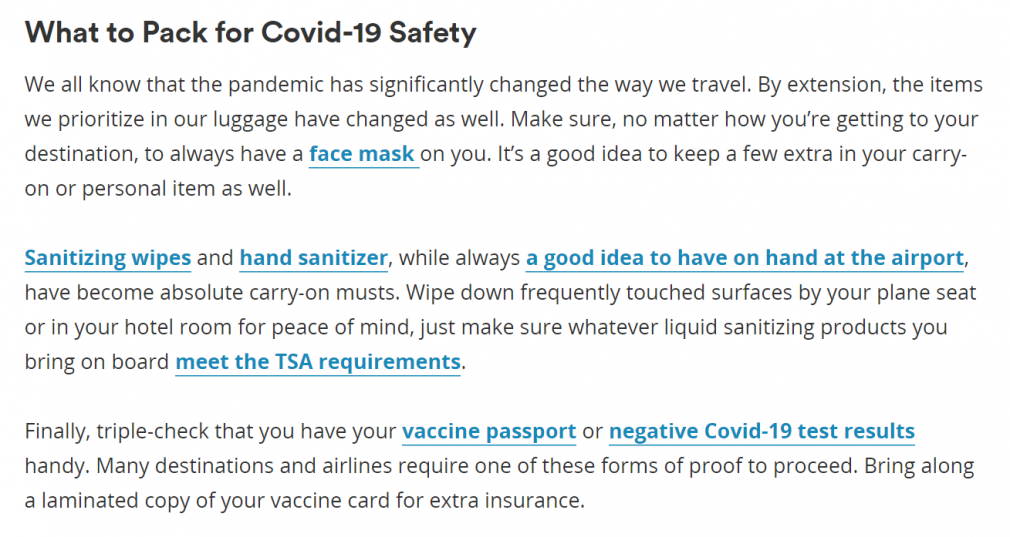 However, a quick browse through the search engine results shows that several of Smarter Travel's lower-ranked competitors have not mentioned COVID-19 in their checklists.
While there are many factors to consider when it comes to ranking and generating organic traffic, Smarter Travel is keeping its checklist content up to date is likely contributing to them outranking its competition for this post.
Final Thoughts
Quality content is all about providing genuine value to your readers and offering real solutions to their problems. The three formats used in the examples above show how this can be done in a reader-friendly way, especially if you:
Understand your target audience and know how to communicate with them
Feature examples, visual aids, and other tools in the post that enhance value for the reader
Provide a positive user experience in terms of structure, format, and ease-of-use
Optimize the post for search engines
Are not overly promotional
Use a named author with authority and credibility within their niche
Keep the post up to date and accurate
Third-party tools like Semrush can assist you with researching the kinds of topics, questions, and issues that affect your target audience and ensure that you optimize your content for search engines.