Have you ever come across a funny or valuable video on the Internet and wondered where it came from? These days, there's more than one way to find out. 
With reverse video search, you can find a video's source. Let's review how to perform a reverse video search with a few tools. 
What Is a Reverse Video Search?
When you use a search engine, you usually search a word or keyphrase until you find a page or video that satisfies your search intent. When you perform a reverse search, you're using the search engine to find each webpage your item appears on.
Google and similar search engines use the colors and pixels in your video to find similar or exact copies online. It's not always accurate, but it can be helpful if you want to see how many times a video appears on the Internet, or even the first time the video appears. 
Why Do A Reverse Video Search?
Finding Illegitimate Usage of Video Content
If you're a video content creator, a reverse video search can show you each time your video appears on a website. From there, you can issue a request to remove the content or ask for credit.
Finding Full Versions of Videos
Some file-sharing sites have file size limits on what they can show, such as Reddit or Imgur. Run a reverse video search if you're looking for the full version of a video.
Discover Related Content
For a different research approach, run a reverse video search on an exciting video. A reverse search will display related content to your video so that you can explore similar content. 
How to Perform a Reverse Video Search
Run a Reverse Video Search on Google
You'll need to take a screenshot of the video in question before using Google's reverse video search feature.
To screenshot on Apple/Mac:
Press Shift-Command-4 
Press the mouse or trackpad button
Drag over the area you want to capture
Release the mouse or trackpad button 
 To screenshot on Windows:  
Press Ctrl + PrtScn keys 
Use the snipping tool in rectangle mode and screen the chosen video
When you take a screenshot, use a distinctive frame from the video. You can save these screenshots to the desktop for easy access.
1. Navigate to Google Images. Select the camera icon to search by image: 
2. Upload the screenshot of the video. The tool returns a SERP for the screenshot. The SERP includes your search results, as well as any image data it can find: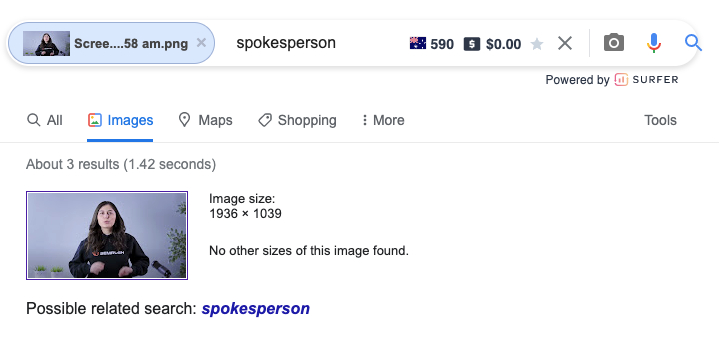 Run a Reverse Video Search on Bing
Like Google, Bing's reverse video search works best with a screenshot. 
1. Open Bing's Visual Search page: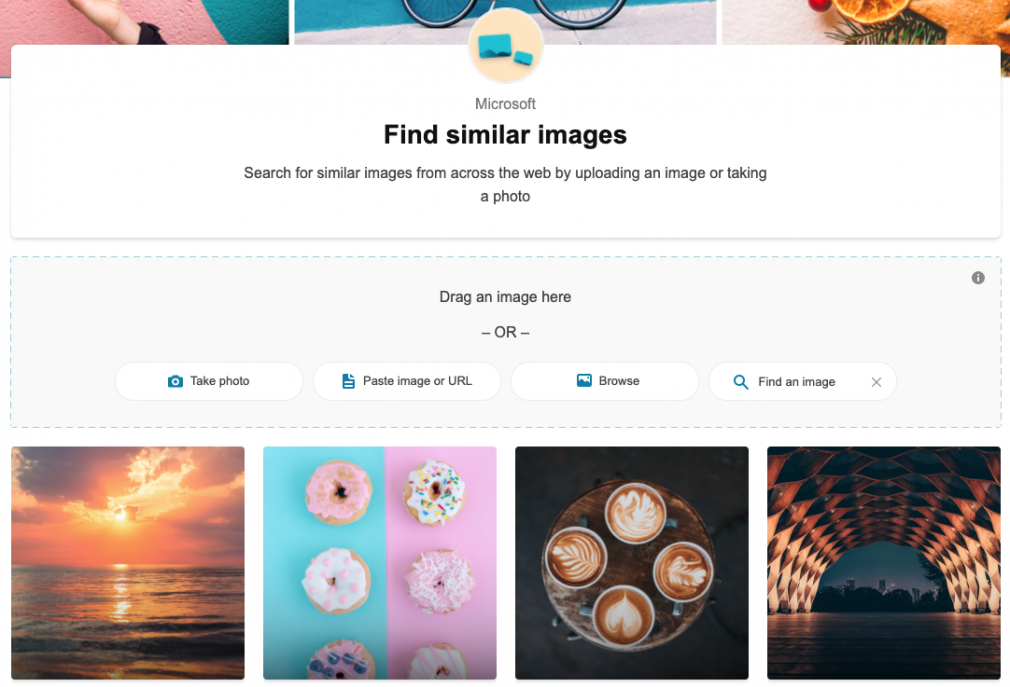 2. Select Browse, then upload your screenshot. The tool returns a SERP page:
Independent Reverse Video Search Tools 
You don't have to use the major search engines to perform a reverse video search. You can also use other third-party tools. These tools can search the databases of both search engines to find more instances of your videos.
Berify
Berify is a reverse image search engine that specializes in crawling the web for images,
The tool has an alert feature so that you can register your images. Whenever your video appears online, they'll alert you.
Berify's free version allows you to scan up to 6000 images on Google, Bing, and other search engines. Their search is more thorough than Google, so it does take longer to complete. 
You can enter the URL of your image or upload the image directly to start your search.
Shutterstock
Shutterstock's free database stores over 1 billion images and videos, so it's an excellent place to start your reverse video search. 
To get started, open the Shutterstock website. You can use the Search by Image button to upload your image. You can also specify if you're searching for vectors or illustrations if the video you're searching for is computer-generated or an animation.

TinEye
Like Berify, TinEye focuses on mage search and recognition. It uses pattern recognition neural networks and machine learning to find images all over the web.
TinEye's API can also send you alerts when one of your images or videos appears on a webpage. 
1. Open the TinEye website.
2. Upload your image or paste it into its URL. You can also drag-and-drop or paste your images into the search bar.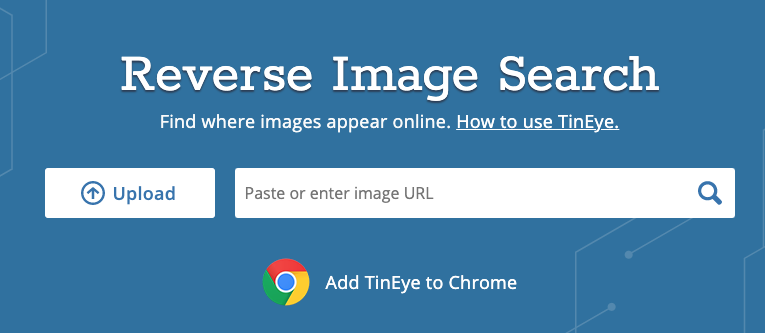 Reverse Video Search on Mobile: IOS and Android
Running a reverse video search on mobile browsing also requires a screenshot.
To take a screenshot on an Android phone, press the Power and Volume Down buttons simultaneously. 
To screenshot on an iPhone, press the Power button and the Volume Up button simultaneously.
The camera icon won't be available on the mobile version of Google Images. As a workaround, you can request the site's desktop option. 
In the Chrome app:
Open Google Images.
Select the three dots at the bottom-right of the page to open the menu.
Select Desktop site (Android) or Request desktop site (iPhone) to load the desktop version of the website.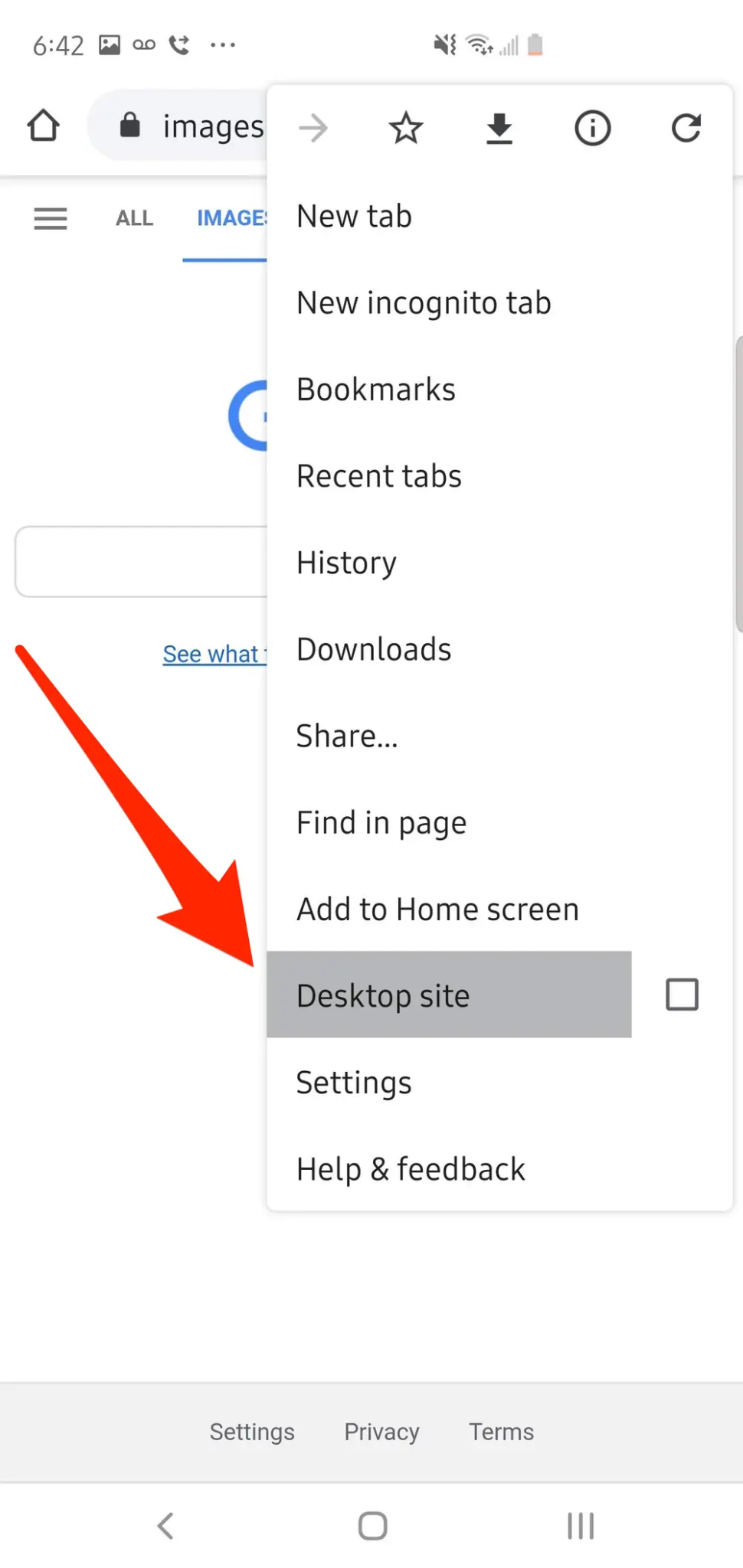 You'll see the desktop version of the site, complete with the camera icon. Select the icon, then upload the screenshot you took on your phone.
iPhone IOS: 
Mobile "long press" method
You'll need to have the Google Chrome App Installed on your device for this method to work.
Browse to the page that has the image you want to search for.
Press and hold on the image until a menu pops up:


Select Search Google for This Image.
Android Reverse Video Search
Android phones have Google Chrome installed by default. You can use the Google Chrome app or the Google website for reverse video search.
Android Visual Search 
On your Android phone, open the Google Chrome app. At the bottom, tap Discover.
In the search bar, tap Google Lens.


Credit: Google Lens

Upload a screenshot to use for your search.
At the bottom, scroll to find your search results.
Tracking Videos with Backlink Analytics 
You can use backlink tools to track images and videos you've created. Tracking media can be helpful when you're running a marketing campaign and want to see how many shares your content receives or where else it might be living on the Internet. 
The Backlink Analytics tool offers a comprehensive backlink database that makes it easy to spot any new backlinks quickly. Here's how to get started: 
Open the tool in Semrush and enter the URL of the image or video.

The tool will return the number of backlinks and referring domains it found over the last 6 months. You can also use the tool to track any new or lost backlinks.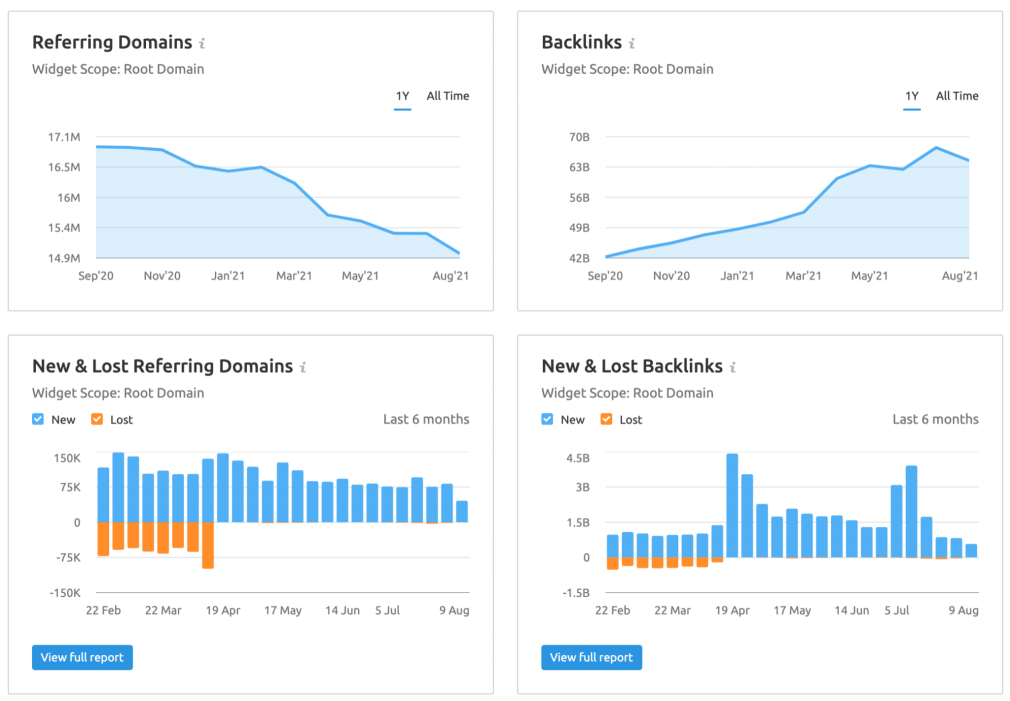 Use the tool to review the domain authority and origin country of each website linking to your video.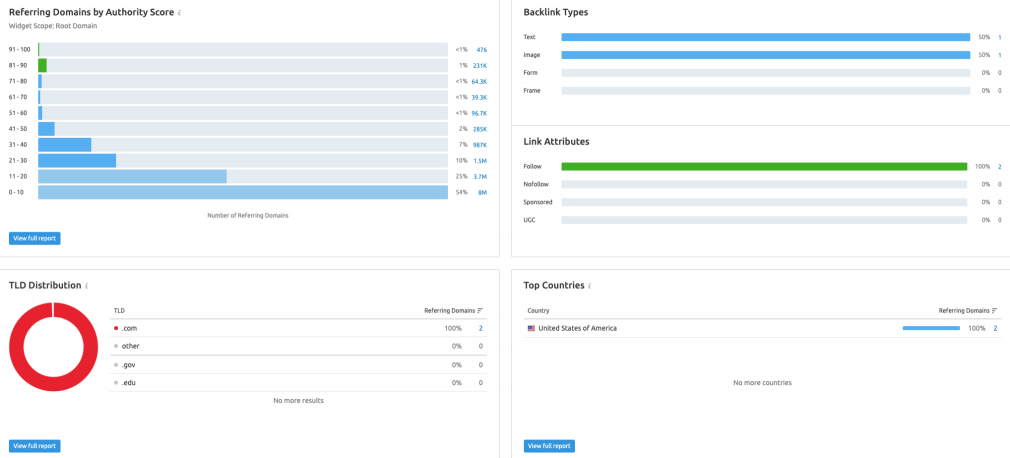 If you find any suspicious activity or untrustworthy websites pointing to yours, you can use the Backlink Audit tool to disallow them or contact the website's administrator. 
Key Takeaways
A reverse video search can show you each instance your video appears on the Internet. If you invest time and money creating useful or entertaining videos, running a reverse search can help you find and fix copyright breaches. 
Use a backlink tool to find how and when websites credit your video with a backlink. Backlinks can be a bonus to a marketing campaign and help you measure your success. 
Get Insights on Backlink Profiles
with the Backlink Analytics Tool