Results Summary
178 pieces optimized
49% of total positions increased
38% of pieces that were optimized are on the first page
of Google search results
28% increase in visits
31% increase in work-related signups
The Challenge
Rotem Shay previously worked as Head of Performance Marketing at monday.com. After working with the acquisition team for years and learning the strengths and weaknesses of the paid, non-organic channels, he recognized the huge potential for growth that lay in the world of SEO.
monday.com's journey with Semrush started even before the formal establishment of the SEO team in October 2020. 
"We already used Semrush's keyword research functions as a complement to our PPC team research. It was great for researching ideal keywords for our campaigns and assessing our efforts against the competition." 
Once the initial SEO team was established, however, Rotem knew he had to start somewhere — with content creation. As a part of this plan, Rotem set out with a Q4 2020 goal to have more than 350 pieces of content on monday.com's blog — based on audience and keyword research — to get things up and running.
The team managed the creation of all of these pieces using a blog planning template like this one. 
This involved everything from topic brainstorming around the company brand, identifying which keywords should be targeted and prioritized, creating content briefs, and organizing a team of content writers to produce such a volume efficiently.
For Q1 in 2021, the goal was refined to around 270 pieces of content based on the variety of content and keywords to target. 
The Solution
Why Semrush?
In addition to previous interactions with Semrush during Rotem's involvement with paid acquisition at monday.com, the recent development of the SEO team offered an opportunity to expand the existing partnership and offer a way for the SEO team to enhance their efforts.
Ultimately, the determined goal was for 15% of the PPC achievements (use of Google Adwords, etc.) to come from organic SEO activity moving forward.
"After my experience with Semrush with the PPC team, I started digging into the pillars of good SEO strategy and I was interested to check out more of Semrush's features to see where we could run with it."
Onboarding with Minimal Effort
Semrush was user-friendly — perfect for onboarding monday.com's small but mighty — and growing — team, who varied in their SEO experience.
In the case of the SEO Writing Assistant, content writers are able to copy and paste any content from the monday.com domain, whether it's a landing page, a blog, or something from the Template Center, add the targeted keywords and target audience location, and voilà! 
Due to how intuitive the tool is, SEO team members were able to teach the Localization team, which focuses on creating valuable content in languages other than English, how to use the tool for their unique audiences, and how to create high-performing content in other languages for their respective markets. 
Using Multiple Tools Within One Platform
While the SEO Writing Assistant is one of the monday.com SEO team's most-loved and used features, they also use the SEO Content Template to help guide their content writers in their process of creating SEO-optimized content from scratch. This tool makes it easy for both in-house writers and contributors to get rolling with content without having to create briefs out of thin air.
Get Writing Recommendations
with the SEO Writing Assistant
Another advantage for their team is how the tool analyzes competitive content from the top 10 ranked pages on Google for the keyword at hand and provides suggestions for semantically related keywords and word count.
In the image below, you can see how the SEO team used Semrush and the keyword "scrum" to better inform their pieces related to that topic. 
There is even a Google Docs plugin for Semrush, so it can be used directly on drafts within Google Docs.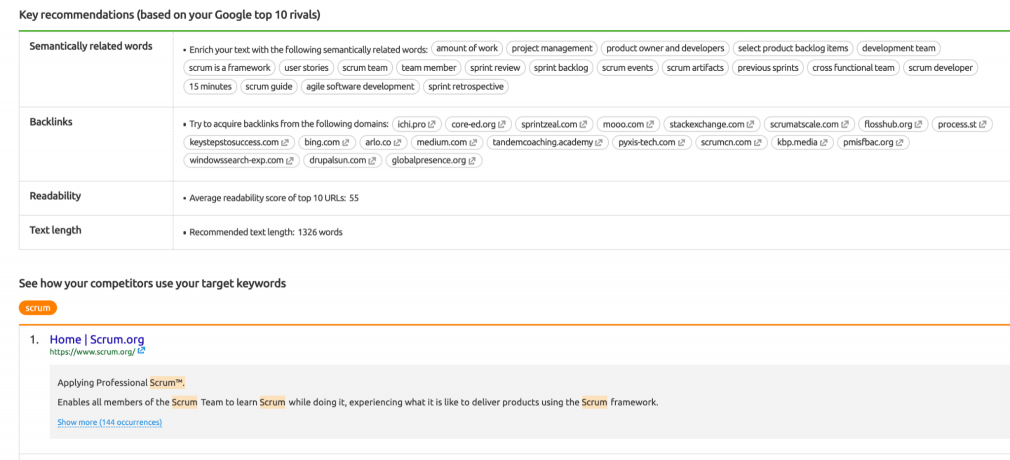 When it came to targeting keywords, the team used additional SEO tools to understand keywords related to their product offering and then evaluate them based on a few factors, including:
Volume
Keyword difficulty
User intent
In order to make prioritization multi-faceted and prevent any blind spots, the team created a unique scoring system. They created an internal rubric for each of the above factors, and the total of these scores was used to determine which pieces and keywords were of the highest priority to optimize.
In the picture below for example, "project management software" would be the highest priority. 

This then could help shape what content would be created for the quarter for blogs, landing pages, and more.
Gaining Real-Time Insights
As an individual edits a piece of content, the score increases or decreases on a scale of 10, as does the circle and color on the bullseye. Some of monday.com's team members have described the game-like feeling this adds, making it an enjoyable and creative task.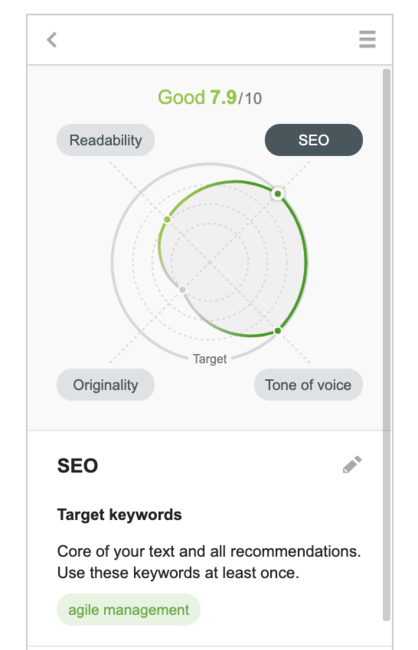 monday.com's SEO team specifically uses: 
The SEO section to find more keywords to add
The Readability section to make sure word count and structure are reader-friendly
The Tone of voice section to understand which sentences are too formal or too casual 
For example, we optimized content created for targeted keywords: project management software, PMO, portfolio management, and process management and now have the pieces ranking on the first page of Google results.

They also use the simple scores to track what their content scores were before and after optimizing them with Semrush. These numbers can then be used to compare against their content performance, using complementary tools and SEO software suites to help them analyze their overall content optimization efforts.

In their weekly iterations, SEO content team members are responsible for optimizing their content using the Semrush Writing Assistant. On the far left of the board, you can see the keyword they are targeting for, and entries of the score before and after they used the tool to guide their edits.
As you can see, particularly for the agile management keyword piece, there was a big jump from 4.4 to 7.9. 
The Takeaway: Scaling & Improving SEO Content Strategy
Because Semrush is such a versatile, yet simple-to-use SEO tool, teams can move much faster when it comes to the content briefing process — which means they spend more time producing better quality, higher-ranking pieces of content.
In monday.com's first quarter of using Semrush Writing Assistant, they were able to optimize more than 178 pieces of content, including blogs, landing pages, and use cases on their website. 
This contributed to an increase in ranking of 49% of their pieces centered on targeted keywords. 38% of those pieces are now on the first page and they also saw a 26% increase in visits and a 31% increase in work-related signups.
Perhaps more impactful was the tool's ability to spark the team's curiosity and ability to think more deeply about content whose Semrush score increased but didn't necessarily crawl up Google search results. 
Semrush doesn't eradicate this issue entirely, but it gives them an excellent baseline for measurement and strategy contemplation. For example, we might optimize a piece of content with Semrush at the beginning of one quarter, and not alter it again to account for Google's algorithm, and then see what the score is at the beginning of the next quarter.
An additional and lasting impact of using Semrush is the freedom to continually optimize different content again and again to bolster ongoing SEO efforts. monday.com also launched a guest author process for their blog, where credible authors can submit their content for publishing. By using Semrush, the team is able to optimize content during the editing process.
Semrush is a tool that works well and the monday.com SEO team already foresees a continuous value as they shift their SEO strategies and scale.
Meet monday.com
monday.com is the pioneer of an emerging software category called Work OS. monday.com's Work OS is an open platform that democratizes the power of software so organizations can easily build work management tools and software applications to fit their every need. 
The platform intuitively connects people to processes and systems, empowering teams to excel in every aspect of their work while creating an environment of transparency in business. It is fully customizable to suit any business vertical and is currently used by over 127,000 customers across over 200 industries in 190 countries.
Rotem Shay is the SEO Team Lead at monday.com and is responsible for leading the strategy and exploring new opportunities for SEO growth, in addition to being a liaison to other teams that could optimize their efforts for the benefit of SEO.
The goal of the SEO team is twofold — optimizing monday.com's content in order to increase the quantity and quality of inbound traffic and to connect searchers with content that is most relevant to them.
The SEO team's efforts and strategy impact monday.com's brand recognition, content, and sales conversions worldwide.