Staying aware of your competition is a good practice for any kind of business.  A competitor keyword analysis is one way you can gain insight into their digital strategy, so you can anticipate or incorporate their next moves. 
What is a Competitor Keyword Analysis (and Why Should You Care)?
Users know what results they're looking for when they enter keywords into Google. If you want to maximize your organic search success, you will need to zero in on their search intent and understand the different stages of a buyer's journey. 
You'll also need to understand the customer's journey within the context of the competitive landscape you operate in. A potential customer will have a range of options available to them at each stage of their journey. 
Targeting competitor keywords helps you appear on the same SERPs and platforms as your competitors. You can also use competitor keyword research to reveal any weaknesses, such as valuable keywords they have yet to target.
Before you can do that, you'll first need to find out which keywords or keyphrases have been working well for your competitors so far. 
How to Do a Competitor Keyword Analysis
If you've already completed your own keyword research, you can do competitor analysis research to make the most out of your target keywords. 
How to Find Your Competitors
Your search competitors can be very different from your business competitors. Some of your toughest business competitors might not actually be very competitive in terms of organic search. 
That's why the first step of your competitor keyword research is to know where you stand in relation to your search competitors. Search competitors are the websites that rank for the same or same type of keywords your website.
In order to find the top players in your niche, start with a simple Google search. You'll often find that these competitors have the highest organic and commercial rankings. Choose the main keywords most relevant to your business to see who is dominating in your search "neighborhood." You might be surprised to see who is competing for the same keywords as you!
Pro tip: Run a Google 'related' search [related:yourwebsite.com] to immediately find websites related to yours. 
If your website is new or you're struggling to identify your competitors, you can use third-party tools like the Organic Research tool. The tool includes a competitor report that highlights the main organic competitors to your target domain.
Insert your target domain into the tool's input field, then select "Search:"
The Organic Research tool returns a wealth of metrics, such as their top organic keywords, top pages, and any position changes for their organic keywords. For a full competitors report, select the "Competitors" tab:
You can adjust the filters to show your competitors in different markets (such as the UK or Australia), or on different devices. You'll be able to see how much organic traffic each competitor earns, and how many keywords the target domain shares with each competitor. 
Gather and Organize Your Competitor Keywords
If you click any number in the "Common Keywords" column, you'll be taken to the Keyword Gap tool. You can use this tool to compare target keywords from two or more domains. The tool highlights any common target keywords the domains share, as well as any keywords your competitors are ranking that you're not. 

The Keyword Gap tool also allows you to export the aggregated data from multiple platforms in one Excel sheet, eliminating the step of running gap analysis one domain at a time.
Use the filters to explore the untapped potential of your competitor keywords and export a ready-to-use spreadsheet with all the most valuable information already coherently organized.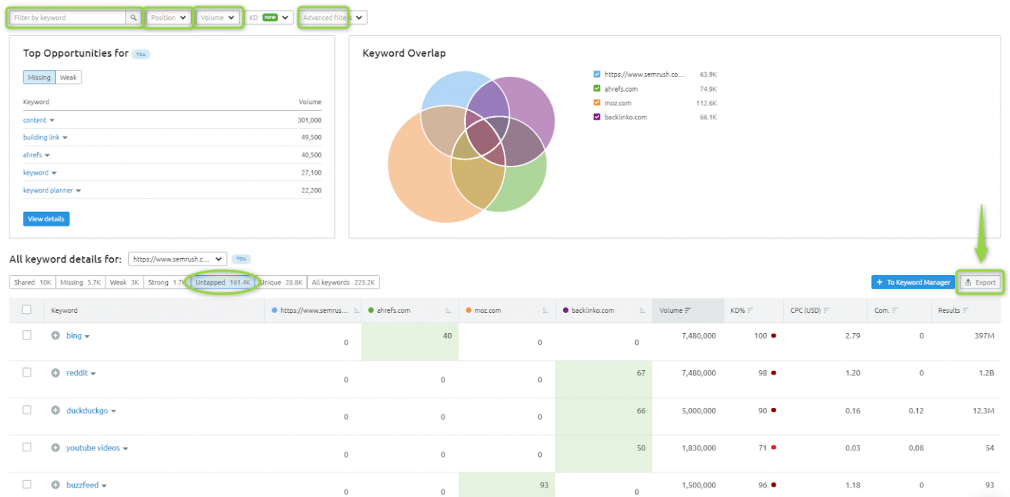 With the tool, you can clearly see what position you rank in relation to your competitors for each keyword, and see which pages rank the highest. 
From here, it might be best to organize your competitor keywords in Excel. This means that you will need a strategy to organize the data so that all the information for every single keyword is clearly displayed in the spreadsheet. This is especially important when you're gathering data from multiple sources, like if you're using both Google Ads and Semrush. 
Click the export button to generate an Excel, CSV, or CSV semicolon file of your keyword gap data. The export feature is limited based on your plan type. 
Start by thoroughly vetting and assessing your competitor keywords list:
Sift through the stats for high competition keywords and set them aside. They might be too competitive to go after at this moment, but they might come in handy later on.
Cross-check the keywords that you share with your competitors and eliminate those that don't make sense for your business.
Highlight keywords that have higher domain and trust authority.
Review the SERPs for each highlighted keyword and note any organic or paid opportunities you may have missed, and how you might target them. Pay special attention to keywords your competitors rank higher for. 
Make the Most of Your Competitor Keywords
There's no magic trick to help you quickly identify which keywords are more important than others. To make this decision, you need to perform a manual analysis of your competitors' keywords and consider their relevance, organic traffic, and current SERPs.
Evaluating Each Competitor Keyword
Once you've narrowed your competitor keywords list to the most relevant or accessible keywords, you're probably looking at a much shorter list. 
Now you'll need to analyze each
A keyword analysis tool like the Keyword Overview tool can help you explore the important metrics for each keyword, such as their search volume, average CPC dollars spent, or ads currently targeting the keyword. 
Enter in a target keyword and select "Search." The tool returns the keyword's search and global volume, notable keyword variations, and more: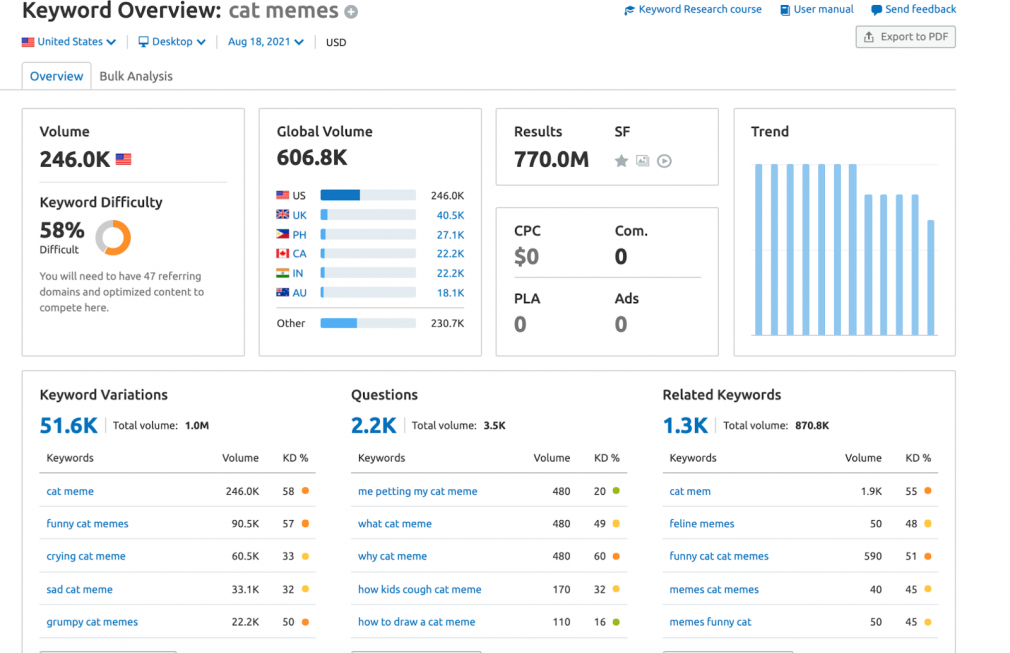 Assess Ranking Difficulty: Find a Competitive Edge 
To find potential quick wins, check your competitors' ranking changes. Open the Position Changes report in the Organic Research tool to take a look at the lists of lost and declined keywords.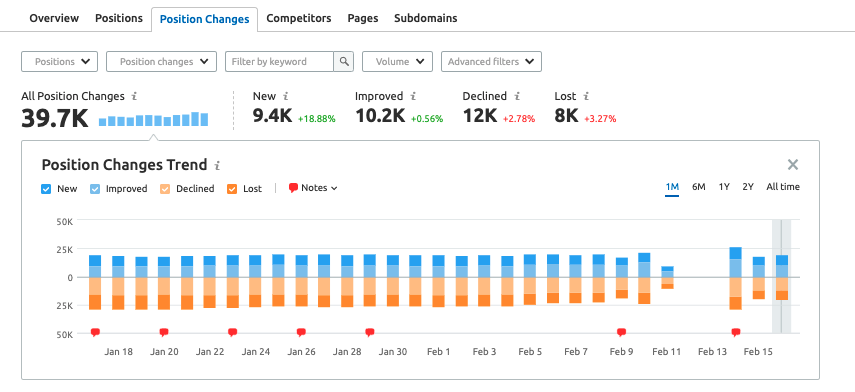 This report helps you spot your competition's current weak spots. You'll be able to see keywords they've recently lost that you can now target. When you combine these insights with the Topic Research tool, you can map out your own winning content strategy based on the opportunities your competitors missed 
Peek into Your Competitors' Paid Campaigns
After exploring all your and your competitors' organic traffic opportunities, the next step is cross-referencing organic results with your competitors' paid traffic.
The Advertising Research tool helps you track what keywords your competitors are bidding on and the results they're earning. The tool even shows you any live ads it can find: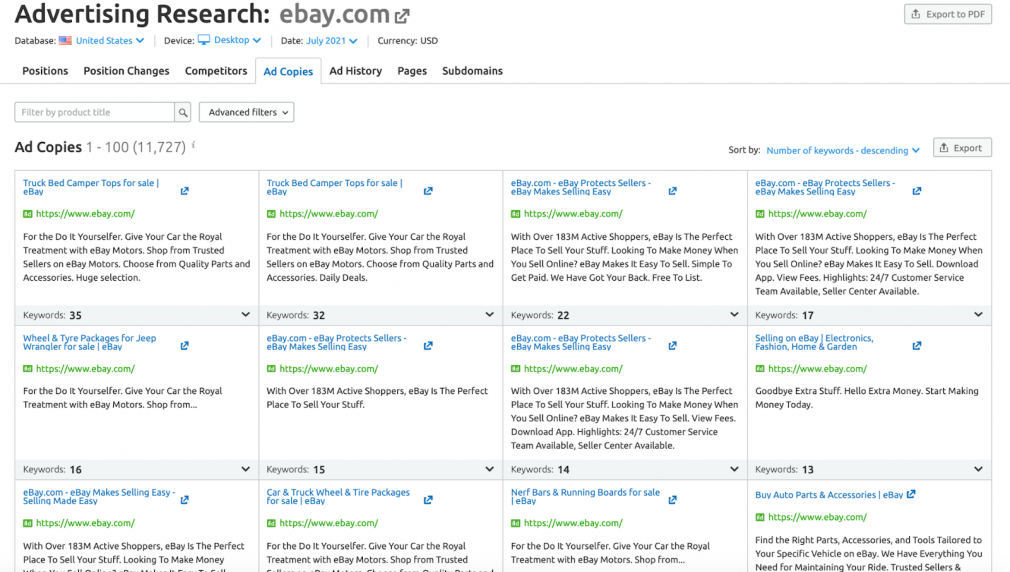 You can also use the Keyword Gap tool to analyze any paid keyword gaps. Combined with the results from the Advertising Research tool, you can begin to plan paid ad campaigns accordingly. 

Pro tip: don't forget to check the competitive density of the competitor keywords you selected in order to decide which one to bid on. H2: Semrush: The Best Tool for Your Competitor Keyword Research
Using Competitor Keywords to Your Advantage
Take full advantage of any tools or resources to perform a thorough online competitor analysis. You'll learn how and if to target the best organic or paid keywords and find relevant terms for your business and start optimizing today.