While banner blindness is steadily killing traditional advertising, marketers looking to increase their brand exposure are finding new ways to expand their audiences and generate quality leads. Sponsored content is one of these ways. In this article, we'll take a closer look at what exactly it is and how you can use it to promote your brand. 
Simply put, sponsored content is a type of paid advertising. It can take any form — from an article or an infographic, to a video or a social media post.
Though the sponsors can create the content themselves, typically they pay for it to be produced and then published on behalf of an industry-leading website, affiliate, or an influencer. 
Thus, sponsored content is both an advertisement and a publication that delivers unique value for the readers or viewers, usually going beyond simply promoting a product or a service.
To avoid confusion and not to mislead people, the Federal Trade Commission requires that sponsored content be marked with relevant notes (e.g., "sponsored by…") or hashtags as you see above. 
The format you choose for your sponsored content will vary depending on your objectives, budget and resources. Common forms of sponsored content include:
Blog posts
Articles
Listicles
Infographics
Social media posts
Podcast episodes
Webinars 
Events
Videos
Due to the variety of formats, sponsored content is often mixed with other paid advertising formats, such as native advertising and advertorials. Let's look at the differences. 
Native Advertising is advertising that matches the content of the webpage it's displayed on. Native ads can appear on the search results pages and match your search query or pop up on your social media feed and subtly try to sell you something. Similar to sponsored publications, native ads have to be marked as such. 
Native ads include in-feed social media ads, sponsored search results, recommended content at the end of articles, email newsletter ads, promoted products on ecommerce marketplaces, etc.
The key differences between native advertising and sponsored content are the following:
Format: Sponsored publications don't directly offer products or services the way native ads do.
Creator: Native ads are produced by the brand that aims to benefit from them. Sponsored content can also be created by the brand, however, the publisher must ensure that the end result matches the quality and the tone of voice their audience expects to see.
Publisher: The publisher simply provides a slot for a native ad on their website. As for sponsored content, there can be extra promotional efforts, e.g., an email or a pop-up banner for a blog post. 
Advertorials are advertisements designed to look like articles produced by the publisher. These are used to attract prospects by leveraging the reputation of the publisher while speaking directly about the advertised brand.
The key differences between advertorials and sponsored content are the following:
Focus: Advertorials are focused on the advertised brand while sponsored content is shaped around a user's concerns.
Tone of voice: Advertorials tend to persuade and motivate their readers to make a purchase, whereas sponsored content introduces the brand in a lighter, entertaining, or informative manner.
In the section above, we talked about the advertising formats that can provide keen competition to sponsored content. Let's find out when and why you should go with the latter. 
Establishing thought leadership. Sponsored content lets you showcase your expertise and build trust with potential customers, while leveraging a platform they already recognize and value.
Driving referral traffic. Your sponsored content will most likely contain links to your own assets. So, make sure to choose wisely where to lead your readers!
Tapping into specific audiences. If you choose the medium well, you'll be able to expand your reach and connect with customers who perfectly match your buyer persona profile (and thus generate quality leads).
Even taking into account its advantages, sponsored content will only deliver the results you expect when done right. So, here are 5 tips on how to give it a boost.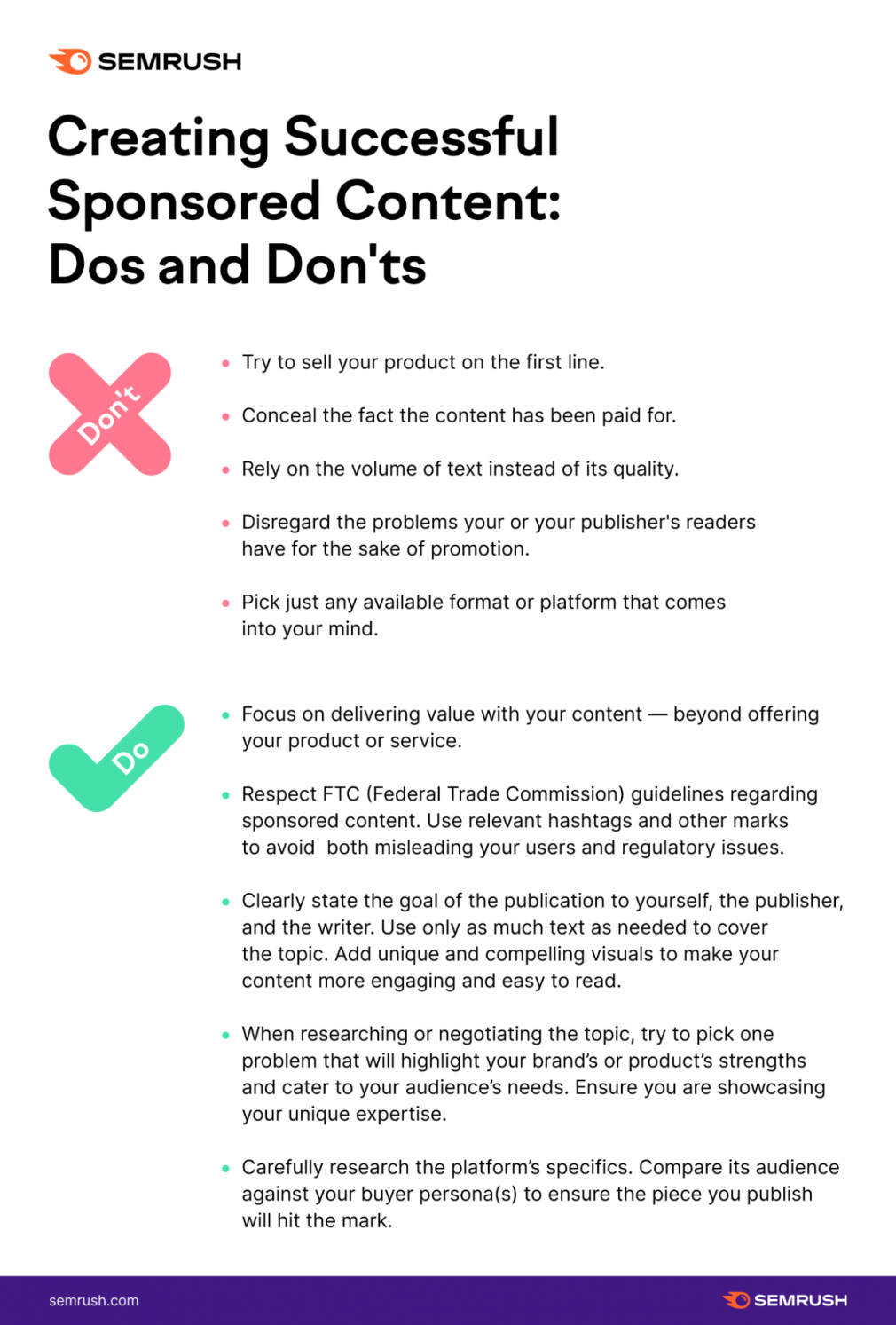 To use fewer resources in preparing your sponsored content, you can:
Repurpose your existing content to use for your featured publications. For example, if you have recently published an ebook, why not create a blog post based on it? You can then add a link to download the ebook and generate some leads from this sponsored blog post.
Make the most out of your internal resources and expertise. For instance, getting your SMEs to speak at sponsored webinars and on podcasts could create benefits for all parties involved.
Leverage Semrush tools like Topic Research to find original ideas for your sponsored content or find out which topics are already covered by your prospective media and competitors. 
Here are some examples to illustrate the dos and don'ts above:
1.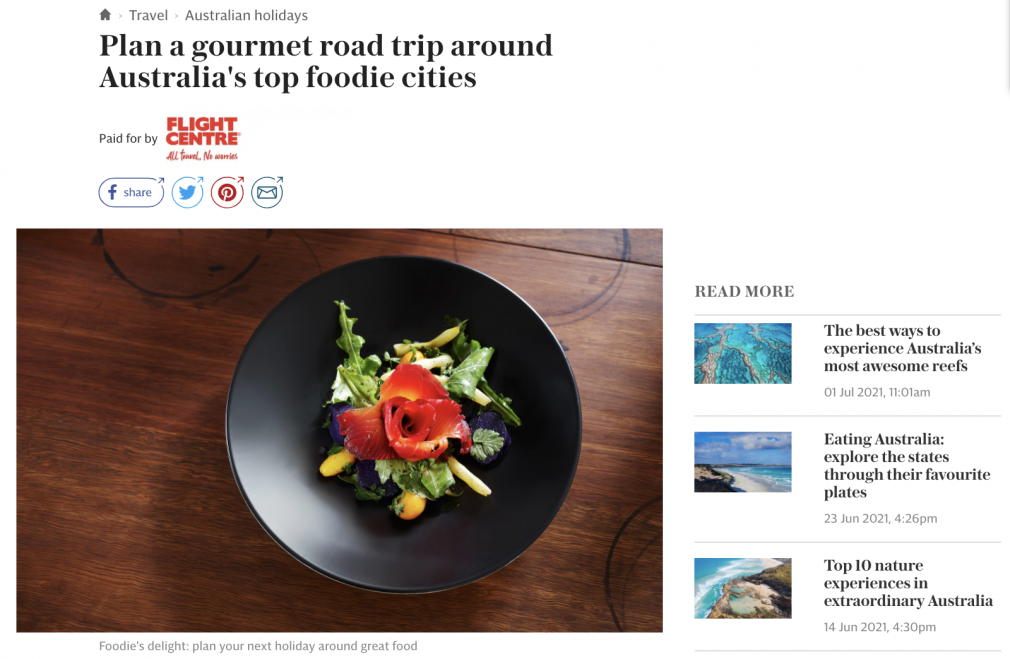 This article, published by the Telegraph and sponsored by Etihad Airways, seems to target foodies, as it tells about a restaurant trip around Australian cities. However, it uses rather attractive visuals that can attract non-gourmands, too.
2.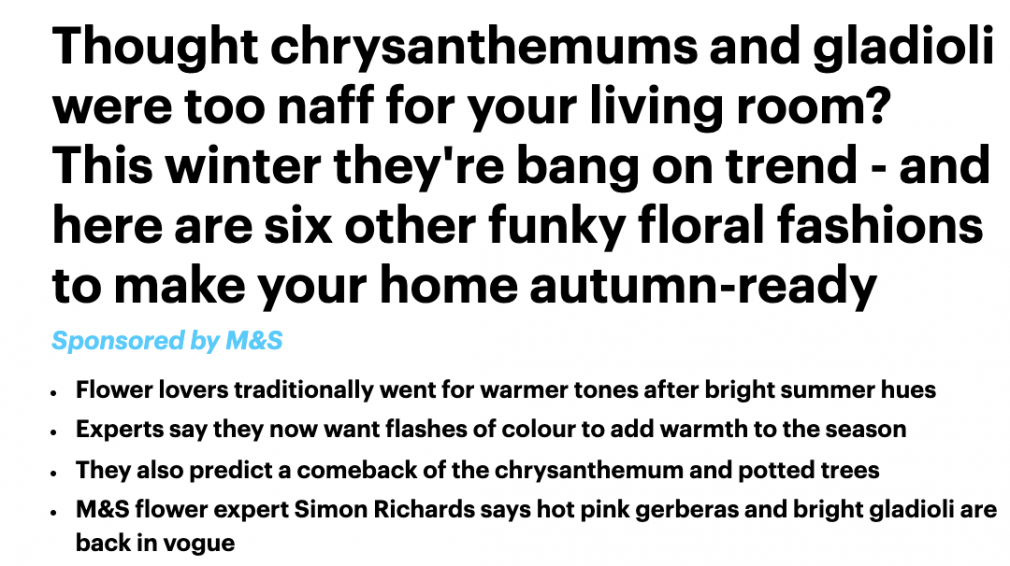 This "Thought chrysanthemums and gladioli were too naff for your living room? This winter they're bang on trend — and here are six other funky floral fashions to make your home autumn-ready" article sponsored by Marks & Spencer was published on Mail Online. Though the awfully lengthy headline may look awkward and heavy at first glance, it's perfectly aligned with the style and tone of voice of the publishing tabloid.
3.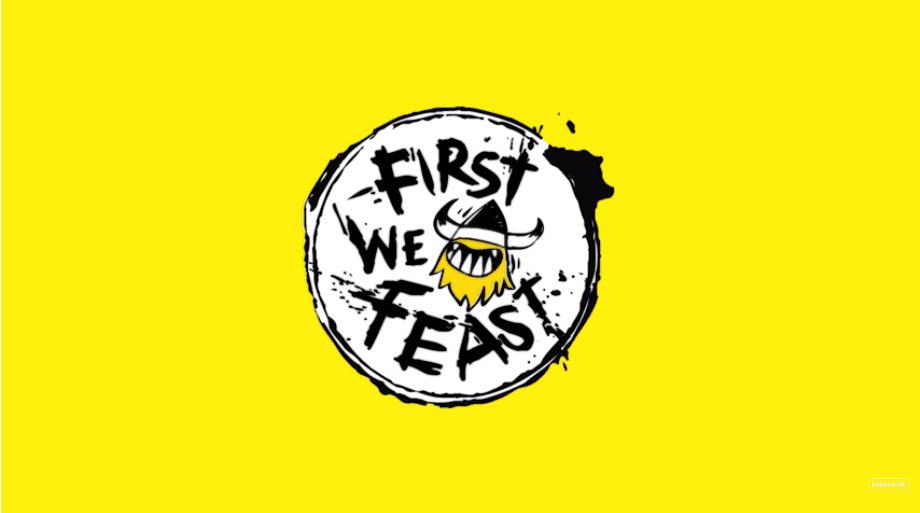 Image by ActiveCampaign
The Tums partnership with the interview show "Hot Ones" is another example of the perfect platform choice, as the show features consumption of food so spicy that almost anyone watching it would think of an antacid.
4. 
SnapChat and Instagram filters by Taco Bell were just destined to go viral in 2016 due to the amazing visual component. 
5. This Semrush-powered post on the Search Engine Journal, uncovering research findings and stats about creating content funnels, is a nice example of how two reputable resources can collaborate for the benefit of their users.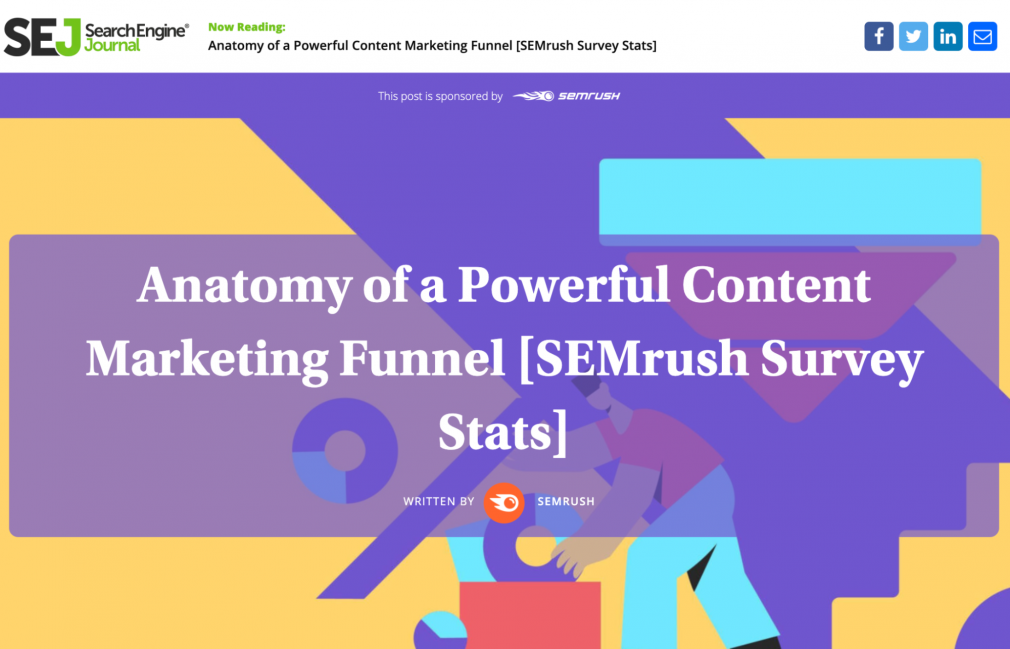 6.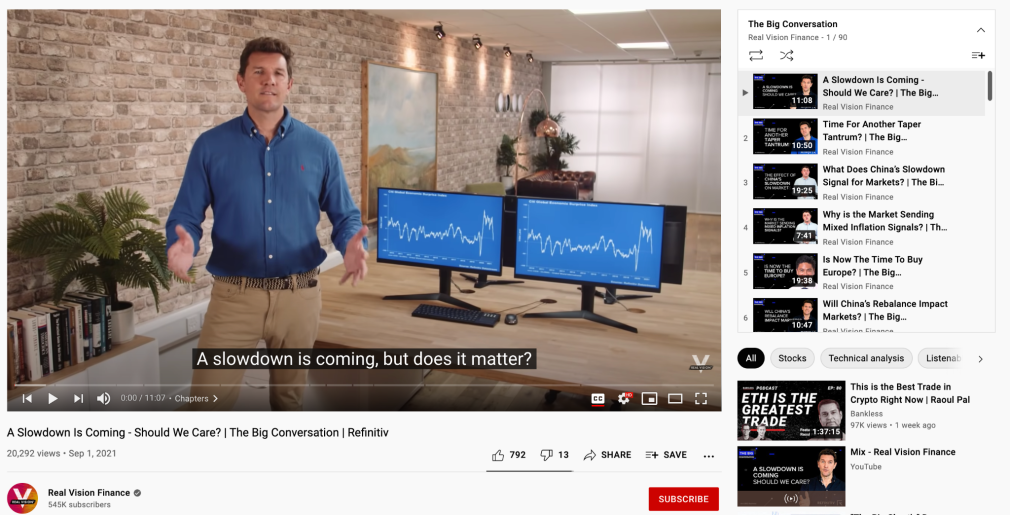 This is a bonus example, as it doesn't completely fit in the sponsored content framework. The Refinitiv and Real Vision collaboration showcases how brands can go beyond one-time projects with publishers and create an entire series fueled by the brand and the platform. The Big Conversation is a show that is being produced and promoted by both parties, resulting in thousands of views and lots of positive feedback.
Choosing the Distribution Platform
As for the channels to publish your sponsored content, there are no limits or restrictions, but there are three main aspects to consider when making your choice. These are audience specifics, platform specifics, and, of course, your goals. 
Check Out Our Ultimate Guide to Content Distribution
Research Your Audience
Look at where your target audience hangs out, and find out what content formats they consume. For example, lively, active youths will be more likely to enjoy a YouTube video or a podcast than a lengthy article.
Think about the best way to deliver your message. How would you like your audience to react? Make them laugh, teach them something new, encourage a certain action? This will let you both come up with the perfect format and narrow down the list of distribution platforms you might have at the start. 
Research the Platform
Next, ensure that the influencers or media you're looking at are really as well respected as they seem. Request a media kit and other information from the publisher to get a good understanding of their audience, tone of voice, messaging, and engagement, and ensure these align with yours. 
Additionally, you can look at the traffic or the follower count and engagement on social media. 
The Semrush tool Traffic Analytics will let you get some of this information quickly and easily, and Domain Overview will provide you with information about the publisher's domain authority score. 
Other points to look at include: 
The type of audience and whether it aligns with yours
Reach measured as monthly unique website visits
Existing sponsored content formats 
Editorial requirements and guidelines
Other brands that also advertise with them and their success stories, if available.
Make Sure Your Goals Align with Your Audience's Needs and Platform Requirements
And finally, clearly state your expectations to be able to measure the success of your publication. Are you planning to get long-term or quick results? For example, social media posts can drive engagement almost instantly, but they don't live too long in the feed. And they might not necessarily bring you lots of quick quality leads if you are offering high-consideration products or services. On the contrary, articles and blog posts take a bit longer to be indexed and start driving traffic, but these last long and can even be evergreen. 
Knowing your goals and KPIs will help you to estimate whether the resources you are planning to invest in sponsored content will ever pay off and to monitor the right metrics. In short, if you're seeking brand awareness and thought leadership, you can keep an eye on the reach and referral traffic, views, and social engagement metrics; if leads are your goal — then look at downloads of the gated content you are featuring.
One more challenge associated with sponsored content and other external publications is performance measurement. 
Some of this information can be requested from the publisher or collected manually. However, it's quite tedious work, especially if you have to track several sponsored publications on various platforms. 
Semrush offers tools to retrieve all the metrics you need, quickly and easily.
Post Tracking lets you learn about the referral traffic your post or article is bringing, find the keywords it's ranking for in Google's Top 100, calculate the number of shares and backlinks it has, and estimate potential reach. All in one place.
The tool also lets you apply a filter to find the most effective external publications and media, or find the social media profiles that shared your posts.
It's very important for a marketer to build a content strategy that aligns with their goals and audience preferences. To understand if and how sponsored content may fit into your promotion plans, you need to carefully consider its general pros and cons. 
The benefits of sponsored content are:
Delivering real value to your audience instead of simply highlighting your products' strengths.
Maintaining a positive user experience while avoiding banner blindness.
Easy access to new audiences and enhancement of your thought leadership.
The drawbacks of sponsored content include: 
Relatively high cost of publication on a respected website/media.
Increased FTC (Federal Trade Commission) attention and strict necessity to observe regulatory requirements.
Extra investment needed to order, create or repurpose content so that it willill meet both your and your publisher's requirements.
If you decide to add sponsored content to your marketing mix, make sure to use tools that will help you streamline and optimize this process. Use the Semrush Content Marketing Platform to identify the topics to focus on when creating sponsored content, improve its quality and track its performance, all in one place.
Improve and track your sponsored content performance
Explore the Semrush Content Marketing Platform.