What if there was a way to make your marketing more effective? What if you could get more value for each buck spent on paid search? Do you want a head start on your competition? Then keep on reading.
In this guide, you'll learn all the basics of search engine marketing, as well as some of the best strategies for doing SEM marketing just right.
What is SEM?
Search engine marketing (SEM) is an online marketing strategy that aims to increase the online visibility of a website in the search engine results pages (SERPs). SEM intersects with search engine optimization (SEO), as it can include strategies like rewriting the content of a website and its architecture to achieve higher rankings. However, search engine marketing generally refers to paid search or pay-per-click (PPC).
How Does SEM Marketing Work?
SEO and SEM should be fundamental parts of your online marketing strategy because the algorithms that power search engines are becoming more sophisticated by the day. That means a well-thought-out paid search advertising strategy has become an absolute necessity if you want to ensure high rankings in the searches relevant to your business.
Tools like Advertising Research can help you monitor competitor's ad copy and landing pages, which allows you to gain insight into how to optimize your own campaigns as well as what you can do to beat your competition. 
In search engine marketing, advertisers pay for impressions that result in visitors, hence the name pay-per-click. Search engine marketing aims to reach users when they most need the information you have to offer, which makes PPC advertising ideally less intrusive. 
All in all, a well-constructed SEM strategy can also boost your website's SEO by attracting high-quality traffic. This proves to search engines like Google that your website is an authoritative source, which can in turn boost rankings.
Why Is Good Keyword Research Important for Paid Search?
Paid ads may appear at the top of the SERP in Google, above organic results.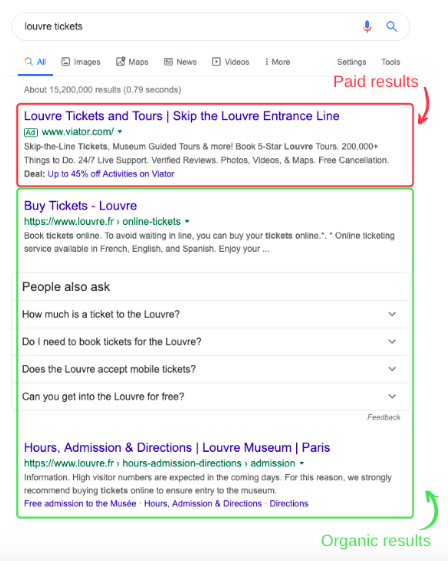 Such a prominent position is likely to yield results, but to make the most of your paid ads you need to know your audience and create content that is relevant to them. SEM can't work efficiently without some prep work. In fact, the idea behind good search marketing is to reach users at exactly the right time: when they are ready to buy.
How can you find the information to craft highly targeted paid ads?
With some help from SEO tools. 
Finding the Right Keywords
This is where the intersection of SEM and SEO reveals itself: keywords are the heart of search engine marketing. We cannot stress enough how important good keyword research is for the success of your paid ads strategy. If you want to own the SERPs, a good SEM strategy complements an already strong SEO strategy. 
If you know which keywords are relevant to your business, you can directly scan through your master list and identify those you wish to target with the paid ads you are creating. Still looking for the right keywords? Head over to our Keyword Magic Tool to get started.

Enter a keyword that's relevant to your business and scroll through the related keywords. Explore the suggested search terms to find the right idea for your PPC ad groups. 
Remember: A broad match is a "keyword option that allows your ad to show when someone searches for that keyword, variations of it, as well as other related topics" according to Google guidelines. Related keywords in Semrush are synonyms, or terms semantically related to the main keywords that you're researching.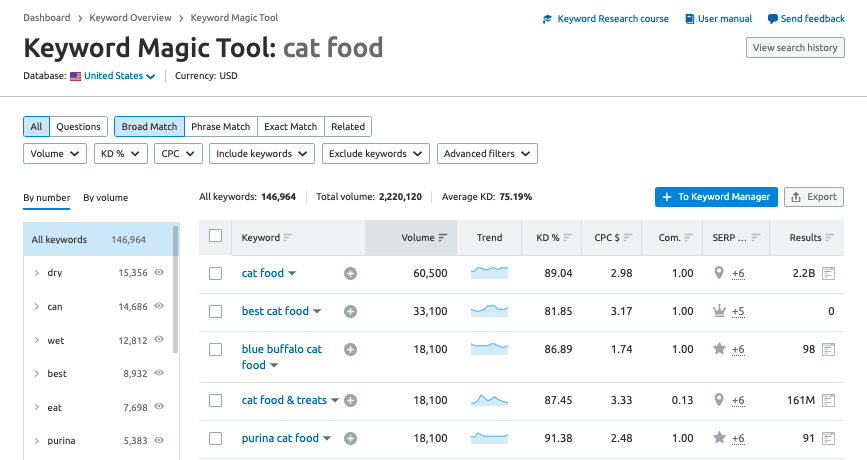 You can also easily sort groups by volume or by the number of keywords.
Remember to take full advantage of the filters available and choose keywords to exclude. Also, take note of the "CPC $" column to get an idea of what the cost-per-click will be. Now you have a strong basis for any search engine marketing campaign.
Search Intent 
Before you start conceptualizing your ad, it's important you spend some time with your keywords and understand them deeply.
Users sometimes enter search queries with very clear intent. Those who need information of a commercial nature are way more likely to make a purchase at the end of their search, compared to those just "scrolling" the internet for content. 
Let's say you sell gardening tools and want to run an ad for your seeds and pots. In your keyword research you found three different queries you want to focus on:
"do sunflowers grow back"
"how tall do sunflowers grow"
"how to grow sunflowers"
Now imagine you're the person searching. If you type in the first two phrases on Google, you probably don't want to be sold anything but are just looking for information. Only the last search query has any kind of commercial intent and could be a great opportunity for you to advertise your sunflower seeds and terracotta pots! 
Search intent is the difference between driving traffic to your website and attracting potential customers to your website.
Filter out the keywords with the wrong user intent and those less likely to deliver good results if you were to bid on them with an ad campaign.
One more reason why you want to bid on search terms with a commercial intent is that not every ad will appear in each search. In fact, Google operates with an auction that takes various factors into account to determine which ads are served to which user. Among them, the relevance of the ad for the user plays a huge role. 
We'll look at what Google looks for in auctions later on. Stay tuned. 
How to Build an Effective SEM Strategy
The steps to build an SEM strategy are pretty straightforward:
Conduct keyword research 
Select those keywords that are related to your business and have the right intent
Open Google Ads and set up a campaign
Select the keywords that are most relevant
Create an ad that will be displayed in the SERPs
Choose a bidding strategy and pay for each click you get
SEM allows you to place an ad in front of users that are in the right phase of the marketing funnel. In other words, customers who are ready to convert. But to ensure that your search marketing campaign will have the highest ROI, you'll need to target the right keywords, as well as watch out for a few more things. 
Let's look at these more in detail.
What Google Looks for in Ad Auctions
All ad campaigns compete for a specific target group and competitors might target the same users as you. The way Google chooses which ads to show to a particular user is through an ad auction.
According to Google Ads guidelines, there are 3 main factors that they consider during an ad auction:
Maximum bid: The maximum amount you're willing to pay for a click on your ad 
Quality Score: The formula that Google Ads uses to determine the relevance of your ad, or how useful it will be for the user
Ad extensions: The additional information you provided in your ad (phone number, links to specific pages, etc.) 
The maximum bid refers to Google's automated bidding strategies, and you have full control over it. The same is true for ad extensions that might impact the performance of your ad. The Quality Score, however, is assigned to you by Google and it's the reason why your ad only wins auctions for relevant queries.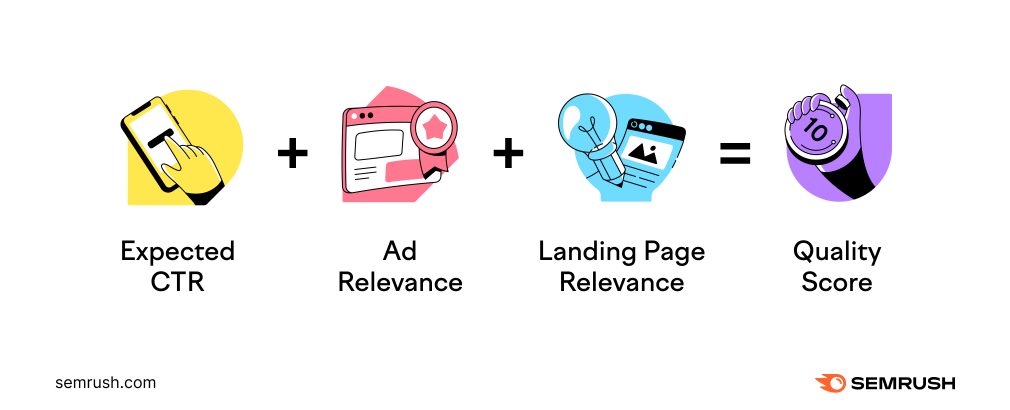 The Quality Score makes it so that if your ad matches too many irrelevant and generic queries, the costs of your paid search will go up exponentially without yielding the results you hoped for. This damages your ROI and gives off the wrong message to networks like Google. 
How to Create a Solid Ad for Your SEM Strategy on Google
There is one bulletproof way to create a solid ad that will have a high return on investment: creating data-driven, keyword-rich copy.
If you choose highly relevant keywords, you will win auctions for very well-placed ads at a lower price than your competitors, even if they choose a higher maximum bid. That's because your Quality Score is higher, meaning you've understood the end-user better than your competition. 
In short, when creating your ad copy make sure to:
Use keywords that cover the right user intent
Compare and analyze keywords' search volume and competitive density
Keep costs under control by regularly checking the campaign structure and ad grouping
This is all easier said than done, but keep reading to learn our best practices and your ads will be dominating Google soon enough.
How to Build an Effective SEM Strategy: Best Practices 
One way to sharpen up the targeting of your ad is to craft highly relevant Ad Groups. This means filtering out all keywords unrelated to your business. The PPC Keyword Tool is the easiest way to optimize Google Ads campaigns. 
This tool not only supports you during the keyword research but also helps you determine search intent and the right volume/cost ratio. Explore the Recommendations in the tool and clean up your keywords list, which will remove less profitable opportunities.

Use the PPC Keyword Tool to organize your keywords at both the campaign and ad group levels. But don't forget to set up negative keywords! These are terms that you can mark as irrelevant if you don't think they'll lead to conversions. 
For example, if you sell CrossFit classes, you might want to exclude the keyword "free crossfit classes", as users searching for free classes won't be interested in purchasing one.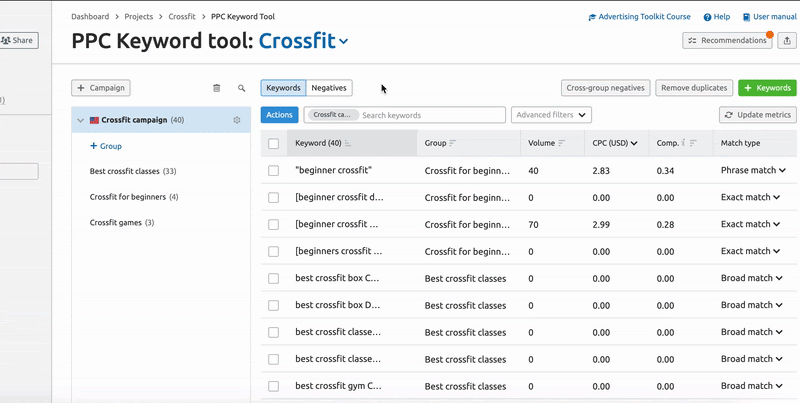 Pro tip: To improve your targeting, save a list of negative keywords, when you encounter them early on in your keyword research and add them to a campaign level when the topic requires them. 
You can also use the Keyword Magic Tool to find more keywords, adding them to Keyword Manager and moving them to the PPC Keyword Tool afterward. In order to get the most out of the keywords you choose to target, make sure you add them to the PPC Keyword tool as a final step before setting up your campaign in Google Ads
Here's why.
Get Rid of Duplicates in your Keyword List 
In the PPC Keyword Tool, you can store negative keyword lists that are valid both at the ad campaign level and at the group level, so you can run multiple ads for the same campaign without creating the same list of keywords repeatedly. To avoid any competition between groups, you can also use the cross-group negatives function.
In this way, the tool automatically checks any overlap and avoids duplicates.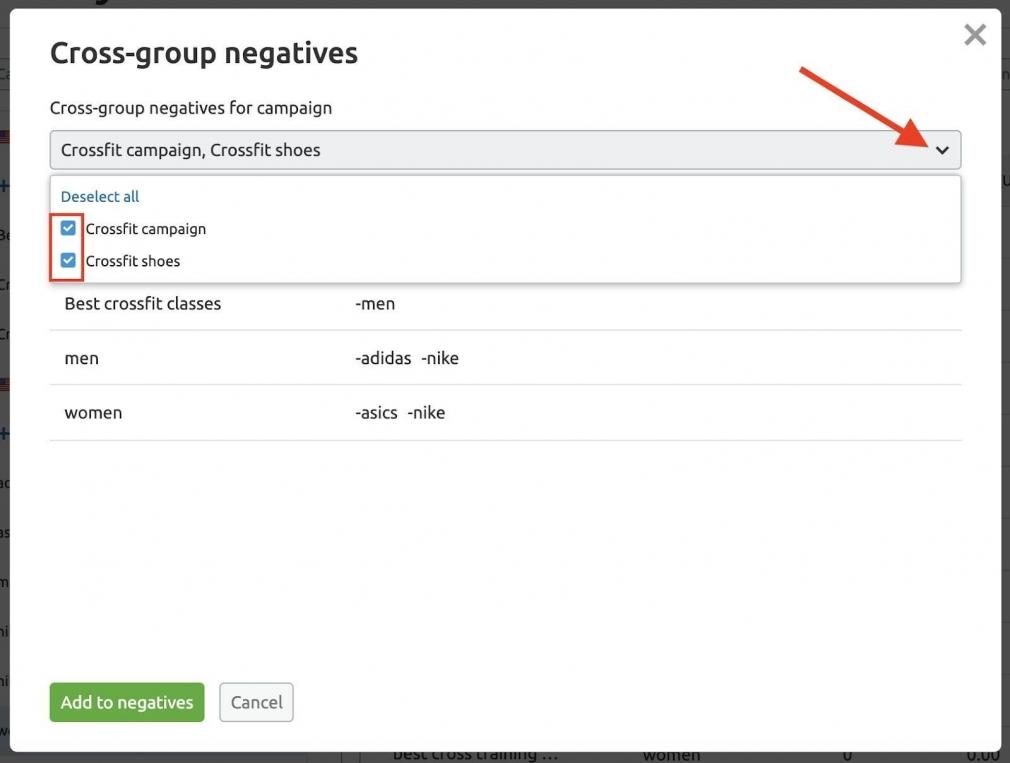 The same is true also for removing duplicates from regular keyword lists. Click on the "Remove duplicates" button on the top-right corner and the tool will automatically present you with the newest duplicates it detected. All you've got to do is delete them.

Narrow Down Your SEM Strategy With Laser-focused Keywords 
The possibilities with the PPC Keyword Tool are almost endless. That's because it supports you during the difficult task of refining your keyword lists with several filters and metrics. In particular, we made sure you could:
Search for long-tail keywords with the word count
Create hyper-focused ad groups divided by topics
Refine the scope of your ad groups by filtering out modifiers
Quickly find the right keywords in a specific range of SV, CPC, etc. 
Connect seamlessly to Google Ad Editor
Once you've crafted your ad groups, it's time you head over to Google Editor and start working on your ad copy. Export your campaign keywords, negative keywords, or both and upload them directly.

Create the Perfect Keyword List
with the PPC Keyword Tool
What Makes an Ad Effective? 
In short, what makes an ad effective is hyper-targeted ad copy and a high ROI. By understanding your customer base better, you can make sure your ad appears in front of them as soon as they've entered the right moment in the purchase funnel. This is made easier by using the Advertising Toolkit, which allows you to analyze search queries and search intent. 
By presenting your business's offer in the right place and at the right time, an effective ad campaign is a vital part of a well-rounded SEM strategy. But that's not all; SEM is also a great way to drive traffic to your website, as well as help to generate more brand awareness.
To sum it all up, the steps to build your SEM strategy are:
Conduct keyword research 
Select the keywords most related to your business 
Organize your keywords into concise ad groups
Create an ad to display in the SERPs
Choose a bidding strategy and pay for each click you get
Monitor your ads and traffic and keep optimizing
To ensure that your search marketing campaign will lead a lot of high-quality traffic to your website, follow the best strategies presented here and you'll be good to go. 
Happy advertising, marketers!