How to get a Featured Snippet on Google? In this article, we will talk about what you can do to organically win Google SERP features (or, as Google calls them, Search result features or rich results) for your site. 
How To Optimize Content For Google SERP Features
SERP features can make your content stand out among plain blue links.
Here's a list of SERP features that you may aim for.
In order to get a SERP feature, you need to enable your website to get to the top of the SERPs by optimizing its content using structured data and making sure it follows Google's guidelines and demands. 
Here are the steps you should take to enable the possibility of your content to target SERP features:
Step 1. Study structured data and how it works.
Step 2. Learn how to build, test, and release your structured data.
Step 3. Choose the content assets on your website that you want to target SERP features with.
Step 4. Follow the General Structured Data Guidelines and apply them accordingly.
Step 5. Mark up the content on your webpages using schema.org properties. These may apply to reviews, FAQs, job listings, etc. If you already have information in the Knowledge Panel but want it to get updated, use Google's guide for that. 
NOTE In 2017, Google added the ability for AMP (Accelerated Mobile Pages) links to appear in Featured Snippets. You can learn more about AMPs here and test if your content is AMP-ready here.
Step 6. Run Google Rich Results Test to check if your content is optimized for SERP features. If implemented correctly, structured data may enable special search result features and enhancements for your website's content. 
Though structured data optimization does not guarantee that you will be present on search result features, following these steps may raise the chances for your content to get them. 
How To Use SEMrush Tools To Get SERP Features
Having optimized your content with structured data, you can now look into the following tactics to boost your chances of getting into Featured Snippets, or other SERP features:
Finding SERP Feature Opportunities Occupied By Rivals

Spotting More Keywords that Trigger SERP Features

Tracking Opportunities to Seize SERP Features

On-page Optimization for SERP Features
They sure do seem similar to the steps of your classic SEO workflow, but there are some distinctive know-hows. So, let's get started.
Finding SERP Feature Opportunities Occupied By Rivals
First, you can look for SERP feature opportunities in your competitor's keyword profile. 
If your site can provide something better than your rivals occupying a Featured Snippet or other feature, Google could replace your competitor's snippet and link with yours. 
To start, go to Organic Research and type in a competitor's website.
SEMrush Organic Research
In the Positions report table, find the SERP features column. It shows all SERP features that are triggered by the keywords that the analyzed domain is ranked for in the chosen country.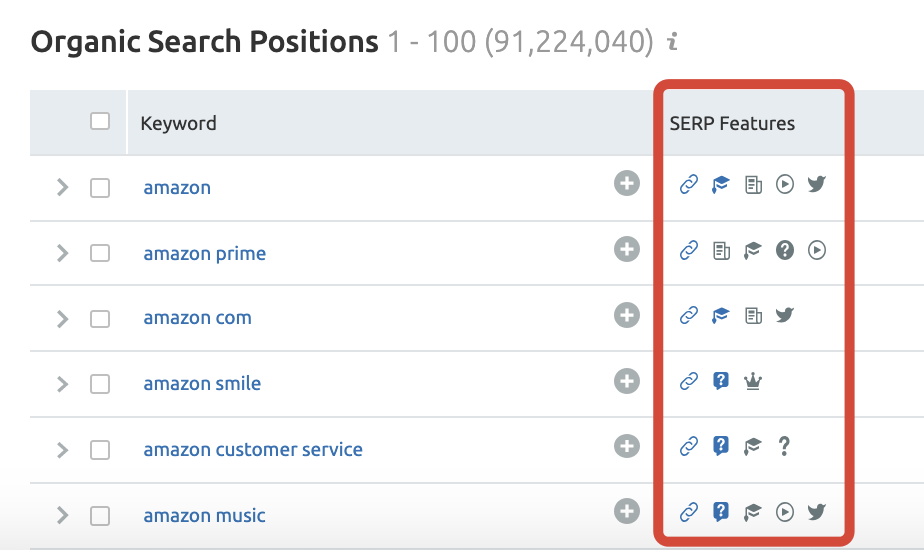 SEMrush Organic Research Positions
Filters To find SERP Feature Opportunities
You can use the SERP features filter above the table to see all the keywords where your rival occupies a SERP feature (Domain ranks), as well as the ones where they don't (Domain does not rank). 
SEMrush SERP feature filters
These keywords are your targets – see if any of these are terms that your website already covers, and make a plan to make your content better than the content of your competitors. 
You can use filters to find various ranges of keyword difficulty and volume, as well as the number of words in a phrase (keywords with at least 4 words, for example) to find the best opportunities for you. 
You can also filter with a secondary term to find specific keyword combinations to see what search features they have triggered.

Finding ranges of keyword difficulty and volume
You can pick out keywords right here and send them to "Keyword Manager" or export them to CSV or Excel files for further use.
Spotting More Keywords That Trigger SERP Features
We found some opportunities by digging through a competitor's keyword list. Now let us talk about finding more opportunities by using the Keyword Magic Tool.
You can start by entering a core keyword and the tool will generate as many related search terms as possible.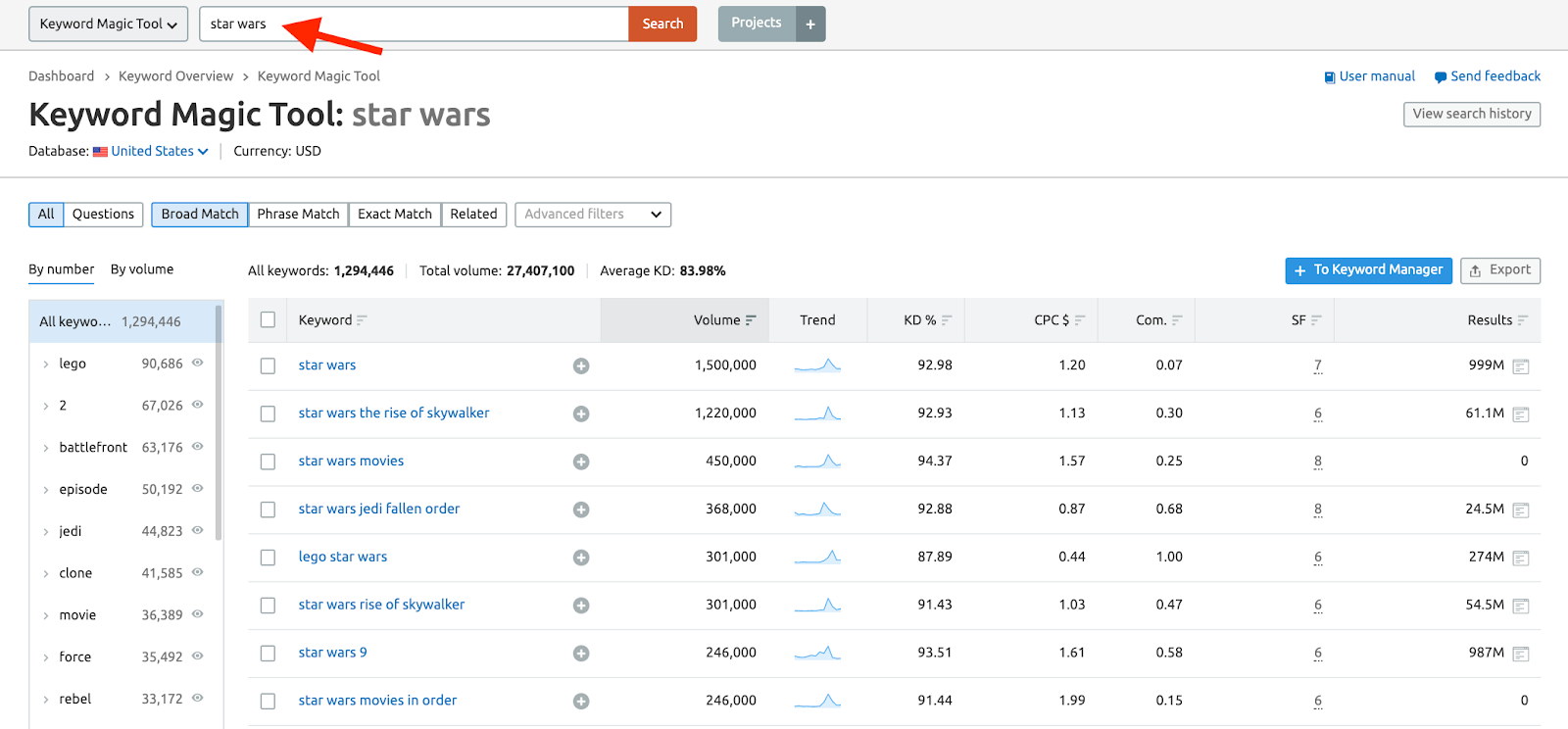 SEMrush Keyword Magic Tool
Then, you can set a filter to only see keywords that trigger different SERP features.
Another great filter for finding potential SERP feature targets is the Questions filter. This will return only keywords that are in the form of a question.

Questions filter for featured snippet
You can pick the most fitting keywords for your site and by clicking the button with the plus sign and sending them to the Keyword Manager to save your research. 
In Keyword Manager, you can gather all the keywords you are working with, group them into thematic lists, and update metrics to get the freshest data and groom your list of keywords. 

Sending keywords to the SEMrush Position Tracking tool
When you are done gathering your SERP Feature-targeting keywords, you can create a tracking campaign to follow your optimization efforts.
From Keyword Manager, you can automatically send keywords to the Position Tracking tool by clicking the "Send to other tools" button and selecting Position Tracking (you need to set up a project beforehand). 
There, you can start monitoring your own, as well as your competitors' rankings and all of the triggered SERP features.
Tracking Opportunities To Seize SERP Features
In order to watch how your site performs on these SERPs, you can set up the Position Tracking tool. 
This tool will allow you to track SERP features and rankings features of your target keywords.
You can track your website as well as your competitors' websites and see who has certain features on each keyword's SERP. 
A quick way to do so is to filter the Overview report by SERP features.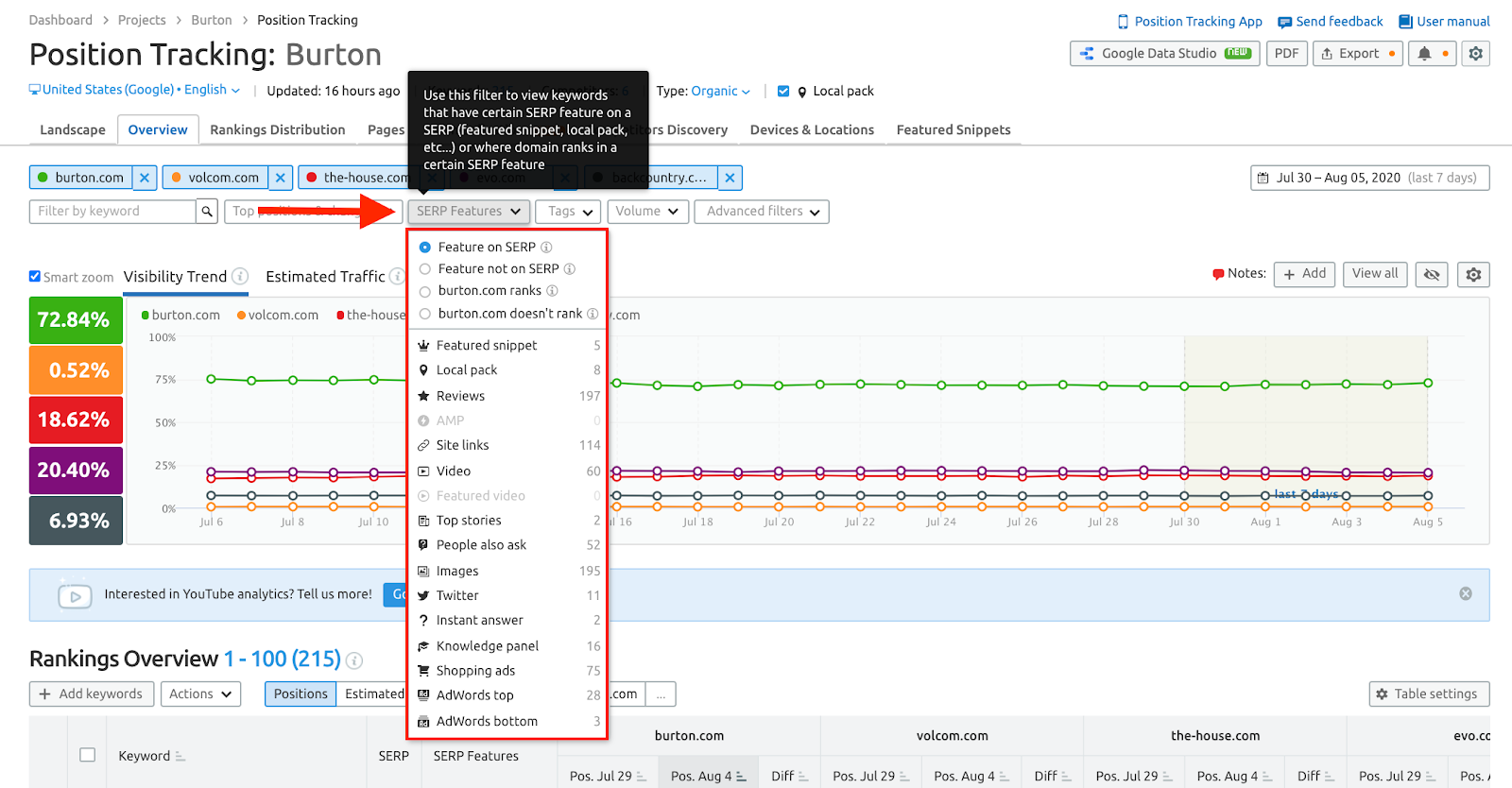 Tracking SERP features in SEMrush Position Tracking
With these filters, you can find keywords that trigger SERP features as well as keywords that do not. You can do this by selecting a feature from the dropdown menu and switching between "Feature on SERP" and "Feature not on SERP".
To quickly check whether a certain domain ranks for a feature or not, set the target domain as the first in the top menu, then pick an option in the SERP Features filter to see if it "ranks" or "doesn't rank". 
This way you can easily track your own domain for a SERP feature and find results where you have a good position on SERP but do not own a feature. These landing pages should get in line for optimization.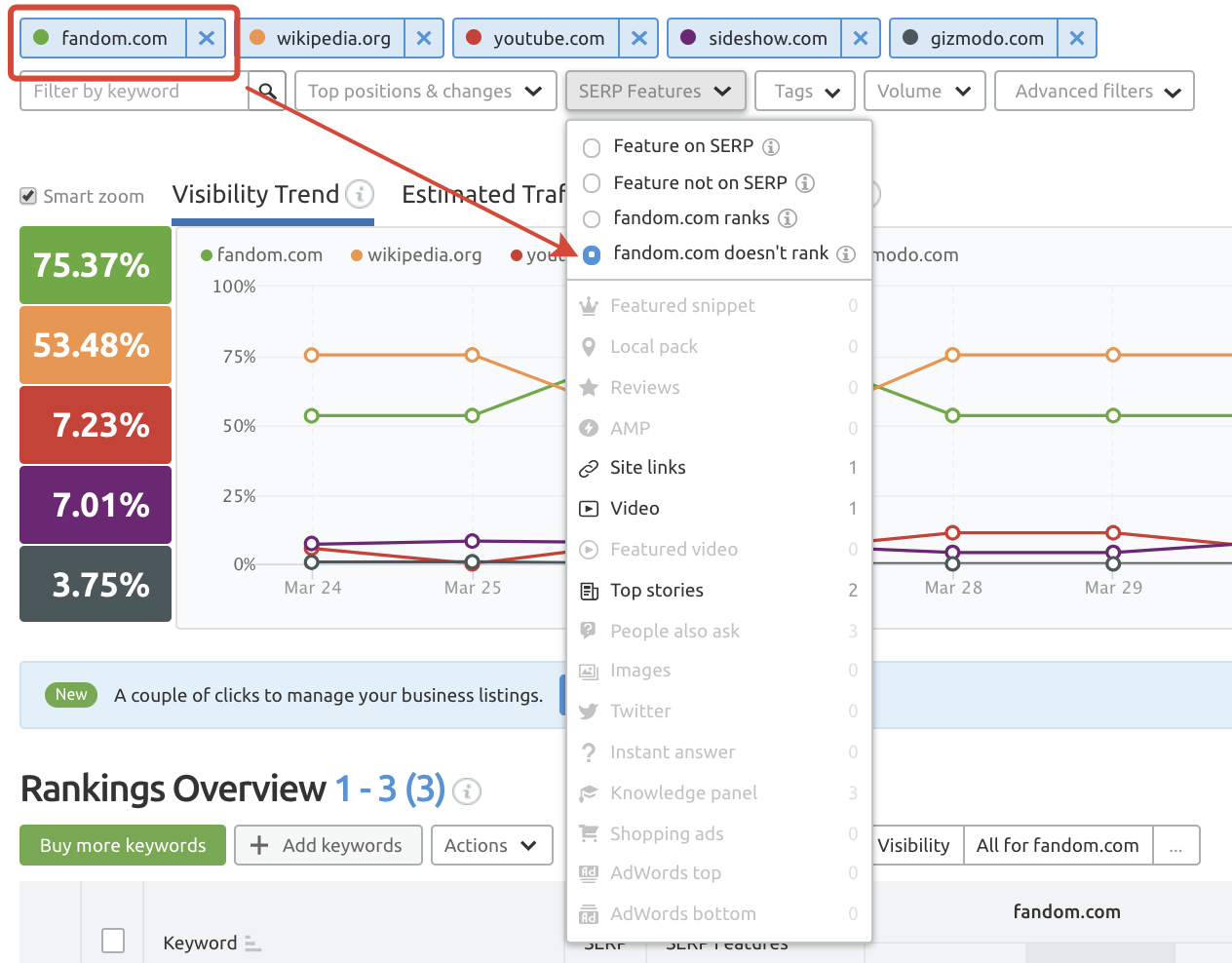 Checking if a domain is ranking for a SERP feature
Tracking Featured Snippets
When you open the Featured Snippets report in the Position Tracking menu, you will be presented with two widgets and a list of keywords with seven tabs. 
These widgets tell you where your site is already featured and all of the new opportunities you have to be featured among your target keywords.
SERP feature opportunities and trend
Now, let us look at the sections of the report:
Lost from SERP. Here you can see all the keywords that did have a Featured Snippet on their SERPs, but currently, do not. Keep an eye on that tab, especially on the keywords labeled "You". These are the keywords the target domain has had Featured Snippets for.
URL changed. This tab shows the occasions when the target domain was in a Featured Snippet for a certain keyword, and still is, but now with a different page. This can be helpful to check if you need to migrate content or change the URL of your page that has its content in the Featured Snippet. 
The "New"/"Lost" and "New on SERP"/"Lost on SERP" tabs depend on the date range you chose. It compares the first and the last day. 
The same applies to the keyword tag "New" and "Lost" in other tabs. If the word is labeled "New" in the "Already featured" tab, it means that the targeted domain was not occupying the Featured Snippet on the first day of the selected date range, but is featured on the last day.
In the "Opportunities" tab the "New" keyword label means that the word did not trigger Featured Snippet on the first day, but did on the last. The 'Lost" label here means that the domain lost Featured Snippet by the last day of the date range.
TIP Read the Featured Snippets Report manual for more help.
On-page Optimization For SERP Features
If you have followed the steps above, you'll have a set of target keywords and a tracking campaign set up to watch your site compete for the top spots. Now, all that is left to do is to optimize your pages. 
We have an amazing guide on our blog that researched what strategies helped sites optimize for Featured Snippets. In that post, AJ Ghergich covers optimal paragraph length, use of lists and tables, and how to have a "featured snippets hub" on your website. 
Two SEMrush tools in particular that can help you in this step are On-Page SEO Checker, SEO Content Template, and SEO Writing Assistant.
On-Page SEO Checker
This tool lets you enter your landing pages and target keywords and then returns with specific optimization ideas you can take to help your existing pages both rank and acquire SERP features on your target keywords. 
SEO Content Template
This tool will outline a template for new content that specifically targets your keyword and SERP features. This will help you get started when you want to target a new keyword that you are currently not targeting. 
SEO Writing Assistant
With this tool, you will be able to check the potential SEO performance, readability, and originality of your content pieces, based on recommendations given by SEO Content Template.
We recommend using all of the three tools out for quick tips on improving your existing pages and adding new content to your site that may help in getting a SERP feature. 
Conclusion
Now that you have some knowledge of what SERP features are and how they may benefit your site, go try out some of these strategies and let us know what works best for you. Remember that success takes experimentation, data gathering, analysis, and of course, patience. 
Do you have any tips or stories about SERP features? Let us know in the comments!