In this post, I will walk you through what you can do with SEMrush's Organic Research Tool, including specific examples of drilling into the new reporting. I think you will see why the addition of live graphs is a killer feature and will enable you to receive immediate visual feedback while analyzing sites at a much more granular basis.
The live graphs within Organic Research where you would normally enter a domain or keyword now had a dropdown for subdomain and URL. And after entering a few subdomains and specific URLs, you could see the graphs dynamically changing. SEMrush calls this functionality "live graphs".
SEMrush was already amazing for drilling into root domains, seeing trending in search visibility, identifying keywords that were increasing or decreasing in rank, surfacing top landing pages, understanding which SERP features were being triggered, and more. But now you could do the same for any subdomain, directory, URL, or keyword. As I said when this went into beta and was publicly available, this is a great update.
SEMrushs live graphs functionality helps provide you with a wide array of data to improve your SEO strategies or see those of your competition. This handy SEMrush tool is going to improve your reporting and research for all levels of your site.
First, Live Graphs Are Amazing
OK, so what is a live graph? Well, you are probably familiar with the trending graph that is visible after entering a root domain in SEMrush. That shows the search visibility of the root domain over time. It is awesome and enables you to see surges and drops along the way. That volatility could be from site changes, migrations, redesigns, changes in competition, and of course, from major algorithm updates.
As most site owners want to see the graphs at the subdomain level, subdirectory level, or for even URLs and specific keywords that a site is ranking for, Organic Research is a great tool from SEMrush to use to find discover this information.
Once you enter a root domain, subdomain, or URL, the graph dynamically changes. That is powerful on multiple levels. For example, you could see trending over time for specific areas of the site. You could see trending for a specific URL, blog post, article, etc. And you could trend important keywords leading to your site. The sky's the limit.
How To Use Live Graphs in Organic Research:
Below, I will cover some ways you can use the new organic search reporting in SEMrush. I will start with the various levels you can analyze and then explain how you can layer on filtering to dig much deeper than you could before.
Subdomain Analysis
If you are analyzing a site that has multiple subdomains (or more), then this feature will be amazing for you. For example, let's quickly look at amazon.com. When you enter the root domain and click the subdomains tab, you can see many subdomains at play. And there are some important subdomains from an organic search perspective:
If you check the root domain's trending for amazon.com, you might not get a true feel for how each area of the site is performing over time. But if you start digging into each subdomain, you can start peeling back the onion. And when you do, you can begin to identify areas of risk, danger, opportunity, and more.
For example, here is the root domain. Trending looks ok overall:
And here is trending for aws.amazon.com: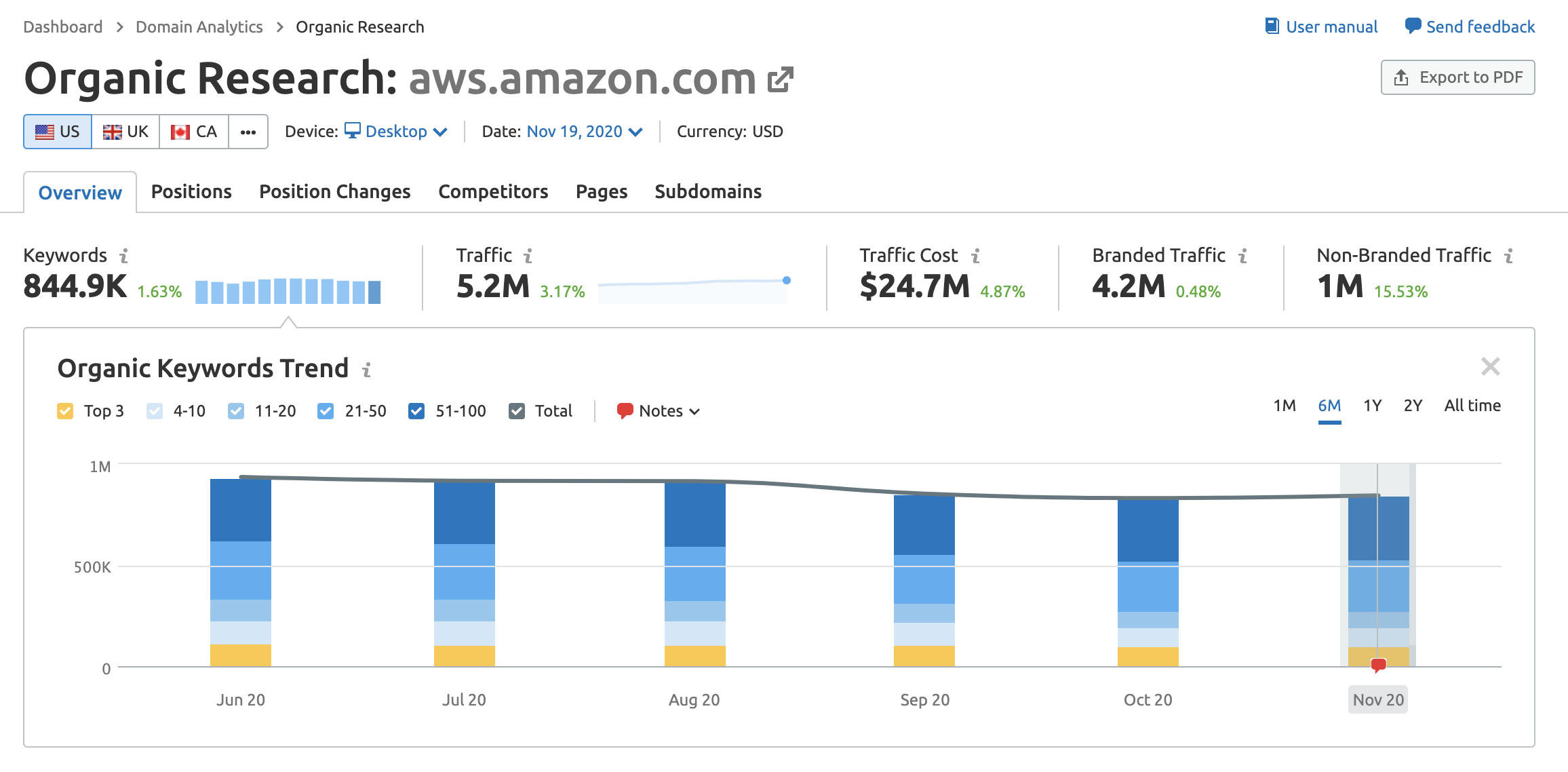 Digging into the position changes reporting for that subdomain reveals specific keywords and landing pages that dropped in rankings. You can see more about search positions here: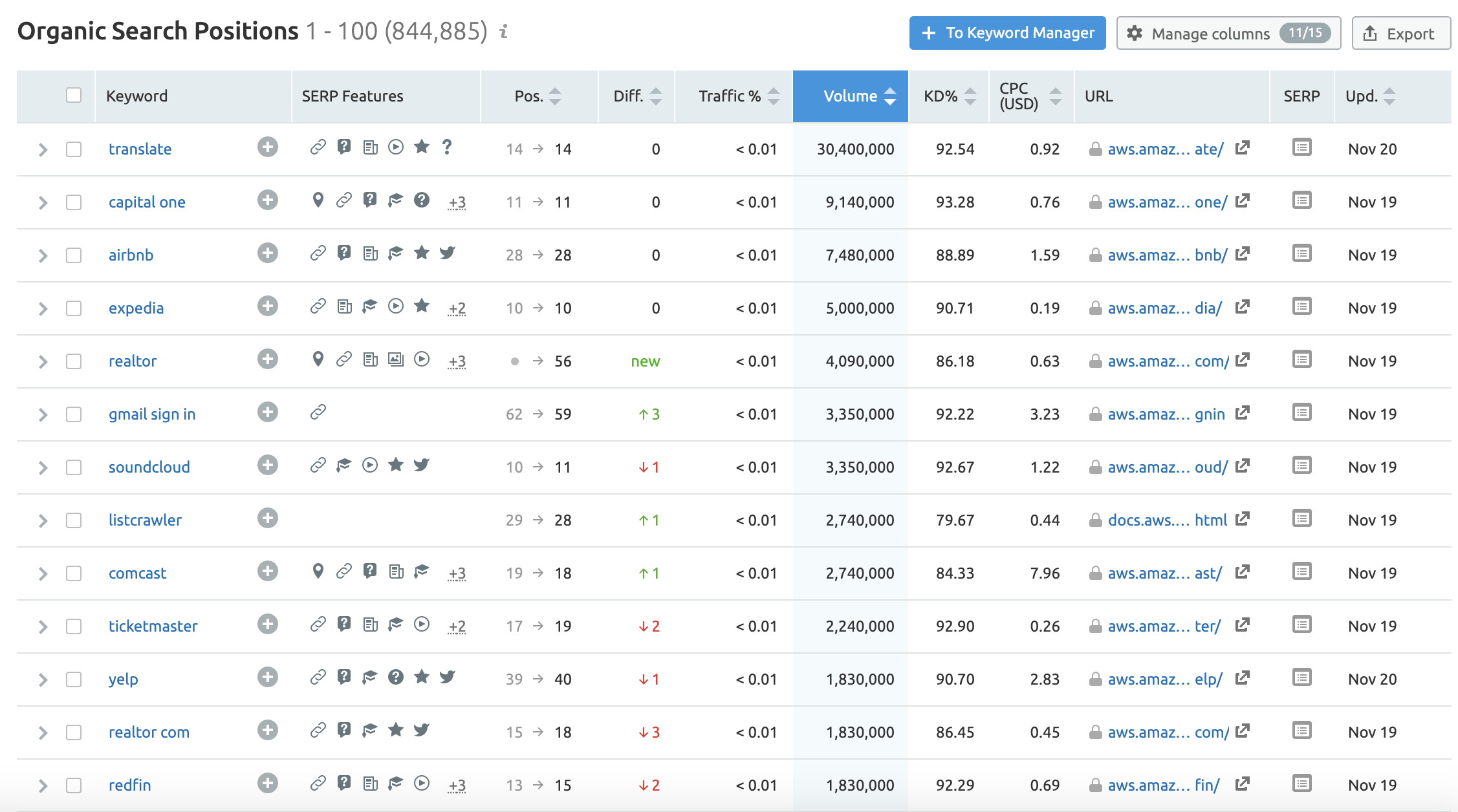 Analyze Trending By URL
So far, we have seen live graphs at the root domain and subdomain levels, but what if you wanted to see trending by specific URL? Well, you can do that too. And it is a great way to see how specific pieces of content are faring over time.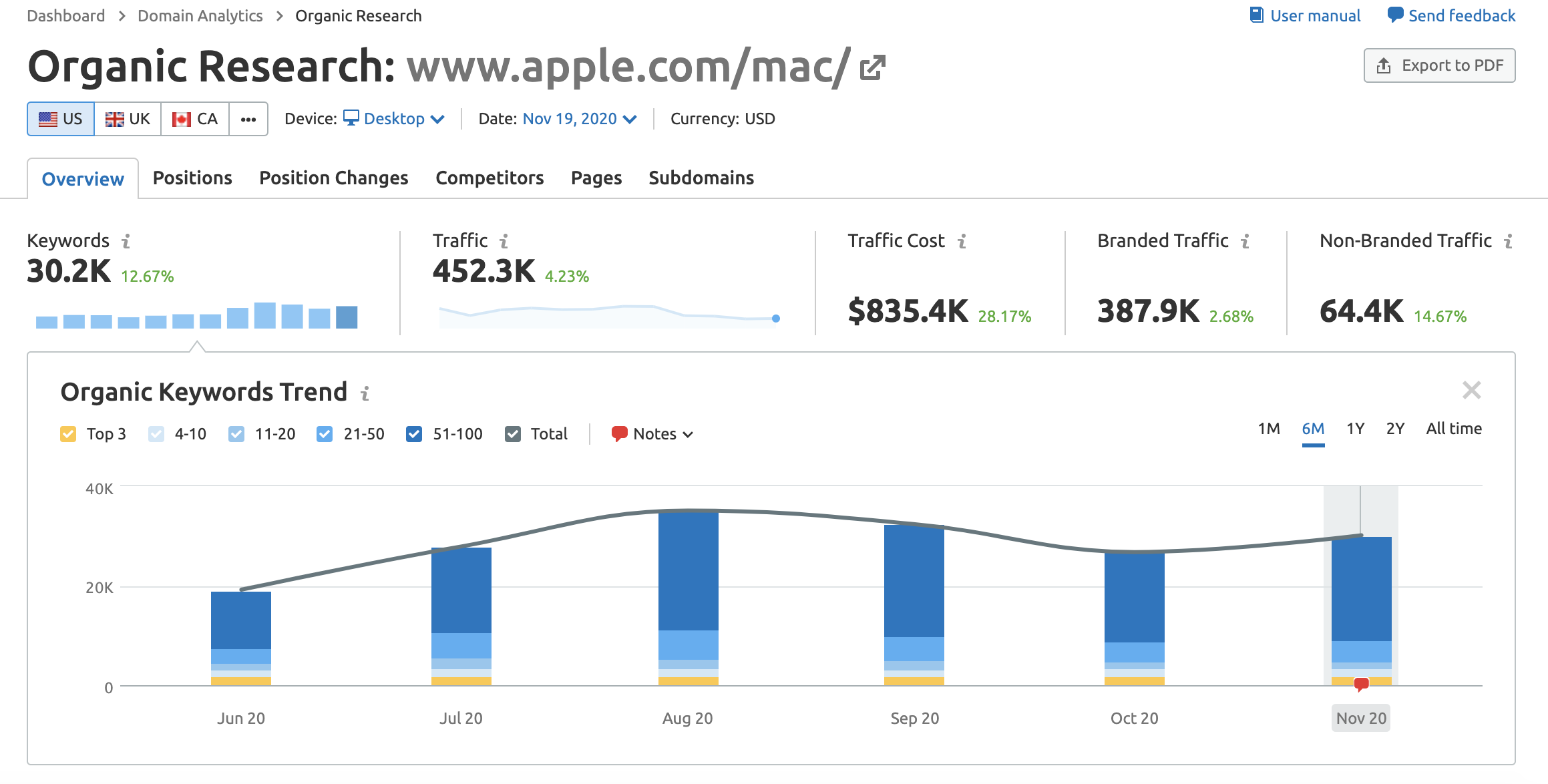 And for this page, you can quickly see all of the keywords the page is ranking for, the number of keywords trended over time, position changes (new, lost, improving, or declining queries), and SERP features present when the page ranks in the search results. Awesome.
For example, by clicking into the Position changes report, you can quickly see ranking changes per month or day.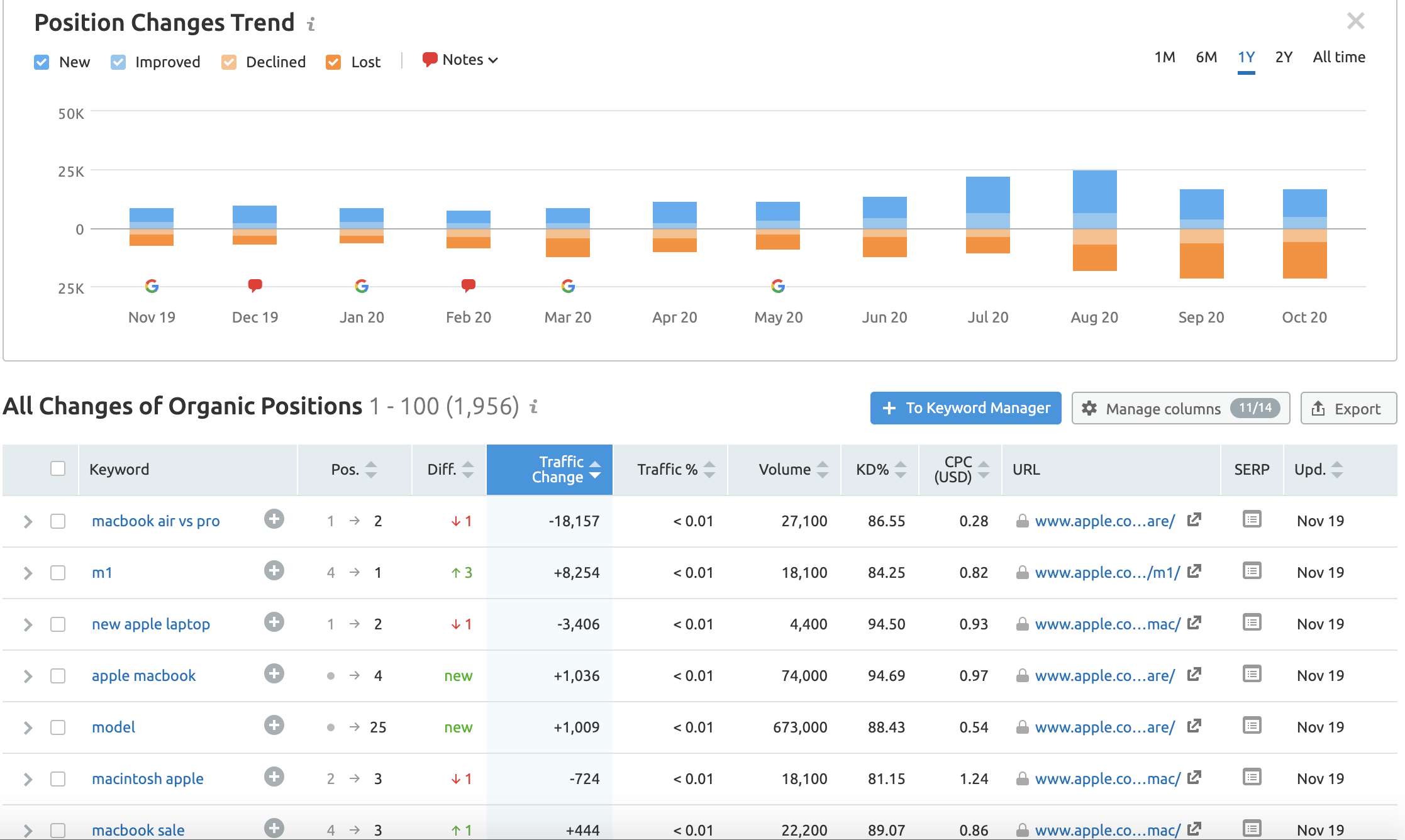 Hacking Organic Research By Directory
I have had a few people ask me why the new search box doesn't let you enter a subdirectory, so I wanted to address that here. You actually can see live graphs by directory, but you must use filtering to achieve that.
For example, enter a root domain and then click the Positions tab. Then click Advanced Filters and select Include, URL, Containing, and enter the directory as seen below. Then all reporting will be filtered by that specific subfolder, including live graphs. Awesome, right?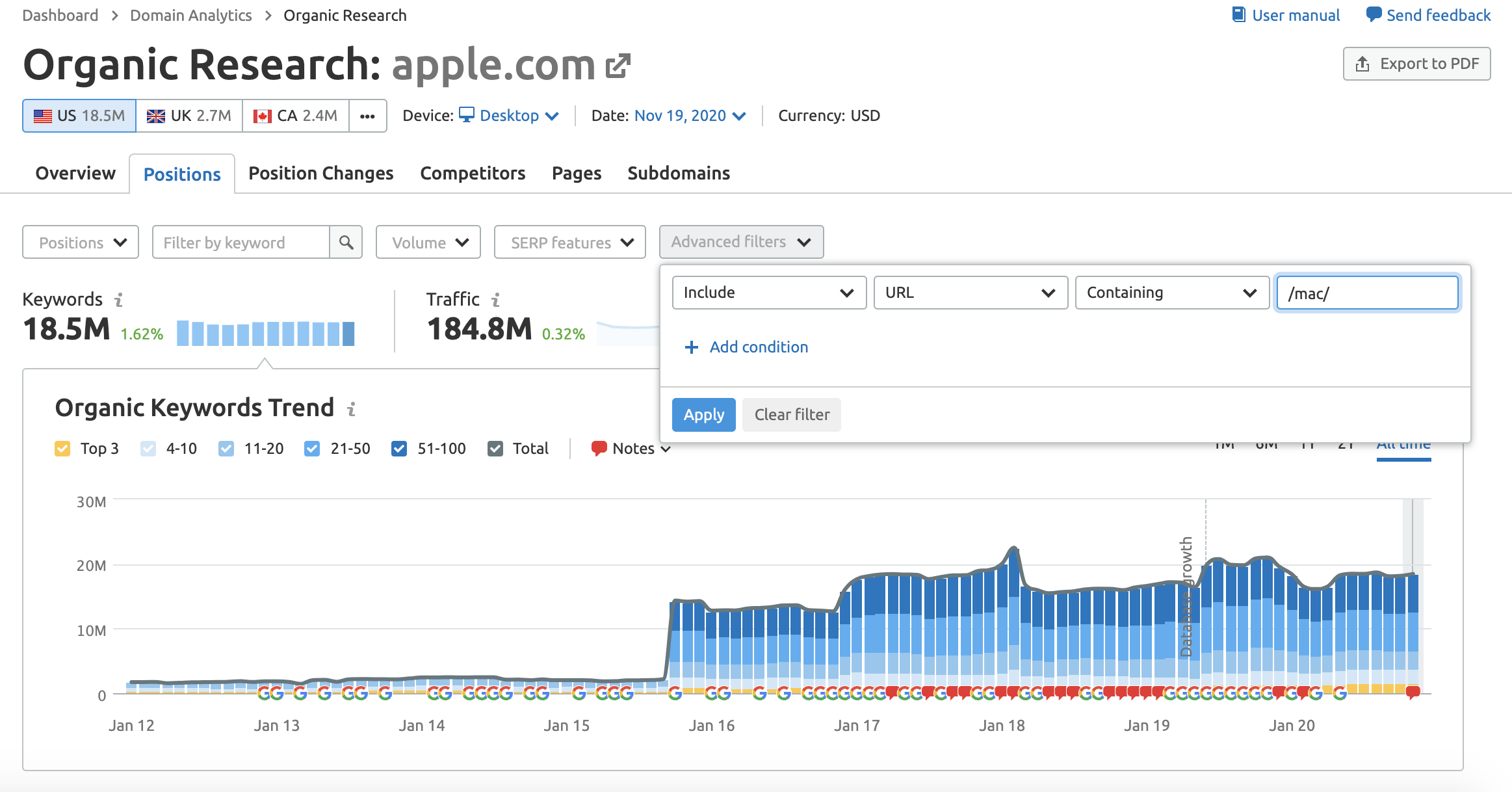 Live Graphs by SERP Feature
One of the coolest and most valuable features in SEMrush is its SERP features functionality. That is where you can view all SERP features for a domain (and then filter your reporting by any of them). For example, you can click "Featured Snippets" to see all queries and landing pages that yield featured snippets for the domain at hand.
Well, now your live graphs will change to show you trending for those SERP features (and by subdomain, directory, or URL); this can be especially handy when major algorithm updates roll out. For example, there is a quality component for both rich snippets and featured snippets and sites can often see dramatic volatility for those SERP features when a major algorithm update rolls out.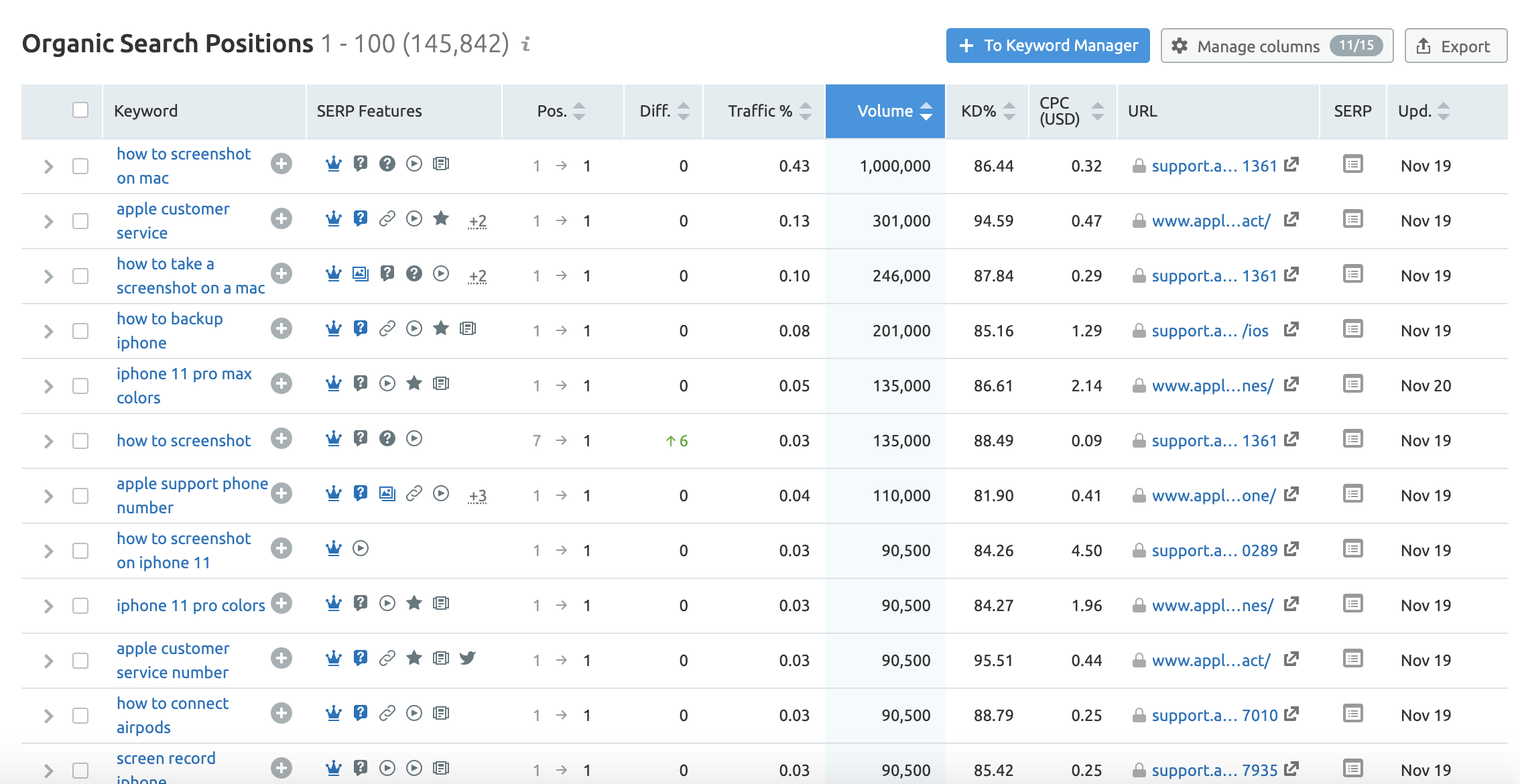 You can also view the SERP from the tool with a screenshot that it took: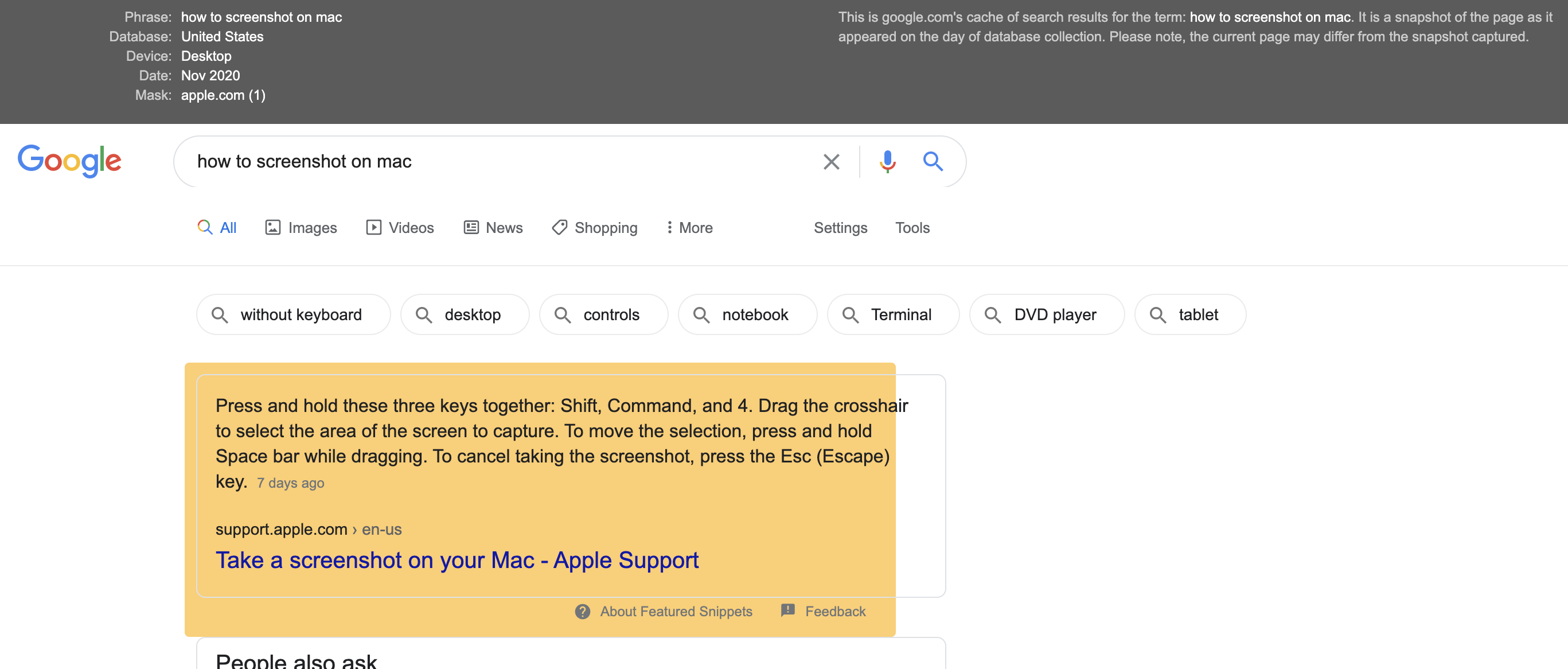 Live Graphs By Keyword
You can also view live graphs by keyword (or groups of keywords) leading to a site. For example, if you ranked well for a competitive keyword that is extremely important for your business, you could simply isolate that keyword to see trending over time.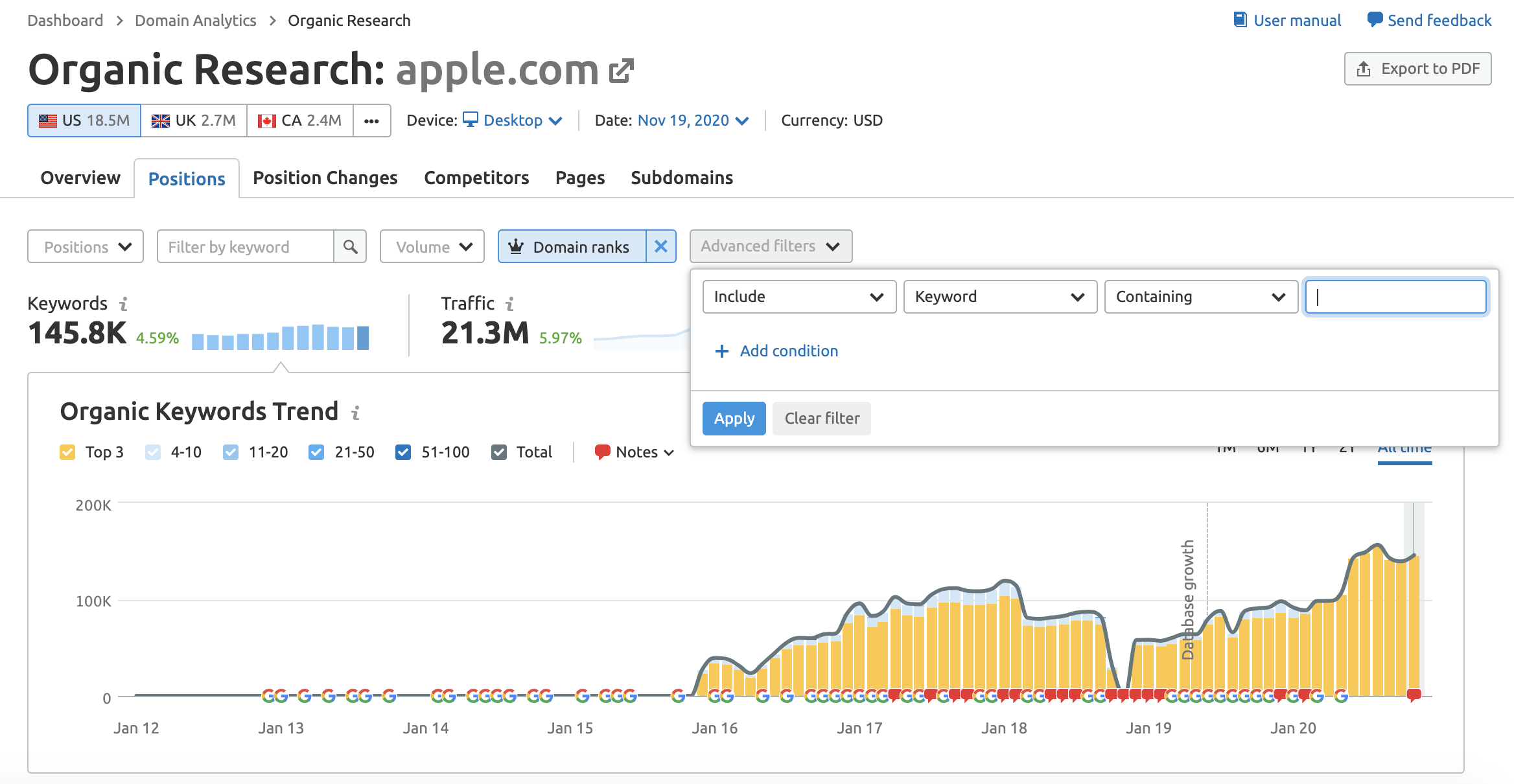 Or you could view all keywords that contain a certain word or phrase. Just change the filter from "exactly matching" to "containing" and you will see all queries containing that word or phrase. SEMrush's live graphs will change based on every filter you apply.
Combine Filters For Insane Research and Live Graphs
As you dig deeper into your analysis, you might want to start adding multiple variables to the mix and view live graphs for that combination: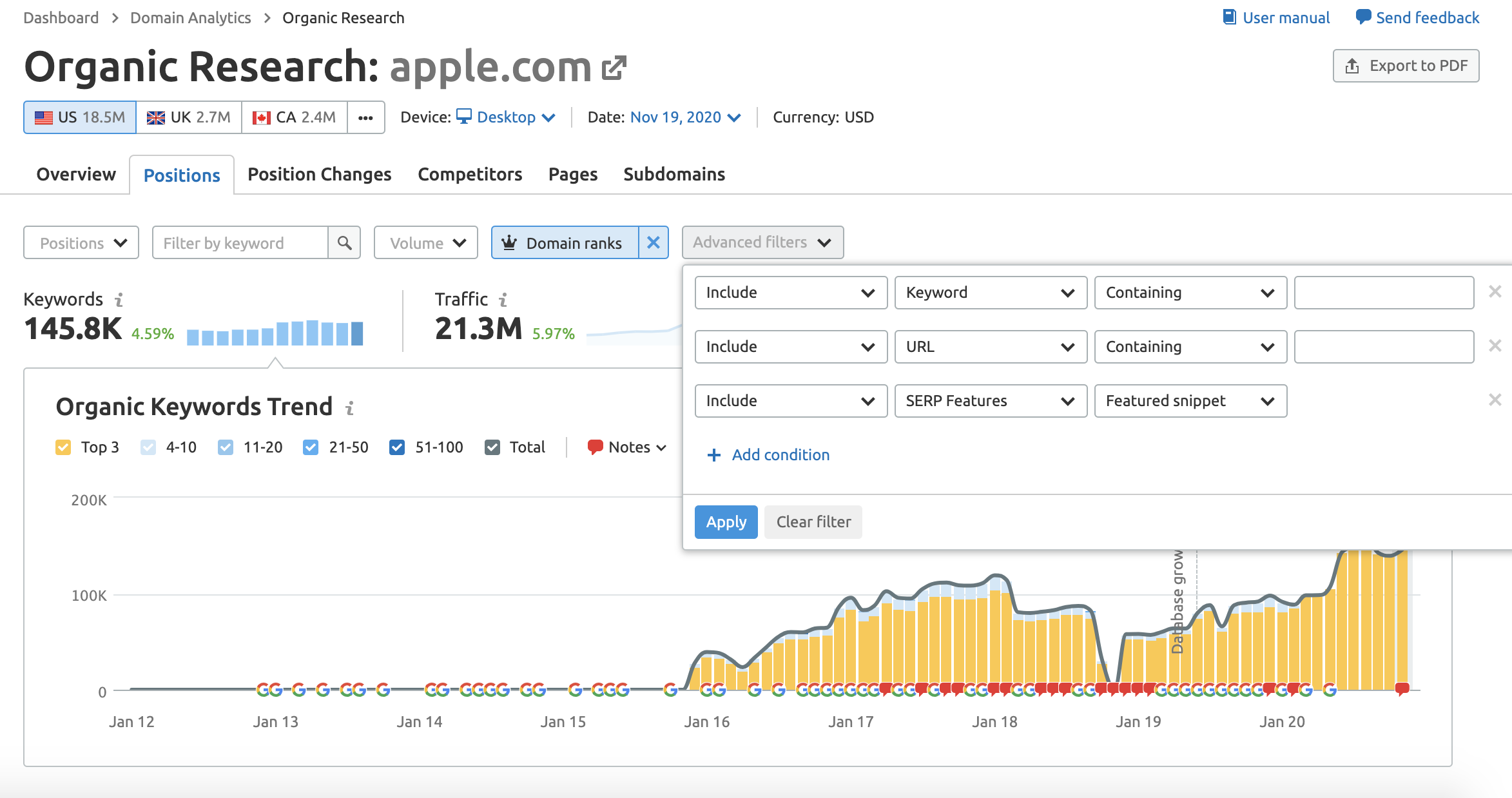 Or how about seeing trending for longer tail keywords (maybe for any query with five or more words)?
The sky's the limit. Live graphs will dynamically change for whatever combo you throw at it. It is awesome.
Summary – Expand Your Analysis with Live Graphs
After reading this post, I hope you can see how Live Graphs gives a great ability to drill into root domain, subdomain, subdirectory, or URL. It is an amazing way to analyze a site. The Organic Research section enables you to be creative with your research, receive immediate feedback with live graphs, and layer on filtering to go even deeper. I think you'll love it as much as I do.
So what are you waiting for? Dig in NOW! Live graphs await.