"Data helps teams prioritize, and this is the data that they normally wouldn't have access to, given that, historically, marketing and development teams are not close," says Nick Wilsdon, Product Owner, Search, Vodafone, a British multinational telecommunications company which managed to build an effective digital strategy based on data-driven decisions powered by SEMrush.
Competitive intelligence can become a game-changing asset for companies looking to optimize their digital performance and accelerate growth. Knowing where your rival's or potential partner's traffic comes from, understanding how they interact with their users and seeing if they are affected by market trends will definitely help anyone make more substantiated business decisions. 
The SEMrush Traffic Analytics tool offers estimations of any website's desktop and mobile traffic, user behavior stats, and traffic sources analytics. This data will help you break down the digital marketing strategy of a competitor, estimate a prospective partner's capabilities, explore new markets, build winning presales pitches (if you are an agency), and much more.
Traffic Analytics vs Google Analytics
Of course, Traffic Analytics doesn't obtain the website's traffic stats from its internal analytics. We analyze petabytes of clickstream data collected from various proprietary and 3rd party sources using machine learning algorithms and Big Data technologies. 
Traffic Analytics is designed for competitive analysis and benchmarking. If you want to analyze the performance of your own website, Google Analytics, which gathers information directly from your website through a Javascript tracking code, will be a better fit. Although, if your aim is to compare the website traffic and user behavior of two or more competitors, Traffic Analytics is definitely the solution of choice. 
Traffic Analytics vs Google Analytics
Exploring Other Websites' Traffic and User Behavior
Breaking Down Competitors' Strategies
 Using Traffic Data to Facilitate Growth
Evaluating a Prospective Partner
Exploring Other Websites' Traffic and User Behavior 
Even basic information about your competitor's or potential partner's/customer's traffic can become a boatload of insights if you look at it at the right angle. Below, you will find recommendations on how to check other websites' traffic using SEMrush Traffic Analytics, interpret collected data, and use it to achieve your business goals.
General Traffic Data
Start by finding out how much traffic the website of interest gets. Type in a competitor's URL to see their website traffic report (Overview Report). Check out the estimated number of Visits and Unique Visitors to their website for the recent month. This will let you scale the competitor's audience and suggest whether their business is succeeding or failing.

Then add up to four rivals to compare them against each other and estimate each company's market share.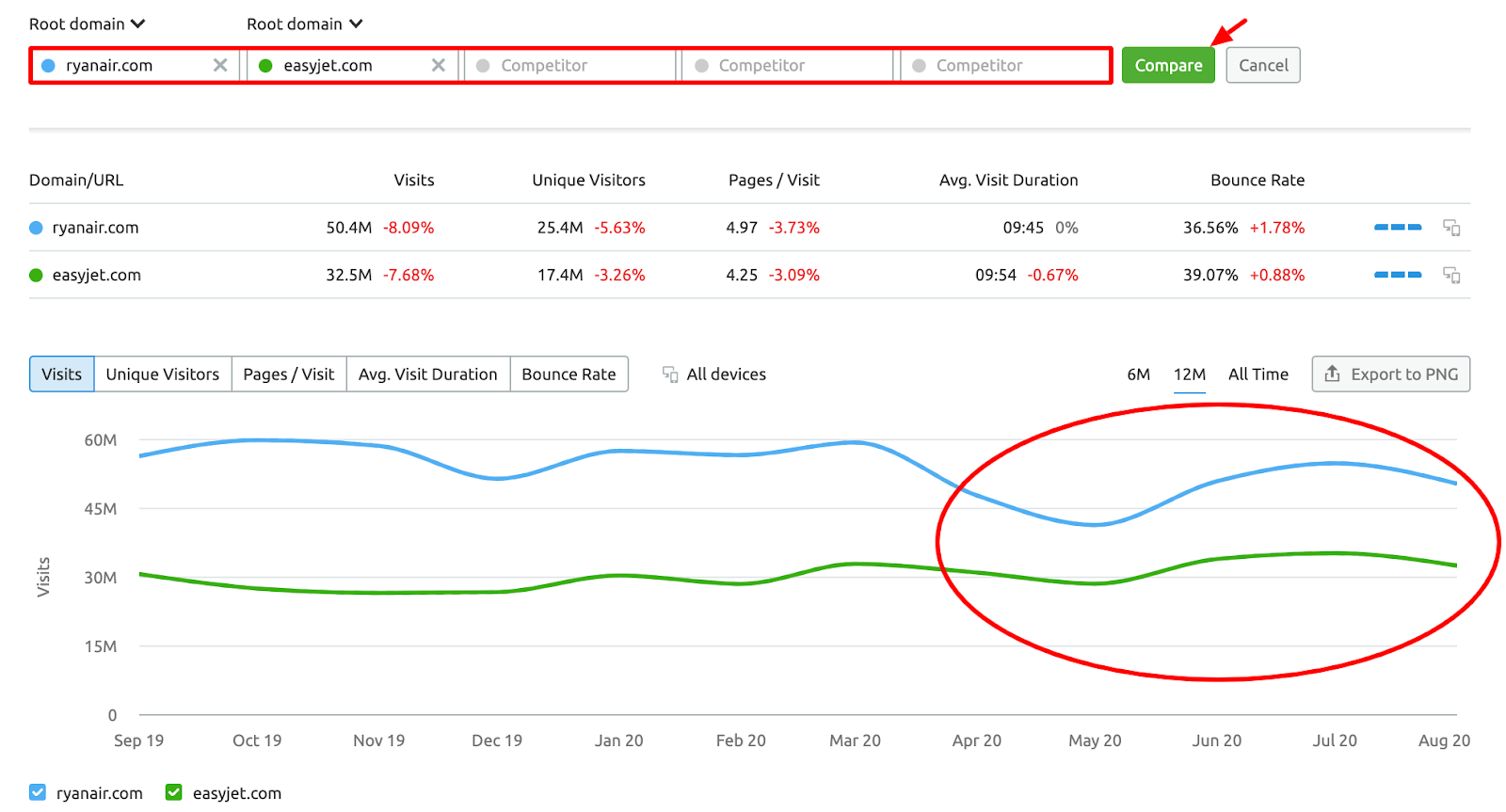 As you can see, the COVID 19 pandemic hit the world's leading low-cost airlines quite hard, and even the holiday season didn't bring them the desired recovery. However, EasyJet suffered less than Ryanair. 
The Overview report shows you the data for the past 6 months, one year, or all time (dating back to Jan 2017) trend of a target website's traffic. 
Watch how Sam Ruchlewicz, Vice President of Digital Strategy and Data Analytics at Warschawski, used SEMrush to analyze a sudden peak in competitor's traffic:
Audience Behavior
To take a sneak peek into the quality of traffic a competitor gets and make some conclusions about the efficiency of their digital marketing activities you can analyze Pages/Visit and Bounce Rate. *

For example, if a website's total traffic is growing, the Bounce Rate is increasing, and Pages/Visit is falling, it is possible that the traffic coming to their website is of poor quality. Another option is that a marketing or advertising campaign misfired or that the website's content doesn't provide the information the users are looking for. 
*Please note that the difference in values in the Traffic Analytics and Domain Overview reports is caused by the difference in the calculation methods (in Domain Overview you see the data calculated on the basis of the website's position in SERP). 
To investigate such a situation and avoid it for your own campaigns, you can also check out the Traffic Journey (Traffic Sources) and Geo Distribution reports for some suspicious direct traffic or traffic coming from countries/subcontinents that are not relevant for the company of interest.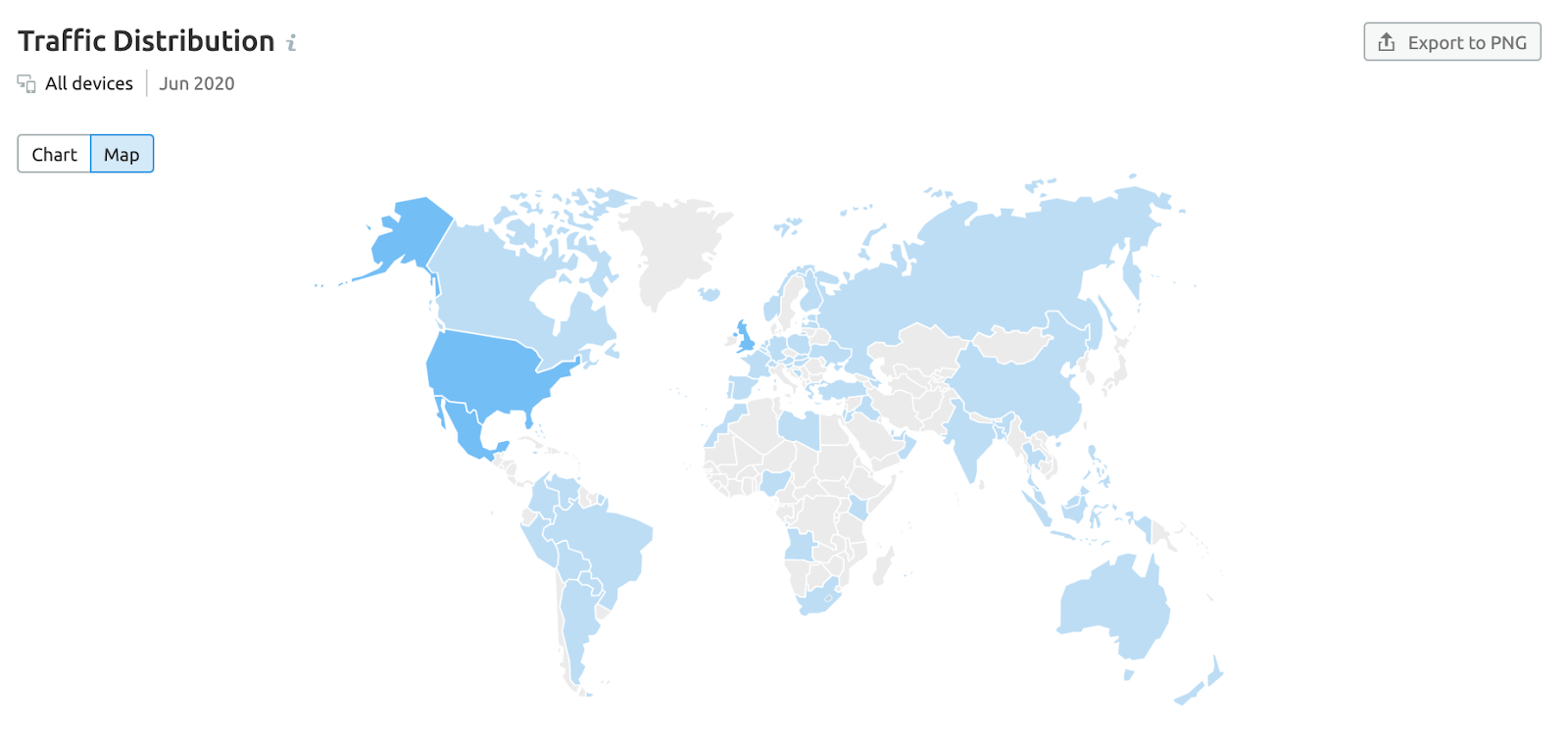 To get user behavior data for many competitors at once, you can try the Bulk Analysis report, which allows you to retrieve the above-listed metrics for up to 200 URLs. 
Breaking Down Competitors' Strategies
To understand how your rivals set their priorities and interact with their audience in terms of SEO, PPC, SMM, and Content and PR, you'll have to dive deeper into the Traffic Analytics reports. In this part of the article, we'll try to answer more specific questions such as:
Where does your rival's audience come from?

Where do they go afterwards?

Are your rivals competing for the same audience?

What digital marketing strategies turn out to be most effective?

What pages of your competitor's website attract the most attention?
Traffic Journey
In the Traffic Journey report, you'll find the target website's traffic split into direct, referral, search, social, and paid. 
This is how you can learn that Adidas gets more traffic from its paid ads than from social media campaigns. Let's see if it is the same for the other top sportswear producers.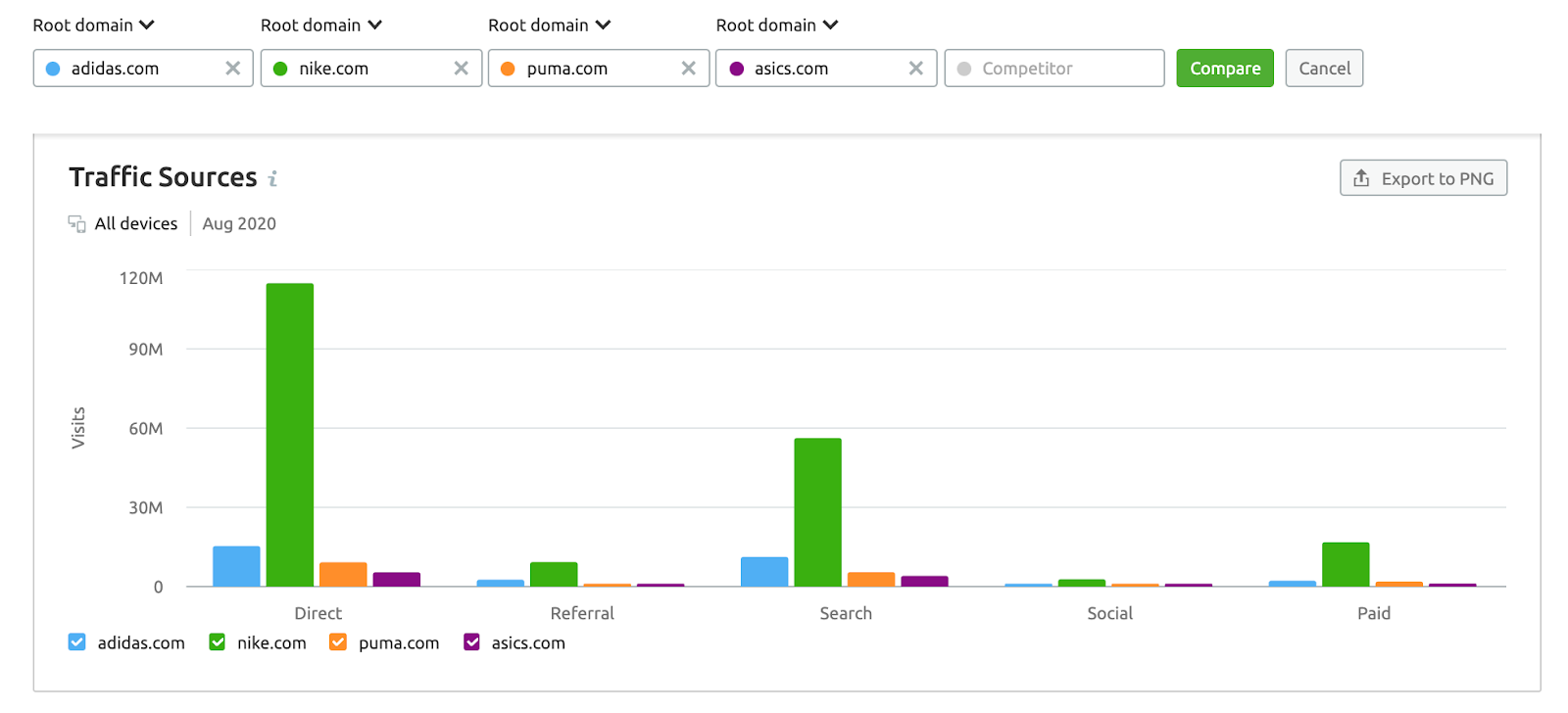 Almost! 
To make the data more granular, you can filter the report to see the domain's most 'traffic-yielding' referring sites, search engines, or social networks.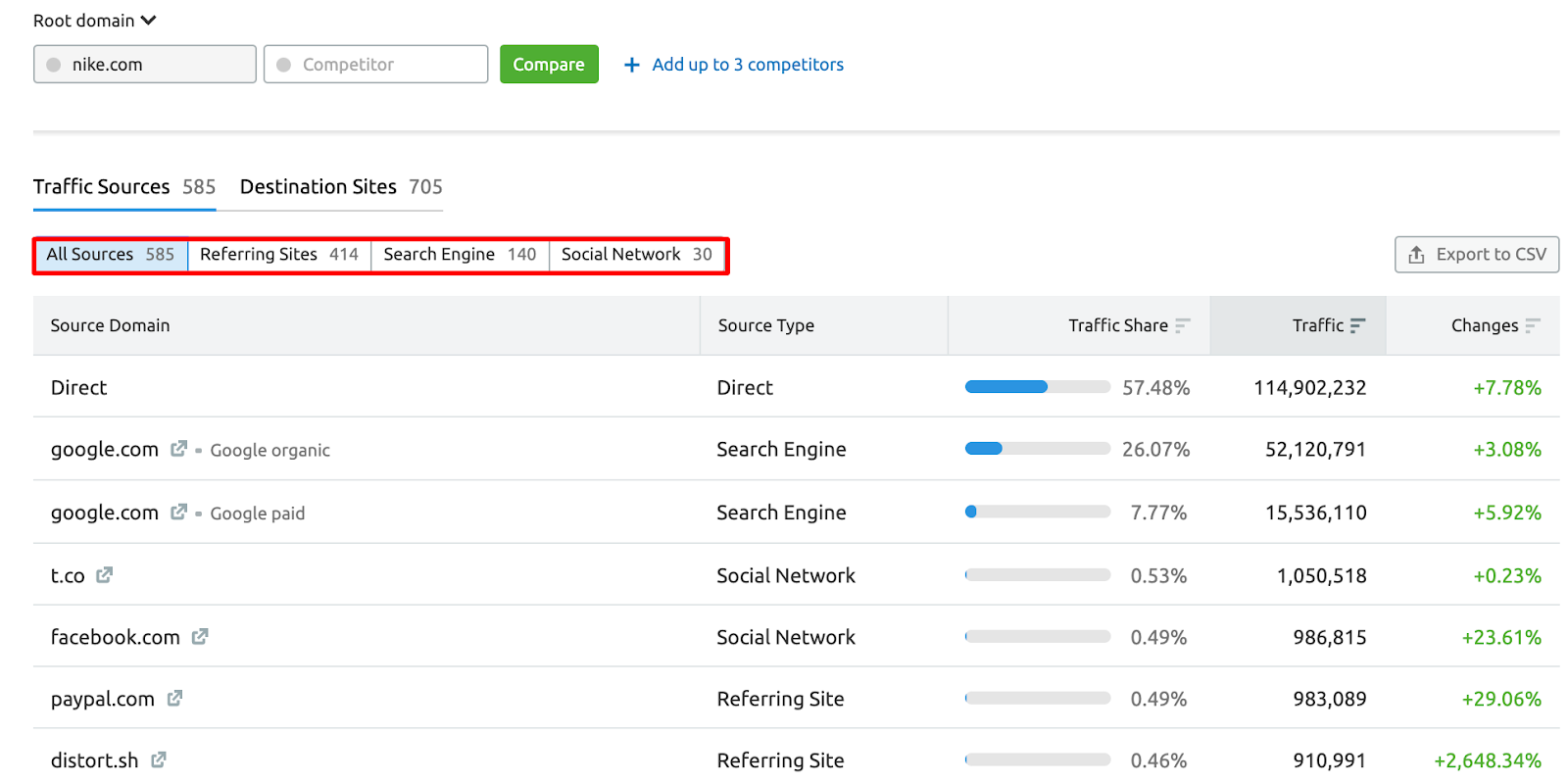 Now let's check out where people go. At the bottom of the Traffic Journey report, you'll find a very clear scheme of the target website's traffic flow. For example, from the screen below you can learn that Etsy visitors mostly head back to search or pay for their orders and track their parcels.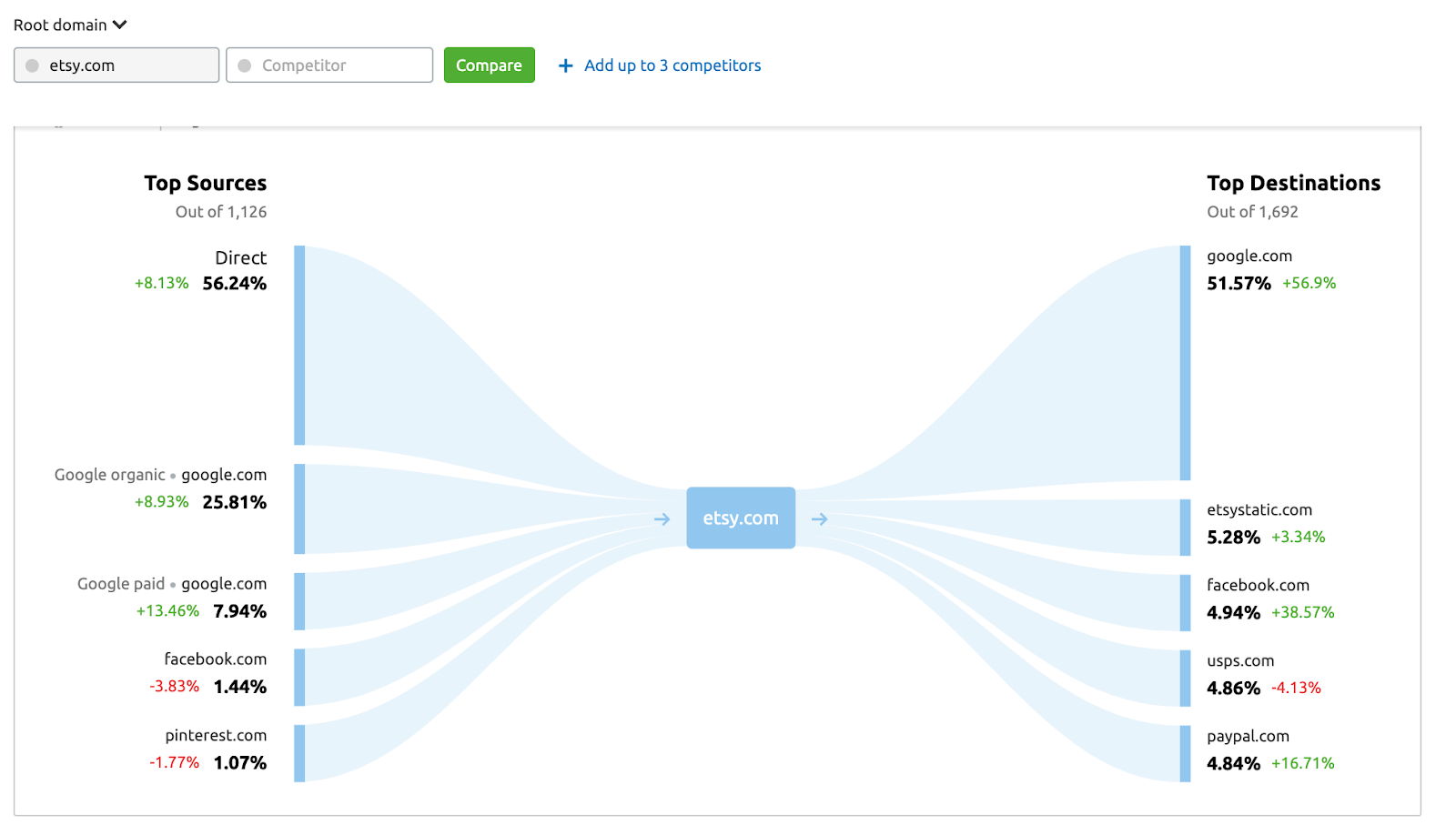 What you can do with the data
Audience Insights
The Audience Insights report lets you compare the audience of up to 5 websites and find the other domains they visit. For example, you might be surprised to learn that the world's biggest cosmetic companies have rather different audiences, all of which are still looking for the best deal.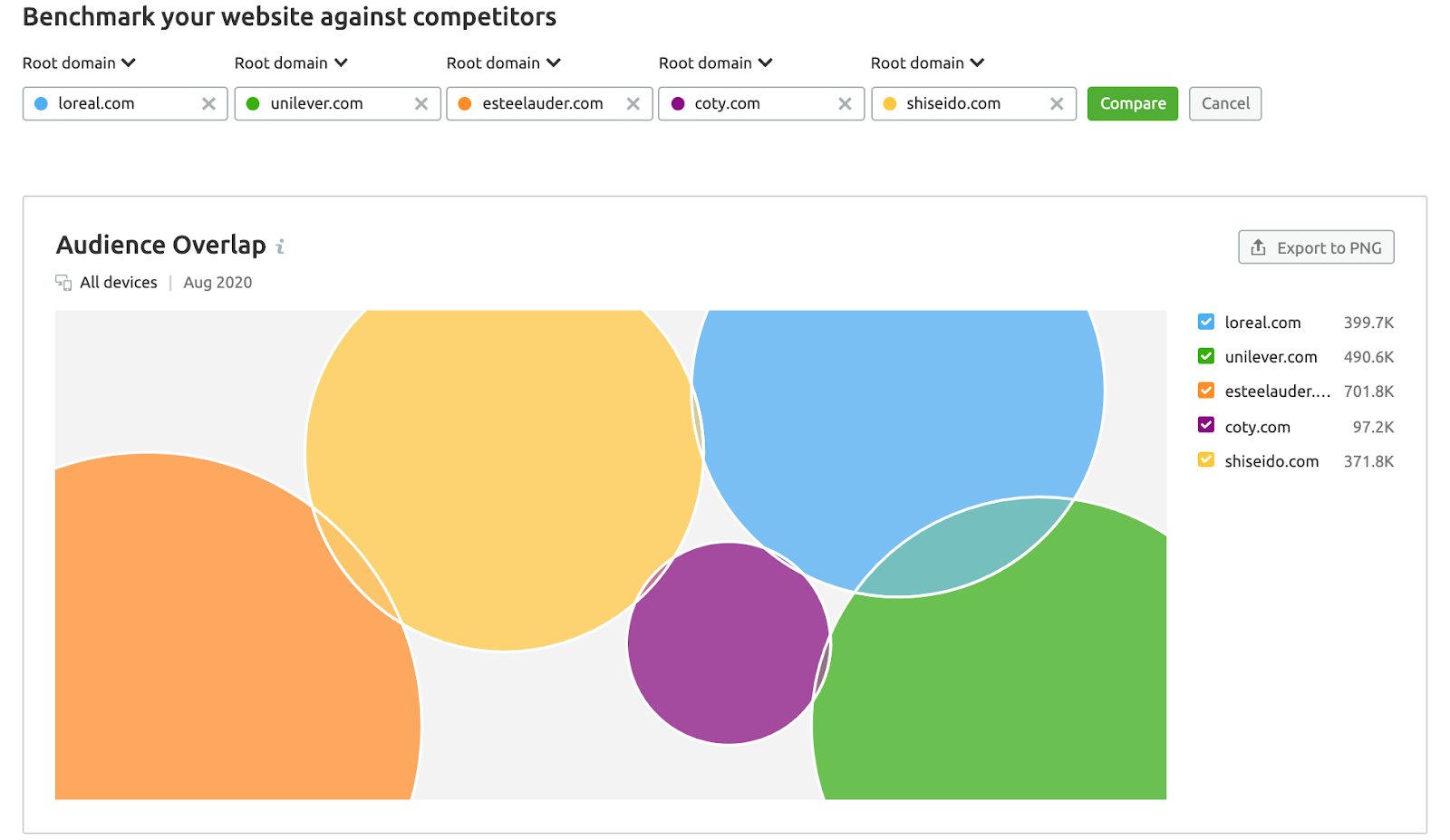 What you can do with the data
Estimate the saturation of the target market based on how big the overlap is or find out whether you and your competitor share the same audience. 

Learn more about your target audience interests. 

Try to get links from the websites your prospects visit.
Top Pages and Subdomains
The Top Pages report shows unique page views, unique visitors, entrances, and traffic sources (direct, referral, social media, search engines, and paid ads) for up to 1000 website's pages that get the most traffic. You can filter the list by any specific type of page. 
Let's have a look at nike.com, first without filters. Men seem to be more interested in buying their sports stuff here than women, most of them come from the US, and they reached the website through a direct link.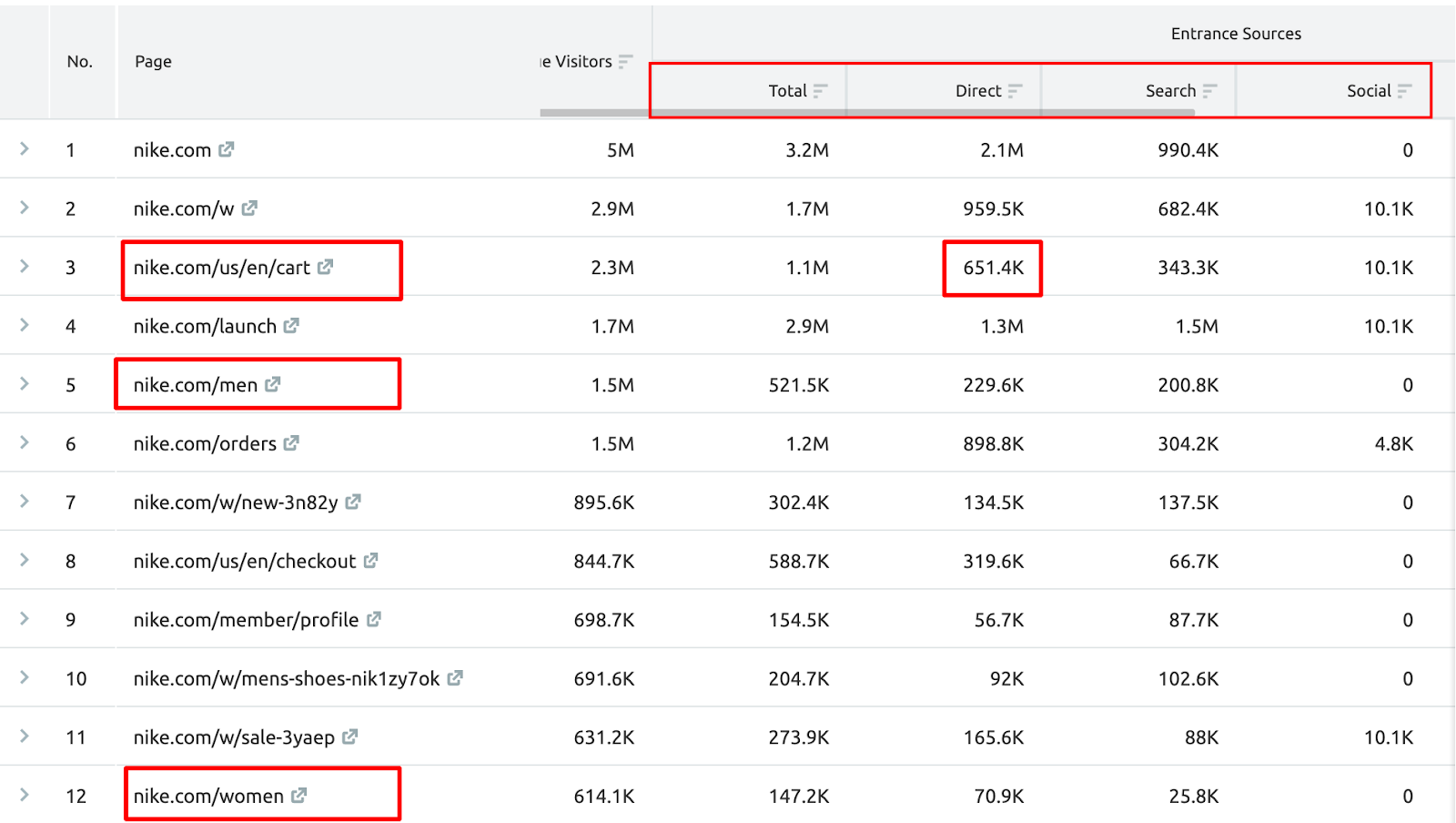 Now I'll try to learn which Air Max model is searched for most often. The winners are Evergreen Aura for gents and Pure Platinum for ladies.
In the same way you can use the Subdomains report to find and analyze your rival's top subdomains, be it the blog, news section, regional subdomain, or an e-commerce store. 
What you can do with the data
Understand how people find your competitors' products.

Find the product/content/functionality that gets the most attention. 

Estimate the conversion rate of the target website based on how many visitors reach the checkout.
 Using Traffic Data to Facilitate Growth 
"The most important thing I can have really is data," highlights Nick Wilsdon from Vodafone. "Data is my currency. I need to support initiatives, business cases, any tools that give me insight I find incredibly useful. Then when it comes to measuring these initiatives the reporting comes in handy."
Apart from learning your competitors' strengths and weaknesses, Traffic Analytics can become a source of useful insights when you try to expand your business, persuade a prospect to close the deal, or establish a strong and fruitful partnership.
Analyzing a New Market/Niche
If you are considering a go-to-market campaign, Traffic Analytics can help you estimate the potential of the target market. 
By looking at the Geo Distribution report that we mentioned earlier, you can identify the areas of the world where your competitor has a higher demand. Knowing the total traffic and traffic share from each country/subcontinent comes in handy if you want to learn which global markets your rival has already covered. The traffic and user behavior metrics will tell you if they have been successful in their expansion.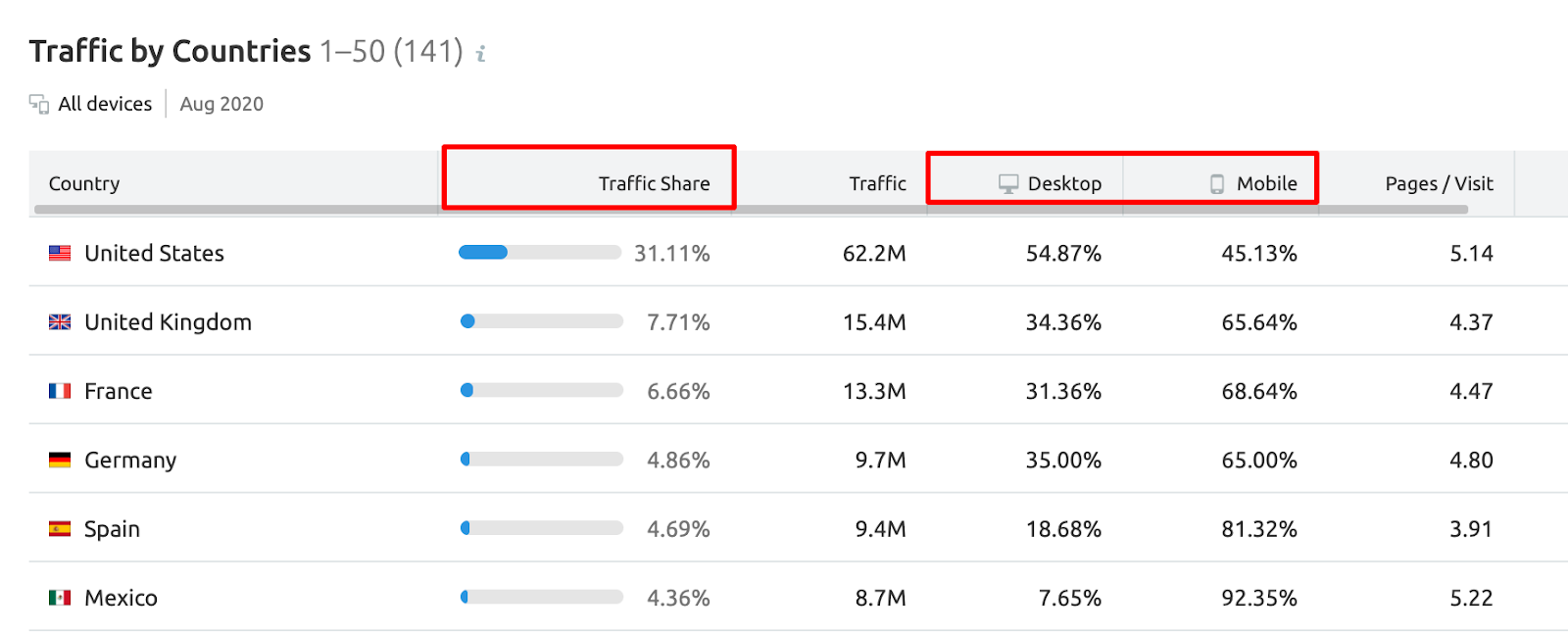 As you can see from the screen above, the company we are looking at gets 31% of its traffic from the US, which means you have quite a good chance of beating it in Europe as long as it's your strongest competitor there. 
Then you can proceed with the Market Explorer to finalize your research.
Evaluating a Prospective Partner
An ingenious way to use Traffic Analytics reports is discovering if you and your potential partner make a perfect match. 
Use the Overview report to see how much traffic they are getting and whether it is of good quality.

Learn how they get their traffic from the Traffic Journey report.

Check out the Audience Insights to make sure you are targeting the same people.

Look at their traffic Geo Distribution to understand that you are targeting the same countries. 
Say I am the New York Times and I have to choose between three nice newspapers to partner with. Why not benchmark them against each other and myself to make sure we are looking in the same direction?

USA Today, the New York Post, and the Washington Post get more traffic than the others. Besides that, the New York Post is successfully coping with the bounce rate and the Washington Post has the lowest bounce rate of all.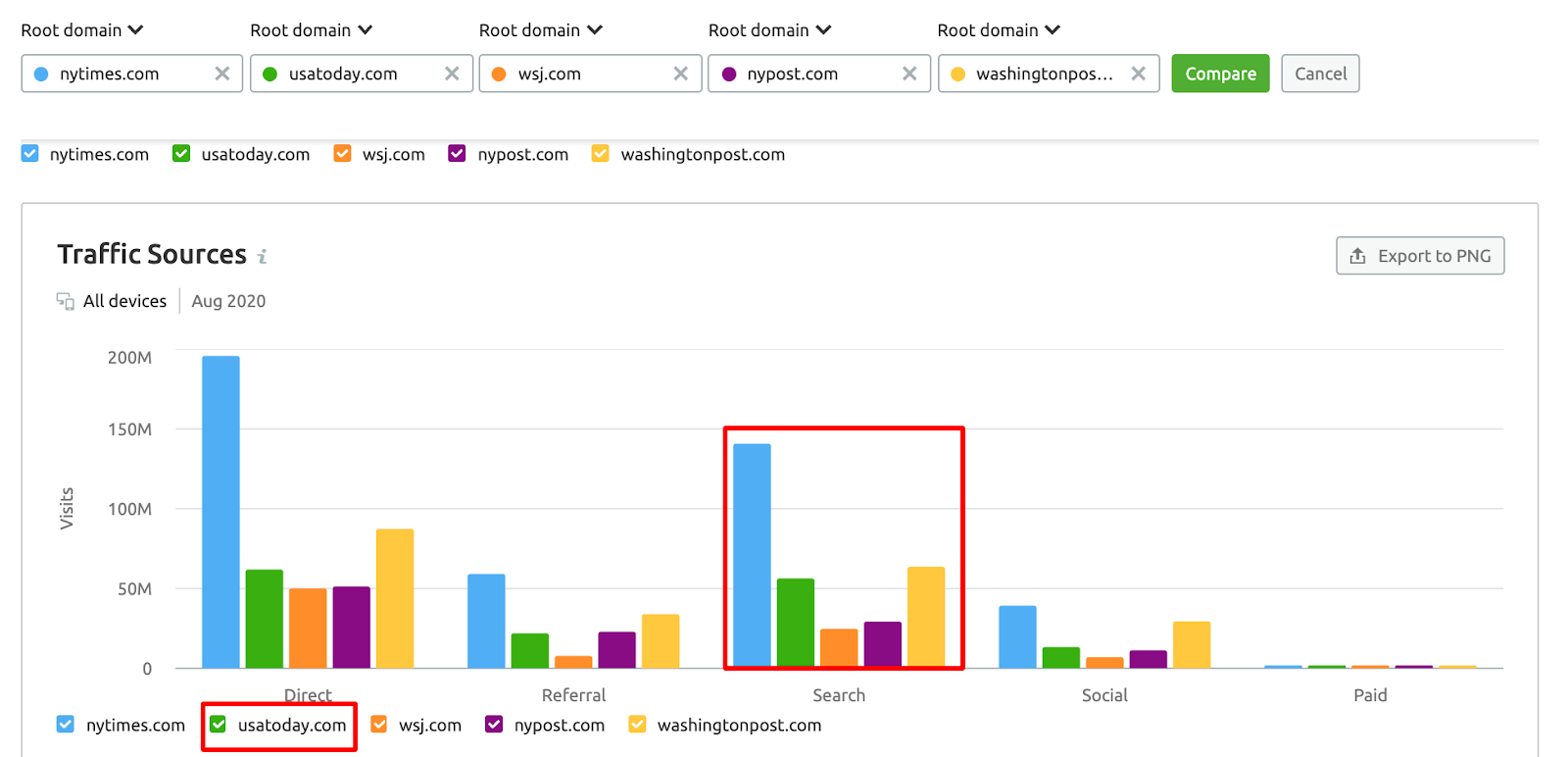 On the other hand, USA Today beats the New York Post for search traffic, which is valuable.
They have relatively the same size audience. So, who shall I pick? Let's leverage the geography. Let's imagine I want more readers in Canada. USA Today had traffic of 6M from there, the New York Post has 2.6M, and the Washington Post has 8.4M (you can find this data in the Traffic by Country widget of the Overview report when benchmarking your potential partners). The latter means I take USA Today and the Washington Post.
Equipping Presales 
Using a competitive analysis tool for presales might sound strange, but when you are offering your services you need to understand your prospect's current situation and the issues you are going to address with your solution. 
It's also very important to make your offer at the right moment and in the right form. And of course, you have to make sure that you demonstrate your own strengths so that the prospect won't hesitate to choose you. 
You can analyze your potential customer's traffic and described above to find areas for improvement in their SEO or other strategies and use the SEMrush pitching and reporting functionalities to create a clear visualization of where they stand against the competition. 
The Pitch Mode lets you present Traffic Analytics data on a plain screen without any reference to SEMrush tools, and My Reports allows you to collect this data into a nice PDF report to be sent to your client. 
For example, the young website on the screen is definitely struggling to overcome the crisis.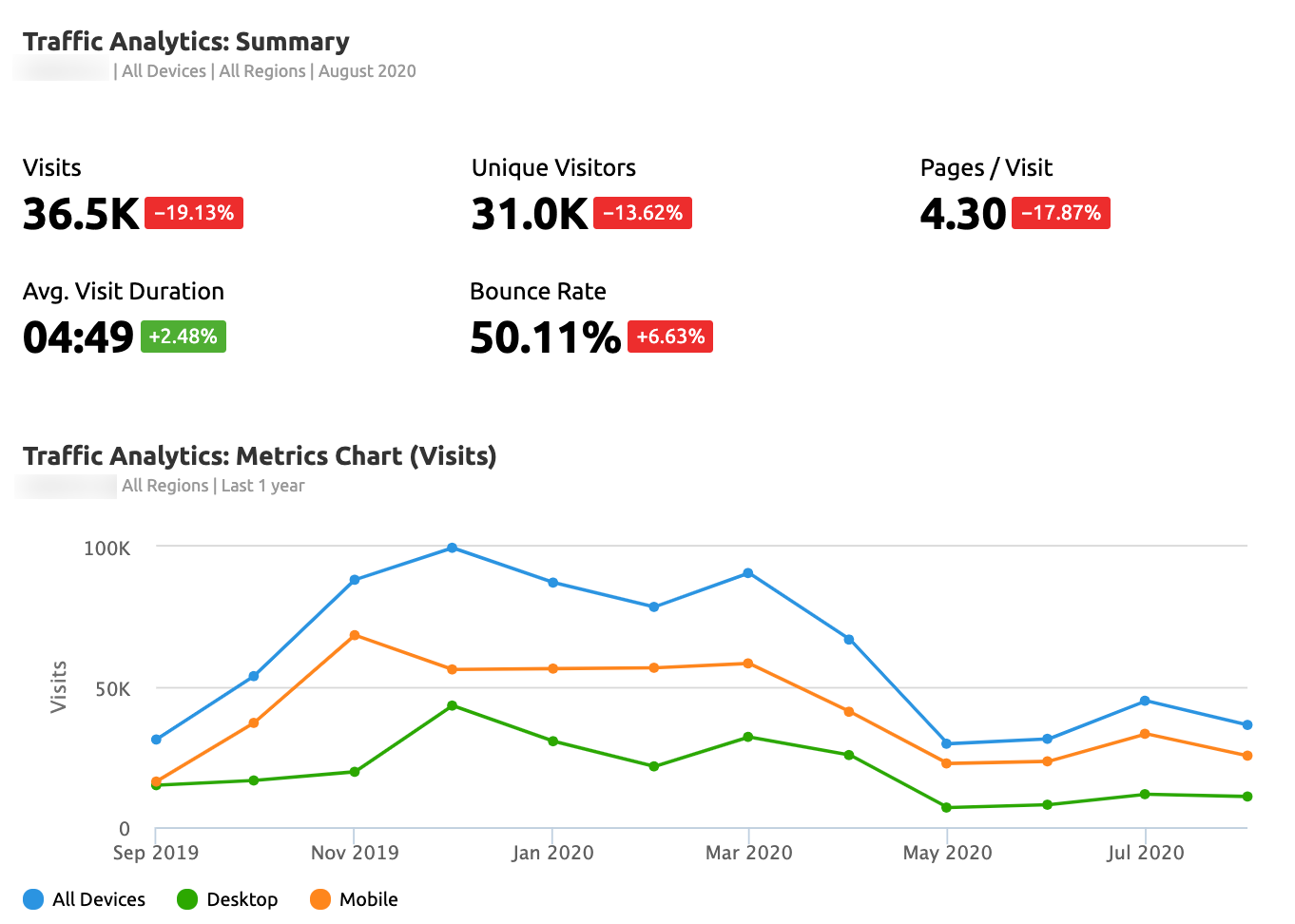 SEMrush Traffic Analytics report sample
However, the perspective is not as bleak as it may seem, as its referral and search traffic is slightly growing and is almost back to the pre-crisis level.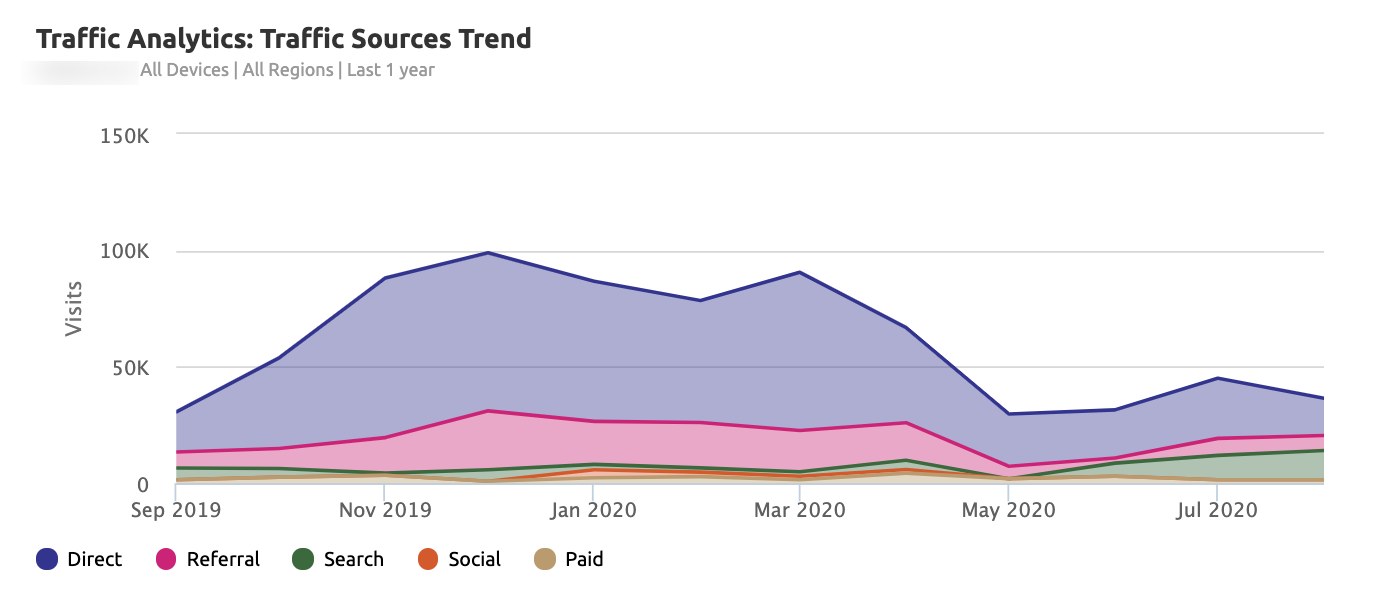 SEMrush Traffic Analytics report sample
If you represent a marketing or an SEO agency you can highlight this and offer your services to accelerate this growth via expanding the semantic core, placing content on authoritative resources or trying to cover social media which is not currently used. 
You can also use Traffic Analytics data to choose the most opportune time when interest in your offer is at its highest, for example, if your prospects' competitors are going through a bad patch.
There's More to It
Traffic Analytics is not just a powerful competitive intelligence solution but a part of a comprehensive Competitive Research Toolkit that is ideal for running an in-depth analysis of each and every aspect of your rivals' marketing strategy, from organic search and advertising to PR and affiliate programs, exploring new markets, and researching your target audience demographics and psychographics.
With it, you will be able to adopt the winning practices of the renowned market leaders and take your campaigns to the next level. To learn more about using the SEMrush Competitive Intelligence toolkit, please check out our most popular workflows.