Most lists of Google ranking factors are too long. They focus on listing every factor under the sun instead of those that actually matter.
Even worse, because nobody knows them all, most contain a lot of myths.
So today, we're going to take a different approach. Rather than listing 200+ ranking factors, we'll talk about the ten that we think most deserve your attention.
Here they are, in no particular order:
Sidenote.
 This list contains direct and indirect ranking factors. We didn't discriminate between the two because we think most people just want to rank higher in Google and aren't worried about semantics. If you're curious about the difference between the two, read this.
Backlinks are arguably the most important ranking factor.
How do we know? Backlinks form the basis of Pagerank, which is the foundation of Google's ranking algorithm. And before you make the point that PageRank is old news, Google's Gary Illyes confirmed that PageRank is still used in 2018:
DYK that after 18 years we're still using PageRank (and 100s of other signals) in ranking?

Wanna know how it works?https://t.co/CfOlxGauGF pic.twitter.com/3YJeNbXLml— Gary "鯨理/경리" Illyes (@methode) February 9, 2017
Independent research also confirms the relationship between backlinks and organic traffic, including our study of over a billion web pages: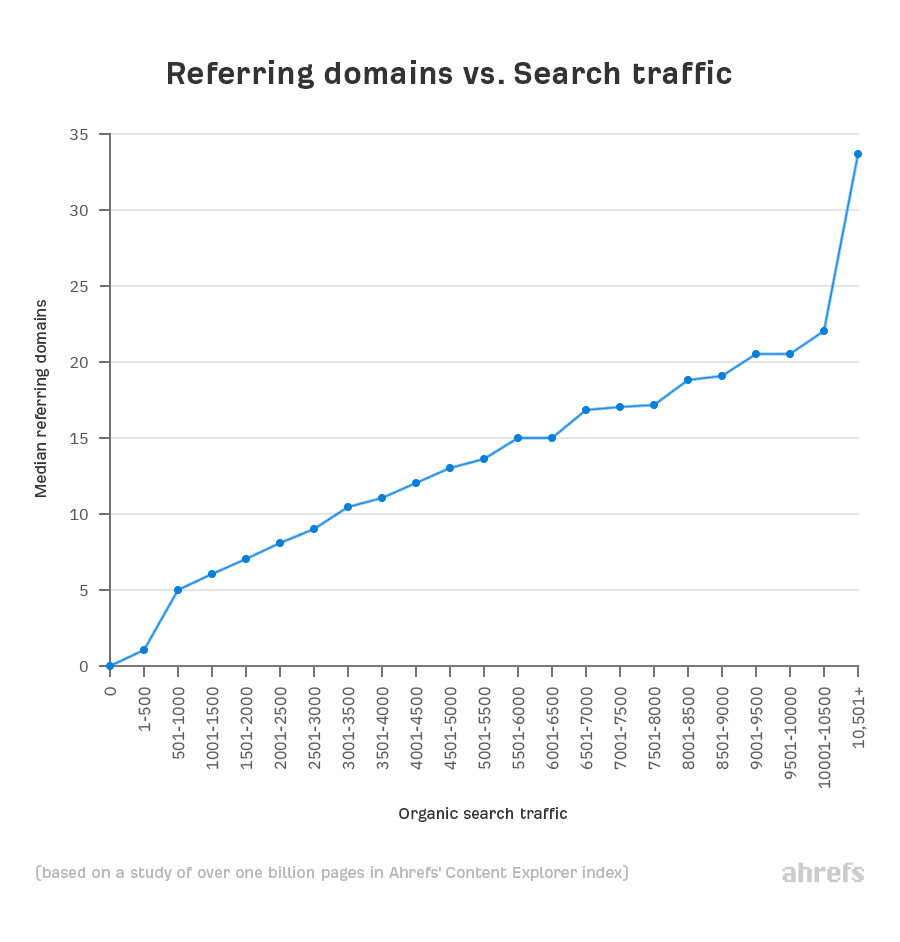 However, not all backlinks are created equal.
Lots of factors contribute to a backlink's ability to move the needle, and the two most important are relevance and authority.
Relevance
Imagine that you're looking for the best Italian restaurant in your city. You ask two friends for a recommendation. One is a chef, and the other is a vet. Whose advice do you trust?
Probably the chef, as they have experience with Italian cuisine.
If you were looking for dog food recommendations, the opposite would be true.
This same idea plays out on the web. Links from relevant websites and pages hold the most value.
Authority
Backlinks from strong pages on strong websites tend to move the needle most.
You can judge the relative strength of a linking domain and web page by looking at its Domain Rating and URL Rating in Ahrefs' Site Explorer:

Learn more about what makes for a high-quality backlink in this video:
https://www.youtube.com/watch?v=E3mDlVutW_o
Freshness is a query-dependent ranking factor, meaning it's more important for some queries than others.
For example, all the results for "Brexit news" are super fresh. Google even shows a "Top Stories" feature with results from the past few hours.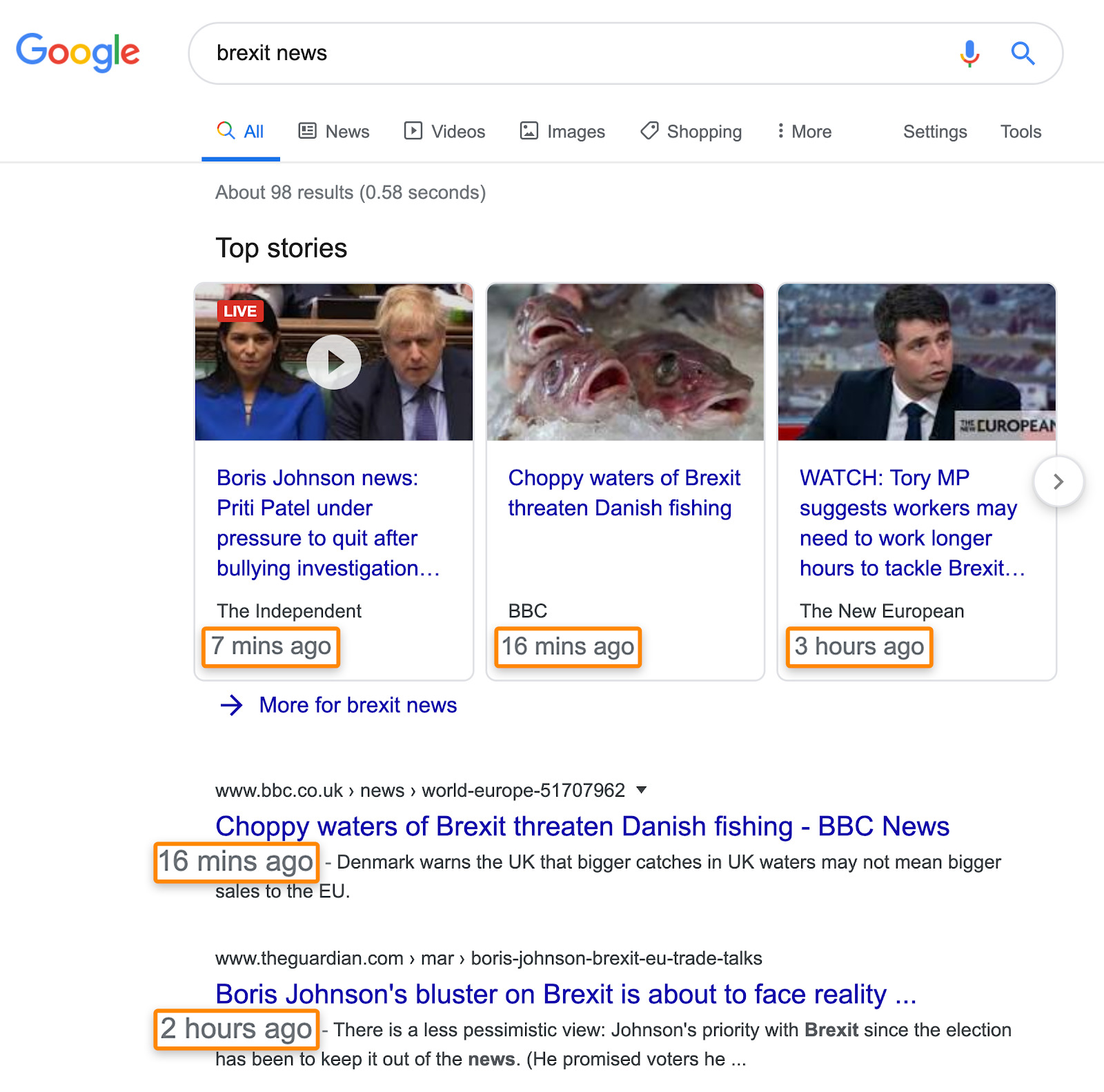 This happens because Google knows people want to see recent news.
For other queries, freshness still plays a role—but a less important one.
Take the query "best office chair," for example.
Because companies only release new office chairs from time to time, a good recommendation from last month is still a good recommendation today.
Google knows this, so they're quite happy to show results that are a few months old.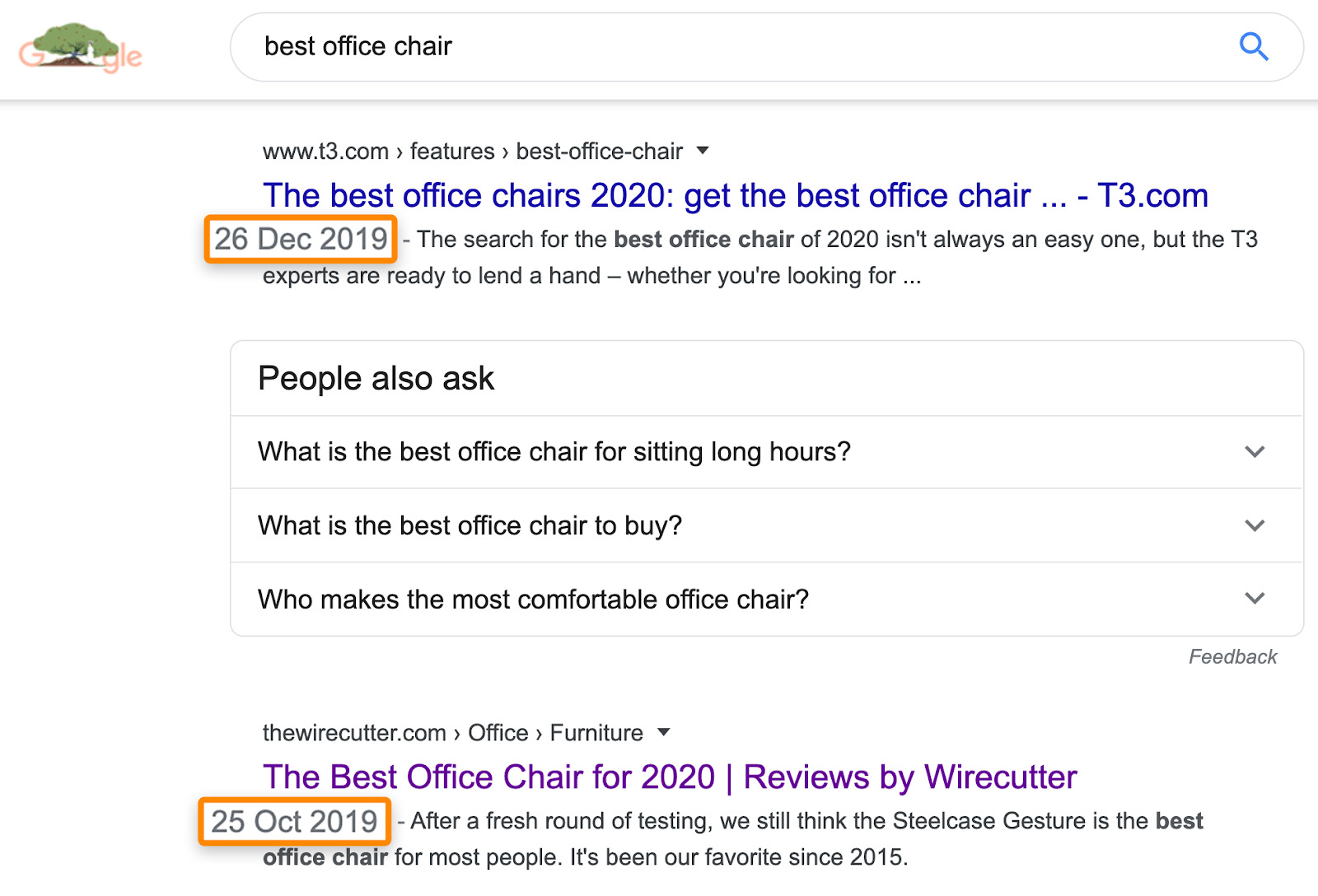 For a query like "how to tie a tie," freshness hardly matters because the process of tying a tie never changes. A ten-year-old guide can easily be as good as one published yesterday.
That explains why Google ranks both old and new pages in the top five: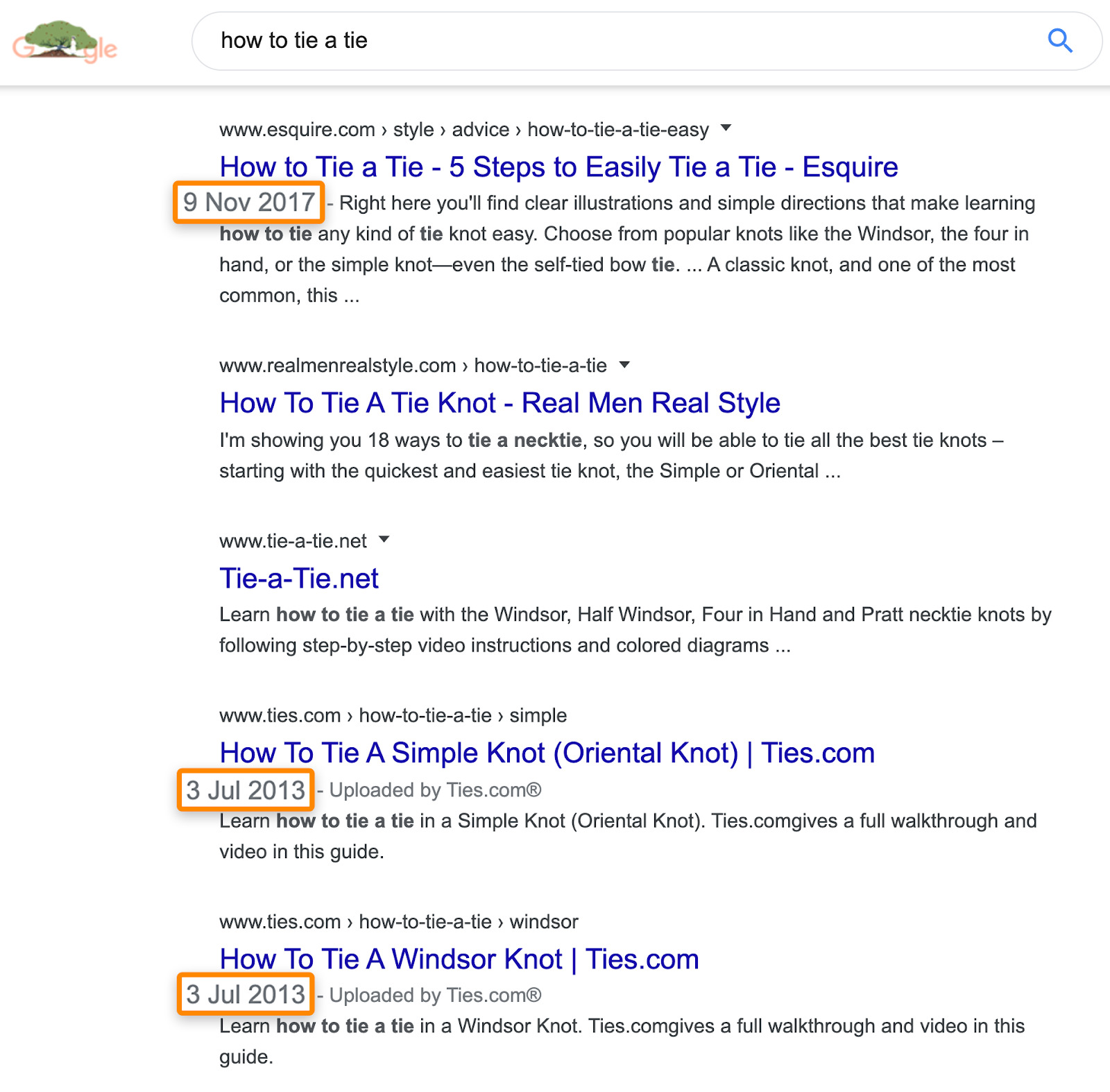 action item
Look at the search results to assess the importance of freshness for your target keyword(s).
If freshness is a big deal, either update the page frequently or consistently publish new articles about the topic to keep up with demand.
If freshness is important but not critical, update your page regularly and refresh when rankings start to drop.
If freshness is of little importance, focus all efforts on creating the best guide on the topic.
Google wants to rank pages from authoritative sources—and this goes way beyond backlinks.
How do we know?
Look at the SEO metrics for the top results for "cast iron seasoning":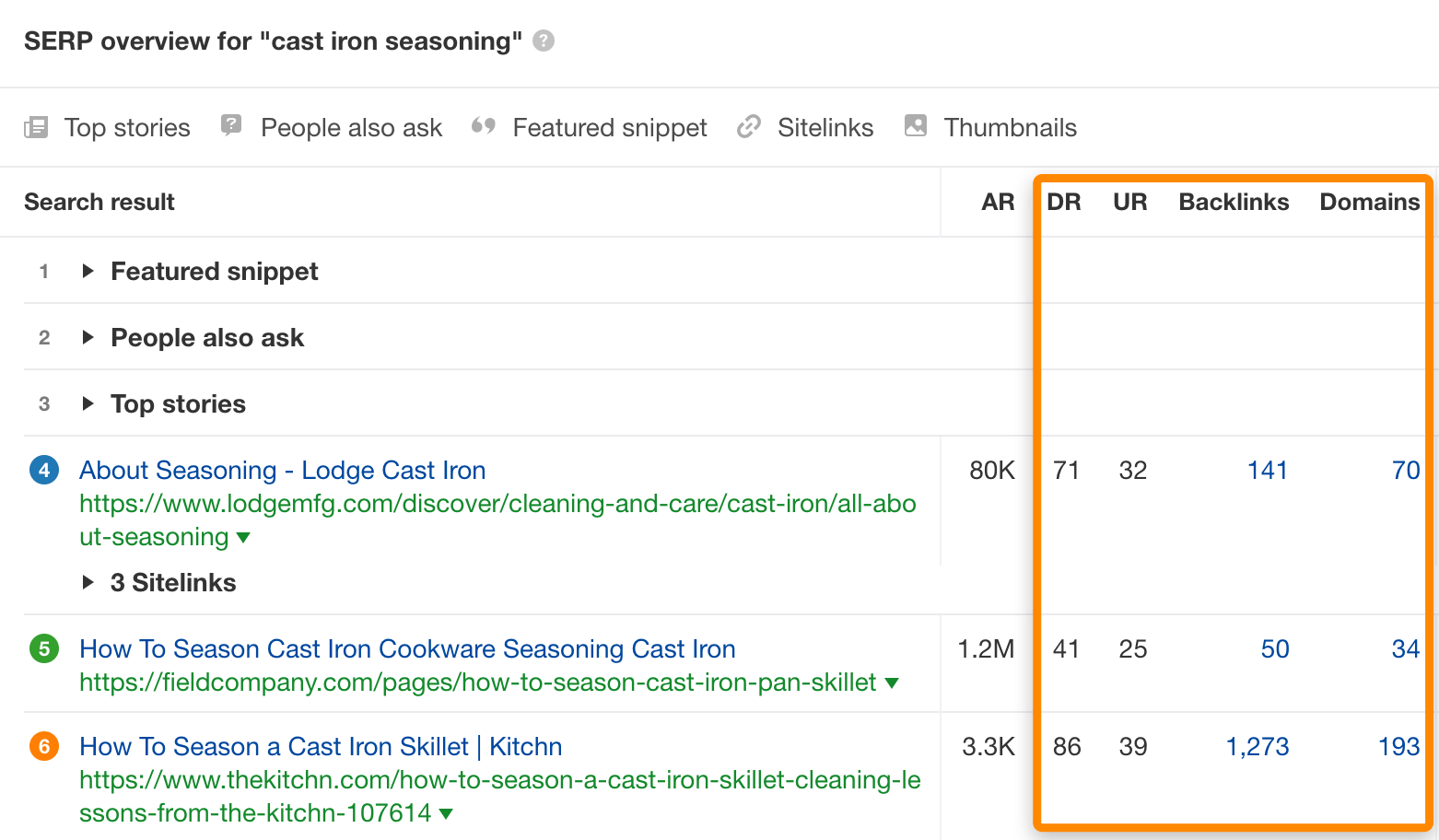 Based on metrics alone, you'd be hard-pressed to figure out why those first two results outrank the third. Both have fewer backlinks, fewer referring domains, lower UR scores, and live on lower-authority websites.
But if you look at the sites, it makes sense…
The site in position three is a generic cooking and lifestyle blog, whereas the two at the top sell cast-iron cookware—and nothing else.
In other words, the two sites at the top have what we like to call "topical authority."
Here's another example: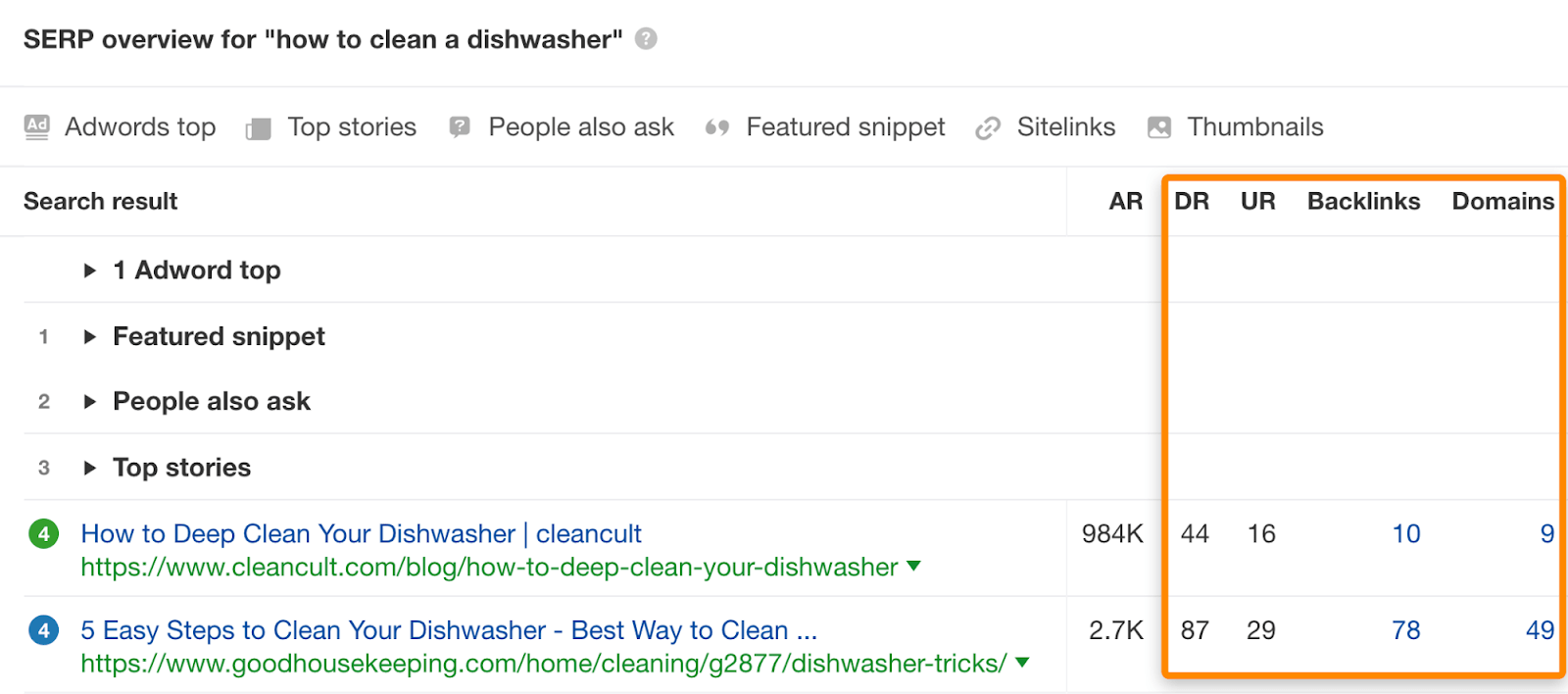 Based on metrics alone, the first result shouldn't outrank the second. It's weaker in every traditional SEO sense.
The most likely reason it ranks where it does is "topical authority." It's focused solely on cleaning, whereas the site in position two is more broadly focused on housekeeping.
But is there any evidence for "topical authority" as a ranking factor besides the anecdotal?
Absolutely.
First, Google's search quality rater guidelines mention something called E‑A-T. This stands for expertise, authoritativeness, and trustworthiness. Call us crazy, but we're pretty confident that no site can demonstrate these three things for every topic.
 That's probably why Google's SEO starter guide says to:
Cultivate a reputation for expertise and trustworthiness in a specific area.
Sidenote.
E‑A-T is not a direct ranking factor, but Google's algorithms are designed to rank pages from websites that demonstrate E‑A-T.
Second, pages on websites tightly focused on one particular topic will have more internal links from pages about similar things. Internal links to pages not only increase their authority but also help Google understand what they're about.
Third, there's evidence to suggest that the perceived authoritativeness of a site is query-dependant in this Google patent. Bill Slawski explains more here.
action item
Don't publish content about anything and everything. Keep things tightly focused and build a reputation in one area (e.g., laptops, not just technology). You can always branch out at a later date.
Google doesn't rank the same type of content for every query.
For example, someone searching for "buy dresses online" is in buying mode. They want to see the products they can buy. That's why Google shows ecommerce category pages.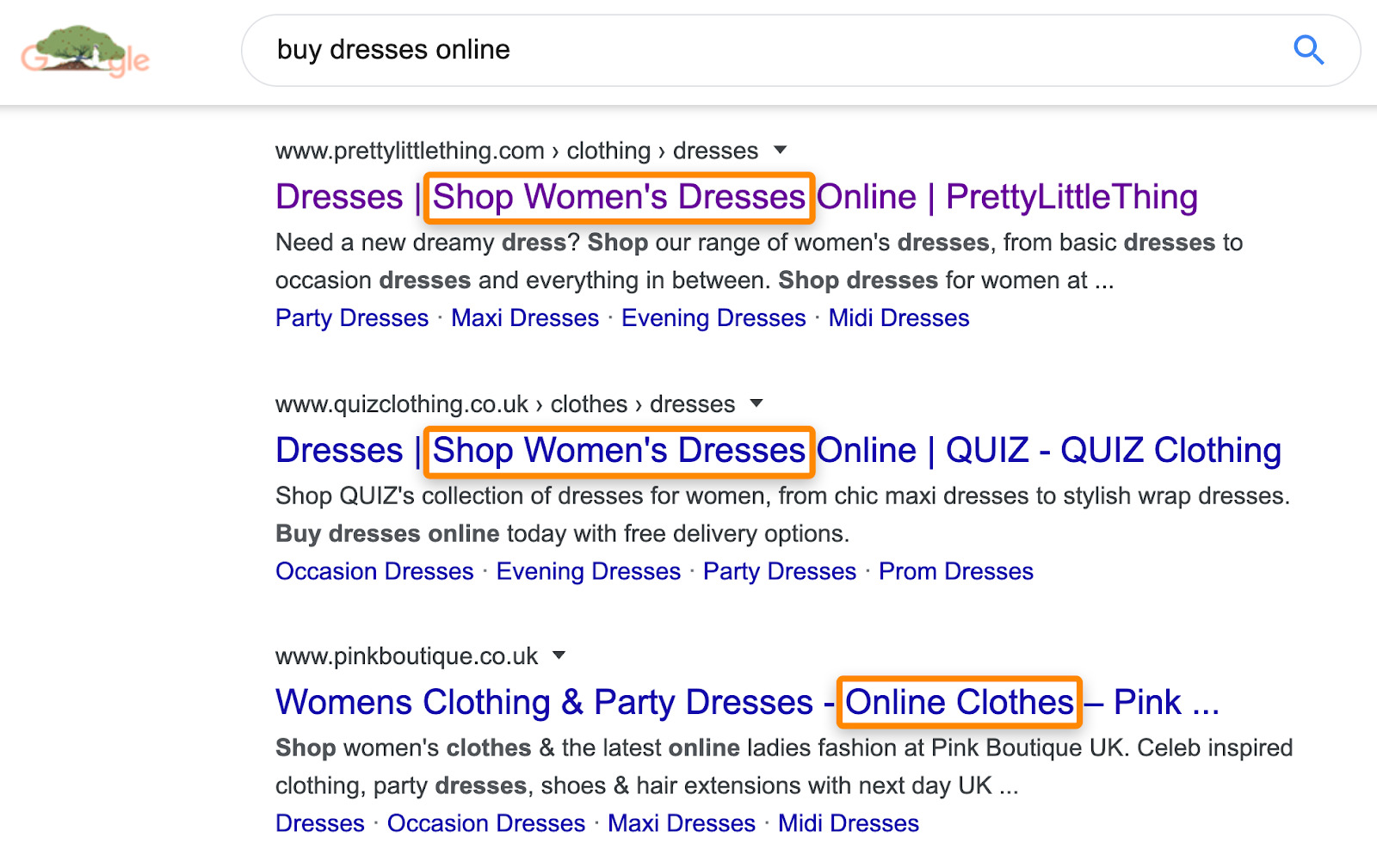 On the other hand, a person searching for "how to tie a tie" is in learning mode. They want to know how to tie one, not buy one. That's why Google shows blog posts.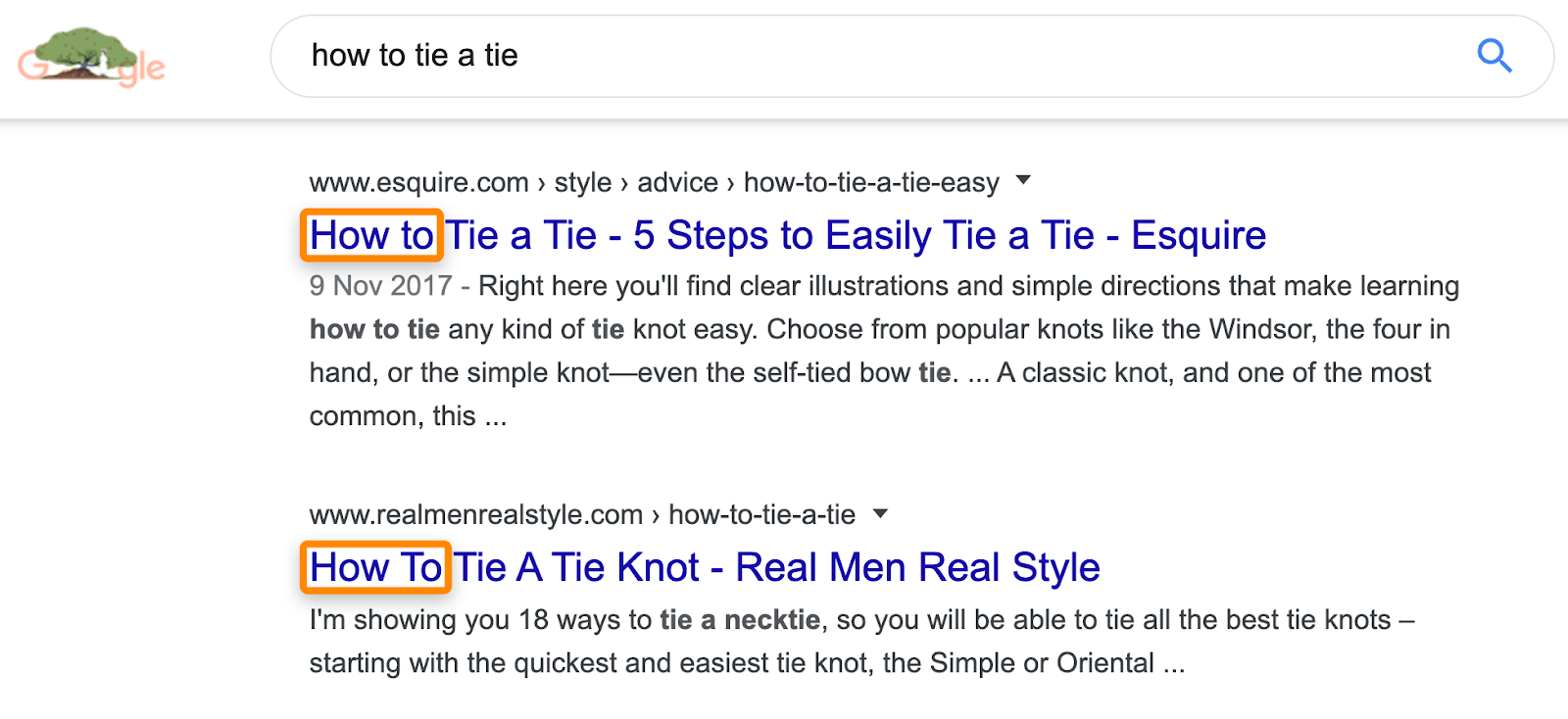 Analyzing the current top-ranking results for the "four C's of search intent" is an excellent way to understand the basics of how to optimize for a query.
The four C's are:
Content style
Content style is the dominant style of content in the search results. It's almost always web pages, but it's sometimes videos.
For example, take the query, "iPhone X unboxing":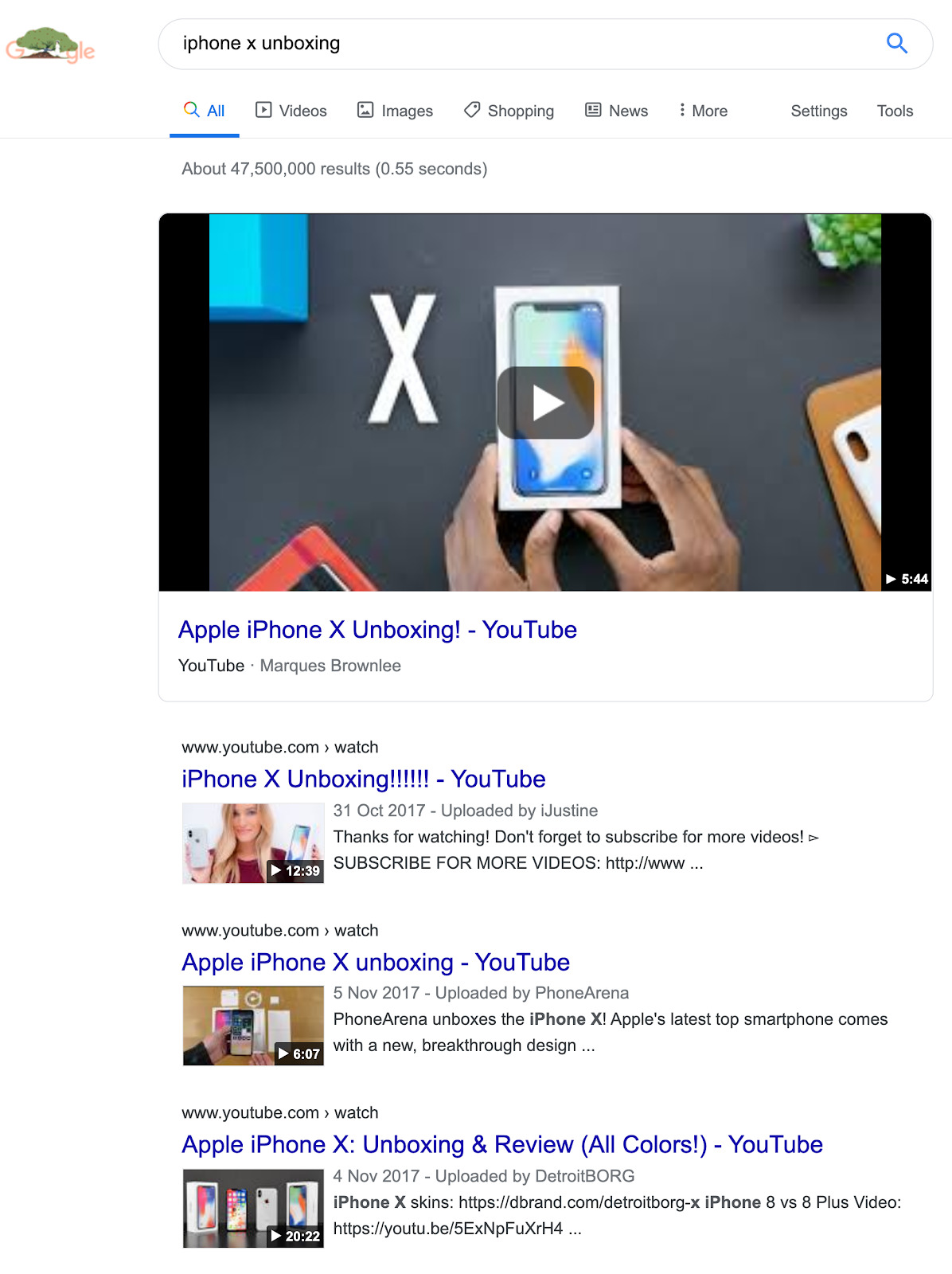 It would be almost impossible to rank a web page on the first page for this query. If you want to rank, you'll need to create and optimize a video.
Content type
Content types almost always fall into one of four buckets: blog posts, product, category, and landing pages.
For instance, the top-ranking pages for "buy smartphone" are all ecommerce category pages: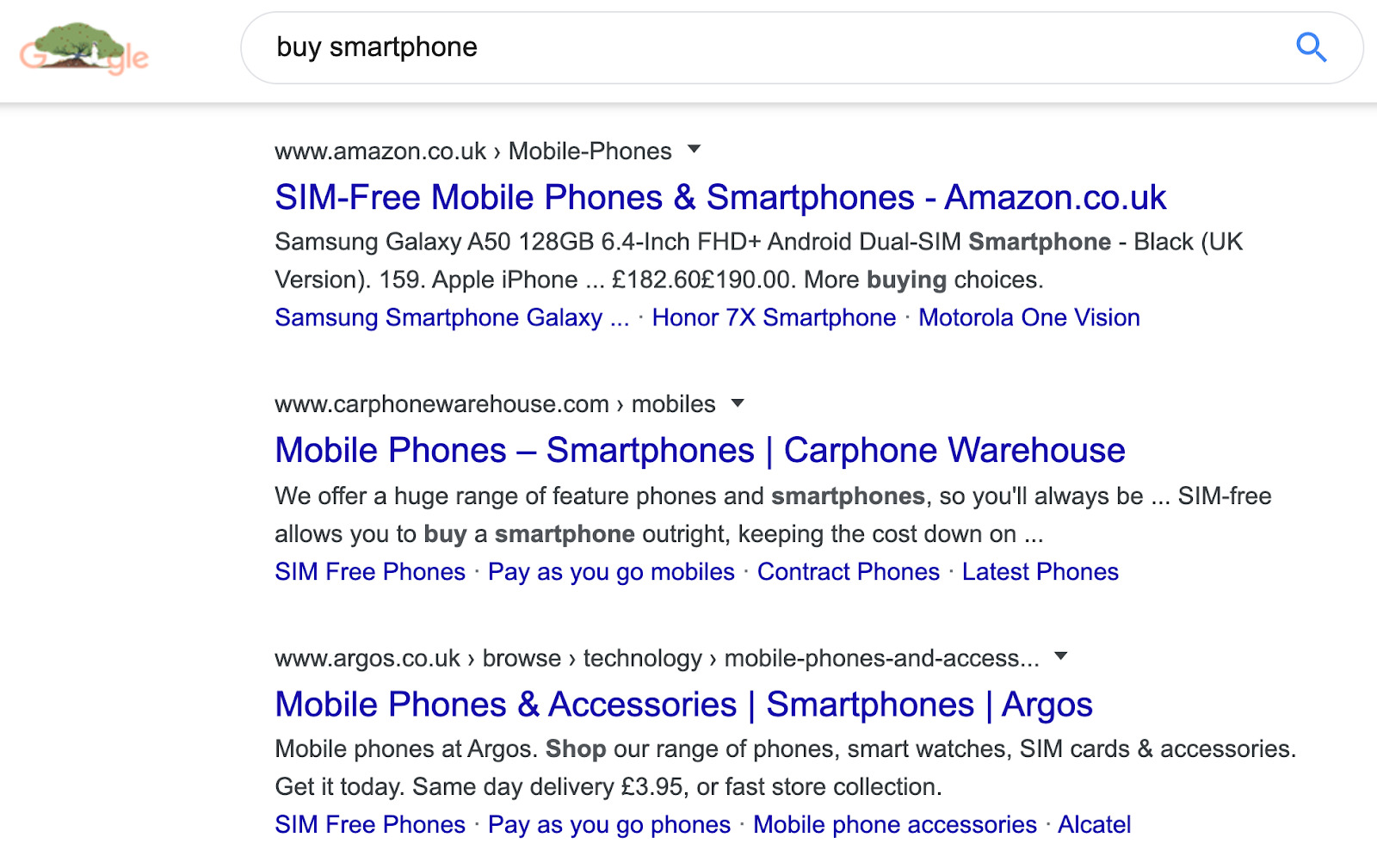 For "buy iPhone," they're mostly product pages: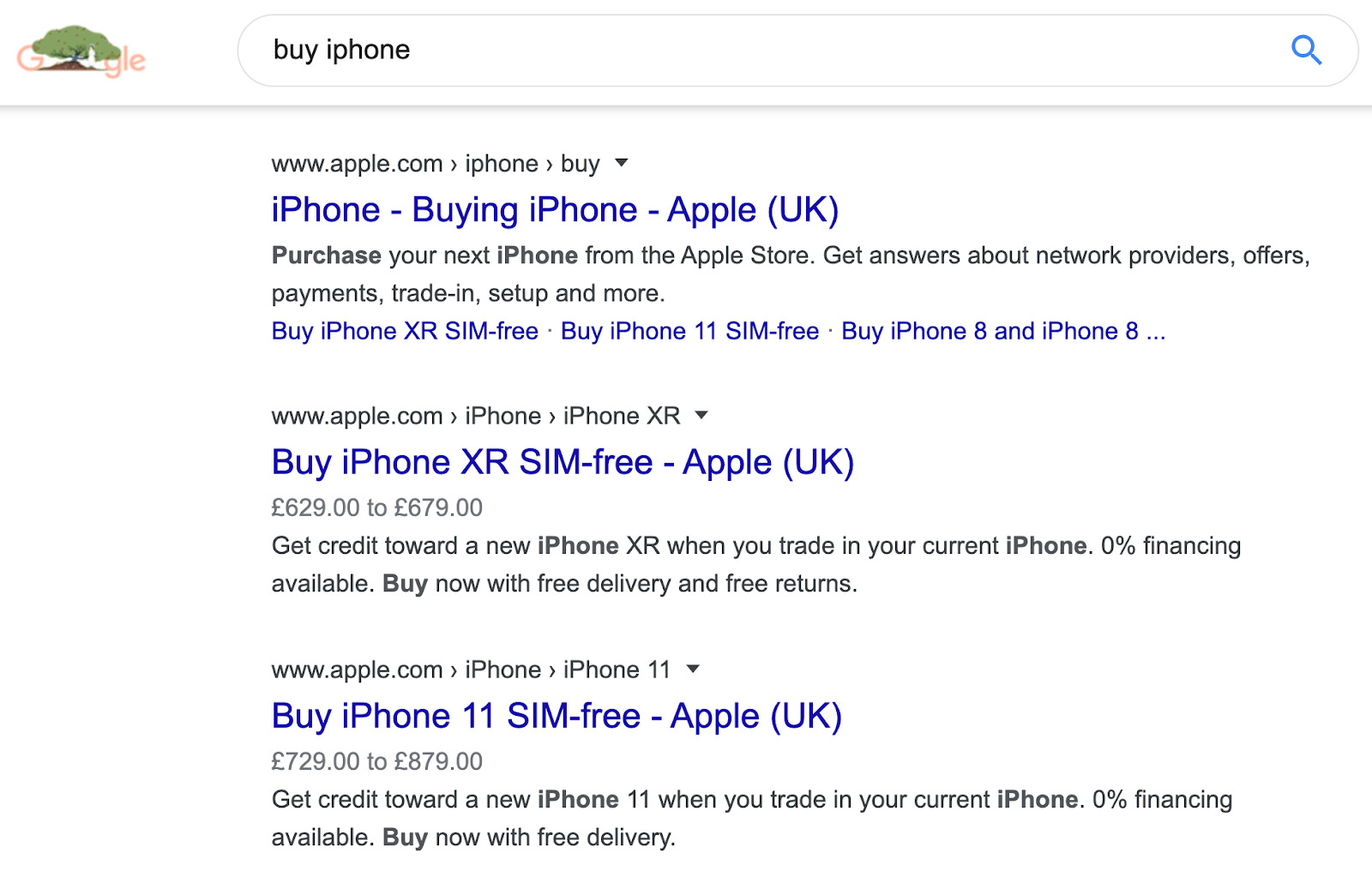 Content format
Content format applies mostly to informational content. How-tos, listicles, tutorials, news articles, and opinion pieces are all examples of common formats.
For instance, the results for "money saving tips" are all lists: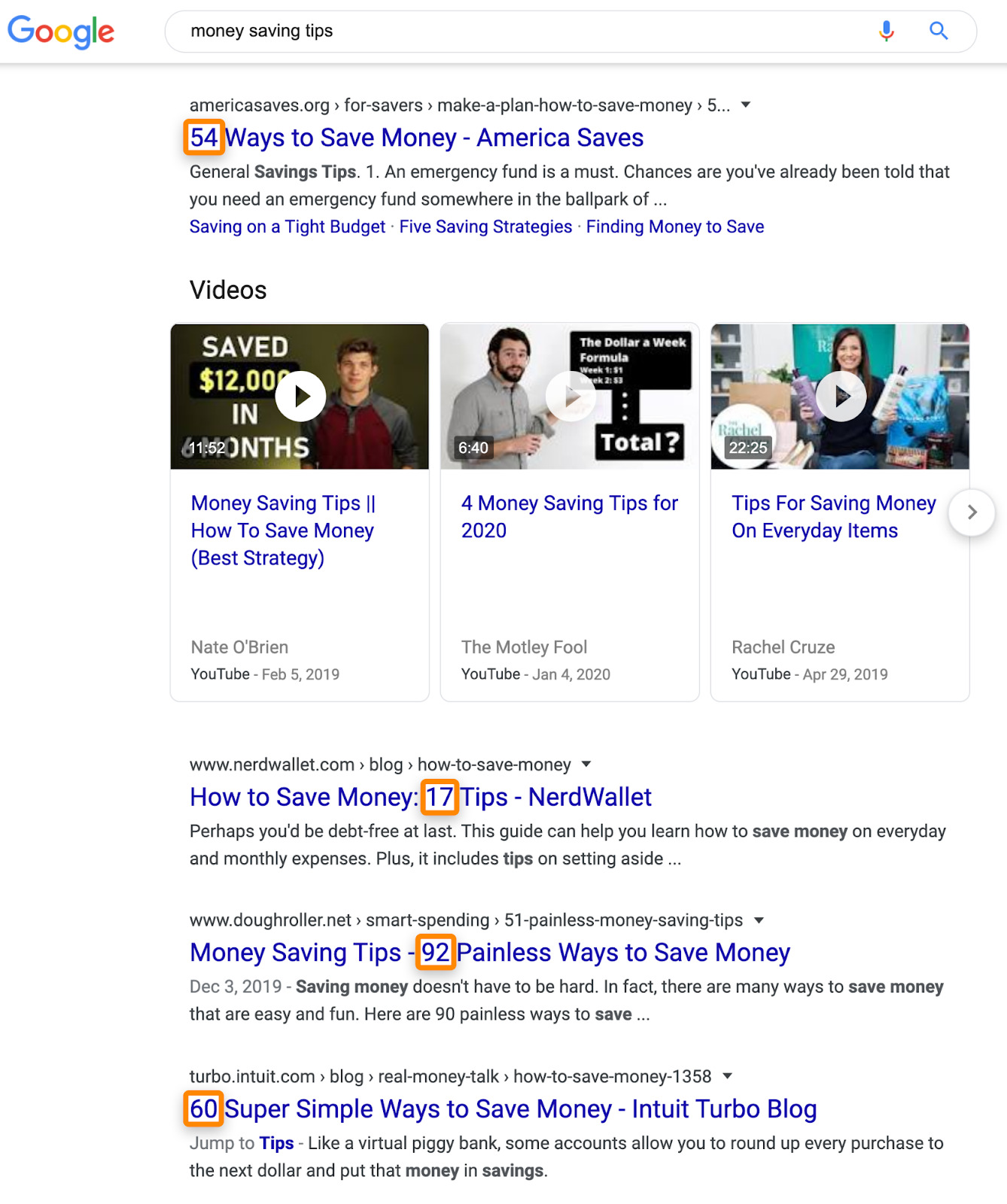 The results for "future of bitcoin" are all opinion pieces: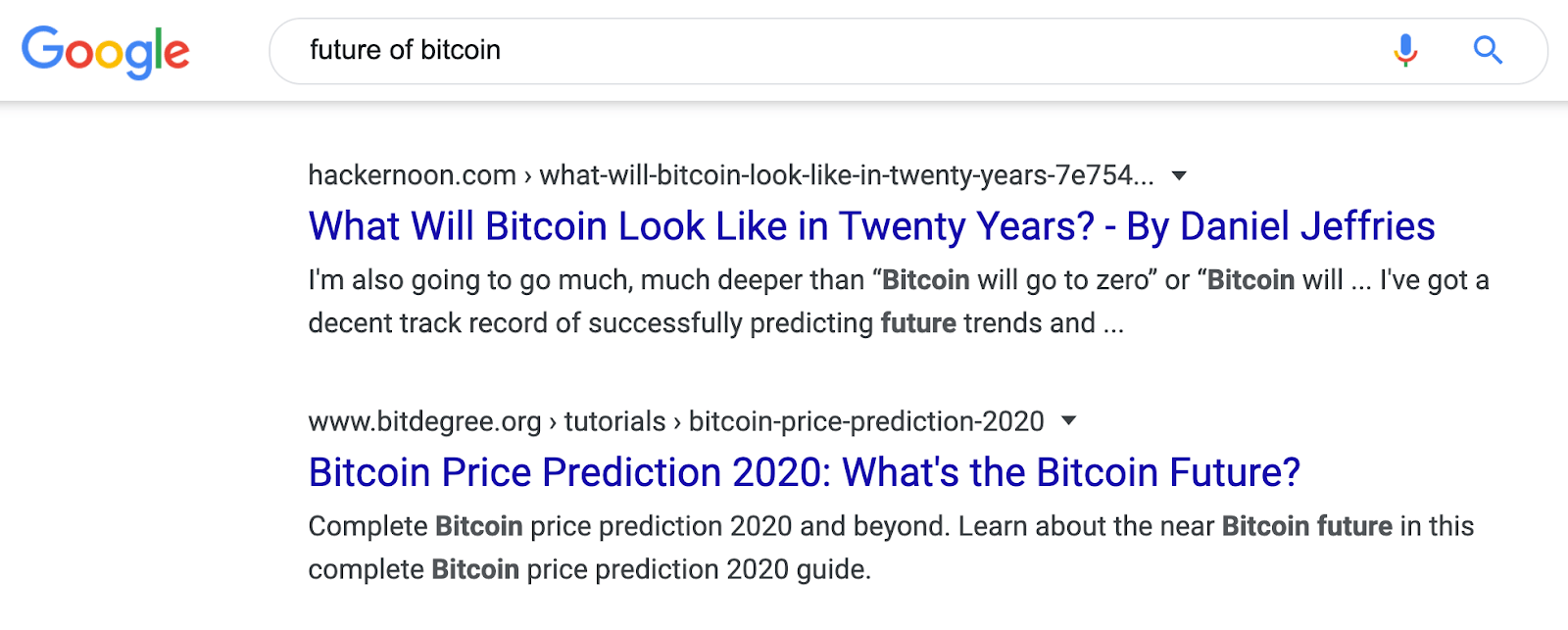 Content angle
Content angle is the main selling point of the content, and there's usually a dominant angle in the search results.
For example, the top results for "how to play golf" are aimed at beginners:

Google wants to rank the most useful result for the query, so covering everything searchers want to know is key.
However, this isn't about content length. Longer content isn't always better.
It's about covering what's important to the searcher and what they expect to see.
For example, take a query like "best watch brands."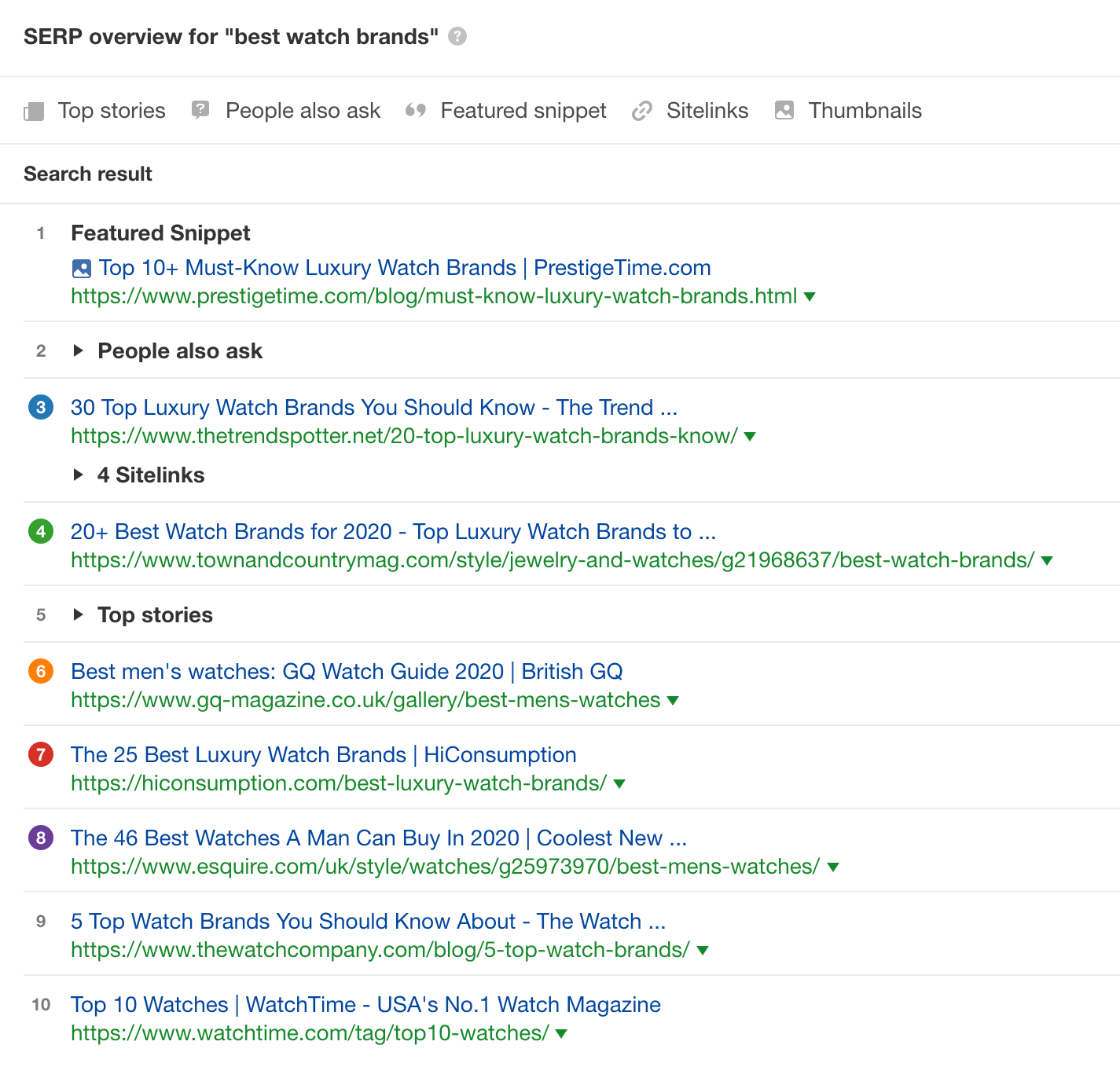 It's clear from analyzing search intent that people want lists of the best luxury watches and brands. However, that doesn't tell us what's important content-wise, so let's look at the commonalities between the top-ranking pages.
First, they all mention price: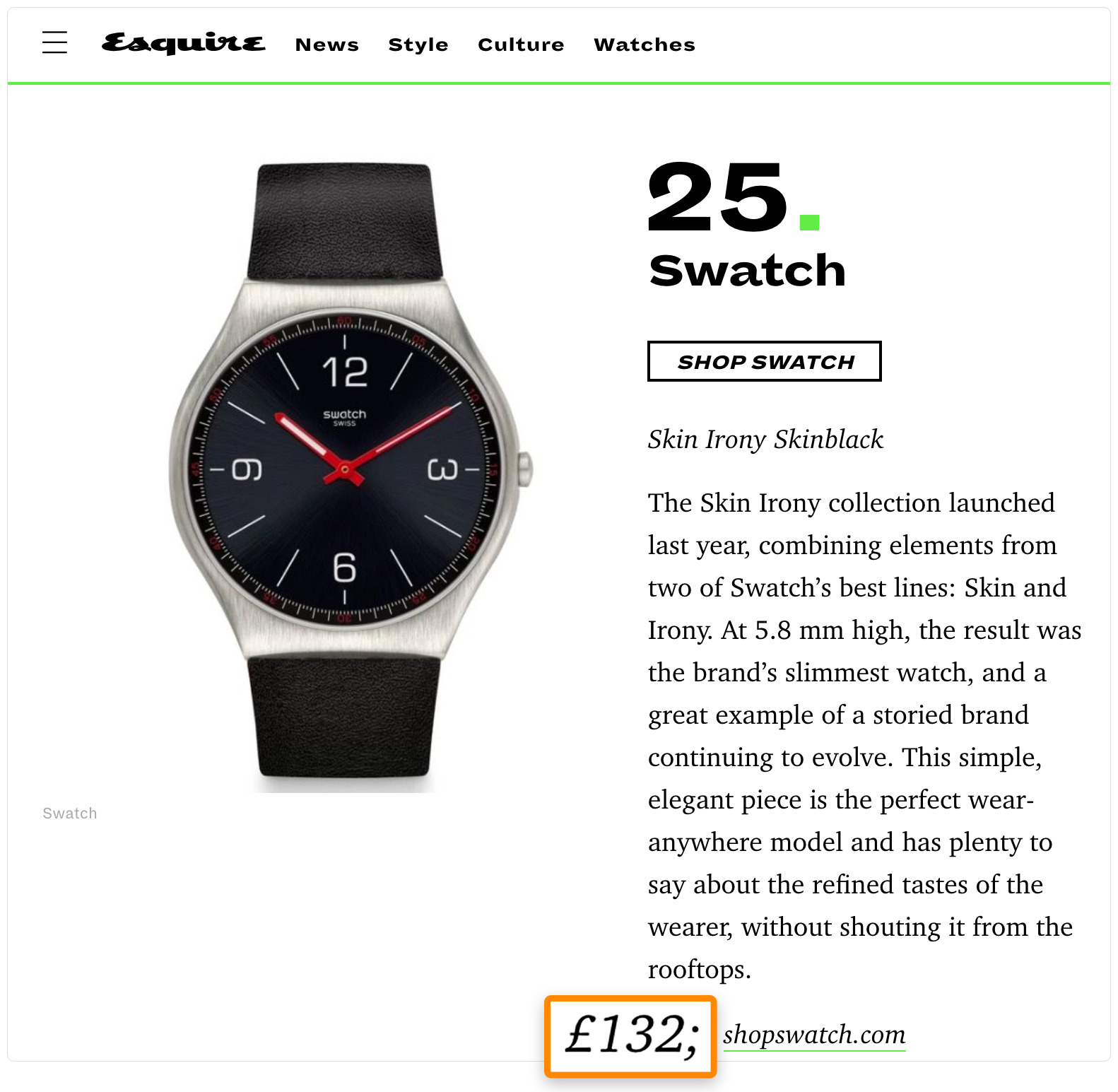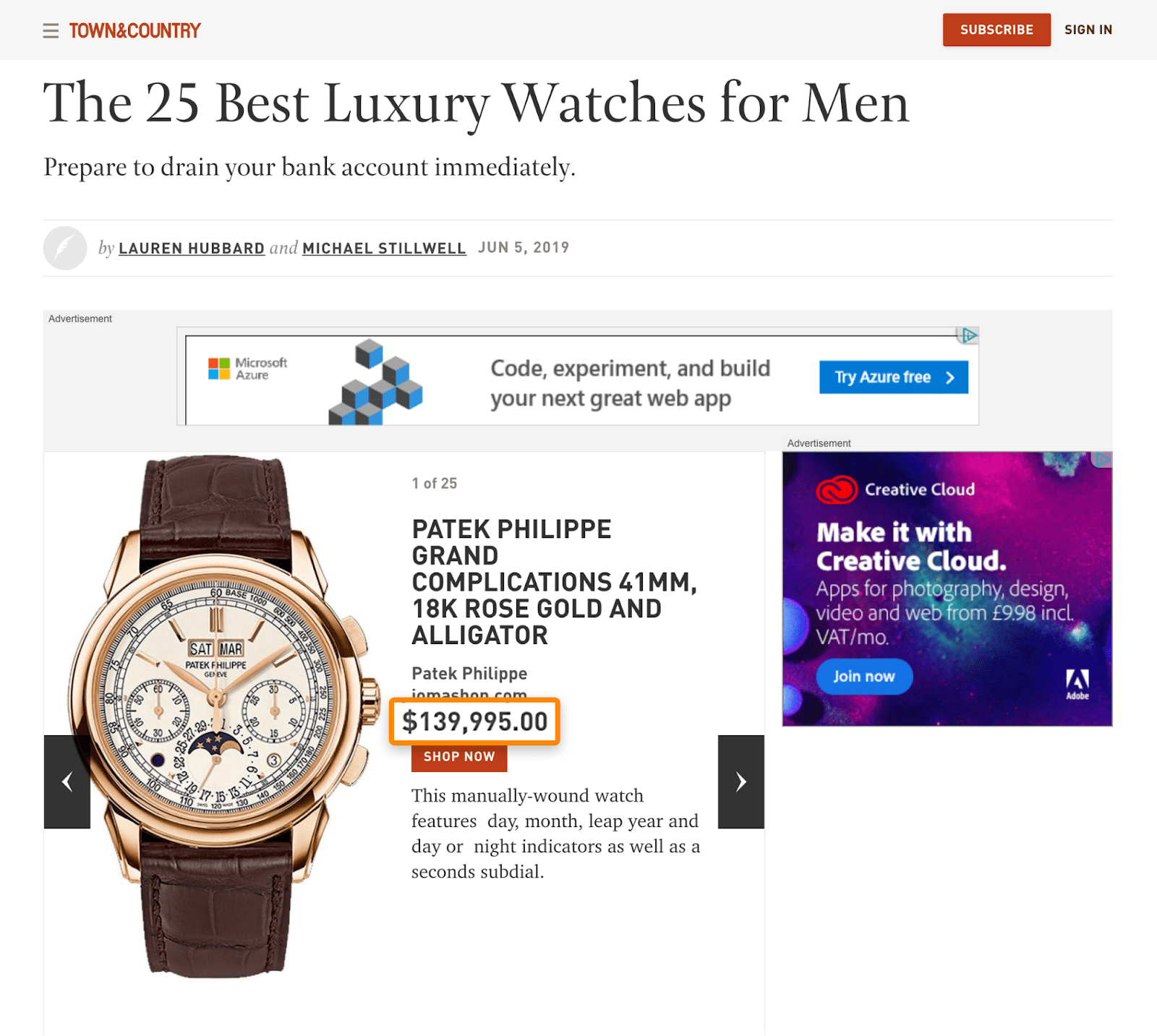 This makes sense. Searchers are clearly in the market for a new watch, and everyone has a budget.
Second, they all mention watches from popular brands like Rolex: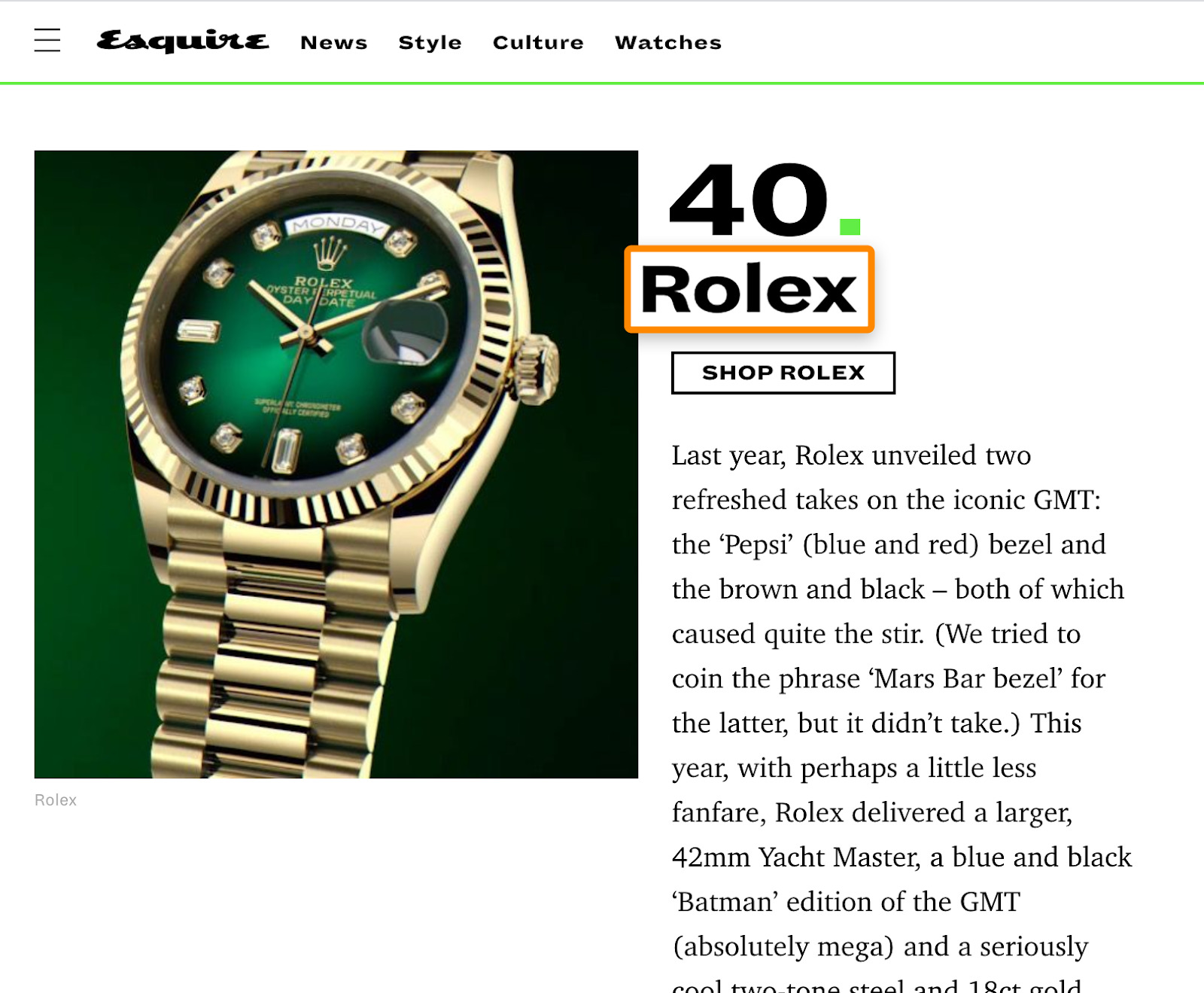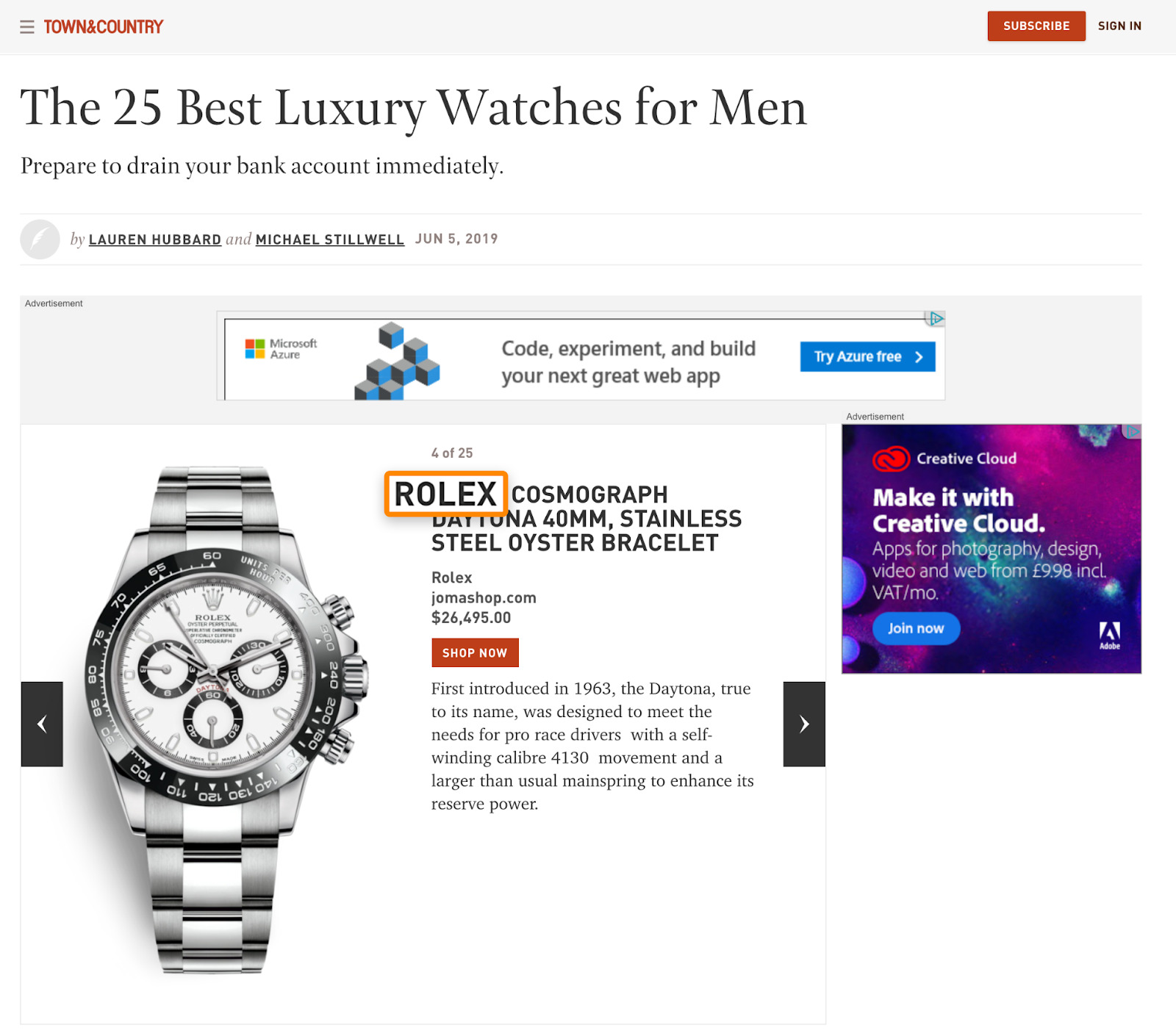 This also makes sense. It's hard to imagine a list of luxury watch brands that doesn't mention Rolex.
Third, they all talk about technical specifications like diameter and thickness: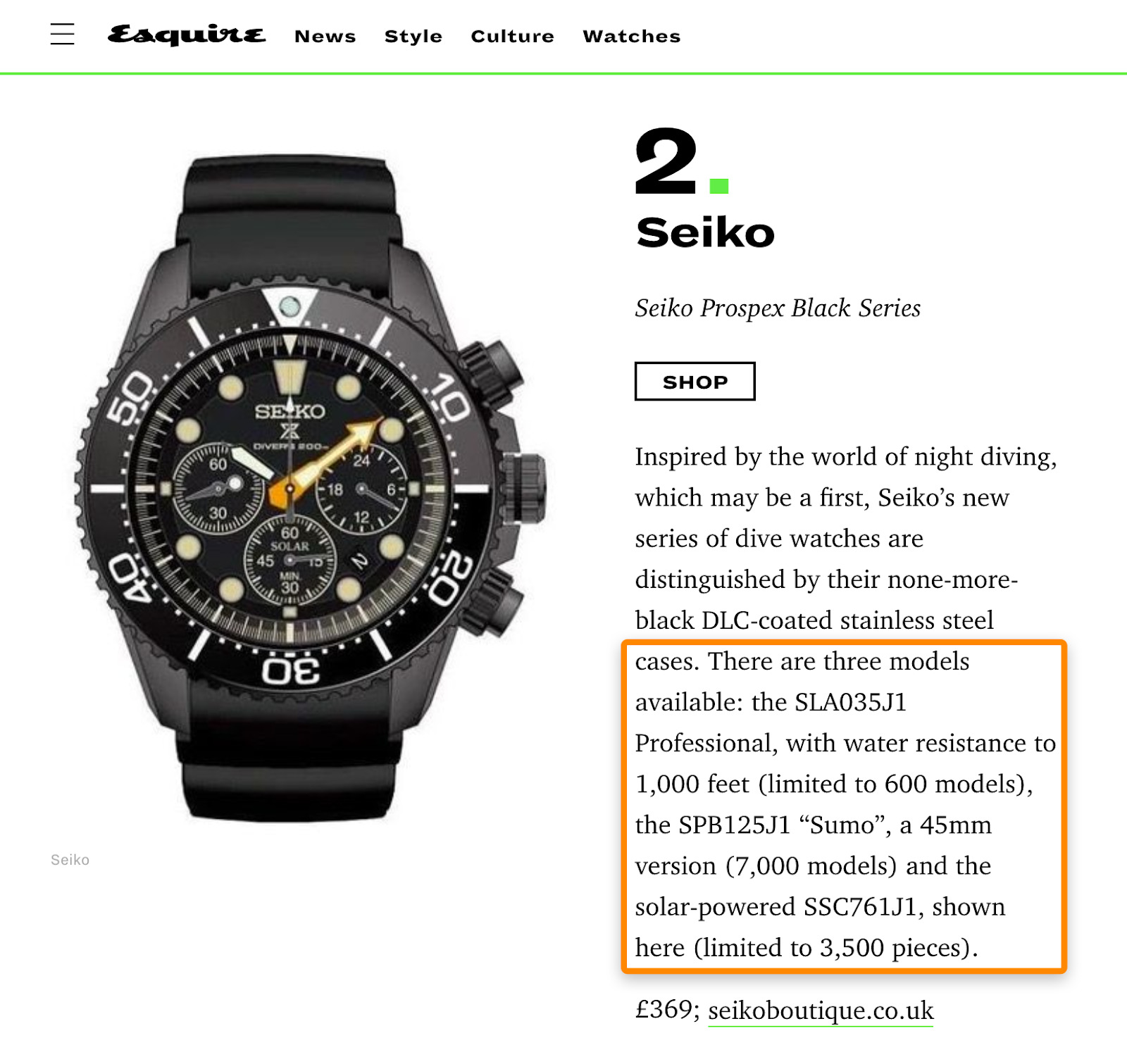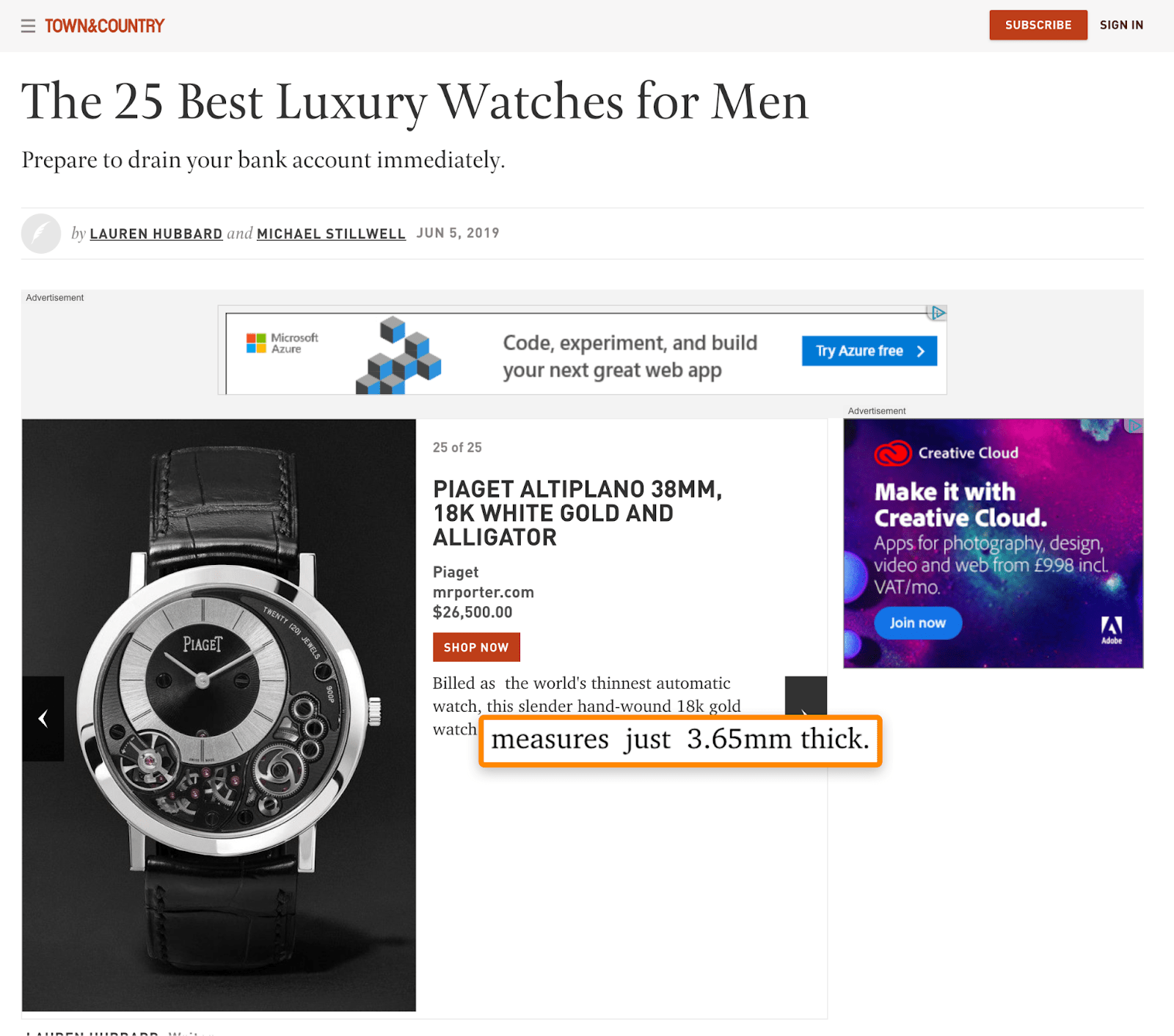 If you wanted to rank for this query, you should probably talk about these things too.
This isn't about copying others; it's about looking at the commonalities between top-ranking results to understand what's important to searchers.
You can also take clues from the "People also ask" boxes to find what matters to searchers…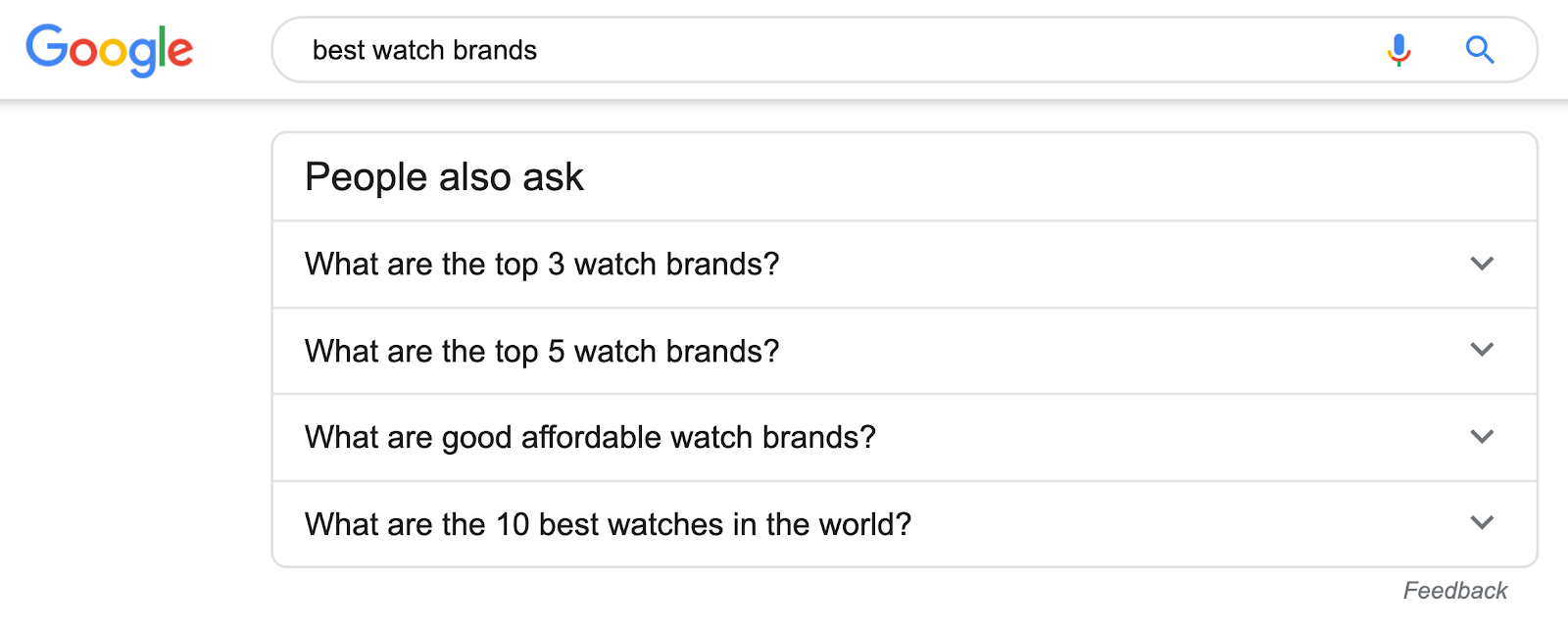 … and the "related searches" area at the bottom of the page:

Beyond this, you can use Ahrefs' Content Gap tool to see what queries the top-ranking pages also rank for. Just paste in a few of the top URLs and hit "Show keywords."
action item
Take clues from the top-ranking pages to create useful content. Research other questions searchers want answers to and include them where it makes sense.
Page speed has been a ranking factor since 2010 when it affected 1% of desktop search queries.
That changed in 2018 when Google extended the ranking factor to mobile searches.
However, even now, the factor only affects "a small percentage of queries" and is mostly a problem for pages that "deliver the slowest experience to users."
That's an important point. Beating competitors by a few milliseconds isn't the game here. It's more about making sure that your site is fast enough not to impact users negatively.
How fast is that?
Google said in 2018 that mobile pages should display content to users in under three seconds and that the TTFB (Time to First Byte) should be under 1.3 seconds.
They also say that the total size of a mobile web page should be less than 500kb.
However, Google's John Mueller said just a few months prior that TTFB isn't used for search ranking purposes, so take these guidelines with a pinch of salt.
AFAIK we currently don't use TTFB for anything in search/ranking. It can be a good proxy for user-facing speed, but like other metrics, don't blindly focus on it.— ? John ? (@JohnMu) November 30, 2017
If you're concerned about page speed, check the Speed report in Google Search Console. This shows which of your pages load slowly on desktop and mobile.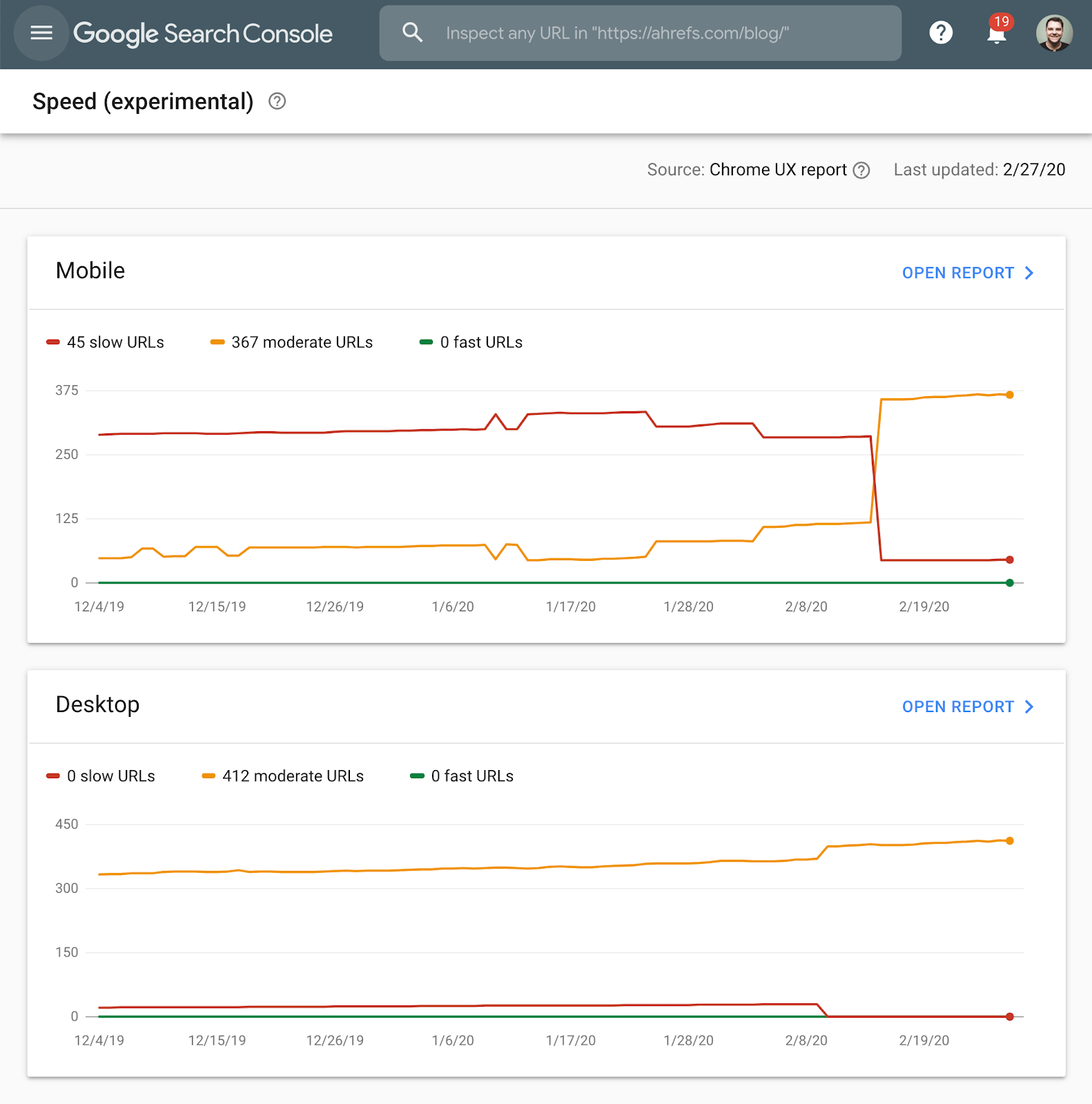 Sidenote.
The Speed report in GSC is currently an experimental report. Take its recommendations with a pinch of salt.
action item
Make sure your pages load fast enough for users.
HTTPS improves security for visitors by encrypting data between browser and server.
In 2014, Google announced HTTPS as a very lightweight signal affecting fewer than 1% of global queries. Since then, Google has upped its commitment to HTTPS, and now shows a "Not secure" warning in Chrome when you visit an unencrypted page.

If you have non-secure pages with input fields, you may also have received a warning email from Google Search Console.
Despite all this, HTTPS remains a lightweight ranking factor, as confirmed by John Mueller in early 2019.
Yeah, that's wrong. HTTPS is not a factor in deciding whether or not to index a page, at all. We do use HTTPS as a light-weight ranking factor, and having HTTPS is great for users. A free certificate from Let's Encrypt works just as well.— ? John ? (@JohnMu) January 29, 2019
The reason we're mentioning it is that it's a quick and easy win.
action item
Install an SSL certificate to make your site more secure. Get a free one from LetsEncrypt.
Nearly two-thirds of searches take place on mobile, so it's no surprise that Google made mobile-friendliness a ranking factor for mobile searches in 2015.
Google speaker just said "mobile is 65% of all searches today" #Engage2019— Greg Sterling (@gsterling) August 1, 2019
Later, in July 2019, when Google moved to mobile-first indexing, they made it a ranking factor for desktop searches too.
How do you know how mobile-friendly your site is?
Check the "Mobile Usability" report in Google Search Console.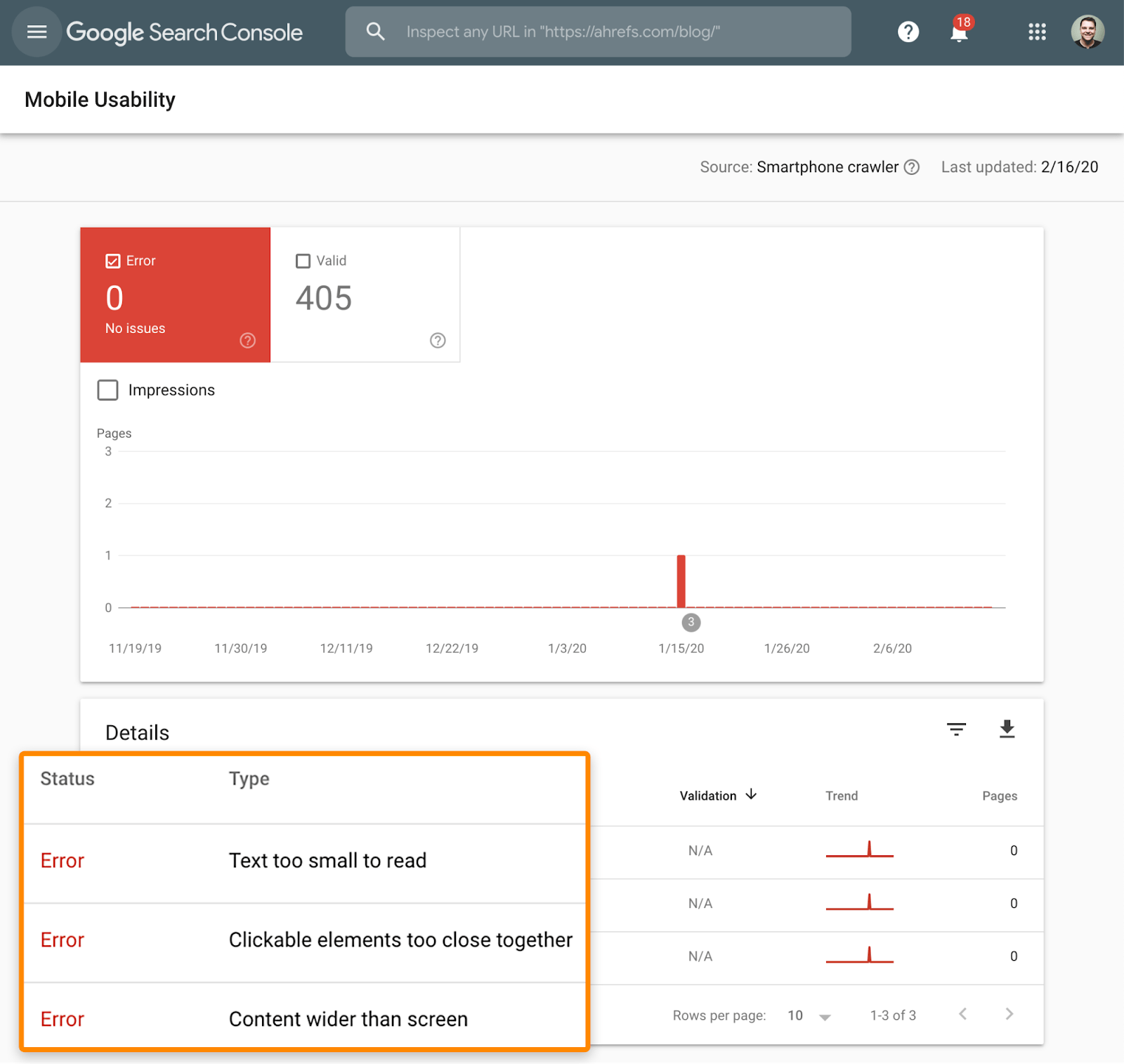 This report tells you if any of your pages have mobile-friendliness issues.
action item
Make sure every page on your site is mobile-friendly.
Google wants to rank content that offers visitors a positive experience.
Not only is this obvious, but the search giant's actions over the years prove it.
For example, in 2016, Google announced that pages with intrusive interstitial ads (i.e., pop-ups) might not rank as highly as those offering a better user experience.
Google's SEO starter guide also says:
You should build a website to benefit your users, and any optimization should be geared toward making the user experience better.
But what kind of things contribute to good user experience?
Here are some suggestions from Google:
Easy-to-read content;
Well-organized site;
Interesting and useful content;
Responsive design;
No intrusive ads;
Site designed around users' needs.
There's a lot of debate in the SEO community about how Google might measure user satisfaction. Common theories include analyzing metrics like clickthrough rate (CTR), dwell time, time on page, and bounce rate.
Google has filed numerous patents describing how clickthrough rate and other behavioral signals could be used to influence search engine rankings. Still, the company remains adamant that these factors are too noisy and unreliable to use.
Many SEO professionals disagree, but their evidence is anecdotal at best.
Have 20 seconds? Would love help testing this. Just follow quick directions in the graphic: pic.twitter.com/oSf7lAkyma— Rand Fishkin (@randfish) June 21, 2015
So here's our two cents:
Nobody knows how Google measures user satisfaction, but they likely have their ways. So instead of chasing arbitrary metrics like dwell time, focus on creating an excellent overall experience for visitors.
action item
Make your site user-friendly. Remove distractions, organize content logically, write for readability, and do your research. Do everything in your power to be the best result for your target keyword.  
Google aims to rank accurate results for every query.
Imagine searching "who founded Microsoft," clicking the first result, and seeing this:
You'd soon lose trust in Google, and move to an alternative search engine.
Content accuracy is particularly important for YMYL (Your Money or Your Life) queries, which Google says are those that can "potentially impact the future happiness, health, or wealth of users."
One example might be "aspirin dosage," which gets 7,800 searches a month in the US:
If Google were to rank inaccurate results for this query, it wouldn't just be mildly inconvenient for users—it'd be dangerous and potentially life-threatening.
So how does Google make sure to return accurate information?
Backlinks are one way. Nobody is going to link to a page that recommends a dangerously high aspirin dosage.
Google also uses the data in its knowledge graph, which is essentially a vast knowledge base of interconnected data points about people, places, things, and other entities.
For example, a search for "van gogh paintings" shows a list of artworks from the knowledge graph at the top of the search results.

Same goes for Monet:

There's also evidence that Google uses information from trusted databases to return and rank accurate content. Bill Slawski talks more about this here.
action item
Make sure your content is accurate. Look to trusted knowledge bases like Wikimedia, Wikipedia, and Google's Knowledge Graph to verify things you're unsure about.
Final thoughts
Everything above can be boiled down to eight steps:
Give searchers what they're looking for.
Make sure your site looks right on every device.
Make sure visitors enjoy being on your site and minimize distractions.
Explain everything visitors want to know—accurately.
Build expertise in one topic; don't be a jack of all trades.
Get recommendations from other sites in the form of backlinks.
Regularly update and keep content fresh (where needed).
Do all of the above fast and securely.
Is any of this advice new? Is it sexy?
Nope, and that's the point.
Ranking in Google is rarely about the latest tips, tricks, and buzzwords. It's about putting in the work to create content that searchers are looking for, providing a good user experience, and proving to Google that it's the best result for the query.
Got questions? Ping me on Twitter.