Here is the new digest of our best updates over the last month. Before moving on to the updates, we are happy to present a new opportunity for brands and agencies.
It's our Agency Partners platform, which helps brands quickly find and hire a digital marketing agency. The base is made up of the companies that use our services, and whose expertise we trust. Learn more in the article Outsource Your Marketing with SEMrush Agency Partners.
Traffic Analytics: Subdomains Analysis
A short but long-awaited update — now you can analyze not only the root domain in Traffic Analytics, but also any level of subdomain.
Suppose you have a translation service and want to analyze a website with a lot of subdomains for different services like translate.google.com.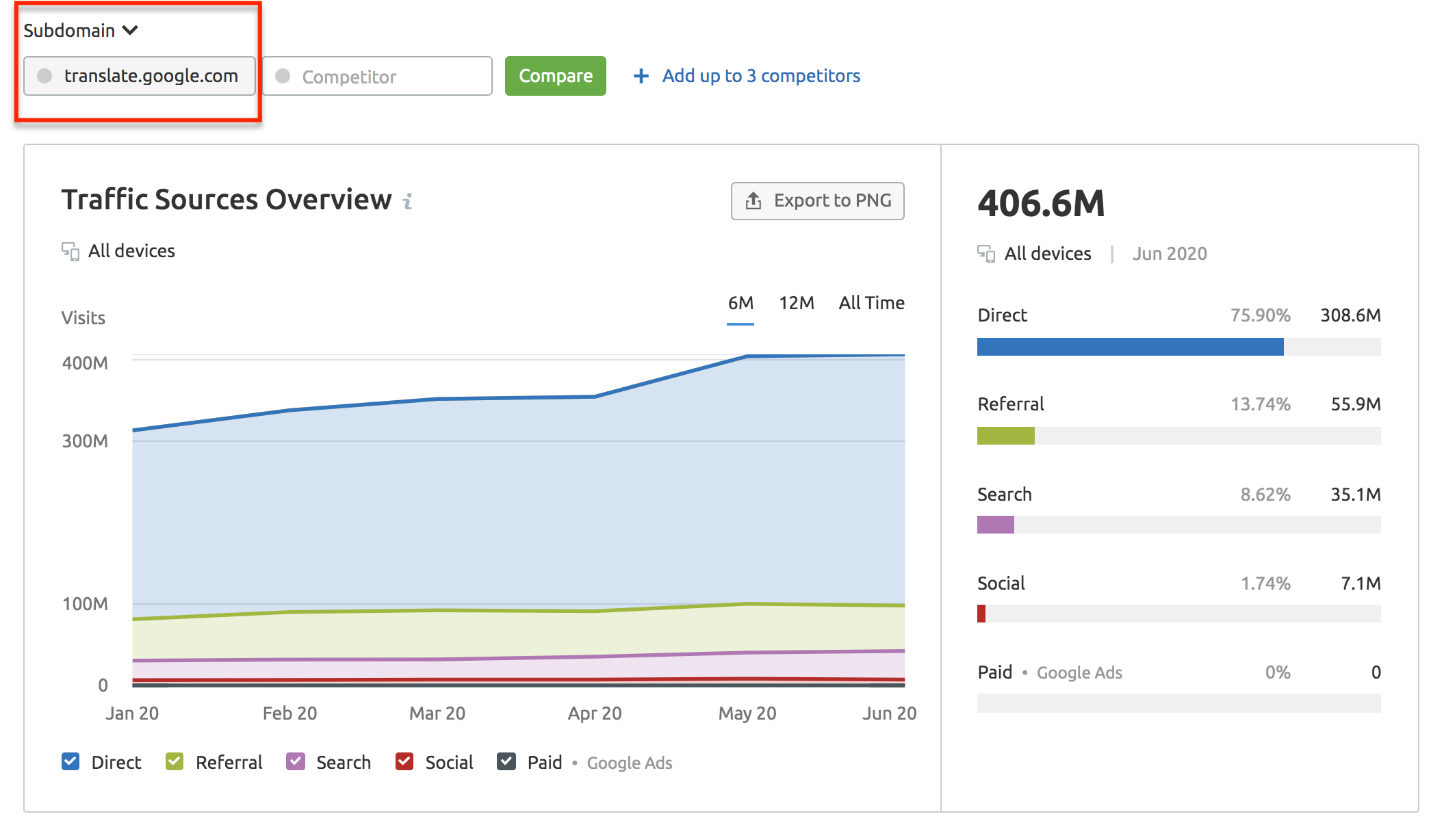 You can get the detailed analytics for the specific subdomain you need, and also compare different subdomains.

URL analysis is not yet available, but as you know, we're getting better every month!
Social Media Analytics: Internal Analytic Metrics in One Place
Those who work with the various social media know how tedious it can be tracking the analytics for each one, especially when you publish more than one post a day on each platform. 
Posts can have different messages, support different social trends and have a different format: news, video, picture, etc; and you want to know what characteristics of the content your audience likes the most. We have launched a new tool – Social Media Analytics.
It's the fourth tool in our Social Media Toolkit, and allows you to see your internal analytic metrics for your social media channels in a conveniently presented view. The Facebook report is ready to go, while Instagram and LinkedIn tabs are coming!
Overview: Facebook, LinkedIn, and Instagram
You can add your social media profiles to the tool and judge the basic performance metrics for your Facebook, LinkedIn, and Instagram posts by new followers, post reach, post engagements, and engagement rate. The analytics process becomes more interesting when you go to a specific report to scrutinize the data of each social media platform. 
Facebook report: Audience, Mentions, Page likes, Engagement, and Posts 
In a convenient readable and visually pleasing form, the tool will show you the data from your internal analytics. You can lose sight of some findings in the form of numerical data, but in charts and graphs everything is at your fingertips immediately. 

We suggest you analyze your media performance through 5 tabs:
Audience — see where your audience is from, their age and gender, and when they are online. 
Mentions — track mentions of your brand in public posts.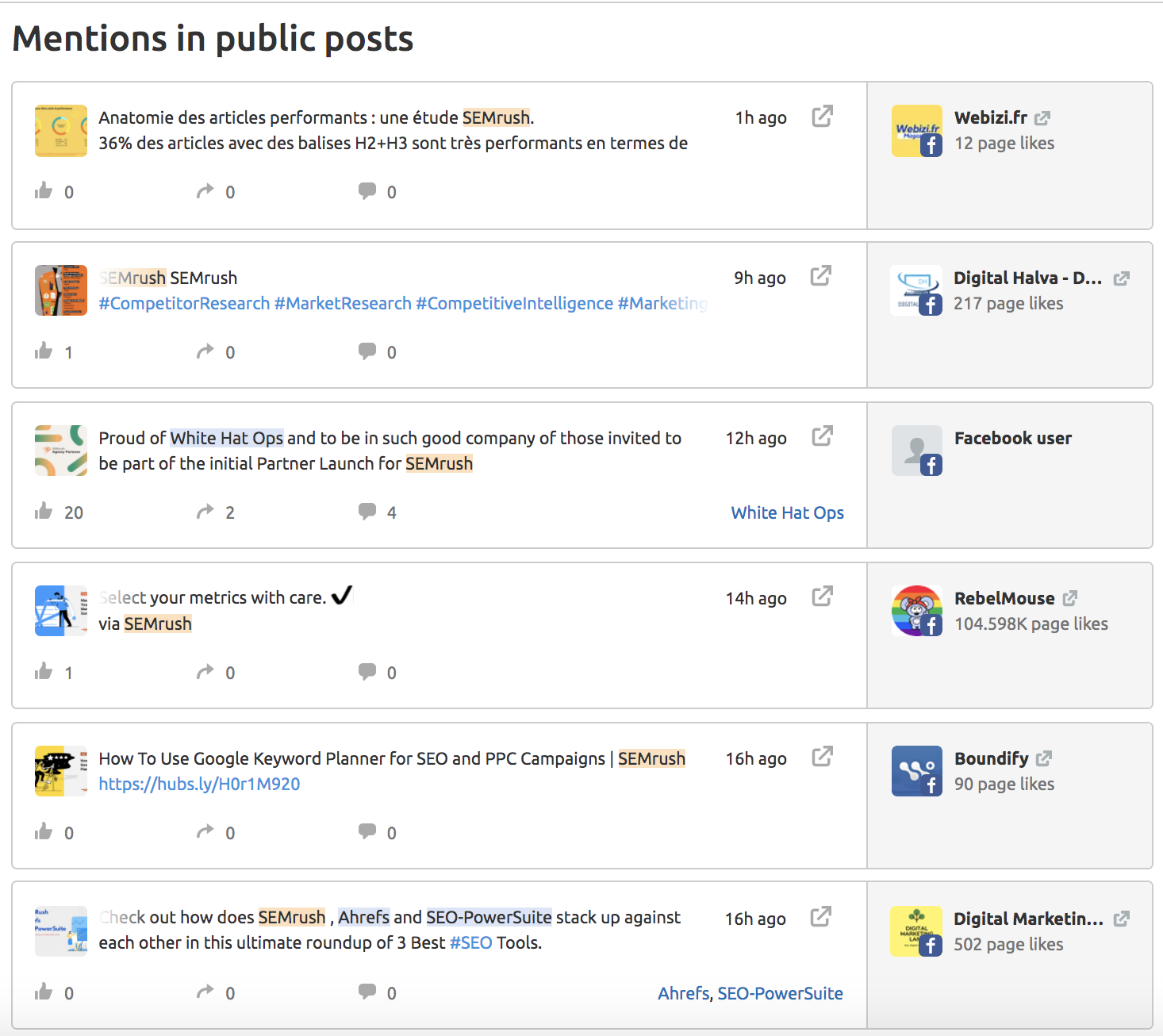 Page likes — find out answers to the questions: "Where did they like me?" and "Why do I lose likes?" and analyze stats of the total and new page likes, organic and paid likes, and page unlikes.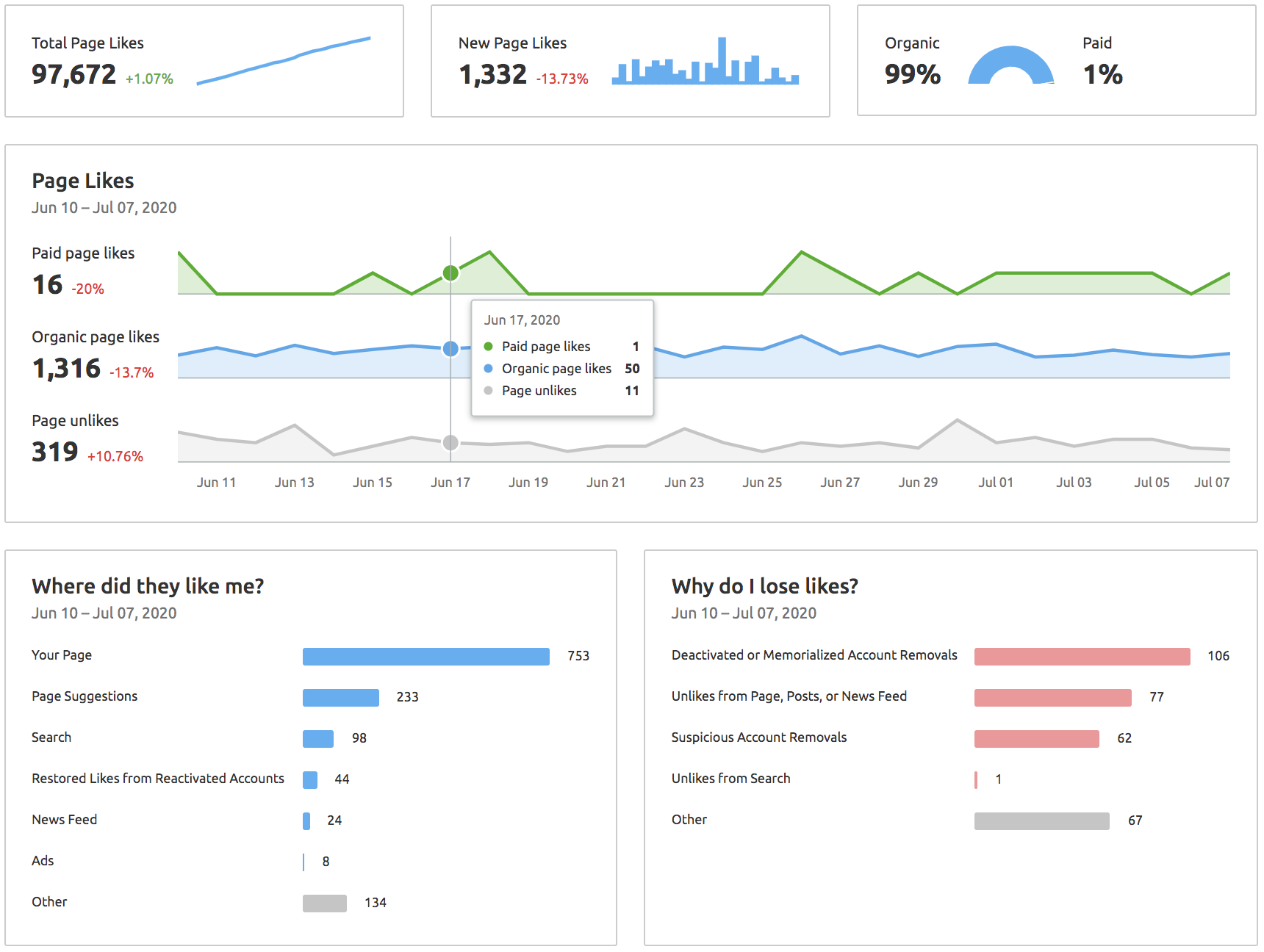 Engagement — find out how users typically react to your posts, how often they react with negative actions, and see impressions, reach, and engagement rate totals for one month and by day.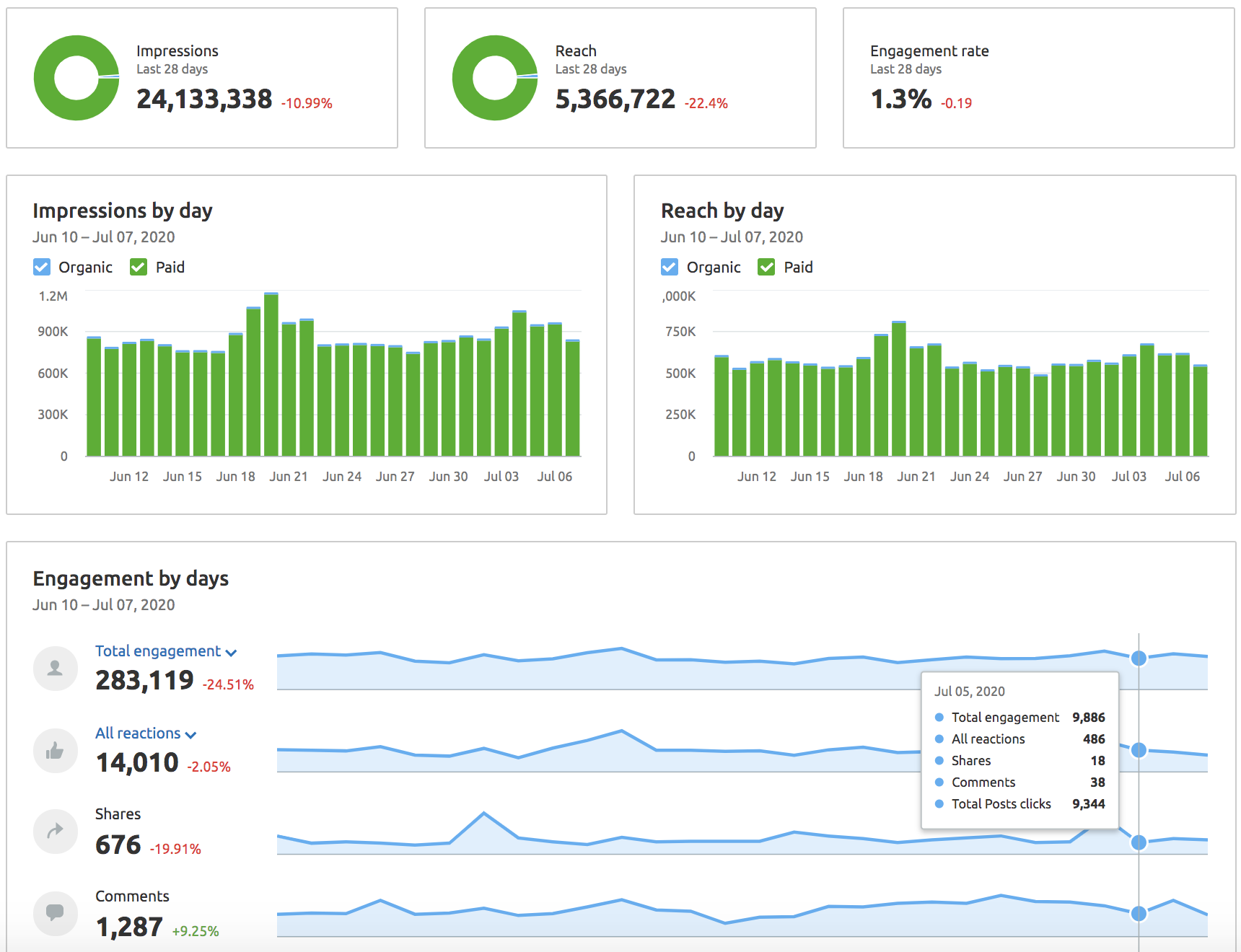 Posts — find your top posts by any of the criteria: reach, engagement rate, number of shares, number of comments, number of reactions; find out which posts cause you to lose the audience; analyze what types of posts motivate users to interact with your content and with what actions.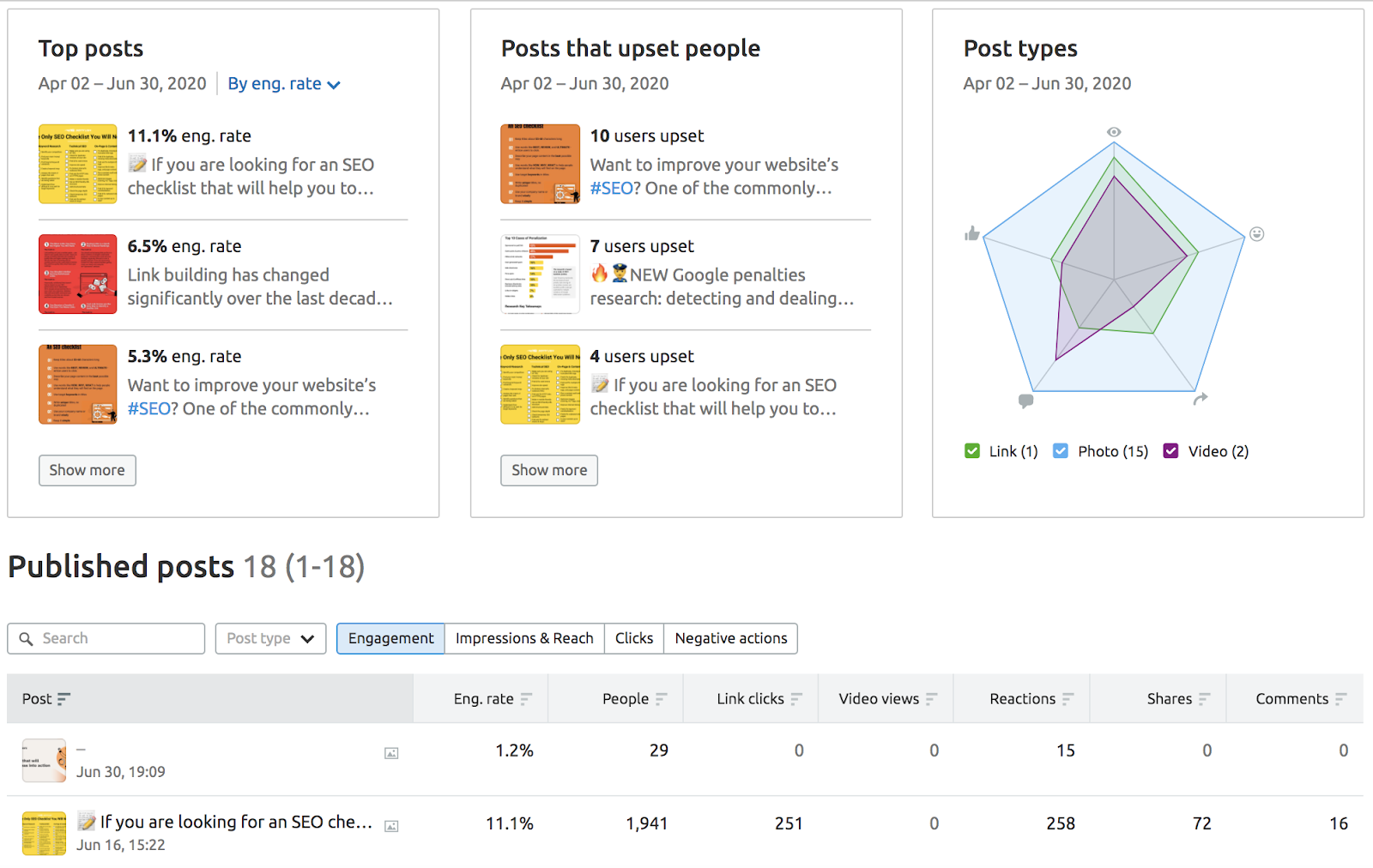 How to Get to the Tool
To start using the tool, you need to set up at least one of the other Social Media tools and connect your Facebook business page.



Go to the Social Media Toolkit


Social Media Ads: Add Videos to Your Ads
Good news for dedicated paid social specialists working with ads on Facebook, Instagram, FB Messenger, and FB Audience Network. Now you can create ads not only with images, but also with video through Social Media Ads.
Let's have a brief reminder of the advantages of creating ad campaigns through Social Media Ads. In addition to a convenient interface for creating ads, the tool will identify low-performing ads for you, helping you optimize your campaigns and budget. Whether they were rejected by Facebook, or need a little tweaking to boost their performance — the tool will let you know.
Listing Management: Track Your Ranking in Local Finder
It's important for your local SEO to appear in various search services. We have added to Listing Management the option to check how well you rank by your keywords in Google Local Finder results when searching from locations you are interested in.

Since Google Local Finder is one of the largest services with addresses and locations, you can expect that in other services you will have a similar position.
Tracking your ranking requires you to purchase a location (you can find more information on how Listing Management works in this article).
We look forward to turning your working process into an easy, pleasant task. Let us know your thoughts in the comments below on whether these updates will help you to manage your tasks successfully!