Content marketing is simple. You create content designed to attract your target audience and turn them into customers.
There are lots of ways to do this.
Here are just a few popular types of content marketing:
Blogging
Video marketing
Podcasting
Email marketing
Webinars
Case studies
Presentations
eBooks
White papers
The list goes on.
Is it possible to do all of those? Probably not. Most brands don't simply don't have the resources.
So which format should you focus on?
The answer to that question is different for everyone. In this post, I'm not going to cover every content marketing tactic. I'm going to run through the types of content marketing that have worked for us and helped us grow our revenue by +65% YoY.
These are:
Blogging is the format we've been using the longest to drive more traffic to our site and get more customers.
Our primary goal with blogging is to rank high in Google for topics relevant to our business and acquire passive organic traffic.
And it's turned out pretty well so far:
Here's how we do it.
Step 1. Find winning topics
If you want organic traffic, you have to target topics that people are searching for.
The easiest way to find these is with a keyword research tool. Enter a relevant topic into a free keyword tool like Ahrefs' Keyword Generator, then toggle the "Questions" report. It'll show you the related questions that people are searching for, and their estimated monthly search volumes.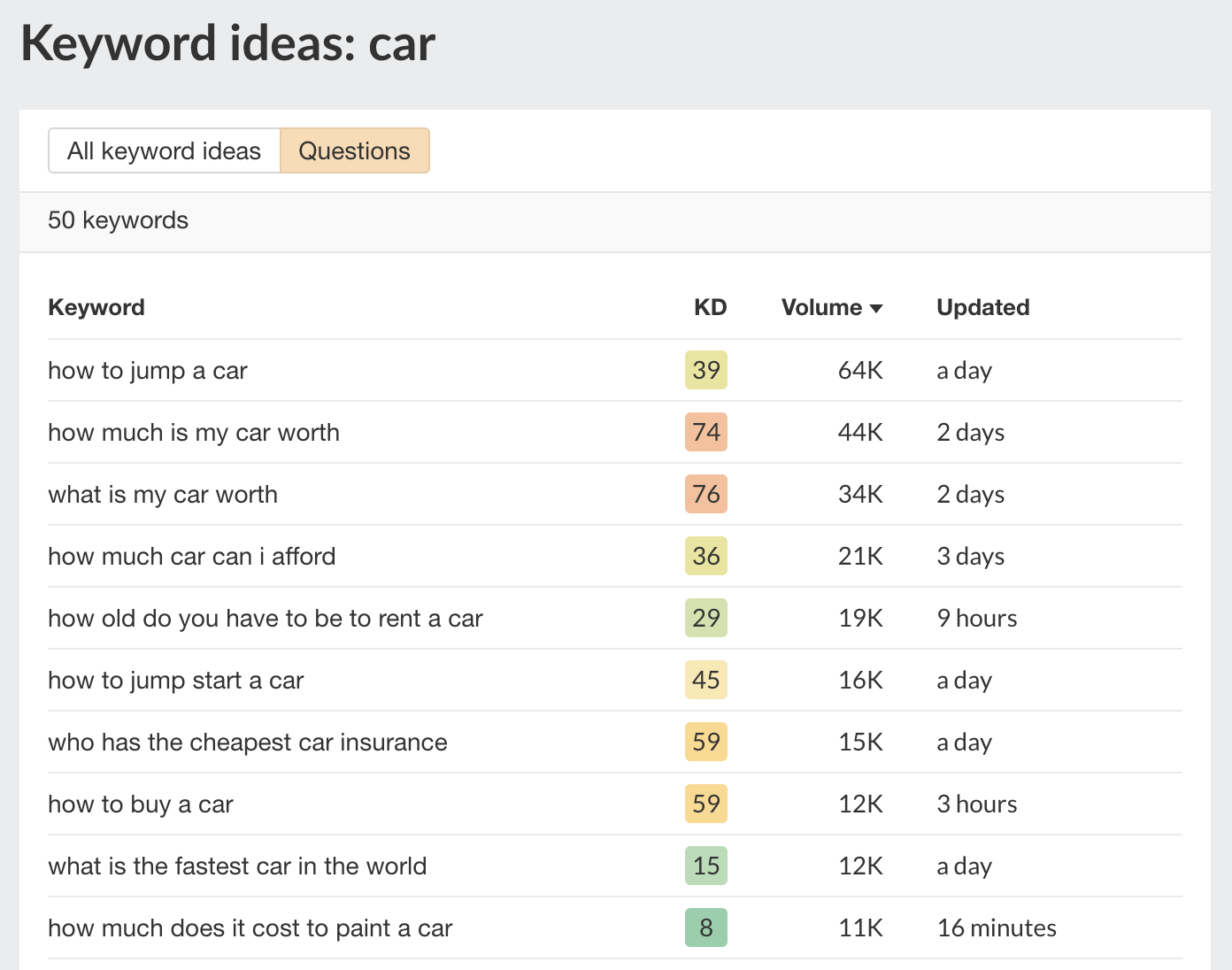 Look through the list and note down any relevant topics.
Just make sure you're not blinded by search volume. You need to choose topics that potential customers are likely to be searching for.
For example, say that you sell cheap city cars. Ranking for "what is the fastest car in the world" probably isn't going to send many potential customers your way.
Recommended reading: How To Do Keyword Research for SEO — Ahrefs' Guide
Step 2. Create the right type of content
To stand the best chance of ranking, you should create the type of content that searchers want to see.
Let's say that you want to rank for "how to lower car insurance." Your gut probably tells you to write a step-by-step guide. After all, the query starts with "how to," so that seems to be what people want, right?
Not so fast. If you look at the top-ranking results for this query, they're mostly lists of tips.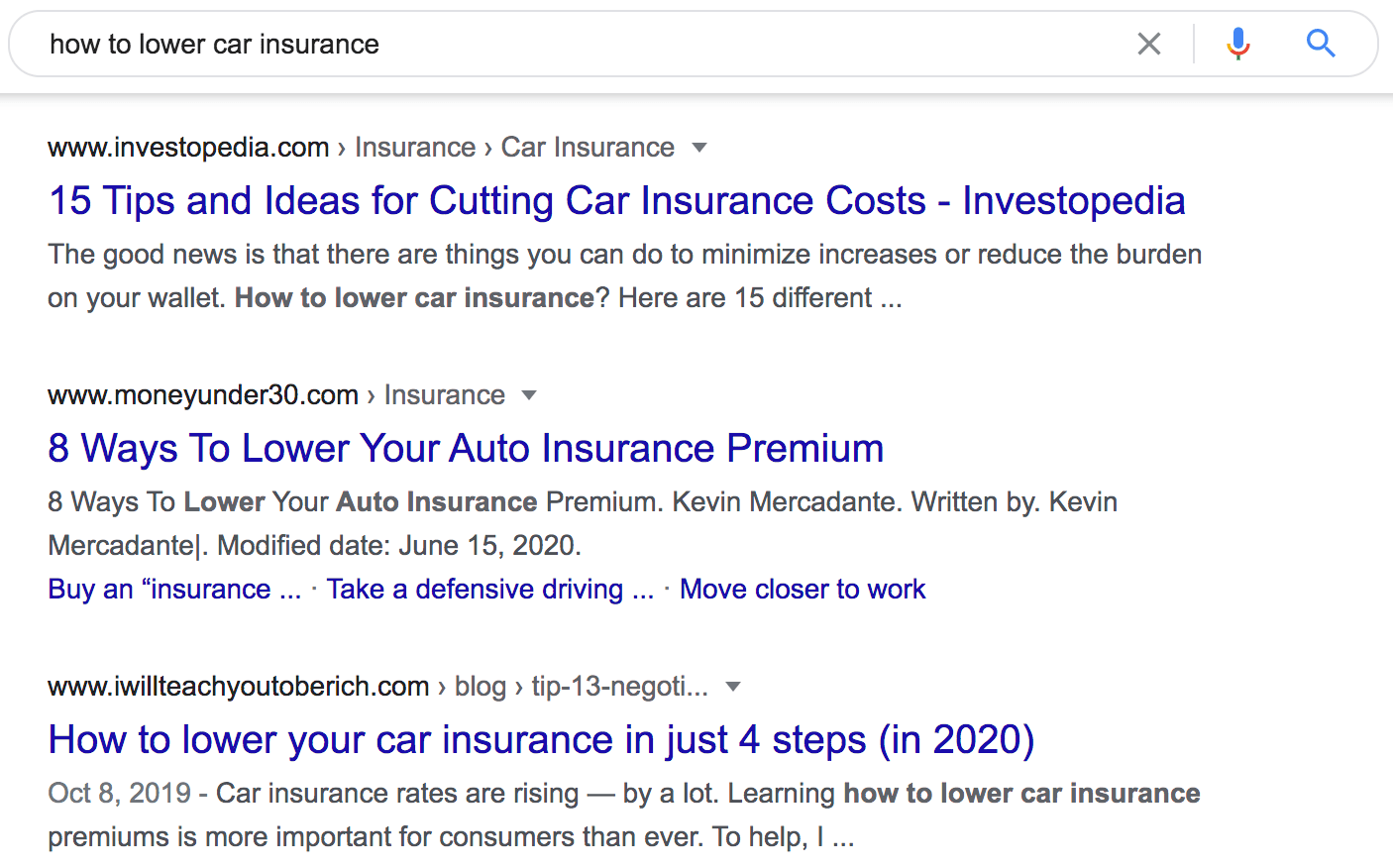 If you're wondering why this matters, it's because Google works hard to surface the best results for most people. And so, the top-ranking results are often a good proxy for what people want.
When it comes to blog posts, it'll often be one of four types:
List
Step-by-step guide
Beginners guide
Expanded definition
Learn how to tackle any of these blog post types in our post here.
Step 3. Promote the blog post
One of the biggest myths on the Internet is, "if you build it, they will come."
Given that over five million blog posts are published daily, nobody is going to find your blog post unless you put it in front of your audience.
The work isn't done when you hit "publish." You still have to promote your content.
Follow this content promotion checklist to get more eyeballs on your content:
https://www.youtube.com/watch?v=PoVYweKH4ck
We've been publishing videos on YouTube since 2015. And we've since racked up over 6.4 million views and accumulated over 140,000 subscribers.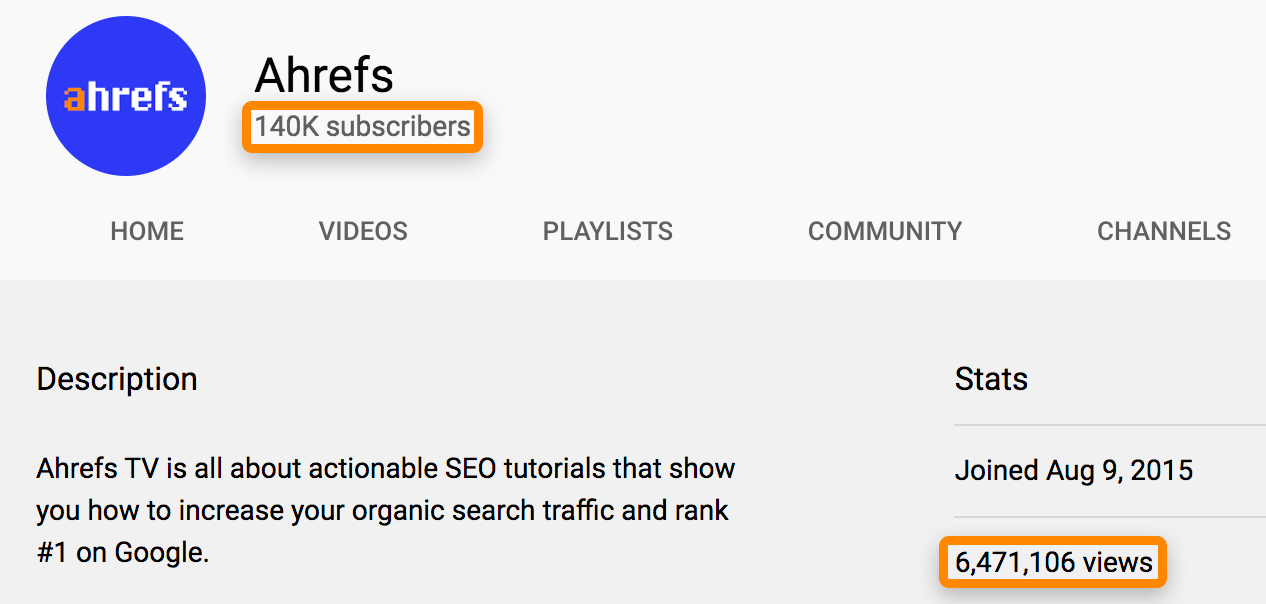 Not only have we been able to tap into YouTube's audience of two billion users, but video marketing has also allowed us to demonstrate our products and ideas better than words could ever do.
This has helped us get consistent sign-ups from YouTube.
So, how do we do it?
Step 1. Find topics that people are searching for on YouTube
If you're just starting out on YouTube, you have no subscribers to promote your videos to.
The solution? Rank your videos for topics people are searching for.
To find these topics, enter a relevant keyword into our free YouTube keyword tool. It'll show you up to 150 keyword ideas and their estimated monthly search volumes.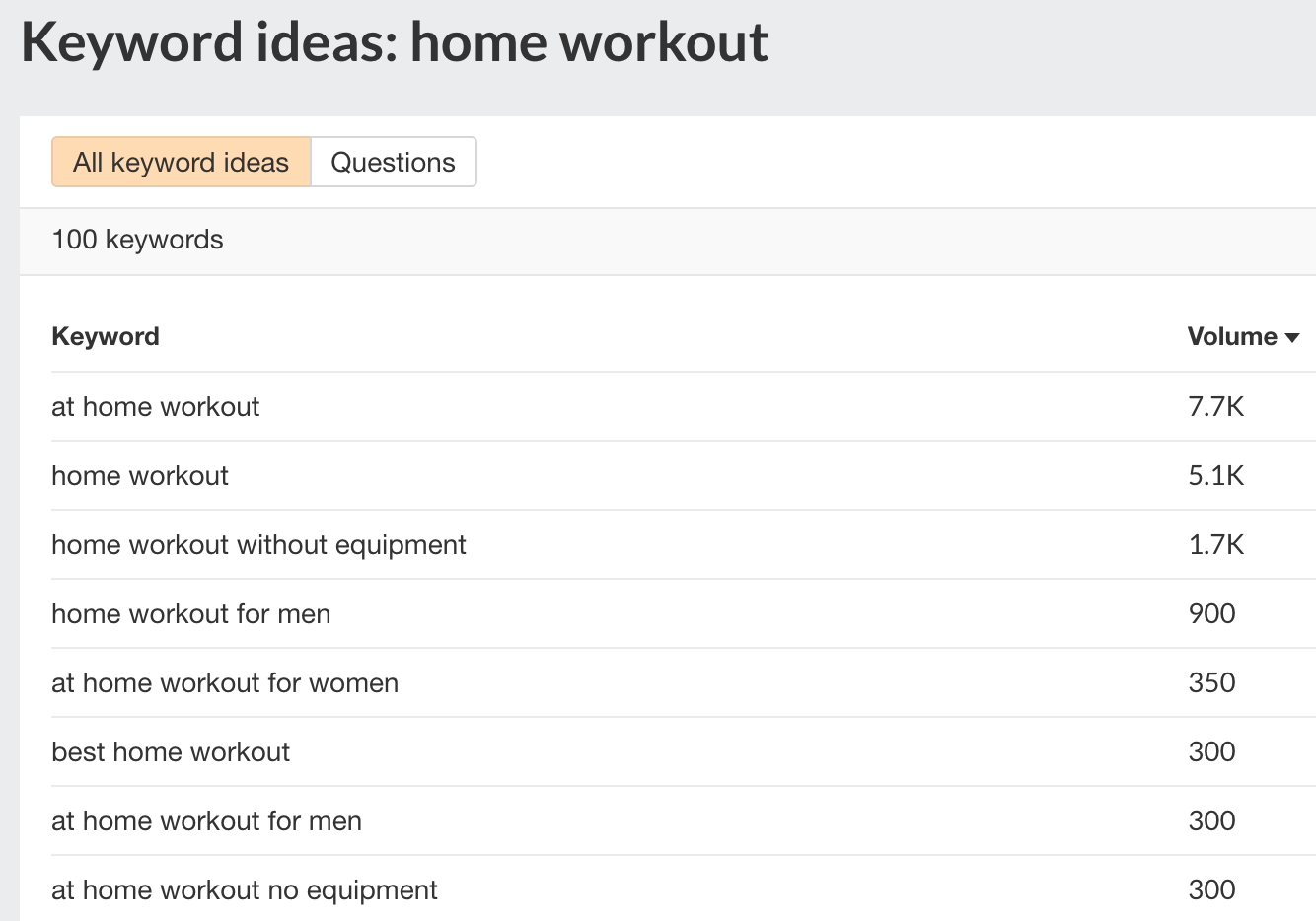 Eyeball the list and note down topics that are relevant to your channel.
Recommended reading: How to Do YouTube Keyword Research in 3 Easy Steps
Step 2. Create optimized videos
Even if you rank #1 for every keyword, no one will watch your video if it's boring and unengaging.
A simple way to fix this problem is to script your videos before recording them. This will keep your videos concise, and prevent you from going off on a tangent.
Beyond that, good editing can also help make your videos interesting.
https://www.youtube.com/watch?v=j5EOWffq-gk
Recommended reading: YouTube SEO: How to Rank Your Videos From Start to Finish
Step 3. Get more views to your video
Ranking on YouTube is great, but it's not the only way to get more views.
Learn how to get more views on YouTube in this video:
https://www.youtube.com/watch?v=iwkUlTl2Iow
There are two ways to use podcasting for content marketing:
Start your own podcast;
Get interviewed on someone else's podcast.
While starting your own podcast is great for brand and audience building, it can take quite a while to gain traction.
So, rather than immediately jumping into creating a podcast, why not appear on a few podcasts first and decide if you like the format? Given that there are over one million podcasts today, there are plenty of opportunities for you to get interviewed.
And this was what Tim, our Chief Marketing Officer, did. In 2019, he set a goal to appear in more than 20 podcasts, and he accomplished that in only four months. 
This has brought us quite a decent number of sign-ups: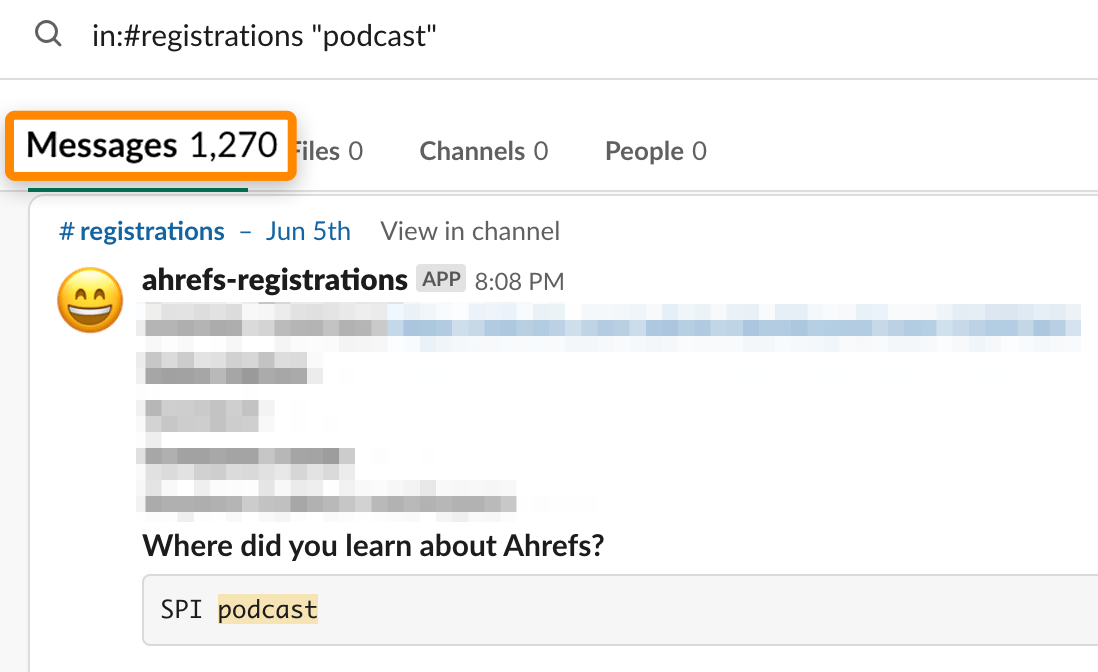 How did Tim do it?
Step 1. Find podcast opportunities
The easiest way to do this is to use Google. Simply search for top [your niche] podcasts, and you'll get tons of curated lists: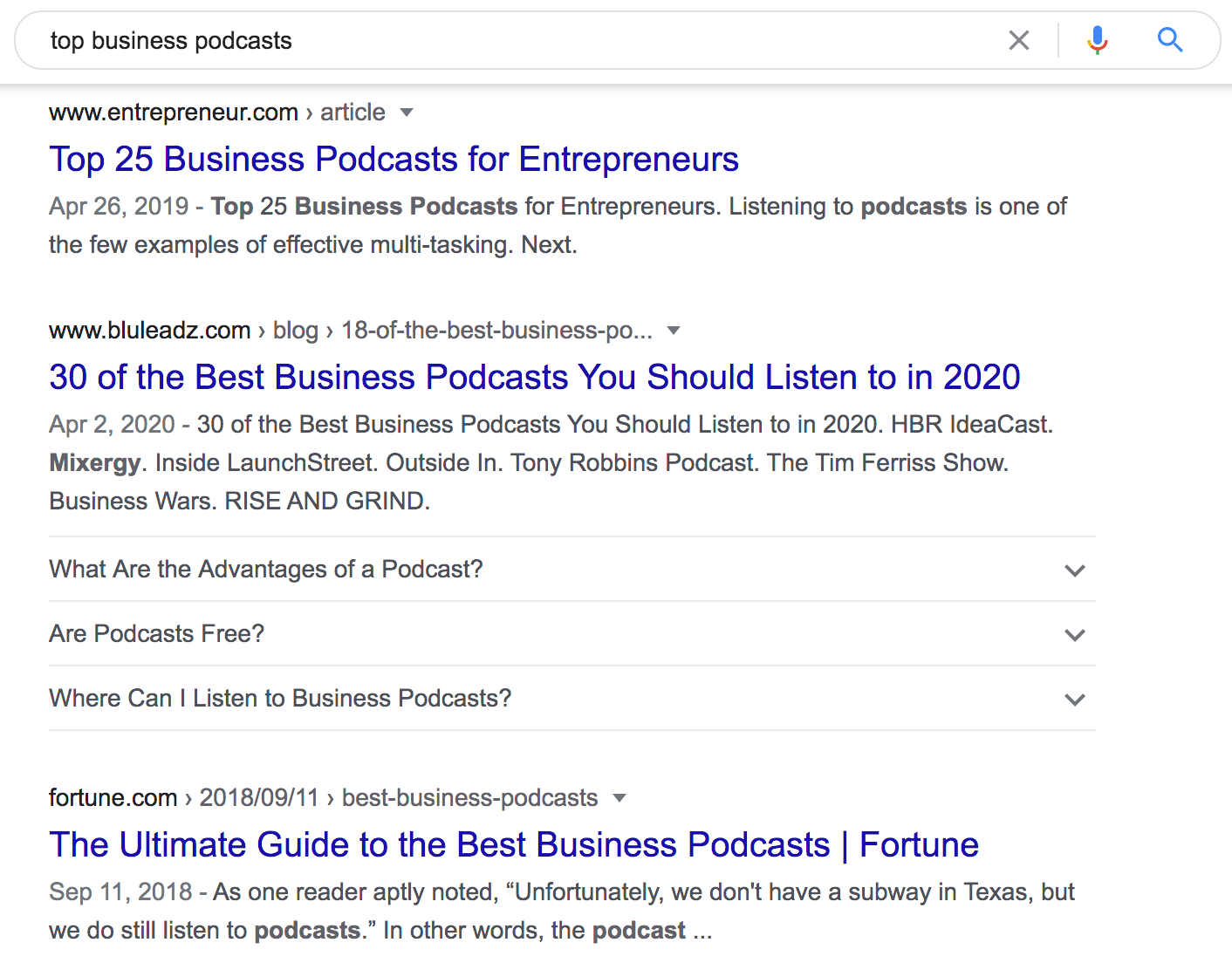 However, some of these podcasts will probably be huge. If you're new to podcasts, your first podcast is unlikely to be the Joe Rogan Experience.
So, a better way is to identify someone of similar calibre in your industry who's been a guest on multiple podcasts. For example, Laura Roeder, the founder of MeetEdgar, is someone in our industry who has appeared on many podcasts.
To discover the podcasts she's been on, let's paste her site into Ahrefs' Site Explorer, go to the Backlinks report, and type her name in the "Include" box. Now, the links in the "Referring page" column are pretty much all podcasts.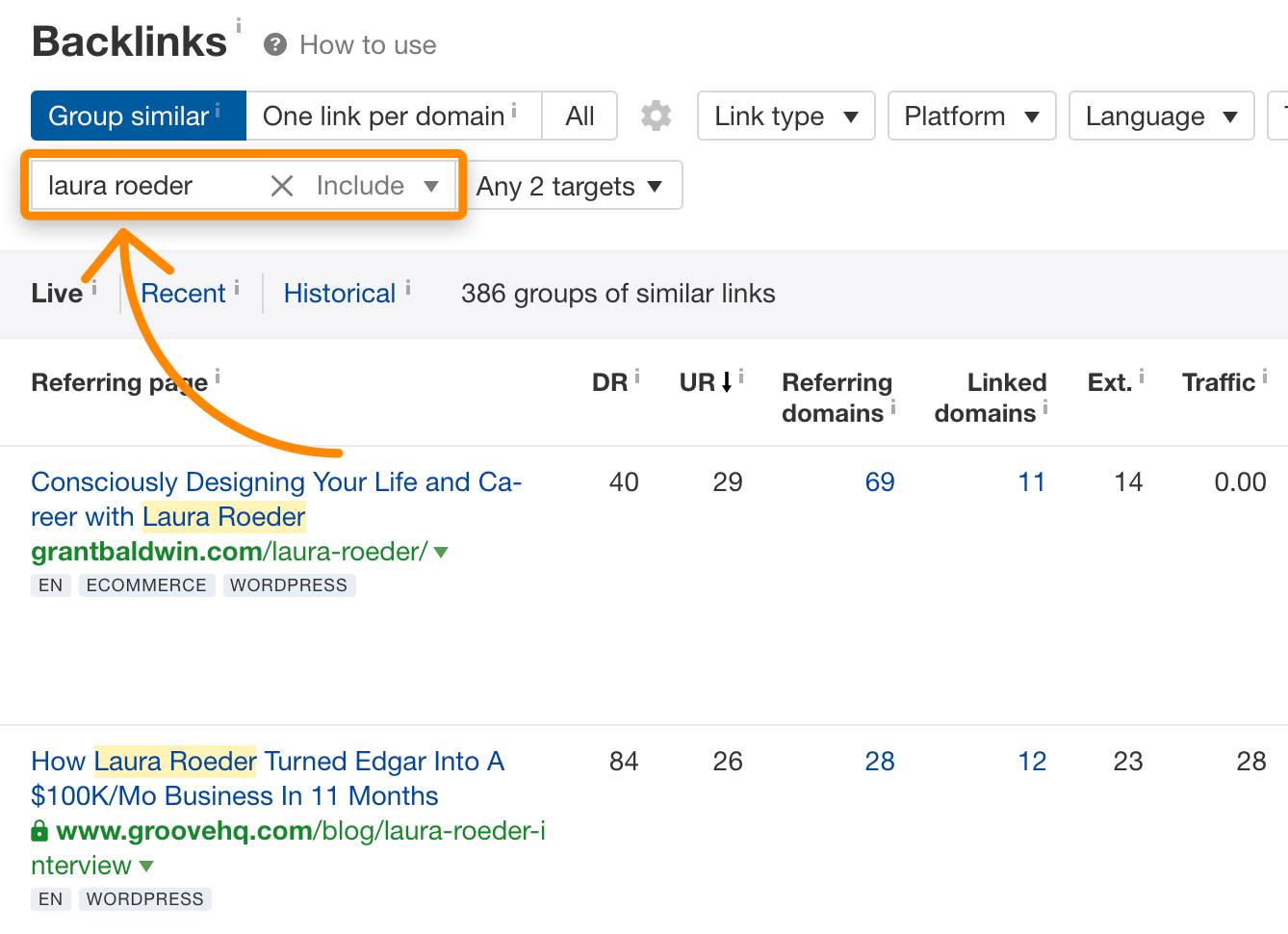 Step 2. Pitch yourself as a guest
Once you've identified the podcasts you want to be on, the next step is to pitch yourself as a guest.
But before you even reach out to the host, make sure you first listen to a few episodes of the podcast. Not only will this help you craft a more personalized email, you'll also be able to come up with a few topics to discuss based on the past episodes.
Recommended reading: 12 lessons I learned from doing 20+ podcast interviews in 4 months
Decided that you want to start your own podcast?
Here are some resources that might help:
At Ahrefs, we're a big fan of releasing free tools as a content marketing strategy.
Tools like our free backlink checker allow us to show off the capabilities of our product. While helpful on its own, it also gives potential customers a taste of what they can get if they sign up for our service.
Plus, it also ranks for tons of relevant keywords, sending us a lot of passive, organic traffic:

In fact, our free tools send us almost 200,000 organic visits every month: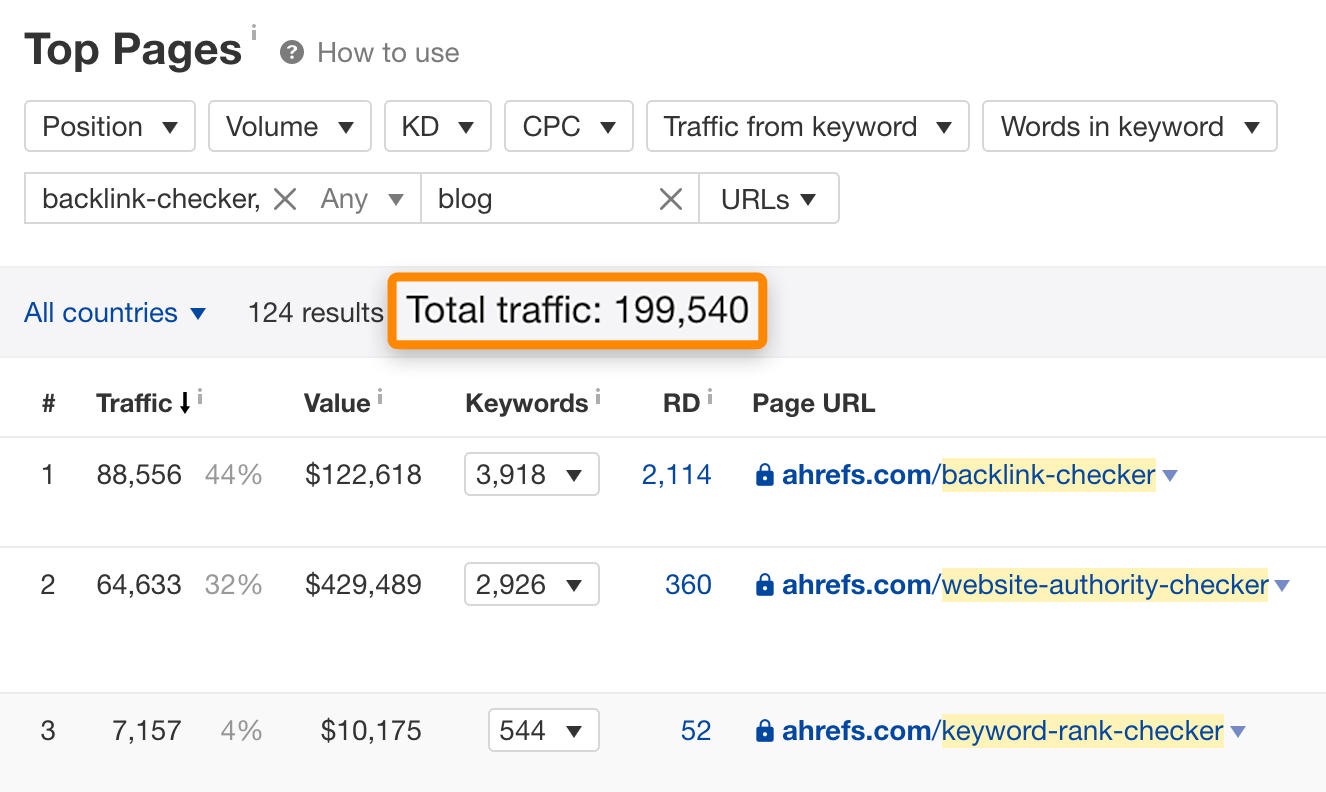 Pretty cool, right?
Here's how to do it.
Step 1. Find opportunities to create free tools
As with blogging and video marketing, you don't want to create free tools randomly. You need to make sure people are searching for the tools you want to create so that they can rank high in Google and get organic traffic.
To do this, you can use Ahrefs' Keywords Explorer.
Let's say you have an automotive site, and you want to create a free tool. Enter a broad keyword like "cars" into Ahrefs' Keywords Explorer and go to the Phrase match report.
Then, in the "Include" box, add terms like "calculator," "tool," "tools," and "checker." Choose "Any word" and click "Apply."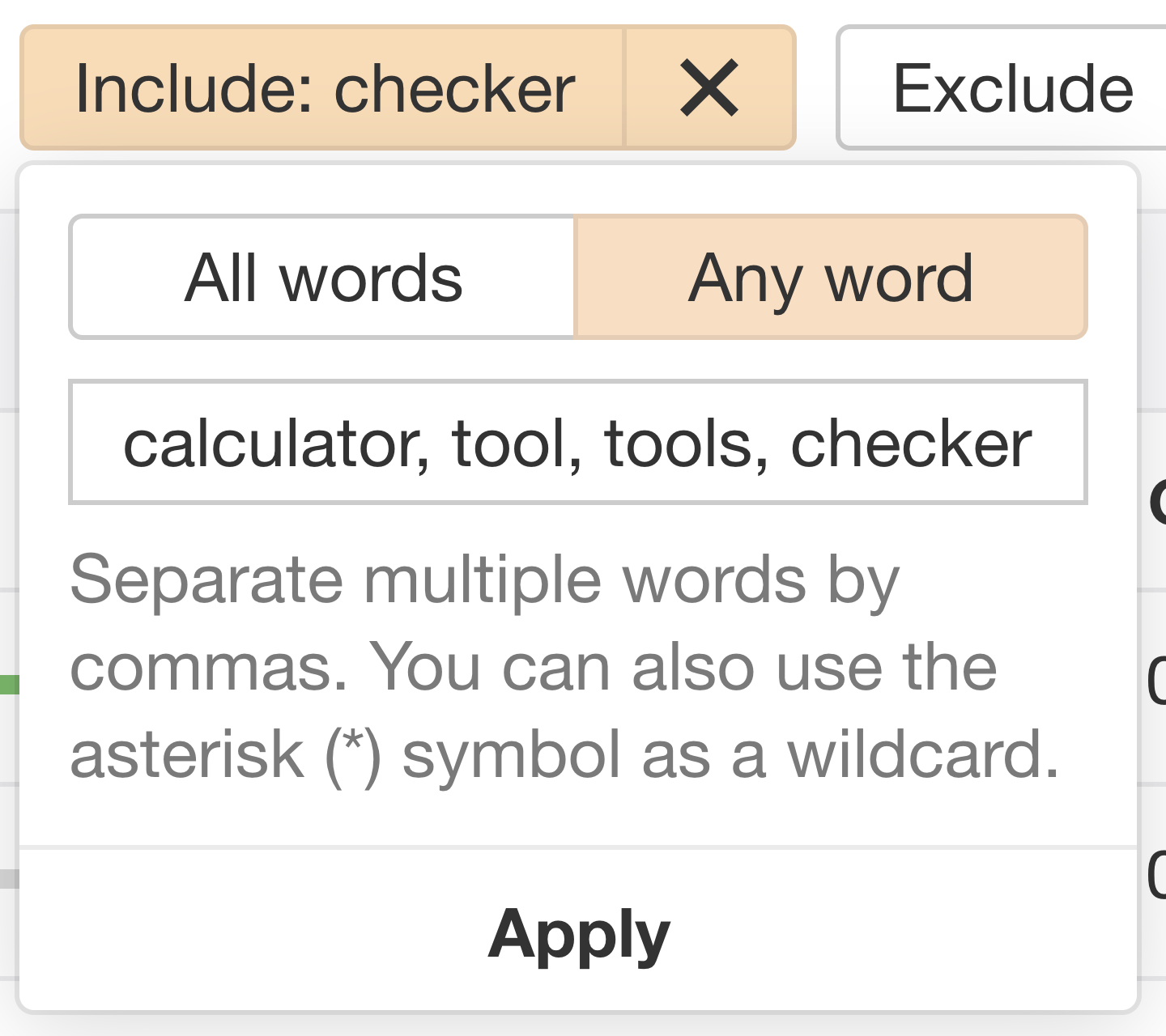 You can now see some nice topics like "car loan calculator," "car finance calculator," and "car lease calculator." These might be good options for creating a free tool.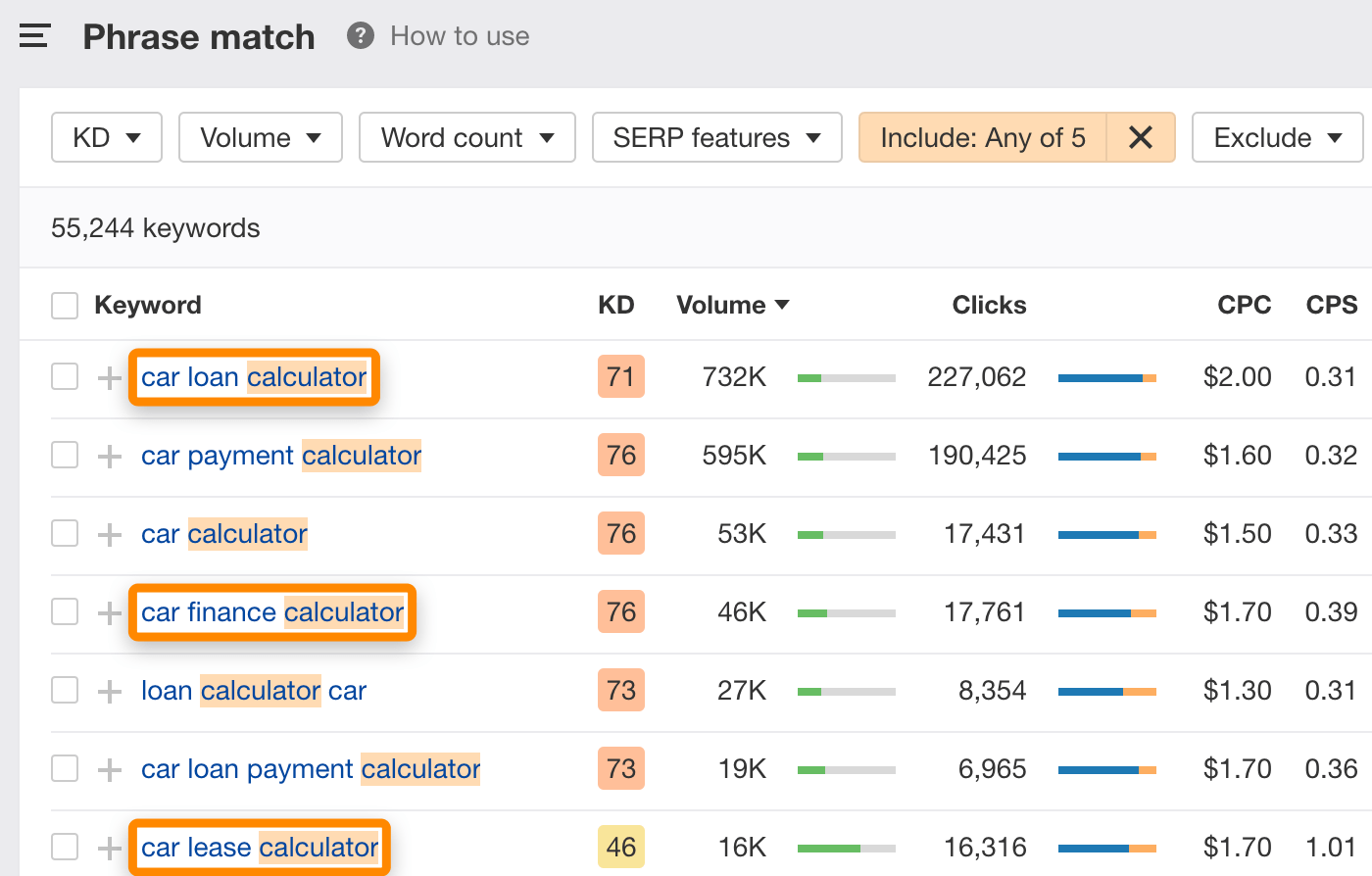 Step 2. Create the free tool
With the opportunity you've found, it's time to create the free tool.
But before you do that, make sure you review the top-ranking results for your target keyword. Look for issues with them. Ask yourself:
What's good about them?
How could they be improved?
Then, take what you've learned and make something similar, but better.
Step 3. Build links
Your free tool isn't going to rank on its own. Since there is a positive correlation between links and rankings, you'll need to build links to your newly created free tool.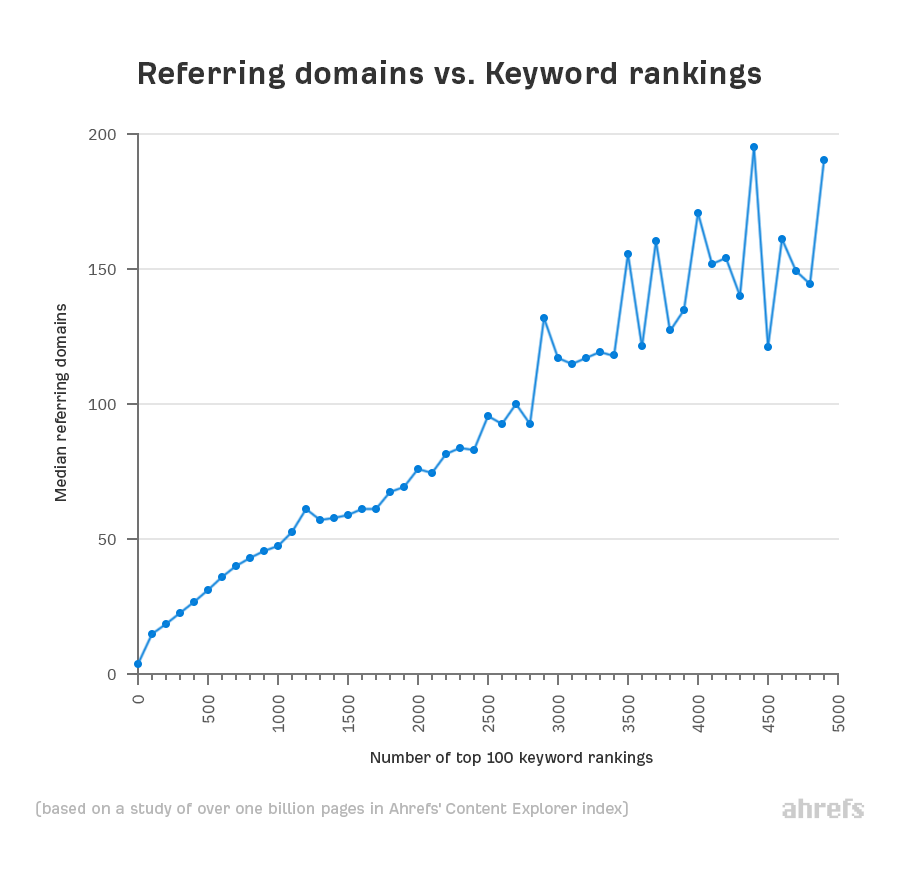 The easiest way to do this is to reach out to those who are linking to similar, yet inferior tools.
For example, let's say you created a free car loan calculator. You should have checked the current top-ranking pages in the previous step, identified what wasn't so great about them, and fixed those issues with your tool.
Now you can reach out to the people linking to those tools, let them know that your tool exists, and explain why it's better than the one they're linking to already.
This is commonly known as the Skyscraper Technique.
To find people linking to these tools, just plug its URL into Ahrefs' Site Explorer, then go to the Backlinks report.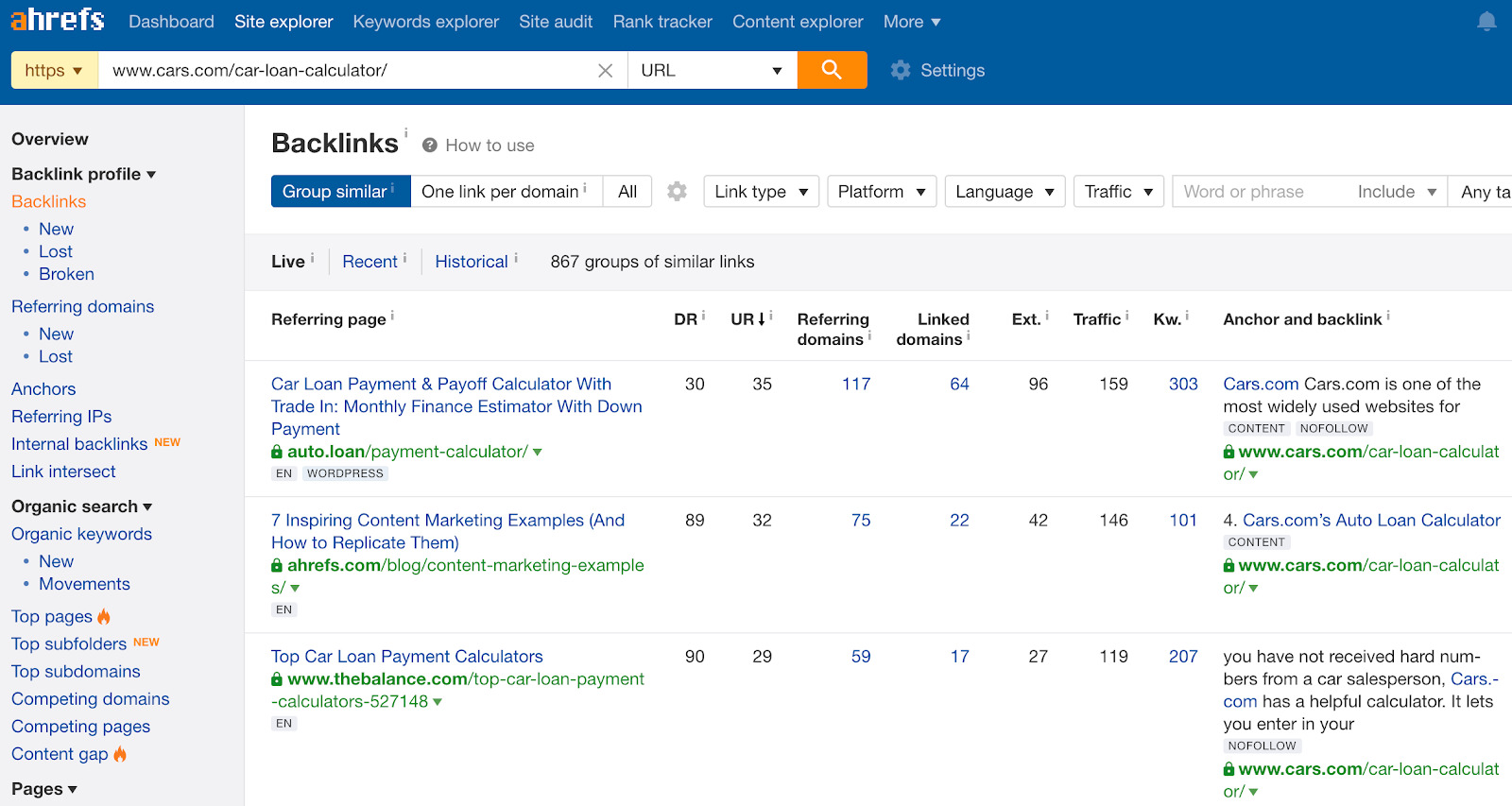 Look through the list, find relevant opportunities, find their emails, then reach out and introduce them to your new tool.
Recommended reading: How to Execute the Skyscraper Technique (and Get Results)
Anyone can create an online course.
For example, at Ahrefs, we have an academy where potential customers can watch any of our two free courses: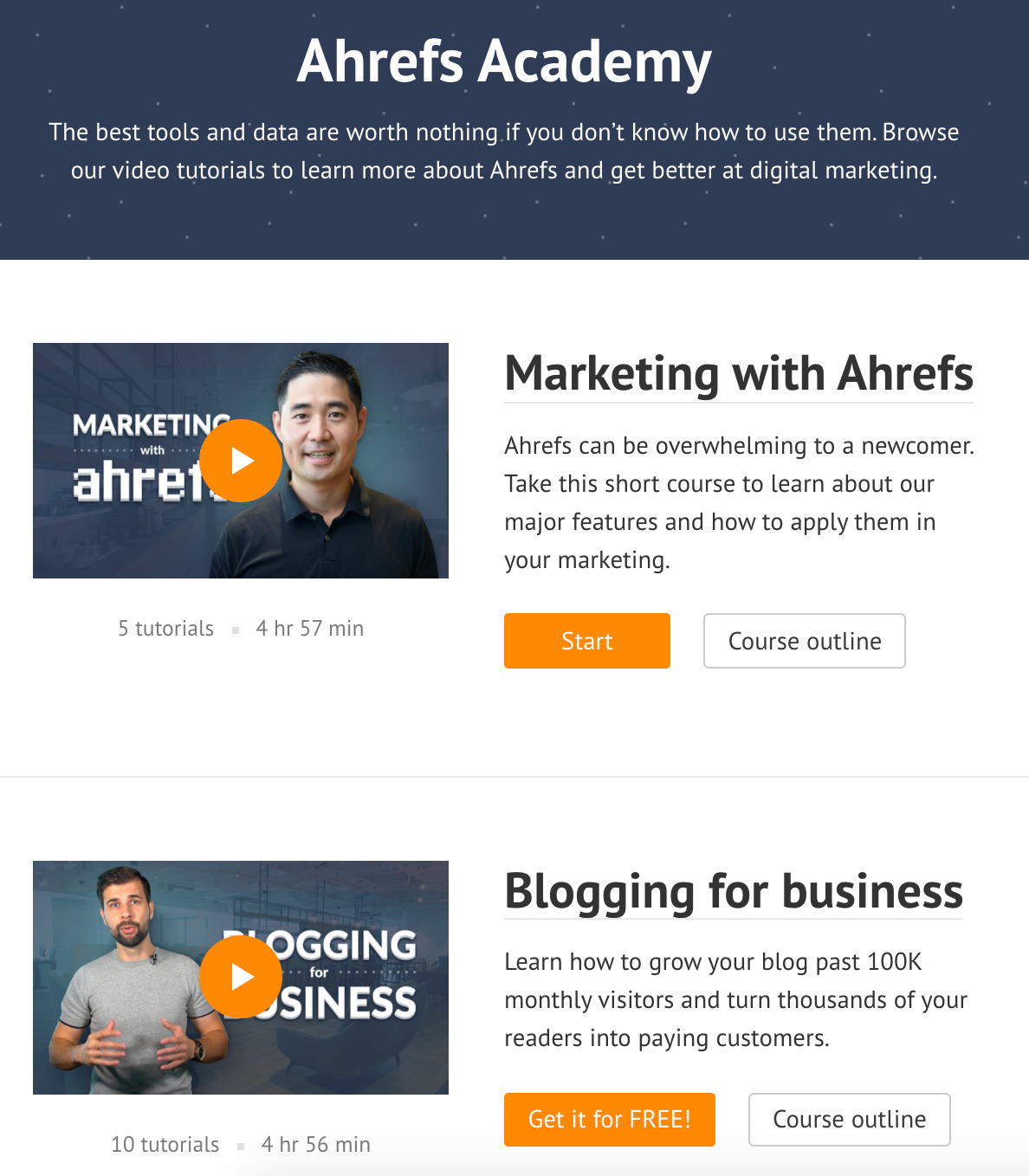 This has driven quite a decent number of sign-ups for us: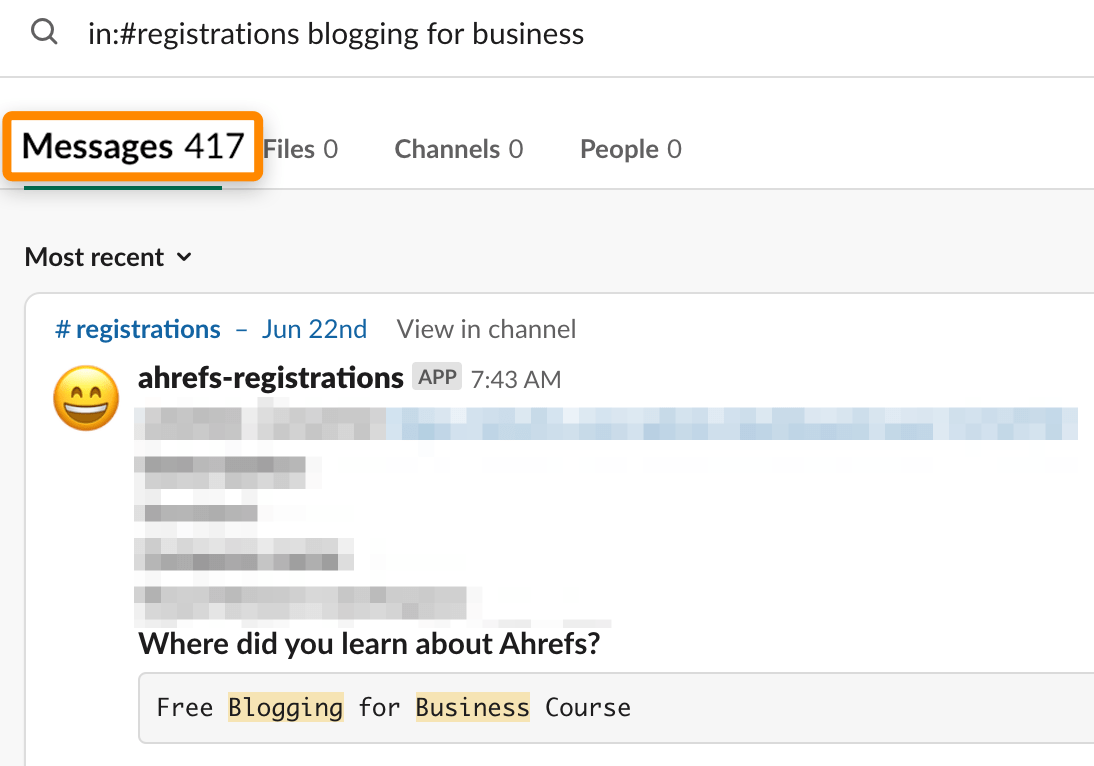 Here's how we did it.
Step 1. Choose a problem to solve
Creating a course is a massive undertaking. It took Tim almost a year to complete the Blogging for Business course, from conceptualizing, scripting and recording, all the way to promoting it.
Sidenote.
He didn't work on the course full time. He did it while juggling other aspects of work.
So, before you jump in at the deep end, you should think about the problem you want to solve. And this should be something that your product or service helps to solve. That way, you can promote your business throughout the course.
For example, creating Blogging for Business was a no-brainer for Tim. Not only did he have tons of experience, knowledge and success with blogging, but it was also a topic where he could naturally talk about Ahrefs as a solution.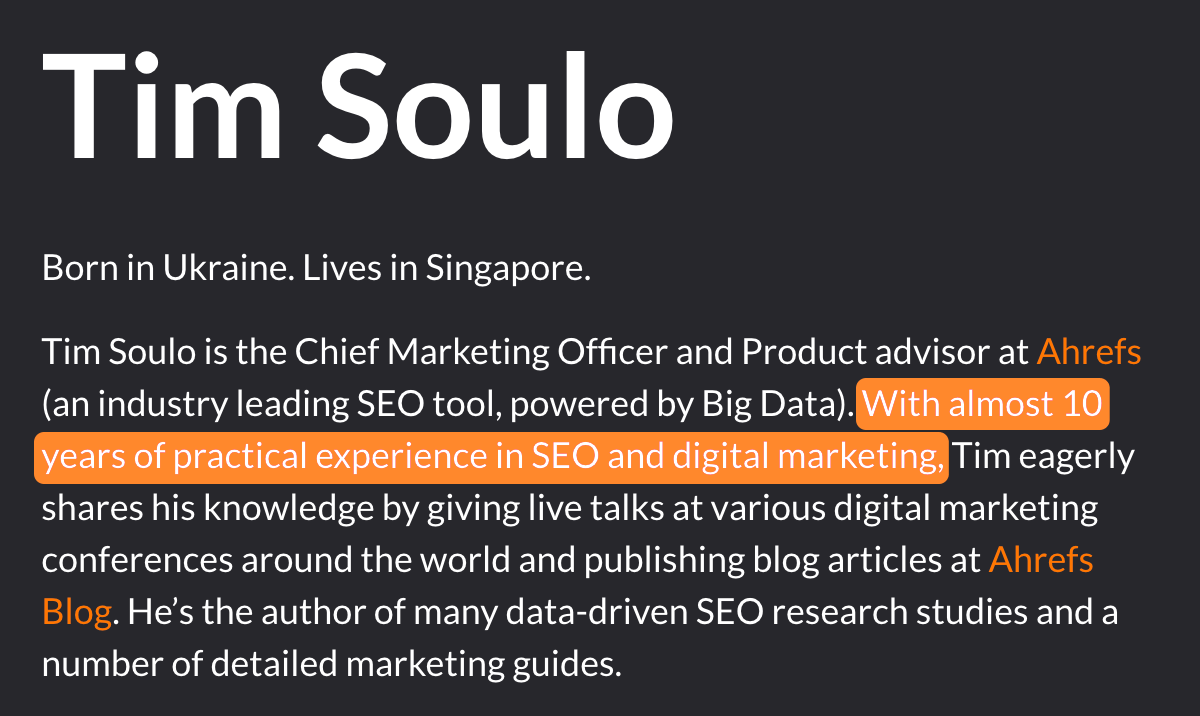 Step 2. Create the course
90% of people who sign up for online classes don't complete them. And this number could be even higher for free courses since people generally value free content less.
It is important to understand that insight so you can design a course that's "sticky."
This was the reason why Tim focused so much on the production quality and the quality of explanation. Most free courses are either filmed as a screencast or a talking head. But every lesson in Blogging for Business is professionally animated:
https://www.youtube.com/watch?v=QLy5mVV__As
This is almost certainly part of the reason why people found it so "binge-worthy":
Me, an hour ago: I guess I'll check out @timsoulo's blogging for business course… but I doubt I'll learn anything.

Me, right now: *eyes glued to the screen, desk covered in notes*

Well played, Tim.https://t.co/k3AnL3laos via @ahrefs #seo #contentmarketing pic.twitter.com/KkXGOxCJYH— Kyle Byers (@Kyle_Byers) May 8, 2018
Now, teaching you how to create an online course is out of the scope for this article, so I'll leave you with some resources below on how to do it.
Step 3. Promote the course
Promoting an online course is pretty similar to promoting a blog post. You can promote it to your existing audience or on platforms where your audience hangs out (e.g., Product Hunt):
You can also promote your course by offering "bonuses." For example, when we first launched Blogging for Business, we offered two main bonuses:
14-day free trial. If you're new to Ahrefs, you'll need to sign up for our 7‑day trial for $7. But as part of the launch of Blogging for Business, we gave away 14-days free access to Ahrefs for anyone who signed up for the course.
Slack community. We also created a community on Slack where course participants could ask Tim any question about the course (or marketing in general.)
How do you know what's a good bonus to give away?
The key to choosing a good bonus is to give away something that would be valuable enough to be sold as a standalone product or service. For example, to get access to Ahrefs, you would typically have to be a paying customer. But, for the period of the course, you get to use it for free. So that was valuable.
Similarly, if you want Tim to give you a consultation, you'd likely have to pay for his time. But as part of the course, you get to ask him any marketing-related question. Again, that is super valuable.
Which type of content marketing should you use?
Content creation takes a lot of time and effort. So, in the beginning, you should focus your efforts on just one type of content.
My suggestion would be to start with either blogging, video marketing or podcasting. Free tools and online courses have a much larger barrier to entry.
But out of these three options, which should you choose?
First, you need to think about what kind of content your audience likes. For example, most people tend to read blog posts in the SEO niche. That's why we started with blogging. If you're a fitness professional teaching people how to workout from home, then you might want to start by making videos.
Second, you should think about where your skillset lies. For example, some people might find it easier to talk than to write. In which case, podcasts are a good starting point.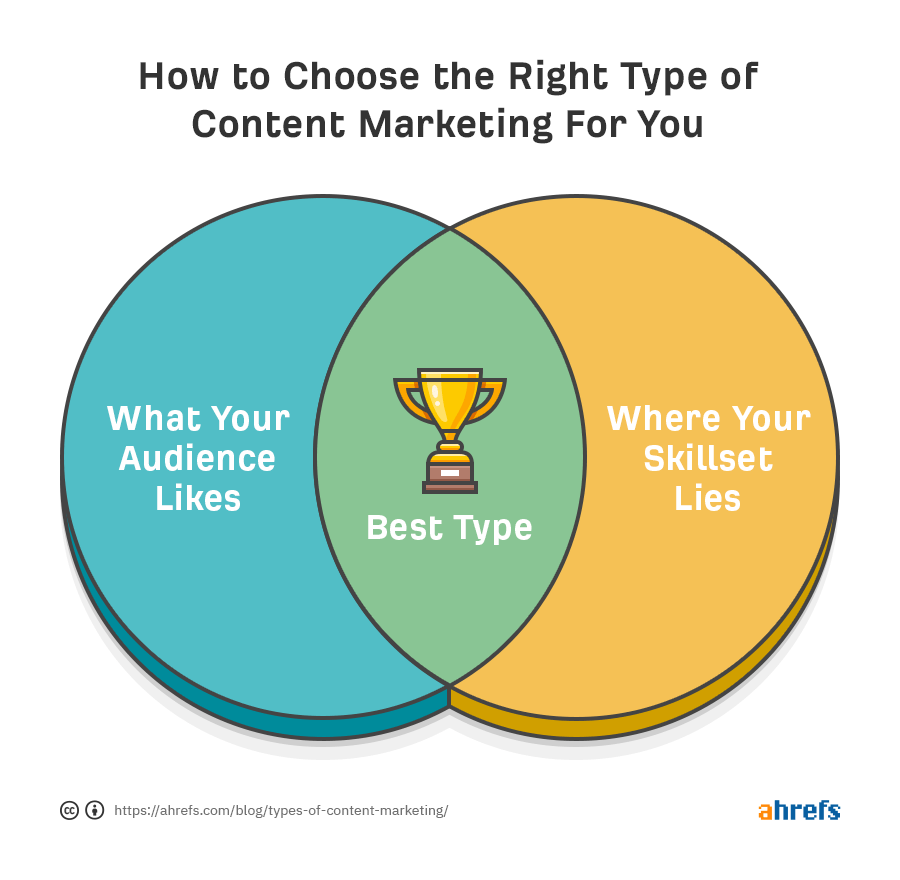 Once you've decided, stick with this format until you've figured out a good process for creating that kind of content on a consistent basis. Only then should you branch to a new format.
Again, that's what we did. Almost all our efforts were on the blog until 2018 when we hired Sam to take over our YouTube channel. And Tim didn't start appearing on podcasts until he delegated the blog and YouTube to Josh and Sam. 
Now, even when you've decided to move to a new format, you don't always have to start from scratch. You can also repurpose content from formats you're already using.
We do this all the time at Ahrefs. For example, we turned our video on affiliate marketing into a blog post.
Final thoughts
Hopefully, this post has gotten you unstuck on which type of content marketing to go for.
Want to learn how to create a successful content marketing strategy? Read this.
Got any questions or comments? Ping me on Twitter.