Image search is an incredibly powerful tool, allowing you to discover amazing images from thousands of different sources around the internet. And image SEO is a pretty big deal, right now.
But what if you are in the reverse situation? You have found an image, whether it is a photograph, artwork, or even a graph, and you want to know where it came from, or more about it?
This is where reverse image search comes into play.
In this guide, I will talk you through exactly what a reverse image search is, how to carry one out and share examples of when you might need to use this process, specifically looking at:
What Is a Reverse Image Search?
Performing a reverse image search allows you to take an image and find where it was originally published, other pages that have published the same image, different sizes of the same image used, and similar images.
You are essentially using an image in place of a text-based search query when you are doing a reverse image search.
A reverse image search will show you a list of search results like normal text-based queries. Rather than a gallery of images, it will show you the pages that this image has been used on, a link to an image search feature for similar images, and a possible related search.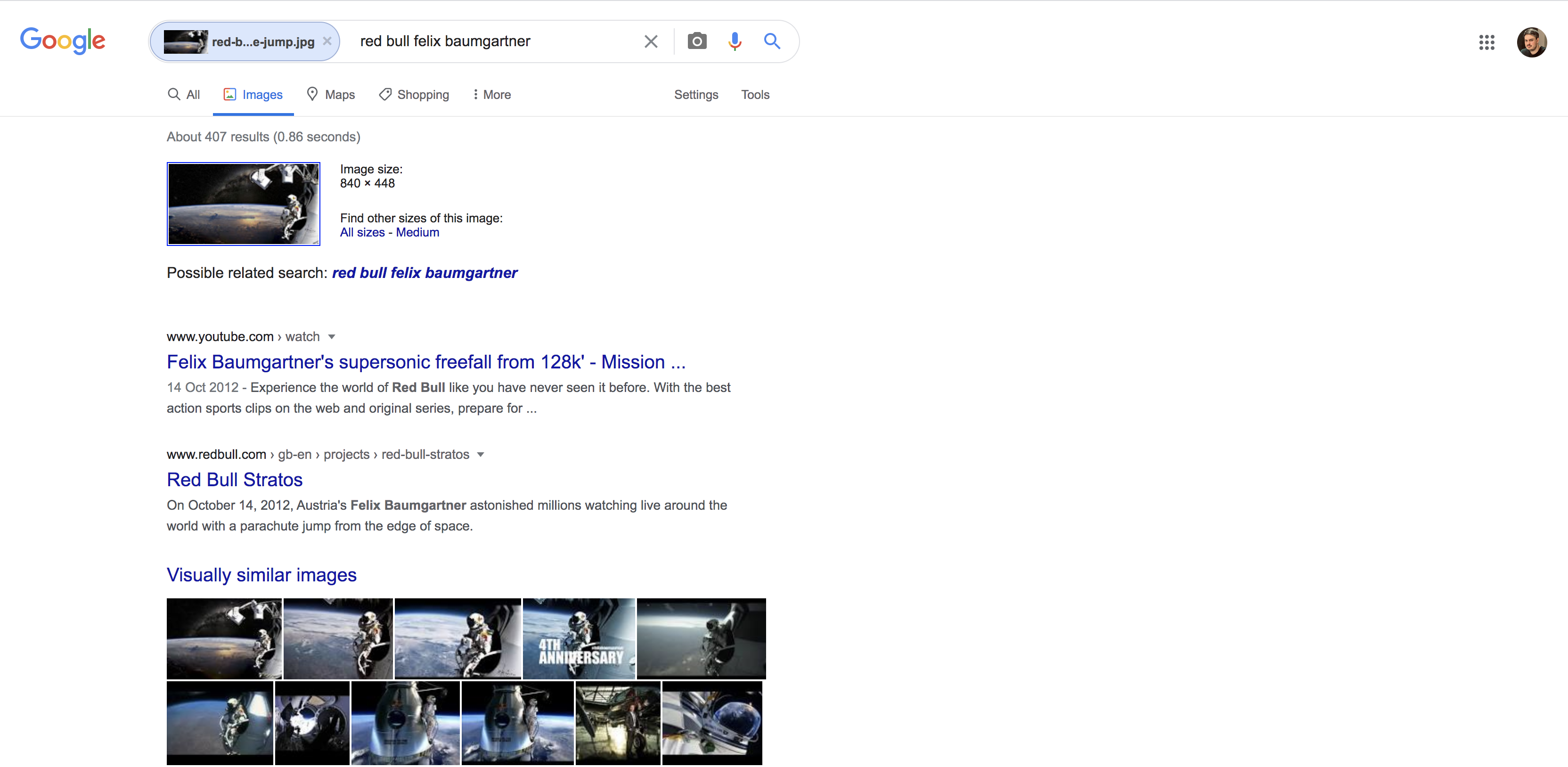 And there are several ways to perform a reverse image search, whether it is on mobile or desktop. These can be done on Google and Bing, other search engines, and by using relevant tools.
So let's look at how you can perform a Google reverse image search on desktop, then run you through reverse image search on mobile devices, such as iPhone or Android phones, before showing you how to use other search engines and third party reverse image search tools.
I will also touch on different ways you can use a reverse image search when you combine it with our backlink analytics or brand monitoring tool.
How to do a Reverse Image Search on a PC or Mac
Performing a reverse image search on a PC or Mac, in a desktop browser, is a relatively simple process to undertake that can be done in just seconds.
There are two options to do this, depending on whether you are using Chrome or another browser. I will run through both.
How to do a Reverse Google Image Search on Desktop Browsers
This method works when you have a browser open and have loaded up the Google Images search page.
Navigate to the Google Images main page.

In the search bar, click on the camera icon with the alt 'search by image'. This will give you a new search display offering you two options.

Option 1 is 'Paste Image URL', which allows you to use the URL from an image you have found on the internet.

Option 2 is 'Upload an image', which allows you to upload an image from your computer to use as the search item.

Whichever option you choose, after entering the URL or uploading the image, you simply click search to display the results:
Google Reverse Image Search Using Chrome
If you are using Chrome, you can find the source of an image online without having to go through the process above.
This method is for images that are already uploaded that you have found while you are browsing online.
Locate the image you want to search on the page where you originally found it.

Right-click on the image.

Select 'Search Google for image'.

Google will then display the results of your search as above.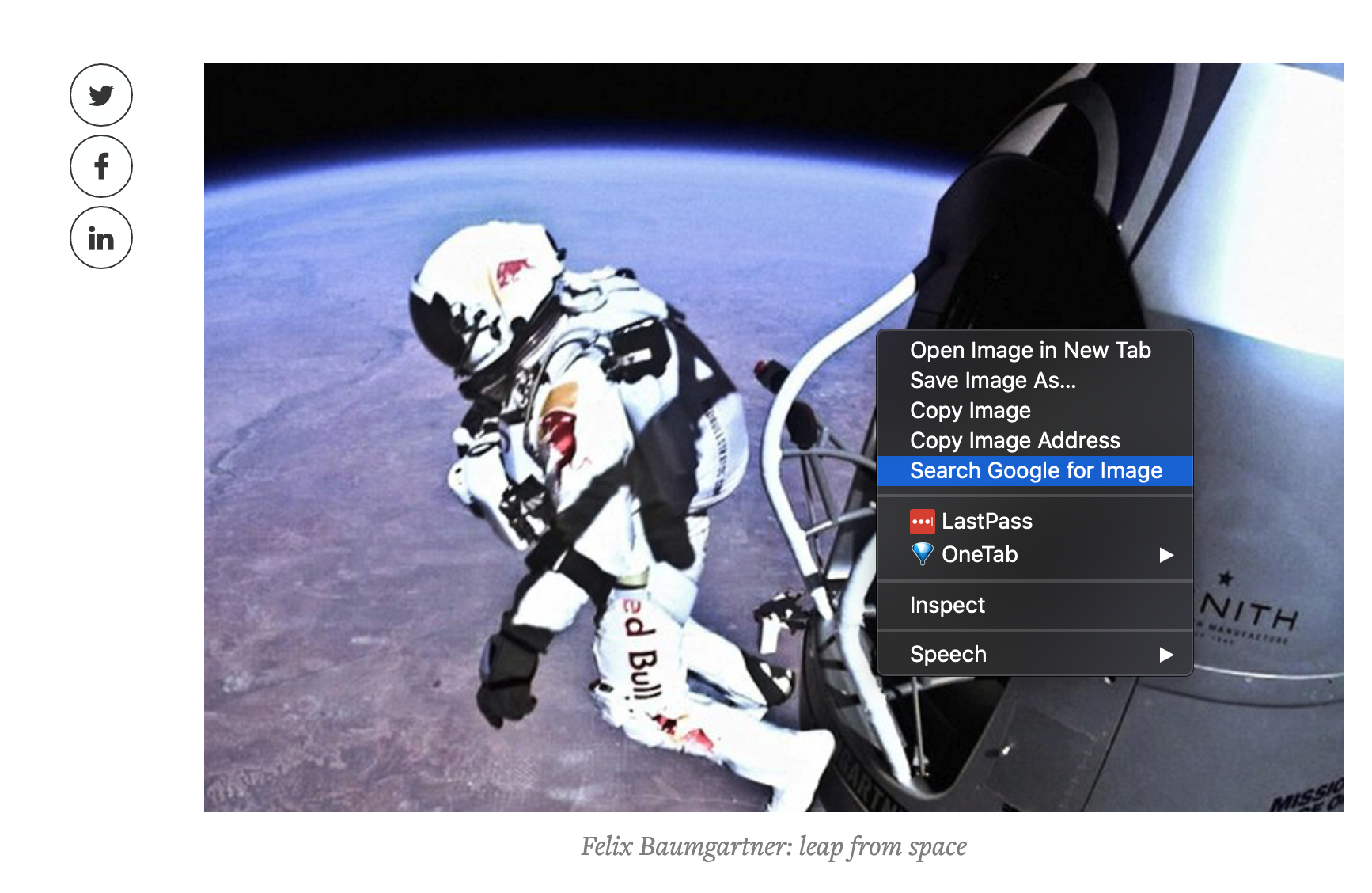 Reverse Image Search Using Bing
It is always worth remembering that other search engines are out there, and Bing is one of the main options.
Bing has its own reverse image search functionality on desktop, called Visual Search, and it works like this:
In the Bing search bar, click the Visual Search button. This is the dot surrounded by four corner lines. It will open a pop-up menu.

This menu will give you a selection of options to choose from:

Upload – this allows you to drag an image into the box and upload it from your computer. It allows you to upload more than one image at a time.

URL – search by pasting the URL of the image.

Take a photo – this allows you to use your webcam to take a photo.

View your results.
Bing Visual Search focuses on the image and its attributes before displaying the pages the image can be found on and displaying similar images. It also pulls any text out of the image and offers suggested searches.
Reverse Image Search Using Yandex
Yandex is another popular search engine that has the ability to perform reverse image searches. 
Here is how to do it:
Select the 'images' tab from the menu above the search bar on the Yandex homepage.

Click on the camera icon to the right of the search bar.

This will give you two options:

Your results will be displayed.

Yandex's reverse search results will primarily display information about that image, including size, potential searches it relates to, text it can identify from the image, and similar images. It then displays the sites it has appeared on further down the page.
Reverse Image Search Using Third Party Websites
There are a number of sites that specialize in performing reverse image searches on desktop. Some, as you would expect, return better results than others. 
I am going to review one of my favorites; I recommend trying out if you want to use a tool or app. 
Tineye.com works in exactly the same way as the normal Google reverse image search, in that you upload an image or add a URL. There are paid functions that can allow you to track an image's usage, amongst other things. Tineye.com also has a plugin available for some browsers.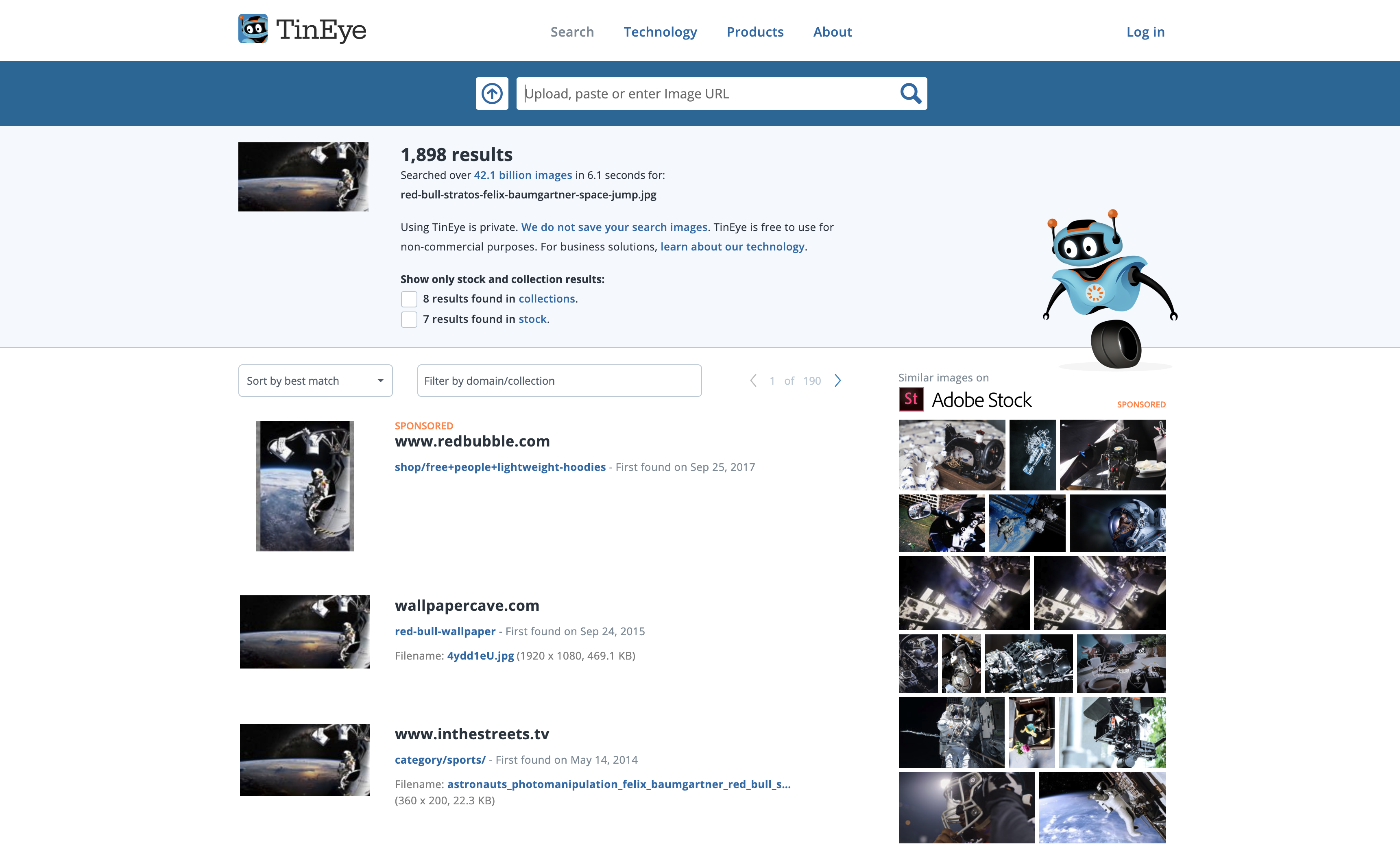 How to do a Google Reverse Image Search on a Mobile Device
Performing a reverse image search on a mobile device such as an iPhone or Android phone or tablet is a little different from a desktop.
On both Apple and Android devices, you need to have the Google Chrome app installed to access the Google reverse image search feature or use an app that is specifically designed for the function; it won't work on Safari or in another mobile browser.
Reverse Image Search Using the Google Chrome App
As the camera icon isn't available on the search bar on the Chrome app, there are two options that act as a workaround, either by forcing the desktop version or using a version of the right-click method.
Request the desktop version:
Browse to images.google.com.

Tap the three-dot menu in the bottom right-hand corner of the screen.

Select 'request desktop site'.

Follow the desktop instructions using the camera icon in the search bar, either using an image URL or by uploading an image.
The mobile 'right-click' method:
Browse to the page that has the image you want to search for.

Press and hold on the image until a menu pops up.

Select 'Search Google for This Image'.

It is important to note that this method works for images you find through a normal Google image search as well.
Reverse Image Search Using Other Apps
There are a number of other apps that allow you to perform reverse image searches on a mobile device. These vary from official Google apps to those created by third parties.
Google Lens
Google Lens is a standalone app on Android phones, and it has functionality available on the Google app or Google Assistant app on iOS.
It has a number of uses for different tasks, and you can use it to perform a reverse image search if you need to. This isn't really what it is designed for, though, so it is not the best use of the app.
The following are third-party apps that all allow you to perform a reverse image search on either iOS or Android devices, generally, in the same way, you would perform one on desktop — either using a URL or uploading a picture. These apps allow you to look at reverse image searches across different search engines, not just Google. These include Bing and Yandex, among others.
Uses for Reverse Image Search
Reverse image search can have a number of different uses, some of which are simply fun, but a few of them can help you perform powerful tasks.
A few simple uses for a reverse image search are as follows:
Find similar images – this can be useful for creating content or finding a particular image.

Find the dimensions and metadata of an image.

Pull text and translate it.

Discover if people are using your images, and how. This is great as part of a wider link building and backlink analysis process, while also important for brand monitoring.

Check for copyright violations. This can work for your own images, or you can check whether the image you have found is under copyright.

Editors checking for spun guest content – typically, if a writer uses a graphic, they tend to rewrite the content around that graphic, and they don't always give credit to the author (this is not okay). 

Finding an image source to give credit. Anytime another person's images or graphics are used, you must give credit to the source. If you have forgotten where it came from, you can find it with a reverse image search and make sure you have the right to use it. If you do, you should link to the source. 
---
While reverse image search can be fun to play around with, it can be a very effective tool to use as part of a wider marketing strategy. You can use it to monitor campaigns, build links, and monitor your brand.
We recommend using it with a combination of our Backlink Analytics and also our Brand Mention Tracking tool for these same purposes. You may be able to track down a number of link opportunities that you had previously missed.