There is no disagreeing that Google is the most dominant search engine for internet users in most parts of the world. Recent studies show that Google has an 88% share of the market for desktop and mobile searches in the U.S., and there is no sign of this changing.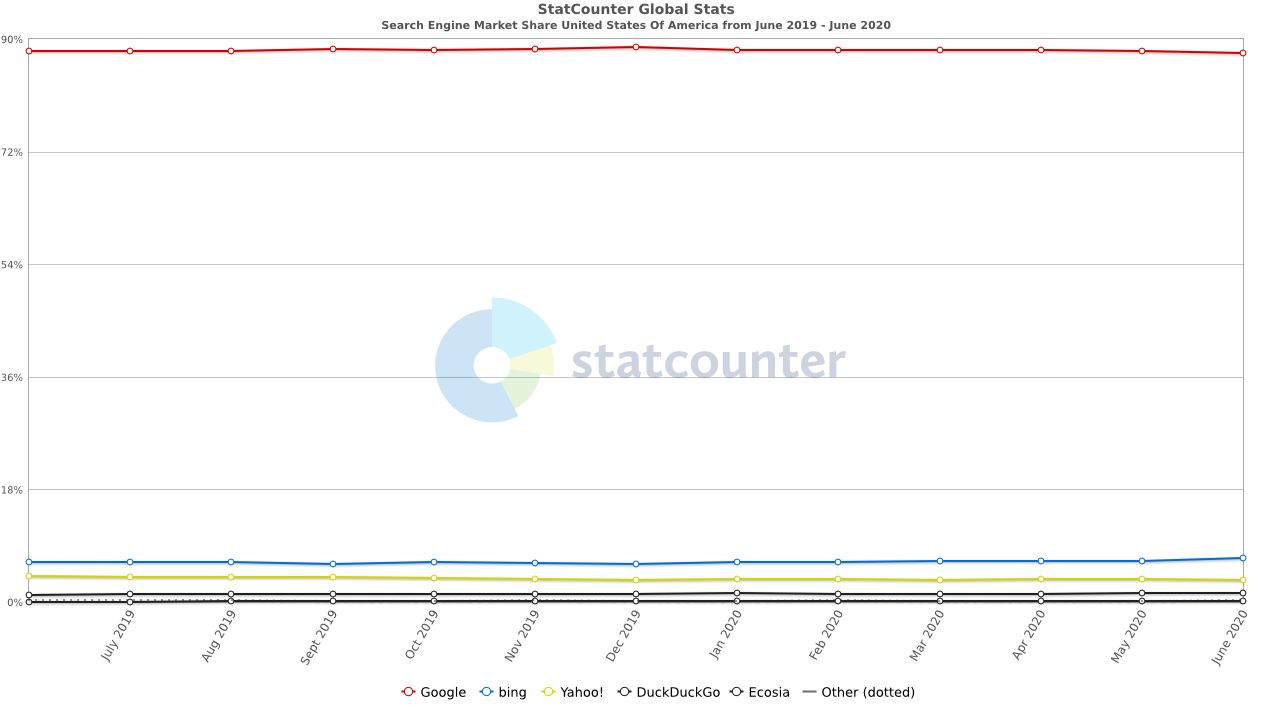 Image Credit: Statcounter
At this level of market share, about 70,000 searches being made every second, 5 billion searches every day, and 2 trillion searches per year on Google.
Those are crazy numbers and impressive stats, right?
But, this does not come without a cost. Internet users are becoming savvier of how Google tracks and uses your data to share with advertisers, meaning that some are opting to use more private alternative search engines. 
We are all too quick to think of a search engine as a straight-up equivalent to Google, such as Bing or Yahoo, but the reality is that specialist search engines and platforms are also out there, such as YouTube and GIPHY, that return a specific type of results. 
It is also not surprising that Google is where most SEOs focus their efforts, but you could be missing out on other opportunities to drive traffic by ignoring the alternatives. Google is not right for everything and everyone, which is why we have compiled a list of alternative search engines, from the expected to the unknown, that are out there for you to use:
The Search Giants
Think of a search engine other than Google, and there is a good chance that Bing and Yahoo will be the first ones that come to mind. Bing offers a more visual approach to search, while most will recall that Yahoo was once a much more powerful force than it is today (anyone remember those Inktomi-powered days)? 
1. Bing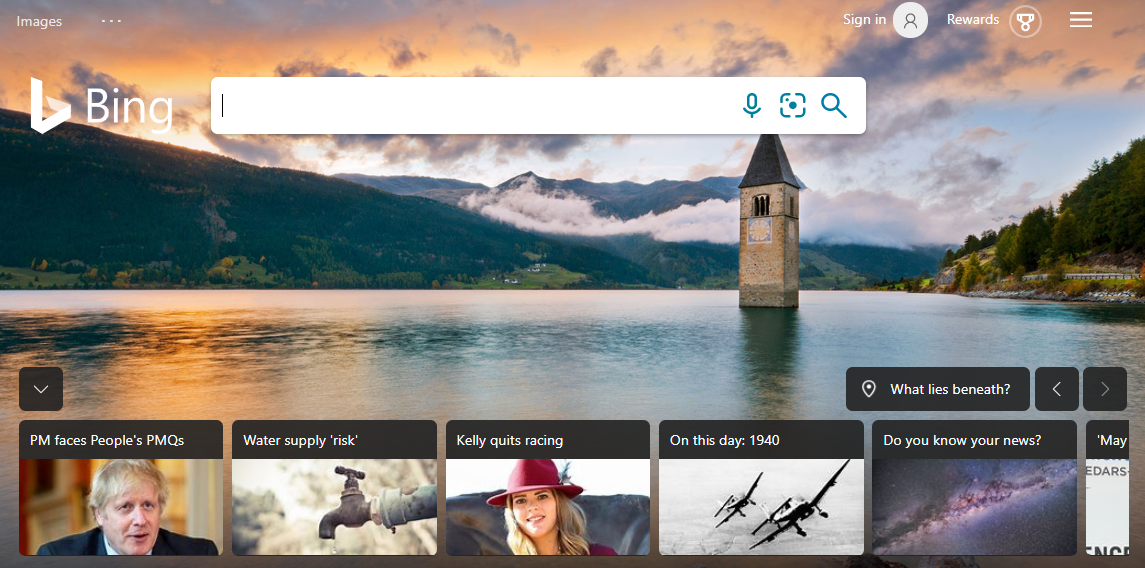 There is no denying that Bing is lagging behind Google in terms of how many users are engaging with the platform, as it currently holds just under 7% of the U.S. search market. It offers the same essential functions as Google, such as translate, rich snippets, conversion calculators, knowledge graphs for hotels and flight, etc. 
But, there are also more advanced features that we are underestimating. Bing offers a much more visual approach to searching. Its homepage is dominated by imagery and video, and it also provides advanced features like machine-learning predictions for things such as sports scores and elections.
Its image search is much more advanced than Google's, and it has object-detection intelligence within the image search function. You can also save searches as 'collections,' making it easier to come back to your search at a later time. Bing is the leading search engine when it comes to image search.
Additionally, it has some awesome perks. The Bing Rewards feature also rewards its users by awarding them credits just for using their platform to browse.* 
*You will need to stay logged in to earn points while searching, but you can use any device, whether it be mobile, tablet, or desktop.
2. Yahoo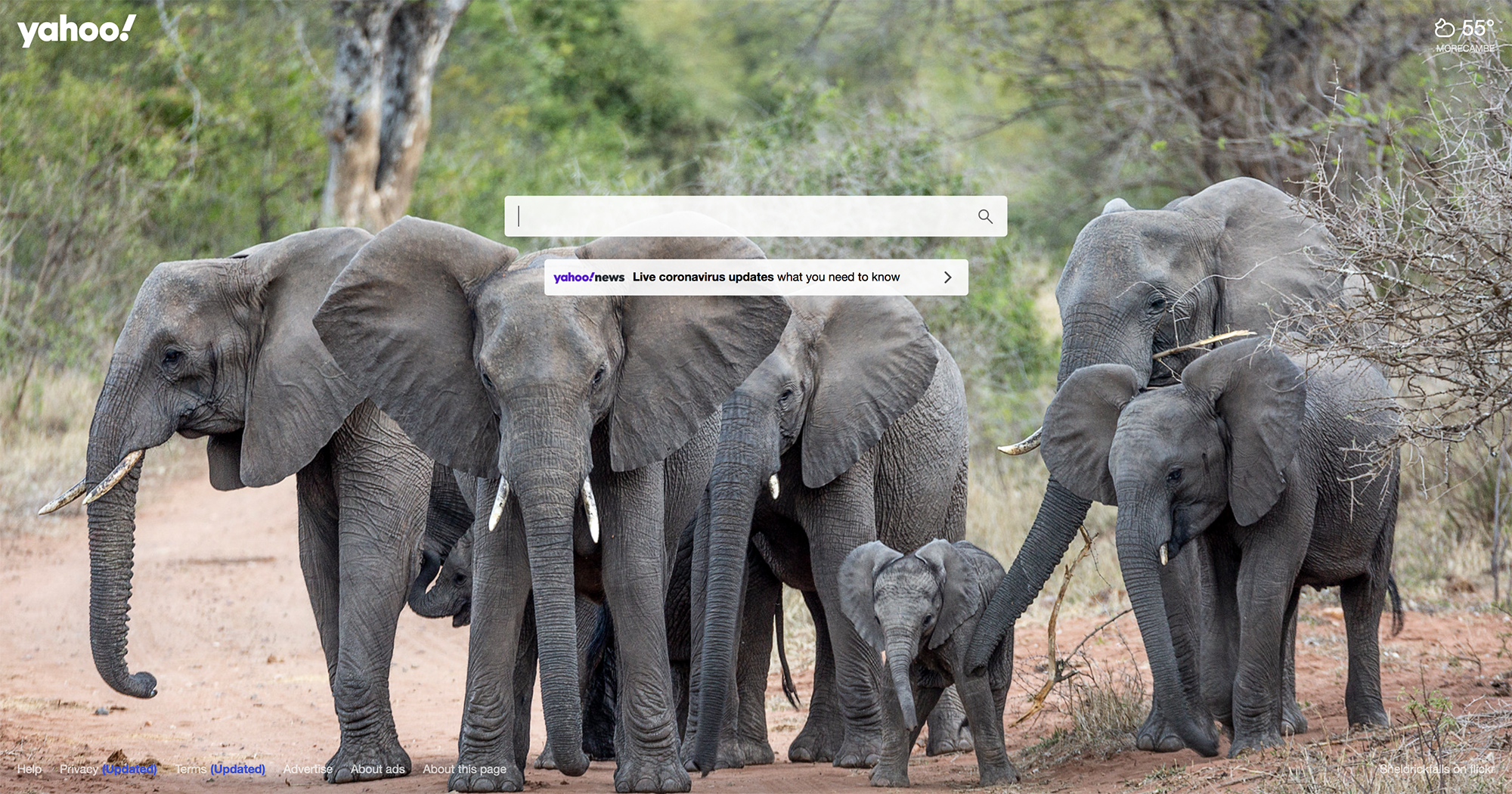 Yahoo used to be one of the most significant search engines in the world; it now only owns just under 3.5% of the market.
We should not be too hasty when talking about the decrease in popularity over the years, as Yahoo is still respectably the third-largest search engine in the U.S. Yahoo's search results look a little bit like Bing's (perhaps not surprising as Bing powers them), but they are not as visually engaging. However, users suggest that this platform is a go-to-choice when searching for services around News, Sport, and Finance. 
Privacy-First Search Engines
As searchers have become more internet savvy in recent years, it is no surprise that users have become more conscious of cybersecurity. Marketers have seen a noticeable rise in the number of search engines that are putting privacy at the heart of their platform. Here are a few privacy-focused alternative search engines:
3. DuckDuckGo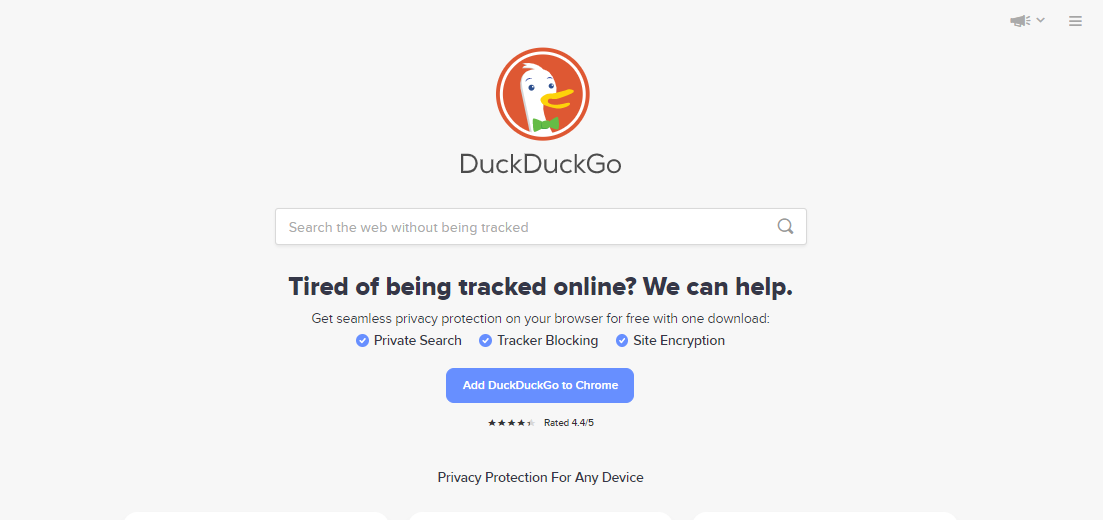 While DuckDuckGo has increased in popularity recently, it still only holds around a 1.5% share of the search market in the U.S.
DuckDuckGo is regarded as one of the best search engines for private browsing, and it is for this reason why it has gained market share in recent years. It does not collect any data around the searches you make or around your personal information, and this alone is one of the primary reasons for its recent surge in popularity.
And one feature to take note of is 'Bang' search. You can use this function if you know when you want to search on other platforms (Wikipedia, eBay, Amazon, etc.). Simply click on your 'bang' and it will take you to your chosen site.* 
*DuckDuckGo makes it clear that if you are visiting other sites, you will be subject to policies, including how they collect your data, and not theirs. 
4. Startpage.com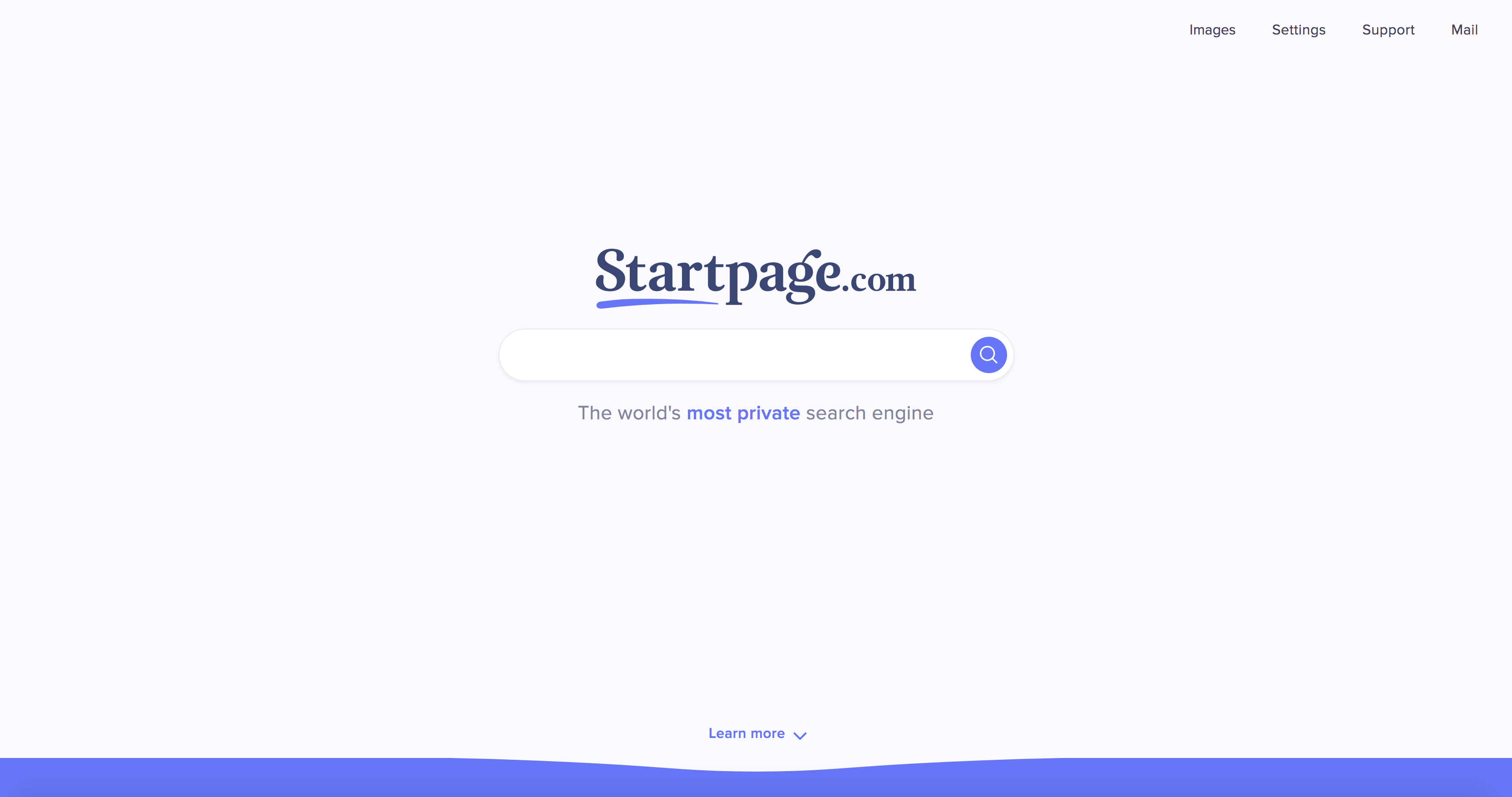 Startpage.com makes the bold claim that it is the world's most private search engine. That statement lead to a fair amount of media coverage as well as a third-party audit by the European Privacy Seal.
Startpage.com's claims can be backed up by their 'no-logs' policy. The 'no-logs' policy means that the search engine has no idea who their users are; they do not store the IP address of searchers or store tracking cookies.
If you are simply looking for relevant results with the confidence they put privacy first, Startpage.com is the choice for you.
5. Qwant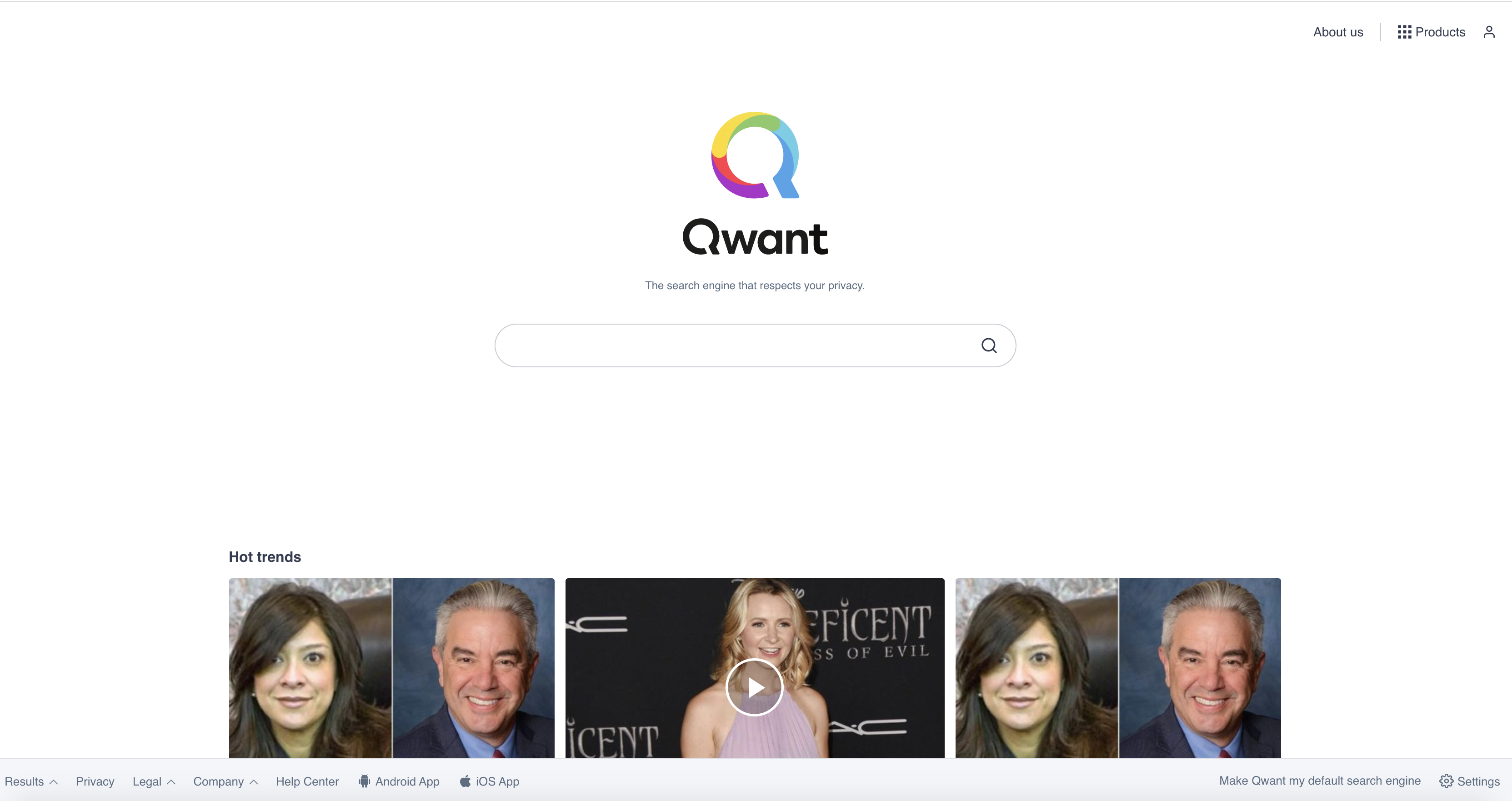 Qwant claims that they 'respect your privacy,' and it is another reliable option for those looking for a true alternative to Google.
Unlike some of the other privacy-first search engines, Qwant uses its indexing engine combined with Bing results to emphasize avoiding personalizing search results to prevent searchers from getting stuck in a filter-bubble. As this search engine is based in Paris, it is essential to know that European privacy protection laws are typically much stricter than other places in the world, such as the U.S. 
And to take it from Qwant themselves:
When you use Qwant as a search engine, we don't put any cookie on your browser that may allow us or others to recognize you or to follow you everywhere on the Internet. We don't use any tracking device (pixel, fingerprinting…). We don't collect and we don't store any history or your searches. When you search, your query is instantly anonymized by being dissociated from your IP address, in accordance with what the French data controller advises. Long story short, what you are doing with Qwant is part of your privacy and we don't want to know.
6. Swisscows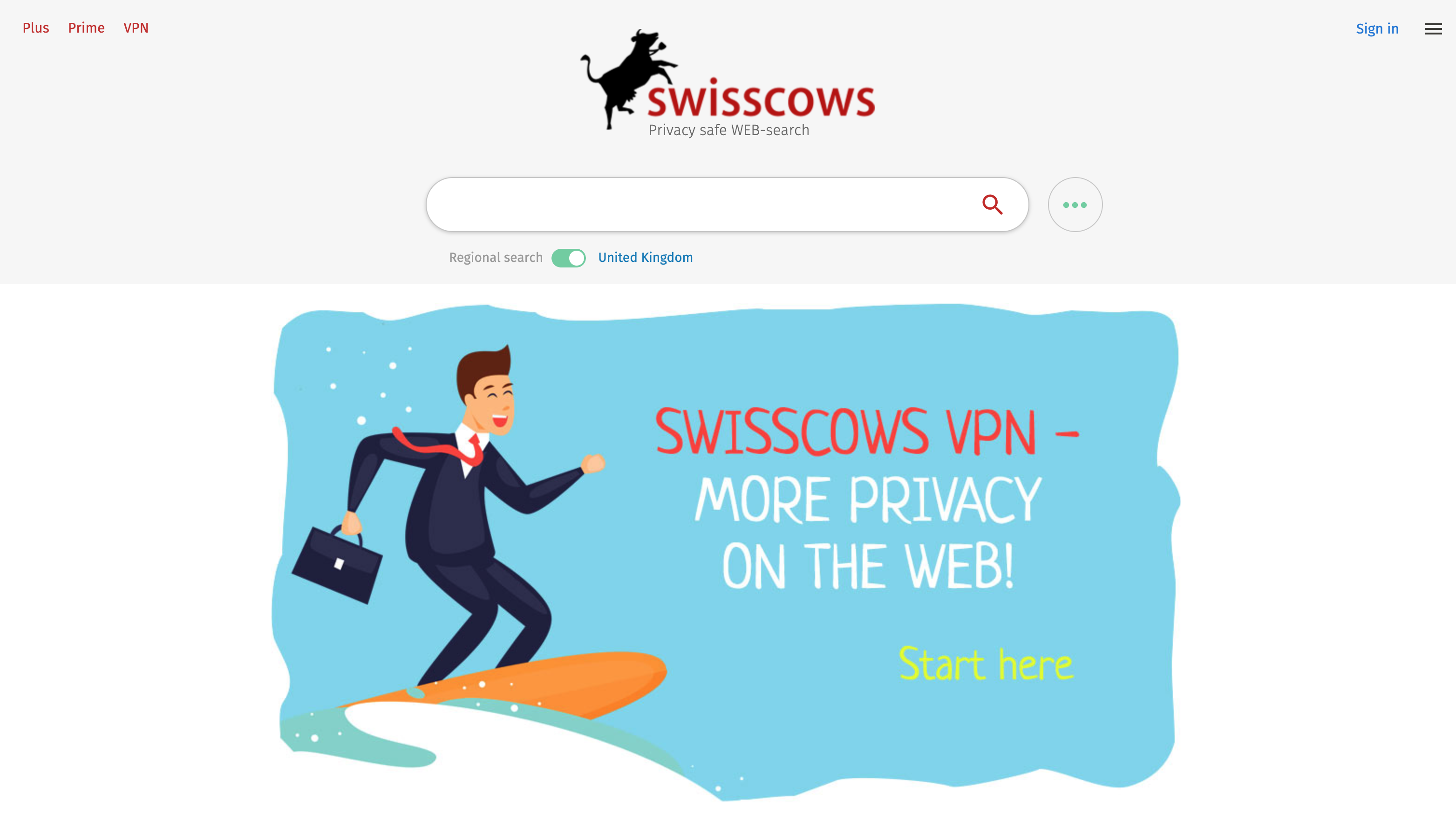 Swisscows is another European search engine focused heavily on the privacy of its users. They promote themselves around three core promises that make them a great alternative to Google and others:
They do not store your data
They place great importance to family-friendly content
They have created an innovative search engine
Letting children surf the web is a concern for many parents, and Swisscows is committed to delivering a search engine that is a safe environment for the whole family to enjoy the web. 
7. Search Encrypt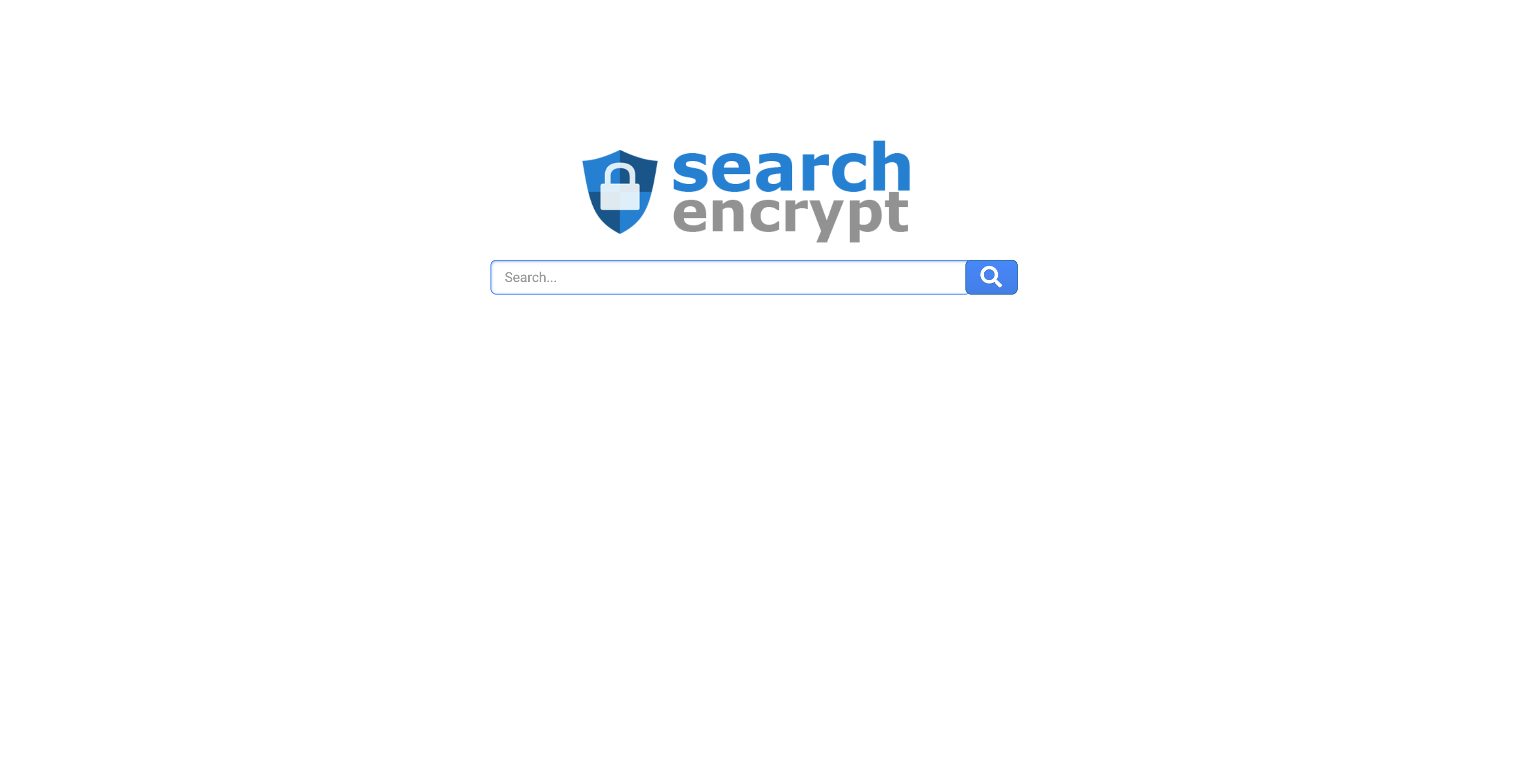 On its face, Search Encrypt looks pretty much like Google does, and that is not necessarily a bad thing.
There is a clear emphasis on doing one thing: getting a user to search.
However, Search Encrypt's goal is to "protect your privacy by detecting searches that may be tracked and tied to your personal information. It intercepts those searches and redirects them to Search Encrypt's privacy-enhanced search engine, which will be set to your default search engine."
Unlike some of the alternatives here, it does store your history for 30 minutes. Wondering if this search engine is right for you? See what users who have completely switched to this from Google have to say about it.
8. OneSearch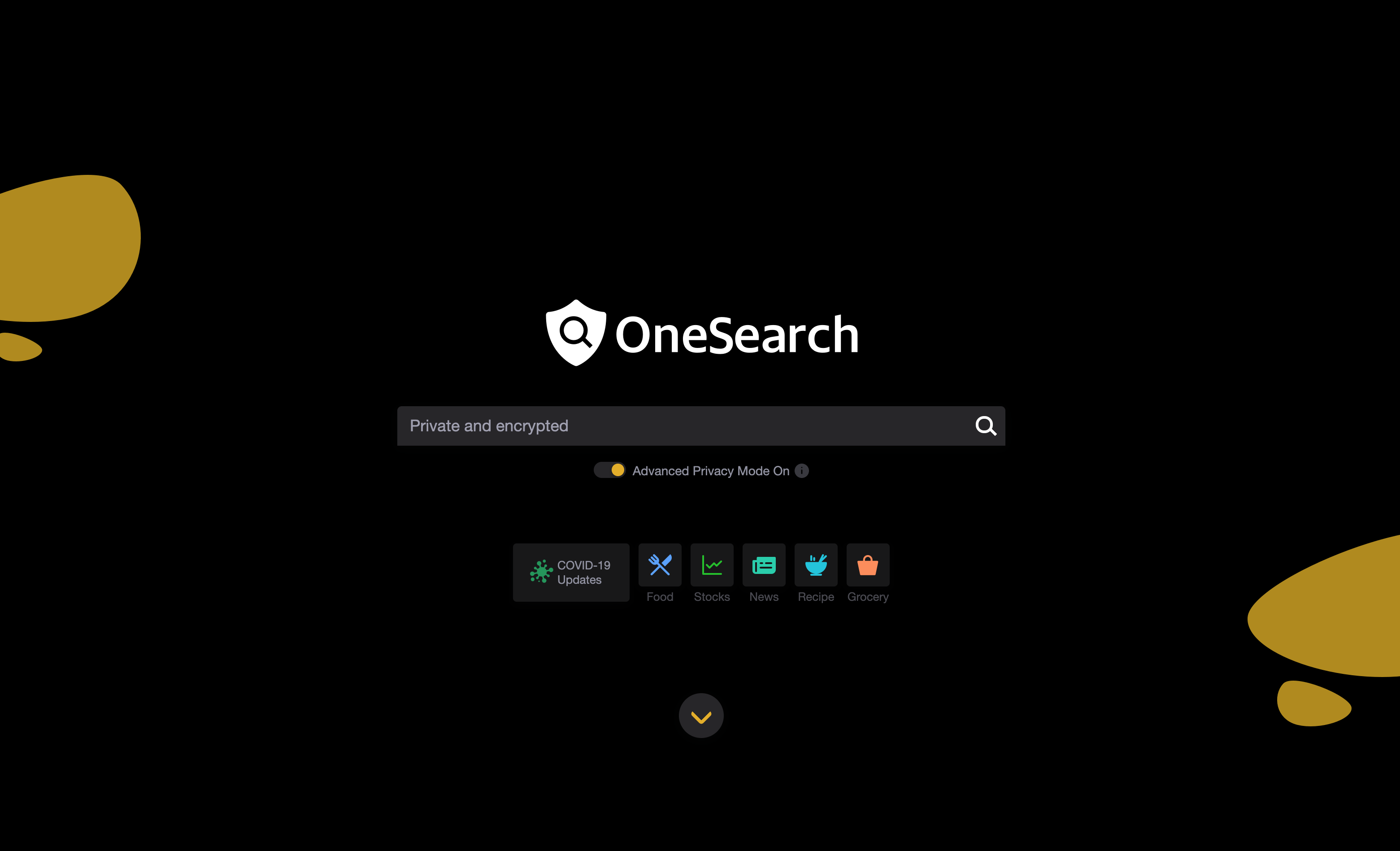 OneSearch, the brand-new search engine from Verizon, touts six core privacy-focused features that they have built their search engine around:
No cookies
No user tracking
No search history
Pure, unfiltered results
Share links with confidence
Keyword encryption
And it is an attractive option given that parent company Verizon also owns Yahoo. And it is no secret that Yahoo has come under fire for numerous data-breaches and privacy blunders in the past. However, the results are powered by Bing, offering you a way to return results from a platform you are already familiar with. Another bonus of OneSearch is that you are enjoying extra layers of privacy.
Charity Search Engines
If you fancy doing your part to support a great cause while running your daily web searches, you may be pleased to hear that there are charity search engines that donate every time you search. Here are some worth checking out:
9. giveWater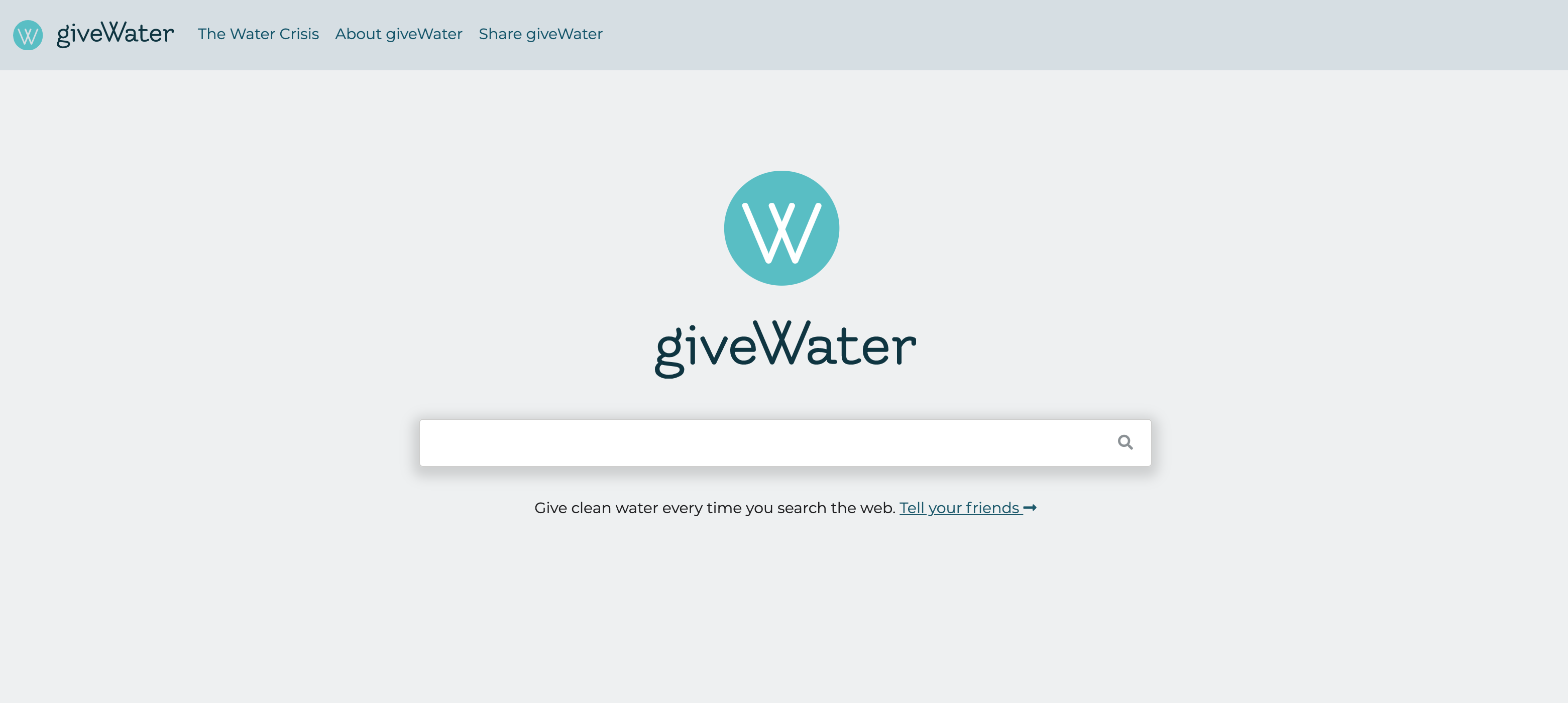 The unfortunate reality is that many parts of the world still do not have access to clean water. 
You can help by using giveWater as your search engine of choice and clicking on the platform's ads. There is also a handy browser extension that you can install to help contribute to this worthy cause. 
10. Ekoru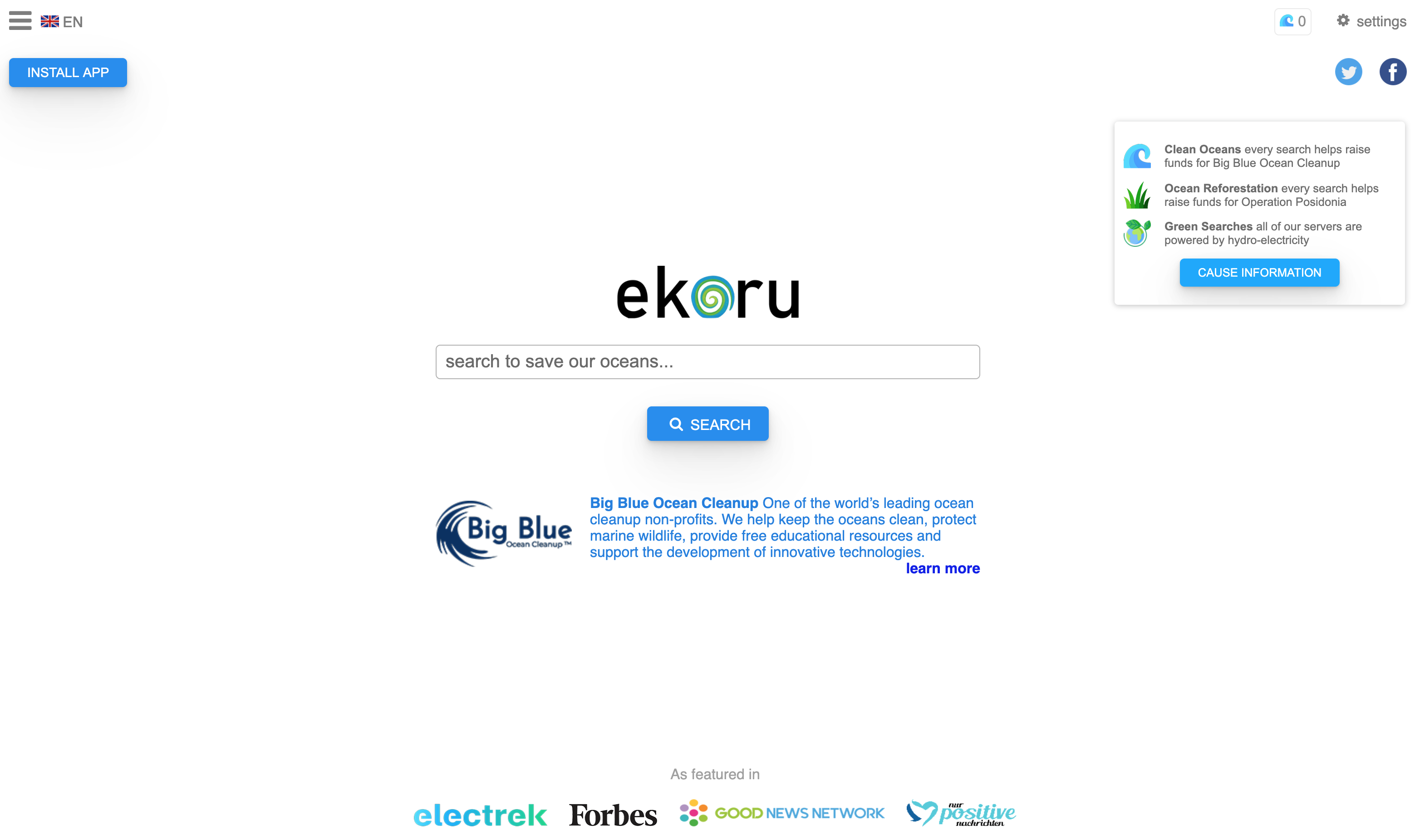 A search on Ekoru helps to clean our oceans.
This charity-led search engine is starting to gain traction as the world becomes increasingly conscious of the damage we are doing to our seas and oceans. Ekoru claims that: Every search helps raise funds for Big Blue Ocean Cleanup Every search helps raise funds for Operation Posidonia All of their servers are powered by hydro-electricity
This is a genuinely ethical search engine, and everything has been thought out with an eco-first approach in mind. 
Ekoru could also be categorized as an alternative to Google as a privacy-first search engine. Their commitment to encrypting all data and by not storing any of your searches on their servers is another pro for this eco-friendly search engine. A double-win for Ekoru! 
11. Ecosia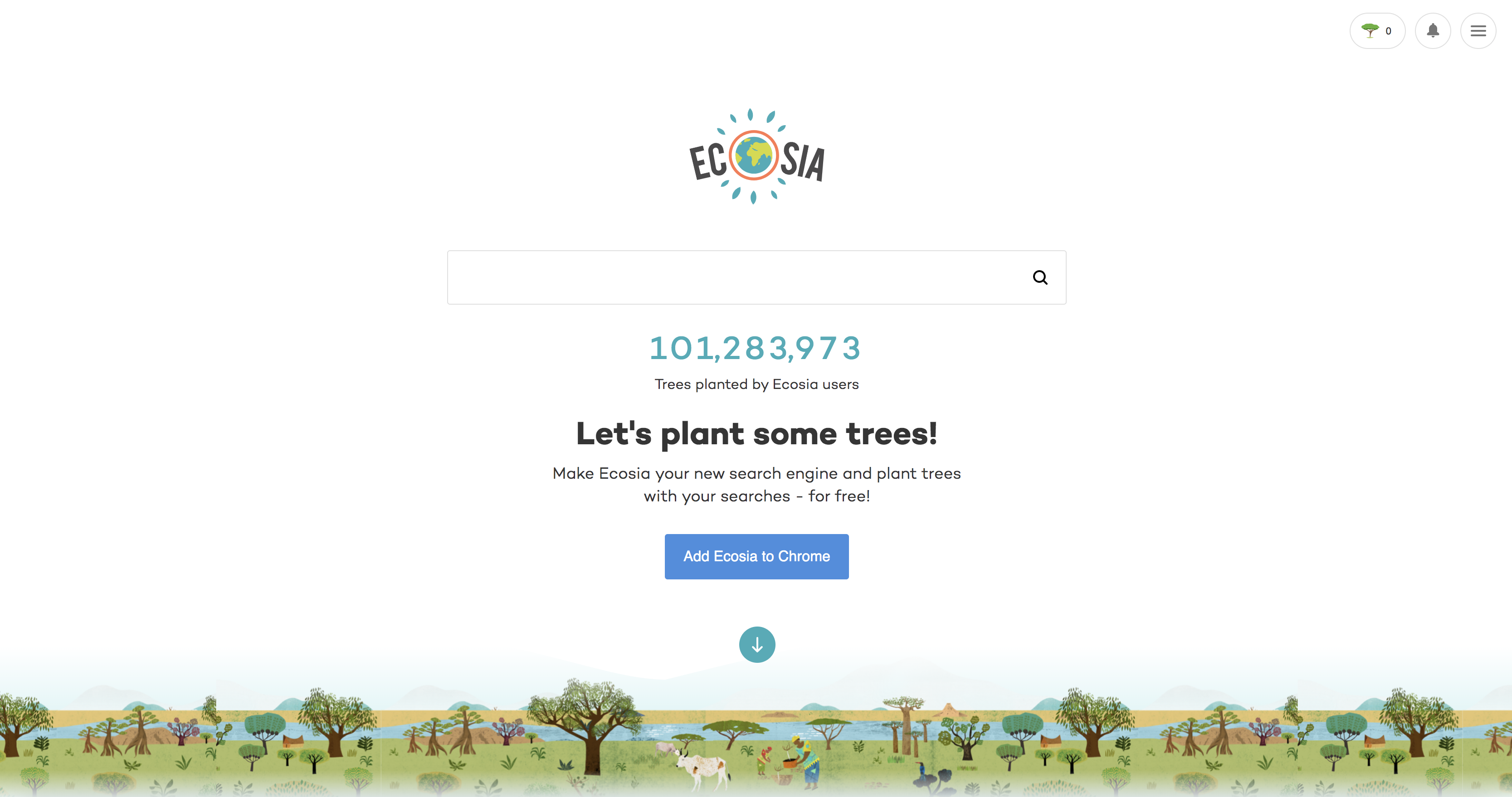 Although it only has a 0.13% share of the U.S. search market, Ecosia is a search engine that is rapidly growing in popularity.
Their focus as a business is to drive positive environmental changes and use their revenue to plant trees around the world. 
Bing powers the search results on Ecosia, so you will still get that excellent search experience such as translate, rich snippets, conversion calculators, knowledge graphs for hotels and flights, etc. Ecosia also prides itself on privacy, and users can turn off tracking to ensure they are getting the private search experience.
Ecosia is growing in popularity as well; there are currently over 15 million active users, and they have helped to plant over 100 million trees by using the search engine. So, if you are looking for a platform that favors protecting your data while giving back to the world, be sure to check out Ecosia.
Format-Specific Search Engines
Think back to the different things you searched for on Google in the past week.
We guess that you probably ran a search to help you find:
Images
Videos
Podcasts
Learning material
But the question that you should be asking yourself is whether Google is the best search engine for returning these results, or are there better format-specific options that you could be using? 
Here is a quick rundown of the top format-specific search engines:
12. YouTube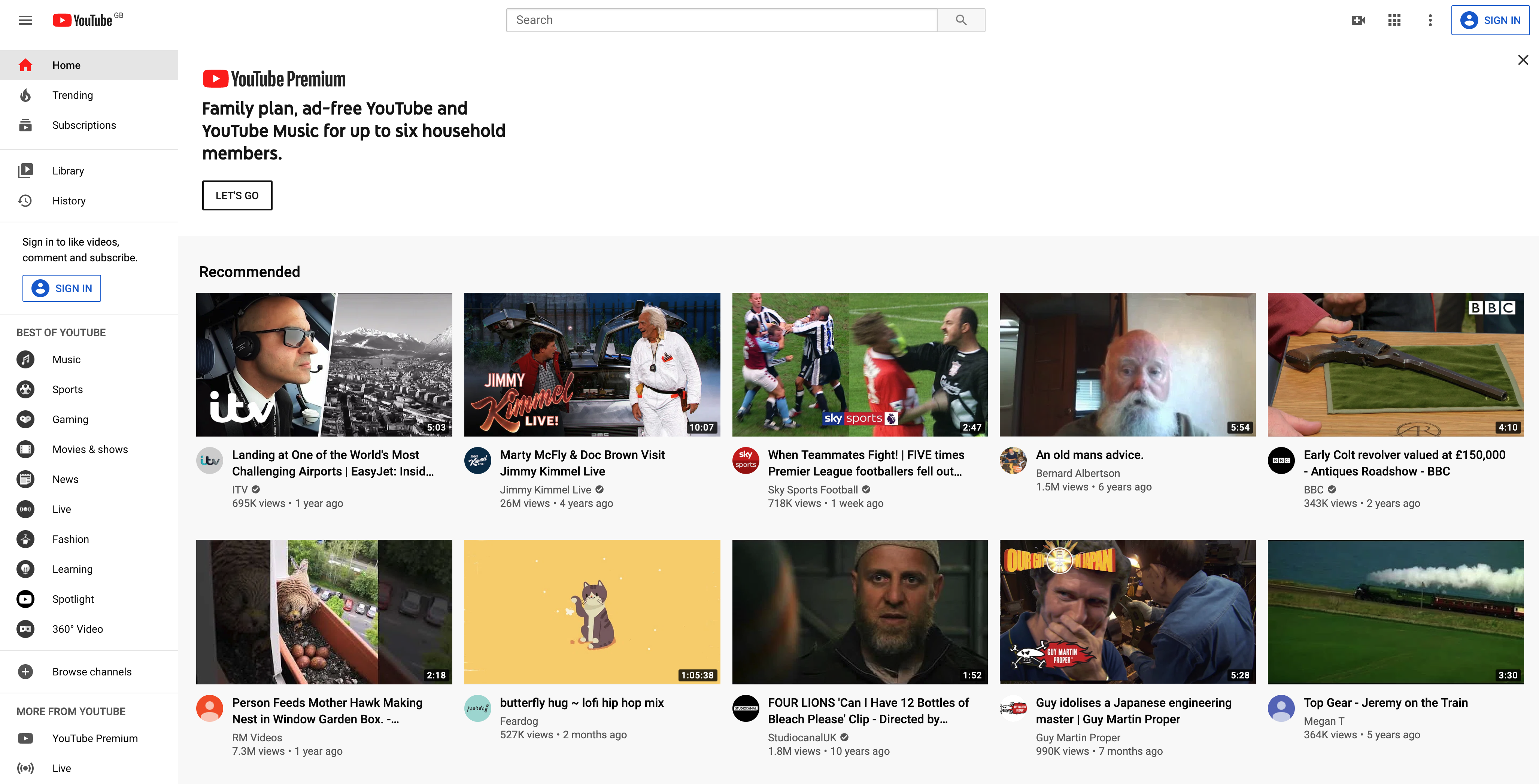 We will guess that YouTube needs no introduction to you.
After all, it is the second-largest search engine and one that most people use every single day. If you are looking for videos, from movie clips to podcasts, or are seeking creators who are pushing out incredible original content, YouTube is the place to visit.
Yes, you can search for and find videos on Google. But when it comes to finding the right content quickly, you should head straight to the platform itself and use its internal search engine. 
13. Unsplash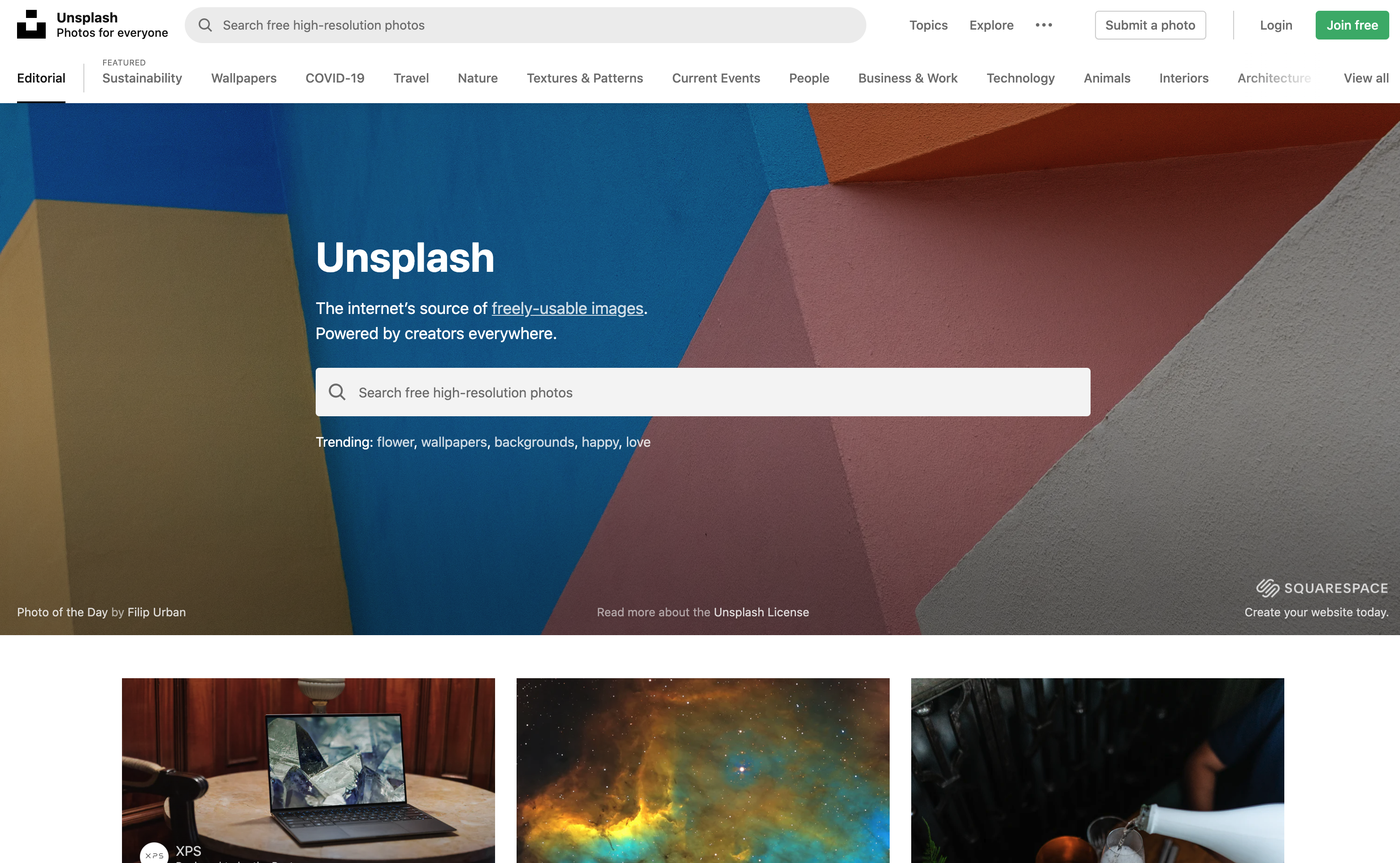 Whether you are about to publish your next blog post, are looking for engaging visuals to use on social media, or even a striking photo to use as part of your company's printed marketing material, images are an essential part of our interaction with businesses. However, we all know that stock images can get quite expensive. 
Unsplash is a search engine that exists to help you to find freely-usable images for your projects without worries about copyright. So before turning to Google Images and stress about getting the rights to an image, know that Unsplash gives you use of all photos with no extra strings attached. 
14. Slideshare

Ever attended a conference, not taken notes, and wanted to find the speaker's session afterward? Or maybe you were not in attendance and heard that someone gave a great talk that you wish you had seen.
Slideshare hosts thousands of slide decks covering pretty much any topic you could care to imagine. Finding a presentation you are already aware of can often lead you on a path of discovery towards other inspirational content. 
15. Creative Commons Search
The second of our recommended alternatives to Google Image Search is Creative Commons Search. Creative Commons Search can help you find content that you can reuse or even modify.
There is always that risk when using Google that, even when you filter by usage type, the file has been marked up incorrectly or by someone who is not the original creator. Creative Commons takes away that worry, ensuring you can find high-quality images to use quickly.
16. Listen Notes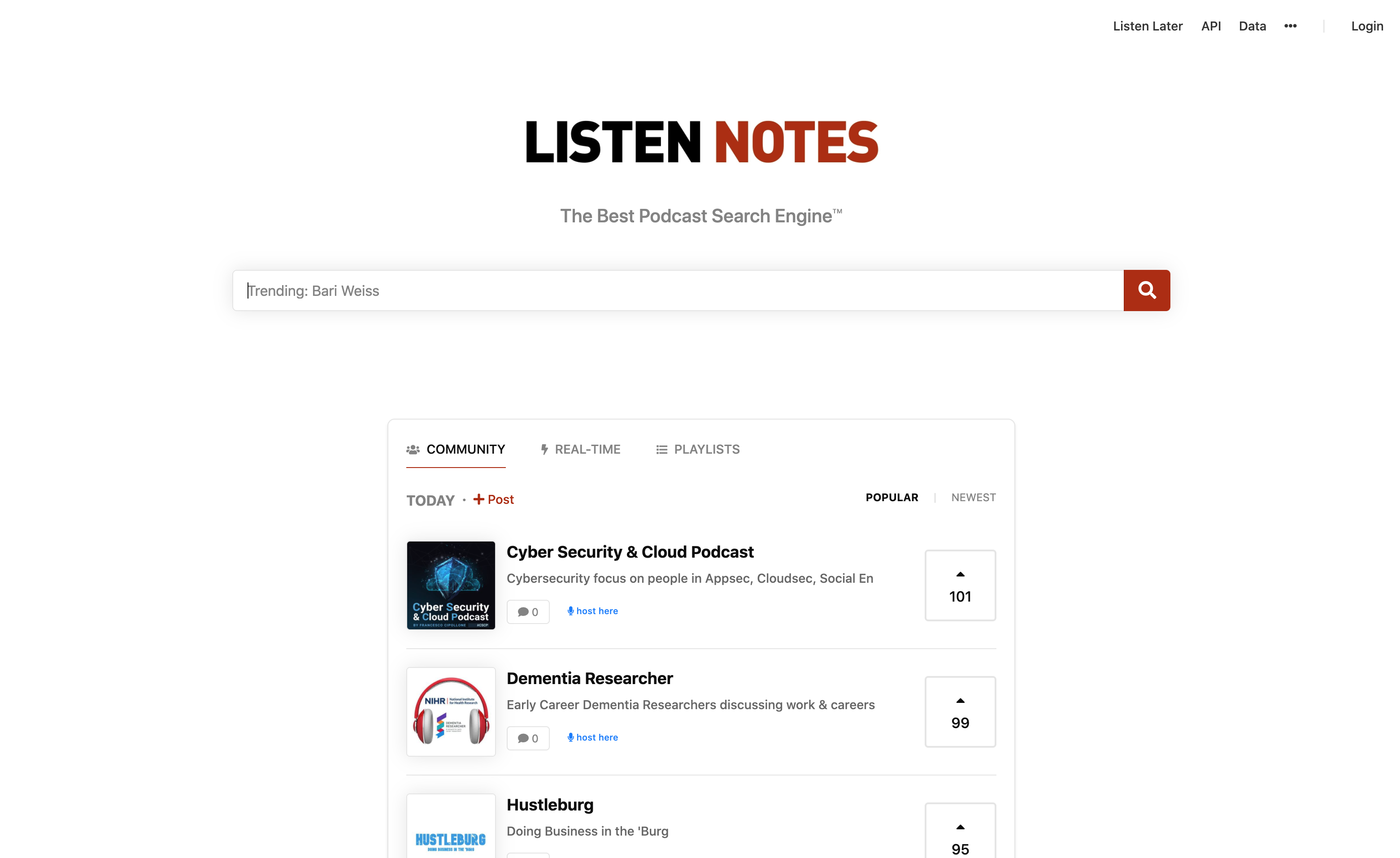 Podcasts are booming in popularity right now, and we can see from Google Trends just how much searcher activity there is going on for them on the platform.

But the reality is that Google is not geared up as a podcast search engine, but Listen Notes is. If you are looking for a better way to find your next podcast listen, you should try it out.
17. GIPHY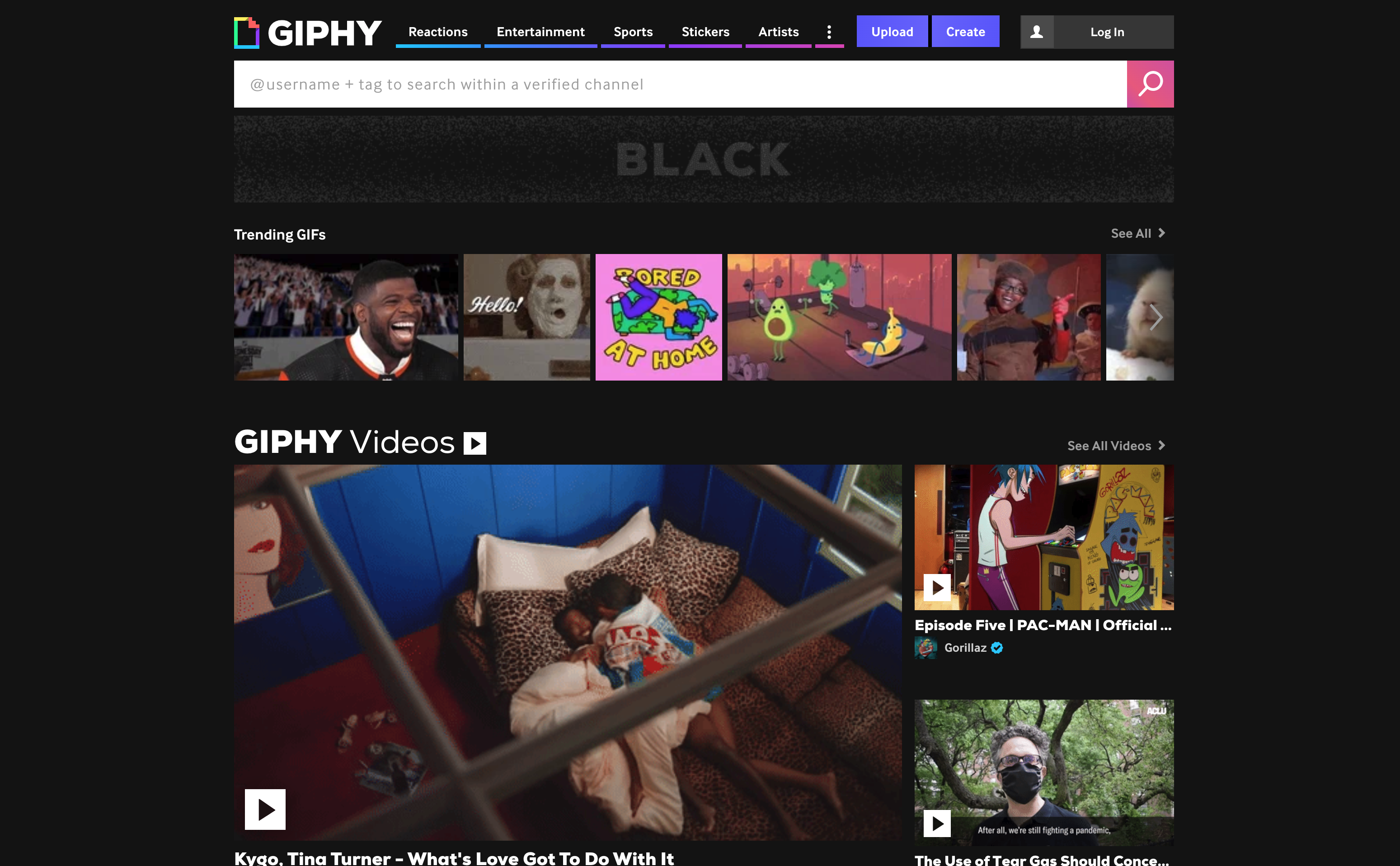 Who doesn't love a gif?
From finding the right one to use in a presentation to your latest blog post, or simply to share on social, getting your choice right is essential.
Google Images offers some gifs, but nothing matches the gif library at GIPHY. GIPHY is home to over 10 billion pieces of content, many of which you have probably used on Facebook, Snapchat, Instagram, TikTok, and more.
Gifs are everywhere, but when you are looking for the right gif, nothing competes with GIPHY. 
18. Wiki.com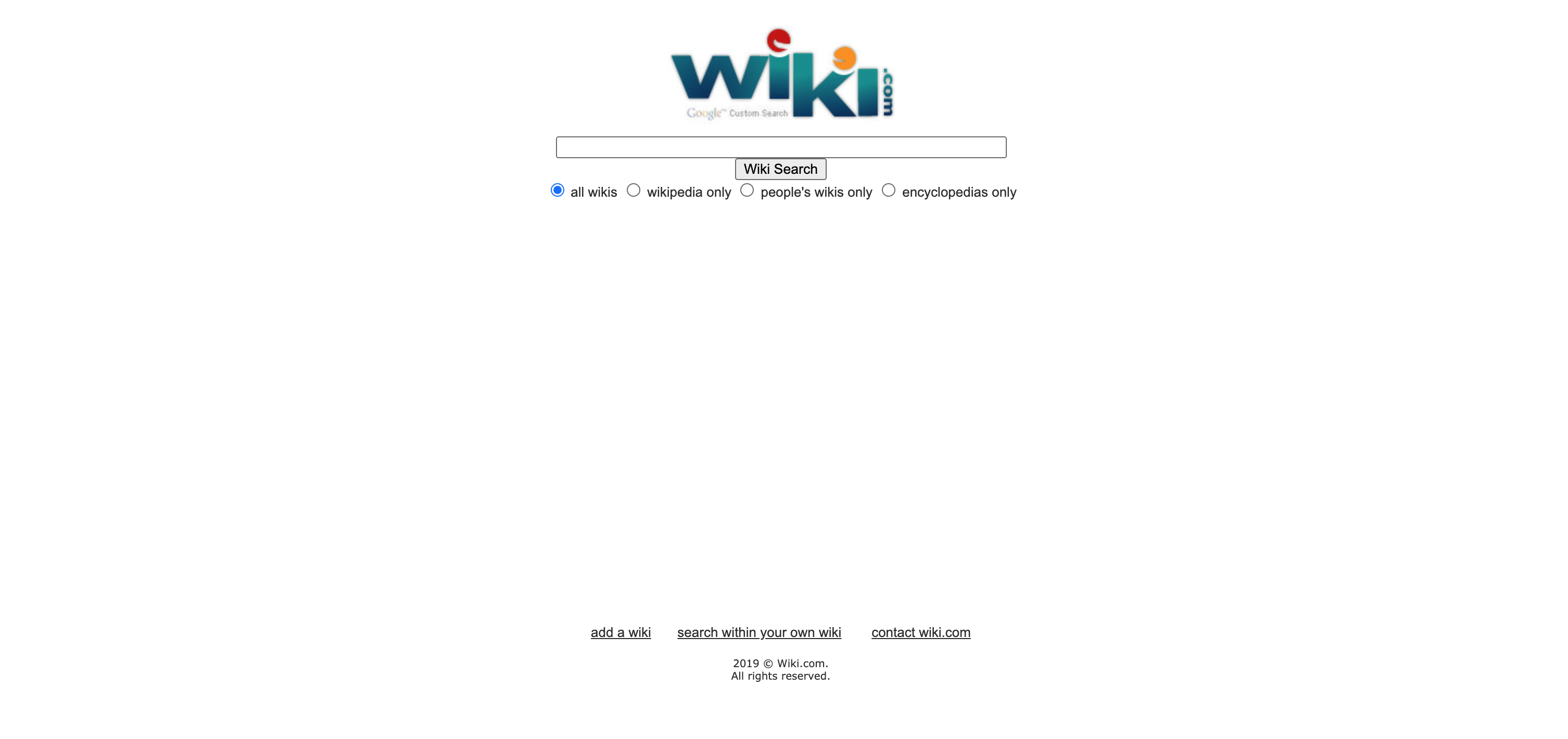 Last but not least comes Wiki.com, the perfect place to search not just Wikipedia but other encyclopedias and people's wikis.
If you are a fan of community-led informational content and regularly use these in your work, Wiki.com can save you plenty of time by helping you to find the right information quickly while returning the best results. 
Optimizing Your Website for Alternative Search Engines
So, what should you be doing differently to rank on these alternative search engines versus ranking on Google?
The honest answer to that question is to take the time to understand how each search engine works and what makes it different from Google. For the format-specific search engines, you need to know how their algorithms work, given that they are not a straight-up alternative to Google. By optimizing properly for other search engine formats, you will enjoy better results and receive more relevant traffic.
Here are some great resources to help you to do that:
And really, it comes down to either Google or Bing, with perhaps the exception of DuckDuckGo, given that most are using the results from one of the main search giants to power their own listings (including Yahoo).
Most search engines are using results from one of the main search giants to power their own listings (i.e., Google, Bing, or Yahoo). However, among the big search giants, there is a critical matchup: Google vs. Bing. To properly optimize for Google and Bing, you need to focus on the differences between them.
You can read more in the differences between Bing vs. Google here, but to quickly summarize the main points:
Exact match keywords (in your domain, title tags, H1 tags, and URLs) still have a more significant impact on Bing rankings than they do Google. Just be careful you are not damaging your Google visibility by optimizing for Bing.
Meta keywords might still be used as a ranking factor. However, this has not been officially confirmed.
While Google uses PageRank to measure the influence of links as a ranking factor, Bing looks at things a little differently, with established domains known to be a key influence.
Bing is very open about how social signals can influence search rankings, having previously said, "Social media plays a role in today's effort to rank well in search results. The most obvious part it plays is via influence. If you are influential socially, this leads to your followers sharing your information widely, which in turn results in Bing seeing these positive signals. These positive signals can have an impact on how you rank organically in the long run."
Bing loves media. Utilizing engaging images, videos, and other formats on your site can help to maximize visibility.
---
While Google has become the go-to search engine for most of us, there are other alternative search engines out there. Whether you want to know your data is more secure, want to help a good cause as you surf the web, or find a specific type of results, do not be afraid to visit another search engine; it may help you find what you are looking for.