Ever wondered what people are searching for online or interested to know what questions people frequently ask Google? SEMrush has analyzed more than 20 billion keywords and compiled easy to digest lists to answer your questions. This report contains the latest data insights and trends across The United States, The United Kingdom, Canada, Australia and an overall global search as well:
Top Google Searches
Amongst the top lists, many search terms are related to 'Not Safe for Work', so we have excluded them. In case you were wondering – the 'NSFW' searches make up an estimated 20% in the top 100 list. If you want to learn more about these keywords, you can simply check the search volume for them in our Keyword Overview tool.
Top online search trends that unfolded throughout the year so far:
Who wins the retail battle in the US: Walmart or Ebay?

In which country is the Mass Media brand more popular than YouTube?

Which country has such a devoted fan base of their national sports team that those searches trump those for Netflix? 

What are people trying to find nearby more often? Is it food, pizza, restaurant, breakfast or Walmart near me?

How many times a month people search for 'Coronavirus' in Google?
See all takeaways of the study based on Google search data below. Click the big arrows to switch between countries and small arrows to see the full list within one country.
Search volume is the average number of times a specific search query is entered on a search engine per month. In this table search volume metric is calculated as an average number of monthly searches for the last 12 months.
Trends based on Global data
We split the top 100 global search lists by categories to reveal people's main interests: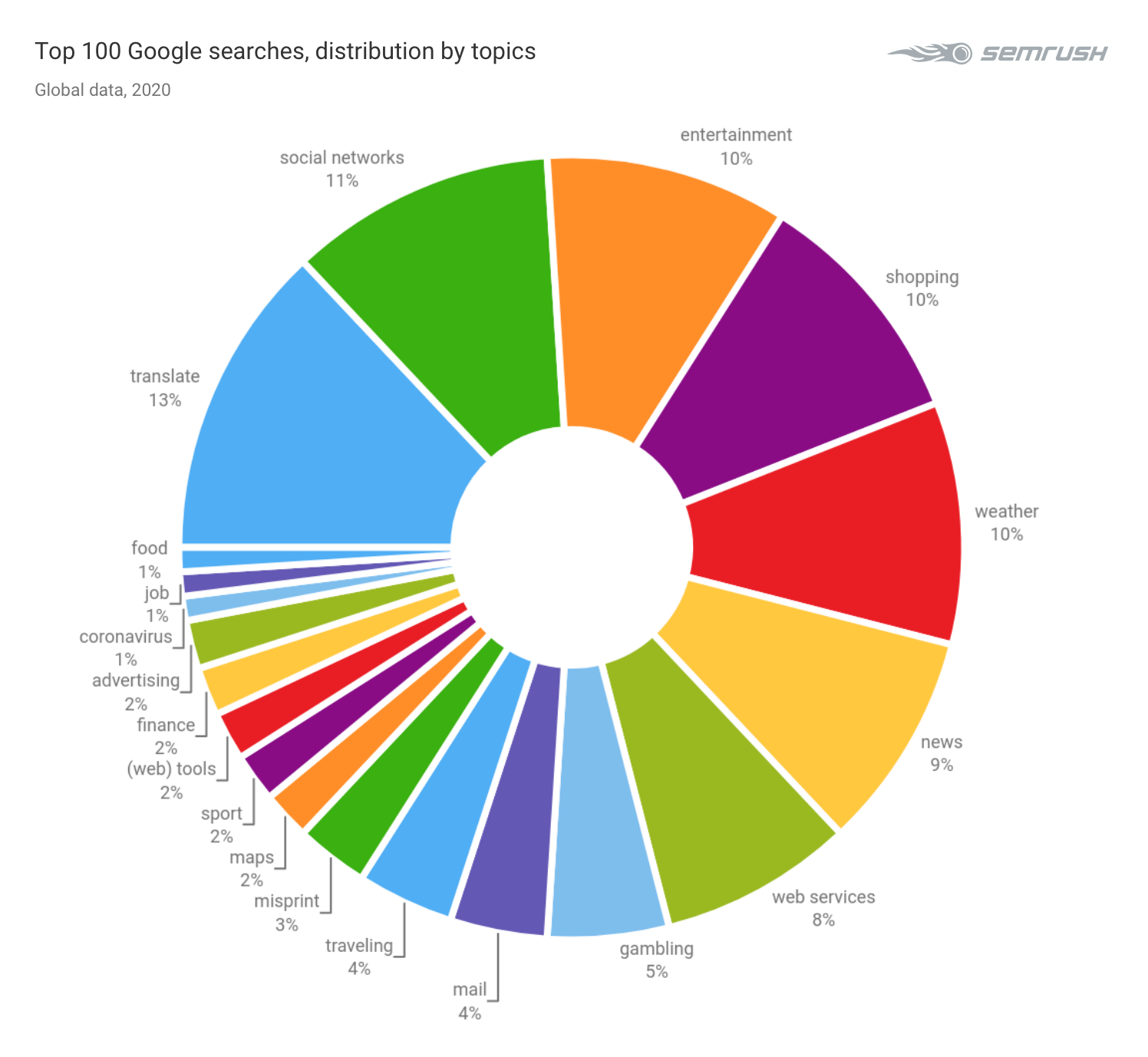 The majority of search queries are related to translation, social networking, entertainment, shopping, weather and news. 
Top queries in the 'social networks' category show people are on the hunt for 'Facebook', 'Instagram' and 'WhatsApp web'. Meanwhile in the 'entertainment' category 'YouTube' trumps Netflix which is then followed by the online game platform, Roblox.
In the 'shopping' category – there is little doubt that across the globe the most popular companies are the big players such as Amazon, Ebay and Walmart. It is interesting to see that fashion label, H&M marks its spot at the 92nd position – keep in mind this is the only fashion brand that appears throughout this entire top 100 list.
When it comes to the 'News' category, people seem to have their eye on Cricbuzz – an Indian cricket news website which is the most searched for source of news across the world. Other popular news sources globally are BBC News, Fox News, CNN and German tabloid newspaper Bild.
Another major percentage of Google search queries in the list is related to gambling, traveling, finance, and sport – the main areas of attraction for people in this day and age in the online world. 
One specific word that has certainly created a ripple effect on each and every single person's life in one way or another during the year of 2020 – 'coronavirus', was searched more than 60 million times per month in 2020, being the one and only uncategorized trending topic in the top 100 list.
The most interesting 'top searched for' results from across the globe:
US
Most popular news sources: Fox News, CNN, ESPN

Most popular retailers: Amazon, Walmart, Ebay

Most popular streaming platforms: Amazon Prime, Netflix, Hulu

Most popular food chains: Domino's, Pizza Hut, McDonald's
UK
Most popular news sources: BBC News, Daily Mail, Sky News

Most popular retailers: Amazon, Ebay, Argos

Most popular football clubs: Arsenal, Liverpool, Manchester United

Most popular fashion brands: Next, Asos, Marks & Spencer
CA
Most popular news sources: CBC News, CNN, CP24

Most popular retailers: Amazon, Canadian Tire, Walmart

Most popular sports leagues: NBA, NHL, NFL

Most popular banking & finance companies: RBC Royal Bank, AccèsD, TD Bank
AU
Most popular news sources: ABC News, Sydney Morning Herald, NineMSN

Most popular retailers: Ebay, Kmart, Big W

Most popular sports leagues: NBA, AFL, NRL

Most popular banking & finance companies: NetBank, Westpac, ANZ
---
The most frequently asked questions in Google across the globe
When it comes to the most frequently asked questions across the globe, the most commonly asked ones cover a huge range of topics:
Apart from some of the more obvious questions, we indeed found some unexpected results. Some may leave you guessing but others may see you googling the exact same thing to see the answer for yourself:
Why were cornflakes invented?

What does SMH mean?

How to make hand sanitizer?

How old is Danielle Cohn?

What is pansexual?

How did Cameron Boyce die?

How tall is Peppa Pig?
Another interesting query to note and one that is still trending from 2019 across all countries is 'What is Keto diet' – with over 280,000 searches globally. We also noticed a shift in behaviors as people moved away from weight watching to health and safety obsessing. 'What is Coronavirus?' is in the top list of questions, being asked in Google more than 300,000 times each month. 
---
Top trending keywords in 2020
The next step was to explore how the circumstances of the year 2020 changed the wider public's main areas of interest. Here are the keywords with the highest increase in searches this year, that reflect new trends of this year so far.
The top list is sorted out by the growth rate of the monthly search volume: the highest search volume of the keyword in the current year divided by the lowest search volume the keyword had in the current year. Only the keywords which have a minimum search volume of over 0 were analyzed in this case.
The most trending topics
Globally
'Dalgoona coffee' – the homemade coffee prepared from instant coffee, sugar, water and milk, which looks like the coffee from the best coffee house which quickly became a hit on Instagram, – is the most trending keyword globally. 
US
When President Donald Trump signed the CARES act, Google searches for the keyword 'Stimulus check' exceeded 20 million searches per month, and became the most trending keyword in the U.S. in 2020 and still is so far. 
UK
The topic which concerned Brits and other people in the UK the most was the 'UK lockdown' – hitting newspapers' headlines in March 2020 as well as the search engine being asked many questions about the new lockdown reality. 
Canada
The Canadian government introduced the CERB (the Canada Emergency Response Benefit) to the employed or self-employed who were impacted greatly by the COVID-19 pandemic and as a result, searches for CERB have increased dramatically – by over 500,000% in 2020. 
Australia
The hit Netflix drama documentary the 'Tiger King', certainly influenced the number of searches for Carole Baskin in Australia with the highest increase of over 300,000% among all other trending keywords.
---
New search terms in 2020
When diving deeper into the search trends of 2020 several popular terms that are brand new were revealed, with no previously existing online searches ever recorded:
The top list is sorted out by the search volume of the newly appeared keywords in 2020
Such keywords mark momentous new occasions, many of which became viral. Disney's 'Tangled' which dated back to 2010 suddenly became popular again because the name of the kingdom was called Corona. Conversations were sparked about the tragedy of Gabriel Fernandez after the Netflix docuseries unraveled his story in February 2020. Searches for quarantine memes to cheer friends, family and colleagues up, spiked during times of uncertainty, as well as 'flatten the curve' search query which also drew a lot of online attention in 2020.
---
Final words
There are lots of doubts that surveys are valid anymore because when people answer them, they want to look good and so they're not truthful. The only place where people are as precise as possible is Google or search. That's the only place where people don't lie. People will only be honest when they search. That is what companies have to understand and embrace and be attentive to what people are searching.