When you want to expand your content writing efforts, branching out into the freelance world to find content writers is often a good option.
Speaking from my own experience, managing freelancers is different than working with your in-house team. You really need to solidify the communication process or you may find yourself going back and forth to try to get what you were hoping for.
In this post, we're going to look at how to work with professional content writers to create great content that drives results. 
1. Be Clear About the Work Agreement
Before you even start working with a freelance writer, make sure that everyone is clear about the scope of the project and what's involved.
Look at the contract. 
It may specify certain payment terms, for example, payment upfront or within 30 days of submission. 

You may also want to have a non-disclosure agreement (NDA) or ghostwriting clause put in. 

Please note that most freelance writers will not sign a non-compete of any kind. 
There are a few things I always like to clarify if they aren't in the contract, including the following:
How many revisions are included in the agreed-upon price, and the extent of those revisions. Some writers limit revisions at a set percentage of words being changed.

Deadlines for the draft and any revisions. Ask how much time they'll need between receiving your feedback and submitting revisions so you can plan accordingly. 

What specific content creation tasks the freelancer is responsible for. Do you want them to do keyword research and SEO optimization, or will you do that on your end? Do they need to supply images? If they don't know the terms you expect, they likely won't be able to deliver the exact type and quality of content you're looking for. 
2. Decide How You'll Communicate With Your Content Writing Team 
If you're a content creator or a content development manager working with multiple freelancers, it's essential to determine a communication process that works for everyone.
The following are all popular options that I've used myself:
Text-Based Communication
Most freelance writers prefer to work through text-based communication like email or Slack. 
This partially resolves difficulties surrounding time differences, which are common to experience when working with freelance writers. 
If time differences are a concern, make sure you let your freelancers know when you'll be available and how that may impact deadlines or your availability to help them with projects if needed. 
These communication methods also allow writers to have all messages from a client in one place so they can refer back to them, whether it's referring to a style guide that was sent a month ago or they want to look at project details you'd sent five minutes before. 
Collaborative Writing Platforms
Aside from the actual communication, collaborative writing platforms like Google Docs or Etherpad are a great choice for working with freelancers. You can leave comments and make edits that they can see in real-time, and vice versa. 
Project Management Software
PM software can also help you and your freelance team keep track of each assignment's progress. It can help you flag what needs editing, for example, or when a project is ready to be handed to another editor or to be published. You can add checklists with tasks on each project and tag the appropriate internal and external team members.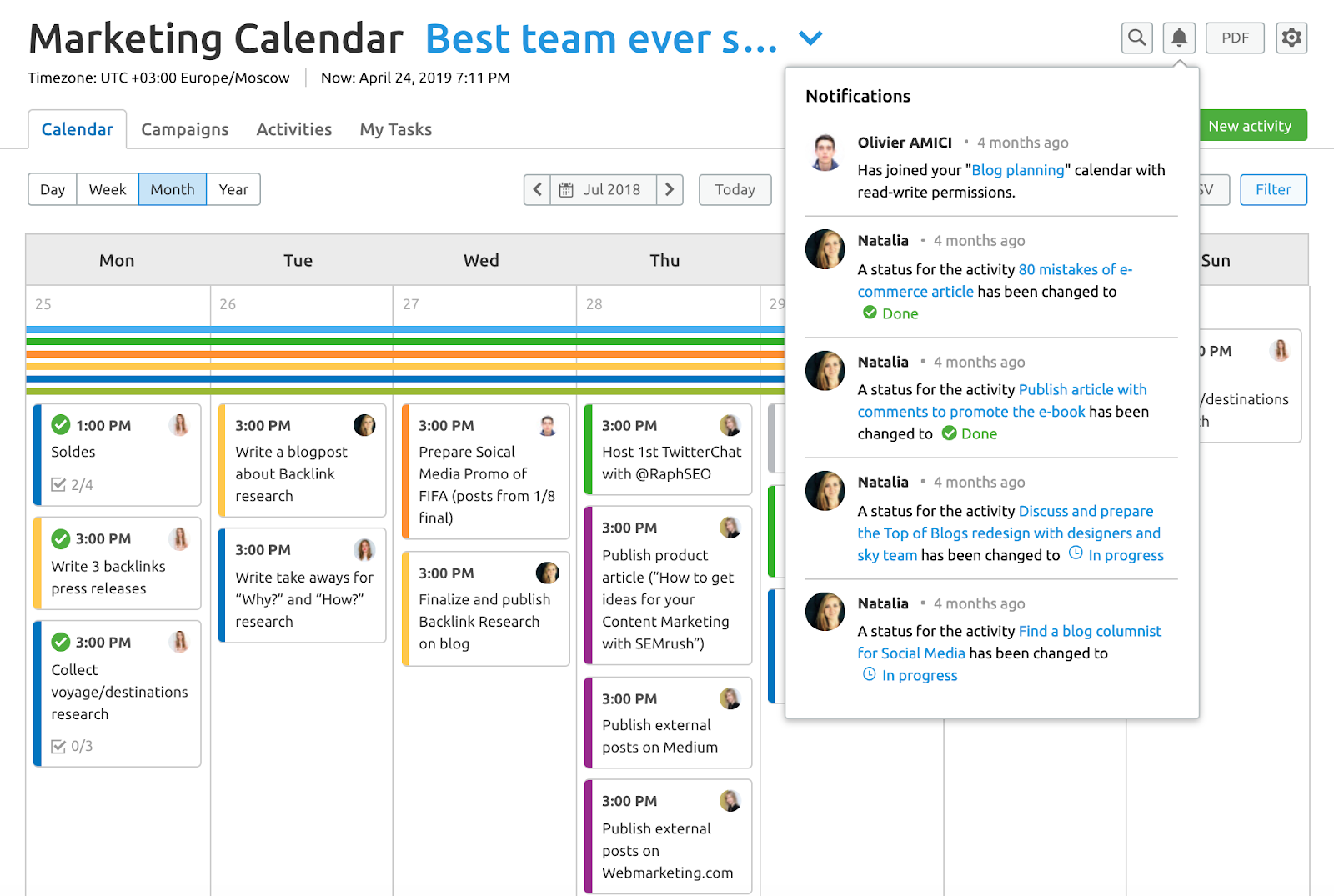 Here's an overview of the best project management software in case you haven't found your favorite one yet. 
3. Provide the Writer with Essential Project Information 
Before every project, you're going to want to create a strong brief that will let the writer know all the key details of the assignment. This is an essential part of consistently getting the end result that you're looking for. 
Sometimes, clients will send a decent summary of what they want a piece of content to be about, but they leave out some core information that could improve its relevance. 
This includes the following: 
4. Create an Outline 
Outlines are an often-debated part of content outsourcing. 
Some content managers prefer to create an outline that they send to the writer. Others prefer to have the writer send an outline to them; and there are still some content managers who choose to forgo an outline altogether.
I prefer creating the outline myself for high-level, strategic content when I already know what needs to be covered. It gives the freelancer a solid idea of what I want without leaving room for guesswork, though they're always encouraged to weigh in on the outline itself.
Aside from this, here are some thoughts about who should create outlines and when:
When should you create an outline?
You as the content manager should create an outline if working with a diverse freelance team, or if you have specific topics in mind. It may also be more cost-effective to do the outline yourself. 
When should your freelancer create an outline?
If you're short for time, accepting freelance pitches, and/or have worked with this particular freelancer for a long time, you're likely to be safe letting them create the outline on their own before submitting it for your approval. 
This is also a safe bet if you're more interested in evergreen quality content that covers general topics than high-value content that promotes your products or services in a certain way.
When is it OK to skip the outline?
You can skip the outline if you know the writer well and trust them and really just want posts around basic topics. 
If you're not too worried about what specifically is covered within the post, that's fine. But be ready to potentially handle revisions yourself if you're unhappy with the direction the writer took; if you gave them free rein, they are likely to charge close to full price for a full rewrite. 
Creating an Outline for Marketing Content Writers 
When creating an outline for content writers, you can be as detailed as you choose to be. As long as you're including the details that matter to you (whether that's a lot of them or only a few), you'll be covered.
In general, outlines provided either by you or the freelancer should include suggested topics and keywords for the title and headings. 
A few bullet points that will go over what will be discussed in each section. 

Any essential links for each section. 

I also recommend defining the CTA at this point. 

It can include designating approximate word counts for each section, but this isn't a requirement. 
It will probably look something like this: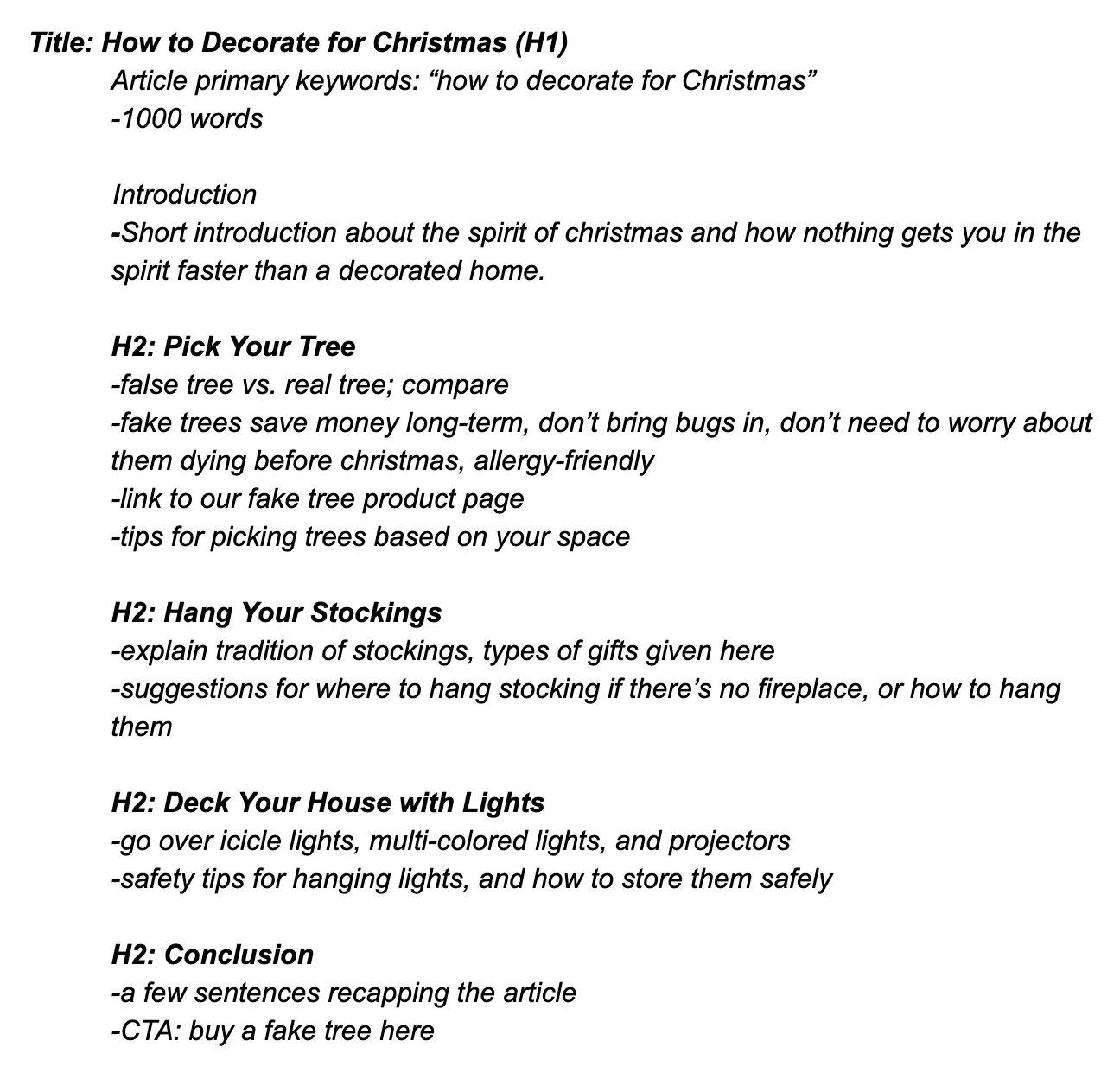 5. Give Feedback 
If you feel that your freelancer is falling short somewhere along the way, don't be afraid to give them feedback. Many would much rather take constructive criticism so that the client is happy than lose the client altogether. 
Be respectful when sharing feedback; if the email comes across to the freelancer as belittling or rude, you may experience pushback from them. To avoid sounding personal in your feedback, try to concentrate on the work that's provided to you. Being short with feedback, like a simple response of "wrong", isn't helpful or polite either; more importantly, it won't tell the writer what you're looking for so they can't fix it. 
That being said, specificity is good. You can point out individual examples within the text of what you'd like changed and why. If they have a tendency to repeat words in back-to-back sentences, you can highlight this, for example. 
Personally, I like to share editorial reports and performance stats with long-term writers.

Feedback can be given during the revision stage, or after the post is complete. Try to consolidate your feedback: freelancers quickly become overwhelmed if they have ten different emails containing feedback, and they can lose track of it. Giving them feedback in one central location they can refer to is useful moving forward on future projects.
Conclusion
Everyone wants quality content when they start outsourcing freelance article writing and having a system in place to work well with your freelance team will be a big part of that. 
Ultimately, it all comes down to intentional and clear communication. When expectations are set and everyone is on the same page, as long as your writer has strong content writing skills (which they should!), you'll be off to a solid start. 
Looking for a creative content writer? Learn about how our Content Marketplace can help you scale your content creation with outsourcing here.