What is Content Creation?
So then, what is content creation? It is the process of planning, producing, and optimizing content that meets (and hopefully exceeds) predefined goals.
It is one that typically covers:
Setting measurable goals for a piece (or group of pieces) of content.
Understanding how a piece of content fits into a wider marketing strategy.
Ideation to develop ideas that will meet these goals that could involve brainstorming, keyword research, or competitor analysis.
Planning and producing best-in-class content.
Ongoing optimization and improvement.
Measuring and analyzing the success or lack thereof.
Using Goals in Your Content Approach
When you approach content creation in this way, you will find that you are able to scale it up and gain a strong competitive advantage as a result. 
It is all about developing content with a purpose and understanding how to set up every piece to ensure that the results are measurable. But the most important thing to take note of is that content creation is a process. And if you can develop a solid process, you will be set up to win. 
It is this process that many content creators haven't refined, but we are going to walk you through exactly what a proven process looks like for you to replicate.
You will learn how to come up with awesome ideas for your next piece of content, set measurable goals, gain an insight into how you can promote your asset, deliver the results your business needs, and more. 
A Look at Different Content Formats
As consumers, we want to consume content that educates and informs us, equipping us to make our own decisions about the purchases that we make. And that is what content marketing is all about. 
In 2020, content can take many different forms, and it has evolved way beyond the written copy that it was once assumed to represent.
A successful content marketing strategy acknowledges the benefit of stacking different kinds of content to meet your audience's needs, and it is safe to say that the formats that are the most successful for one business won't be the right choices for another.
Creating great content means you need to know what s in your toolbox so that you can pull out the right format to meet a specific goal.
While this list isn't exhaustive, some of the most commonly used (and most successful) types of content that you could create include:
There is no one 'right' format, and we encourage you to try out different options and use those that work best, also understanding that the resources needed to produce these will differ significantly. 
How to Develop a Growth-Focused Content Creation Process
Creating content is, as we have already discussed, a surefire way to drive measurable results, but for this to happen, it is important that you are following a process that sets you up for this success. 
While every business and marketer should have their own unique process (one that evolves over time to account for their way of working), below we will share a proven framework that can be used as the starting point
Some of this will change if you have different team members planning content to actually producing the content, but the backbones of the process remain the same, at least in terms of the way content should flow through from an idea to a successful piece. 
Setting Content Goals: Purpose and Quality 
You need to be creating content with a purpose. And while this sounds simple, it is not uncommon (even in 2020) for content to be created with a schedule that includes a set number of pieces of content each week or month.
One of the biggest misconceptions in content marketing is that success is a numbers game — it is not. 
Just think about it this way, if you could create one long-form piece of content in the same time period as you could create 4 shorter posts, which would be the better piece?
Without a doubt, the long-form guide that dives deep into a topic. Your focus should always be on the output, and anyone who tries to tell you that your goal should be quantity, they are talking nonsense.
But what should your content goals look like?
The honest answer is that these are often very different from one business to another, but they could include:
To increase direct sales or conversions.
To drive an increase in traffic.
To earn links to increase organic visibility.
To own the SERPs for queries relating to your business.
To engage with past customers and clients.
To increase brand awareness and build community. 
These are just a few common goals, but what is important is that you set these before you even begin producing content.
You need to know where you want to go before you can figure out how you are going to get there. 
And understanding the importance of setting goals is as simple as that.
Coming Up With Content Ideas
A great piece of content starts with a great idea. It is what makes or breaks the success, and coming up with ideas is often harder than it sounds.
And while you could, in theory, simply note down a number of possible titles and work from this, it is not going to deliver the results you are looking for.
Ideation needs to be an informed process that takes data, insights, and inspiration from a number of sources to help you determine what content you need to be creating, how it should be structured, and how you can differentiate it from other pieces out there. 
There are five main ways that we recommend you try to come up with quality content ideas. You might find that some work better than others for you, or your business, but mixing things up can always help to keep the creativity flowing:
Know Your Audience
The more you know about your target audience, the easier it is to develop customer-centric content that will resonate with those you want to sell to.
If you have not already done so, we recommend that you go ahead and create your buyer personas so that you are armed with solid insights as to who your audience is and how these individuals behave. 
And if you still need convincing on the importance of basing your content strategy around personas, recent research has revealed these insights that show the impact of persona-based marketing: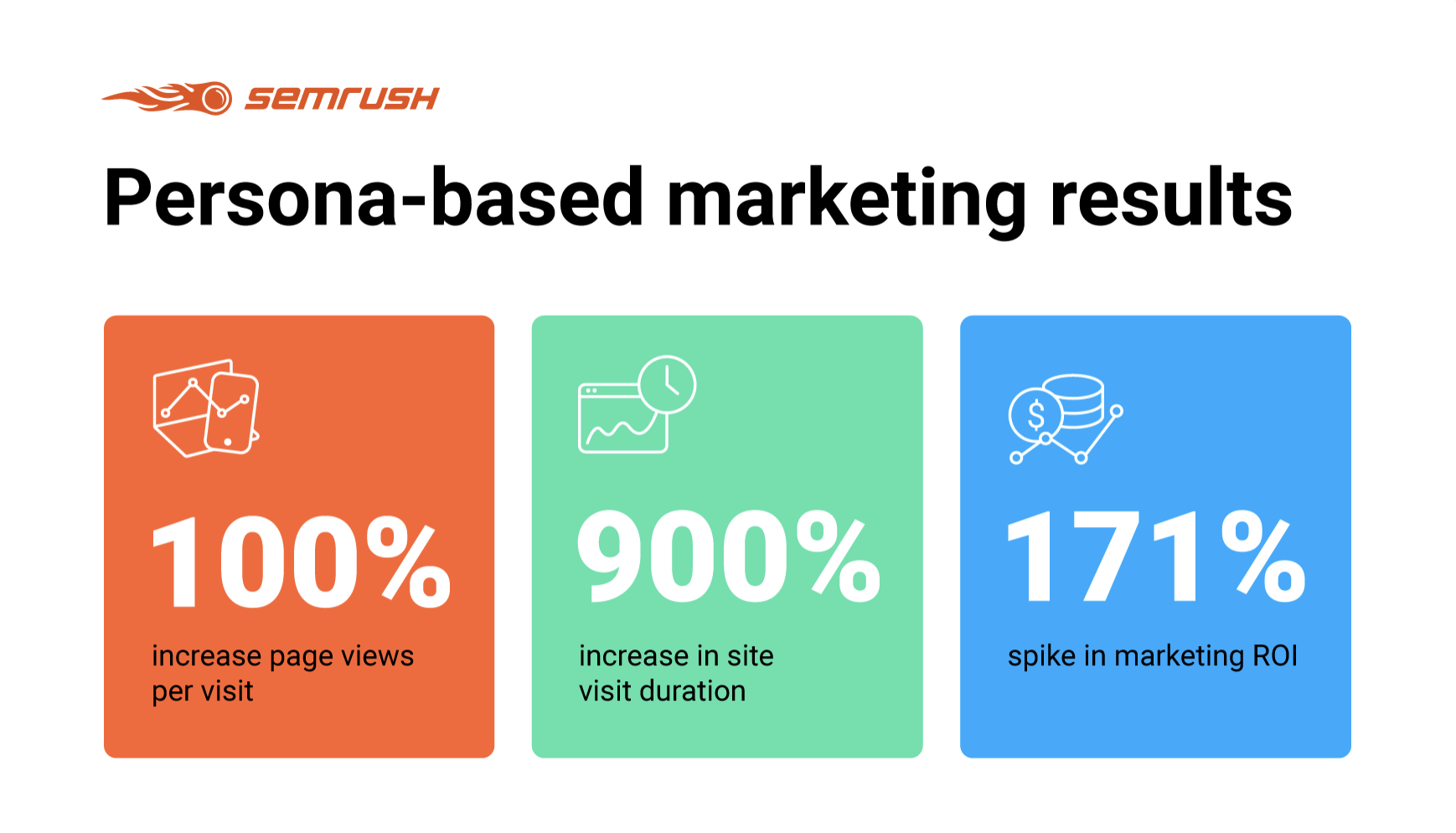 And this recent guide on creating buyer personas goes one further to justify this activity, stating that,
"In marketing terms, insights from defining buyer personas are used to craft more relevant messaging, tailor content strategy based on the persona's buyer's journey, and create highly focused and more personalized brand experiences.
Take the time to properly understand your audience, and download the Buyer Persona Template below to help you learn more about who you are and should be targeting.
This process will usually leave you with plenty of ideas for content ideas. 
Another way to come up with buyer-driven insights is to speak with your customer service or sales team, as these are often equipped with the exact questions your customers are asking, and the issues they are most often trying to solve. You can then use these to base content ideas around.
Topic Research
Another recommended starting point for coming up with content ideas is topic research, and you can get a wealth of content ideas by using the Topic Research tool.

Enter a topic and hit 'get content ideas' to be presented with a grid of subtopics and ideas, some of which could serve as your next great piece of content.
By clicking on any of the subtopics, you can see, in real-time, recent headlines and the questions people are asking online about that topic. Answering common questions in a detailed and authoritative way can create trust in a reader and results in conversions.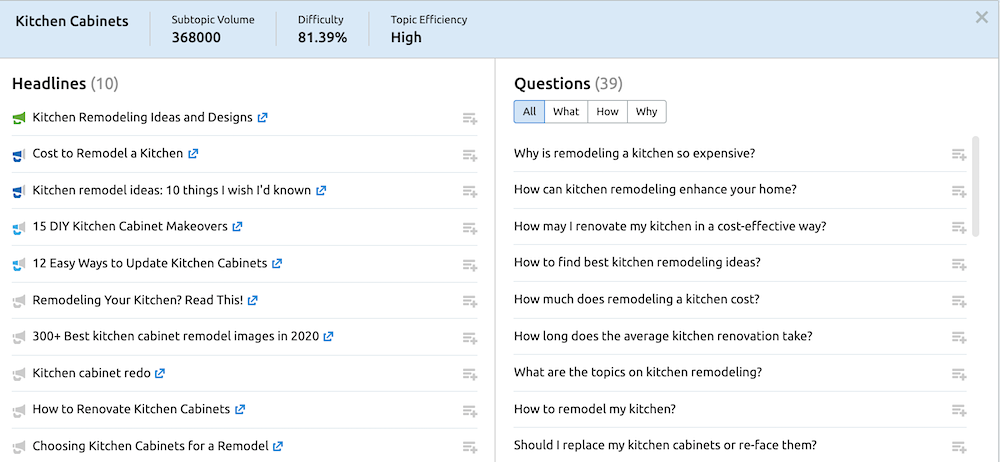 This tool will help you come up with great ideas in just a few minutes and save them to review later with your team.
Keyword Research
Keyword research is, by far, one of the most common starting points for generating content ideas. It is often the next step after you have carried out topic research (especially if you are creating content primarily to grow your organic traffic and rankings).
And the SEMrush Keyword Magic tool is the perfect way to build out a list of target keywords for you to build a content strategy around.
Enter a keyword, hit 'search', and you will be presented with a comprehensive list of search queries and keywords that you can filter and explore in more detail.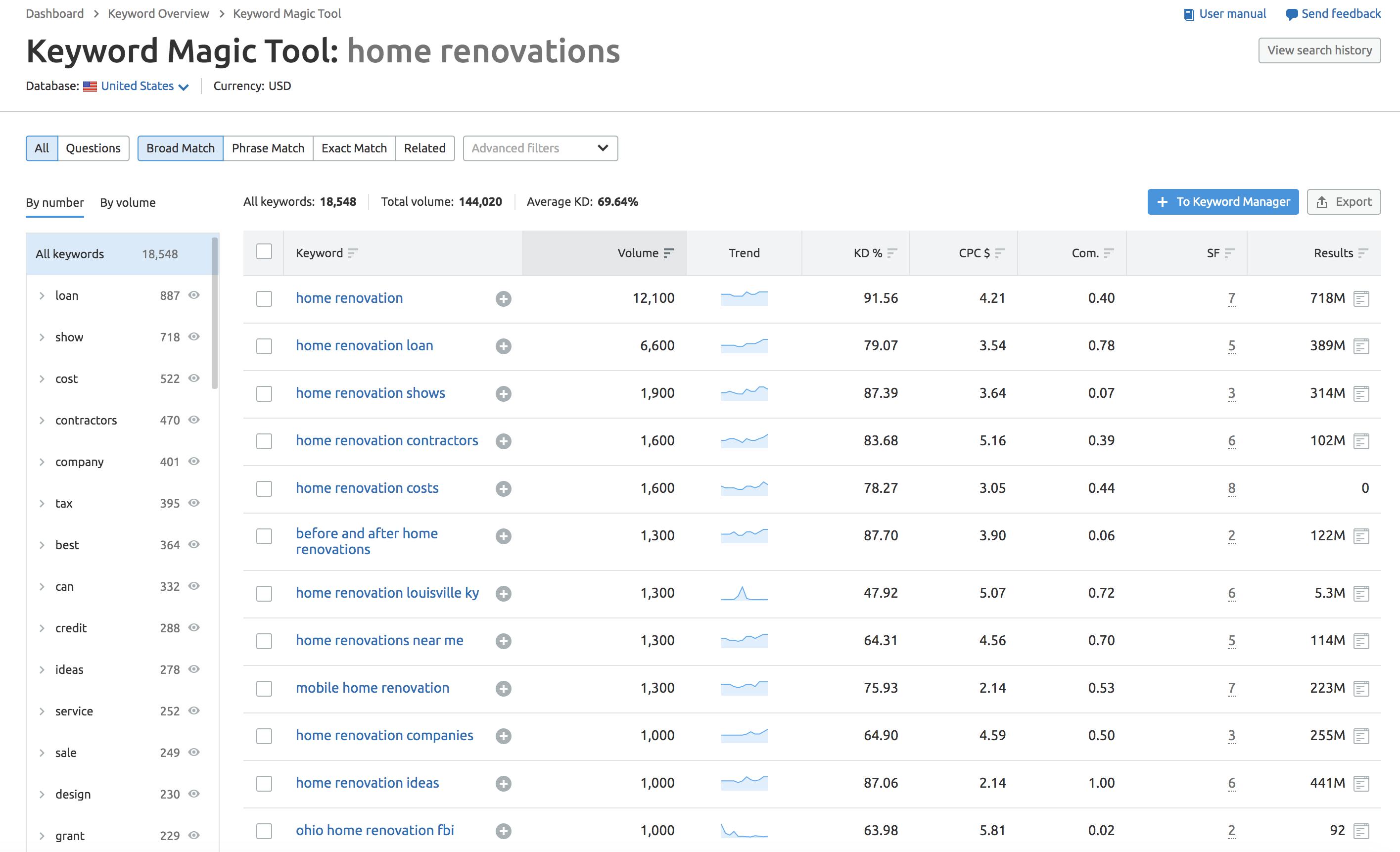 You can then take this research and use it when building out a content plan.
Competitor Analysis
Another starting point for content ideas is competitor analysis — spying on those who sell the same (or similar) products or offer the same services as you do.
But be careful with how you use competitor research and don't fall into the trap of copycat marketing. If you are chasing the same strategy as everyone else, how can you expect to win? And, who says their strategy works?
Use the SEMrush competitive research toolkit to provide you with the insights you need to understand what is working for your competitors to be inspired to create something even better yourself.
In particular, using the organic research tool can help you understand your competitor's top-performing pages and pieces of content to help you gain insight into what is working and driving results if only to influence how you build out your own strategy.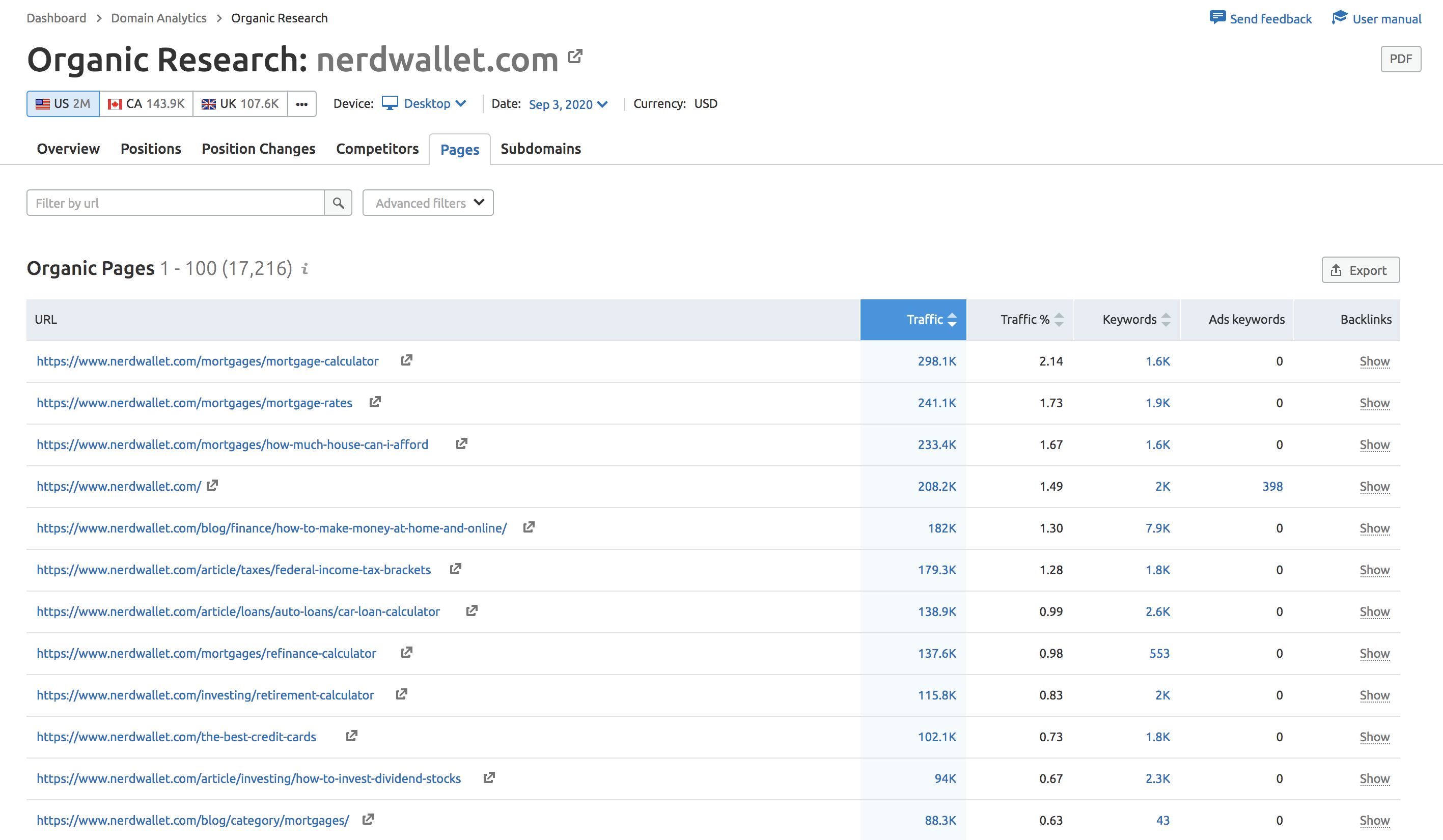 GAP Analysis
An alternative (or extension) to competitor insight is to run a GAP analysis to help you understand the areas where one or more of your competitors is winning with their organic content but where you're falling behind.
You can use the Keyword Gap tool to find a ton of opportunities in just a few minutes.
Plug in your domain and up to four competitors and 'compare.'
You will then see a wealth of insights that showcase the areas where you could be making moves and driving opportunities.
A great way to steal your competitor's traffic is by identifying gaps where they are visible, but you are not.
Take these ideas and turn them into better content than your competitors have created, and watch your traffic skyrocket. Go for those search terms that you see within striking distance of page 1 rankings, usually, those ranked 11 to 20.
Brainstorming
You don't always need to use tools to come up with great ideas for your content. One effective way to ideate is to run one or more brainstorming sessions with your team.
But the standard approach that most people use by default was a group of people sit around a whiteboard sharing ideas – this rarely works. It is ineffective, and you can do better.
This guide to brainstorming recommends nine different techniques that you can use to come up with better content ideas, as well as offering a really simple comparison on solo vs. group ideation: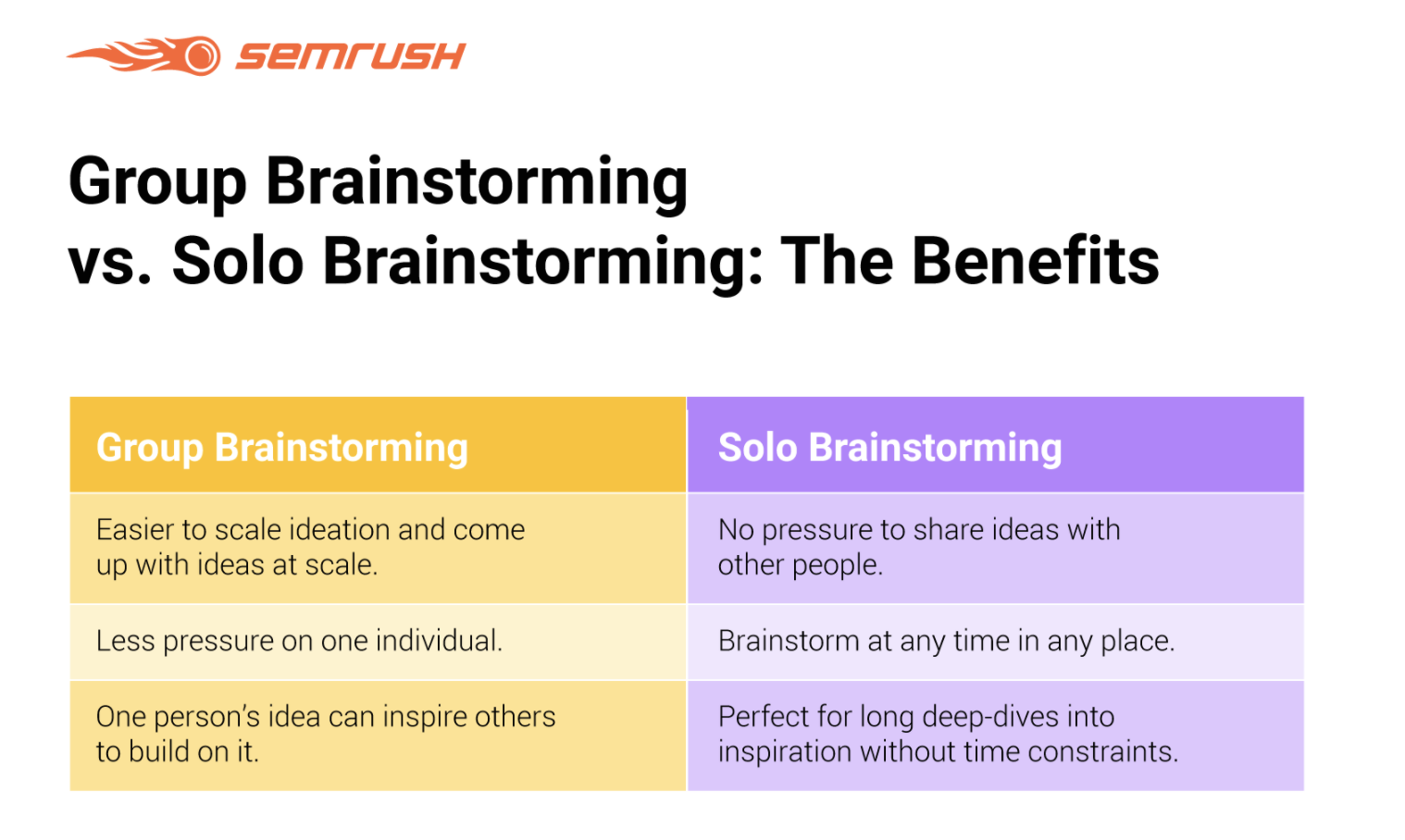 Planning Best-in-Class Content
Coming up with a great idea for a piece of content s great, but if you are not executing on that idea in the right way, you are not going to see the success that you are hoping for.
If success is what you want, you need to take the time to plan your content in detail.
Successful content creation isn't about jumping straight from an idea to execution, not at all. And by putting in the time to properly plan what your end result should look like, you can ultimately set yourself up to achieve your goals.
Building Out a Content Framework and Brief
Did you know the same person who plans content might not always be the person who creates the content?
Sure, for smaller businesses and freelancers, it is likely that one person will take the role of both strategist and creator, but for larger businesses or agencies, there is a real good chance that there are multiple people involved.
And this is why a solid plan can make all the difference.
What should a content plan include?
A content plan should act as a blueprint for the piece, essentially operating as a framework for a page of content that includes the headings and subheadings that should be used, alongside a target word count and a list of both the primary, secondary and related keywords that should be considered. It should also have references to high-ranking competitors so the writer can see who they are competing against. 
Note: Keyword stuffing is long-gone, and we are not going to tell you to include keywords a set number of times; it is not 2010. But you do need to keep keywords in mind and build content around these. Writing naturally should ensure you include keywords in a way that makes sense, without running the risk of over-optimization or creating content that doesn't read well.
Building a Content Plan
The SEMrush SEO Content Template is a tool that can help you build the foundations of a content plan in next to no time at all.
Enter your page's primary keyword(s) and hit 'create template.' The tool will then analyze your top-10-ranking rivals for each of your target keywords and present you with a template for building out content.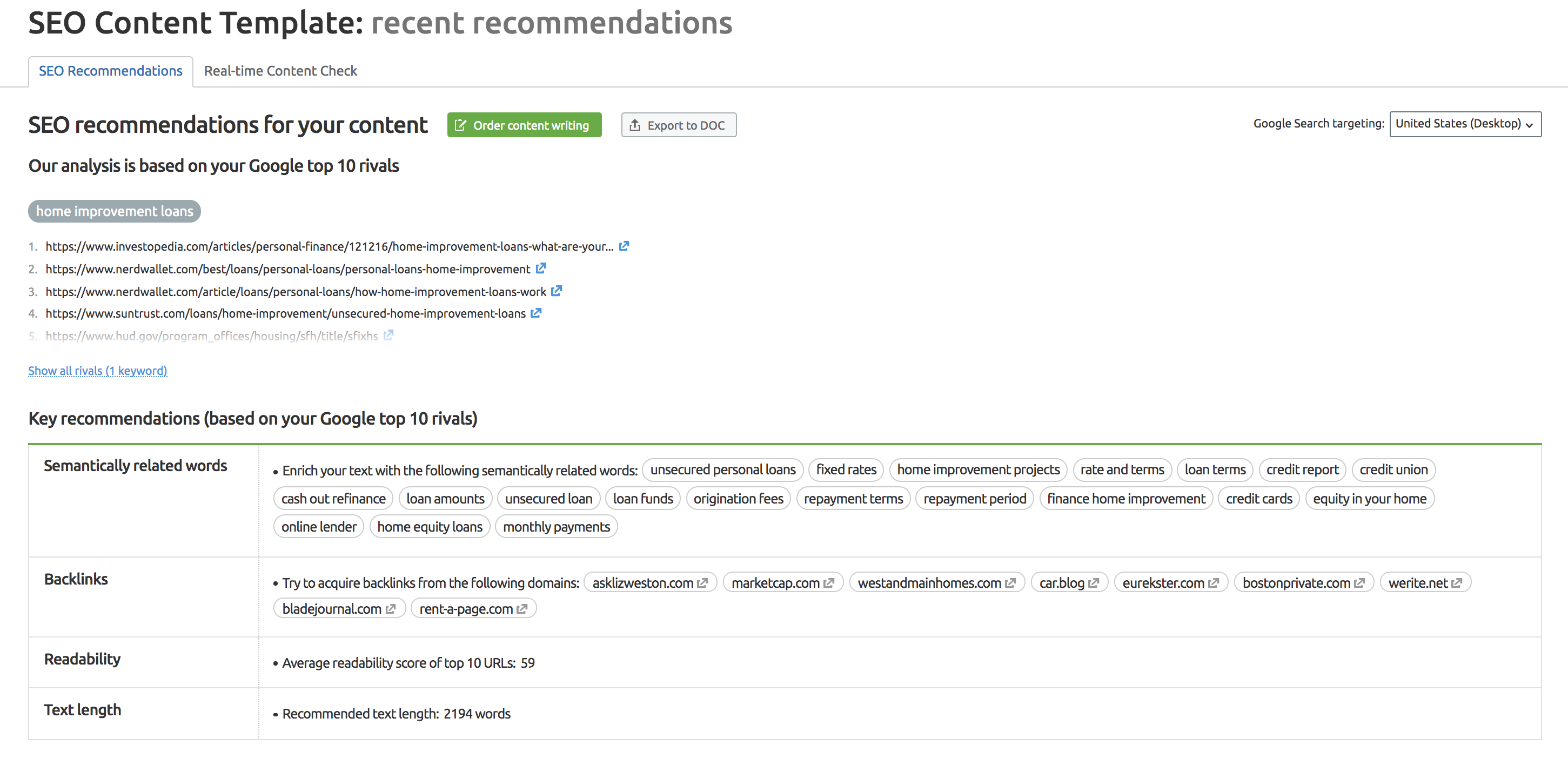 You will also see:
The top URLs that compete for your primary keyword
Semantically related words
Backlink targets
A Readability score target
The average recommended text length
An insight into how competitors use the keywords
Recommendations on page title, meta description, H1 tag, and text
From here, you can take these insights and combine them with your keyword research to build out a framework that can be used by a copywriter or content creator. 
The framework should include the main page or post title, information on the word count, semantically related words, and ideally, a recommended page structure that includes proposed headings. 
You are using the insights you have already gathered to build out a plan for the best piece of content on the web on the topic.
But you need to ensure you are creating content that has the right intent.
By this, we mean that you need to understand what the intent is of the content that ranks at the top of the SERPs and make sure you are considering this when producing your own content. 
Get the intent wrong, and you will struggle to rank.
You can learn more about how to do this in Anna Corbett's guide on How to Identify Intent in Search.
Creating Engaging Content
When it comes to creating engaging content, you need to make sure that you are creating the content that your audience wants to consume. While having a solid plan can really help you focus your efforts, you need to also create something exciting that stands out from the crowd.
All too often, marketers produce what has become known as 'copycat content', which is essentially just rewriting what already ranks on the search engines. Instead, you should understand what the top-performing content at the moment looks like, step back, and ask yourself how you can make it better.
And better doesn't always mean longer, as covered in the guide to the skyscraper technique.
But there are also a few golden rules of content creation that you should follow, almost regardless of however else you structure your page:
Be original. Don't ever be tempted to copy other people's content, and this also means rewriting the same post, too. Always think about how you can make your content different and better than what is already out there.
Be the best. You need to focus your efforts on creating the very best piece of content on the topic you are covering that exists online. Otherwise, why would your content outperform what already exists?
Focus on authority. Have you added expert insights into your content? Has it been written by someone who is an expert in their field? Creating content that is accurate and authoritative is a big part of E-A-T and YMYL, and you must consider this as part of your efforts.
Don't get hung up on word count alone. Yes, if the content that is ranking is all-around 2,000 words, you are unlikely to rank with a 300-word post. But creating better content doesn't just mean going longer. Think about how you can truly add value, and remember search intent.
Keyword stuffing is a thing of the past. Focus on writing natural content that covers a topic in-depth, and you will find you include the right keywords simply by covering the topic well.
Our ultimate guide to SEO copywriting is a great read to help you create better content. 
Content Beyond Words
Great content doesn't just mean words on a page —far from it.
While creating your content, you should take the time to think about how you can enhance your reader's experience with videos, images, and other assets that bring your pages to life.
Think about how you can keep people on your page for longer and keep them reading — understanding that no one wants to consume content that is nothing but a big block of words. 
However, you don't always need to reach for expensive assets to enhance your content. Sometimes, just thinking about how you use what you have to create a flowing layout can work wonders. Check out this list of free and affordable tools for image and video creation. 
Here is an example of how we broke up text using bullets and infographics in this recent voice study.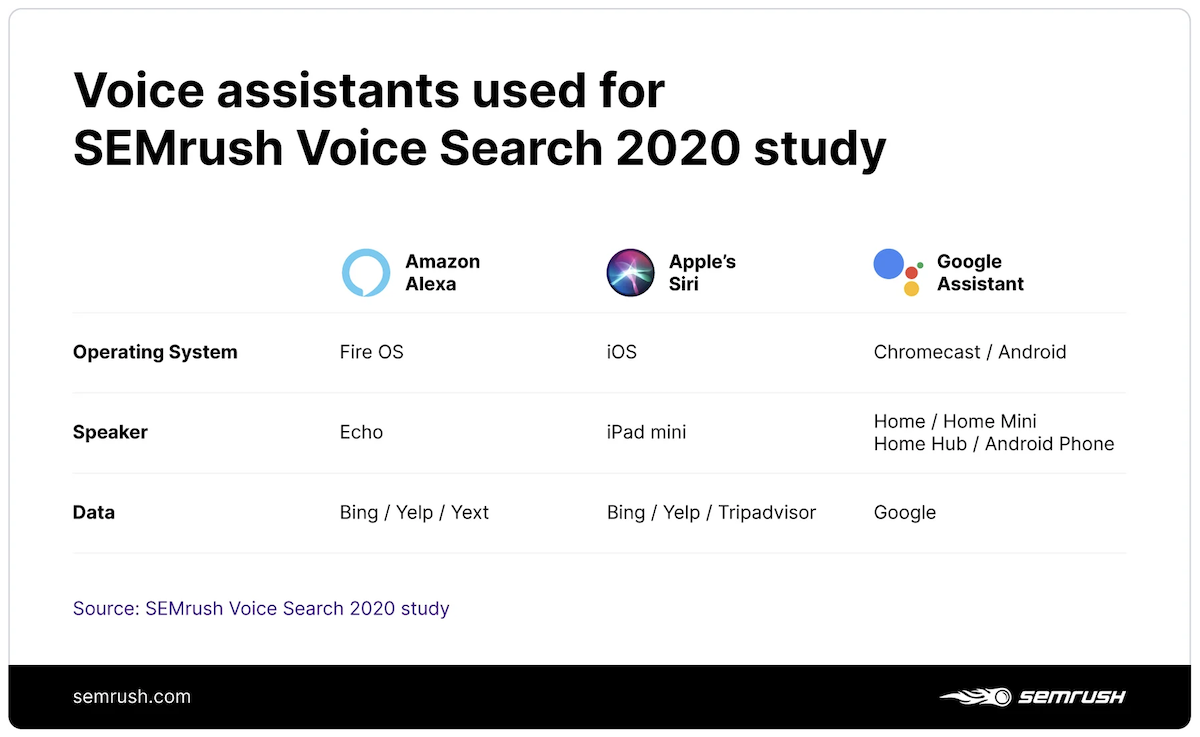 Optimizing and Improving Your Content
There is a common misconception that your work is done once you have hit publish on a piece of content. But that couldn't be further from the truth.
In fact, once you have published your content, you need to be sure to set aside the time (once it is indexed and ranking) to analyze the data you have available and make improvements and optimizations to make it work even harder. 
And even if your content's purpose isn't to rank, it is important to analyze your page's conversion rate and consider ways to add in additional CTAs to improve this.
But going back to optimizing content after it has been published, you can run your page's URL through the organic research tool and click on the positions tab.
Here you will see a list of search queries that the page ranks for on Google, alongside the corresponding ranking position.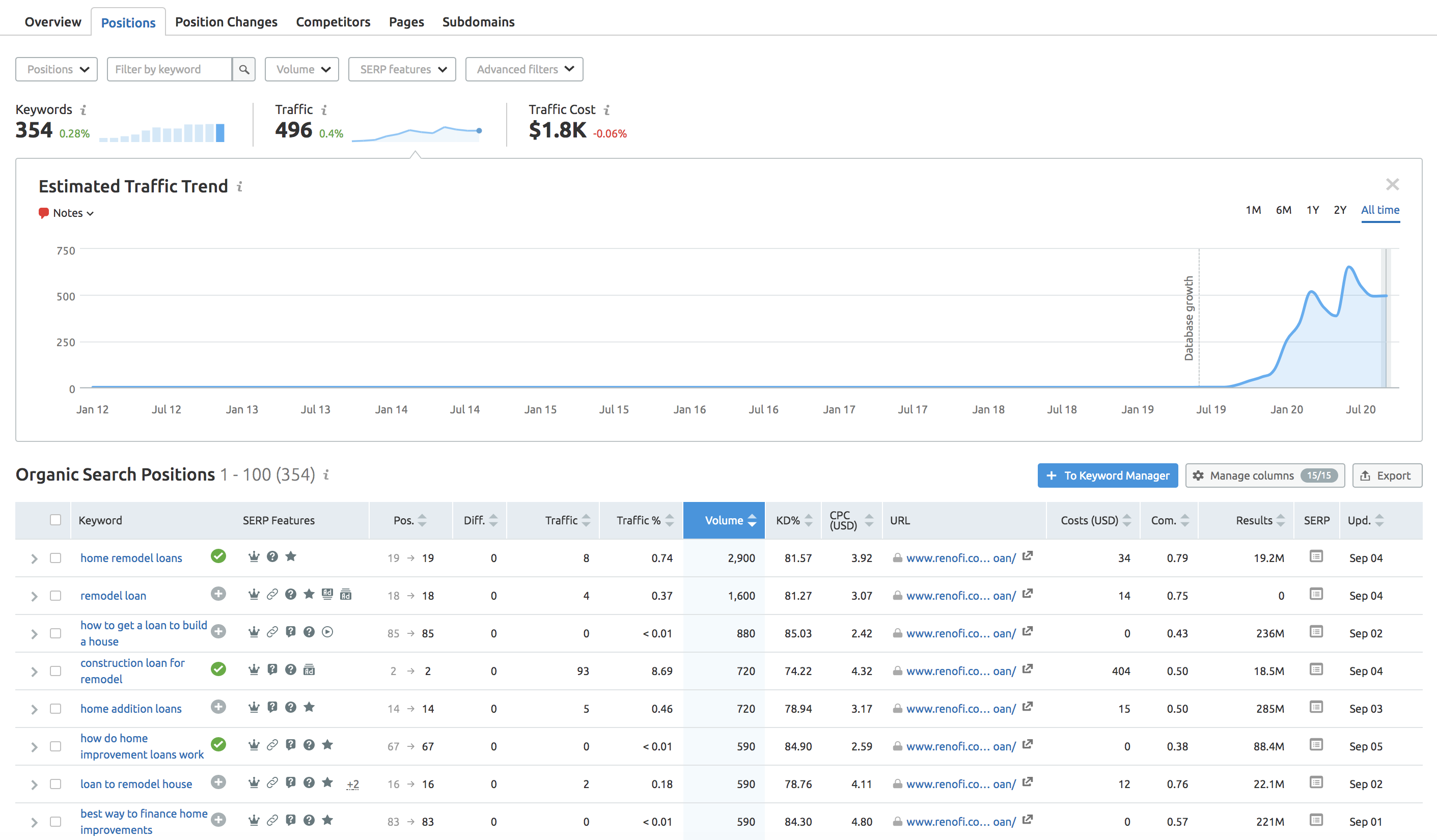 You should look for keywords that don't rank in the top few spots, but that are relevant to your page.
These are the terms that you can usually make a page rank for, simply by adding new content (or improving what is already there) that is related to the term.
The quickest-win opportunities here are usually those terms that rank between positions #5 and #20. 
You should regularly be looking for ways to improve every piece of content that you create, and this exercise is one that almost always pays off. It is also a really resource-light way to see some great results.
A Note on Content Promotion
Creating great content on its own is rarely enough. And once you have hit publish, you need to be ready to execute a solid content promotion strategy.
Very few content creators are lucky enough to find that everyone flocks to their latest piece as soon as they publish it. Some common methods of promotion and distribution that can help your content include:
Sharing on social media.
Sending to your email newsletter.
Promoting using paid advertising.
Using email outreach to share with other people who can amplify it.
And while we are not going to dive deep into content promotion in this guide, you need to understand why it has a critical role in helping you meet your goals. 
This video by Ross Tavendale is a great watch that can help you understand how you can take a 'create once, publish everywhere' approach to your content:
And this recap from a recent #SEMrushchat on Twitter shares some awesome content promotion hacks that you should try out.
Measuring Performance and Analyzing Success
After you have published your content, you need to make sure you regularly measure its performance to understand how it stacks up against what your original expectations were.
At the very least, depending on the goals you set, you should be analyzing your content on factors including:
Organic sessions
Search rankings
Earned links
Social shares
Conversions
These are typically metrics that matter to pretty much any business, but it is usual that you will also have more bespoke metrics that you want to measure and report on.
Check out Content Marketing ROI: How to Measure Your Success
---
Creating awesome content is one of the most effective ways to grow your business, and of those who use content marketing as a tactic; 72% say that this increases engagement and has increased the number of leads they get.
You can't ignore the power of great content, but the problem with great content is that it is not easy to create.
Understand the process, know what you are benchmarking against, and take your time to create the best piece of content on the web — then you will see the success you are looking to achieve.