Using the right tools can make content creation so much easier and more successful.
And while you can't replace a solid content marketing strategy with tools, using the right ones can help speed up parts of the process, gain insights that you otherwise wouldn't have, and help you create better-performing content.
But where do you start?
What are the best content creation tools and resources you should use to help you create better content? Or, at least, which should you be checking out that you have not already used?
We have rounded up what we believe to be the most useful and valuable tools and resources to help you choose the right one to take your content to the next level.
Specifically, in this guide, we will share the best tools and resources, including:
Use this list to find a new tool to try or a resource to check out the next time you create content and improve your marketing efforts.
Content Research and Planning Tools
Coming up with ideas and inspiration for your content is one of the most difficult parts of the process, yet one of the most important.
Creating content without a solid plan makes it harder to focus your efforts and drive success, but there are a whole host of tools that are perfectly suited to helping plan and research your content.
SEMrush Topic Research Tool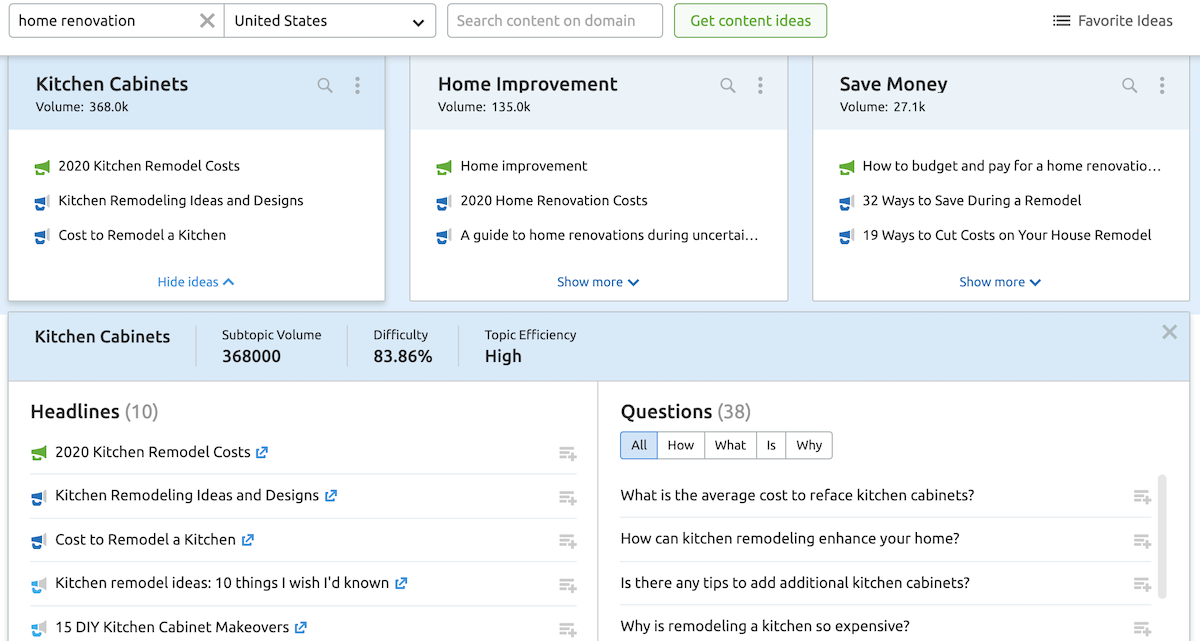 Topic research is one of the most effective ways to quickly come up with ideas to explore further and to inspire your content plan. The SEMrush topic research tool makes it a quick and easy process to come up with a whole host of potential ideas around your core topic in just minutes.
Just enter a subtopic and see related articles and questions being asked in real-time. 
Cost: From $99.95 per month (but this includes an entire sweet of content, SEO, PPC, and social media tools)
SEMrush Marketing Calendar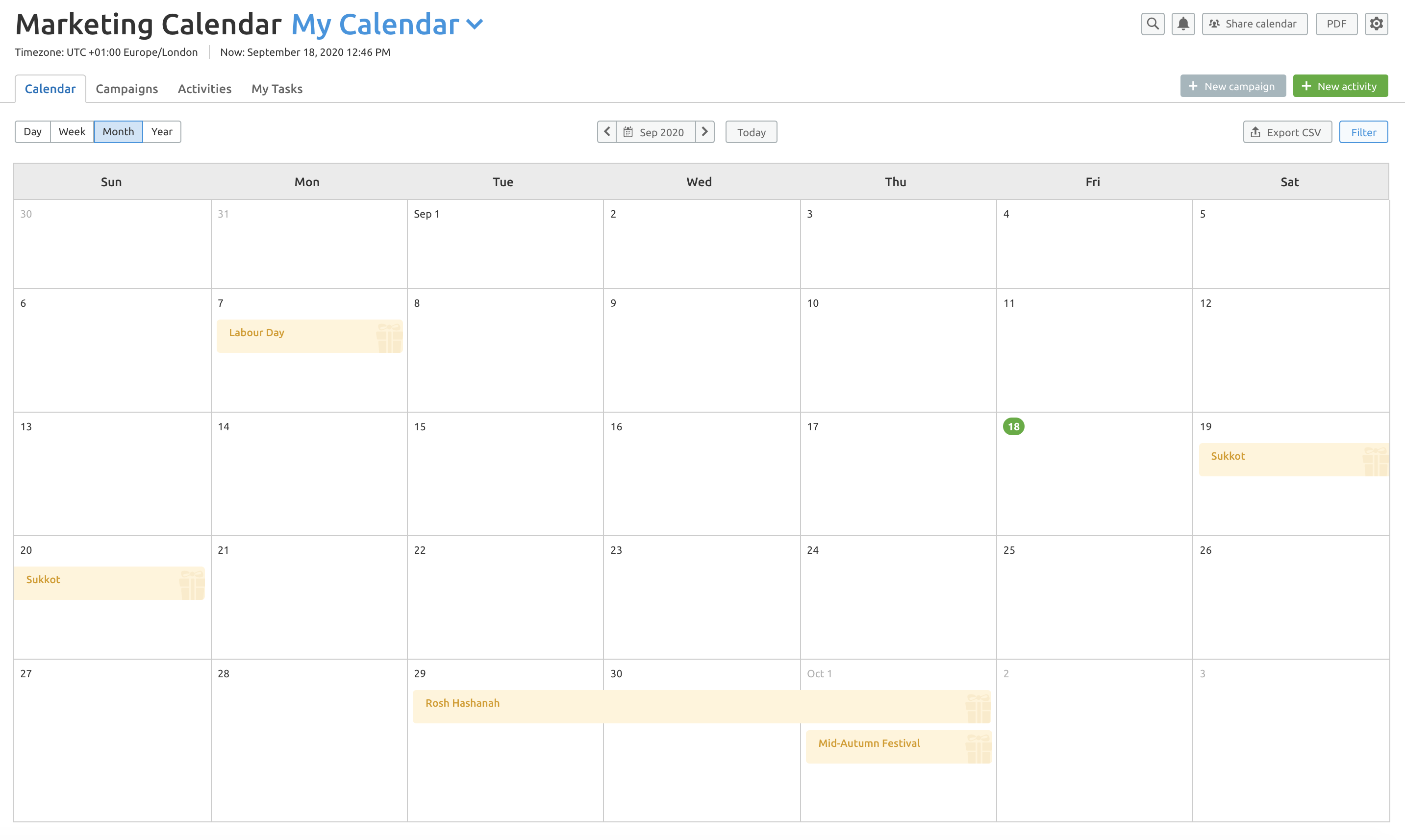 Once you have identified the content that you want to create, you need to map out a solid editorial calendar and stick to it.
Planning a content strategy around a calendar will help you be accountable and take the steps needed to regularly drive growth. It is a great way to motivate you to keep on top of a regular publishing schedule, and the SEMrush Marketing Calendar is the perfect tool to help you to do this.
Cost: From $99.95 per month 
SparkToro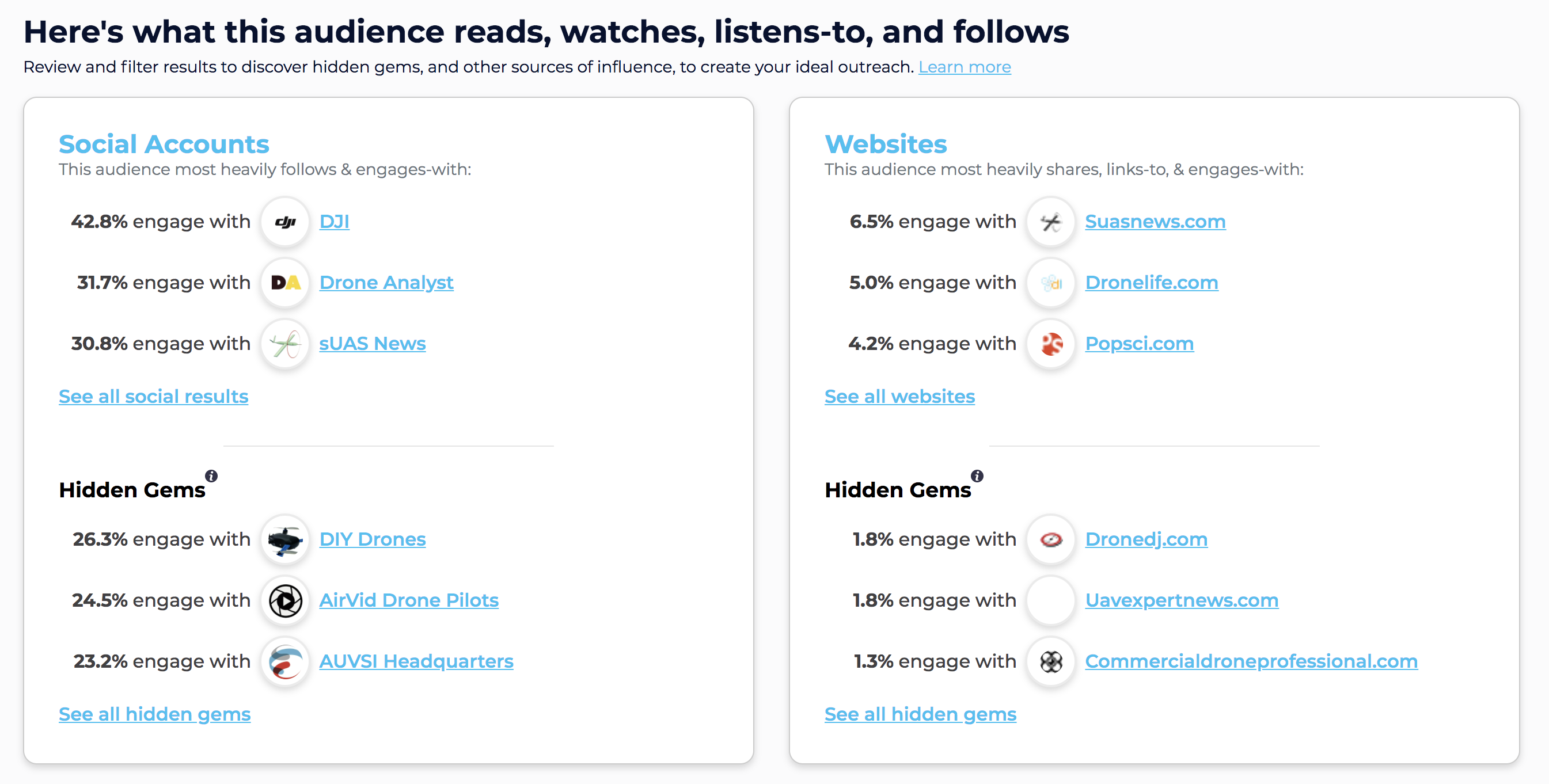 SparkToro positions itself as a way to "Instantly discover what your audience reads, watches, listens to, and follows." When it comes to planning your content strategy, it is absolutely imperative that you know who you are targeting and what their interests are.
The more you can create your content around your target market's needs and wants, the better success you will enjoy, and this tool crawls tens of millions of social and web profiles to share the insights you need on your audience.
Cost: From FREE for 10 searches per month to $225 per month for 500 searches
Google Trends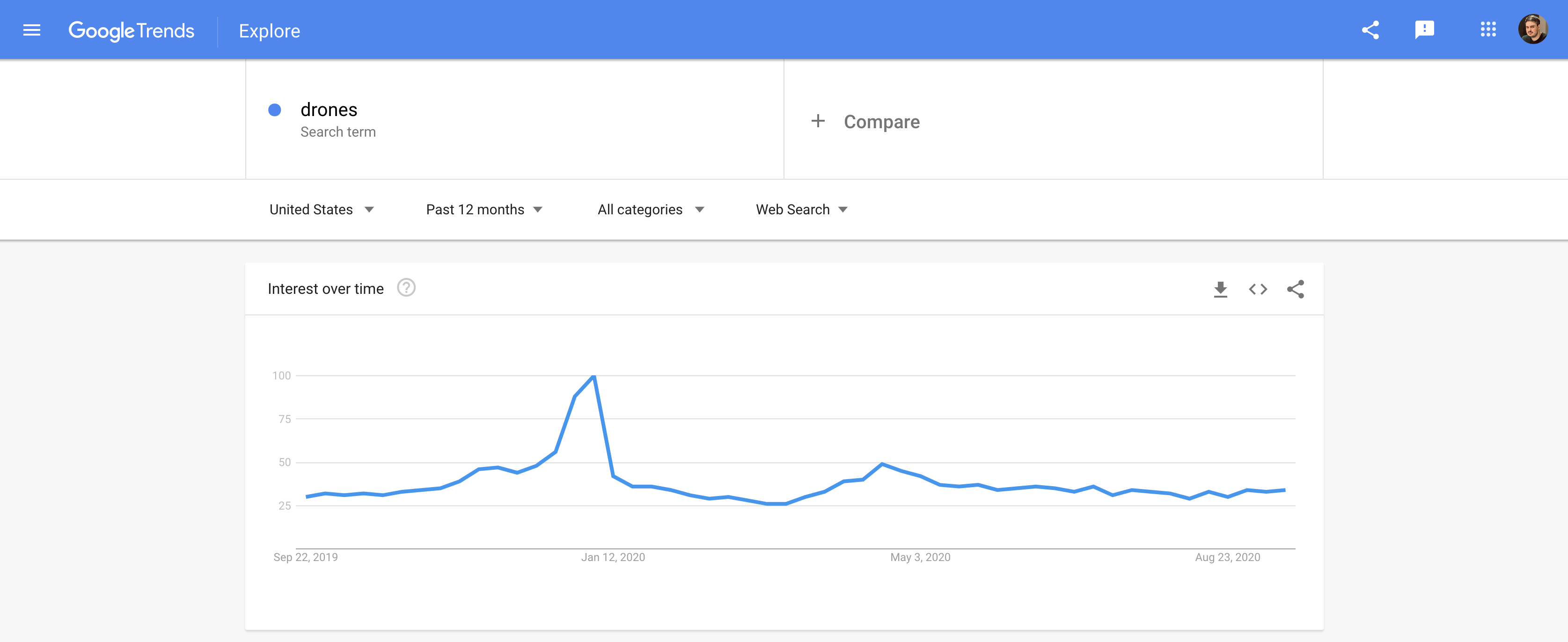 Google Trends can help you to understand the popularity of a search term or topic amongst Google searchers (which, let's face it, is the majority of web users).
Enter a query and see how interest has trended over time and use this insight to create content around topics that are quickly gaining traction (gaining a competitive advantage by being the first to jump on a trend) or, similarly, identify those that are likely losing interest. 
Cost: FREE
AlsoAsked.com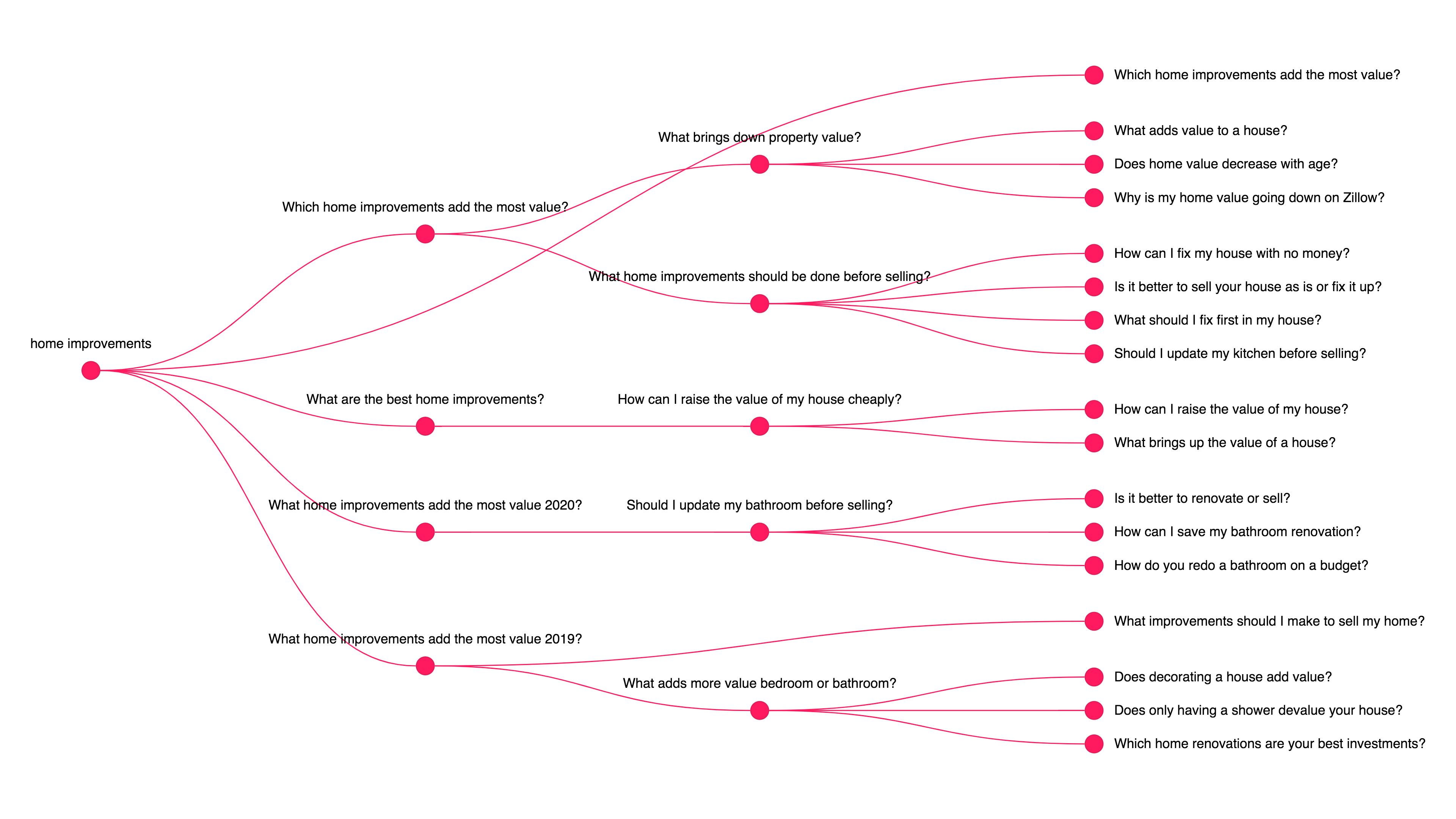 Google is regularly referred to as an answer engine, and this means that we need to be considering the questions that are being asked by searchers.
And one of the most effective tools that you can use to help you to find the questions that you need to be optimizing your website for is AlsoAsked.com, a free tool that returns the "People Also Asked" data, giving you an insight into longtail searches and, importantly, defines the relationship between topics and questions.
Cost: FREE
Answer the Public

As we have already discussed, you should be optimizing for questions as part of your SEO strategy, and the more insight you have access to, the better responses you can give to the different questions that are being asked.
While AlsoAsked.com shows results from PAA, Answer the Public returns results from Suggest data, showing combinations of auto-complete searches. 
Use the two tools together to supercharge your insights and research.
Cost: FREE
Written Content Creation Tools
When we think about content creation, we almost always jump straight to thinking and talking about written content. And while other formats are, of course, an impactful way to use content to drive marketing results, written content remains the default format for many businesses.
And, with that in mind, we have compiled a round-up of the tools you need to know.
SEMrush SEO Content Template
If you are creating content to help you rank on the SERPs, you shouldn't be writing blind. You need to know what is helping the top results to rank and take this into consideration when creating your own content. 
The SEMrush content template can help you analyze the content that is ranking top for your target keywords and help you understand what you need to include in your own pages to compete. 
Cost: From $99.95 per month 
Grammarly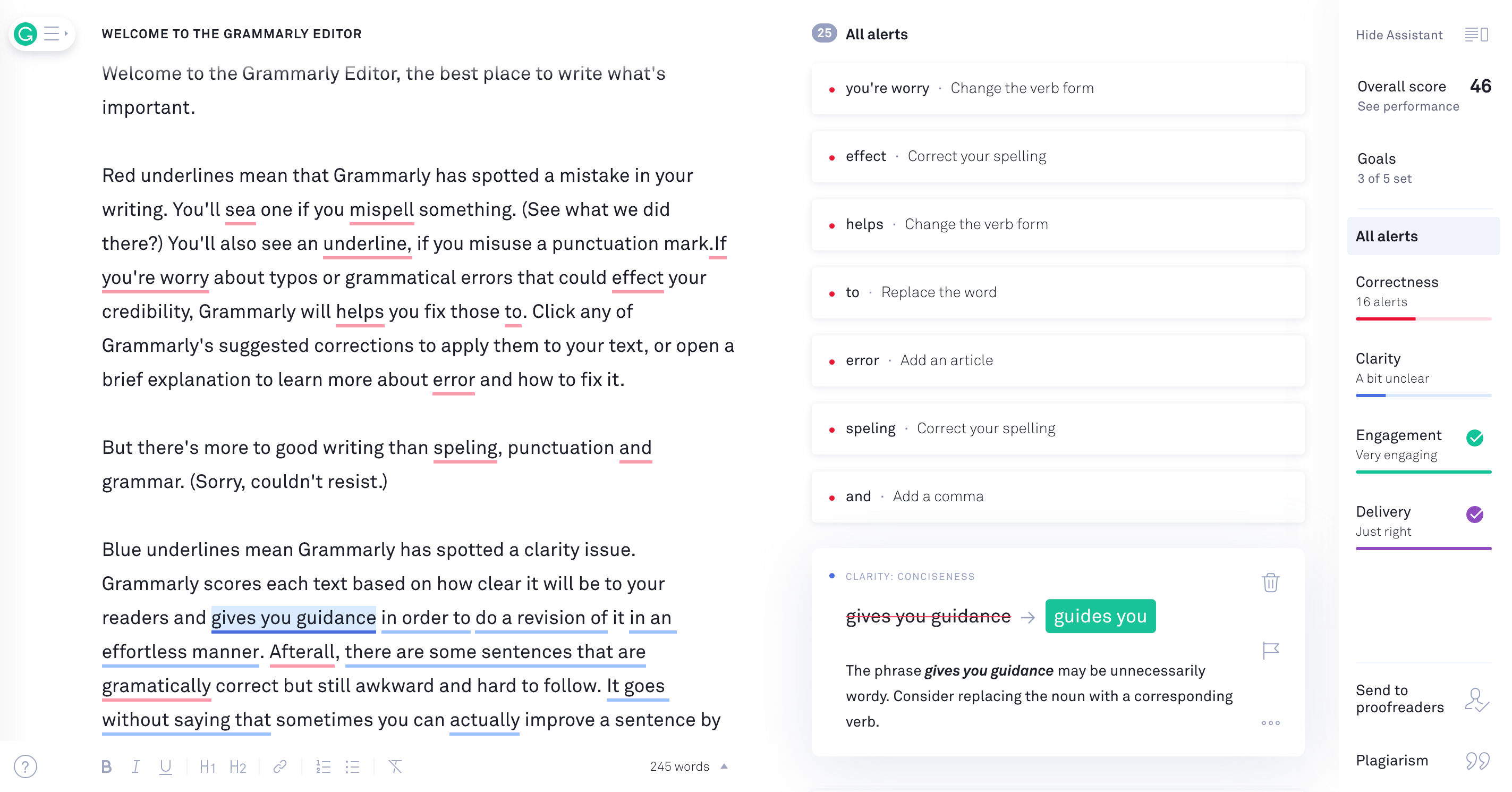 It might sound simple but creating mistake-free content is harder than it sounds. 
Grammarly can help you check for spelling and grammatical errors in your content while writing, as well as helping you to focus the tone of your content and check for plagiarism. The browser add on also makes sure you avoid typos in social shares.
Think of it as your helping hand to make sure your content reads well and is free from errors. 
Cost: Free version and Premium $139.95 a year
Hemingway App
In their own words, "Hemingway App makes your writing bold and clear" and helps you make your content more readable and also shorten sentences.
Run your written copy through the web app, and in seconds you will see the opportunities to make it better for your readers. 
Cost: FREE
CoSchedule's Headline Analyzer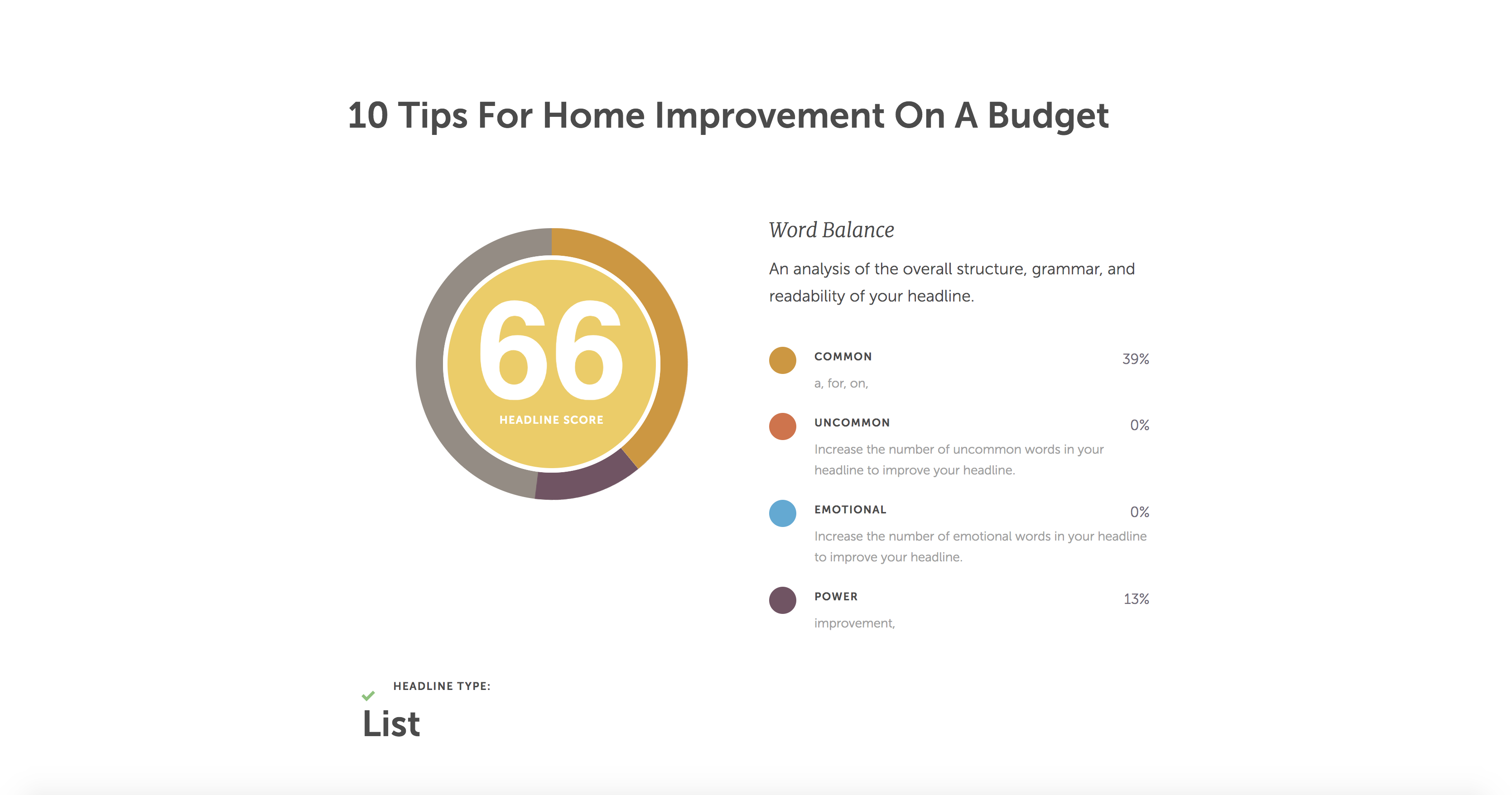 Write better headlines, and your content will almost certainly perform better, and CoSchedule's Headline Analyzer can help you analyze your headlines to increase your CTR in a matter of minutes.
It is recommended that you run all of your content's headlines through the tool and take action on the recommendations and analysis that you are supplied with, taking steps to focus on writing better headlines. 
Cost: FREE
Visual Content Creation Tools
Including visuals in your content can help to make it easier to read and, ultimately, more engaging for your readers.
But creating visual content is also one of the biggest challenges that many marketers face, especially if they don't have access to a professional designer. 
Canva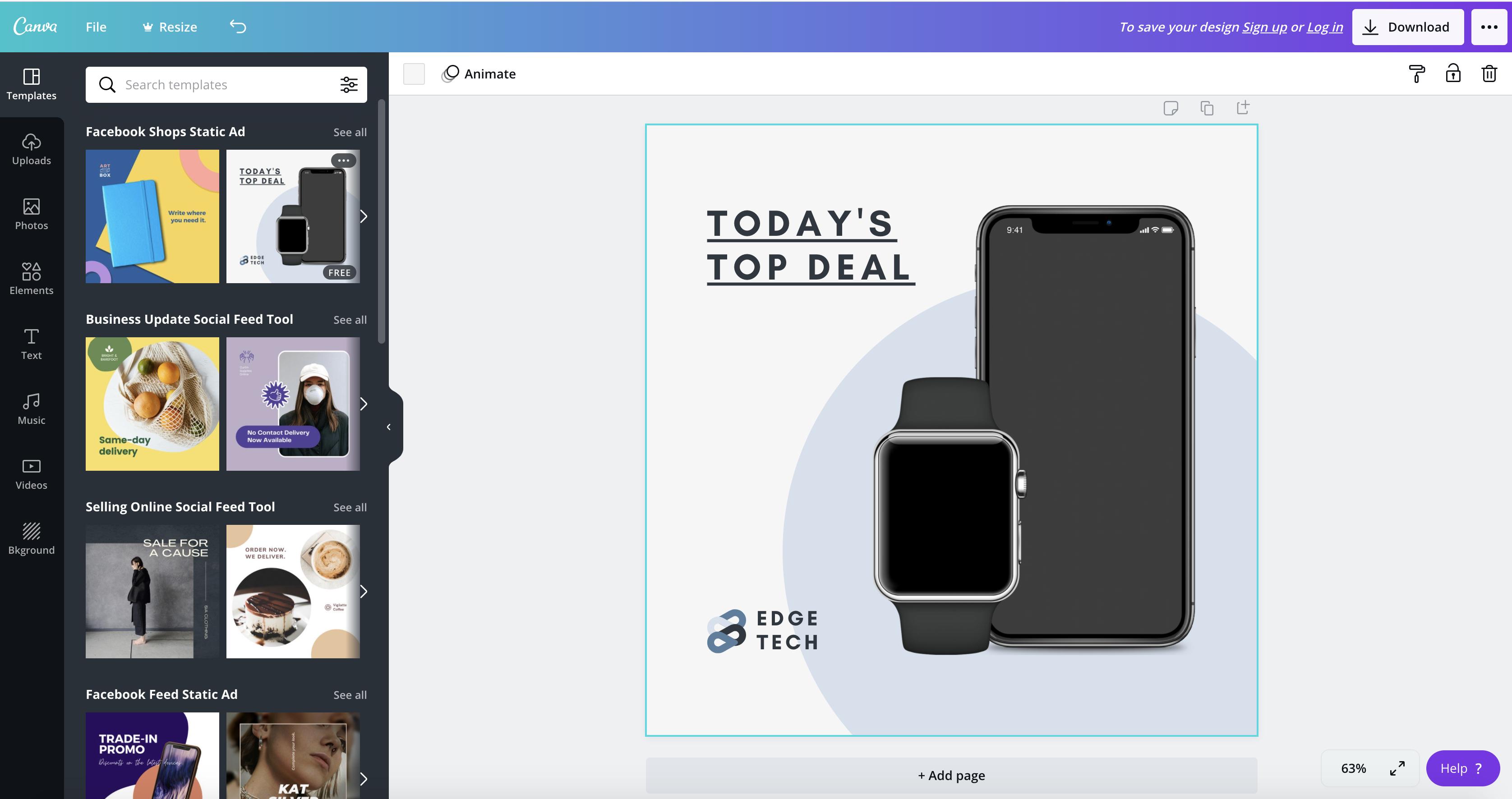 Canva is, without a doubt, one of the most popular design platforms out there and a tool that even the world's least creative people could use to create stunning visuals across a range of formats.
From social graphics and blog images to infographics and more, if you need to create simple and effective visuals without a designer, you'll love Canva.
Cost: FREE and Paid Plans
Remove.bg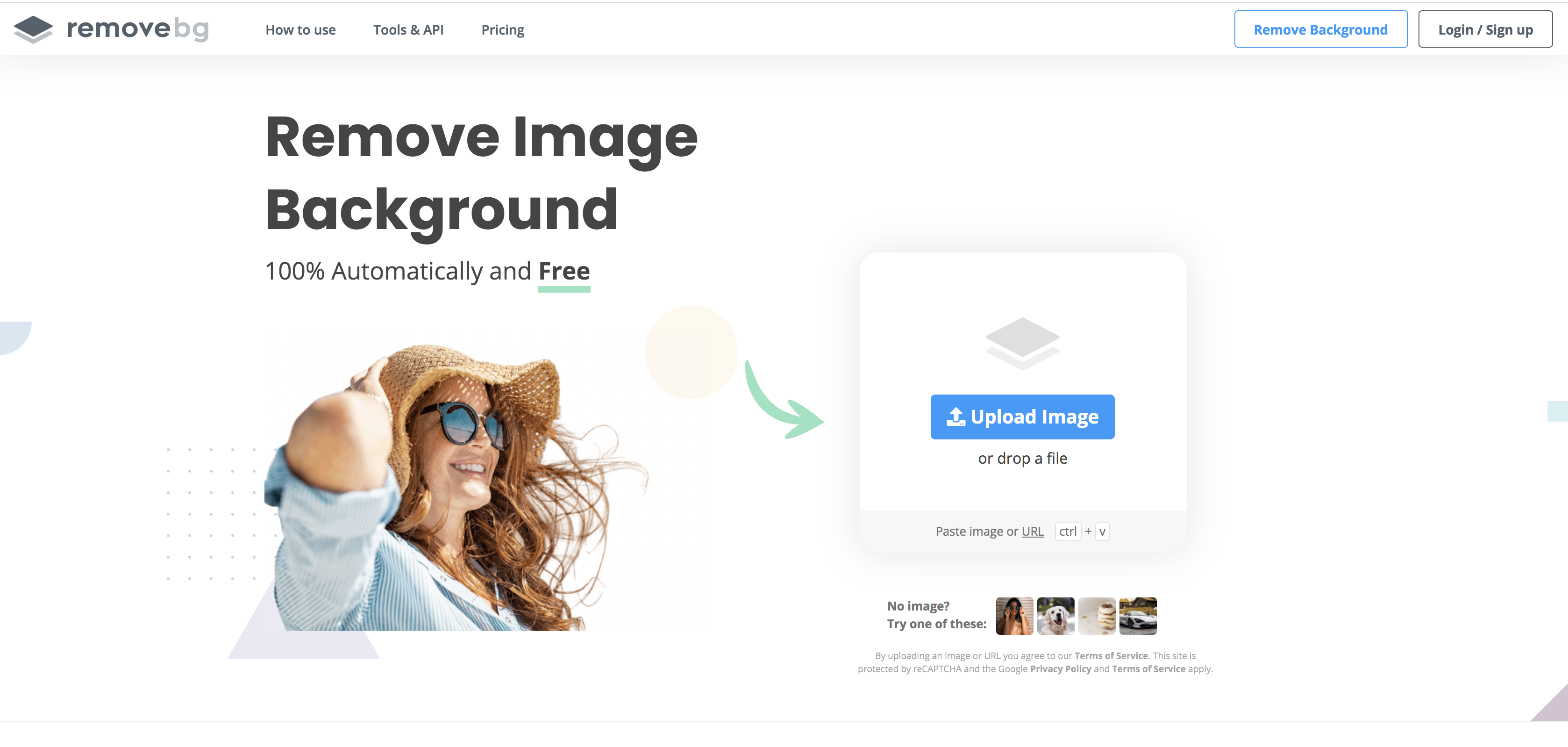 Ask a graphic designer to remove a background from an image using Photoshop, and it will likely take hours using the lasso tool. 
Use Remove.bg and you will be able to remove backgrounds using AI in a matter of seconds.
It's as simple as that and can save you hours when cutting out images to use in your visuals.
Cost: FREE and Paid Plans
Piktochart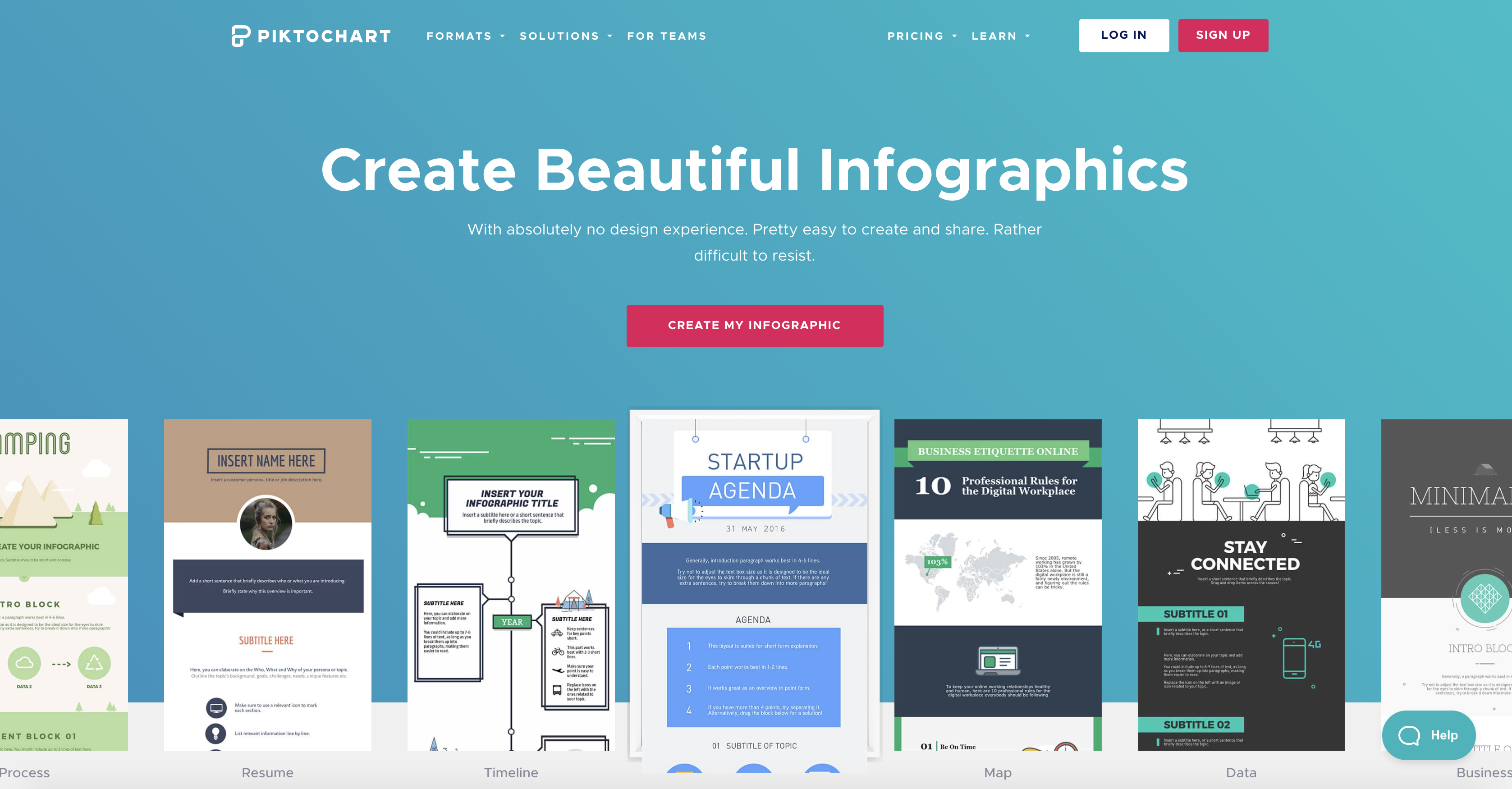 Infographics remain a popular way to visualize data and to use as part of your link building strategy (assuming, of course, that the data that you are visualizing tells a great story), but without access to a graphic designer, it is not always easy to design a visually appealing graphic.
And that's where Piktochart comes in.
The tool is perfect for people with no design skills to create beautiful infographics that look professional and help elevate your business's content. 
Cost: FREE and Paid Versions
Giphy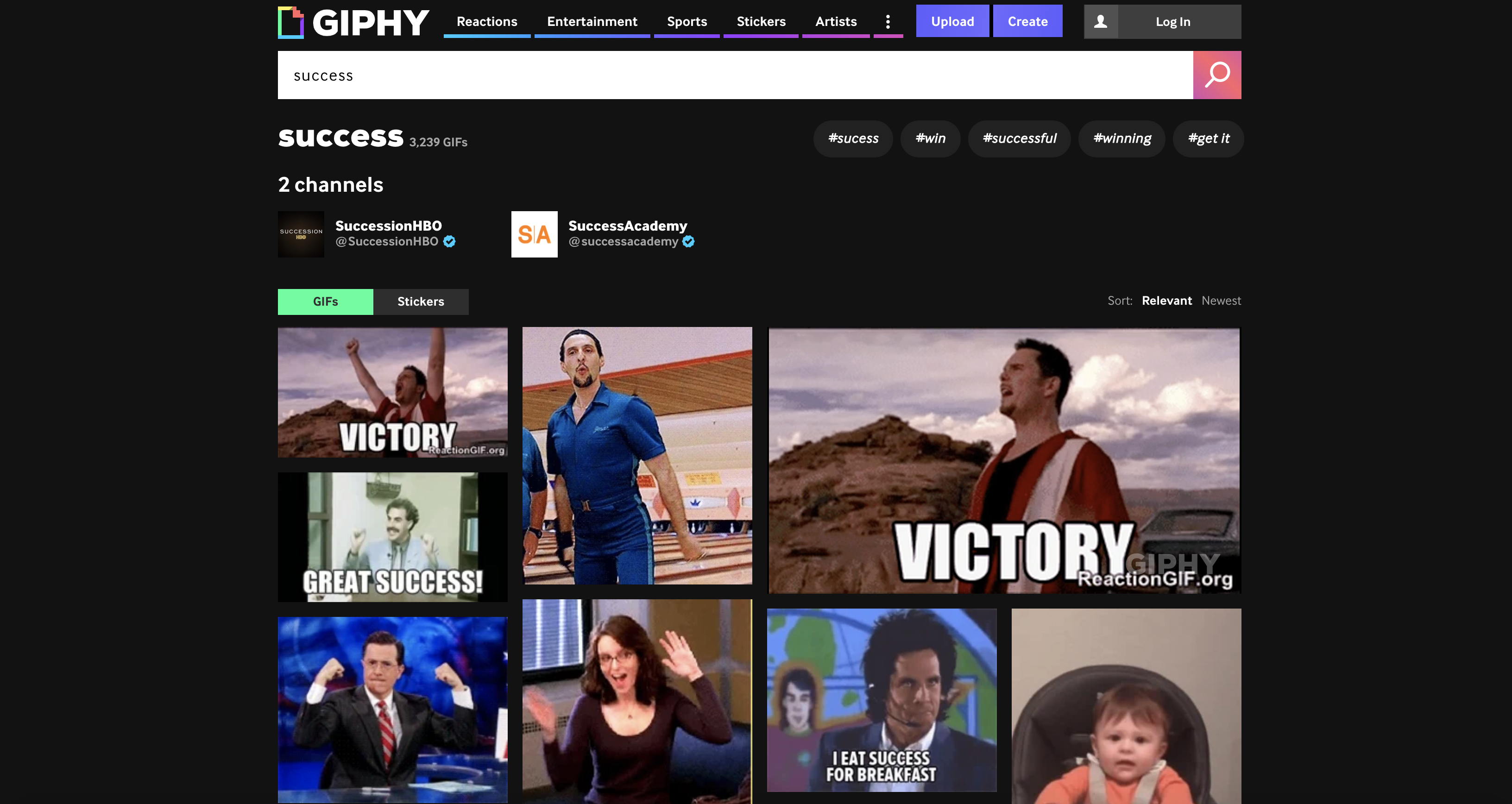 Over the last few years, GIFs have found their way into pretty much every brand's marketing in one way or another, but the reality is that you don't always need to be creating your own for them to be effective.
Whether you're looking for one to sit alongside your latest social post or to use in a blog, GIPHY's collections of thousands and thousands of GIFS is certain to have something suitable.
Cost: FREE and Paid Plans
Nimbus Screenshot and Screen Video Recording Chrome Extension
Screenshots and screen recordings are the perfect way to help your audience understand what you are trying to show them in "how-to guides" and the like.
But capturing these, especially if you don't want to have to edit them before using in your content, isn't always the easiest thing to do.
We love the Nimbus Chrome extension to capture both screenshots and recordings without hassle, and we are pretty sure you will grow to love it, too! 
Cost: FREE
Unsplash
Images and photos can really help to make your blog content more engaging, and the reality is that not every marketer has access to a team who can take custom photos. While some have the luxury of a stock photo library at their disposal, not everyone does.
When you need a license-free image to use in your content, Unsplash's library contains, as they claim, photos for everyone, something that we can confirm to be true! 
Cost: FREE
Podcasting Tools
Podcasting has absolutely surged in popularity over the last few years, especially amongst B2B marketers, and it's never been easier to create a DIY podcast and generate traction.
But having the right tools can really help you to maximize this channel. 
Audacity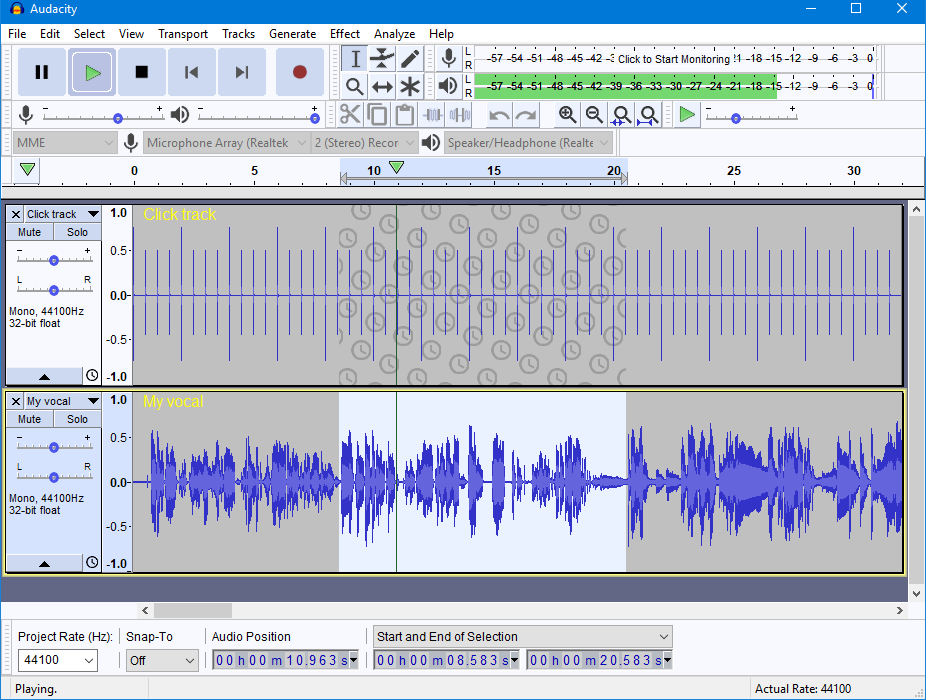 Ready to record your first podcast but not sure what tools you need to capture and edit your audio?
Audacity is an easy-to-use multitrack audio recording and editing platform that's far easier than it looks to get to grips with. 
In no time at all, you'll be ready to hit record on your first podcast episode, and with the right software at your disposal, you'll be able to edit out and little blips and background noises before exporting straight in your required format.
Cost: FREE
Alitu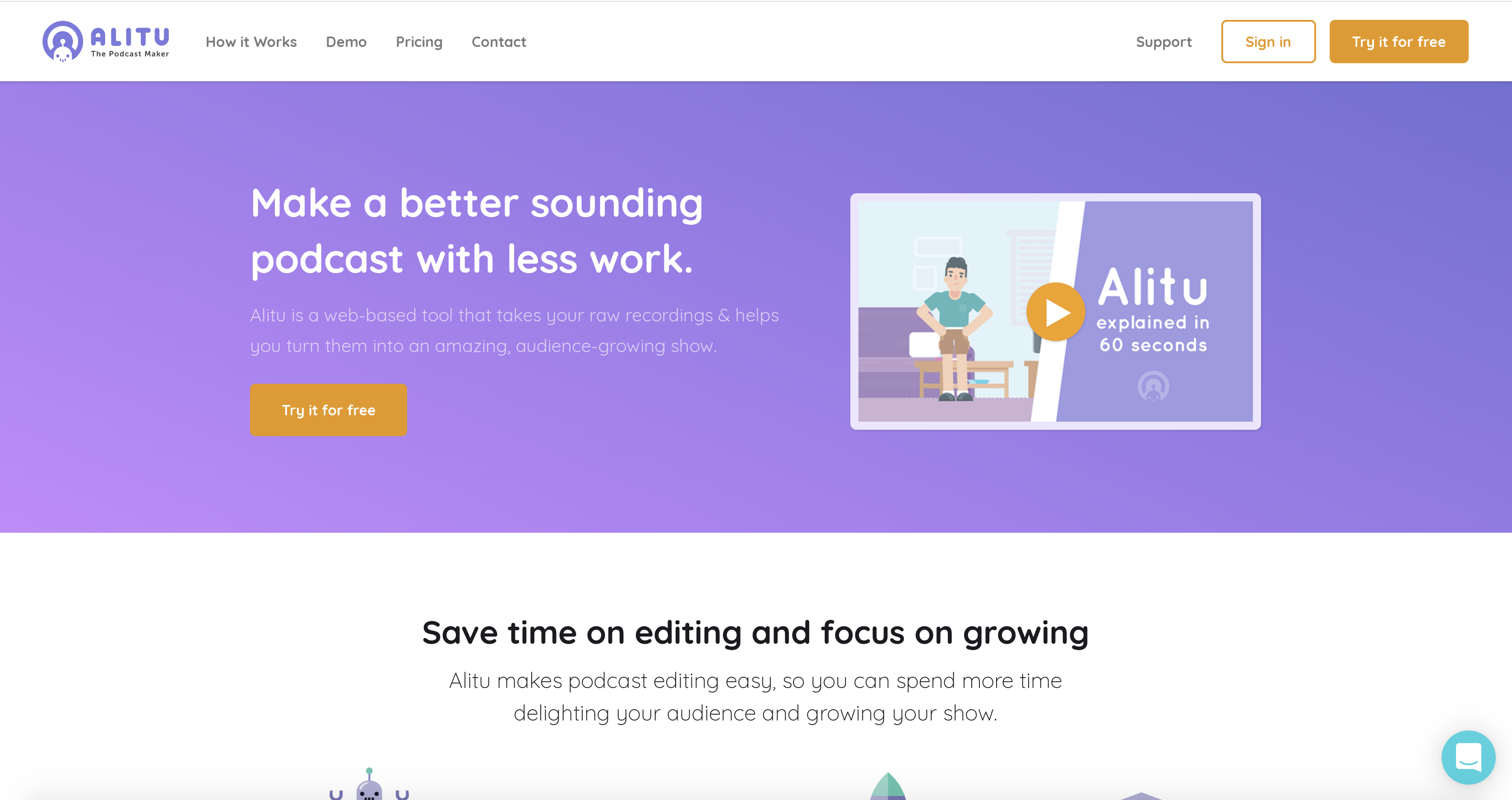 You will undoubtedly want to spend your time creating podcast content and promoting it, not on editing.
But there as a clear need for your podcast to be the very best quality and edited in a professional way. At the end of the day, your audience will be used to pristine quality 'casts and quite rightly so. 
You can use Alitu to make better sounding podcasts without needing audio editing skills and experience. Simply load in your raw recordings, and the tool will help you to do the rest. 
Cost: $28/month
Buzzsprout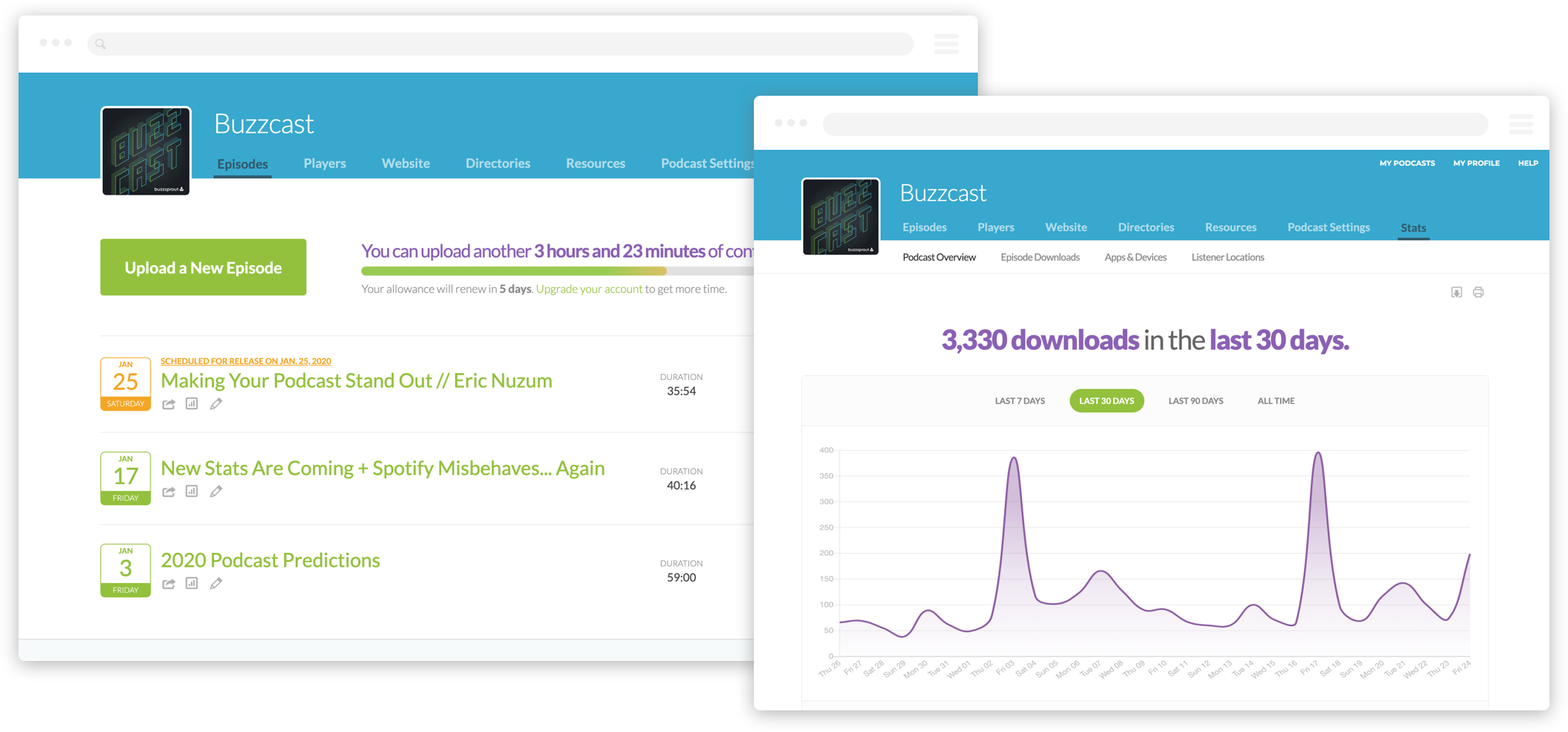 Once you have recorded your podcast, you need to host it somewhere. And Buzzsprout is a solid option to help you to manage and share your show with your listeners.
You will also gain insights into each episode's performance, as well as the devices that they are using and where about in the world they are located — data that can help you to tailor your show's content (and promotion strategy) to continue to grow. 
Cost: FREE and Paid Versions
Scribie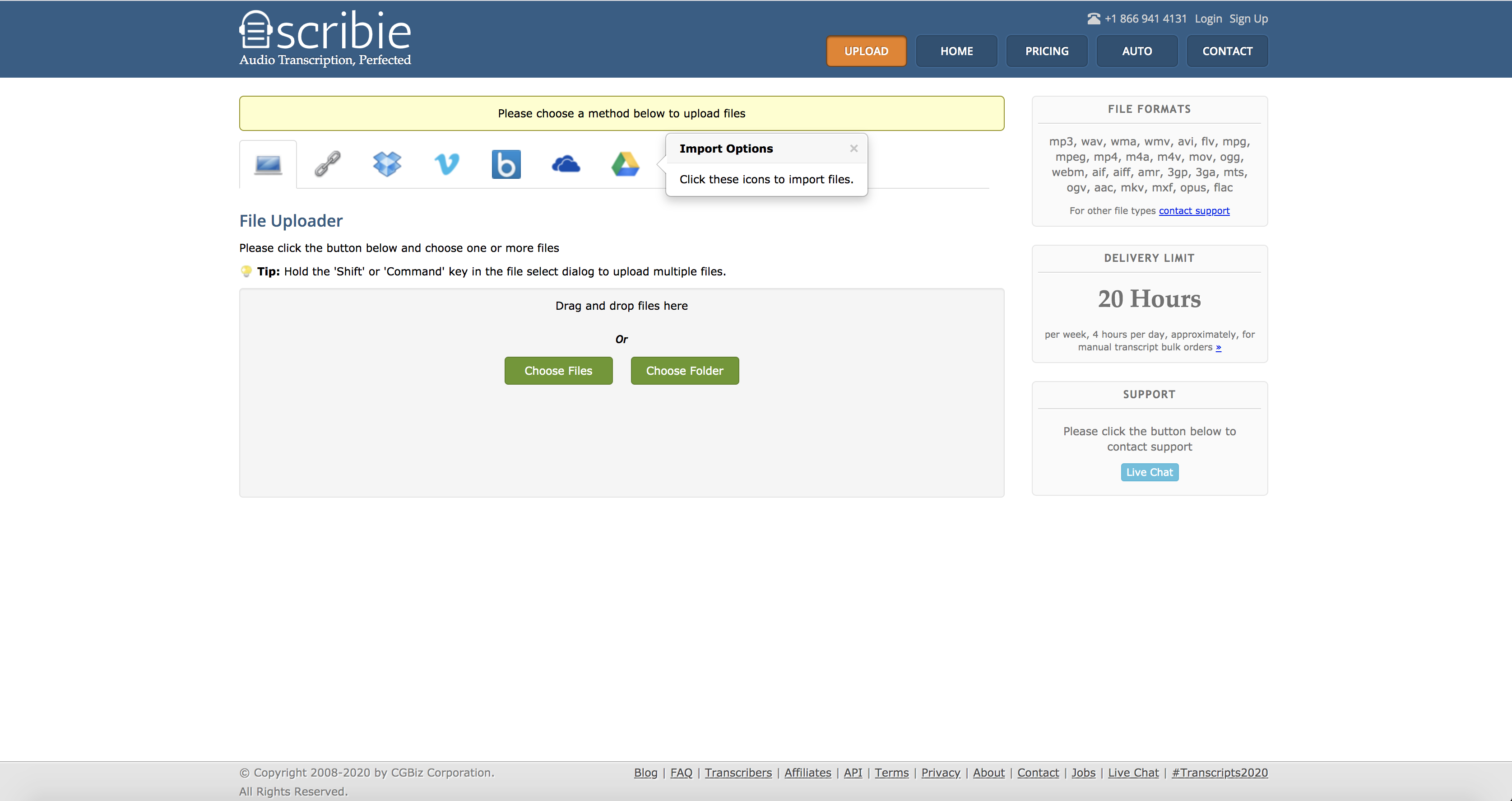 While podcasts are booming in popularity, they are not for everyone, and only creating an audio version of your content could mean that you are missing out on engagement from your audience.
And for that reason alone, it is recommended that you transcribe your podcast episodes and offer a text-alternative. But doing this yourself is time-consuming. 
Use Scribie as a cost-effective way to transcribe your podcasts quickly and efficiently, and spend your time creating content, leaving transcription to the pros. 
Cost: From $0.10/min
Video Content and Webinar Tools
Webinars are more popular than ever, especially in a time when in-person events are off-limits. They are an effective way to engage your audience, invite participation, and reach new prospects. 
And while a decent streaming session can't go amiss, you are going to need to find simple and cost-effective software that you can use to host your webinar on.
But let's not ignore other uses for video; understanding that it is still one of the more engaging formats of content that you can share on social platforms. The problem for many, however, is the investment needed to produce professional-quality video assets. 
Again, there are tools that can help, and here are our favorites:
Webinar Ninja
Touted as "The Best All-In-One Webinar Software," the reason why Webinar Ninja has become so popular is due to it's simplicity.
Want to launch your own webinar? You can literally be ready to go live in minutes, and the platform now powers millions of webinars from companies like Podio, Baremetrics, and AppSumo, so you are in good company.
But one of the main reasons why it comes recommended is the extensive template library that it comes with, helping you to launch professional-looking sign-up pages without needing a designer and developer's resources.
Cost: From $39 per month
Zoom Webinars
Find us someone who isn't familiar with Zoom by now. And while many of us have spent much of the last few months speaking with friends, family, and colleagues over the platform, there is no denying that it is one of the most popular options for hosting a webinar. 
This is partly due to its sudden familiarity amongst pretty much everyone's audience, but also the fact that it has a solid offering that comes with a cost-effective price tag.
Cost: From $40 per month, per license 
Streamyard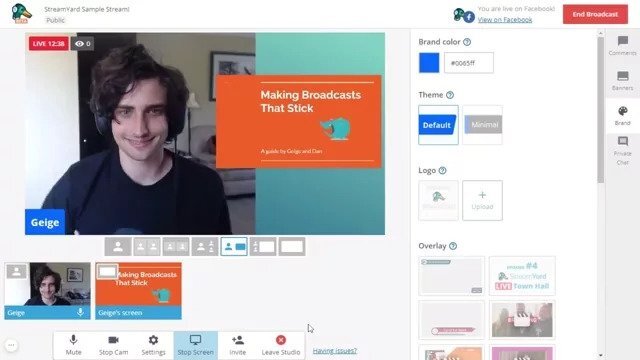 While we have all recently come to love webinars, there has also been a huge surge in interest in live streams, and Streamyard is perhaps the top tool that is out there to help you to go live across Facebook, YouTube, LinkedIn, and other platforms.
Keep your audience engaged across any of the platforms that they follow you on, and benefit from a simple and straightforward solution that doesn't need a complex tech set up for you to stream. 
Cost: FREE and Paid Plans
Biteable
The one problem that most marketers have with video content is the resources that are needed to produce something that looks professional, and that stands out. It is a format that an increasing number of us want to use but aren't able to due to a lack of available resources. 
And this means we are missing out on the engagement that it can bring.
But Biteable is one solid solution to help you to overcome this problem, providing you with a huge amount of templates that you can use to create powerful videos with, just like companies such as Airbus, Panasonic, and Virgin. In fact, it has now been used by more than 7 million people. 
Cost: FREE and Paid Plans
Animoto
If you are looking for an easy-to-use drag-and-drop video maker, you could do far worse than check out Animoto.
Start with one of the many available templates or upload your own photos and videos, and you will have an awesome video asset in no time at all, all without the help of a videographer or editor. 
Cost: FREE and Paid Plans
Content Creation Resources
It is one thing to share our favorite tools and software platforms, but one of the most important things to do as a content marketer is to set aside time to continue to learn new skills and to develop your abilities to create content that performs.
And while there are hundreds of fantastic resources that exist to help you to improve your content marketing skills, there are a few that stand out way above the rest, and we have rounded them up below.
This is by no means is meant as a comprehensive list, but a great starting point of must-check-out resources that we think you (and your team) will love and can learn an awful lot from.
---
While tools won't ever replace content creation skills, they can certainly help you to take your content to the next level, gain the insights you need to plan better pieces, create better visuals or try out new formats.
The best strategies balance different types of content with a multitude of promotion and distribution tactics, and knowing the right tools and resources that you can use to create user-focused content that drives success is the first step to giving yourself a competitive advantage.
This list could have consisted of hundreds of tools and resources, but those above are ones that we love and can recommend as ones to check out if you're not already familiar with them.
Think we have missed an awesome tool or resource out? Leave a comment and let us know.