Google Ads can be one of the most efficient ways to attract relevant customers to your business. As is the case with many marketing pursuits, though, the question usually comes down to budget: can you afford Google Ads costs?
In this guide, I will run through the process of getting started with a Google Ads PPC campaign so you can boost your digital marketing efforts in a surprisingly cost-effective way. Here's what we'll cover:
Define Your Google Ads Goal
If you're an online eCommerce business, then your primary goal is to make sales, and grow your revenue. If you're a service business, perhaps it's getting downloads of whitepapers or completions of enquiry forms. Whatever your business goal might be, two things need to be clear: your core conversion metric and the value of each conversion.
In the case of eCommerce, it's simply the value of the order at the checkout. A service business, however, will need to assign a value to each type of interaction. A whitepaper download, for instance, could be worth £20, whilst an enquiry form completion could be worth £100.
We will focus on the example of an eCommerce garden furniture retailer here, but the guidance translates easily to other service-focused businesses.
Identify Your 3 Critical Business Metrics 
For any Google Ads campaign, you will need to grasp the 3 most important metrics with which to track your success: (1) Average order value (AOV), (2) Margin and (3) Conversion Rate.
In our garden furniture store example, let's say these metrics are:
Now, we need to establish an approximate budget. To do this, we'll take our primary keyword "garden furniture" and search for it in the SEMrush Keyword Magic Tool. 

This will tell us the average volume of monthly searches, average cost per click (CPC) and the Competition levels: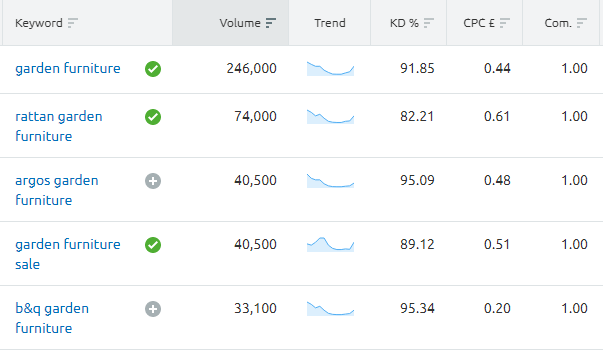 Focusing on the non-brand keywords, we can see our monthly volume will be around 300,000 searches, our CPC will be around £0.48 and competition levels between advertisers will be high for those keywords (on a scale of 0 to 1.00).
At this stage, we'll assume an approximate click-through rate (CTR) of 5% – as with a competition level this high, it's wise to expect a single digit CTR because other advertisers will lure searchers away with equally compelling offers. 
Next, we can add those figures to our spreadsheet and calculate a Costs figure by multiplying the number of clicks by the cost per click: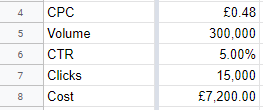 On the next row, we'll add our Revenue with the formula 'Clicks x CR x AOV:

Then we can add our cost of sale percentage (COS). The COS figure indicates how much revenue was used by the advertising spend. It can be calculated by dividing Cost by Revenue:

The final row will indicate how much of the margin remains once the Google Ads costs have been deducted, so, in our example, we still have 22% intact after the campaign has run its course: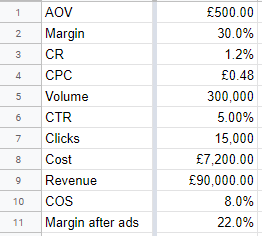 Assuming that's a good result, we now know that as long as we can achieve a COS of 8%, we can profitably run and scale up our Google Ads campaigns for our business.
Let's take another example: a health supplement business, where AOVs are much lower, and CPCs are higher, but margins and conversion rates are higher, too: 
The margin after ads is lower here, but supplement businesses typically have relatively high repeat customer rates, so making a small profit (or none at all) on the first sale is an allowable acquisition cost.
Set up Your Conversion Tracking Correctly
It might seem obvious, but failure to set up proper conversion tracking happens more common than you would think.
Here are a few common mistakes:
Simply importing Revenue from Google Analytics (GA) instead of setting up a specific Google Ads conversion tag (most eCommerce platforms have clear documentation on how to set up Google Ads conversion tracking);

Not checking that the currency of the revenue figure matches the currency of the PPC spend. This mostly occurs when a business has sites in different countries, but can be avoided by double-checking the revenue figures from GA or Google Ads match those in the associated eCommerce platform;

Not importing phone call conversions: this often requires working with a 3rd party (search Google for "eCommerce phone call tracking solutions" for options);

Having multiple checkouts, but only tracking conversions on one (most commonly an issue when providing additional payment options, like Amazon Pay or Finance. To find the fault, compare transaction IDs in the Google Analytics > Ecommerce > Sales Performance report with the transaction IDs in your eCommerce platform. If IDs are missing in GA, check what service they used for the payment); and

Using the revenue figure from Add to Cart conversions instead of Completed Sale conversions (in Google Ads, check the Conversion setup page to ensure that Revenue is only being imported from the Purchase conversion tag).
It should be clear by now that you will struggle to run a profitable Google Ads campaign if you do not know the correct value of your conversions.
Let's look at the most common issue of importing Revenue from GA instead of Google Ads to understand why.
On the face of it, it might make perfect sense to use Google Analytics to report your Google Ads revenue. However, Google Analytics' job is to report the revenue from all your traffic sources. Clicks from certain traffic sources can happen a lot closer to the conversion than your Google Ads clicks, which means you could easily be missing a Google Ads conversion because GA has awarded it to one of your affiliates.
One real-world example saw a client have 15% of its revenue attributed to 'Reset Your Password' emails in GA. The revenue figure for Google Ads was 35% lower in Google Analytics as a result, so if we were to use GA to import revenue from Google Ads, we would be massively underestimating the value of their Google Ads campaign.
The gravity of this issue depends on how much of the overall website traffic comes from Google Ads, it can sometimes amount for as much as 90% of total traffic. On those accounts, the revenue value for Google Ads within GA is typically a lot more accurate.
Remember that CPCs can Vary Greatly
The CPC is what you pay for, so it's understandable that it's high on advertisers' lists of concerns when it comes to PPC. Crucially, it's worth remembering that Google Ads is an auction, and CPCs are prone to massive variation between both industries and regions – things that are broadly out of your control.
SEMrush's CPC Map tool does a great job of illustrating this for you. As the map below shows, you might expect any campaign that targets the London area will have a much higher CPC than the East of England, for instance. However, since Google Ads is an auction, advertisers know those clicks in London can be more valuable, which means they can convert at a higher rate and return a higher AOV. 
We can also see the huge variance in CPC across industries. Our garden furniture business can benefit from the lower CPCs found in the Home & Garden niche versus other more competitive markets in the graph below.
Insurance companies will typically bid aggressively with extremely high CPCs, as they know people don't browse for insurance in the same way as they do for furniture. Therefore, they can benefit from significantly higher conversion rates, better margins and much higher Lifetime Values from the customers they win.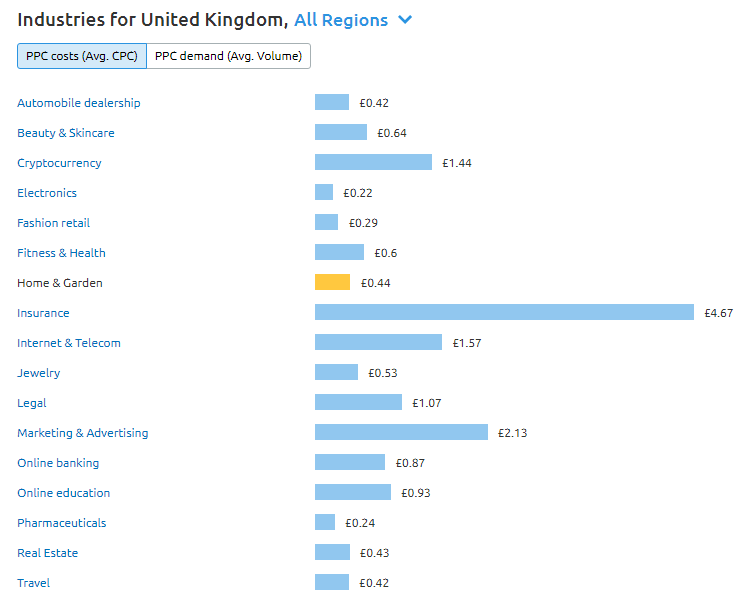 Concentrate on What You Can Control
The key to making this work as part of your overall digital marketing mix is to monitor your COS.
CPC might be what you pay Google for, but it's the metrics you control that really matter: your Conversion Rate, your Average Order Value and your Margin.
What you need to appreciate is, on the whole, Google's CPC is set by the market and there are limits to what you can do to change that. However, there are many tactics you can employ to improve your Conversion Rate and AOV and make the most of your Google Ads costs. Margins are more difficult to affect, of course, but you can even make a difference there.
Once you've completed the process to discover your COS and you find you have no margin left after ads, then you have to review which of the 3 metrics (AOV, CR and Margin) is letting you down.
Which do you need to improve? Perhaps your Margin is excellent, but it's because your prices are too high, which is, in turn, harming your conversion rate. Perhaps your AOV is too low and you need to offer a "Free Delivery over £x" incentive to encourage customers to spend more.
Making Google Ads affordable isn't only about achieving a lower CPC. It might be that you need to optimise your business and website first to see improvements to your sales later.
As with all advertising, Google Ads can be a fantastic amplifier. If your website is offering a great user experience, then Google Ads can help you grow. If your site is poor, though, and your conversion rate is suffering, then you will only be handing money to Google with little return.
If you obsess about keeping your COS lower than your margin (and not worrying too much about CPCs), even if you have to increase your AOV and Conversion Rates, you will be on your way towards running a finely tuned PPC campaign.