You have written a compelling blog post. It conveys your organization's key messages, speaks eloquently to your target audience, and is backed by current facts and figures. Here is the thing, unless you can get the right eyes on that blog, it is useless — and all your hard work was for nothing.
Compelling content is a cornerstone of any modern branding and marketing plan. From blogs and social media posts to e-books, webinars, and thought-leader articles, consumers value content that provides value.
Although the business world recognizes the value of content production, there is still a lack of understanding surrounding the content promotion. In fact, only 12% of marketing professionals think their content is targeting the right audience with relevant content. Content promotion is the answer. The right tactics and tools will help you cast as wide a net as possible when disseminating content, but they will also ensure that you reach the right audience with that content. 
In this guide, we explain how it is done. Our handy toolkit of content promotion tips gives you 20 ideas on ensuring your content reaches its intended audience. Read on to get inspired.
1. Include Ways to Easily Share Content on Social
Great content is the starting point of any effective content promotion campaign; you want content that has a value-add.
SEMrush's Topic Research Tool can help you determine your audience's content needs (and what will get them clicking). However, in addition to making your content share-worthy, you have to make it shareable. What is the difference? We are talking technicalities.
Make sure every piece of content you produce has easy-to-see share buttons incorporated. It is ideal to have a visible floating bar containing the share links while the reader scrolls through content. If they are inspired to share spur-of-the-moment because of a particularly captivating quote or fact, they can do so.
2. Make Sure Your Visuals Are Optimized for Sharing
A picture is worth a thousand words. Even in the digital age, this adage holds true. When promoting content via social media, ensure images are properly sized. Beware that different sites display different image cropping. For instance, while Instagram shows a 640-by-640 pixel square image, Twitter shows a 440-by-220 horizontal rectangle. When uploading images, make sure they are clear. A small picture will become fuzzy once a platform automatically enlarges it.
SEMrush does a great job at creating helpful visuals from articles on LinkedIn:
3. Repurpose Content as Video
For social media content promotion, in particular, video is the new holy grail. Vertical video, which is tailored to mobile phone viewing, is considered the future of brand storytelling. Make the most of it. That doesn't mean you have to focus on video content exclusively.
You can use short clips to promote other types of content. Say you have got a killer long-form article with quotes from a well-followed influencer, for example. Getting a quick snippet of the influencer sharing their insights on video is a great way to repurpose the content and push people toward the main article.
4. Ensure Organic Content Promotion by Using Keywords Effectively
You can attract consumers to your content organically via search engines. Including keywords that bring visitors to your content is the key to success. SEMrush's SEO content template gives you actionable recommendations on how to create winning content that converts.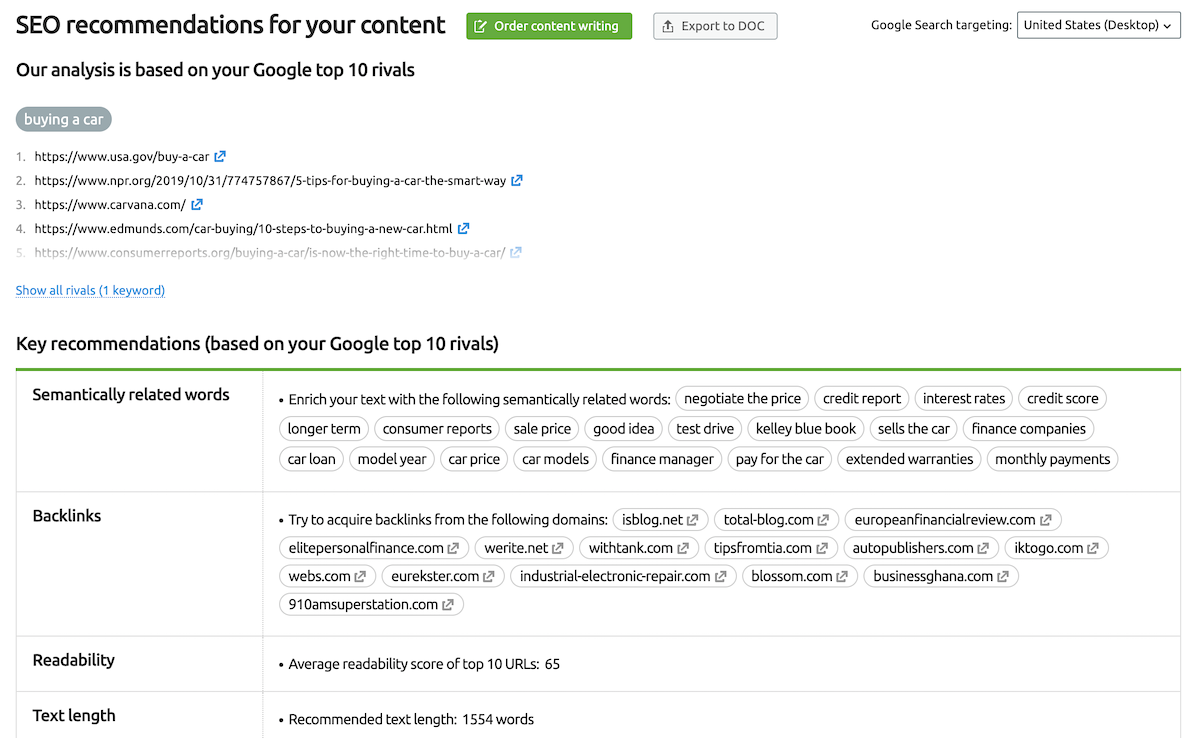 Tips cover not only your target keywords but also the top 10 competitors ranking for those keywords. The SEMrush SEO Writing Assistant can also help by improving readability and tone while ensuring content is search-engine optimized.
5. Identify Publisher Targets by Monitoring Your Competitor's Brand Mentions
List building is an essential component of any content promotion strategy, and one way to identify the right targets is to look at where your competitors are earning backlinks. Using our Brand Monitoring Tool, you can see which publishers are mentioning your competition and better understand how effective this coverage is by receiving the estimated reach and publisher sentiment.
6. Tap Into Your Email List and Offer a Newsletter Swap With Potential Content Partners
Social media is the buzzword in content promotion these days; don't discount "old-fashioned" email promotion. Individuals who subscribe to your email list have hand-selected themselves to receive your content because of personal motivation. This makes them more likely to be interested in what you have to share.
Emails usually have a higher click-through rate than other digital marketing media. To increase content reach via email, try newsletter swaps. If there is another company, brand, or individual in your field who has an email newsletter, approach them about exchanging content features. You can include a link to a content piece of theirs in your email newsletter — and they include a link to a piece of your content in their newsletter; it is a win-win. You both get more eyes on your content and may even attract new subscribers to your own newsletter.
7. Tweet, Post, Send, Share, Again and Again
This seems pretty obvious, but effective content promotion requires … promotion! When you have a new piece of content, don't just send it to your email list. Use the various platforms you have at your disposal and share — repeatedly. Also, don't just post to your own accounts. You can post on LinkedIn or Facebook groups, for instance.
At SEMrush, we know that keeping track of the many different media outlets can get tricky, and we've got a few tools to help. Our Content Marketing Calendar lets you combine your content calendar and marketing campaigns. If your content team is working on a piece of content, your marketing team will know when it will be ready and prepare to promote it. Our Social Media Tool lets you improve your promotion strategy by simplifying cross-network scheduling and publishing, so you can be sure you have covered all of your bases in terms of distribution.
8. Reach Out to Influencers During Content Production and Promotion
Influencers have a powerful impact and can help you increase reach while also allowing for more targeted distribution. Say you work in the nutrition space, specifically supplements. You have identified a heavyweight influencer, a registered dietitian, who has amassed a significant following with her personalized yet informative, actionable content. You can ask her for quotes for a blog post you are working on.
When the time comes for publication, you alert her. The odds are that she will share your content since it includes her quotes. Some might call it playing to a person's ego. We call it great content promotion.
Here is an article example, 35 Content Marketing Tips From Top Industry Experts. We also took multiple quotes from the experts and created social shares that helped drive traffic to the article.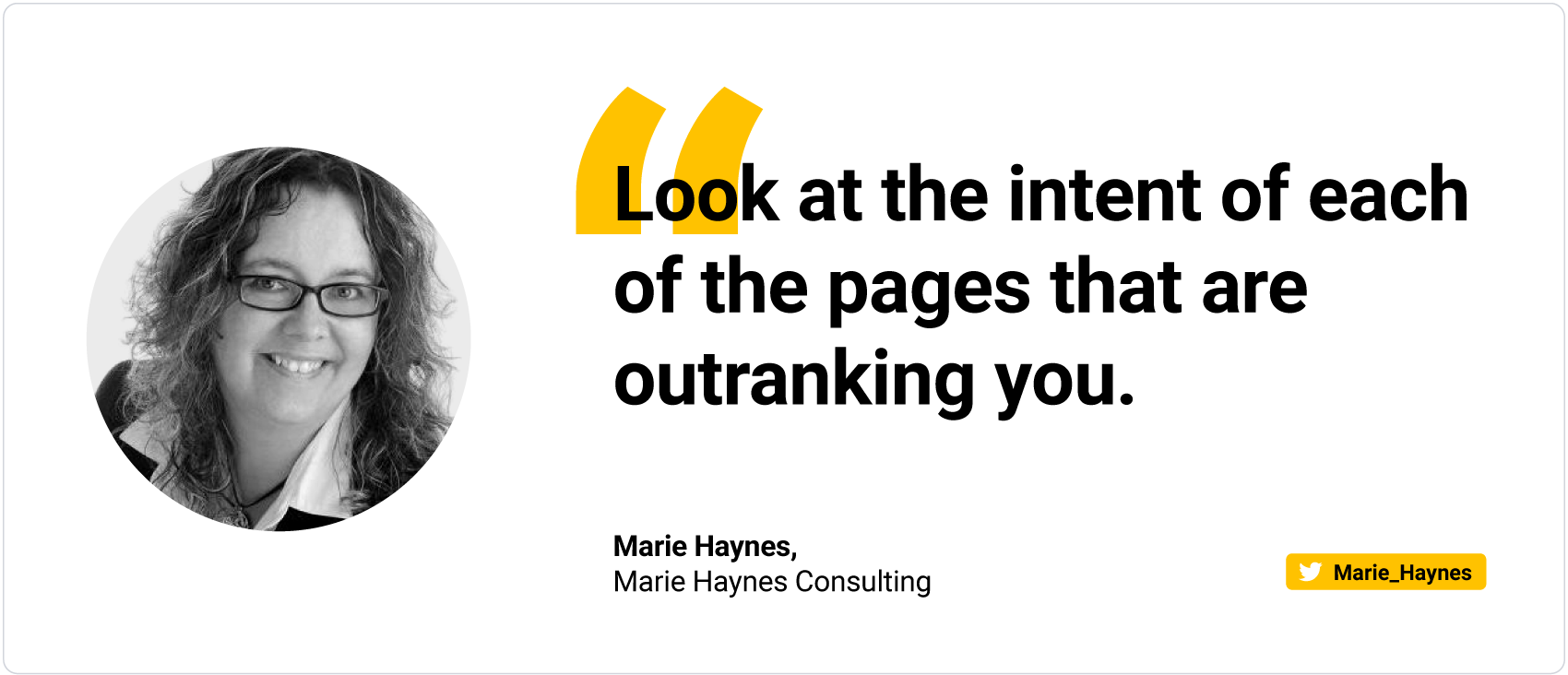 9. Draw Attention to Authoritative Quotes to Encourage Sharing
Not everyone is an influencer. That doesn't mean they can't help your content promotion. If you quote an expert, email them to let them know when the content goes live and mention them when sharing on social media platforms. Say you grab a quote from a university professor, for example. They have a small following on social media of less than 1,000 people.
They retweet a link to your content because you have mentioned them. Then, the university they work for, which has a following of a few hundred thousand, shares that. You have leveraged a single quote not only to reach a broader audience but also to a more fine-tuned audience (people in the higher education space, including researchers, professors, and students).
10. Use the Comment Section to Your Advantage
Leaving value-add, thoughtful comments on other content can be a useful way to engage with audiences. You establish yourself as an authority while also attracting new consumers. It is easy and free to leave a short note on another content piece. Just make sure to respect rules.
For example, some sites don't let you insert links (which can look spammy and turn off users). Additionally, when it comes to your own content, be proactive about inviting and responding to comments. When it comes to comments, this two-way practice should encourage audiences to share future content you produce.
11. Share Your Content With Individuals You Used as Resources
You will likely link to other sources in your content, such as sharing a quote, statistic, or compelling fact. Giving credit where credit is due is ethical practice in the content creation world. It can also benefit your content promotion.
If you have used a source — say you have included a link to another person's article — shoot the author a quick email or social media message and let them know. First, you are giving due credit. Second, you are nurturing a relationship in your niche or perhaps building a new one. Finally, there is an excellent chance the individual you contact may then share your piece of content themselves.
12. Be Sure to Include Internal Links to Your Most Effective Evergreen Content
Remember that awesome blog post you wrote last year (or last week or month)? Don't let it languish in the past. If you are regularly creating evergreen content in a certain niche, you have a treasure trove of linkable materials at your fingertips. Add relevant, valuable links within your content to other pieces of content you have created.
This is a fantastic way to lure your audience down the rabbit hole as they click from one piece to another piece of your content, all the while increasing engagement, driving traffic, and building a strong bond to your brand.
13. Invite Engagement by Asking Questions
Content is like a conversation. It shouldn't be one-sided. To amplify content promotion and get more people sharing what you create, you need to actively engage them. Invite your audience to get involved. Asking questions or posting surveys on social media is one way to do this.
If you send out a newsletter, you can conclude with a call to action inviting feedback, comments, or questions — or even asking readers for input on what type of content they would like to see from you.
14. Use Content Communities
Online communities like Medium, Mashable, and GrowthHackers offer another means of reaching audiences that you may not have discovered yet. Sharing your content pieces here is also a handy way to build backlinks.
The type of community you post on will depend largely on your industry. Targeting niche sites will drive more valuable content engagement because you will reach people who are interested in your sphere. However, make sure to balance any personal promotion with community engagement, or you will come across as a content spammer.
Regular contributions, coupled with genuine engagement, such as commenting on others' input, will help you maintain a respected presence and drive traffic.
15. Tap Into Your Network
You don't have to always look to the outside world of influencers, content communities, and social media masses to promote your content. Many valuable connections that can help extend your reach are likely sitting within your own organization.
In larger companies, it is all too common that the professionals within the company aren't aware of the content creation and promotion strategies going on. Make sure to distribute new content internally and encourage people to share. The advantage here is that individuals within the company may have niche followings relevant to the company's field since that is the field they work in.
16. Reduce, Reuse, and Recycle Your Content
There is no shame in repurposing content — it saves your content creation team time, energy, and effort. It also can help enhance promotional efforts.
Say you have a white paper that has performed exceptionally well in terms of key performance indicators, like the click-through rate and sharing. You might boil down points from that white paper to create a script for a short podcast. The logic is that different people consume media in different ways. Converting a written format into an audio format allows you to reach a different audience segment.
Tips: How to Breathe New Life Into Your Old Content with Repurposing
17. Try Paid Ads
Low-cost promotion efforts like social media sharing can take your content far. Targeted paid ads can take your content even further. Investing in pay-per-click ads on Google or paid social media ads is another way to share new content, particularly longer formats like e-books or video seminars.
Don't invest blindly, however. You want to spend money on those areas that you are sure will bring in traffic. The SEMrush Content Marketing Toolkit can help you improve the outcomes of your PPC efforts. Also, check out the CPC Map for insights on what ads may cost in different geographic locations. 
18. Time Your Content Promotion
If you send out an email blast at midnight on a Wednesday when your target audience is sleeping, you're not going to get much traction. Timing can make a big difference in content promotion. Remember that tip about promoting content again and again — and again? Here's how you might combine that tip with this one.
Say you have a new e-book to promote. You have an active Twitter following, so that's going to be critical to your content promotion. First, you can schedule some tweets at high-traffic times. But you can also benefit from sharing (again) at a low-traffic time when there's less noise to cut through.
Another tip: Try sharing just before or after the hour (e.g., 9:56 or 10:04) instead of on the hour. Most people use social scheduling tools to disseminate content on the hour. You can avoid the flood wave this way.
19. Make Each Content Promotion Strategy Unique
Timing can be addressed with advanced planning — a building block of any functional content promotion strategy. With the above list, we have highlighted many effective content promotion tools. That doesn't mean you have to use each one of these tips.
It is up to you to decide how to best leverage those tactics to reach your specific audience. Crafting a content promotion strategy is critical. Consider your target demographic, for example. If you are looking to reach teenagers, video-based platforms like TikTok or Instagram Reels are viable options.
If you are looking to reach adults aged 60+, email campaigns and Facebook are preferable distribution channels. A cohesive strategy lets you plan for distributing and promoting content before that content is even crafted.
20. Make Adjustments to Your Content Promotion Strategy Based On Your Results
Last but certainly not least, keep in mind that no content promotion strategy is set in stone. The beauty of content creation and promotion, especially in the digital age, is flexibility. Make the most of it. If you see that certain types of content, such as podcasts and social media videos, are performing better, make more of those.
If you see that you get the most active engagement when you tweet a blog post, focus your energy on Twitter conversations. To know what creation and distribution processes are working, you need granular data. Our Post Tracking Tool lets you measure the performance of external publications, track social engagement, monitor referral traffic coming to your website, and more.
Ensure Your Content Gets in Front of the Right Audience With a Cohesive Content Promotion Strategy
Content is a way to establish yourself, your company, or your brand as a valuable source of information or entertainment. It also gives you a means of connecting and engaging with audiences, building interest, and loyalty. You can't just craft content and call it a day, however. Content promotion ensures that you are getting your message out to the people who care.
SEMrush's Content Marketing Toolkit will help you implement the above promotional tips. With our cutting-edge technology, you can review what is and isn't working in your content promotion, discover new ways to better promote your content, and gain a better overall understanding of what drives conversions with your audience. By helping you expand your audience, we support your business success.
Related Reading: