If you're looking to market to specific demographics, YouTube can be a valuable source and beneficial to marketers.
But how can you give your video the best shot of getting seen? YouTube has its own algorithms that decide what videos show up in user searches. To make videos with the best chance of gaining a high search volume, you'll need to do proper keyword research to know what people are looking for.
Although YouTube doesn't release its top searches to the public, Semrush has compiled a list of the top YouTube searches as we transition into 2021. Keep an eye on what's popular, and you'll be able to use YouTube's search results to your advantage.
In this post, we broke down how to find what's trending and what's most searched on YouTube: 
How Do You Find What's Trending on YouTube?
Finding the most searched videos on YouTube are videos that the platform thinks will appeal to a wide variety of audiences.
Using a specific algorithm, YouTube determines whether a video is worthy of trending. The algorithm changes over time, but the criteria that videos are judged include the number of views, number of comments, usefulness to a viewer, and bounce rate (how often users click off a video without watching a good portion of it).
Trending content can be music videos from famous artists or viral videos that become popular. However, YouTube tries to keep misleading videos off its trending page.
An example of a video with a misleading title might be a video called "Best Value Computers Available Today," in which the creator talks about a funny experience at an electronics store instead of comparing computer hardware.
It's easy to see what videos are most searched on YouTube. You can go to the trending page on YouTube or check the Google Trends YouTube page. The Google Trends YouTube page provides a list of the current most popular topics and search queries that people have typed into YouTube. You can also see search terms that were trending over a certain period (since 2008). 
Google Trends even gives you the option to choose categories like music, games, movies, and fashion. After choosing a category, you'll see a line graph showing interest in that category over time.
However, finding what YouTube videos are trending is only the first step. A great YouTube keyword tool, like the Keyword Magic Tool offered by Semrush, can help you organically attract viewers and possibly get more subscribers for your channel.
What Is the Most Searched Thing Ever on YouTube?
Trends change over time, so what's popular today might not be what's popular tomorrow. Every day, YouTube's 2 billion monthly users watch over a billion hours of video, so new topics can quickly get massive amounts of searches.
Even so, you can find what topics are being searched by visiting Google Trends and choosing "YouTube Search" in the top menu. Here's a current list of some of the most popular searches of all time.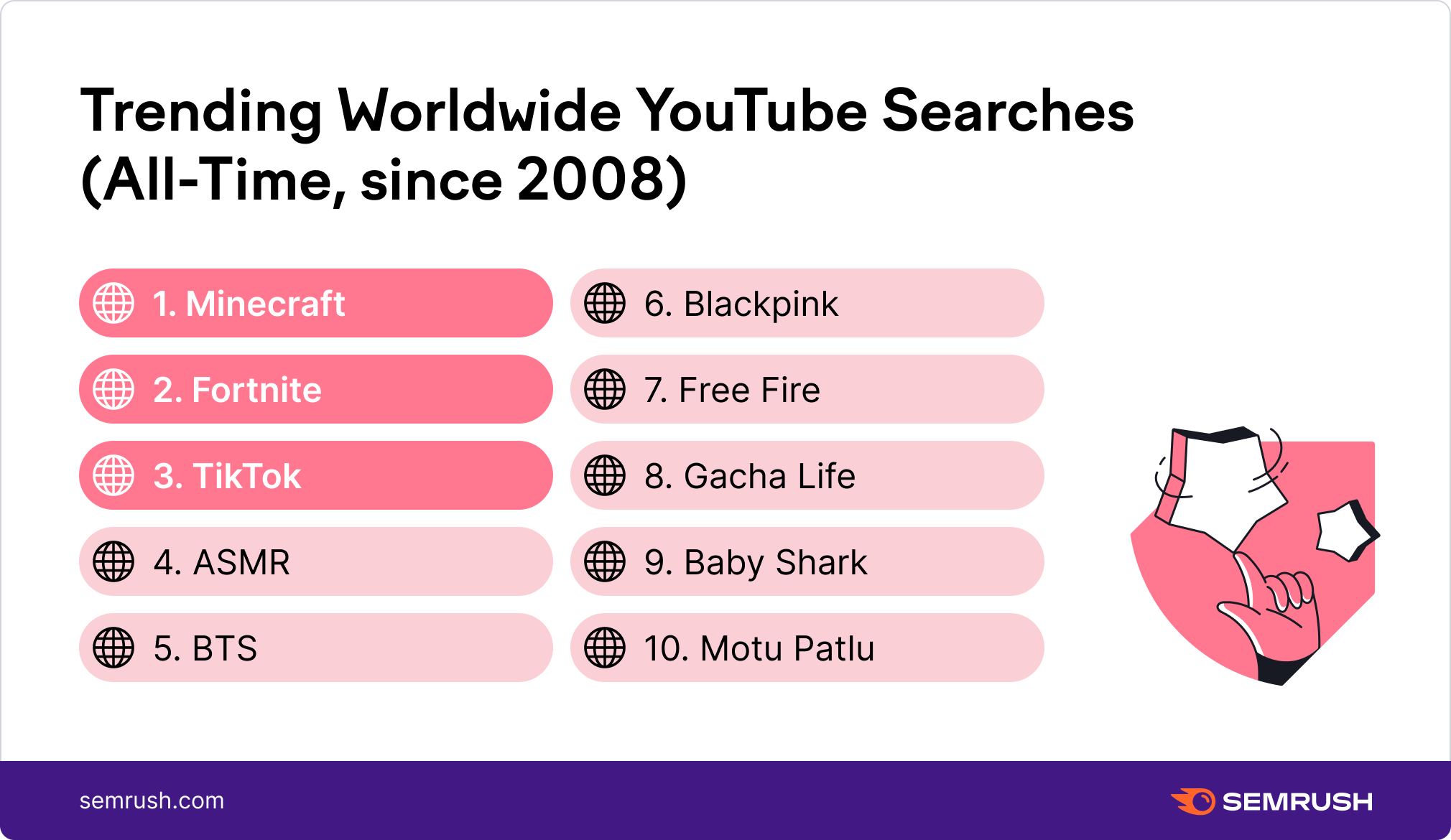 Who's the Most Popular on YouTube Right Now?
Like the most popular YouTube searches, the most popular content creators on YouTube aren't static. In fact, YouTube's trending page updates roughly every 15 minutes to keep up with the massive amount of traffic the site gets. 
However, you can expect to find a few things when you look. For example, there are typically several trending videos about video games like Fortnite and Minecraft. As of this writing, some trending videos included:
Gaming, such as a preview of a new Nintendo game

Sports highlights and analysis

Comedy videos

Update videos from YouTube personalities and influencers like Mr. Beast and Markiplier

Music videos from top artists
Trending YouTube Channels
At the time of this writing, the top trending musician was The Weeknd, but three of the top five were hip-hop artists (Saweetie, Pooh Shiesty, and Lil Durk).
Two of the top five gamers were Typical Gamer and Socksfor1. Meanwhile, trending news videos were uploaded by some of the major news stations, like NBC.
In addition to streaming platforms you'd expect to see trending, like Netflix, the movie trending page also catered to an international audience.
At the time of this writing, Hombale Films (an Indian production company that makes films in the Kannic language) was the No. 2 trending channel. Lastly, trending channels for fashion and beauty were a mix of vloggers like Derek Blasberg and companies like the British Fashion Council. 
Here's a list of the current trending channels for each category: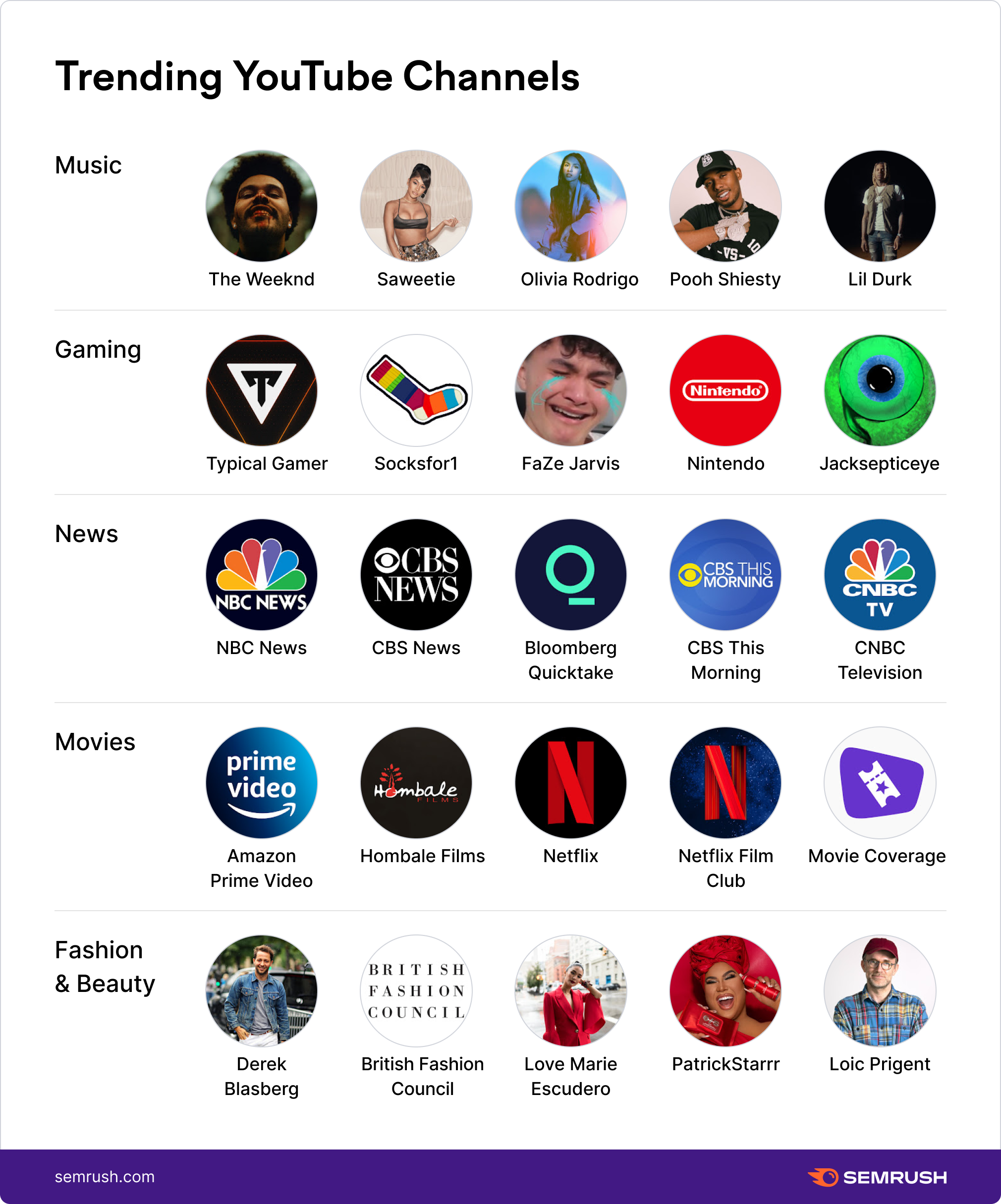 Trending YouTube Videos
The top trending music video was "Save Your Tears" by The Weeknd. Meanwhile, the top trending gaming video was an update about the new shotgun in Fortnite. Most of the top news videos were about U.S. politics.
The top movie YouTube videos were trailers for new films, and the top fashion video was a review of fashion in 2020. Here's a list of the trending videos at the time of this writing: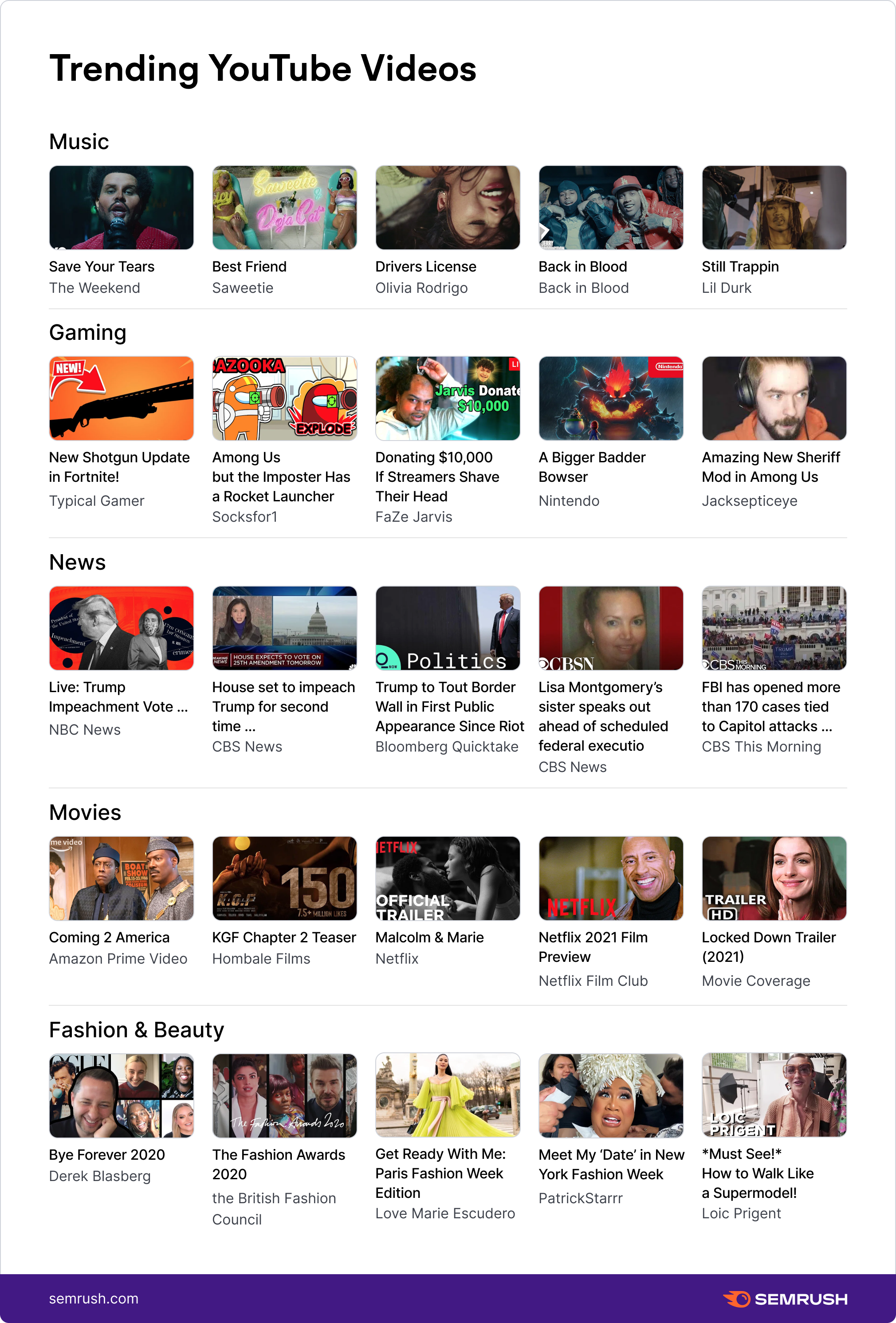 Trending YouTube Searches
In 2020, the United States used YouTube mostly for entertainment, while the rest of the world used it to stay informed. Two of the top three world searches looked for information about the coronavirus pandemic, while none of the top 10 U.S. searches mentioned the pandemic. 
TikTok was huge in the U.S. and was the top-ranked YouTube search. It was only No. 9 for the world. Games were also top-rated in the United States. Almost half of the U.S. results involved gaming content (Among Us, Piggy, Tiko, and EddieVr), whereas only one gaming search (Techno Gamerz) showed up in the top world search list.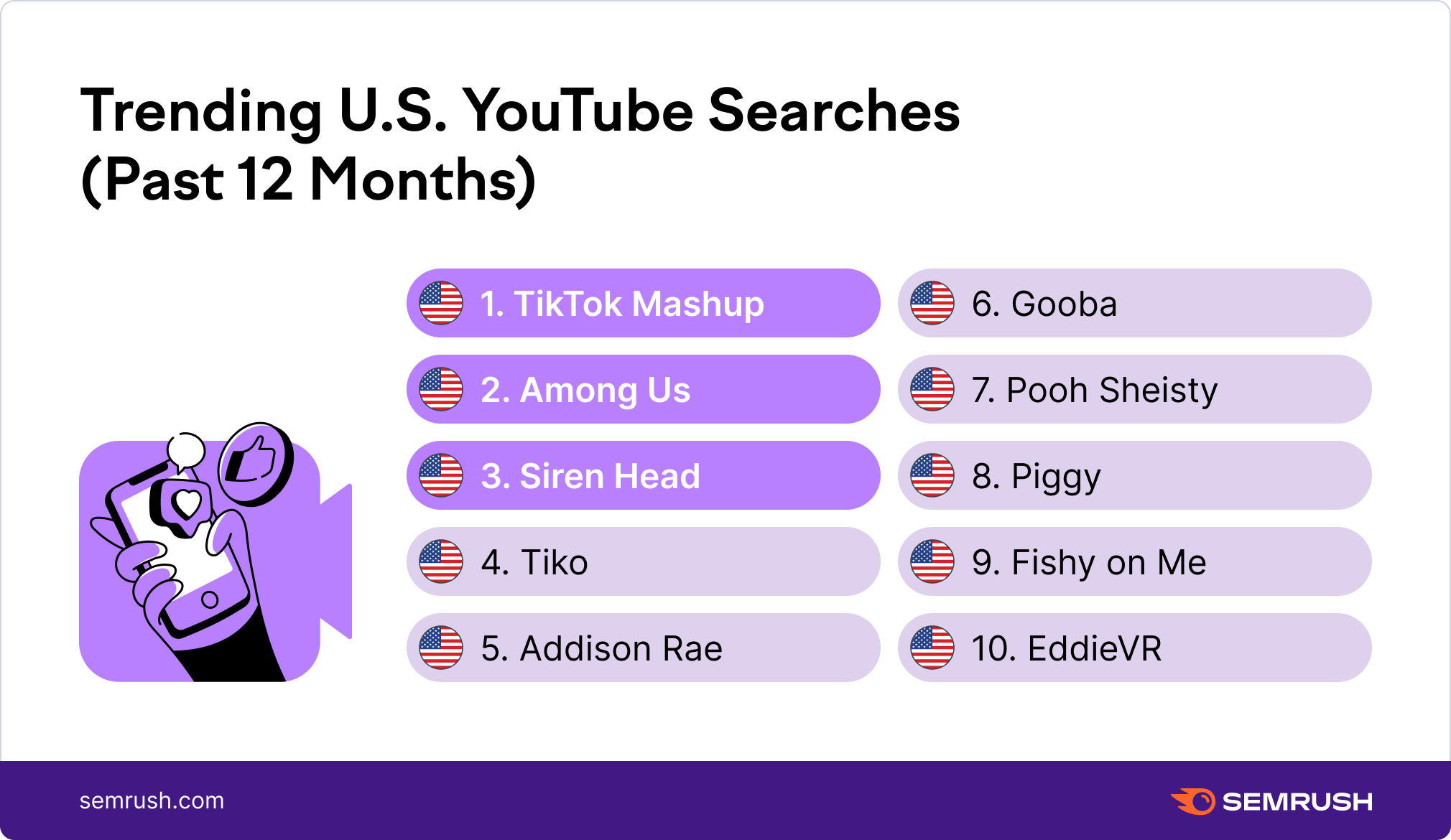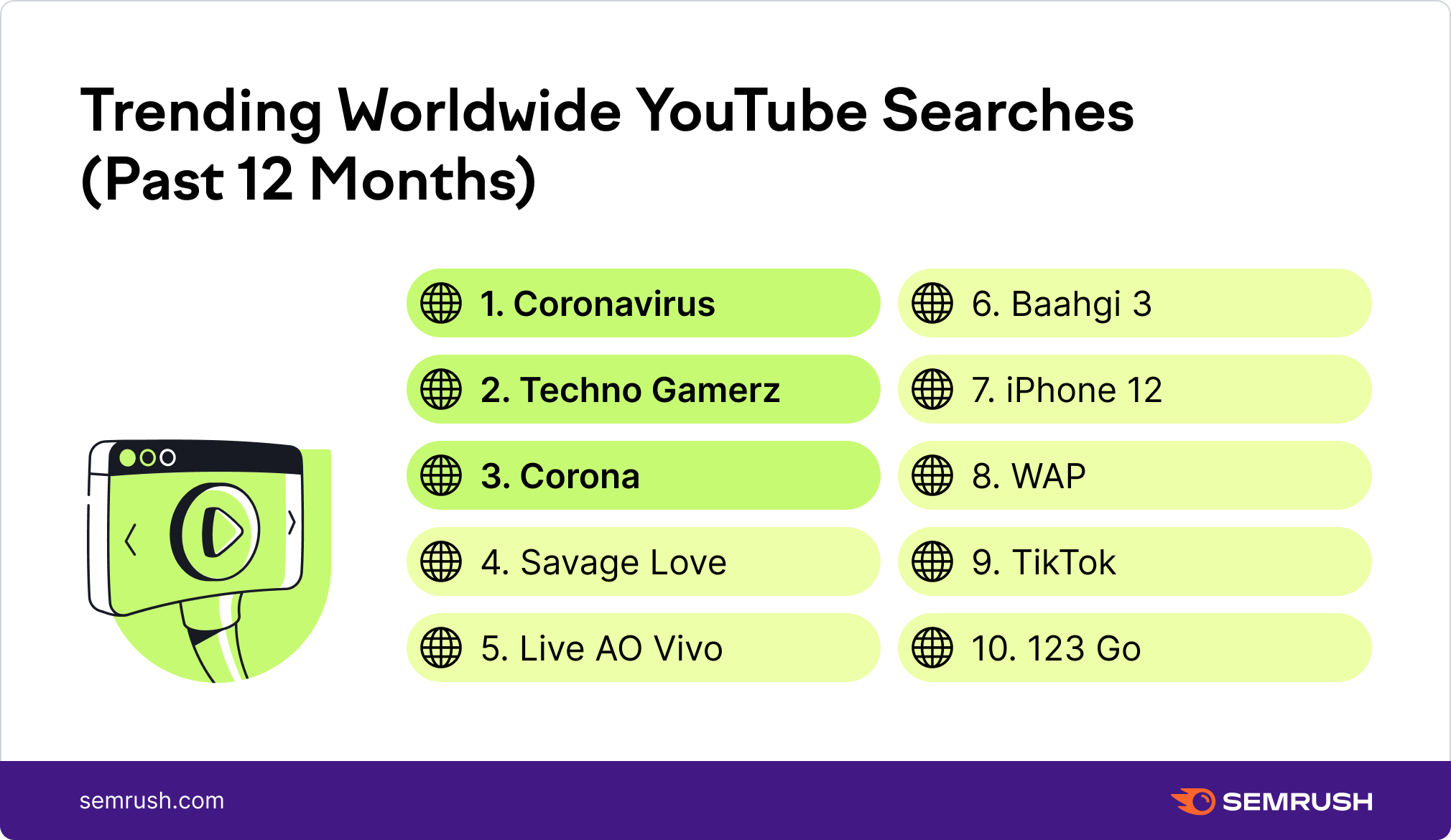 Get More Insights Into Your YouTube SEO
Video content can be a powerful marketing tool, and YouTube is one of the biggest video platforms. When you know what types of videos are trending, you can make similar content that will be more likely to get views and build an audience. 
YouTube data can also give you insight into other apps. The No. 1 search in the United States in 2020 was TikTok. In fact, the service has about 100 million monthly active users in the U.S. Incorporating TikTok into your marketing strategy can give you even more chances to reach a wide audience.
However, it isn't enough to expose your brand to a lot of people. You want your message to reach your target audience. That's where keyword research can help.
You don't have to be a search engine optimization (SEO) expert to do YouTube SEO. Semrush offers a keyword research tool that can help you find long-tail keywords and make YouTube content that reaches the best audience for your brand.