Buyer keywords are the search terms and keywords people use when looking to buy a product or service. When searchers use buyer keywords in search engines, it signals that they're already at the end of the buying cycle and they're ready to make a purchase. 
If you're running an ecommerce website, keyword research is vital. Figuring out how to find the best keywords for the final stage of the buyer's journey will help give you a competitive edge while also helping to justify your spending on content marketing. In fact, more than 60% of marketers note that leads are one of the top metrics they use to measure content success. 
In this article, we'll review the buyer's journey and help you understand how to find the right keywords to improve conversion rates and drive sales. We'll also discuss why buyer keywords are an important part of your search engine optimization (SEO) strategy:
The Buyer's Journey: A Quick Overview
To fully understand buyer keywords, you'll want to start by taking a closer look at the buyer's journey. The buyer's journey is what a customer goes through when looking for a product or service. The process starts with the customer realizing they have a problem, followed by researching and considering solutions.
There are many models out there for the buying process, but in its simplest form, the buyer's journey can be divided into three stages: the awareness stage, the consideration stage, and the decision stage.
Awareness stage: A consumer begins to do high-level research related to their problem. 

Consideration stage: Once a consumer understands their specific problem, they begin to search for more specific solutions. 

Decision stage: At the final stage, a consumer knows how to solve their problem and searches with the intent of comparing the different options available to them. This stage finishes with a purchase. 
Buyer keywords come into play during the last stage. When customers reach that final purchasing decision, they use buyer keywords (also referred to as buyer intent keywords) to look for specific products or services. Examples of these sets of phrases include "massage therapy deals," "best price for a laptop computer," and "affordable luxury items."
Ecommerce and SEO: Use High Intent Keywords
When outlining an ecommerce SEO strategy, you'll want to start with keyword research. Keywords are the words and phrases users type into search engines to look for information, products, or services. Outside of the content creation industry, they're referred to as searches or queries.
If you want your website to show up on the results page when people type their queries into search engines, it will help if you learn more about using high-intent keywords in your web pages. 
There are two ways to improve your page's ranking for specific keywords:
Paid search results: You can invest in a Pay-per-Click or PPC campaign. With PPC, you bid on a term relevant to your brand, and Google or other search engines will show your web page in their results page when users search for those specific keywords. 

Organic search results: Your other option is to optimize your website to rank in search engines' organic results. Organic search optimization means you didn't pay to rank where you are but instead used a combination of SEO strategies (e.g., internal links, backlinks, and on-page SEO) to help move your page higher for a specific keyword.
Effective keyword research can help you decide which strategy makes the most sense for the keywords you're targeting. Our Keyword Magic Tool, for instance, is an easy-to-use keyword research tool that provides specifics on keyword difficulty and cost per click (CPC) to help you decide which optimization strategy will show better gains.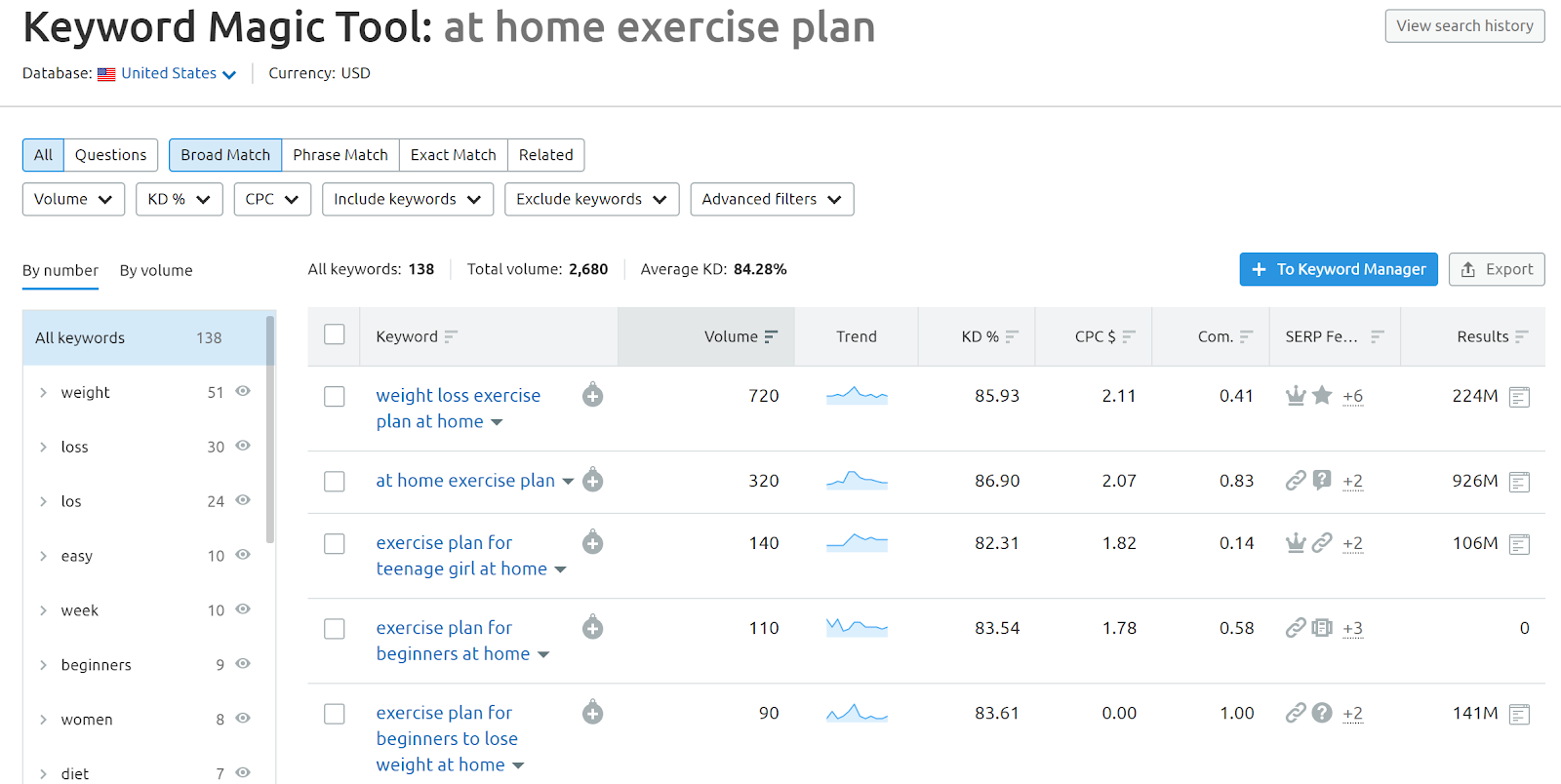 What Are High Intent Keywords?
High intent keywords are words and phrases used by consumers to signal their strong intent to buy now, inquire about a service, or commit an action that will lead to a sale. High intent keywords, also known as high commercial intent keywords, are considered the most promising and most valuable keywords for conversion. 
High intent keywords tie into a customer's purchase intent. Purchase intent is the probability that someone who visits your website will buy your product or service.
Marketers and website owners facilitate and measure purchase intent by looking at factors such as the buyer's persona, website engagement, past purchases, and other interactions. 
To take advantage of high intent keywords and purchase intent, consider using the keywords to target visitors who've purchased from you in the past or those who have had multiple interactions with your website.
To attract new customers, it's always best to use product-specific keywords, such as "best macro lens for nature photography."
Buyer Intent and the Three Types of Buyer Keywords
Like we've mentioned previously, buyer keywords are terms and phrases people enter in search engines that signal they're actively looking to make a purchase.
The trick is to know what your potential buyers are using as buyer intent keywords so you can incorporate the same terms and phrases into your content or paid ads. 
It will not serve your digital marketing strategy well to pay or optimize your website for every term or phrase related to your brand. Hence, it would be best if you were more intentional with your use of keywords. That's why understanding the three different types of buyer keywords is essential in your SEO planning. 
Informational Keywords
Informational keywords usually start with "how," "what," "why," "where," "guide," "ideas," "best," or "tips" as the users are looking for information. Generally, these keywords have lower buyer intent. Examples include "best chocolate cake recipes" or "how to build a website."
These keyword phrases don't actually get potential customers to buy; they inform them that you can offer a solution to their problem. 
Navigational Keywords
Customers use navigational keywords when they're in the research stage of looking for that perfect product to buy. What's great is that they've already decided to buy, they're just comparing what's available and what product will bring them the best value for their money. 
At this stage, customers will be using keywords that include brand names, a specific product name, a specific service, or reviews. Some examples of navigational keywords include "Peloton reviews" or "exercise bike prices."
Transactional Keywords
Transactional keywords or "buy now" keywords are terms and phrases that have the most buyer intent behind them. The customer is ready and wants to buy, and the only question now is from whom. Examples of transactional keywords are "best place to buy a KitchenAid" or "discount codes for area rugs."
Keep in mind that although transactional keywords close the sale, it doesn't mean you only aim to rank for these keywords in your SEO strategy.
Your goal is to find keywords matching each stage and then create helpful content to incorporate those keywords. You do this to attract your target audience, convert them into buyers, and serve them as loyal customers. 
Consumers don't usually buy right away, hence the buyer's journey. They also prefer to buy either from someone they know or someone they trust. That's why answering and offering solutions to people's informational searches through your content allows you to meet them early on their journey.
Through incorporating intentional buyer keywords in your content, you can then direct them to choose your product or service. 
How to Find Buyer Keywords
You need buyer keywords with good search volume and low competition, and there are many places to get started. From Google's own platform to keyword research tools, below are a few recommendations on how you can be more intentional in including target keywords to get your site's visitors to click "buy."
Use Google Search
You can do a Google search to find buyer intent keywords related to your industry, product, or service. Generally, buyer keywords with high purchase intent will have multiple ads on top of the search engine results page (SERP). Such keywords will also have direct calls-to-action, like "Buy Now," "Start Your Free Trial," "Promo," or "Get Your Free Gift."
For example, take a look at the top paid query for "tennis racquets."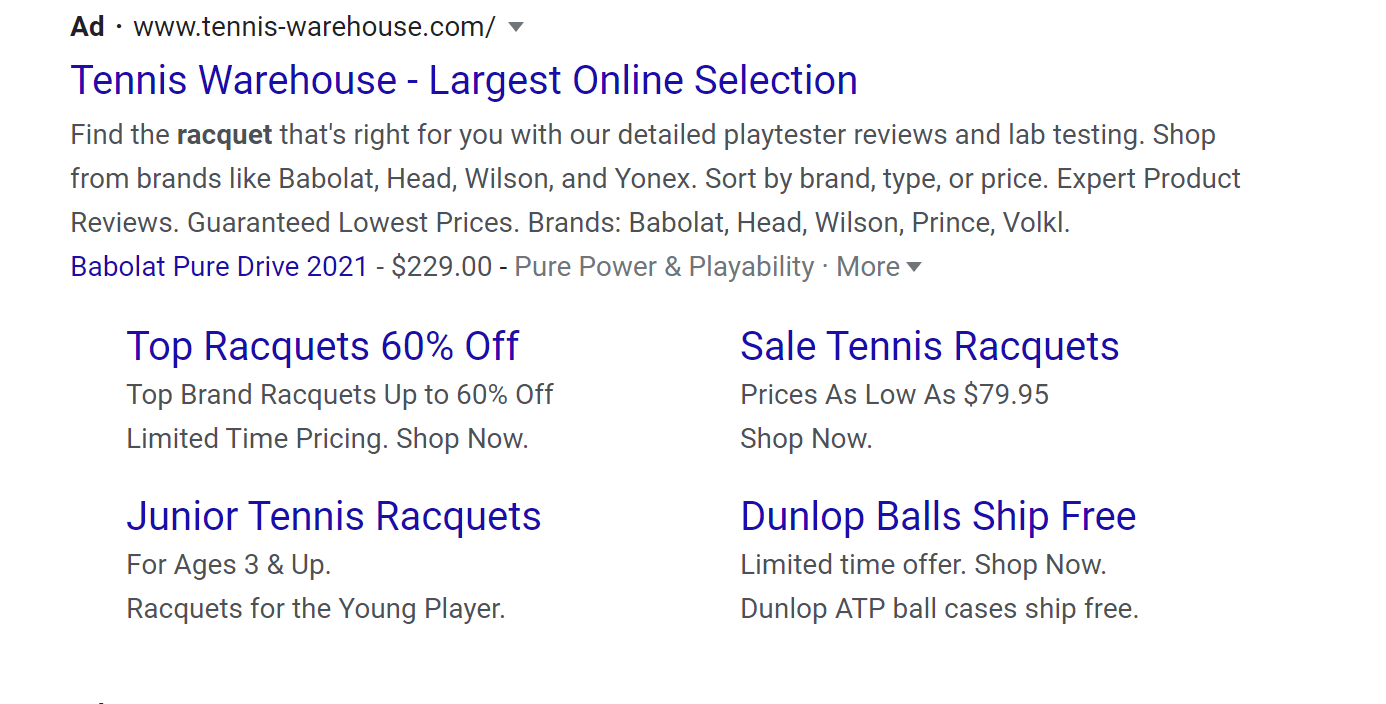 You can also find keyword ideas at the middle and the bottom of the search results page. In the middle, you'll find a section for "People also ask." This is a great place to find high-level informational keywords like, "What is the most popular tennis racquet?"

If you continue scrolling to the bottom of the page, you'll see the "related searches" section. These will also likely be more informational keywords like "tennis racquets for beginners" and "best tennis racquets."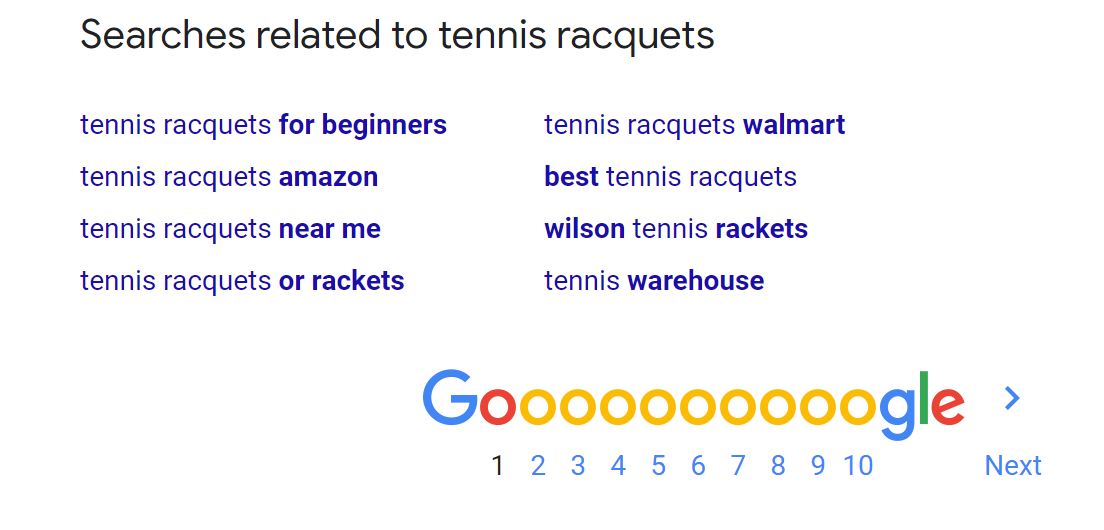 Use a Keyword Research Tool
Many keyword research tools can provide you with entire lists of related queries to your target keyword.
Semrush's Keyword Magic Tool provides in-depth keyword analysis and can help you build a master list of buyer keywords. Start with a single keyword related to your niche and hit search. From there, you can explore the suggested groups and subgroups of related topics to find niche long-tails and ideas for your PPC ad groups. 
You can then sort groups by volume or by the number of keywords. You can exclude groups that you don't need by clicking the eye icon. The "match modifiers – Broad Match, Phrase Match, Exact Match, and Related" allows you to broaden or narrow down the keyword selection to your liking. 
To search for buyer keywords, you can include words like "affordable," "offer," and "discount" in the "include keywords" section. Below you'll find an example of adding "buy" and "affordable" into the "include" filter for the search query "SUV."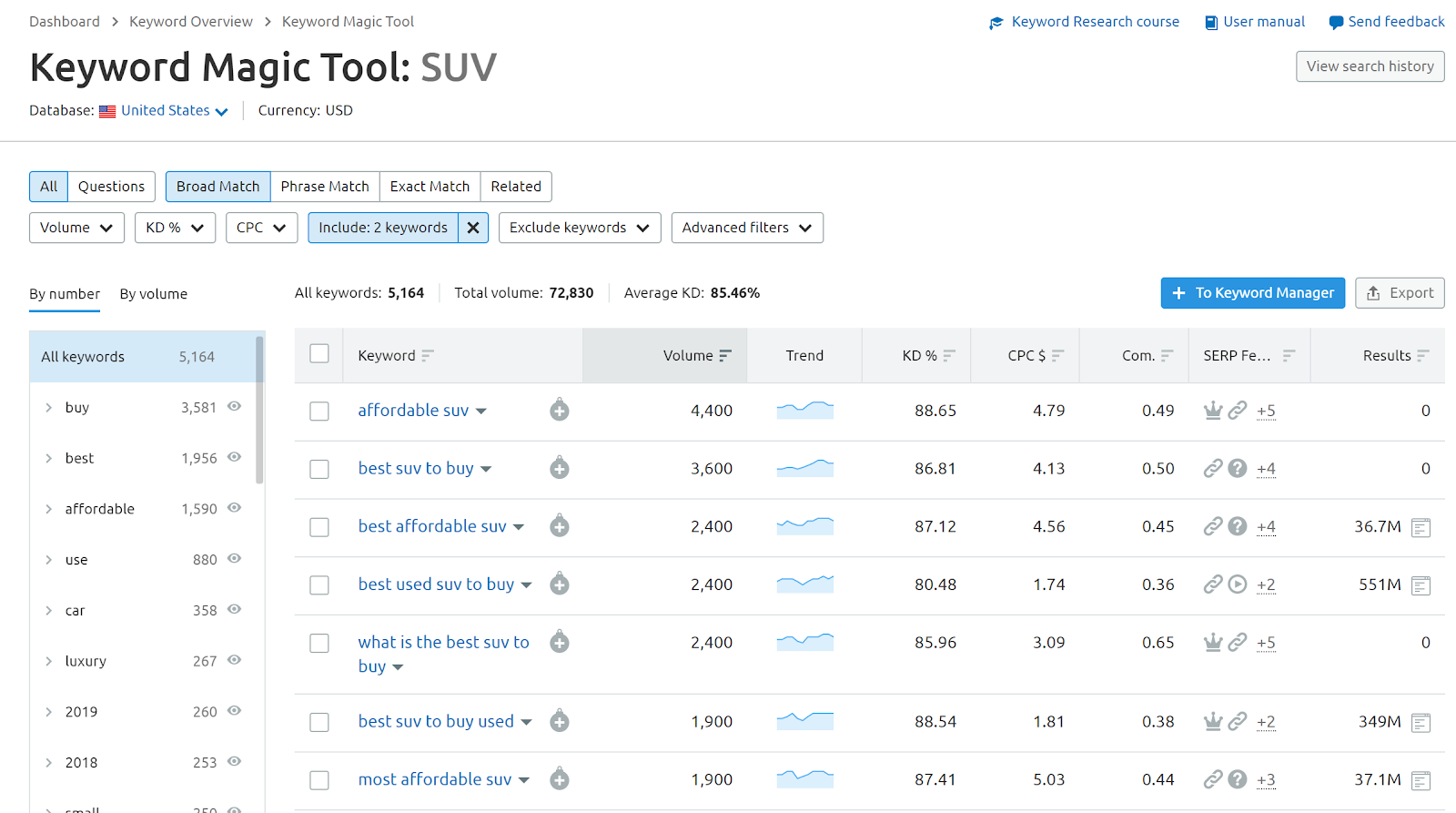 A/B Test Different Keywords
Once you have a list of keywords to work with, you can also test their ability to convert through A/B testing. A/B testing refers to testing one option to another and seeing which one delivers better results. 
For instance, let's say you're running a website that sells children's toys. You can test different transactional keywords on pages to see which one results in more purchases. One could offer a "free gift with purchase" while another offers a "promo code for 10% off." After the pages are live for a couple of months, compare both to see which one performed the best. 
Create Content That Gets Customers to Convert
Keyword research is a way for you to find terms and phrases that are important to your customers. Keywords are also essential in achieving your own goals as a business, which is to capture leads and sell more through buyer keywords.
Whether you're starting a new SEO project or revamping your website, building a comprehensive, relevant keywords list should be part of your SEO strategy. 
With keyword research tools like our Keyword Magic Tool, you don't have to be thoroughly versed in SEO or be employed as an SEO expert to compete in your industry.
Our platform offers various ways to discover and compare the search volumes for a variety of keywords so you can make the best decision. You can also explore keywords in topic-specific subgroups, use quick exclusion, and get semantically related long-tails with just a few clicks — all of which can help you source relevant buyer keywords for your brand.