Marketing tactics are activities that help you achieve marketing objectives. It's how you execute your marketing strategy to be successful.
Choosing the most suitable marketing tactics depends on your marketing objectives, budget, and who and where your target audience is. Keep that in mind as you read through these 16 tried and tested marketing tactics:
Do you regularly publish articles on your blog, create videos on Youtube, or record podcasts? One thing is producing stellar content; another is distributing it to your audience.
This second part of content marketing is arguably even more crucial and challenging than the content creation itself.
You can distribute your content in many ways:
Share it on social media
Post it on relevant forums
Add it to your email newsletters
Send it to influential people in your industry
Run ads to it
Not all content is created equal, though.
It doesn't make sense to reach out to influencers with everything you publish. Save that for the pieces they would find the most valuable and interesting.
The same goes for ads, as you probably don't want to spend money promoting content that has little to no value for your business.
You should also double-down on platforms that make the most sense for your business. For some, it might be Twitter, LinkedIn, and niche forums. For others, Instagram or Pinterest.
The best thing about this? You can share stuff on social media or run ads on your content over and over again.
Recommended reading: Content Marketing: A Comprehensive Guide
People consume content in various formats. So why not repurpose your blog posts into videos and vice versa? We do this all the time.
For example, our video about Youtube SEO has more than 200k views: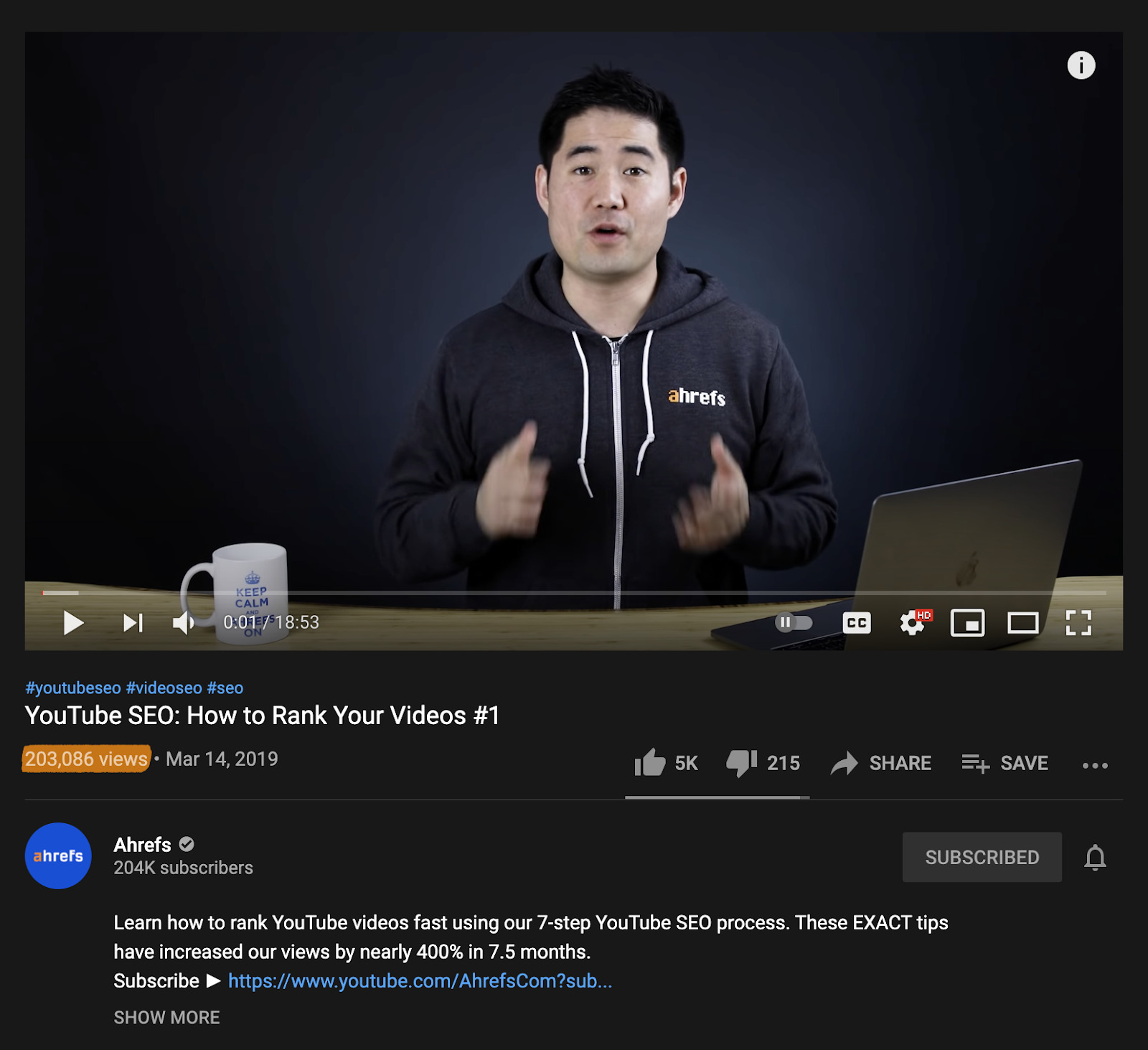 But we also published it as an article that drives around 1.4K clicks from organic search every month:
By having content in both formats, we're able to occupy two places in the SERP: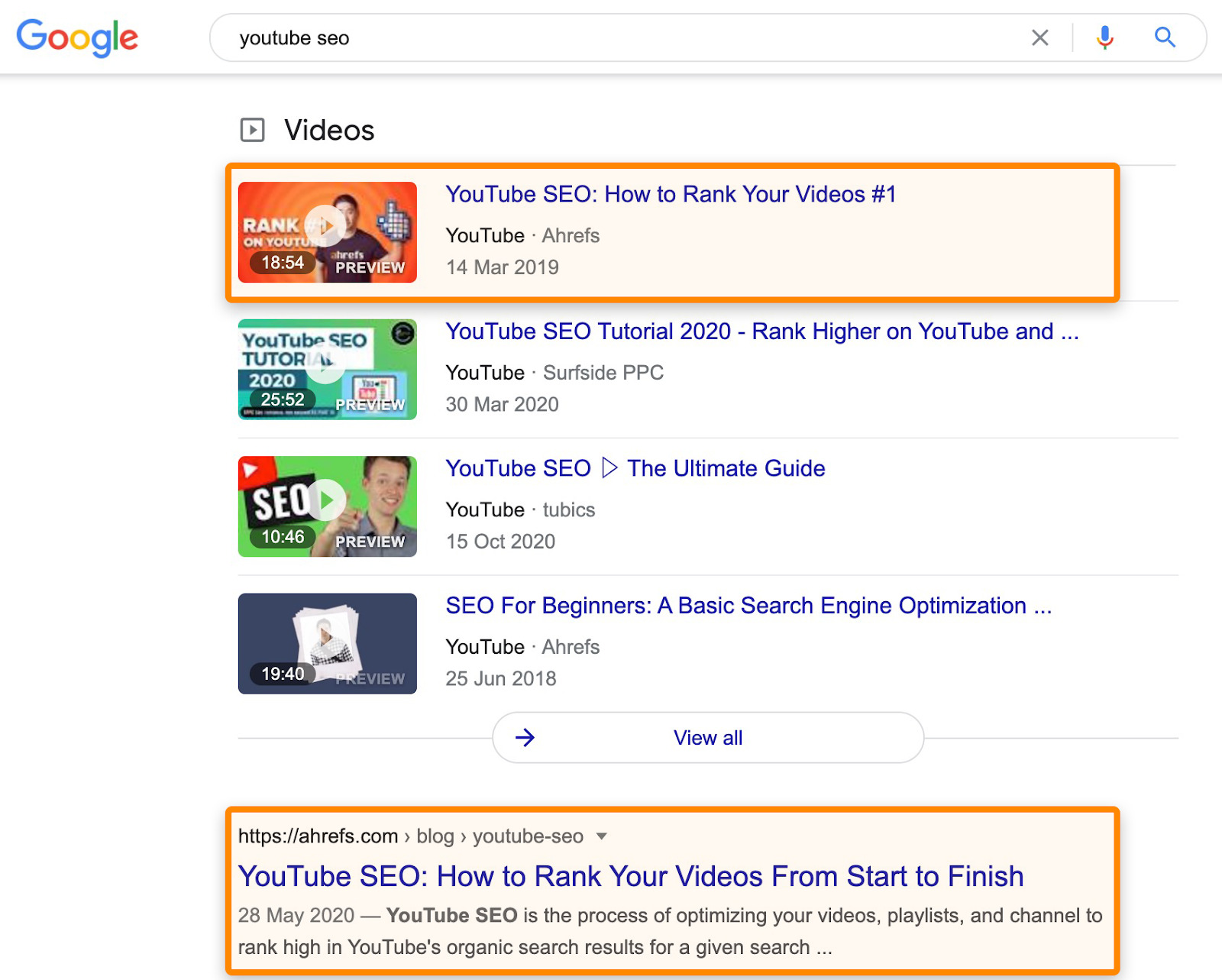 Don't have the time, money, or skills to produce videos? You can also apply the same principles by repurposing your articles into social media posts.
I wrote an article about Bounce Rate, and a month later, I took the best bits and turned it into a Twitter thread:
Bounce Rate

One of the most misunderstood Google Analytics metrics.

9 things you might not have known.

?

//THREAD//

— Michal Pecánek (@michalpecanek) December 2, 2020
It's been my most popular tweet, which even made it into many newsletters. When we shared the article alone, there wasn't much buzz.
Most of your articles won't stay fresh forever. Some may even go out of date after a few months.
That's a problem because content freshness is an essential factor—at least for some search queries.
Just look at these results: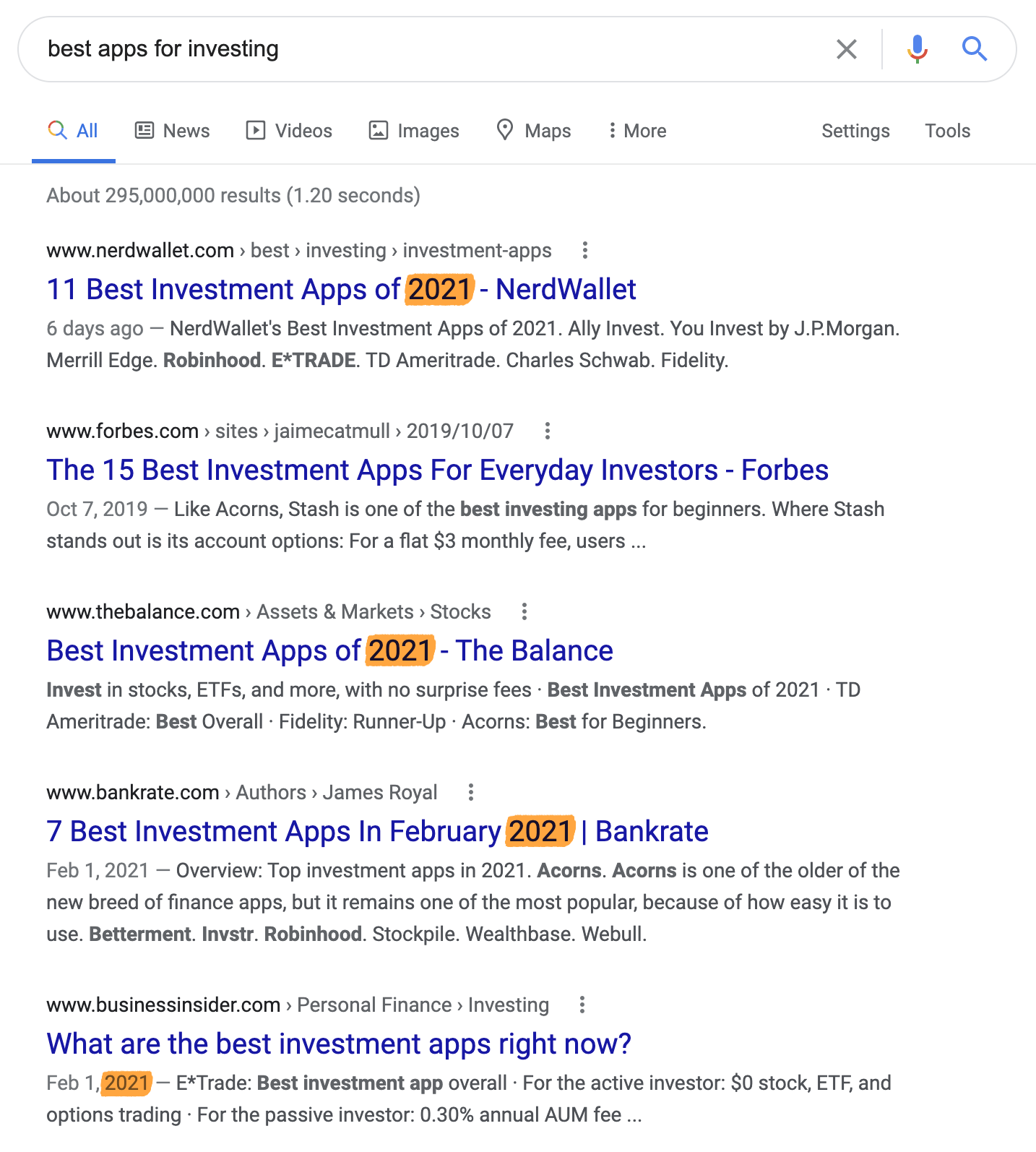 Most of the top pages got refreshed in the first few weeks of 2021.
So, if you notice a drop in organic traffic to some of your articles, it might be a sign that it's time to refresh them and reclaim your positions in the SERP.
This has been a part of our blog growth strategy, and it should be part of yours too. As you can see, we've updated around third of our articles at least once:
The republishing often leads to a boost in organic traffic, as you can in the spikes here for one of our posts: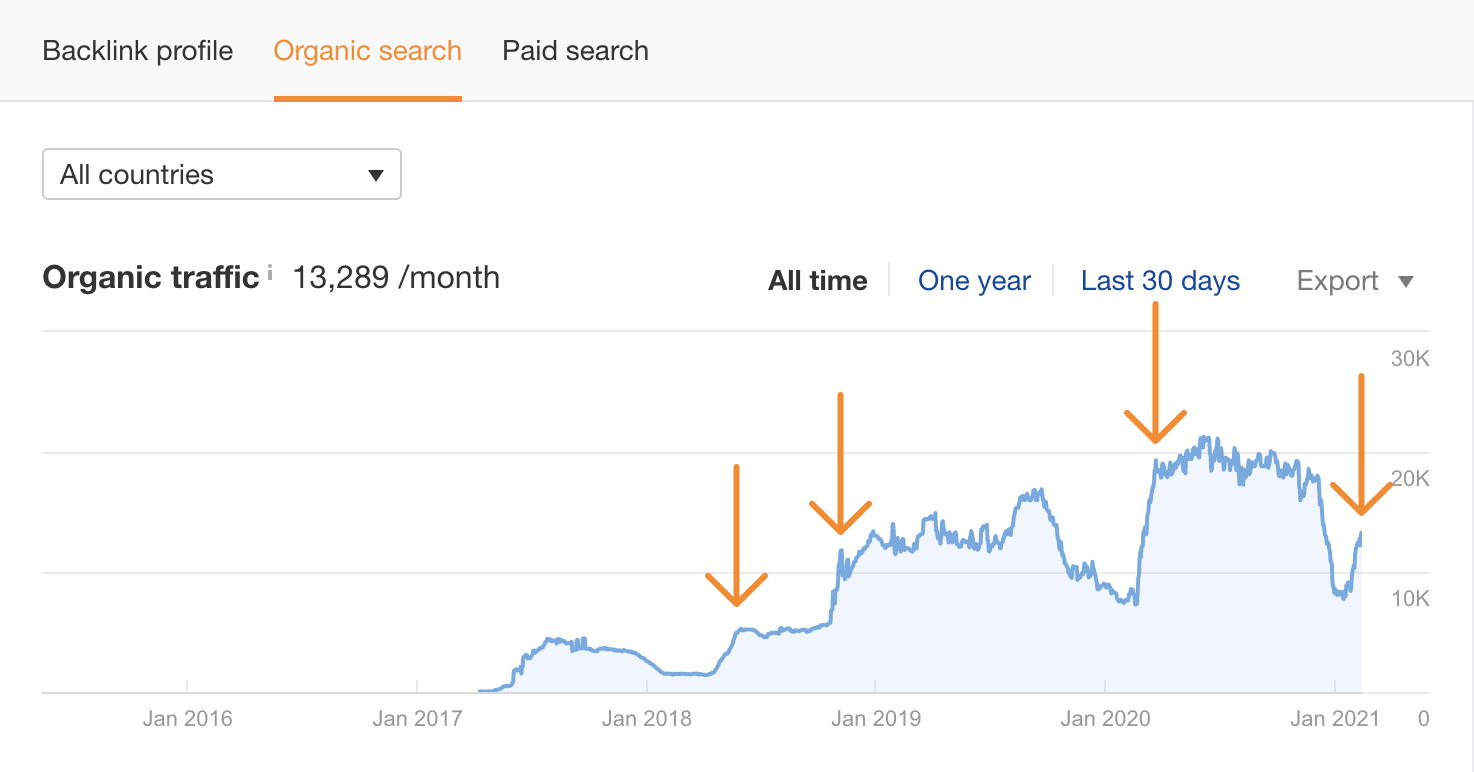 Recommended reading: Republishing Content: How to Update Old Blog Posts for SEO
Google Discover is a fairly new query-less feed that generates the content based on your interests: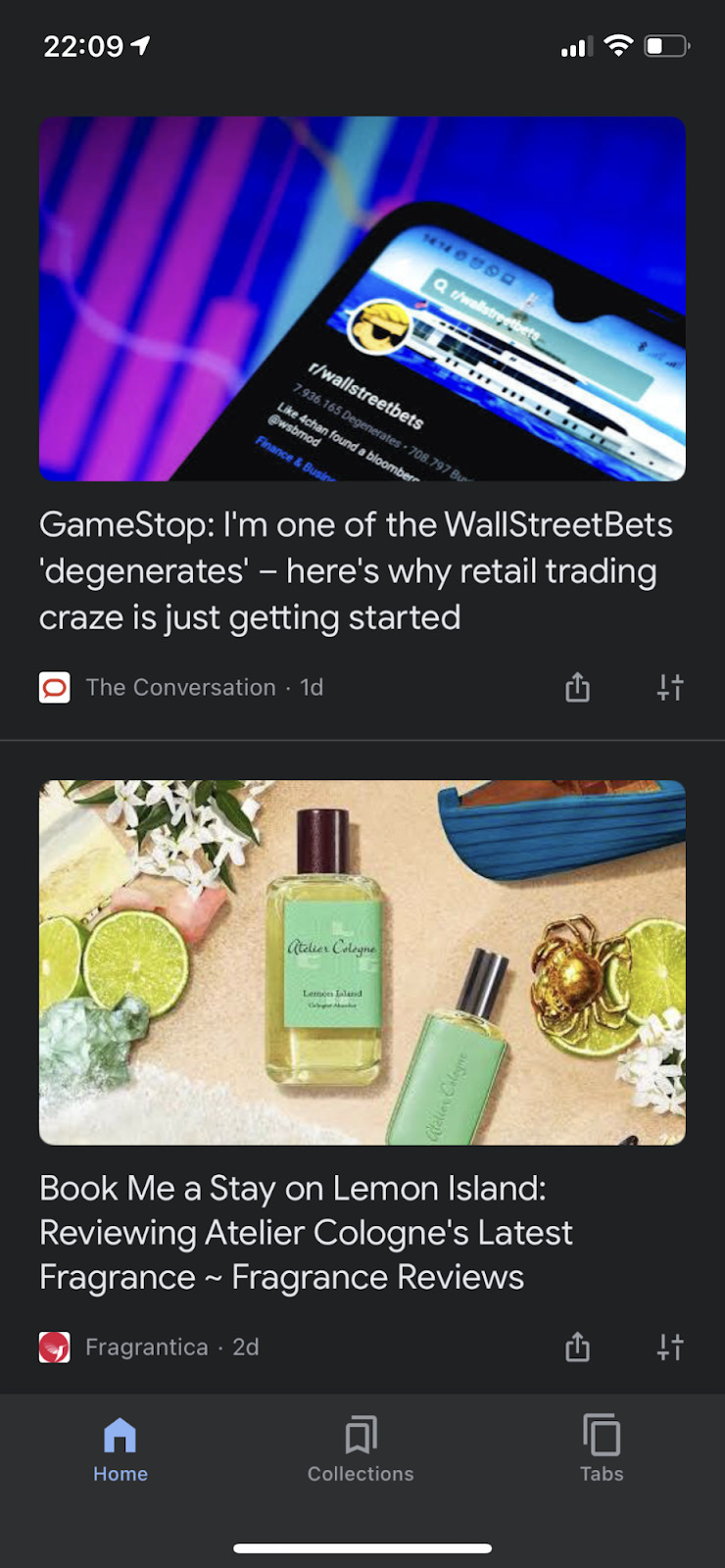 Optimizing content for Google Discover primarily comes down to publishing about popular or trending topics. But there are a few other things you should do too: 
Have a mobile-friendly website
Use unique, high-quality images 
Align your content and meta tags
Work on your E‑A‑T
Even if your site or content isn't likely to get much traffic from Google Discover, these tips will likely positively impact your SEO in the long run anyway. 
Recommended reading: Google Discover: How to Rank and Drive Traffic
Every month, we get more than a million clicks to our website from Google alone:

In fact, using SEO to rank for valuable keywords in Google is at the core of our marketing strategy.
But what makes a valuable keyword? Two things.
a) Traffic potential
Usually, a good proxy for that is its monthly search volume, which you can check in Ahrefs' Keywords Explorer: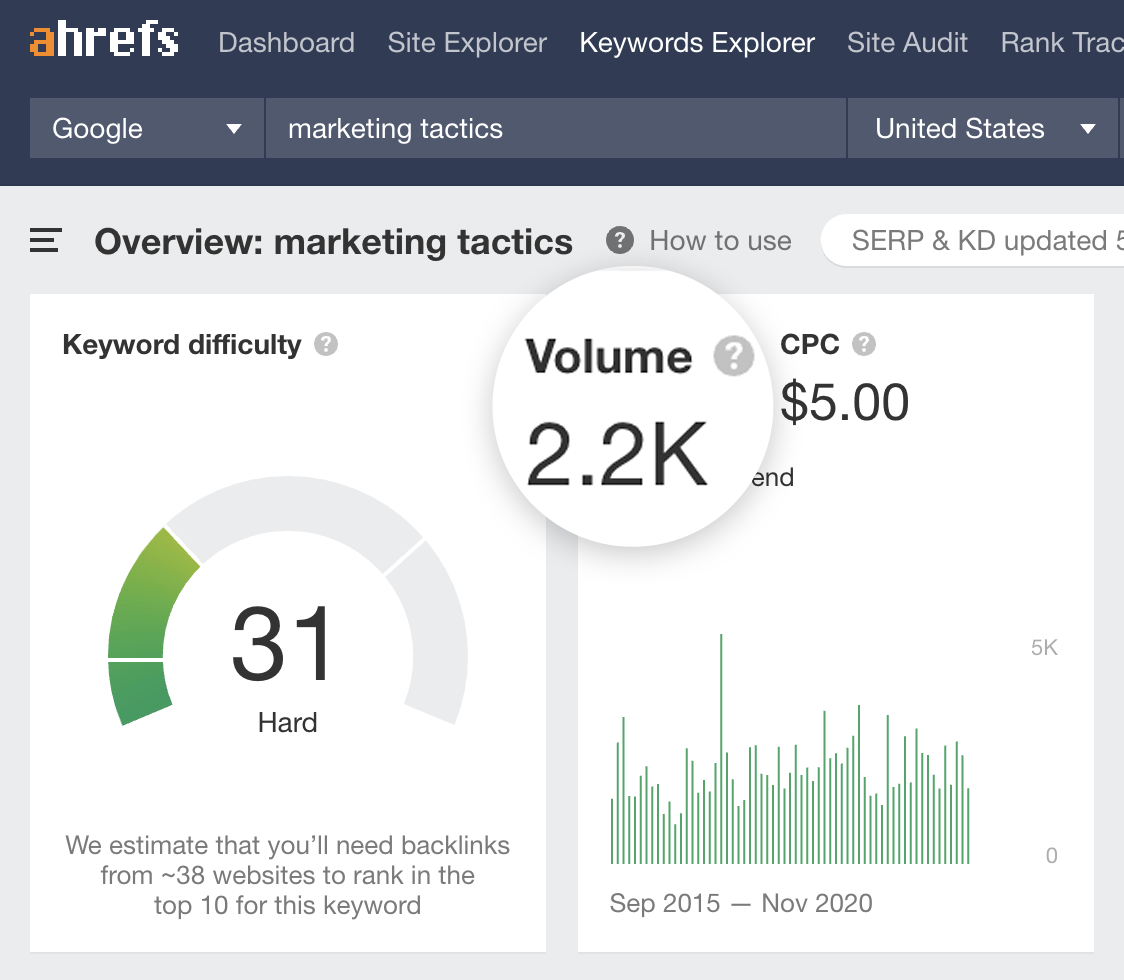 But as search volume can be misleading, you should also scroll down and check estimated monthly organic traffic to the top-ranking page. This number is often a better estimate of how much traffic you'll get by ranking number one, as it takes into account traffic from other keywords the page ranks for. 

b) Business potential
'Business potential' represents a topic's value to your business. After all, there's no point in creating content about a topic that has no value to your business. 
This is the business potential scale we use ourselves:
3: our product is an irreplaceable solution for the problem;
2: our product helps quite a bit, but it's not essential to solving the problem;
1: our product can only be mentioned fleetingly;
0: there's absolutely no way to mention our product.
We mostly target topics that are either a "2" or "3". This article is proof of this. Not only it has a substantial traffic potential, but we can naturally show you how Ahrefs can help you execute many of these marketing tactics.
Recommended reading: What is SEO Content? How to Write Content that Ranks
PRO TIP
You should also pay attention to other SEO metrics when prioritizing topics. One of those metrics is Keyword Difficulty (KD). This judges ranking difficulty based on the number of referring domains (linking websites) to the pages in the top 10.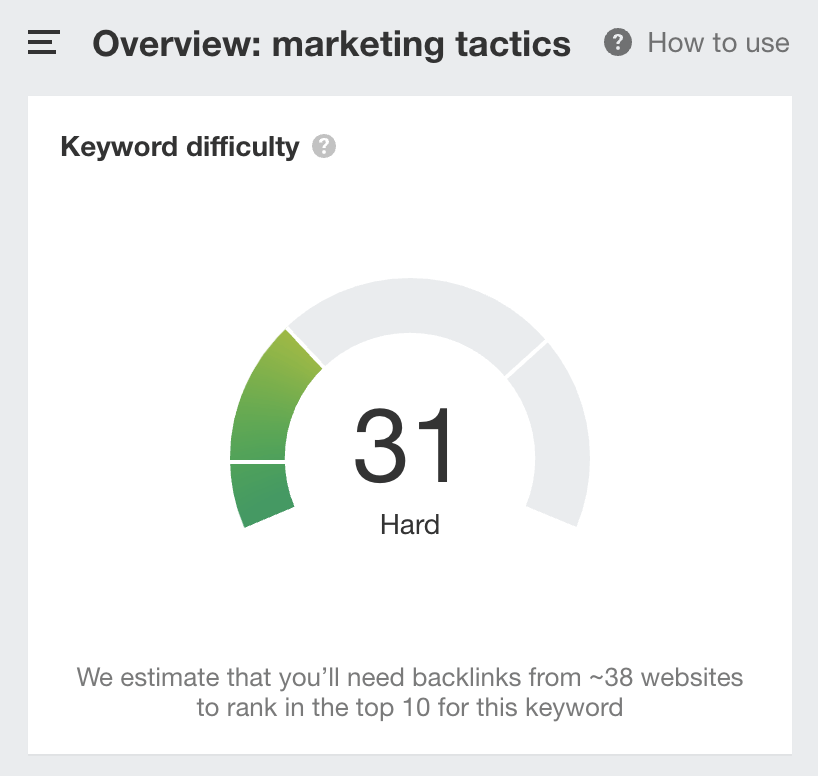 As backlinks are one of the most important ranking factors, KD should give you an idea of what you're up against in the SERP.
Naturally, your low-hanging opportunities lie in keywords with high traffic and business potential and low KD. But that doesn't happen often. It's usually quite the opposite—KD grows with the traffic and business potential.
You can start building authority in your niche by targeting the low KD keywords and then shift your focus onto the more competitive ones as you grow.
Featured snippets are pieces of information that typically appear at the top of Google's search results. They provide answers to the search query by pulling relevant content from top-ranking pages.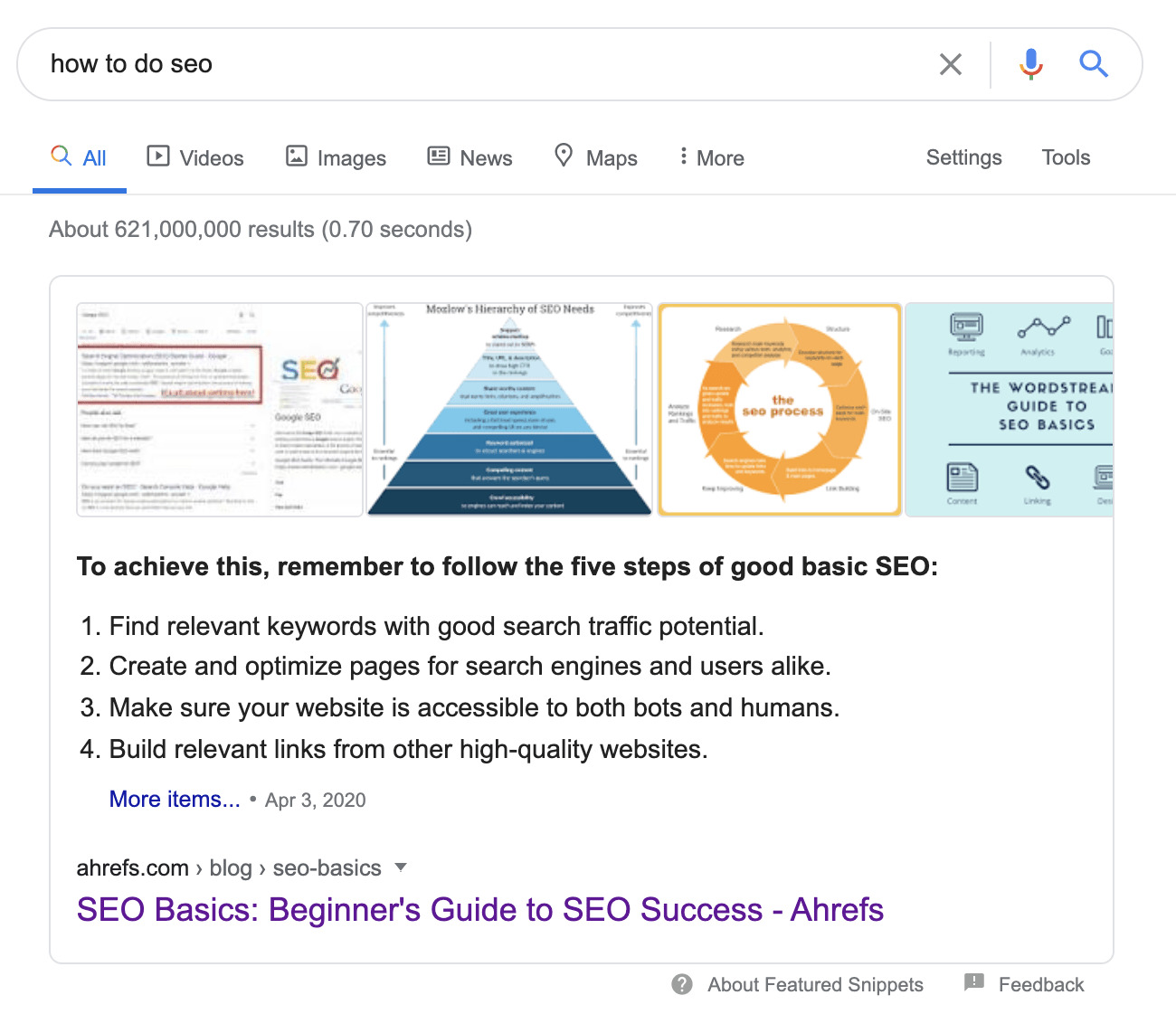 The great thing about them is that they provide a shortcut to the top position. You can rank in position #7 for a keyword one day and jump to position #1 if Google decides that your content is suitable for the featured snippet.
You can easily find featured snippet opportunities using the Organic Keywords report in Ahrefs' Site Explorer. Just filter for keywords that trigger featured snippets, where you already rank in the top 10 and don't currently rank in the snippet: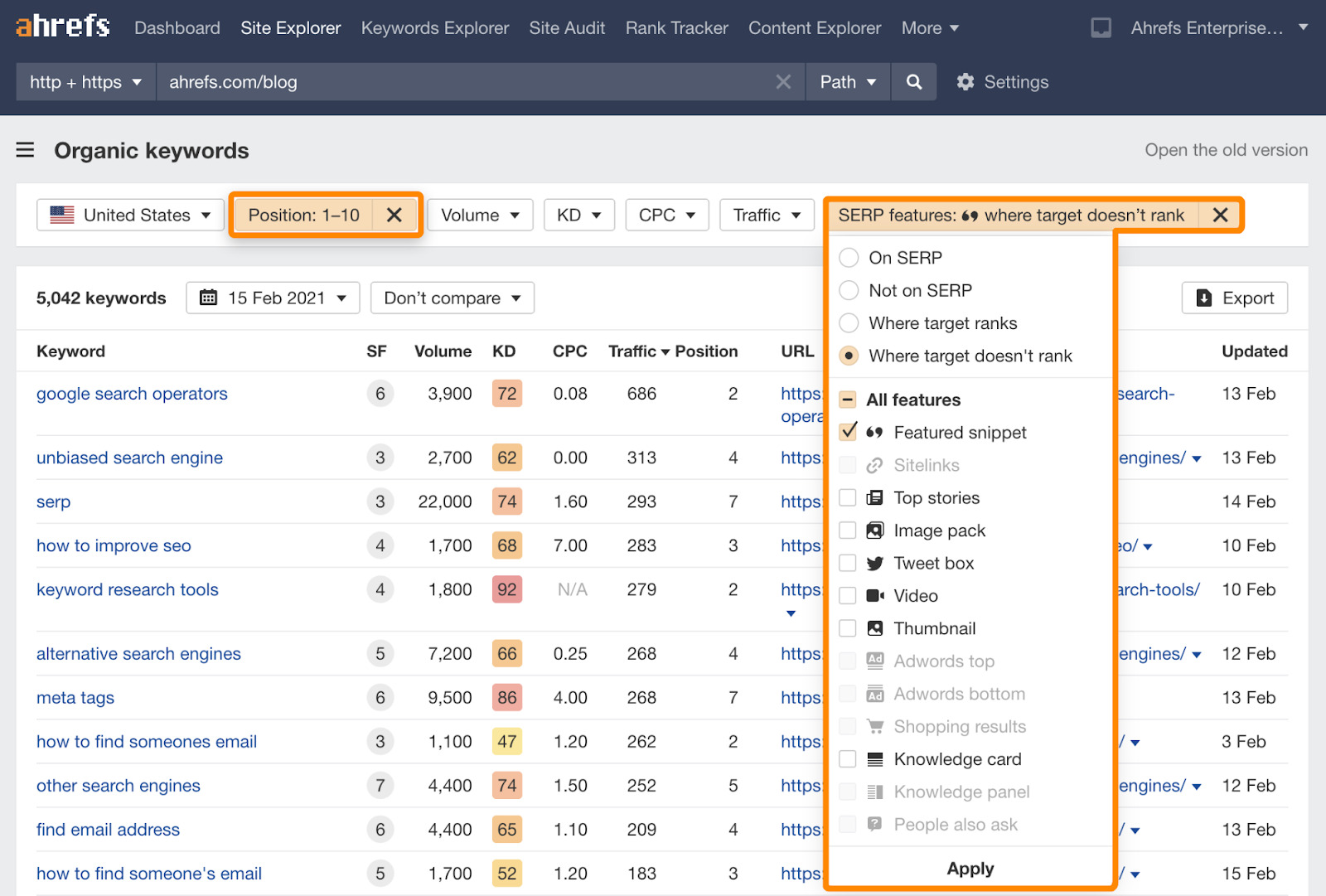 Optimizing for featured snippets can be complicated, but in short, you need to align your content with what's currently in the snippet. 
For example, the current snippet for the keyword "backlinks" shows a definition: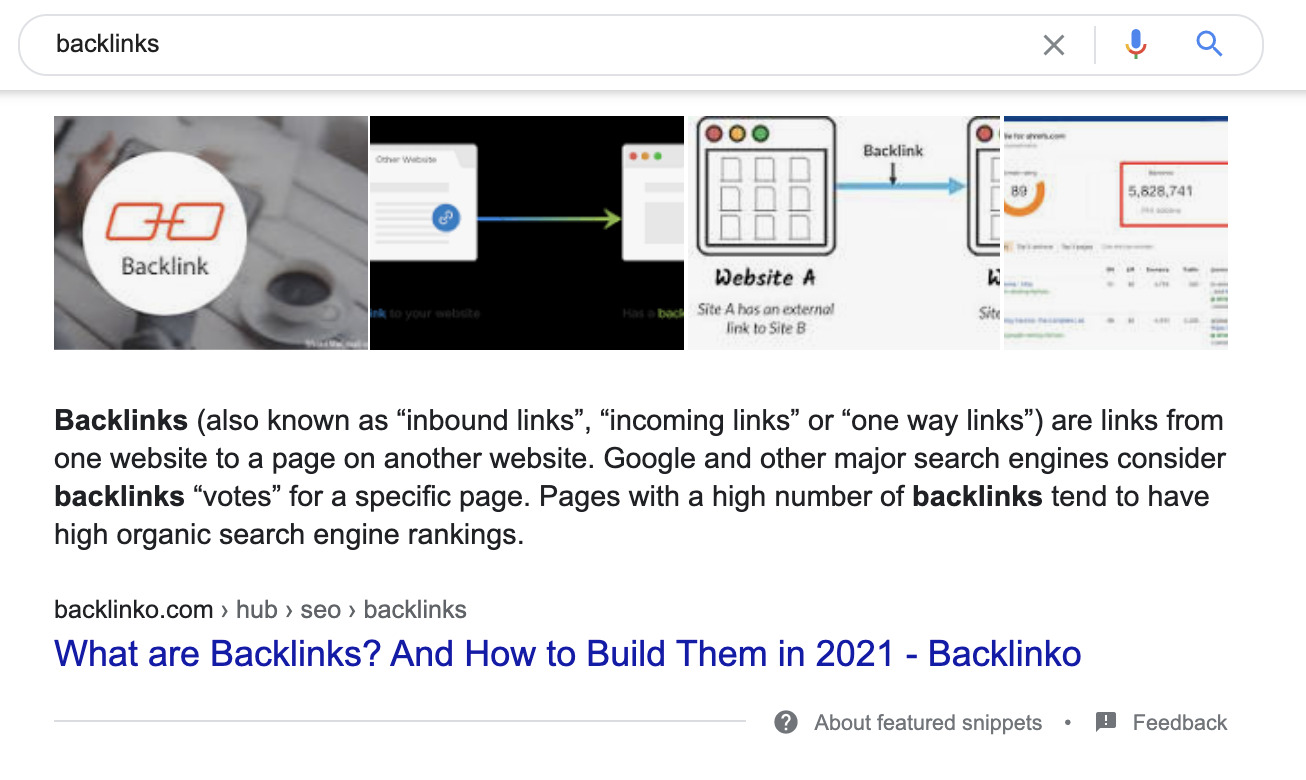 This is a sign of what most searchers are looking for. We can increase our chances of taking over that snippet by providing a better definition of "backlinks" on our page.
Recommended reading: How to Optimize for Google's Featured Snippets
Internal links are links from one page to another on the same domain. 
Optimizing your internal links is likely one of the most underutilized low-hanging opportunities in SEO, as pointing more relevant internal links at important pages will often help them to rank higher for two main reasons:
Increases page-level 'authority'. Google uses something called PageRank to help rank web pages. It essentially judges the "authority" of a webpage on its internal and external backlinks.
Boosts relevance. Using relevant anchors for internal links helps Google to understand what your page is about and rank it accordingly.
Linking together relevant pages on your website is, therefore, highly beneficial for your visitors and your SEO efforts.
You can easily find relevant internal link opportunities in Ahrefs' Site Audit. After you create a project and our robot crawls your website, go into the Link Opportunities report and update your internal links where suitable:
https://www.youtube.com/watch?v=HWBBqJ0a2U4
Recommended reading: Internal Links for SEO: An Actionable Guide
It can be difficult to build links directly to your most important "money" pages. The Middleman method is a great workaround for this, making it one of the most effective link building techniques out there.
The idea is this:
Create relevant linkbait
Add contextual internal links from that page to your money pages

What type of content works the most here depends on your niche. In our case, we generally get most links to our data studies, as you can see in the Best by links report: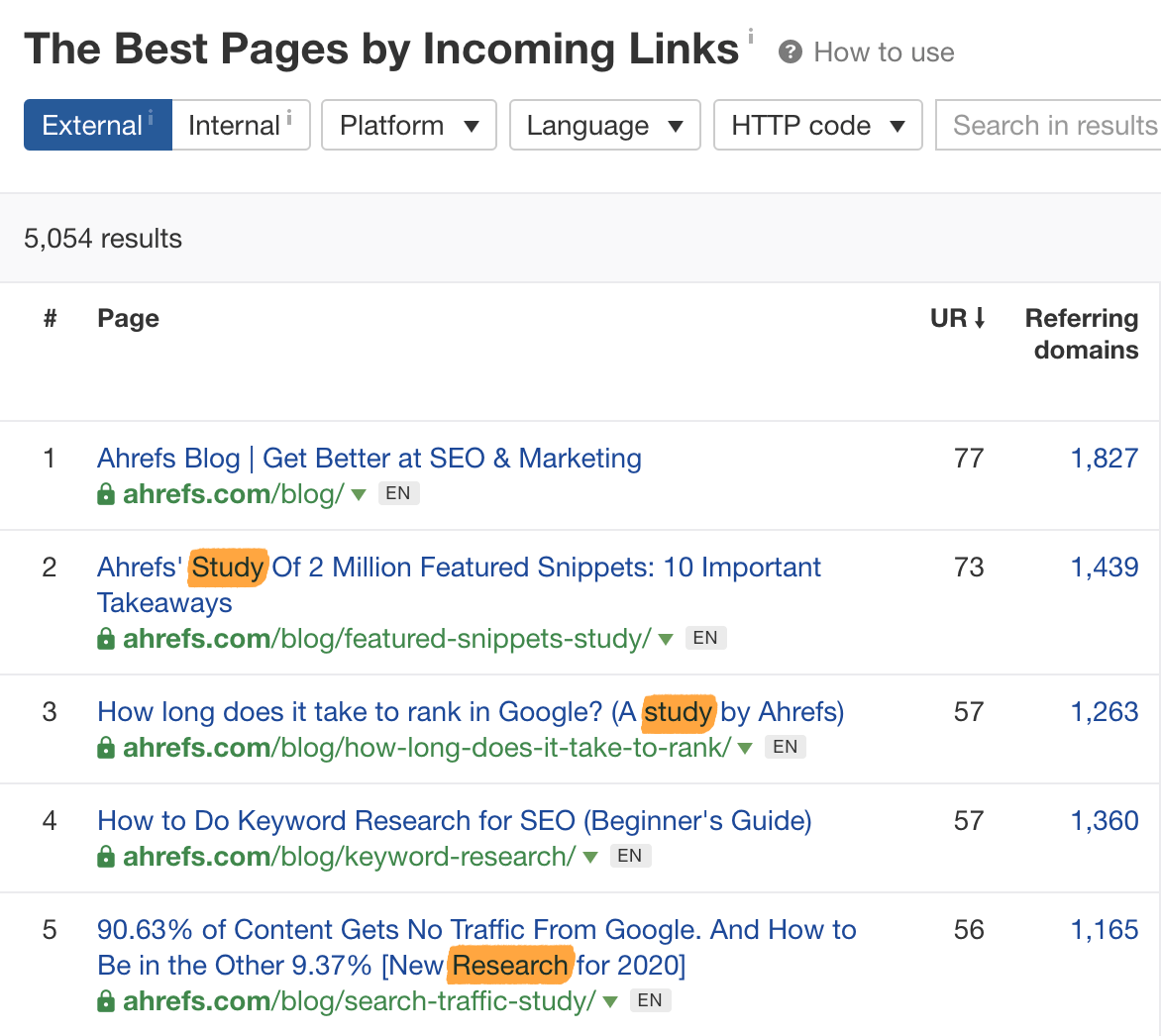 Links in these articles pointing to our other pages, therefore, pass a substantial amount of PageRank.
Recommended reading: A Simple SEO Strategy (The 'Middleman' Method)
HARO stands for Help A Reporter Out. It's a feed of requests from journalists, bloggers, and other writers who need information for pieces they're working on.
You can be that source of information. Simply sign up for the email feed, monitor the requests in your category, and respond with valuable information as fast as possible whenever you see a good opportunity.
This is a great link building and PR technique, especially for projects in their beginning stages. That's because what matters are your credentials and the value of the information you provide, not your actual website or content on it.
Here are a few tips from my experience with HARO:
Check the publication. Avoid those that aren't authoritative or are overly reliant on 

HARO

.
Be picky. Only respond to requests where you can truly provide great information.
Respond as fast as possible. Many people are monitoring the same niche as you.
Get help. Don't hesitate to bring colleagues on board if they're more qualified to answer.
Stick to the script. Don't deviate from the format the author is requesting.
Here's an excerpt from a successful HARO submission in a roundup post published for an authoritative website relevant to what CDN77 is doing (a company I worked for in the past). I got the help of my former colleague because I wasn't qualified to provide answers for the "best tools for system administrators":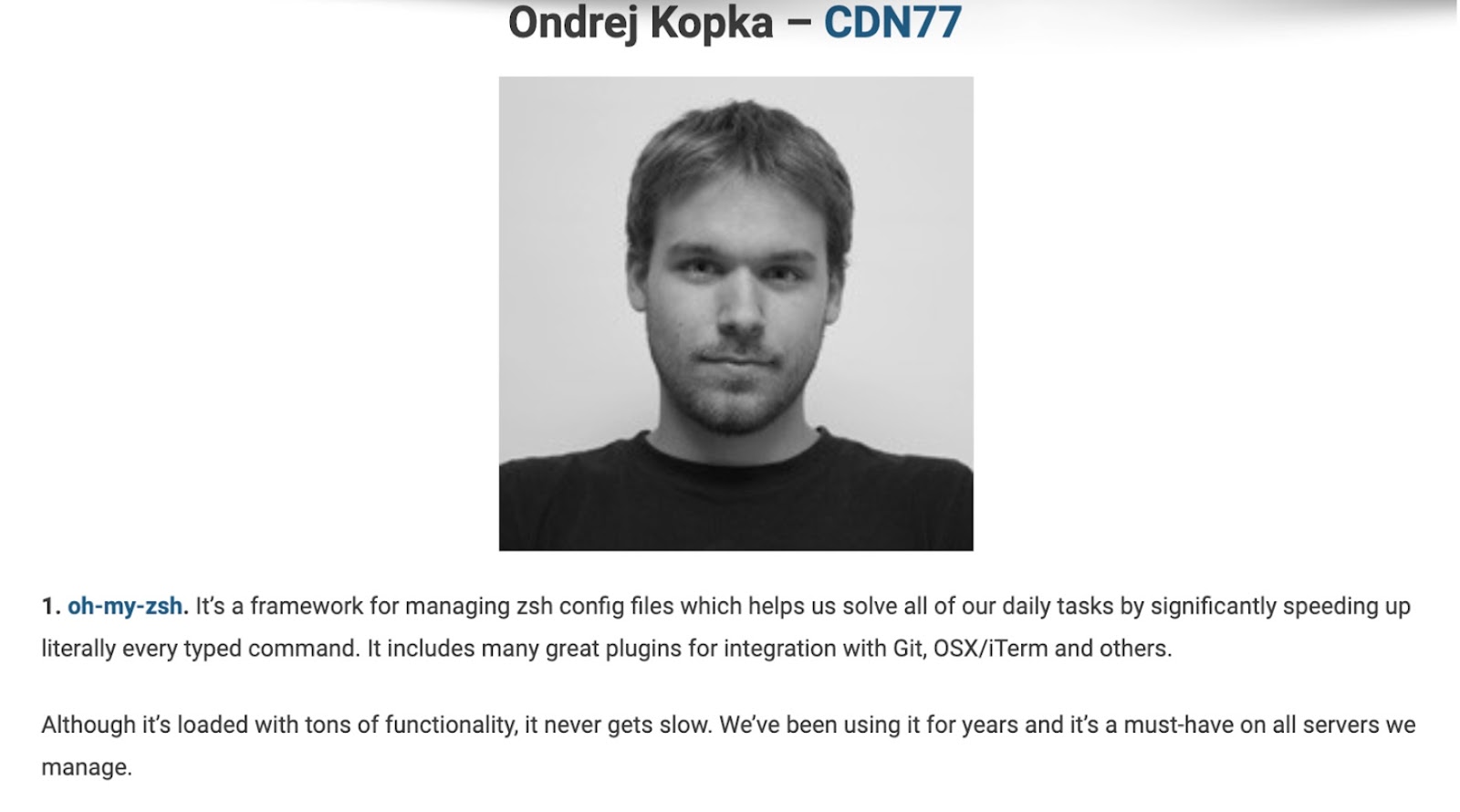 Recommended reading: How to Build Backlinks and Get Press Using HARO
Newsjacking is a reactive PR technique that relies on providing valuable information about current events to the media as soon as possible.
Unlike the previous HARO tactic, this requires monitoring what is happening in the world related to your niche and pitching your expert contribution to the news before they publish anything.
It's one of the more advanced tactics, but the results can be amazing:
Building links on top tier domains in the financial/medical space builds trust and authority with Google

In 6 months, we drove a 329% increase in organic traffic for a forex trading client of ours and 53% increase in organic conversions. A thread on how… pic.twitter.com/jHJNZcjGu0

— Carrie Rose (@CarrieRosePR) January 18, 2021
Guest posting is when you create and publish content for another website.
The three main objectives you can have with guest posting are:
Build credibility
Drive referral traffic
Rank for competitive keywords 
The third objective needs an explanation.
If you're not yet an authority in your niche, some keywords will be challenging to rank for. So while you focus on the low-hanging fruit keyword opportunities on your site, you can pitch content about more competitive keywords to big websites in your niche.
Sure, you won't own that content but achieving all three of those guest posting objectives at the same time is well worth the effort.
Recommended reading: Guest Blogging for SEO
It's common knowledge that you should start building your email marketing lists early on. But then what? You can obviously send emails regularly, but a somewhat underutilized tactic is using drip campaigns.
Drip campaigns are a series of emails triggered automatically at specified intervals or after a user completes a specific action that you track.
This can be as simple as signing up for a newsletter and providing value right away:
But when it comes to converting your subscribers to paid users, you'll likely need more emails in a set sequence:

The example above is too much for my taste, but hey, I still converted in the end. 
So, think about the objectives you'd like to achieve with your emails and come up with an email sequence to achieve them. This can be as simple as providing a discount coupon for a first-time purchase when a user doesn't check out their cart within a certain period.
Everyone knows about running ads on Google and Facebook. These channels work, but if your audience uses less saturated platforms, you can get customers for fewer dollars.
These can be channels specific to your locale, alternative search engines, or even less-known global advertising platforms like Quora or Brave Ads. I've advertised on both of these platforms and they exceeded the performance of Google and FB Ads in a big way.
But even organic efforts can work well. Check how my colleague SQ has gained over 1.6M views from his Quora answers to this day:

Recommended reading: Quora Marketing: ~1 Million Views Generated. How to Replicate Our Success
A big chunk of our marketing budget goes towards sponsorships of podcasts, events, and newsletters. It's how we spend most of our brand-building budget.
Yes, brand building. Whatever you sponsor, it won't likely result in many direct sales. But repeatedly getting in front of your audience with a killer message can work wonders.
You can even go with the more traditional approach. It all depends on your product, positioning, and audience. There's a reason why brands like HSBC have their logo on jet bridges in many airports or why you can see Omega logos next to timekeepers on sports events.
Recommended reading: Podcast Advertising: $51,975 Spent. What We Learned
An affiliate program allows anyone to earn commissions when they refer new customers to you. It motivates people to recommend your products to their friends, acquaintances, and audience.
Here are a few things you should consider before going this route:
Have a great product. Some affiliates might recommend things they don't believe in themselves, but that can backfire in the long run.
Check your competitors' affiliate programs. Some might be pretty aggressive and not worth the effort to compete with them.
Do the math. You want to strike a balance between your profitability and reasonable commissions that motivate affiliates to promote your products.
At Ahrefs, we discontinued our small and closed affiliate program years ago. Because we're now an industry-leading SEO tool, people recommend us through word-of-mouth without monetary incentives. 
So, creating an affiliate program is a great way to get exposure early on. But you need to think it through. Adjusting commissions or discontinuing the program can easily backfire later.
A brand code is anything that you consistently use in your communications.
Everyone has a logo and maybe some visual styles. But that's about it for most brands. It's not enough to stand out and be distinctive in the mind of your target audience.
Your strategic decision is to choose 3–5 brand codes (distinctive assets). You then deploy these in your communications as your tactical execution of the strategy.
At Ahrefs, besides our logo and the color blue, we also have two more brand codes. The first is our own custom font: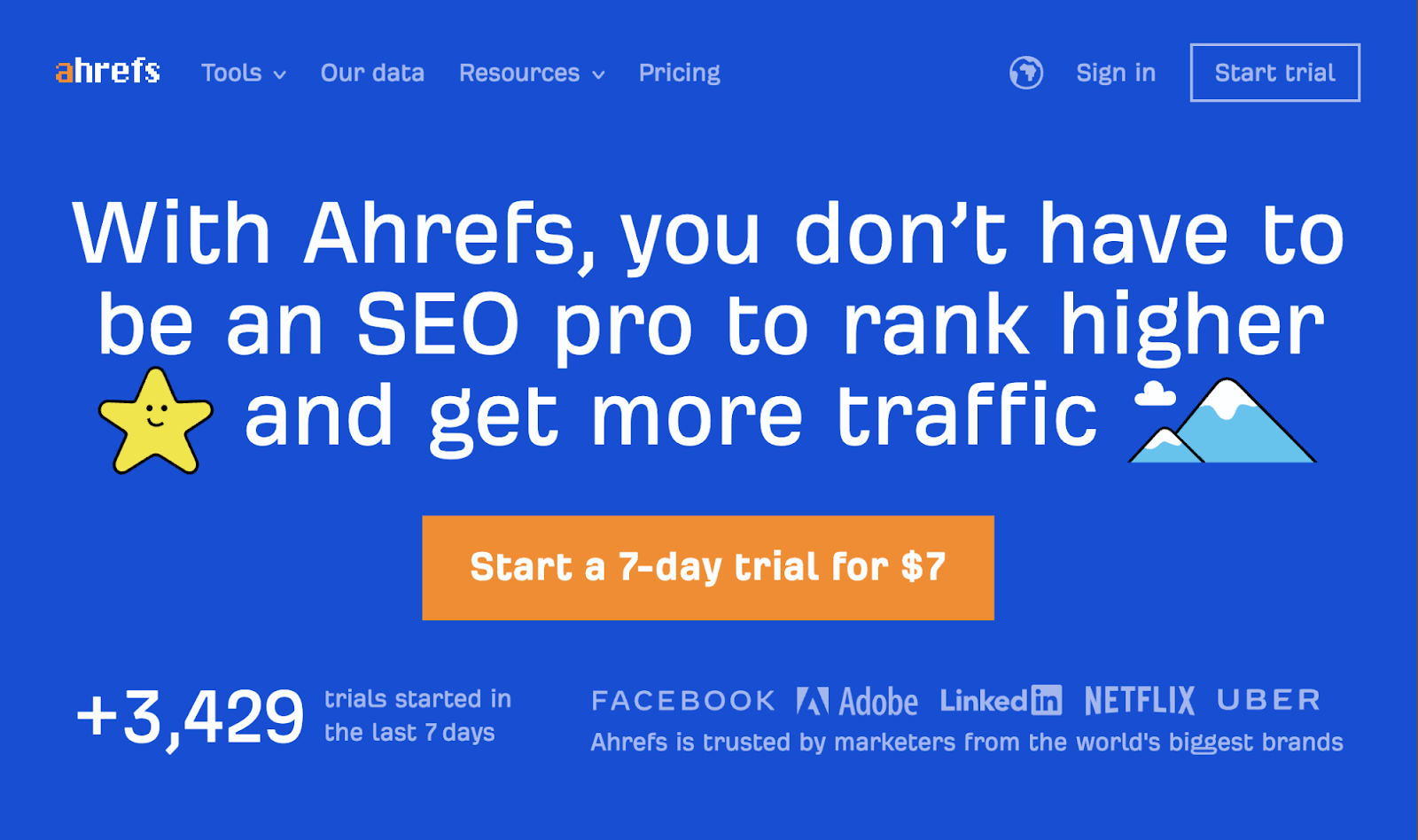 The second is our bearded guy mascot, who's often accompanied by a corgi: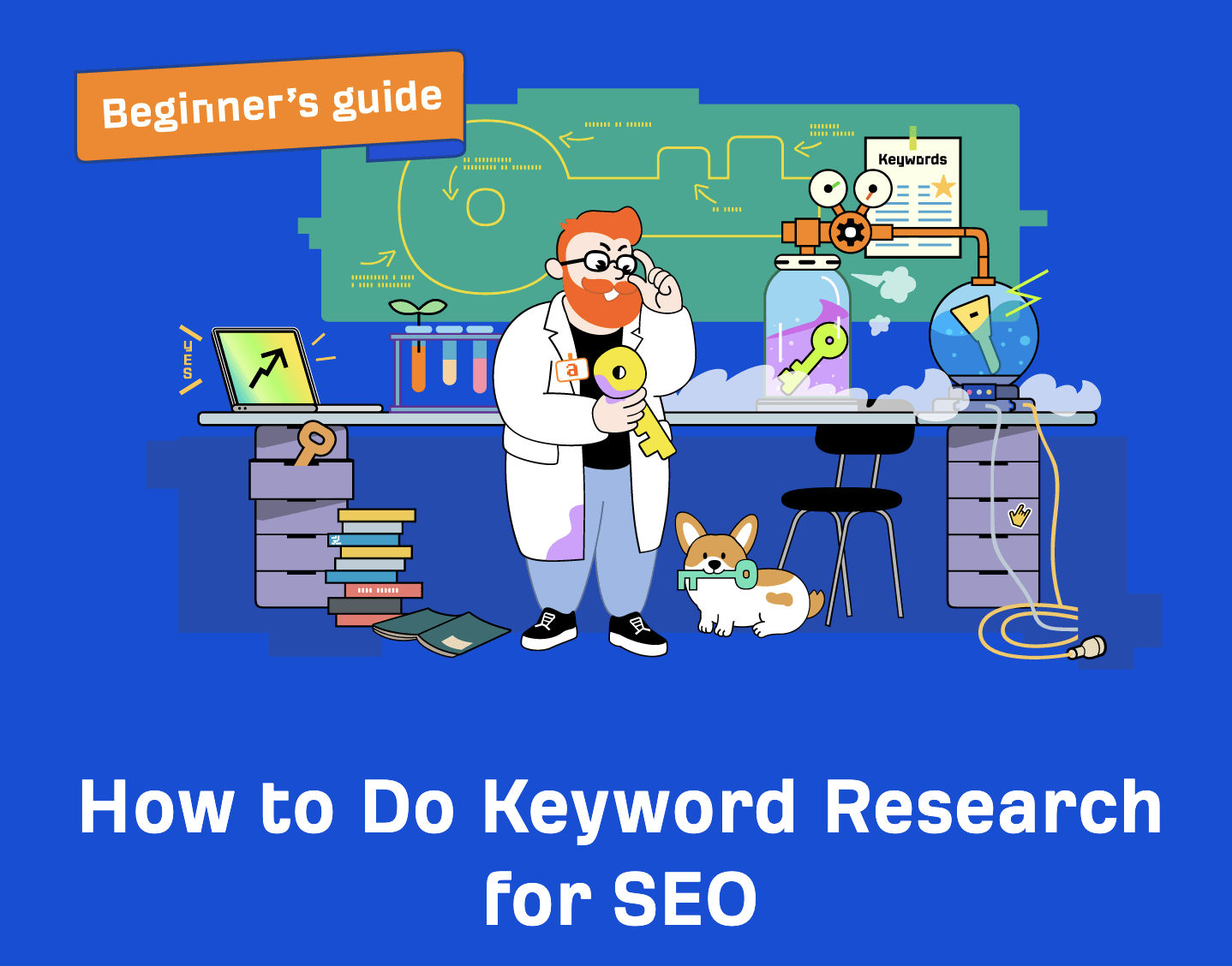 There are no limits to your creativity. All that matters is that you choose something you want your brand to be associated with and use it consistently.
More examples of brand codes include your own emojis, gifs, unique words, taglines, or even the style you advertise. Just think about Mastercard's "priceless" campaigns.
Final thoughts
Marketing tactics revolve around your product, price, place, and promotion. These are parts of the well-known marketing mix, or "4 Ps of marketing".
As you might have noticed, most of the tactics above focus on the promotion part. That's because creating products that satisfy your audience's needs and optimizing your pricing for maximum profitability should be common sense.
That said, all the "Ps" are essential, yet marketers tend to focus on the promotion part and neglect the rest. Don't do that. Conduct market research, create a solid marketing strategy based on that, then focus on all four of your Ps.
Got any questions? Ping me on Twitter.