Looking for influencers to promote your product? You're in the right place.
Building your own social media empire can take years, whereas influencers already have the trust and attention of your target audience.
All you have to do is pay them to show off your product or service.
In this post, you'll learn how to find and choose the right influencers for your business in 6 easy steps.
But before all that, you might be asking…
Influencers have three qualities:
Recognized expertise in a niche
An active, sizeable audience
Ability to engage with and influence their audience
If Ahrefs were to pay someone to increase their audience, a good choice would be an SEO expert like Brian Dean.
But here's the thing: although Brian is clearly an influencer, you can't pay him to influence his followers.
Folks like Brian Dean require more than money to discuss your product. They require a good product. So even though he's a great influencer for Ahrefs, he's not a good candidate for an influencer marketing campaign.
But there are hundreds or thousands of influencers in almost every niche…
Influencers come in all shapes and sizes, so finding the right fit for your product can prove challenging. But fear not! It's easier than it looks. If you know your product and can plan a budget, it's all fun and games from there.
Here's a process for finding influencers:
Step 1. Figure out your budget
You probably have a number in mind that you think this experiment will cost. Maybe it's a thousand dollars, maybe it's a million. Either is fine, but understand that what you're willing to pay will determine what kind of influencer you need to find. 
Here's the range of influencers, brought to you by Ahrefs' finest designers and Mark Schaeffer's Marketing Rebellion.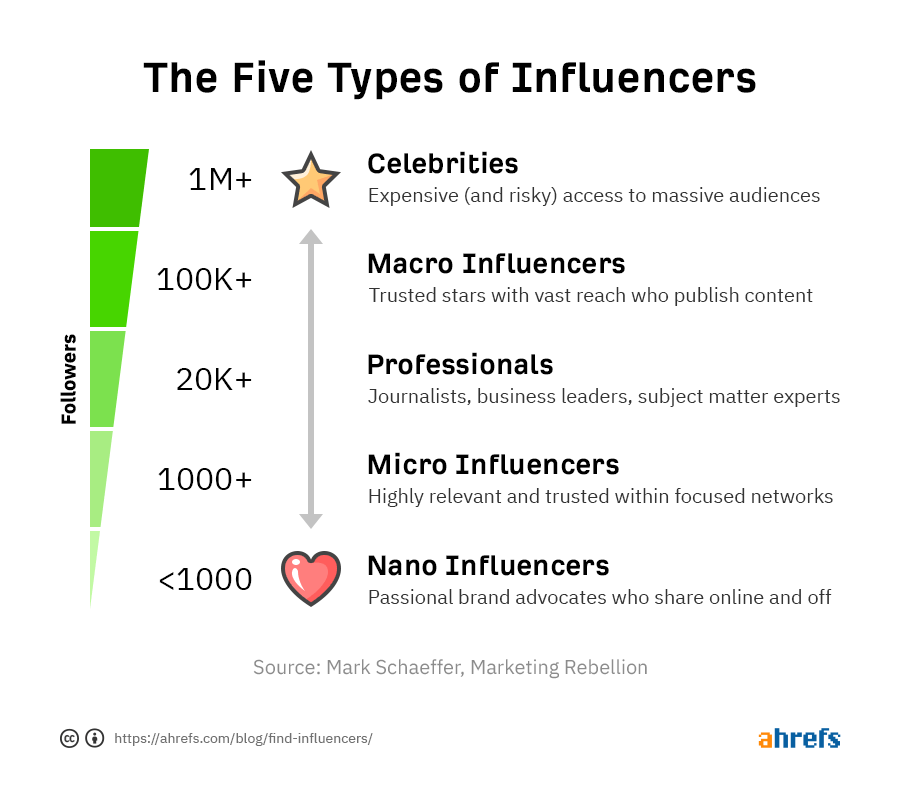 It's hard to put a number on precisely how much influencers in each bucket charge, but suffice it to say that things get more expensive as follower counts increase. Prices also vary by social media platform, as well as the audiences' engagement and intention to buy (as perceived by your influencer).
So while a nano-influencer's Tweet might cost you $2, a celebrity's blog post could go for $60mm. If you're reading this, your needs probably lie somewhere in the middle.
Just know your number and start looking…
Step 2. Look for influencers
Let's say you've got a few million to spend and you want real celebrities. There's one way to get the big guns and that's to reach out directly. You'll need a directory of agents to find the people who know their people.
If you take the celebrity influencer route, it's doubly important that they are experts in your niche (or a closely related one) and they take payment to influence!
Kim Kardashian is a well-known influencer. But for Ahrefs, she would likely be useless. Her audience is almost certainly uninterested in SEO.
That said, someone like Tim Ferriss should do the trick. Though he is not an SEO freak, he's a recognized digital marketing expert, and that's close enough. His audience is filled with marketers and entrepreneurs that would benefit from Ahrefs.
But what if you don't know any celebrities in your niche or only have the budget for macro/micro/nano influencers?
Pop open a spreadsheet like this one to track your findings and gear up.
It's time to get your hands dirty.
a) Look for people who've written about your topic
If someone is relentlessly blogging about topics related to your industry, chances are they've amassed a following.
You can find these people in Content Explorer, a searchable database of ~7 billion pages.
Here's how:
Open Content Explorer
Enter a relevant topic
Switch the search mode from "everywhere" to "in title" for the most relevant results
Hit search
Go to the authors tab
Here you can see the names of folks who've written about your chosen topic, how many posts of theirs we have in our database, and, for some, how many twitter followers they have.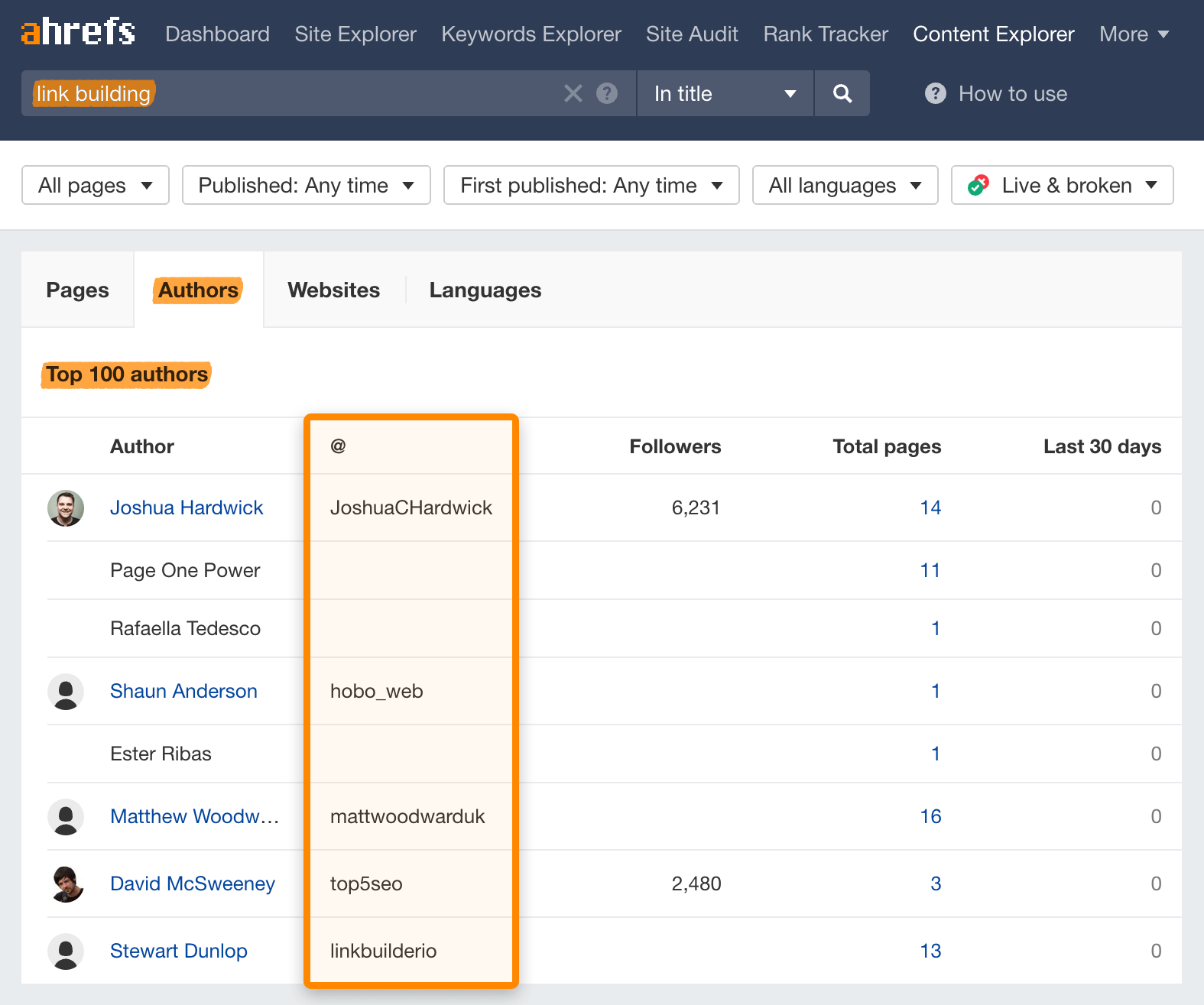 Take a look at the authors who talk about your topic the most. Our very own Joshua Hardwick has an impressive 14 total pages with "link building" in the titles. Chances are, he's an expert on it. And with over 6k followers on Twitter alone, he's likely got an active audience.
Add him to your spreadsheet and fill out the rest of his follower data where you can find it. Do the same for all the authors that might fit your budget and hit the criteria for 'influencer' status.
b) Look for people who talk about competitors
People who talk about your competitors are likely to talk about you. And if they haven't yet, it's a good time to let them know you exist!
In Content Explorer:
Change the search topic to your closest competitor
Switch "in title" to "in content"
Check out the "Authors" tab for analysis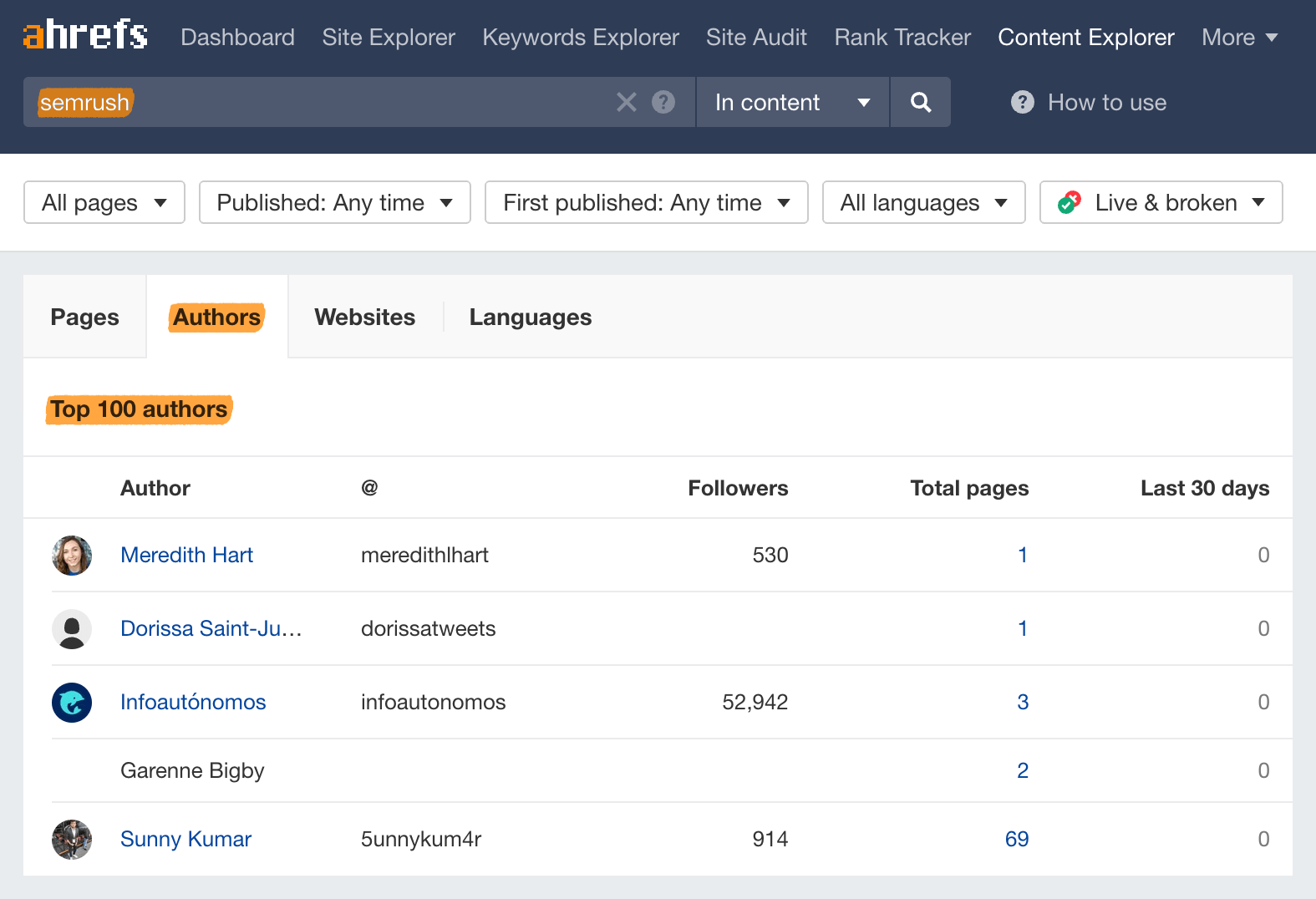 Again, look through the list of authors, note anyone who seems to fulfil your needs, then move on.
c) Look for authors of popular industry websites
Every industry has its big name publications. Within those publications are dozens of influencers a.k.a. writers.
If you already know the big publications in your industry, you can find influencers easily enough by scrolling through their posts and looking at the author names.
If your industry is SEO, you might scroll through the ahrefs.com/blog to find people like Patrick Stox and Ilia Markov.
Most authors have a bio page with links to their social profiles, so you can quickly check whether they have a following. If they do, note them down in your sheet.
However, as this process is time-consuming, you can speed things up using Content Explorer.
Run a search for site:publication.com
Switch dropdown to "Everywhere"
Click the "Authors" tab.
If you don't already know the big publications in your industry, you can find them in Content Explorer:
Search for a topic in Content Explorer
Switch dropdown to "In title"
Click the "Websites" tab
You can then repeat the process above for each of these websites.
Step 3. Check which platforms they use
Content Explorer natively displays Twitter follower count for many authors.
For those with a count in your desired range, click the number under "websites" and go to their personal site. If they have any kind of online presence, you'll find their social media links there.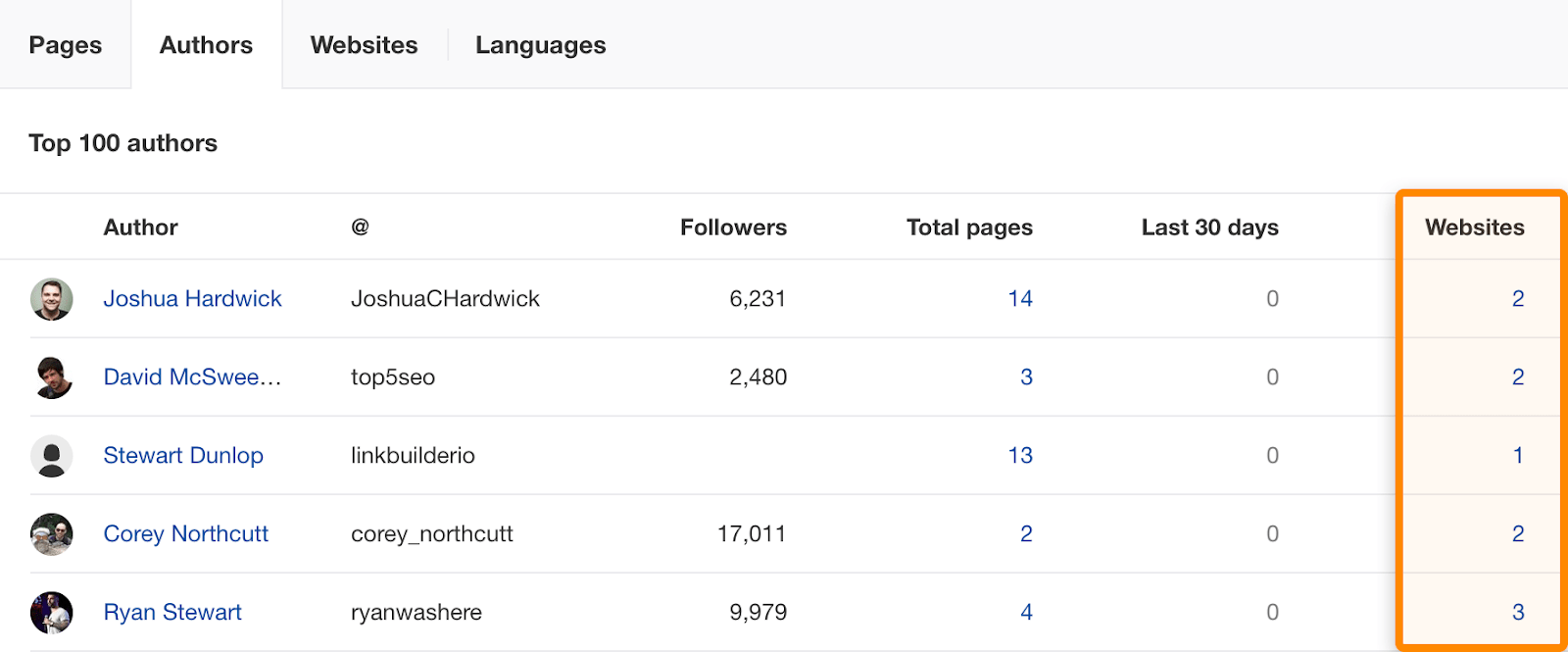 If we do that for Andrew Dennis, we see a few websites.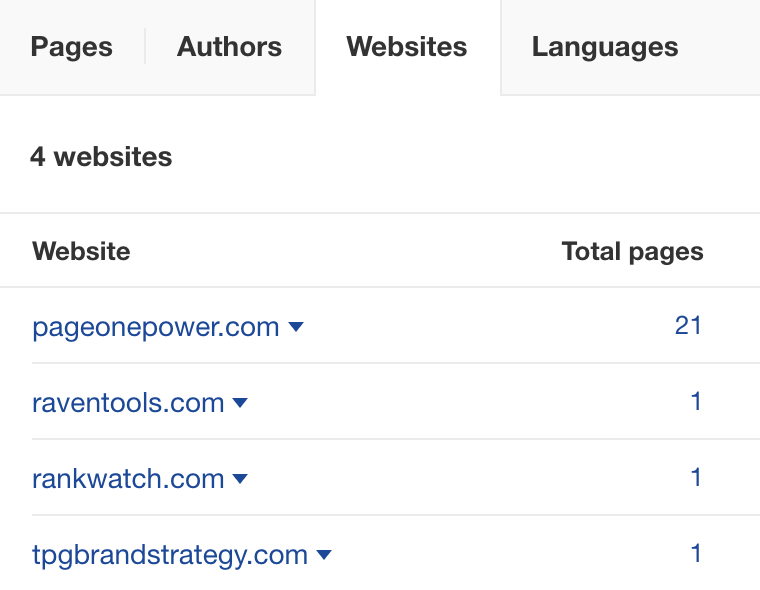 Given that he's published the most content at pageonepower.com, that's almost certainly his personal website. So let's click on the number in the "Total pages" column to see the posts he's written there.

If we click on one of these posts and check his author bio, we find links to his social profiles.

As you go through this process, you'll start to learn the platforms where influencers in your niche are most active. That's important for the next step, where we'll ramp up our treasure hunt.
Step 4. Search popular platforms for more influencers
Now that you know which platforms are popular in your niche, you have a good idea of where your target audience aggregates online.
Since SEO influencers are most popular on Twitter, it's a fair assumption that SEO audiences congregate on Twitter. To find more influencers, we're going to look towards Twitter.
Your audience might be somewhere else. Fortunately, most social media platforms have dedicated third-party tools to find influencers.
How to find YouTube influencers
If you're looking for video influencers, Influenex appends YouTube channels and videos with subscriber counts, average video views, engagement rates, video duration, and date of last upload. They also have a proprietary "Influenex Score" to give you a quick read on the potential ROI of contracting an influencer.
Just sign up for their Free Trial to access all features. (Spoiler: the free trial is infinite.)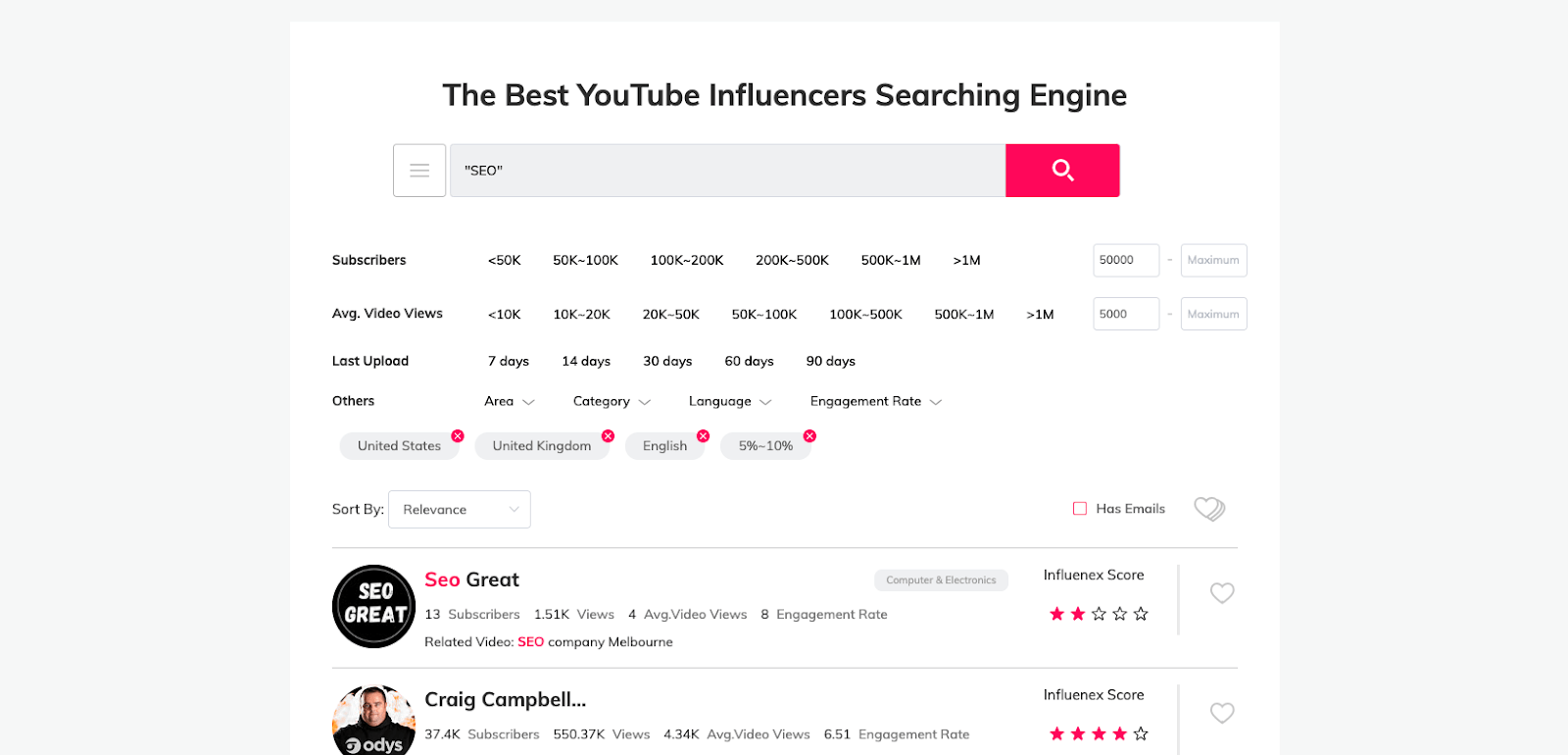 You can also use their video search to find people who talk about your topics, company, and competitors like we did earlier with websites.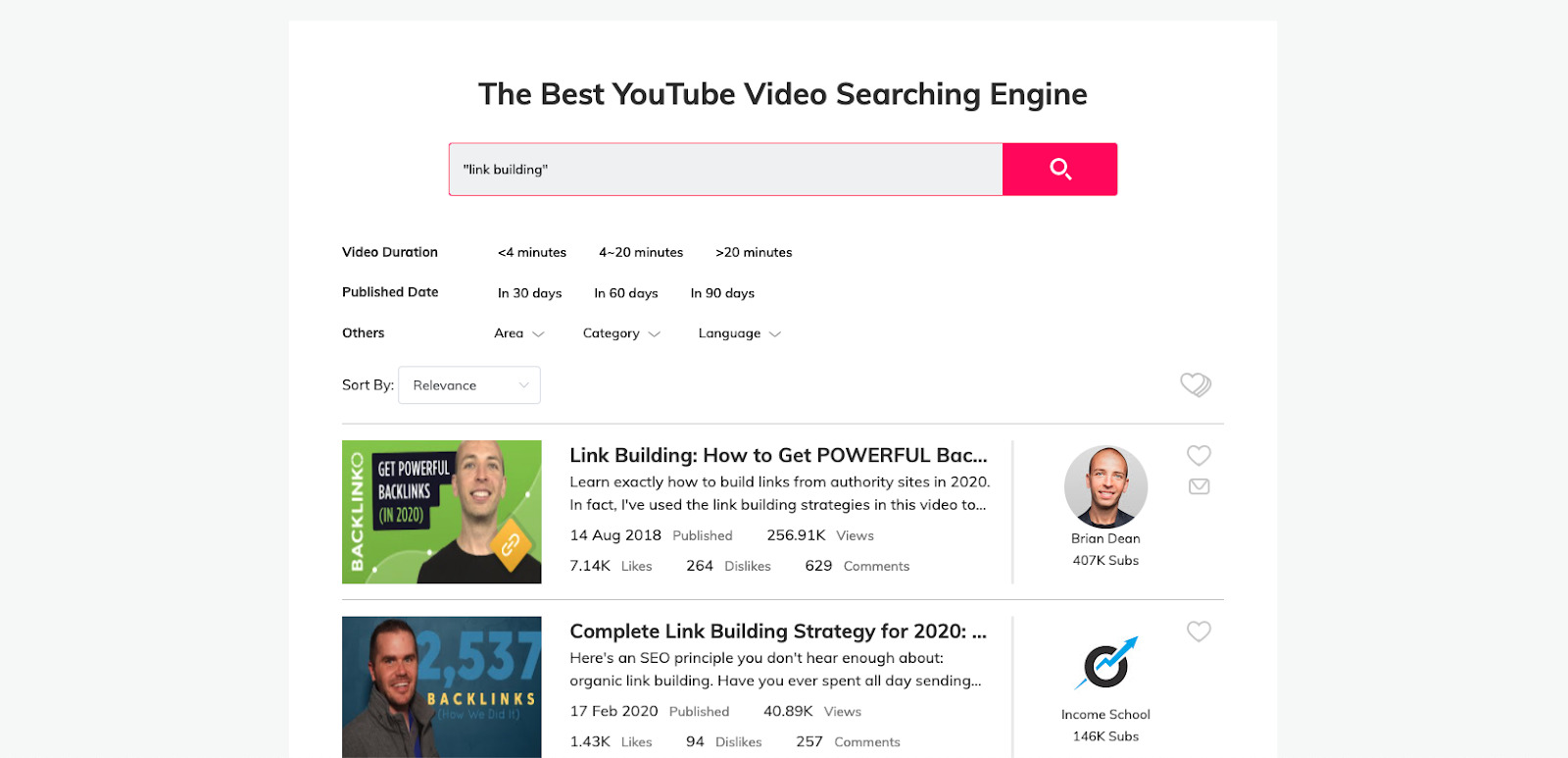 You know it's effective when Brian Dean is the top result!
How to find Twitter influencers
Followerwonk is a lightweight search engine for Twitter accounts. Just drop a keyword into the search bar to find profiles matching your desired follower count, tweet frequency, account age, and "Social Authority," Followerwonk's own influencer clout score.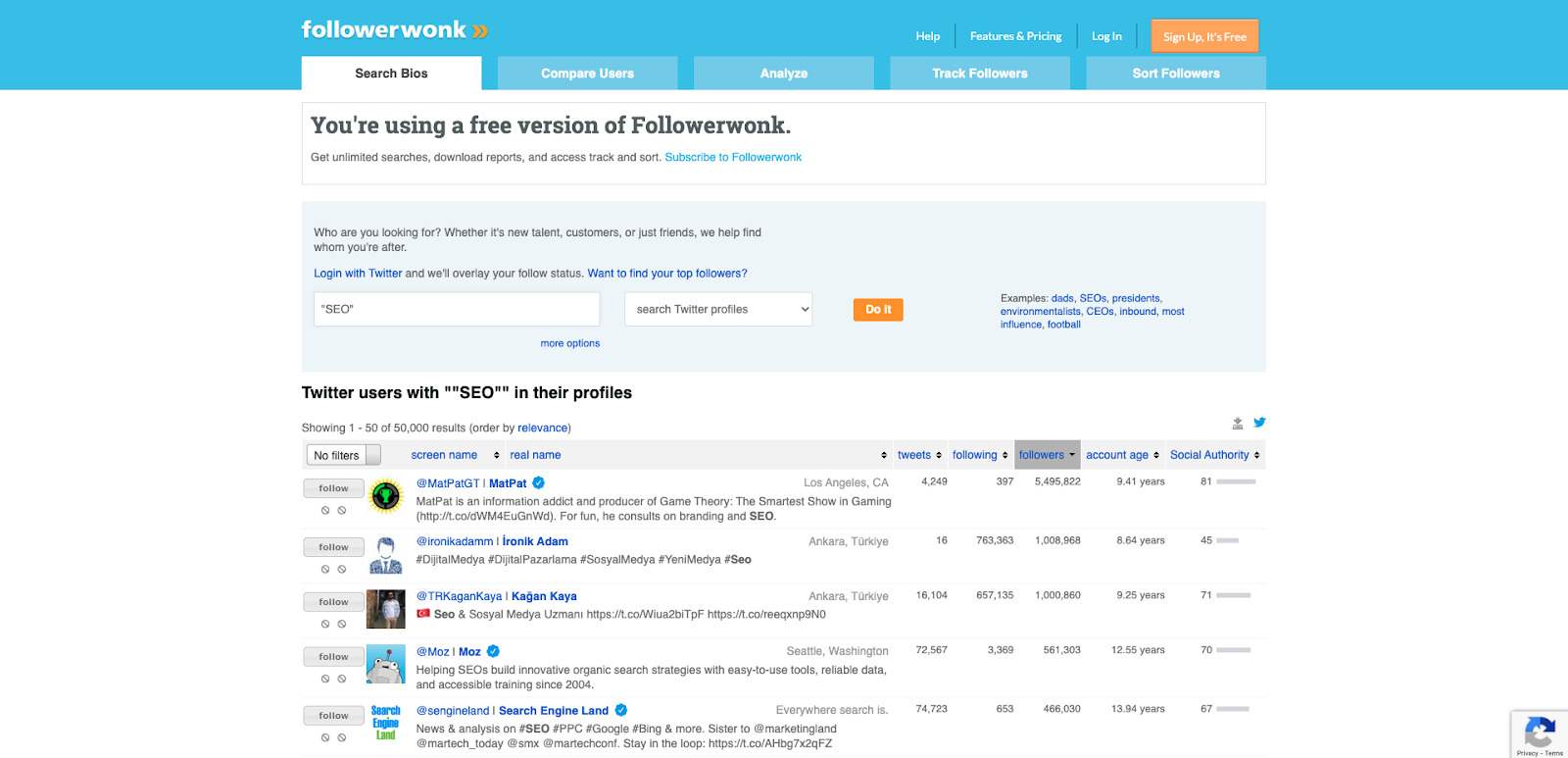 Followerwonk's free tier covers 5000 listings, which should be enough for most people. For unlimited results, upgrades go for $23-$79/mo.
PRO TIP
You can also use Content Explorer's "Who Tweeted" section to find more niche influencers.
Head back to Content Explorer
Search a topic specific to your product
Sort by "Twitter Shares"
Click details to the right of a relevant page
Go to the "Who Tweeted" tab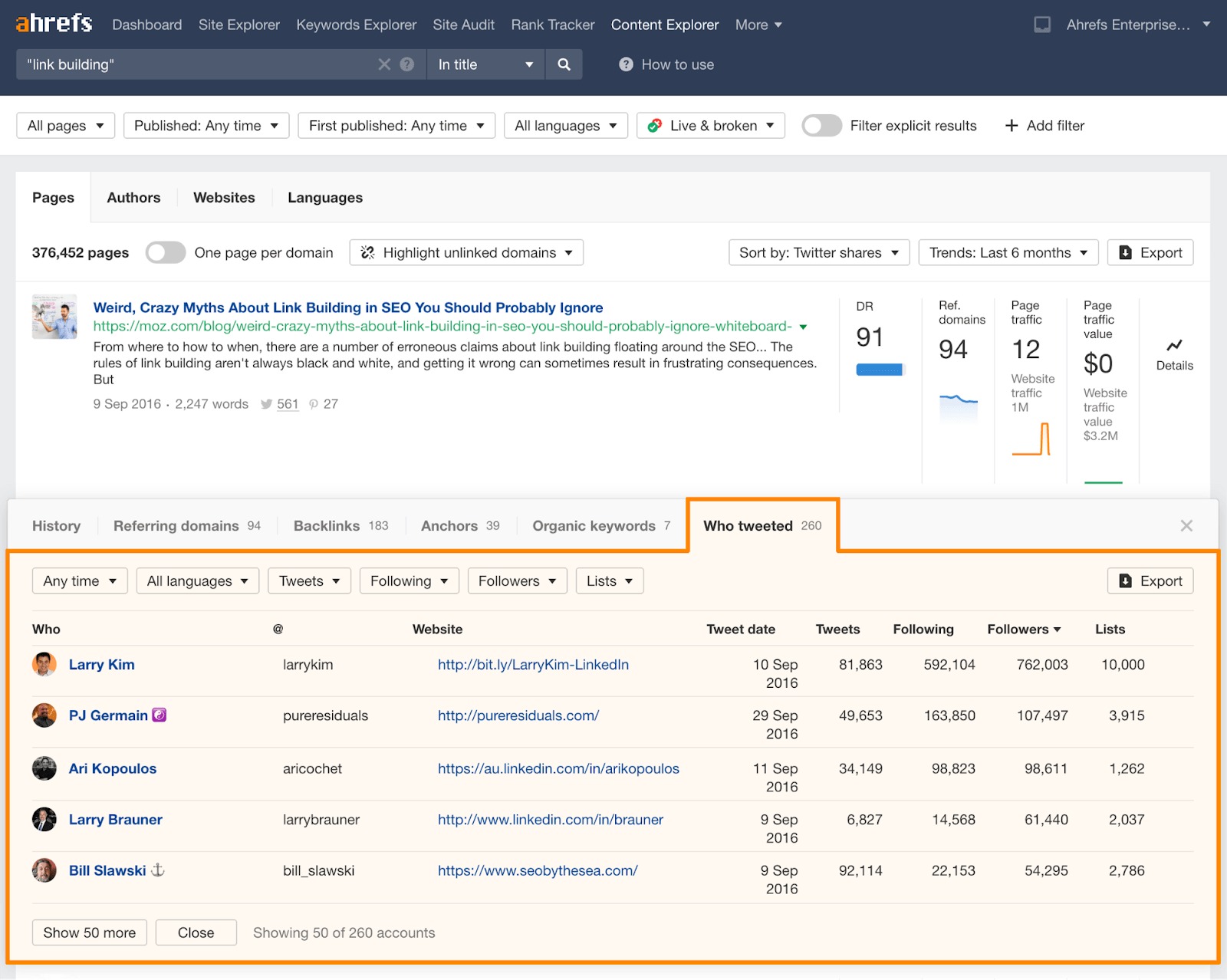 You are now viewing a list of people, sorted by popularity, who have tweeted out an article that is specific to your product. Add them to your spreadsheet!
How to find Instagram influencers
Heepsy is a highly filterable Instagram (and YouTube) influencer search engine. You'll have to sign up for this one too, but the result specificity is more than worth it. Along with the usual filters (engagement, followers, location, language), you can filter by contact information availability, cost estimates, and a swathe of audience attributes like age, gender, interest, and even authenticity.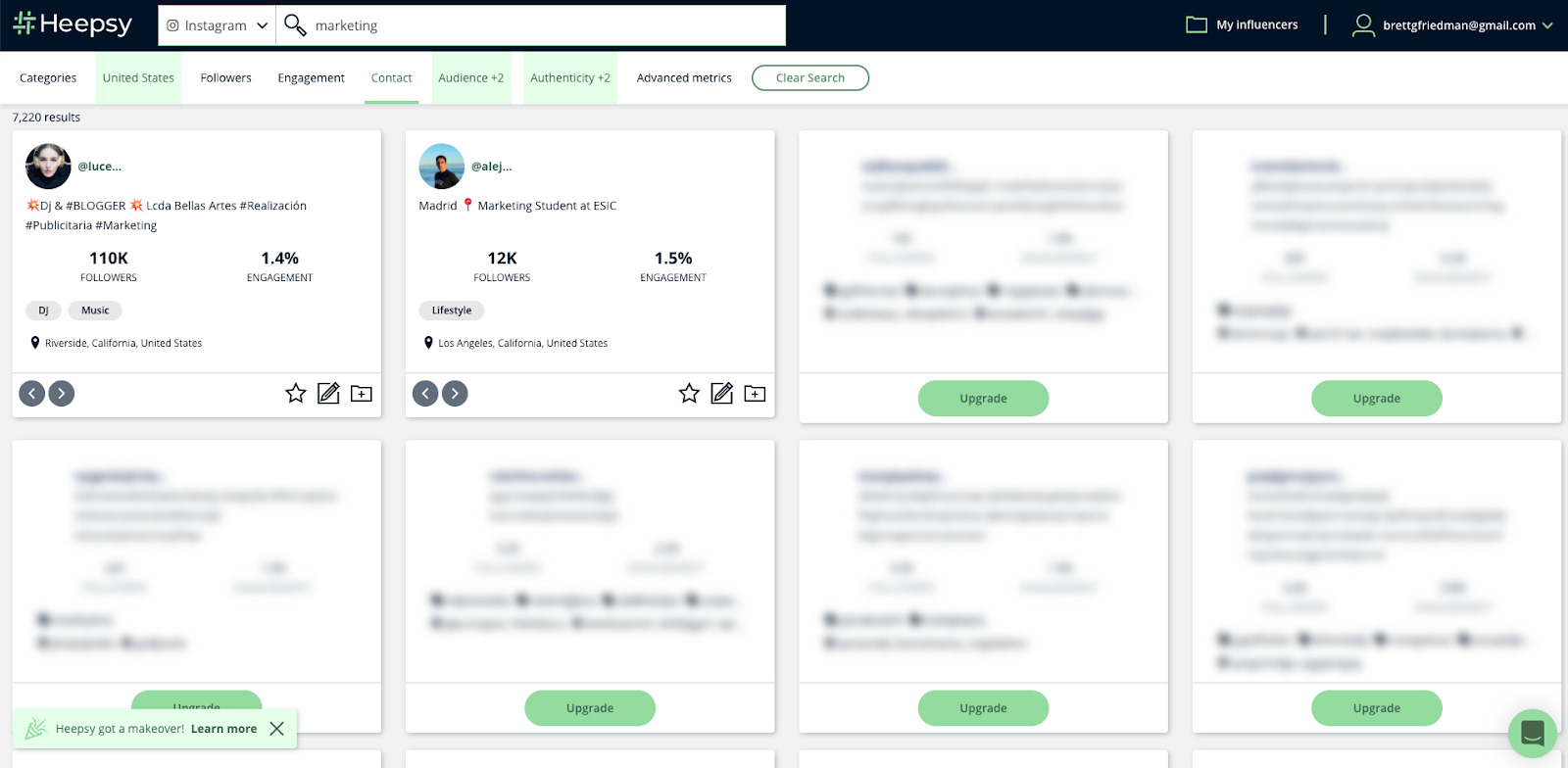 You'll notice results are limited to 2–12 per search and searches are limited to 5–10 per day when on the free trial. Pricing ranges from $49/mo to $269/mo. And that's fine because the next tool includes Instagrammers as well…
How to find TikTok influencers
InBeat is one of the first databases to focus on TikTokers. It includes standard filters (engagement, followers, location, language) plus a few unique abilities. InBeat includes AND/OR operators, text-matching in usernames, bios, or posts (much like Ahrefs), plus searches by keyword, hashtag, mention, and usernames.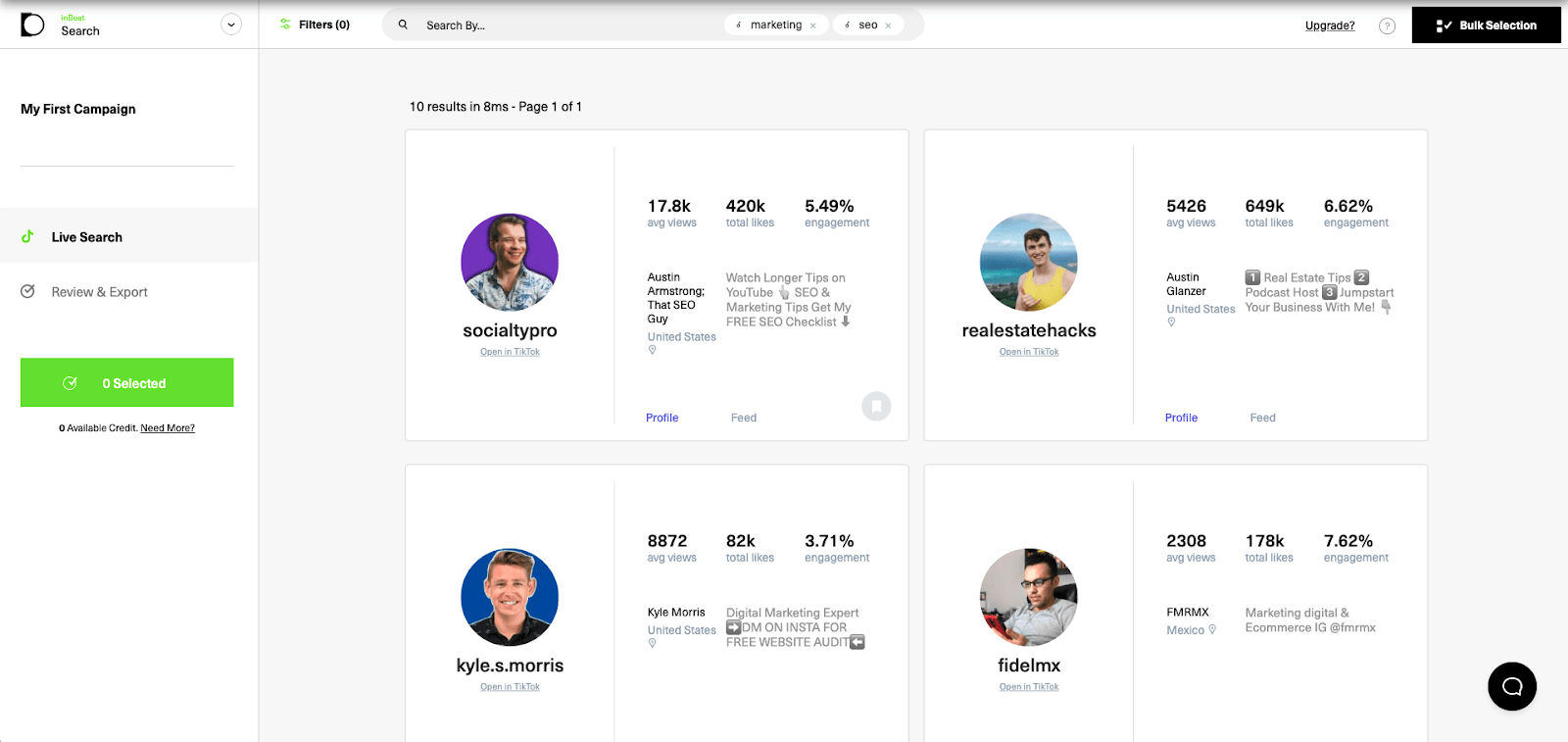 Like Heepsy, InBeat requires an upgrade past a certain number of influencers discovered. Prices range from $35-$400/mo.
How to find influencers on Pinterest, Facebook, Snapchat, and Twitch
If your audience is only on Pinterest, Facebook, and/or Snapchat don't worry.
There are multi-platform search engines that include them. They tend to require up front payments, sign-ups, or sales calls, but they get the job done.
Influence.co aggregates influencers' total audiences and conveniently places a "starting rate" for most results.
Platforms: Facebook, Pinterest, Snapchat, Instagram, Youtube, Twitter and blogs.
Pricing: 6 months for $3600. 12 months for $5700.
Signup required: Yes
Sales call required: No
Scrunch includes estimated cost per post, total social reach, and includes popular topics or tags for each influencer with a premium upgrade.
Platforms: Facebook, Instagram, Youtube, Twitter, TikTok.
Pricing: $199-$299/mo.
Signup required: Yes
Sales call required: No
Brand24 is a social listening platform that provides sentiment analysis, email alerts, and a proprietary Influencer Score.
Platforms: Facebook, Instagram, Youtube, Twitter, Podcasts, and Websites (Blog, Forums, News, and Web in separate filters.)
Pricing: $49/mo, $99/mo, and $199/mo tiers.
Signup required: Yes
Sales call required: No
Hype Auditor is an all-in-one software with the rare feature to evaluate the fakeness of an influencers' audience.
Platforms: Instagram, Youtube, TikTok.
Pricing: $299/mo.
Signup required: Yes
Sales call required: No
Hypr Brands is another freemium influencer database with refined audience filters, such as Household Income.
Platforms: Facebook, Pinterest, Instagram, Youtube, Twitter.
Pricing: Custom Quotes.
Signup required: Yes
Sales call required: No
Grin is G2's highest performing Influencer Marketing SaaS of Winter 2021.
Platforms: Twitch, Facebook, Instagram, Youtube, Twitter, TikTok.
Signup required: Yes
Sales call required: Yes
Open influence is a software and service that works with Fortune 500s in all industries.
Platforms: LinkedIn, Twitch, WeChat, Weibo, Facebook, Pinterest, Snapchat, Instagram, Youtube, Twitter, TikTok, Blogger.
Signup required: Yes
Sales call required: Yes
Upfluence is a well-known, AI-driven, ROI-focused influencer database and outreach tool.
Platforms: WordPress, Twitch, Facebook, Pinterest, Instagram, Youtube, Twitter, TikTok.
Signup required: Yes
Sales call required: Yes
Intellifluence is a lesser-known all-in-one solution with influencers from rare platforms.
Platforms: Reddit, SoundCloud, Podcasts, Amazon Reviews, iOS and Android Reviews, Twitch, LinkedIn, Facebook, Pinterest, Instagram, Youtube, Twitter, TikTok.
Signup required: Yes
Sales call required: Yes
Sideqik is a discovery tool with extensive filters and an influencer lookalike function.
Platforms: Tumblr, Twitch, Facebook, Pinterest, Snapchat, Instagram, Youtube, Twitter, TikTok, Blogs.
Signup required: Yes
Sales call required: Yes
If somehow none of those platforms have what you need, or your budget is too tight to afford them, you can always use a platforms' built-in search tools.
Either way, once you've got a solid list, you need to choose the right influencers to engage.
Step 5. Choose the best influencers
On instinct, you might feel attracted to the most popular person on your list i.e. the one with the most followers. But keep in mind, what really matters is Return on Investment (ROI), not audience size.
That said, it's tricky to calculate returns when you're unsure of how much the investment will cost and how much you'll get out of it. Plus, your product's price, margin, TAM, and every other bottom line metric play into what an influencer marketing experiment is worth.
For Ahrefs, the influencer ROI calculation formula looks something like this:
Estimated ROI =

(Audience Size x Est. Conversion Rate x LTV) — (Marginal Costs + 'Influencer Cost' + 'Free Product Cost')
For example, we want to employ Tim Ferriss himself. Across platforms, he has a cool 31,274,845 followers. Since Ahrefs' audience is primarily on Twitter, we'll hypothetically ask him to make a Twitter post about Ahrefs. 
Tim has 1.7 million Twitter followers. Tim's a genius marketer, but to be conservative, let's say his tweet converts .01% of followers. That's 170 new users.
Now we factor in the lifetime value (LTV) of an Ahrefs customer. For simplicity, let's assume this is $1,000.
Equation Summary Pt. 1
Audience Size = 1,700,000
Est. Conversion Rate = .01%
LTV = $1,000
Sidenote.
Technically, you should use impressions, not followers. You can do this by multiplying average engagement rates by the average number of additional impressions per engagement and add that to the number of followers. We don't do this to keep it simple.
These three numbers combined determine your expected revenue from the operation.
Expected Revenue =  1,700,000 x .0001 x $1,000 = $170,000
Time to subtract the costs.
Marginal costs are all the costs associated with producing your product or service. For physical products, you need to include things like packaging and manufacturing. For digital products, onboarding and server costs.
So if each new customer costs $100, and Tim nets 170 customers, that's $17,000.
Tim gets one month of free Ahrefs so he can make sure the product is worth sharing with his audience. That's $99.
We'll say Tim's 'influencer fee' is $25,000.
In addition, Ahrefs would likely need to use a platform or talent agent directory to get in contact with Mr. Ferriss. Let's assume this is $12,500.
Equation Summary Pt. 2
Marginal Cost = $1,700
Free Product Cost = $99
Influencer Cost = $25,000
Talent Agent or Platform Cost = $12,500
Total Costs = $17,000 + $99 + $25,000 + $12,500 = $54,599
So the final calculation looks like this:
Estimated ROI = Expected Revenue — Total Costs
Estimated ROI = $170,000 — $54,599 = $115,401
Clearly, Tim Ferriss is worth paying for. Note that your mileage will vary extremely based on your product type and influencer. Tim Ferriss is quite possibly the GOAT influencer.
Step 6. Make your pitch
Once you've found an influencer potentially worth paying for, you need to try to get them onboard. This can be harder than you might think and many influencers will reject your offer or flat out ghost you.
That's why it's imperative that you contact a handful at once. After calculating the ROI of all your listed influencers, choose a handful to contact at the same time.
If a few respond, compare their offers. If no one responds, move on to the next group.
But we want to make sure you get responses. So once your list is prepared, it's time to reach out…
Outreach is an art of its own. Fortunately, most advice revolves around a "What's In It For Me?" (WIIFM) for your target. When you hit up an influencer, you're offering money and free products. They tend to like that. And if you ticked off all-pervasive criteria #4 (the target takes money to persuade), then the transaction should be pretty simple.
With that in mind, Ahrefs' CMO Tim Soulo has time-tested, world-famous, evergreen advice on cold outreach.
And one of Ahrefs' finest writers, Si Quan Ong, has equally golden advice specific to pitching influencers.
Like Tim and Si Quan, instead of giving you a template, I offer advice: be genuine. Research your target influencer, relate to them, and give them a reason to like you enough to work with you.
Speaking of people who like you, sometimes the best strategy is to find people who already know your brand and give them a nudge.
You can do this with Ahrefs Alerts.
Go to Ahrefs Alerts.
Hit the "Mentions" tab
Click "+ New alert"
Enter your brand name as the search query
Add your domain to the "Blocked domains"
Set your alert internal (daily or weekly)
Click "Add"
Every day, week, or month, your choice, you'll get an email with every in-article reference to your company across the web.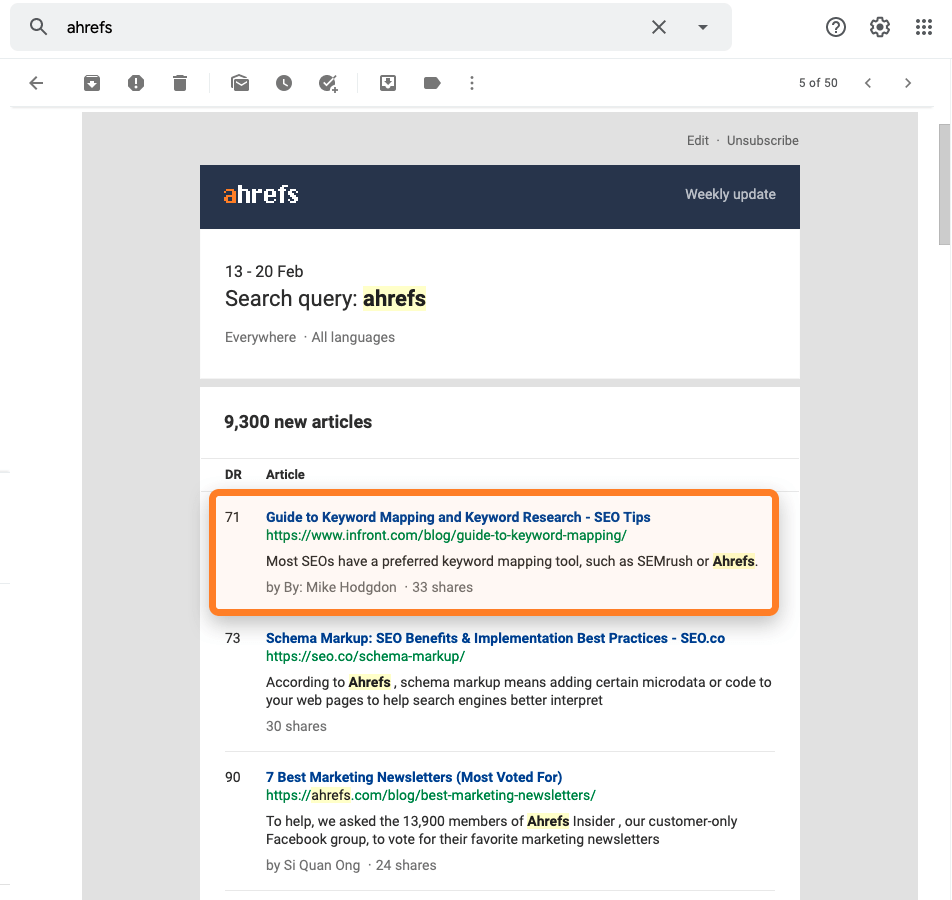 Articles are ranked by social shares and Domain Ratings. Open a few of the top results to see where you've been mentioned. If the mention is favorable, add them to your list. If it's unfavorable, talk to the author about their experience. You'll get valuable feedback and a chance to make it right.
Final thoughts
All in all, finding influencers is easy with the right tools, knowledge, and a sprinkle of time.
We just gave you the tools and knowledge, but if you're missing the time, there are people who will do everything for you.
They're called agencies. They're magical.
Here's a list of 100 who will find influencers that fit your product, connect you with them, and manage your entire engagement.
Just make sure to add agency costs to your ROI calculation!
And if you still have questions or confuse me for an influencer, give me your best shot on Twitter.