Even though referrals and reviews are often the most significant source of new leads for local agencies, lead generation is just as crucial for business growth. Without qualified leads, the effectiveness of your sales team is stunted, and it becomes extremely difficult to nurture and convert new prospects. 
Therefore, it's vital for agencies to know how to generate leads and set up a system of constant lead flow.
In this article, we will explain the numerous strategies that your agency can put in place, and ensure that you're not missing out on this invaluable source of potential customers.
The Importance of Lead Generation for Marketing Agencies
According to our 2020 State of Content Marketing report, generating quality leads is the priority goal for 79% of businesses in 2021. In addition, over half of the agencies surveyed say that their biggest content marketing challenge is creating content for this purpose.
On their own, these figures illustrate just how pressing lead generation is for agencies. But when you also consider that 68% of businesses struggle with lead generation, the need to have an effective strategy in place is evident.
How Does Lead Generation Work?
In most cases, lead generation is a process that operates within the framework of a defined funnel. For agencies, this involves several core elements: getting traffic to your website (acquisition), and then convincing that traffic to give you their contact information (engagement).
Search Engine Marketing (SEM) 
Search Engine Optimization (SEO)
Social media
Display Ads
Offline events
And more
There are also plenty of ways to get somebody's contact information, too, although you will need to offer something in return. This compensation of users for their personal information is called a lead magnet and can take the form of:
Surveys
Quizzes
Free trials
Webinars and podcasts
Landing pages
Discounts
Services (such as a free audit, review, or quote)
Once you have used one of these (or other) approaches to secure the visitor's contact information, you can then move them to the next stage of the funnel — lead scoring. As you grow and the number of prospects increases, you can automate this part of the process.
If your lead scores high enough, they can then be deemed a marketing qualified lead (MQL). This means the person is interested enough to have engaged with your marketing processes but is not quite ready yet to make a purchase. At this point, the lead will be passed onto your sales team and nurtured through the remainder of the funnel to eventually become a paying customer.
Lead Generation Strategies for Marketing Agencies
What, then, are some of the best strategies that B2B marketing agencies can adopt to generate these leads?
Here are some of the most effective methods:
Social Media
The direct, connective nature of social media makes it well suited to — and, arguably, underrated for — lead generation activities, both organic and paid, especially if you are active on the right platforms.
LinkedIn, Twitter, and Facebook can be particularly beneficial in this regard, and can all be managed using Semrush's social media toolkit.
Here's why they are so effective:
LinkedIn
Perhaps the most prominent channel for identifying and targeting decision-makers is LinkedIn. According to the company itself, four out of five users on the platform drive business decisions at their company, making it fertile ground for lead generation.
While you can search for and contact these individuals directly, of course, it's less time-consuming and more effective to leverage the Lead Gen Forms tool. Rather than directing people away from the platform to an external form page, these ads autofill the user's contact details there and then as part of the interface. This reduces sign-up friction, making the whole process more convenient for your potential leads.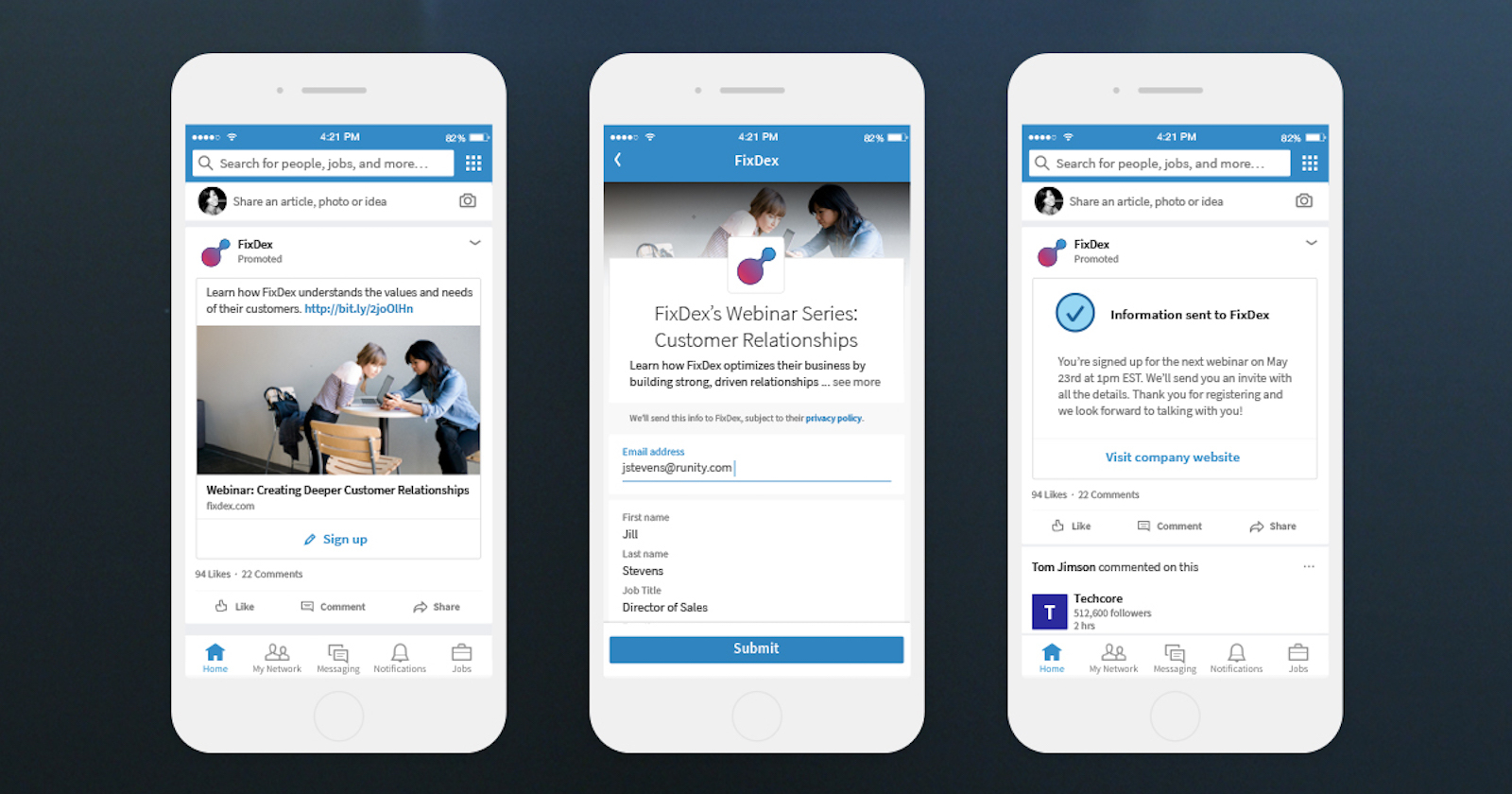 In December 2020, the platform also released the Product Pages feature, which allows you to gather referrals and reviews on your products and services, and incorporate a custom CTA such as a demo request or contact sales form.
LinkedIn is no longer "just" a bona fide recruitment tool, either. The platform now has 15x more content impressions than job postings, meaning users are actively engaging with — and educating themselves about — other companies in their industry.
To learn more, check out our video on how to generate leads on LinkedIn.
Twitter Ads
Like LinkedIn, Twitter is a social media behemoth that offers both significant reach and heavily customized targeting.
In the past, marketers could take advantage of pre-filled forms thanks to Twitter's Lead Generation Cards, but these were phased out in 2016 and replaced with a whole ecosystem of marketing and lead generation capabilities under the umbrella of Twitter Business.
It's still a great place to generate leads, though, particularly if you use the platform's Cards or Carousels options. Depending on your sector, it can also be an effective way to target decision-makers and key industry figures.
Facebook Ads
As an agency, you might think that Facebook is reserved just for B2C lead generation, but it can also be a potent strategy for B2B campaigns, too.
Facebook's Lead Ads were created for this purpose and work in a similar way to LinkedIn's Lead Gen Forms and can be used to offer a multitude of lead magnets, including:
Newsletter sign-ups
Interest generation forms
Deals, coupons, or other offers
Product tests and/or demos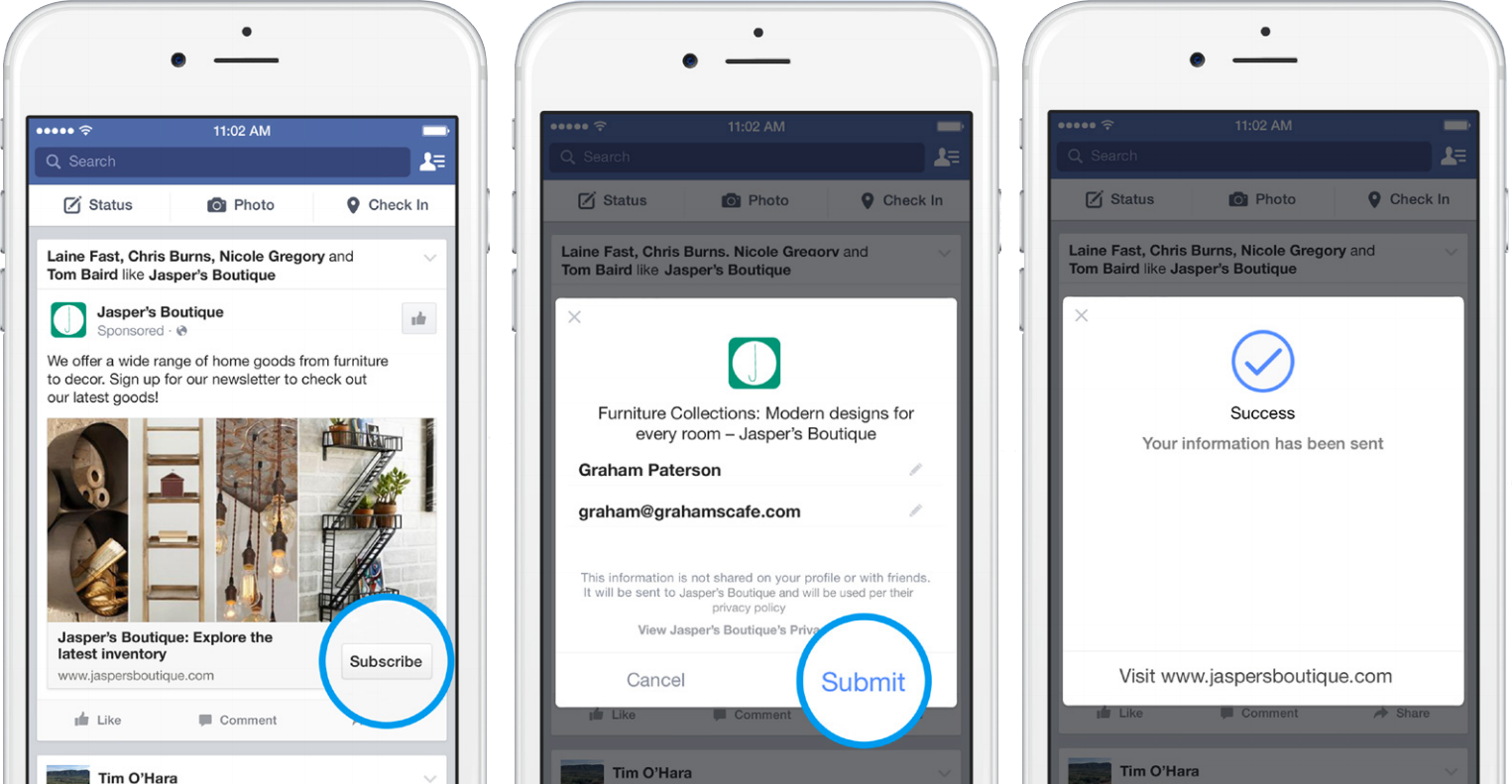 As with regular Facebook Ads, the primary value of this approach is the targeting capabilities of Facebook itself; after all, B2B decision-makers are still people. You can customize your target audience, creative assets, and marketing budget as finely as you want, while the platform's 1.8 billion-strong daily active user base speaks for itself.
Find out how Semrush can help you manage your Facebook Ads campaigns.
Pay-Per-Click (PPC)
Google Search Ads are another effective way to generate highly targeted leads. However, there are a lot of factors to account for to achieve a successful return on this approach:
Your ad copy needs to be engaging, which often requires testing and optimization.
Your keyword research needs to be thorough. Every click is going to cost you money, so you need to ensure that user intent is accurate. Semrush's PPC Keyword Tool can help with this.
Your bid strategy also needs to be planned out, or you will burn through your budget.
Your landing page and creatives need to be engaging and convey the value of what you're offering in exchange for the sign-up.
Local Media Ads and Listings
If your agency has a local or regional focus, or you specialize in traditional or offline marketing, then local media advertisements and listings are another great lead generation strategy.
This can involve:
Seeking exposure in local publications (online or offline) through sponsored content, paid advertising, or even as a go-to expert.
Getting listed in relevant directories.
Focusing on local SEO and ensuring that your Google My Business (GMB) listing is accurate and up to date.
You can manage your Google My Business info and local listings more effectively by using Semrush's Listing Management tool.
SEO
SEO is arguably the cheapest and most reliable way to generate leads but, as with paid ads, it requires a lot of finesse on your part.
This approach depends heavily on the quality of your content, too, especially if you are targeting niche markets (our Marketplace platform can provide you with industry-specific writers for this purpose). It can also take time to see the fruits of your labor.
That said, once your content is ranking, it can generate leads right around the clock — and at no ongoing cost to your agency.
Further reading: How to Get More SEO Clients
Listings in Agency Directories
This method is often overlooked, but it can yield a lot of success in terms of lead generation. By establishing a presence across multiple directories, you will be able to increase visibility, build a reputation, and generate an influx of leads that will deliver that all-important revenue to support and grow your agency.
There are several types of agency directories that you can apply to be listed upon, including:
Technology partner directories.
Work showcase and award directories.
Third-party directories and review sites.
Of course, you can also get listed on Semrush's own agency partner directory, which gives your agency exposure to over 6 million marketers, as well as branded recognition as an official Semrush partner. Besides the Semrush partnership, you get additional features in the Agency Growth Kit like unlimited client manager and advanced reporting options for your agency's growth.

How to Optimize Your Listing Profile
Use relevant keywords that address your services or specific market verticals. 
Ensure that all of your information remains accurate and up to date. 
Give as much information as possible for each directory.
Influencers
Influencer marketing has become a hugely popular strategy in recent years, particularly among younger B2C segments. But it can also be an effective lead generation strategy for agencies, too.
The key is to work with the right influencers. According to a 2021 study by DemandGen, 40% of the B2B executives surveyed claimed that they put emphasis on consuming credible content from industry influencers. These could be speakers at trade events, industry journal contributors, or any other relevant, authoritative media personalities in your sector.
Once you have identified suitable individuals to work with (and if their audience is relevant to your goals), you should then try to engage with them and convince them of the value that your agency provides.
Semrush's Brand Monitoring tool is an excellent way to discover relevant influencers in your industry.
Referrals
As mentioned, referrals are an excellent way to generate leads indirectly, as reputation can hold a lot of sway in industry circles.
To drive lead generation this way, it's crucial to build relationships and develop formal and informal partnerships with upstream service providers, other agencies (that are not direct competitors), and niche partners.
Webinars
Hosting your own webinar is an excellent way to build your authority and credibility, and to establish your agency as a thought leader. They are a great way to collect leads, as an invitation to the webinar itself can be used as a lead magnet, and are a great opportunity to build relationships with key figures in your industry by inviting them on as guests.
Indeed, according to DemandGen, webinars are now the preferred content format (alongside eBooks) for B2B executives — particularly at the early and middle stages of the funnel. 
This also applies if you are appearing on somebody else's webinar, too, such as for an industry body or media publication. After all, the attendees of the webinar are already going to be interested in the topics you are covering, making them excellent prospects for your agency. You will likely be given an opportunity at the end of the webinar to advertise your website and social media handles, allowing you to continue the conversation elsewhere.
Video Marketing
Video marketing has grown in prominence in recent years; according to a 2021 survey by video marketing agency Wyzowl, 86% of businesses now use it as a marketing tool, up from just 61% in 2016.
Interestingly, 84% of those companies also claim that video has helped them generate leads, which would suggest that it's certainly an effective strategy for this purpose. Therefore, if you haven't already, you should consider creating a YouTube channel for your marketing agency.
You shouldn't just post videos for the sake of it, though. Ensure that the clips you create evoke emotion and speak directly to your target clients' marketing problems. 
Scale Up Your Agency
with Semrush agency-tailored features
Blogging
Maintaining an active blog is one of the most effective ways to generate organic website traffic and, thus, new leads for your agency. The reason for this is simple: it still works.
According to a recent study by Orbit Media Studios, over 50% of organizations claim that their blog is delivering "strong marketing results" — particularly those that:
write 2000+ word posts;
make significant use of visuals;
work with editors;
collaborate with influencers by getting contributor quotes.
And while B2B blog posts tend to be more research-heavy, Brian Dean argues that they should still be engaging and accessible to the decision-makers that read them. To get a better understanding of what constitutes successful content, check out our Anatomy of Top Performing Articles.
It's also worth considering that there is often a trade-off to be found between the time spent creating in-depth, long-form posts, and the frequency with which your agency should be publishing them. Our Content Marketing toolkit can help you save time researching topics and writing SEO-friendly blog posts.
Further reading: 4 Easy Content Hacks for Effective Lead Generation
Client Rewards
Incentivizing and rewarding your clients for referrals and reviews is another lead generation tactic that can be effective.
As already mentioned, brand reputation can be a significant long-term success factor, particularly within industry circles, and personal recommendations from credible industry figures can go a long way. Likewise, good reviews — particularly personal testimonies — act as social proof for decision-makers.
Of course, organic reviews and referrals are the optimal end goal in this regard, but you can accelerate the process by setting up a formal referral scheme for your existing clients. Product and service discounts are a good place to start, as is access to premium services, although you shouldn't be afraid to think outside the box.
eBooks
As mentioned, eBooks are one of the most popular lead magnets for agencies because their value is measured by the level of insight, knowledge, and authority within them. As a result, they are an attractive "free" product for potential leads.
They also add value to your gated content, which is an important consideration for lead generation. While other forms of content – such as blog posts, videos, and infographics — can be leveraged for lead generation, they are generally used for top-of-the-funnel brand awareness and visibility. eBooks go a lot deeper and are an excellent way to provide the kind of in-depth information that many decision-makers are likely to be looking for.
To learn more, check out our extensive guide on how to write an eBook, including free templates.
Commenting on External Blogs
Leaving comments on other blogs is a great way to start the lead generation process, particularly if the audience of those blogs is aligned with yours.
It's vital, however, that your comment provides value. The intent should only be to provide information, insight, or advice to help people, which means giving a unique perspective, providing some relevant figures, or using your professional expertise to answer a particular question.
Don't self-promote, either. Of course, you can leave your agency's name so that people know where to reach out to you, but if you're explicitly attempting to push your business without adding anything useful to the conversation, then your comment will likely be marked as spam and removed.
Facebook Groups
Creating a Facebook group is an excellent way to engage with potential leads, help people solve their problems, and create conversations around key topics. You can also use the group itself as a platform to promote the other strategies on this list.
By playing on a sense of exclusivity, you can encourage people to join your group, and then gather key contact information from them during the group sign-up process. You can even tie the promotion of your group into your Lead Ads campaigns.
Community Groups
Community groups are similar to Facebook groups, with the key difference being that they transcend just one platform. They are broader in scope, giving your agency a chance to potentially engage in charity work, NGO projects, and other similar activities.
From a lead generation perspective, they are also great for business networking (in both a digital and traditional sense).
Industry Events and Trade Shows
Speaking of traditional networking, there are still plenty of opportunities to generate leads the "old-fashioned" way at conferences, seminars, and other industry events.
To fully make the most out of this strategy, though, you should aim to create your own events as well as participate actively in others'. You can organize your own meet-ups, dinners, and award ceremonies, for instance, and extend invitations to the kinds of decision-makers you would like to build relationships with.
Joining Your Local Chamber of Commerce
This can depend on your physical location, but, if possible, becoming a member of your local commerce chamber can be an excellent — and often overlooked — way to generate leads.
Membership can help to facilitate many of the strategies already on this list, such as networking, client referrals, and industry events, but also has additional benefits such as increased credibility and visibility for your agency.
Free Tools
The free use of your tools can be a hugely effective lead magnet, either under the guise of a time-limited trial or as a one-time offering. There are plenty of capabilities that you, as a marketing agency, can offer, too, such as a free audit of a prospect's website (or elements of it).
Semrush's Lead Generation Tool — part of our Management toolkit — is an excellent example of this, and is a widget that you can use on your own marketing collateral to start generating viable leads.
Marketing Automation
As with many sectors, automation is an increasingly popular strategy for agencies. It lends itself perfectly to the data-heavy nature of digital marketing and has the added benefit of saving you time and resources.
Of course, you'll need to acquire the right CRM software, create relevant workflows, and then fine-tune them. Once you're up and running, though, there are numerous channels that are automation-friendly such as:
Email
Email marketing is perfect for automation because the sending of emails can be triggered when a lead takes a particular action. Drip feed campaigns are particularly effective for creating leads as they allow you to build relationships, as well as repeatedly expose your brand.
Chatbots
Chatbots are another relatively modern tool that can automate much of your lead generation activity, especially given the recent rapid technological advancements in this area. Chatbots can be used to interact with and engage leads on several high-profile platforms (such as your website and your social media pages), and act as a form of triage depending on the customer queries you receive.
It's worth remembering that automation can only take you so far; at some point, you will need to interact with your potential leads directly. At the higher end of the funnel, however, automation can be a highly efficient method.
Inbound vs. Outbound Lead Generation
Many of the strategies listed above are examples of inbound lead generation, so does that mean you should discard outbound?
Of course, the answer to this depends on a variety of factors, such as your budget, resources, and business objectives; there are quantifiable pros and cons for each approach. One thing you should stay away from, though, is buying leads.
There are also ethical and legal issues when buying leads, but the biggest consideration is that you want any relationships with potential customers to be built on trust.
Qualifying Your Leads
Before you can adopt a strategy for your agency, you need a process in place that will enable you to qualify any leads you attract. This is important because it allows you to identify if a particular lead is worth the time and resource investment of your sales team. According to Business2Community, 61% of marketers send all their leads directly to sales without qualifying them first, making their job much harder.
On the flip side of that, lead qualification also helps you to avoid missing out on viable prospects, with 67% of lost sales a result of leads not being qualified properly. As a result, a solid and well-structured qualification framework is crucial.
To conduct this process, you should follow these steps:
1. Define your ideal customer. This means that you need to:
Identify three existing ideal customers and review what their key problems were when they came to you (this will help you to identify why they chose you). Identify which sources your highest-value customers come from.
During this process, consider size and location, too, as well as: the ideal use case of your services; how literate the lead is likely to be with your product (or similar products); and the kind of ecosystem they are involved in. Once you are done, you should upload this information into your chosen CRM tool.
2. Create a scoring system. In order to quantify how "promising" a lead is, it's common practice to assign each one a lead score — usually a defined numerical value. There are numerous qualification frameworks available that can help you with this. 
3. Start the nurturing process. Send the leads that score well to your sales team so that they can follow up. It's a good idea to set a minimum score threshold for these leads.
How To Create a Lead Generation Campaign for Your Agency
Once you have defined a way to qualify your leads, and you have identified the best strategies, you can start your lead generation campaign.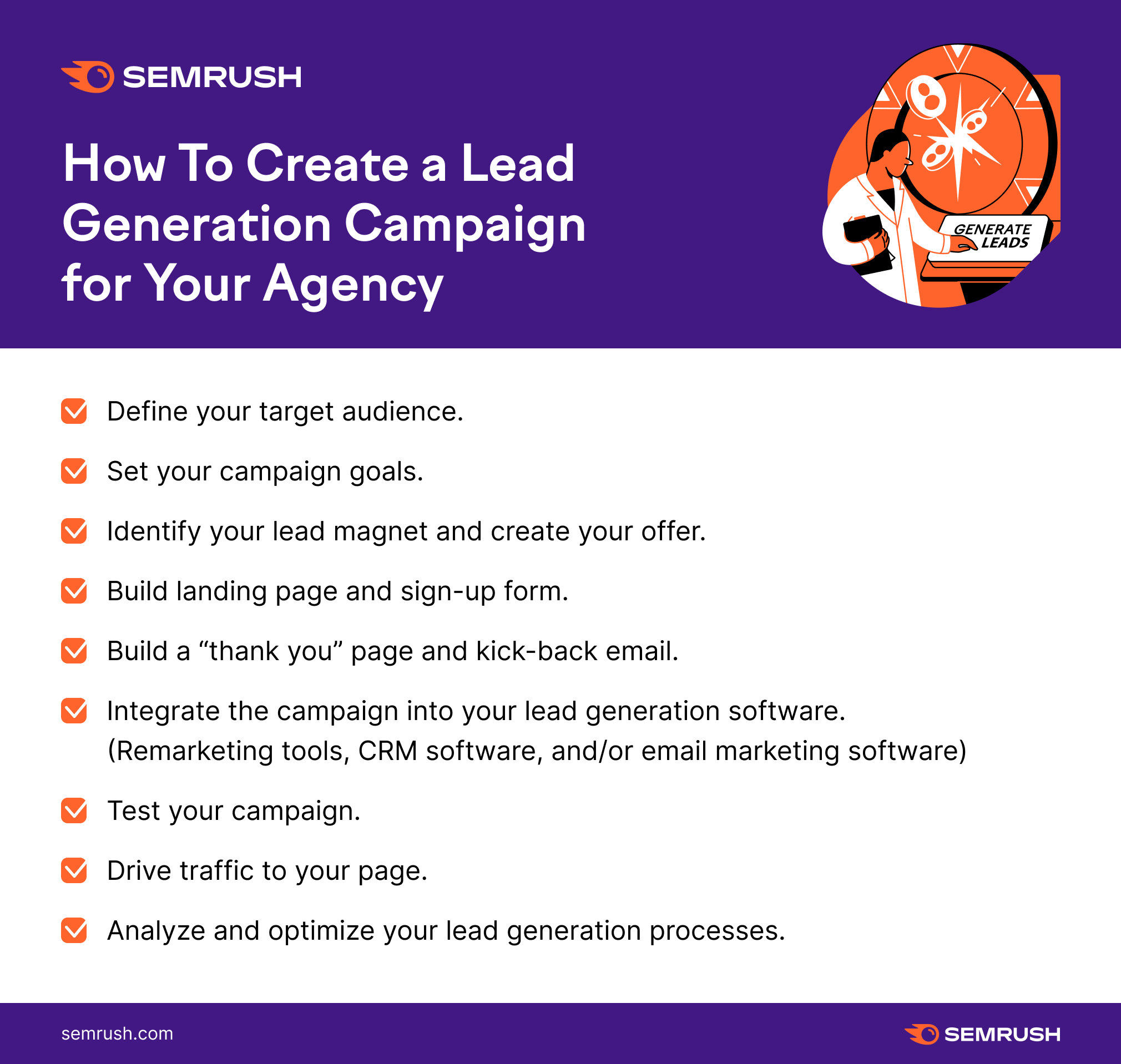 Define your target audience.
Set your campaign goals. You should be specific here; look back at your past performance to finetune your expectations and your objectives.*
Identify what your lead magnet will be and create your offer.
Build your landing page and sign-up form.
Build your "thank you" page and kick-back email.
Integrate the campaign into your lead generation software. You can use remarketing tools, CRM software, and/or email marketing software.
Test your campaign.
Drive traffic to your page.
Analyze and optimize your lead generation processes (see below).
* Determining the value of your average customer will help you to identify how many leads you need from that campaign to hit your sales goals.
From there, you can calculate how many leads your sales team converts into clients on average, and then use industry benchmarks to estimate your conversion rate (along with how many visitors you need to generate to hit those goals).
How to Improve Your Lead Generation
To continue to generate leads successfully, it's not simply a case of putting everything in place and then forgetting about it. Lead generation is an ongoing process that requires frequent review and analysis to continually improve your chances of success.
As a starting point, ensure that you:
1. Continue to optimize your website. In particular, your content should: 
Be consistent throughout in terms of tone, delivery, and quality.
Be benefit-driven and provide genuine value to readers.
Contain visuals such as images, infographics, charts, and diagrams.
Contain bullet points and other text breakers that make the content easier to digest.
Display social proof and trust factors such as reviews, testimonials, and external ratings from sources such as Trustpilot.
Have a clear CTA and a short form that makes the pathway as clear and simple for your prospects as possible.
2. Implement relevant CTAs across all your content. If your prospects don't know how or where to take action on what you've just told them, you're losing out on leads.
3. Optimize your lead forms. There are numerous reasons as to why a prospect may or may not be willing to fill in your form, and you need to understand why. Maybe there are too many form fields, or you are not being clear about what happens to the prospect's information. Again, this is a continuous process, and you should always be analyzing how users interact with your form.
4. Conduct A/B tests of pages, forms, and CTAs. As mentioned above, it's crucial to understand which elements of your materials are working and which aren't. Split testing is the only accurate way to get this information. When testing, always track your results and only test one element at a time.
Lead Generation Resources
Of course, lead generation is a vast and complex topic with new practices, techniques, and schools of thought being developed all the time. Therefore, it's wise to be a part of the many ongoing discussions in this area.
You can do this by:
Reading lead generation blogs and books. Some recommended titles include: Lead Generate by Scott Groves; The Sales Acceleration Formula by Mark Roberge; Inbound Marketing by Brian Halligan and Dharmesh Shah; Lead Generation by Larry Billson; and Change and Transition by Andrew Ledford. We also recommend the following blogs: Growth Hackers and Brado.
Being a part of Facebook (and other online community) groups that specialize in lead generation and SEO.
Building relationships and maintaining communication with people in your industry that understand lead generation.
Listening to podcasts and other audio-visual materials. As a starting point, we recommend: Building a StoryBrand with Donald Miller; The GaryVee Audio Experience with Gary Vaynerchuk; Duct Tape Marketing with John Jatcsch; and Perpetual Traffic by Digital Marketer.
Conclusion
As you can see, lead generation is a complex and overarching process that has roots in every aspect of your wider content and marketing strategies.
The Semrush toolkit can help you in many of these aspects, especially in terms of coordinating, managing, and optimizing your SEO, content, social media, and paid advertising efforts.
As an agency, however, you know how important the lead generation process is as well as client management and a transparent way of reporting, so you can also benefit from our dedicated Agency Growth Kit. Companies of all sizes — from SMBs to Fortune 500 giants — use our Agency Partners platform to find professional marketing support, while our official partner recognition can be leveraged across your marketing materials.
Just click the button to learn more!
Scale Up Your Agency
with Semrush agency-tailored features