If you're looking to grow your business, it is essential to understand where you stand within your industry. Running a competitive landscape analysis can help you discover your competitors and any strategy you can use to expand your market share. 
This guide will explore how competitive analysis works and 5 frameworks you can use to run a competitive landscape analysis of your own.
A competitive analysis framework is a method to help you perform a competitor analysis. Frameworks allow you to research your industry and your competitors in a more structured manner. Because your analysis has steps, it's easier to do and much likely to deliver actionable insights. 
There are multiple frameworks that you can use for competitive analysis. We'll work with 5 common ones:
SWOT Analysis
Porter's Five Forces analysis 
Strategic Group Analysis
Growth-Share Matrix
Perceptual Mapping
The competitive analysis framework you choose should address your needs and your reasons for doing a competitive analysis.
Gathering data on your industry and competitors helps understand your customers and develop effective ways to market to them. Staying on top of industry changes is the best way for you to gain a competitive edge. 
A competitive analysis framework should deliver at least 3 insights:
Competitor Profile: Using an analysis framework will give you an overview of what your competitors are doing. You'll analyze their strengths and weaknesses by looking at their marketing, brand, customers, and staff. 
Market perception: Using other competitive analysis frameworks, you will analyze how customers perceive your competitors. Explore how one business's brand, product, and service perception differs from others in the same industry. What do customers expect from your business as well?
Positioning and benchmarking: Competitive analysis frameworks can also give you accurate input on where your business sits among competitors in your industry. You will consider your strengths and weaknesses, as well as how your business is perceived.
Choose the most relevant framework for you by considering why you want to run a competitive analysis. 
Some frameworks, like SWOT Analysis, can give you great insight into your positioning. Others, like Growth Share analysis, will focus more on market perception and customer opinion. 
The SWOT Analysis framework determines your business's strengths, weaknesses, opportunities, or possible threats. It focuses on your business and its position in your industry.
Start by creating a 2×2 grid on a sheet of paper. In the strengths quadrant, identify areas where you have a competitive advantage. In the weaknesses quadrant, list areas where you lack a competitive advantage. 
In the opportunities section, jot down events or changes developing in your industry so you can take advantage of them. In the threats quadrant, identify things that your competitors are doing that might threaten you.
The SWOT framework is simple and works best when done with a team. The outcome should be actions that help you play on your strengths, take advantage of opportunities, work on your weaknesses, and overcome your threats. 
One way to use a SWOT analysis framework could be for your marketing strategy. Start with your marketing channels (like email, social media, etc.) that you excel in and where your competitors are doing better. You can then focus your strategy on earning a competitive advantage. 
Check out our guide on how to do a SWOT analysis to learn more about this framework. 
You can use Porter's Five Forces framework to understand your industry's forces by splitting them into five elements. 
New Entrants
Buyers
Suppliers
Substitutes
Competitive Rivalry
Draw a circle in the middle of your page and write "Competitive Rivalry" in its center. Add four arrows pointing to your circle, equally spaced. Next to each arrow, note the 4 elements: new entrants, buyers, suppliers, and substitutes. 
You can now start to build each element out by noting as much as you can about each section. In the competitive rivalry section, you should write points about the number and strength of your competitors. 
Once all the elements have factors underneath them, you can start to analyze each one in terms of its impact on you. Add a positive sign (+) to any elements that are in your favor. Add an extra positive sign (++) next to any substantial advantages you notice. 
Note a negative sign a (-) to any elements that will negatively impact you. If a component severely affects you, add an extra negative character (–). From here, you can then analyze if you are mainly in the negative, neutral with equal of both, or positive.
Porter's Five Forces analysis framework is about identifying how competitive your market is and your potential profitability. Whether positive or negative, the outcome should help you determine which areas hinder your business so you can create strategies to improve them.
This framework is excellent for new businesses or when you're thinking about expanding into new product ranges. You can consider your new venture's overall competitiveness and profitability in advance by Porter's Five Forces framework. 
Strategic Group Analysis is a type of competitive analysis framework that analyzes competitors based on their strategy. It involves grouping competitors based on a series of dimensions, which include:
Specialization
Brand identification
Push vs pull
Channel selection
Product quality
Technological position
Vertical integration
Cost position
Service
Price policy
Financial or operating leverage
Parent company relationship
Government relationship
You'll start by choosing two of these dimensions and drawing a 3×3 grid. On the X-axis, write one dimension. Write the other dimension on the Y-axis. You'll then indicate low to high or focused to wide on each axis depending on which dimensions you chose. 
Add each competitor to the most relevant box on your chart where they sit for both axes. Once completed, you should have a group of competitors in each box in your grid. These are the groups that you can analyze for strategies they use to position themselves in that group. 
This Strategic Group analysis helps identify your closest competitors and what strategies they are using. You'll be able to evaluate your position relative to your competitors and form your own plan.
This competitive analysis framework is beneficial for identifying digital marketing techniques that your competitors are using that you can adopt. For example, suppose your closest competitors are in the box on the grid with high brand identification but a low-cost position. In that case, you could investigate whether your use of a high-cost marketing channel, like paid advertising, is worthwhile. 
The Growth-Share Matrix framework classifies your products or services against those of your competitors. It groups your products into four categories:
Question Marks: High growth, low market share products
Stars: High growth and high market share products
Cash Cows: Low growth but high market share products
Pets: Low growth and low market share growth
You can create these four sections by drawing a 2×2 grid. Label each quadrant in your grid with one category. Most people use symbols for this, but you can write the names instead. 
You can then assign your products to each category. You can use product or category levels if you are running a large e-commerce site.
Once filled in, your Growth-Share grid will show you which products to invest in based on demand or cut to improve profitability.
This method of competitive analysis is helpful for businesses trying to rationalize or grow their product range. 
Perceptual mapping analysis is a framework that visualizes where your brand, product, or service sits in comparison to your competitor's. It uses two factors of your business, which can include:
Price
Quality
Delivery
Accessibility
Website Features
Website UX
Engagement
The first step is to draw a cross on your paper. Write one of the attributes against the horizontal line and the other attribute against the vertical line. Plot on your cross where you and your competitors fit concerning both of these attributes. 
This competitive analysis framework can show how your product or brand will be received compared to your competitors. You'll better understand your position in the market, which can help you drive actionable change if you aren't where you want to be. 
You can also use the Perceptual Mapping framework to evaluate new products or services. The visual map of your competitors provides insight into what the market is doing and where you can join it and make an impact or what gaps there are to target. 
Once you select a competitive analysis framework, you'll need to start researching. Some of these frameworks, particularly the SWOT analysis, will involve brainstorming with people who can be objective. However, some of these models will need actual data. 
Semrush offers valuable tools to gather data and track your competitors' online presence. The Market Explorer tool and Growth Quadrant feature are able to support your competitive analysis frameworks. 
The Market Explorer tool delivers a birds-eye view of your industry. It highlights your competitors, helps you create a benchmark against them, and track what's happening in your industry. 
Use the tool to: 
Identify the factors driving traffic to your competitor's website
Evaluate your top competitors against you or each other
Analyze audience demographics
To start, enter your website's URL in the input field. You'll have the options to create your custom market of competitors you want to focus on, or generating a general map of your industry or organic competitors.
The tool returns your competitor's data, including your market's total traffic trends, geo-distribution, social media, and overall market traffic. Use this data to develop a competitive marketing strategy that expands your business into profitable areas.
The Growth Quadrant feature displays the competitive landscape of your market in an easy-to-follow quadrant. In this chart, your competitors are evaluated by traffic growth rate and traffic volume, then further grouped into four segments:
Niche Players: Small traffic websites that are steady in terms of growth 
Game Changers: Small traffic websites that are growing quickly
Leaders: High traffic websites that are growing quickly
Established Players: High traffic websites with continuous growth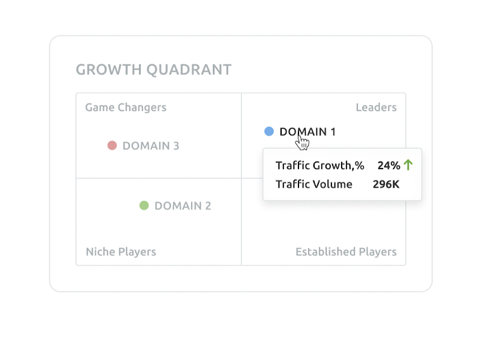 Track any market changes at a glance and take advantage of shifts like sudden growth or a new business launch. You'll also be able to measure your competitor's traffic, possible threats, or new opportunities.
Try any of the competitive analysis frameworks or tools explored in this guide for an accurate competitor landscape analysis – whether you're a beginner or a seasoned expert. 
Time is of the essence when expanding your business or navigating the market, so don't be afraid to utilize your team and the resources available to you.