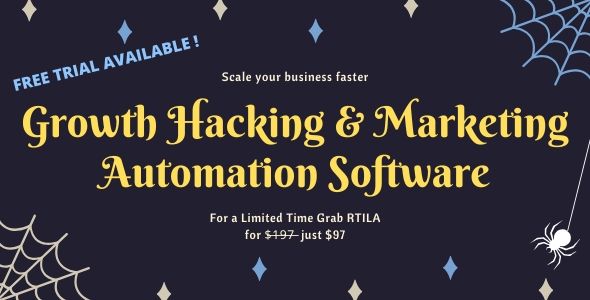 Latest tutorials
Safely Scrape Google Results SEO Growth Hacking
Point and click interface
Extract data from any web sites
Built for the modern web
Export data in CSV, JSON and HTML formats
Automated Data Scraping from any Website to Excel/CSV, JSON and HTML
NEW (17/April/2020) – RTILA 2020 has been listed as an innovation solution to fight COVID-19 (link)
Changelog and latest updates https://github.com/IKAJIAN/rtila-releases/releases
Autopilot SEO Software – Smart Web Scraping Bot
An easy web scraping software with a smart point-and-click interface to turn live data into a structured
format.
RTILA 2020 is a one-time purchase, it's NOT a monthly or yearly subscription. The purchase price is a single PC
license and allows you to run one copy of the software, any bug fixes and upgrades are completely free for owners of
RTILA 2020. We are constantly adding new features, listening to customer feedback and enhancing RTILA 2020.
Features
One-time purchase & Lifetime updates
Extract data on a schedule (every minute, hourly, daily etc.)
Support list/archive and single/detail pages
Next button pagination & infinite scroll
Crawl unlimited paginated pages
All devices are supported (desktop, tablet and mobile)
Customizable size screen resolutions (width x height)
Run multiple scraping instances at the same time
Unlimited concurrent tabs per scraping instance
Customizable scraping speed (page(s) per second(s))
Timeout for pages that takes too long to open or does not load completely
Wait time to avoid generating high server traffic
Custom number of retries to take manual actions such as captcha resolving
Take full page screenshots automatically for each request
Desktop notifications & alerts
Silent mode to run scrapers in the background
Disable image loading
Disable javascript and script files
Disable css and fonts
Block ads
Automatically delete your cookies after each timeout
Switch browser identity with random user-agents after each timeout
Mock geolocation / fake GPS locations
Smart proxy rotation
Raw URLs data (duplicate & invalid links are automatically be removed)
Create URLs dynamically from loops based on min & max values
Search & replace URLs on the fly with support for regex
Add suffixes and prefixes to your URLs list
Send a post request with form data
Set custom request headers and HTTP referers
Auto upload last results to custom FTP server
Append timestamp to each uploaded file name
Secure FTP support (TLS)
Upload different formats (excel/CSV, JSON and HTML)
All scraped data are stored locally
Each scraping session can be exported separately in different formats
Smart point-and-click interface. No coding needed
Multiple data selection with customizable names and css selectors
Built-in data filters (emails, IPs, numbers, phones etc.)
and much more …
There are other ways to scrape data from websites using many programming languages like Python, C#, PHP, Perl, Java,
R, Ruby and etc. Here you will find a powerful automated web scraping tool to scrape data from any website into
Excel/CSV, JSON and HTML for non-coders and advanced users.
Case studies
Due to the world's current crisis, we are lowering the price of our web scraping tool to increase its accessibility.
Amid this situation, there's an opportunity for research and data analytics. We believe this software can help.
For data scientists who try to gather statistics in order to create unique, charts/graphs and interactive public
platforms to share and educate the public, relating to everything covid-19.
Other example, if your are looking to buy coronavirus supplies from China, and want someone who can use the
government list to source suppliers who have for example:
– FDA Certificate – For USA market
– CE Certificate – For EU market
– All factories must have production capacity to meet our orders.
– Have export permit and able to handle CIQ requirements
– PPE product list is as follows : N95 Mask, Surgical Mask, Nitrile Gloves, Face Vizor, Googles, Protective Suit,
Disposable Gown, Antiseptic Wipes
Online Research COVID Test Kits Scraping (link)
Support
We value our clients and believe that GREAT SUPPORT is the key to success. Please leave a message using this contact
form and we will get back to you!
http://codecanyon.net/user/ikajian#contact