As the SEO community prepares for the Page Experience update, the summer of Google updates has already begun.
On June 2, Google announced its very first core algorithm update for 2021, which should be followed by another in July: 
Later today, we are releasing a broad core update, as we do several times per year. It is called the June 2021 Core Update. Our guidance about such updates is here: https://t.co/e5ZQUA3RC6
This will be followed by the July 2021 Core update. Here's more information about that…

— Google SearchLiaison (@searchliaison) June 2, 2021
With industry pros emphasizing slow rollout, we can now finally see the full extent of the impact and unwrap the key things to know about the June 2021 core update.
The Core Update Impact on SERPs
SERP volatility measurements from Semrush Sensor suggest that the update-related changes hit the SERPs around 4-5 June: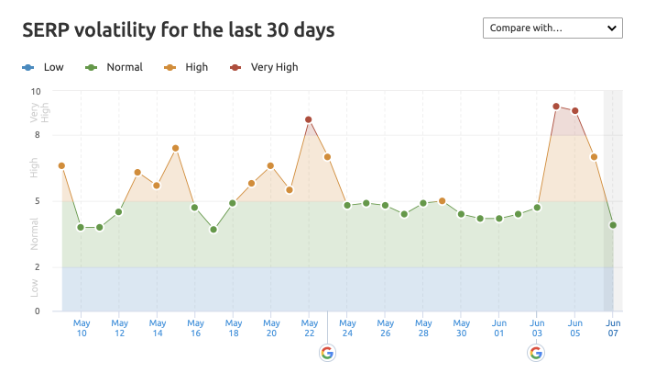 Since then, SERP volatility has stood at relatively calm levels. 
At the peak of the update effect, on June 4, average SERP volatility across all sectors had scores of 9.2 (for desktop) and 9.3 (for mobile). This means that the latest core update is comparable in its scale to the ones we witnessed back in May and December 2020.
June 2021 Core Update Winners and Losers
Having monitored changes within both mobile and desktop stats, we saw that mobile SERPs appeared to be slightly more volatile. The difference is very slim, though, with desktop fluctuations being lower by a mere 0.2 margin.
During the first two days after the update, SERPs were pretty calm, with average volatility being at a 4.5 mark (the green zone level). However, things started moving faster on June 4-6.
Days after the latest update, almost all sectors were within the red zone, which implies that the core algo update affected almost all industries.
The most affected industries
Absolute volatility numbers can't give a clear idea of the most affected industries – News and Sports sectors are typically seeing high volatility levels, update or no update. 
Relative counts, however, can reflect the full picture of the impact across various industries.
Days into the update, the top five most affected sectors on both mobile and desktop SERPs were Health, Autos & Vehicles, Pets & Animals, and Science & Travel. On the mobile web, Real Estate, People & Society, and Beauty & Fitness also saw similar volatility levels.
The most affected sites by size
More than 50% of the most affected sites were within the small-to-midsize range, with monthly traffic of 500K or less.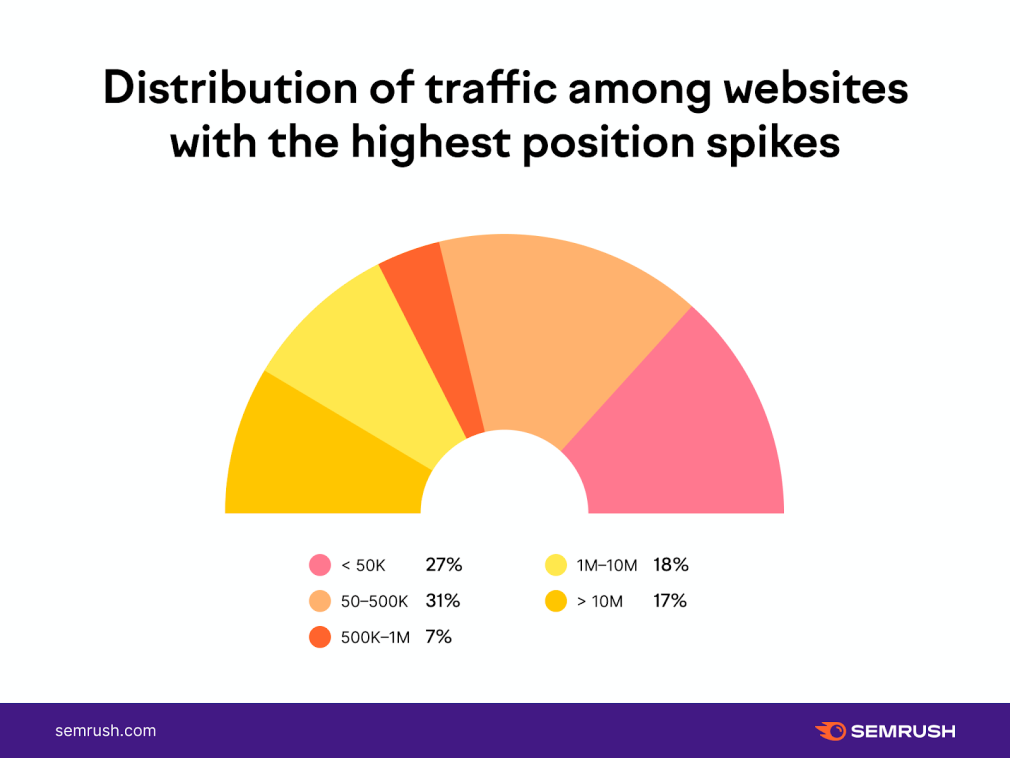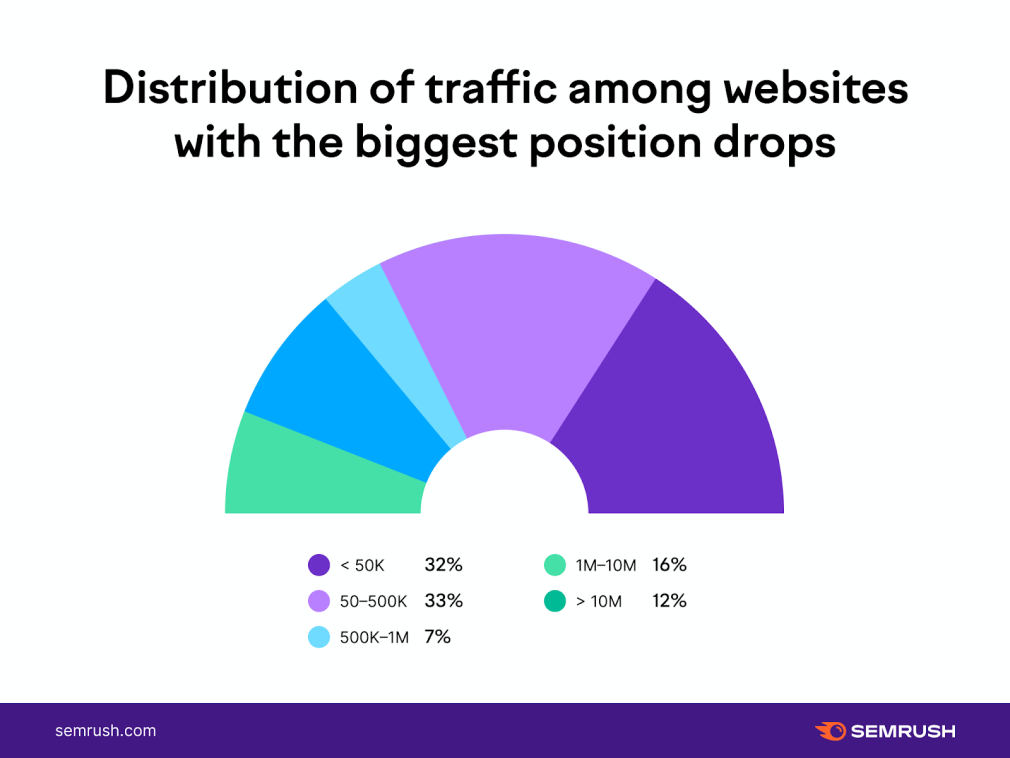 This pattern is consistent across sites that experienced both the majority of position spikes and drops.
The most affected site categories
Having analyzed the top 100 post-update winners and losers, we were also able to pinpoint the industries that saw the biggest position gains and losses.
Core update winners
Sites that saw the biggest visibility gains mainly belonged to the Food & Drink, Law & Government, and Internet & Telecom sectors.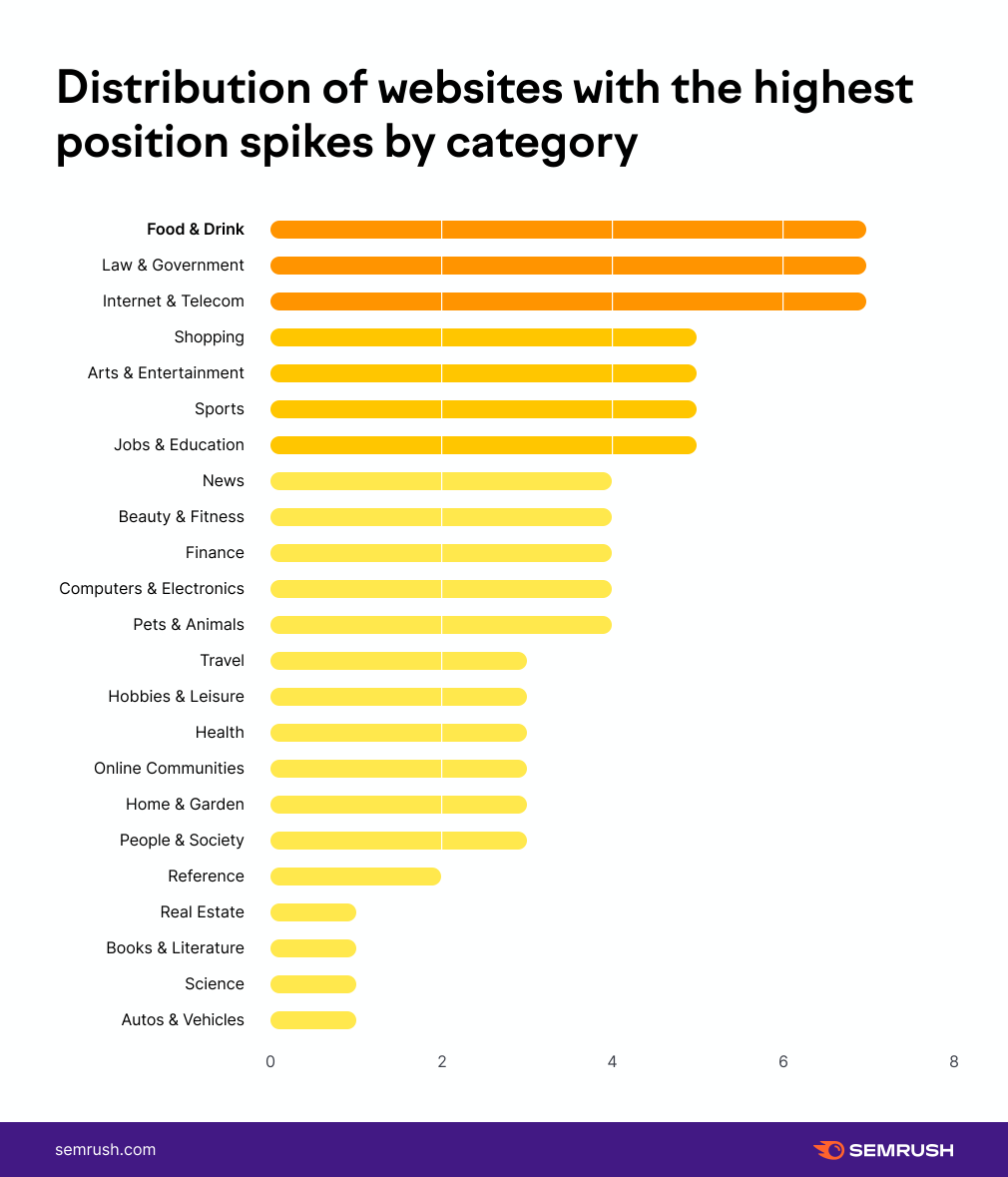 On average, the update-inspired SERP winners gained 23 positions. 
Loc8nearme (+108 positions), Foursquare (+90), MoovitApp (+52), and BusinessyAB (+50) are the top four sites that saw the biggest average position spikes. And they are all related to finding local businesses or exploring the local infrastructure.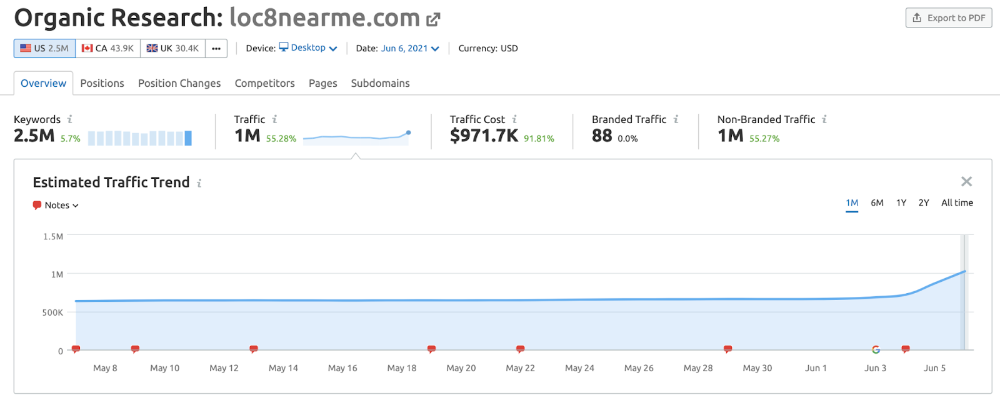 Organic Research tool (loc8nearme's traffic changes)
With the US economy almost completely reopened now, the latest Google core update reflects this pattern.
Here are the top ten sites that saw the highest average position gains days into the June 2021 update (data for June 4-6):
Top 10 SERP Winning Domains (June 4-6)
Core update losers
There are no winners without losers. While some domains witnessed impressive position gains, others saw their average positions plummet.
Sites within Jobs & Education, Business & Industrial, and, curiously, our winning sector, Food & Drink, experienced the biggest position drops a few days into the update.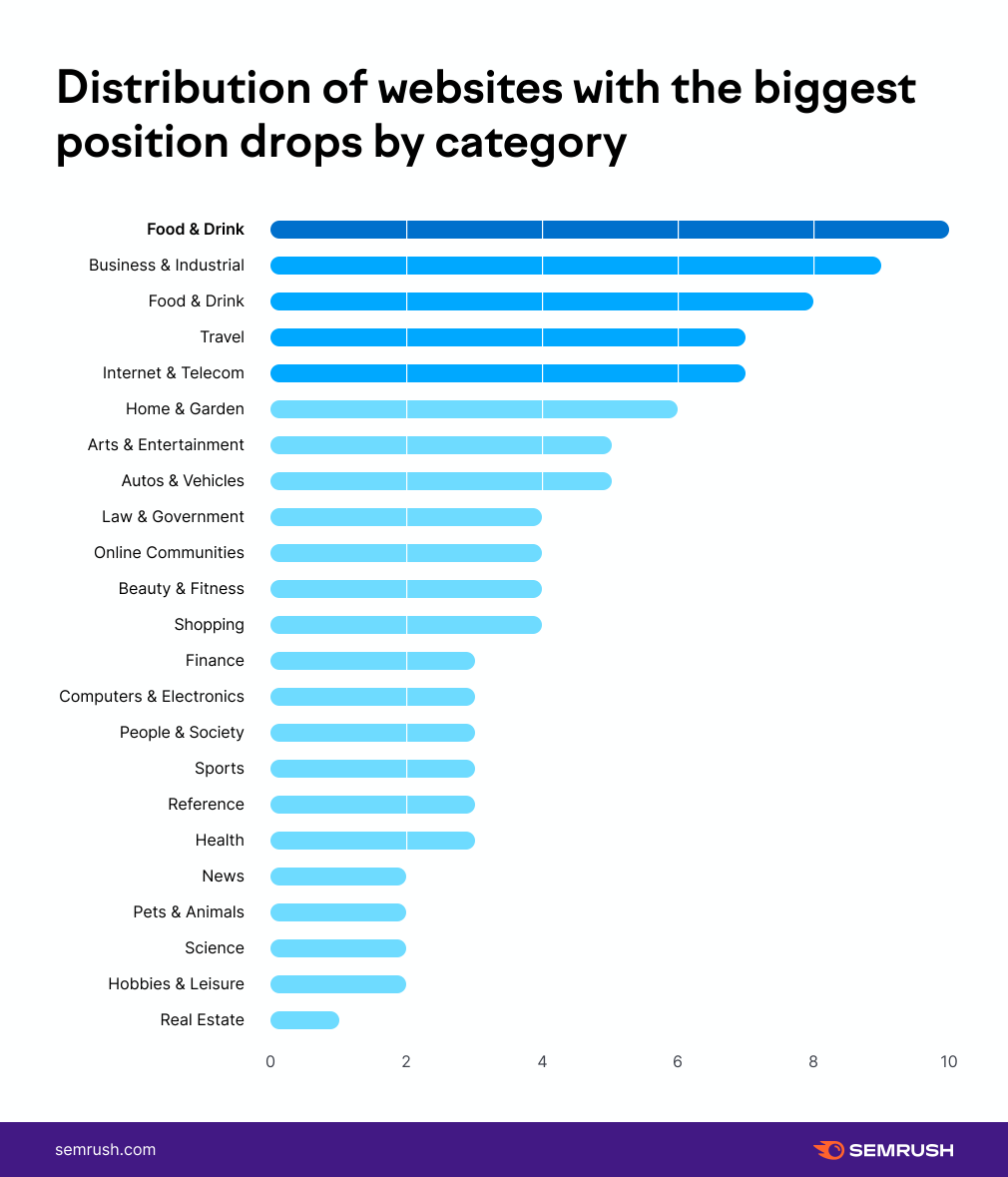 On average, sites lost around 16 positions, which is not as grim as in the previous December 2020 update (average losses were at 23).
The two sites that suffered the most were travel-related – Fresno Yosemite International Airport's site lost a whopping 50 positions, and Oklahoma's Will Rogers World Airport experienced a 36-position drop.
Here are the top 10 sites that were hit the hardest at the peak of the update effect (4-6 June):
Top 10 SERP Losing Domains (June 4-6)
Preparing for the Summer of Google Updates
If it wasn't for Google's immediate July 2021 core algo update and Page Experience update announcement, we might have seen more discussions about the latest one. But as Google admitted, they couldn't fit everything into one broad core June 2021 update, so we should expect more changes to come soon.
Of course, any core update can produce drops or gains for some content. Because of the two-part nature of this release, it's possible a very small slice of content might see changes in June that reverse in July….

— Google SearchLiaison (@searchliaison) June 2, 2021
Moreover, some of the position spikes or drops may be reversed by the July update, so we should all watch out for the next Google surprise.
One thing, however, remains clear. While you cannot futureproof your site against algo updates affecting your organic visibility, you should closely follow Google's recommendations and keep an eye on your own rankings, as well as SEO and content excellence. 
Semrush will always have your back when you're preparing for the next big algo update:
Our Site Audit tool will automatically pinpoint any site health issues and provide improvement ideas for maximizing your SEO performance.
The Position Tracking tool's custom triggers will instantly notify you when you experience any position drops and help you to monitor your rankings.