Advertising is an essential part of running a business – and in the competitive online marketplace, doing it well online is crucial. 
What Are Display Ads?
Display ads are graphic adverts that appear online on websites, mobile apps, and social media. They usually include text, images, video, and sometimes audio.
Like any offline advert, businesses pay for display ads to attract customers and drive sales. The cost of display ads depends on the cost per click. Every time someone clicks through to your landing page, you pay. 
Why Do Display Ads Matter?
Display ads matter because they are hyper-targeted. Let's use the example of a more traditional form of ad for a vegetarian food delivery box: a billboard. 
An ad displayed on the highway will be seen by anyone who drives past it. While this means that the ad is reaching a broad audience, there is no guarantee of its effectiveness as the only thing you know about this audience is that they're car owners. The ad doesn't target their interests or needs. 
However, suppose the company uses display advertising online. In that case, they can pay for an ad to be shown to their target audience only – when they visit cookery blogs, supermarket sites, or even on their own social media feeds – and still reach a broad audience. 
According to Google, ads on the Google Display Network can reach 90% of users worldwide. That's worth investing in. 
Advertisers have the advantage of raising awareness, driving traffic, gaining trust, and optimizing their advertising budget for a solid ROI.
Users can also count on the added value of highly targeted advertising, as they will stop seeing irrelevant adverts online. 
If you're a vegetarian, you don't want to be constantly encouraged to visit a steakhouse. If you run a steakhouse, you don't want to waste money targeting people who aren't interested. 
Display ads just make sense. 
What Types of Display Ads Are There? 
As previously mentioned, display ads are usually made up of text, images, video, and even audio. They are all interactive in that you can click through them to a webpage. 
The type of display ad you use depends on your message and target audience. Generally, you can separate display ads into three categories: 
text ads (which use text-based hyperlinks), 
image ads (which use visuals to encourage users to engage) 
HTML ads (which are often interactive).
However, there are some more specific differences between types of display ads. Let's take a look at a few examples. 
Banner Ads
Banner ads are a bit like digital billboards. They're located in high-traffic spots, usually at the front, bottom, or side of the webpage, and are also known as one of the best ways to drive traffic online. 
A banner ad will have an image or a multimedia object in it, which can also be added to the image or HTML category. Here's one of our animated examples:

Banner ads are a good choice because they don't disrupt the user experience while still catching users' eye (thanks to their placement on the page). With a good bit of ad copy, you can use banner ads to your advantage to draw people in.
Rich Media Ads
Rich media ads (or interactive ads) come under the HTML category. They're made up of rich media and can include videos, audio, GIFs, and more. With a rich media ad, you could even simultaneously play a video and invite the user to engage with a poll or survey.
The key benefit of responsive display ads is that they can add something to your product message. In the example below, the user can slide a bar across the ad to reveal the function of a product. The duality of the ad matches the duality of the product. It's genius!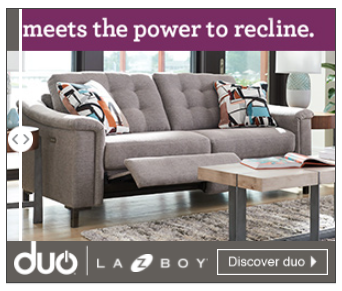 Text
Rich media ads increase customer engagement and allow the advertiser to be more creative with their design. They are effective on all fronts.
Interstitial Ads
These are image or HTML ads that pop up when you open an app or website. They cover the screen so that the user has to engage with them (even if only to click them away) to access the site.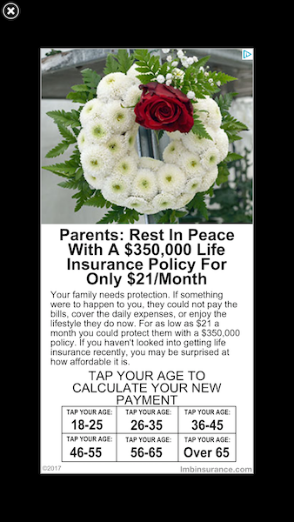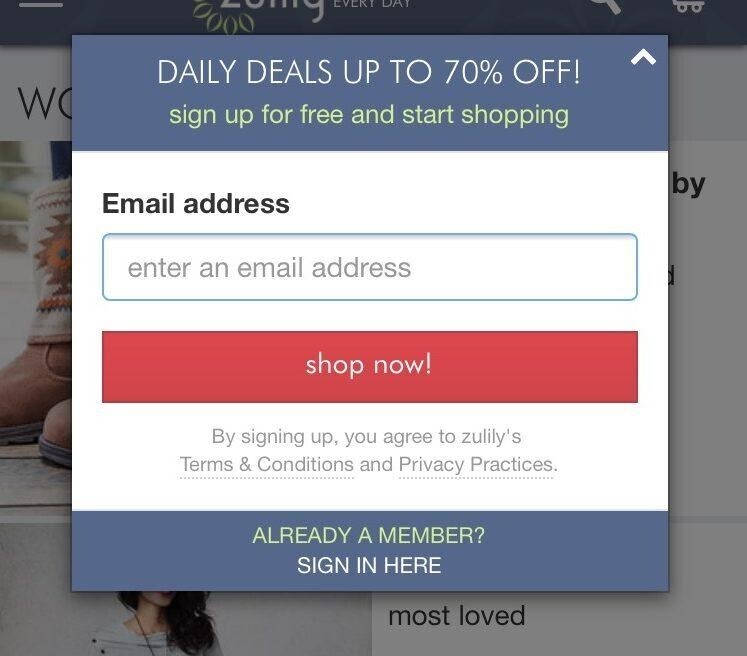 Interstitial ads are popular with advertisers because their large size earns a considerable impression rate, leading to a decent click-through rate and conversion rate. 
If you choose to use interstitial ads, just be careful to time them appropriately. You don't want to annoy users by preventing them from accessing the content they want.  
What Is Display Network Targeting? 
Display network targeting is when you work with a display network to target users more efficiently. Display networks are beneficial for advertisers, as they bring together millions of websites on which you can advertise with the same ad. 
Display networks work by accepting your submitted adverts, considering your target audience and goals, and placing the ad for you. It's a great way to reach as many people as possible in a highly targeted and effective manner.
There are a couple of different display networks, including networks from Apple and Facebook. The most high-profile one is the Google Display Network (or GDN), with over 2 million various sites available for you to show your adverts.
How do Display Networks Increase Effective Targeting?
The real benefit of display networks is their ability to choose where and when to display your ad. You can define your audience and target it effectively by using demographic factors and interests.
Demographic targeting considers countless aspects including, but not limited to, your audience's:
Age
Gender
Relationship status
Household income
Race
Meanwhile, there are only three key types of interest targeting:

You can even combine your demographic targeting with your interest targeting to get even more specific. Let's go back to our food delivery example from earlier. 
You might want to combine the age demographic with interests in vegetarian food to ensure that the people you're targeting are a) old enough to buy your product and b) interested in what you're offering. 
Display Network Targeting ensures that your ad shows up for your target audience – and therefore makes it more likely that the right people will click and convert.
What is Important for Effective Display Ads? 
Display ads have a broad reach and allow you to target many people, but there's no point in using ads if they cannot turn leads into conversions. 
Here's what to focus on to turn those clicks into conversions: 
Your Call to Action
A call to action (or CTA) is essential to getting conversions on a good display ad. Entice the user to click on your CTA to reach your landing page by making it bold and actionable. Include phrases like 'Learn more' or 'Enroll now.' 
Another important thing to do is to make the user benefit clear: include what the user will get from converting – e.g., 'Click for a free trial!' or 'Download our e-book!'
Here are some examples: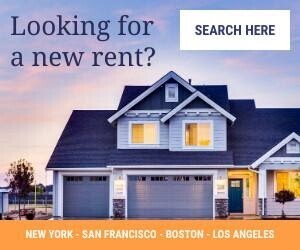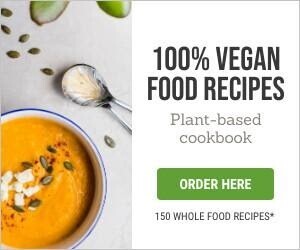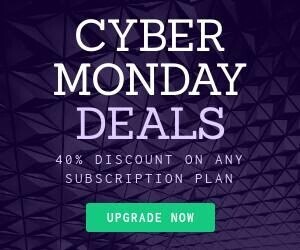 Your Landing Page
Your display ad shouldn't lead to any old page on your website. There should be a landing page specifically designed to encourage users to convert. 
A good landing page mirrors the design of your ad and follows through with the promises your ad made. Here's an example from us: 
The banner ad:

The landing page: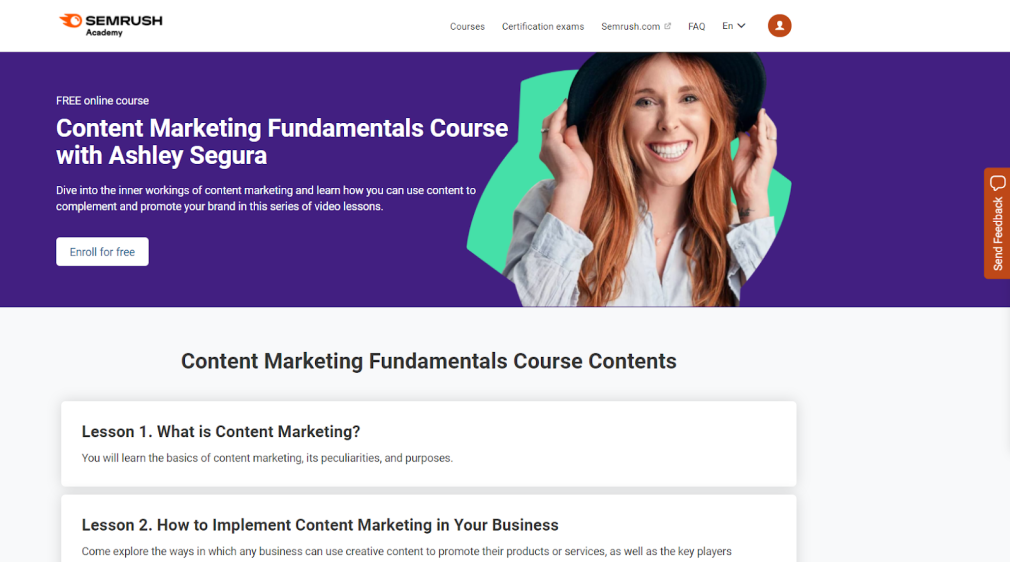 As you can see, the banner ad and landing page use the same design, graphics, colors, fonts, and logos, as well as the same call to action ("Enroll now'/'Enroll for free.") There's no room for confusion. 
If you're unsure how effective your landing page is, put yourself in your users' shoes. Would you want to explore your landing page further? Does it answer the questions that your display ad raised? If not, go back to the drawing board. 
For more information on great landing pages, check out our guide to creating landing pages users and Google will love.  
Your Ad Copy
Your ad copy (the main text of your advert) must work for you. When writing the text for your ad copy, you want to make sure that you have:
A strong headline (ideally under 80 characters).
An excellent description that highlights the key components. 
Any special offers and promotions. 
Correctly sized images: Google recommends a 1:1 or 4:1 aspect ratio for your brand logo, as well as avoiding overlaid text, too many images, and too much blank space. The ratios for your main image should be 1.91:1 or 1:1. 
Here's an ad that includes all of these: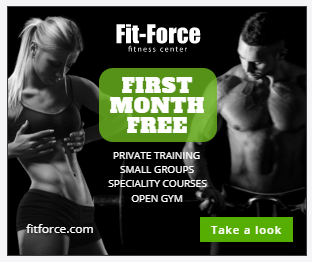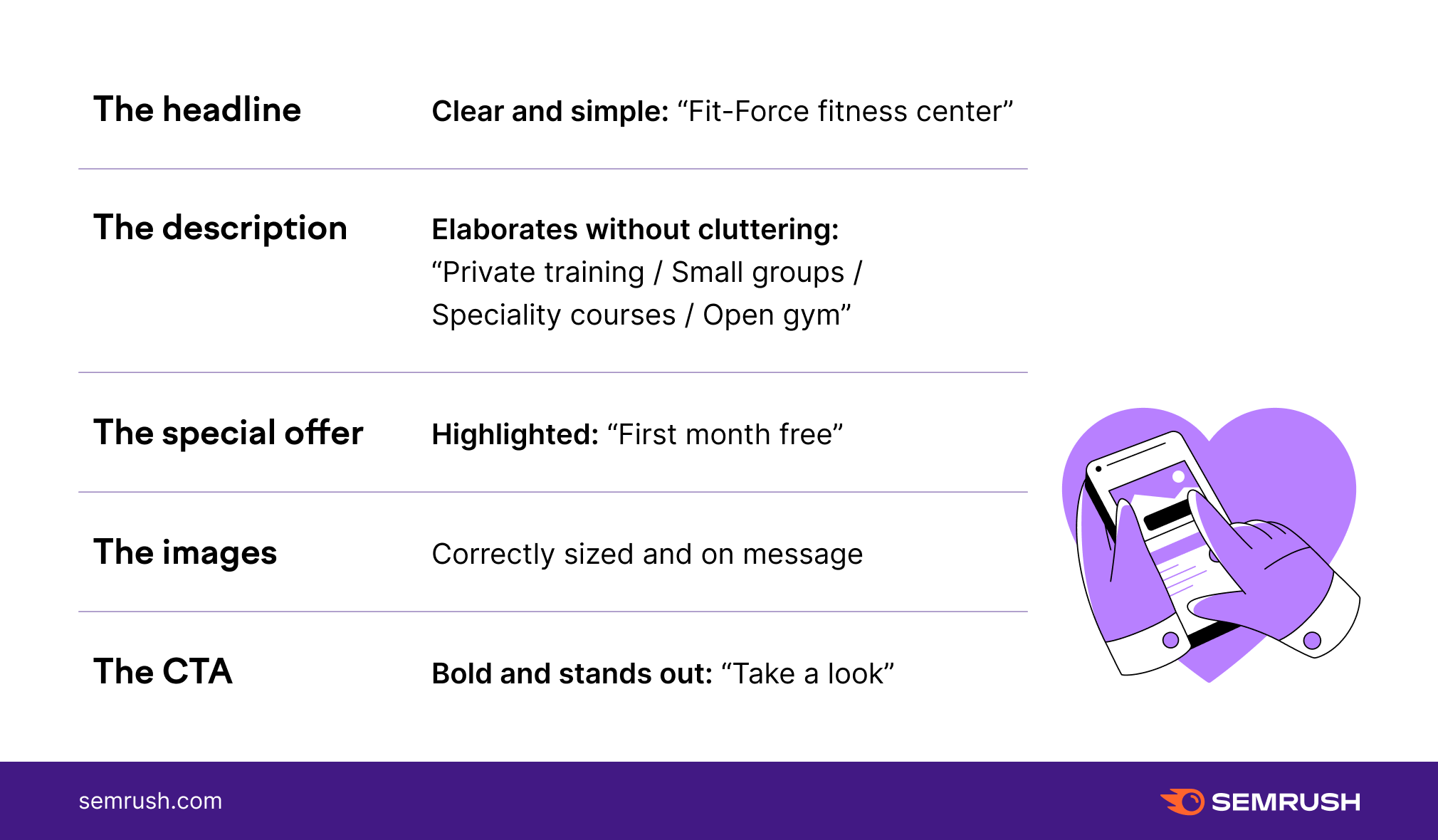 As you can see, the steps to great ad copy are pretty simple once you get started!
Your Ad Size
One thing you have to be careful with when designing your ad is its size. Display ad sizes for Google can get pretty specific. Google's ad size recommendations are:
Medium rectangle – 300 x 250
Large rectangle – 336 x 280
Leaderboard – 728 x 90
Half page – 300 x 600
Large mobile banner – 320 x 100
If you're looking to make another kind of display ad, check out Google's guide to Google display ad sizes.
How Do You Measure Your Performance? 
There are a few metrics you can track to measure the performance of your display ads. These include:
Impressions
Reach
Click-Through Rate
Conversion Rate
Let's look at them in more detail. 
Impressions
'Impressions' is another term for the number of times an ad is shown. The more impressions you have, the bigger your audience is. You can use this metric to target your brand awareness goals.
When you measure your impressions against your click-through rate, you can also get a good idea of the effectiveness of your ads. 
Reach
Your reach is equivalent to how many people may have seen your ads once they've been displayed. This means that it's dependent on the settings you've determined with the display network. 
This metric helps you make sure that you're not wasting any money or time showing ads to the same people repeatedly (especially if they don't click or convert) and ensures that you're showing them in the right places.
Click-Through Rate
The click-through rate is the ratio of impressions to clicks. It helps you understand how many people interact with your ads.
Conversion Rate
Your conversion rate is arguably the most important metric. This is the number of people who not only click on your ad but also act when they arrive at your site – whether that be by making a purchase, requesting a service, or something else. This metric helps you understand if your ad is working. 
Don't panic if your conversion rate is low. There may be two easily fixable reasons for this:
You're generating low-quality traffic,
Your landing page is under-optimized.
In the first case, you can run an audit and discover which websites and audience groups are taking positive actions and which aren't. In the second case, you can run A/B tests on your landing pages to fix the problem.
With a bit of help, your conversion rate should be up to speed in no time!
How Can Semrush Help? 
The Display Advertising Tool is the perfect addition to your web toolkit if you want to run and manage your display ads or track your competitors' activities. 
You'll also be able to track the performance of banners, sidebars, and text ads placed through Google Ads and published through the Google Display Network. 
To get started, just enter a domain name or keyword. If you're interested in a specific website, you'll want to use the domain. If you're interested in the ads that are already out there for a phrase or term, then you'll want to enter them instead. Click "Explore now." 

Our bots crawl the web for your relevant site or keyword and return a Display Advertising report.
The Overview Tab
You'll find your Display Advertising Report in the Overview tab:

Here you can see the total number of ads our bots found, publishers (the total number of domains we saw displaying the ads), the number of times we saw the ads, the date we first saw the ads, and the date we last saw the ads.
The Overview Tab is also where we offer you information on demographics, like the age and gender of the people visiting these adverts and their interests.
If you want to know more about audience demographics, the Overview Tab is the place to go. You'll quickly get a great idea of who is targeted and who isn't. 
The Overview Tab will also show you some sample ads, so you can quickly picture what the ads will look like and a list of publishers, the industry those publishers are in, the display ads listed by country and ad types, and ads by device. 
If you click through with any blue buttons (like the ones you can see below), you'll be taken to the relevant tab to find out more. 
H3: The Ads Tab
In the Ads tab, you can get a closer look at the display advertising history. 

This shows you how well you or your competitors have performed in the past thirty days. You can see which kinds of ads were run most often and their peak times.  
The ads tab allows you to narrow your search by the type of device, the geographic location, and the time frame (with a business subscription). You'll be able to dig into the details of your ads and find out who's seeing your content, where, and when.
The Keyword Report
Another great feature of our Display Advertising Tool is the Keyword Report. Here, you can enter any keyword and see text and HTML ads where the word appears.
As you can see in the screenshot below, this section will break the facts down for you by ad time and indexed ads. You can even filter by location and device to get super specific!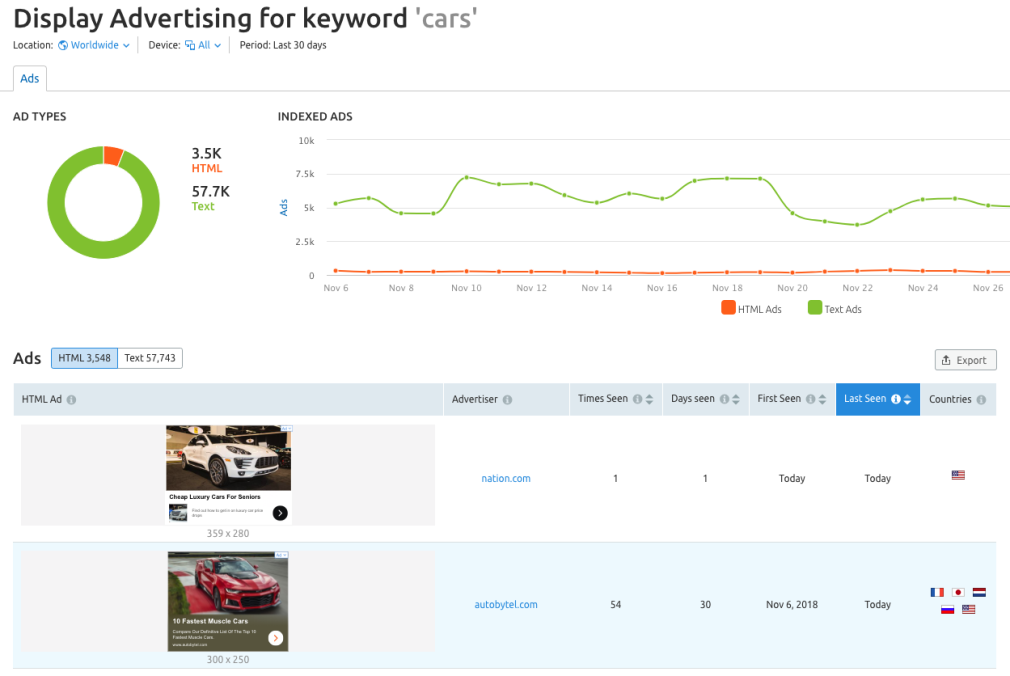 Just as you should optimize your website for the keywords your users are interested in, so too should you optimize your adverts. 
Use this tool to track your competitors' keyword performance and adjust your ad copy accordingly. 
The Landing Pages Report
Next up is the Landing Pages Report. Here, you can see all the landing pages for the ads we analyzed. They appear in the report as links in a table, which you can click through to if you're interested in examining them for yourself.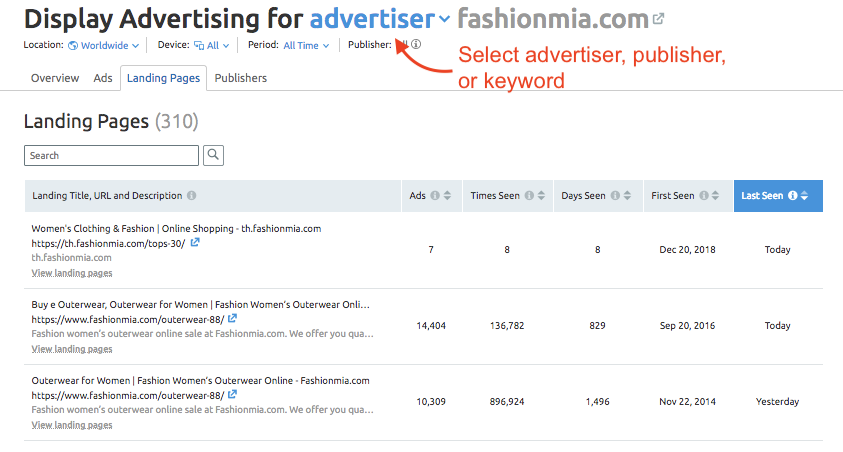 The "Ads" column of the table tells you the number of ads that link to the landing page in question. The "Times Seen" column tells you the number of times we saw those ads. 
The "Days seen" is the number of days on which we saw these ads, and "First" and "Last Seen" tell you when we first, and last, saw the ad. 
Your landing page report is a helpful place to frequently research and monitor the ads that get more clicks and the sort of landing pages they lead to. If you want to snoop on your competitors to see if they tick all the boxes, this is the place to do it. 
The Publishers Report
The final section that's worth mentioning is the Publishers Report. This report shows you all the domains where we found ads for your given advertiser. It's a great place to analyze ad campaigns and see how best you can optimize them – or to check in with your competitors and see where they're placing their ads and how well they're doing as a result.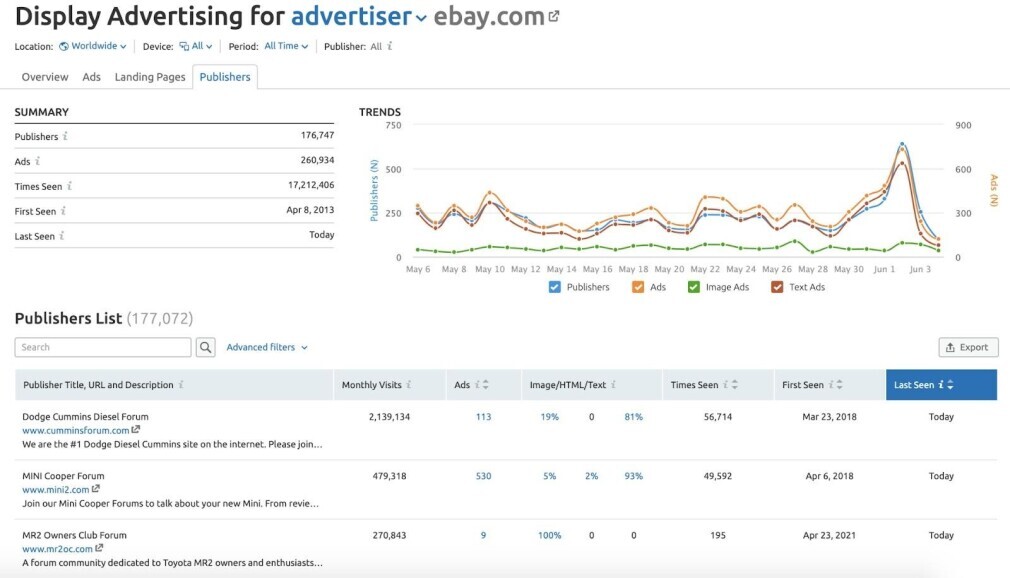 As you can see, the report gives you a handy summary section with all the most important stats, along with a trends chart that breaks down the details by ad type.
 The real win here is that you can see how relevant an ad platform is by checking the monthly visits column – it's an easy way to find out more about ad exposure. 
Of course, the extent of the functions depends on the kind of Semrush subscription you have!
Take a look at your advertising strategy and give your next steps some thought. It might be worth branching out into the world of display ads. 
Create & Manage Ad Campaigns
with the Social Media Ad Manager