Investing some time and money into the right SEO software can make a significant impact on your rankings. The SEO tool you'll use depends on your resources, business goals, and personal preference. 
What Is SEO Software?
SEO software is any tool designed to help you monitor your organic performance, plan strategies, and analyze data. SEO tools can also help you perform keyword research, improve backlinks, and track your competitors. 
There are many different types of these SEO tools available, including downloadable software, online tools, free tools, and comprehensive software. All of them can help you gain a snapshot of how well your website performs in Google and other search engines, but each will help identify different opportunities for improvement. 
Although SEO software tools usually cost money, they provide invaluable insight that can undoubtedly support your organic performance and business goals. SEO software is a business solution first and foremost.
SEO tools can give you data and insights on how well (or not) your website is performing. You can then manipulate and filter this data to help you to pinpoint what specific aspects are performing for you, what you should do more of, and where you should direct your efforts. 
SEO tools focus on various aspects of your site based on ranking factors. Tools are commonly split into these five types:
Keyword Tools
Link Building Tools
Crawlers
Local SEO Tools
All-In-One
Keyword Tools 
Using the right keyword is one ways to attract consistent traffic. They are pivotal to your SEO efforts, which is why many businesses invest in tools that can help do two things:
Discover keywords
Track keyword performance
Keyword Research
To choose the right keywords, you need to do keyword research using with keyword research software. The software should help you identify what keywords are right for you and which have the most opportunity.
A keyword research tool gives you this data by showing you related terms, search volume, and keyword difficulty of your seed keyword. However, some tools can help you to do keyword research by conducting a gap analysis, which involves looking at the keywords your competitors are ranking for that you aren't.
Rank Tracking
Once you have chosen your keywords, you will need to track how well you perform for each one. You can do this using another type of SEO tool known as a rank tracker. 
A rank tracker SEO tool allows you to input your focus keywords and returns metrics on your performance against them including visibility, the share of voice, average rank, and more. However, different rank tracking tools will offer similar metrics, but not all operate in the same way.
Examples of Keyword Tools
Keyword tools come with different pricing options and features. For example, free keyword tools include: Google Ads Keyword Planner, Keywords Everywhere, Google Trends, and Answer The Public. 
However, not all of these free tools will provide insights into search volume and difficulty. Paid tools, like the Keyword Magic tool, offer in-depth data for your review. 

Link Building Tools
Improving your backlink profile can help your SEO efforts and earn referral traffic. Link building tools can help this process by giving you insight into your:
Backlink profile and spam score
Backlink prospects
Competitor backlink profiles
Backlink Profile
A backlink tool will usually track your current backlink profile, including your domain authority and toxicity score. 
These two metrics are percentage scores based on the quality and number of your current backlinks. For example, a low DA and high toxicity score will indicate that the backlinks you have lack quality and are potentially from spam sites. 
By contrast, a low DA score and a low toxicity score suggest that you have quality backlinks but not many. Your link-building tool should help you to create a list of any spammy backlinks so that you can disavow them.
Backlink Prospects
Once you have your backlink profile score, you should aim to improve on them. Linking building tools can help you to do this by identifying prospects and sites likely to link to you if you outreach to them.
Using your link-building tool, you find the right insights to target sites for backlinks. Part of this research involves reviewing sites that your competitors have backlinks from. From this research, you can create a list of what specific sites to outreach to. 
Depending on the type of backlink tool you use, you will not likely be able to get contact details for the site suggestions. You will need to find these manually or using a specific tool with media contacts. 
Examples of Backlink Tools
Link building tools come with different options and features. For example, our link-building suit offers offer complete backlink analysis, competitor gap analysis, outreach tracking, and more. You can start with the Backlink Analytics tool to better understand any domain's backlinks profile.
Crawlers
The technical health of your website is another crucial ranking factor, which is why a crawler tool can be so important. Crawler tools identify any issues with aspects of your site, including:
Page Speed
Security issues
Broken pages
HTML set up
Mobile-friendliness
Metadata 
Headings
The best SEO crawlers will give you a series of options for your crawl, but their default settings can deliver useful health data that gives you a list of issues to improve on. 
Examples of SEO Crawlers
SEO crawlers generally have shared features and run checks for the same aspects of your technical health. Your SEO crawler should give you a comprehensive overview of all technical or on-page issues you or your webmaster can tackle. 
The Site Audit tool is an example of a comprehensive SEO crawler that audits your site and gives you a list of issues to fix in priority order. Once you run your audit, the tool returns a description of the issue, suggestions to fix, and a list of any URLs that are affected. 
This can help streamline any work that you need to do to rectify the issue, whether that's done by yourself or briefed to another member of your team. 
Local SEO Tools
Improving your local SEO can help to attract traffic both to your website and your physical locations. The key to local SEO is consistency, which is difficult if you have a presence across multiple directories like Google, Yahoo, Apple Maps, Facebook, and others.
A local SEO tool can help to:
Manage information across listings
Post updates and photos
Monitor ranking
Your local SEO tool should help you manage all the aspects of your citations or listings across multiple directories, which should help your business be more visible for local searches. However, it is still essential to take keywords and content into consideration, so it's not likely that you'll use a local SEO tool in isolation. 
Examples of Local SEO Tools
Local SEO tools differ in terms of what directories you can manage with them. For example, some tools will be compatible with just a handful of directories, like Google and Yelp. Other tools may work with more, so make sure you check before signing up for an account. 
You should also bear in mind that not all local SEO tools offer keyword research functionality, which is also essential when it comes to optimizing your listing for specific searches. Consider a local SEO tool that can tackle it all, like the Listing Management tool.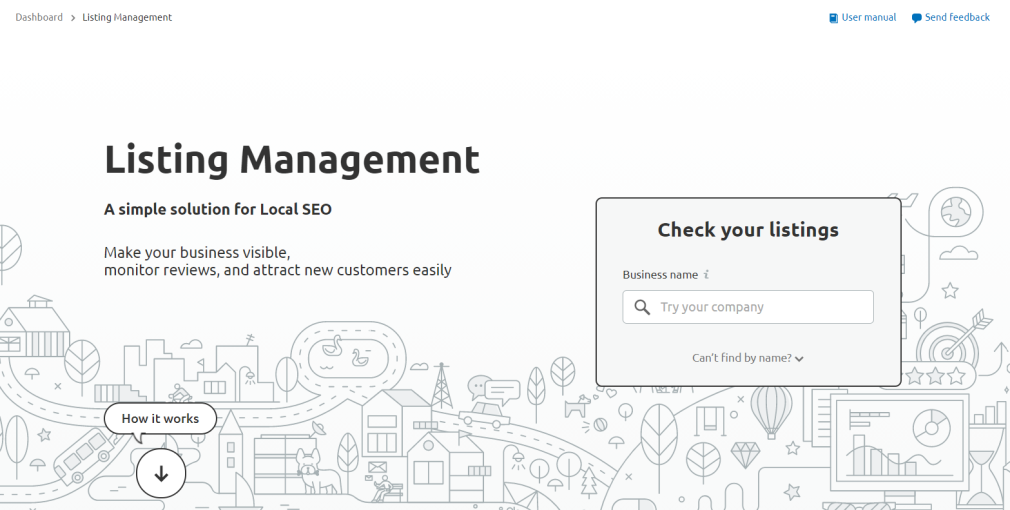 For more examples of local SEO tools, check out our guide to the 12 best local SEO tools.
All in One SEO Tool
Each of the above types of tools is successful in supporting one area of your SEO strategy. However, your site's rankings depends on multiple factors rather than just one. To improve your organic performance, you will need to work on each aspect, which includes (but is not limited to):
Keyword Use
Backlinking
Technical Health
All in one SEO software offers suite of tools that allow you to analyze several aspects of your site concerning ranking factors. They offer keyword research, rank tracking, link building audits, site audits, and other helpful features to make the most out of your SEO strategy. 
Your all-in-one SEO tool should offer you most (if not all) tools you'll need to optimize your site and improve on your current SEO strategy. 
Examples of All in One SEO Tools
Semrush offers a holistic set of tools that can help you to improve multiple aspects of your SEO, including content, keyword use, keyword tracking, competitor research, GAP analysis, campaign management, backlink auditing, site auditing, and more. 
Other tools may have a smaller breadth of features but have more of a specialism in one area of SEO, so opt to use an all-in-one SEO tool, make sure that the software you choose has all of the features you need. 
SEO tools can be free or they can charge on a monthly or yearly basis. However, the decision to choose the right SEO software for your business shouldn't be about cost. 
You need to think about the data and the features you need from your tool. You could end up paying thousands a year for a tool that you only use a small number of features from when you could invest in a cheaper tool that offers fewer features. 
Likewise, you could choose a more affordable tool that doesn't give you the correct data or data in the right areas to identify all the opportunities you have. 
When looking at investing in SEO software, you should consider:
How many domains you want to monitor
How many keywords you want to track
Whether you need automated reports
What type of SEO tool you need
What level of support you need to use the tool
What's the Difference Between Free SEO Tools and Paid Tools?
If the cost of an SEO tool is putting you off investing, there are free options, including Google Analytics and Search Console. These tools can give you great insight to your website performance as a whole or into specific areas of your SEO. 
However, they can't provide as much data as a paid SEO tool can. For example, Search Console can show you your average rank trend, but it can't offer you that data concerning your competitors. 
Despite the cost, you should seriously consider using a paid tool in addition to the freeones. Doing this will give you a more comprehensive view of your performance and opportunities. 
If the cost is still a concern, you can get a free trial from most major SEO software companies, like Semrush. Our free trial gives you access to the full suite of Semrush tools for 7 days. After that you can cancel, no questions asked, or you can choose to keep our tool for a monthly fee. 
How to Choose the Best SEO Software for Your Business
The best SEO software for your business is likely a comprehensive, all-in-one tool that gives you access to all the data and tools you need. With a complete SEO software, you pay one fee for multiple features, including keyword, backlink, and local SEO tools and a built-in crawler.
Why Choose Semrush?
Semrush is a comprehensive SEO tool that gives you a suite of advanced SEO tools. Their online SEO software gives you backlink tools, keyword research, rank tracking, visibility management, market research, and even social media tools, meaning you can manage more than just your SEO.
Semrush's SEO tools cover:
Keyword Research: Discover all the best keywords to target and track your keywords using the Keyword Overview, Keyword Manager, Position Tracking, and Keyword Gap tools. You can also check how SEO and keyword-friendly your copy is using the SEO Writing Assistant. 
Link Building: Find opportunities to gain backlinks and watch what mentions your competitors are getting using the Backlink Audit, Link Building, Backlink Gap, and Brand Monitoring tools. You can track your outreach and create outreach emails using the Link Building tool too.
Crawler: Audit your pages and get ideas to improve them using the On-Page SEO Checker and Site Audit tools. The Site Audit tool will give you specific instructions and steps for fixing any issues you have. 
Local Business SEO: Optimize your site for local searches to drive more footfall using the Listing Management tool and keyword research tools. 
With these comprehensive features, Semrush is an ideal solution for small to large businesses as you can tailor your monthly plan to your needs. 
Read more about the Semrush SEO tool and the 40+ features of the software.
Next Steps
If you're ready to try an SEO tool to improve your organic strategy, start by considering what type of SEO tool you need.
If your aim is to improve your content, consider a tool that can support your keyword research. If your objective is to improve the technical health of your site, then a tool that can audit your website will be more helpful. If your goal is to improve the amount and quality of the links coming to your site, then a tool with link-building features is more suitable. 
However, improving one aspect of your SEO will not work in isolation. You should aim to work on all ranking factors to get the most out of your organic performance. This includes backlinks, site health, content, and local efforts, which may mean that you get the most out of a comprehensive SEO tool.
Get Keyword Suggestions
with the Keyword Magic Tool, the biggest keyword database on the market.