As you scale your business online, you need a website that not only attracts visitors and meets customer needs, but also grows with you and evolves to suit a shifting landscape. 
If you've got a small (but mighty) team, this might sound like a big ask. Even if you already know how to build a website, how do you make sure it will be able to adapt to future challenges? That's where choosing the right web hosting platform makes a huge difference.
What Are Web Hosting Platforms? 
Web hosting platforms provide data storage that allows websites to run, so that site owners don't need to manage it all themselves.
In short, third-party hosts maintain servers to store website data, including code, text, videos, and image assets, on those servers. When internet users try to access the site, the server delivers that content to the browser.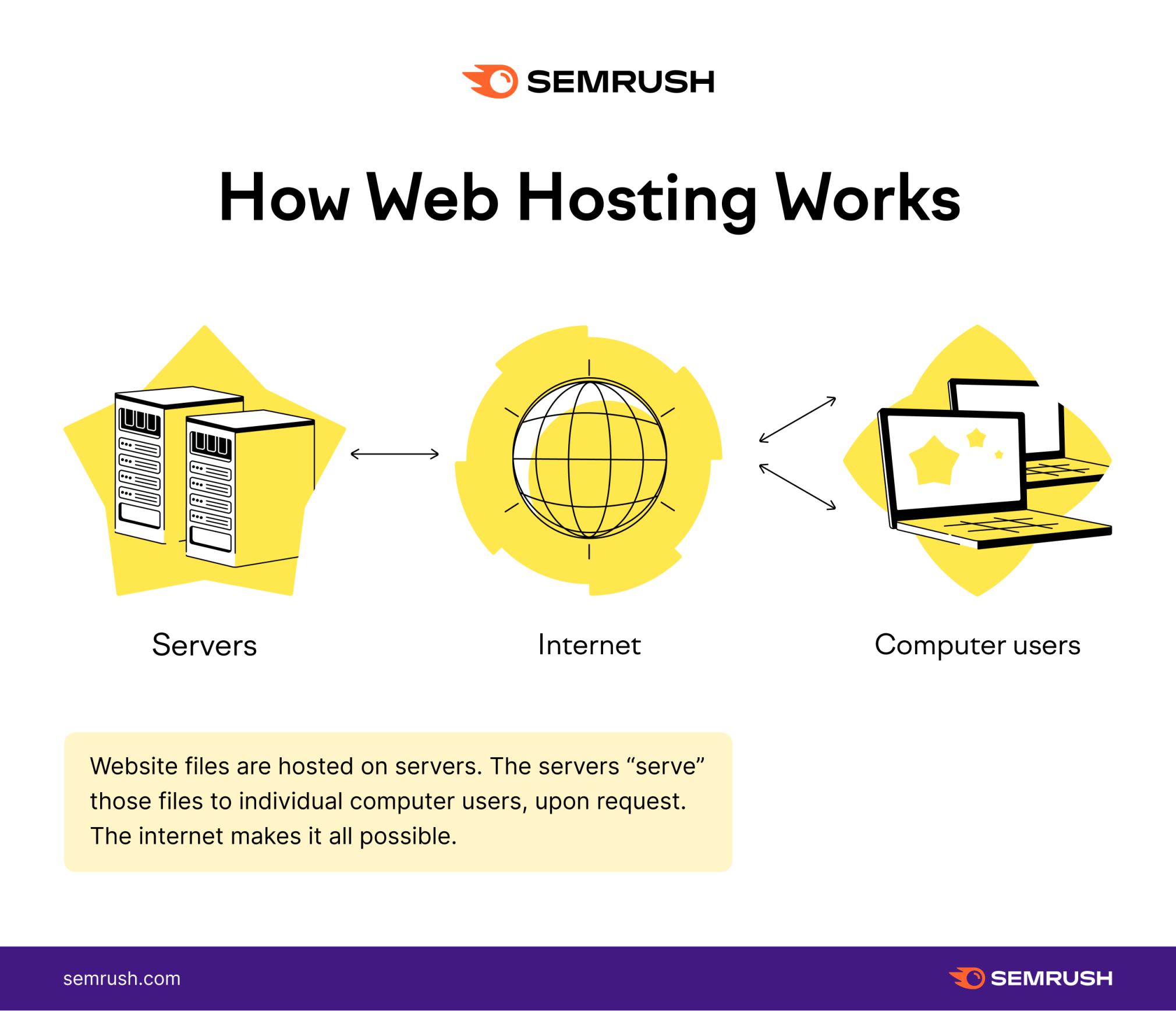 Self-hosted sites function similarly. The main difference is that they are stored on servers owned and maintained by the site owner.
Third Party vs. Self-Hosting
Both third-party hosts and self-hosting have advantages and challenges, largely dependent on your technical capabilities and the resources at your disposal. 
Hosting your own site means you have more direct control of your server and framework. And if you need a new feature for your site, you don't have to worry about whether your host will support it. 
However, self-hosting is also a lot more labor intensive and requires a lot more resources. Some potential drawbacks: 
You're responsible for all the updates and maintenance for all hardware and software
Because it can require a lot of power consumption, it can increase costs
Depending on your resources, your site might run slower than it would with a professional host
Types of Hosting Services
If you want to use a hosting service for your site, you have a few basic options: 
Shared hosting: a relatively budget-friendly option where multiple users share the same server system and resources
Virtual private servers (VPS): a hosting service where users store their data in a dedicated space on shared hardware (e.g., physical servers)
Dedicated servers: a hosting service that provides users with a dedicated server to store their site data, potentially increasing functionality, but also security and maintenance needs
Cloud hosting: a comparably newer hosting option, which stores data across a network of network of servers to increase flexibility
Managed hosting: an alternative to a typical dedicated server, users store data on a dedicated server, while the hosting service manages its security and maintenance rather than the user
Choosing the perfect host means balancing your site's overall needs with potential cost or risk. 
For example, one small business with relatively low site traffic may opt to save money by using shared hosting. While it's true that sharing resources like this might increase the risk of disruption, for them, the savings might be worth it. 
Meanwhile, another business might need the stability and support of a managed hosting platform as they continue to grow, even if it comes with a higher cost.
Carefully consider your current and anticipated needs when choosing an appropriate host. 
5 Things to Consider When Choosing a Hosting Platform 
Choosing a new hosting platform is a big decision, whether you're building a new site or relocating your current one. After all, your host plays a major role in keeping your site online and functional and enables you to keep growing. 
Here are five key considerations for choosing the best hosting services for your business.
(Want to cut to the chase? Our partner, Cloudways, has a special offer just for Semrush readers. Use promo code SEMRUSH for 20% off all Cloudways plans for three months.)
1. Technical Requirements 
Consider what your site needs on a technical level. In other words, what does your site actually need to run well? What do you expect to need later on? 
Traffic
The amount of traffic your site receives can impact how well it works for your customers. This makes it a crucial consideration when choosing a host. 
If you're just starting out, this may be less of a consideration. But as you grow, you might need the flexibility to scale up or down to accommodate your site's shifting needs. What if, for example, you have big marketing campaigns planned, which could result in sudden traffic spikes? If you want these campaigns to be a success, you'll need a host that can handle it.
Bandwidth
Bandwidth refers to the volume of data that can be transmitted over the internet in a certain amount of time. In the context of web hosting, it's the amount of data your site can transfer to users.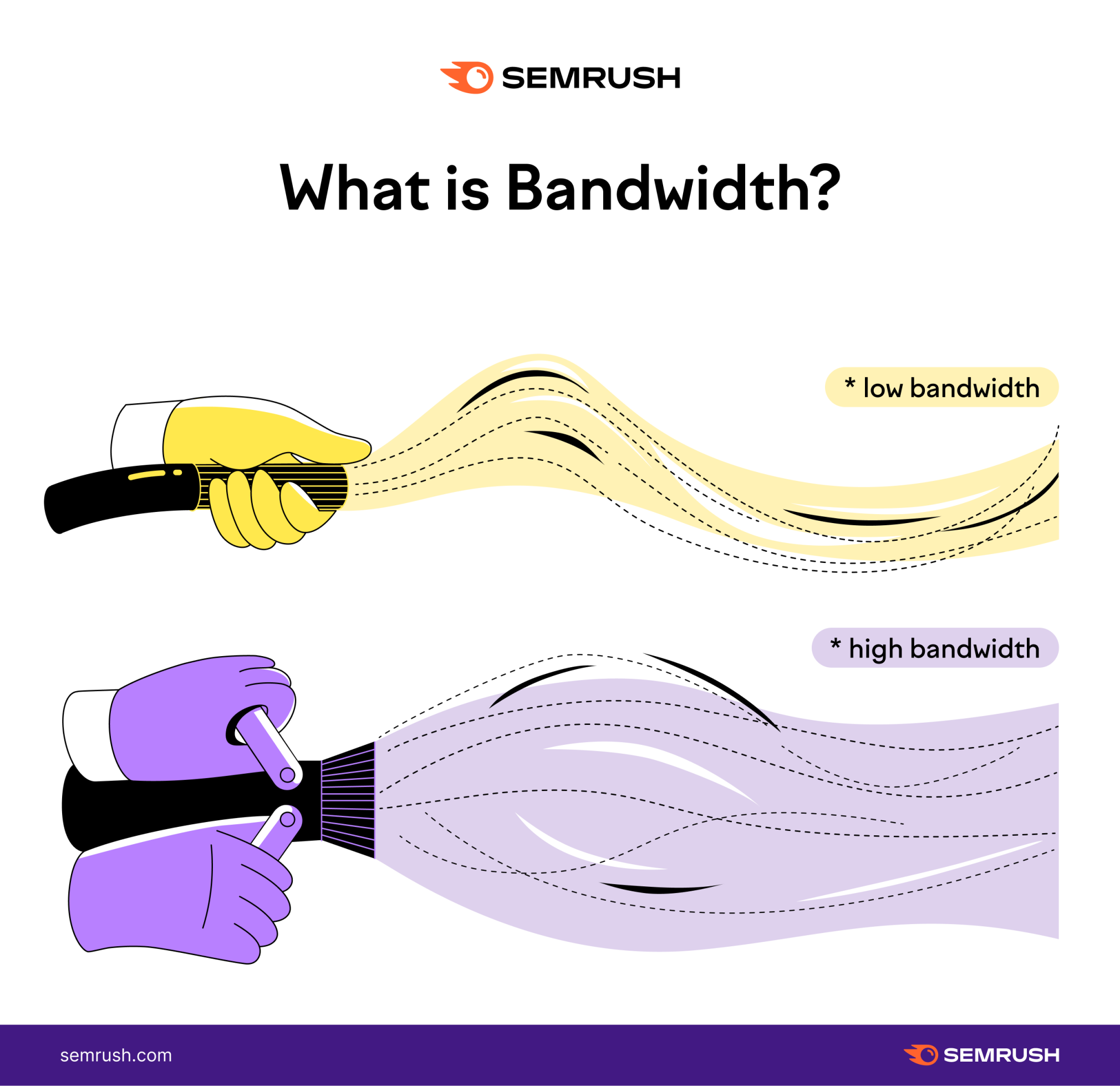 The more people use your site simultaneously, or the more complex your site is, the more bandwidth you will need. For example, do you plan to host a lot of high-quality videos, or run complex programs? That all requires bandwidth.
The amount of bandwidth you consume impacts the price of your hosting plan. In most cases, a hosting provider offers tiered plans that include a certain amount of bandwidth to use during a billing period. If you exceed that amount, you may be charged extra. 
Applications & Coding Languages
Think about how you plan to build and administer your site. For example, will you use more complex languages like PHP or Java, or something simpler like HTML? Will you build and manage it with Drupal or WordPress, or use an ecommerce platform? Do you plan to use a content delivery network (CDN) to improve your site speed?
Before you choose a hosting provider, do a careful inventory of your current technical needs, and what you might add in the future. Then, make sure your selected host can support these needs.
Server & Data Center Locations
First, a little bit of technical background. The term "server" refers to the physical hardware that stores your site data. Many web hosts maintain a large number of servers in one central location and rent out space on those servers to clients like you. In that case, the "central location" in question, where those servers live, is the data center. 
In the case of edge computing or cloud hosting, there might instead be a network of data centers all working together. In this case, your data would be distributed across that network. This puts your site data physically closer to many of your users, which can help to speed up your site. 
When choosing a web host, consider what type of arrangement you need. Is it very important to you that you host your site in the cloud, or that your servers are physically close to you? Or would you prefer a host that offers other important services at a good price, regardless of how far away it is?
Management
Finally, consider whether a managed or unmanaged server is best for you.
Managed servers are generally costlier than unmanaged ones, but they come with a variety of benefits. For example, our partner, Cloudways, which is a managed hosting platform, offers users: 
Fully managed hosting for WordPress and Magento on top cloud providers (DigitalOcean, AWS, Google, Linode, and Vultr)
Fully optimized and preconfigured stack to ensure best performance for your website
Server management, including operating system, security updates, patches, and firewall
A managed platform to deploy web apps, free SSL certificates, customization, and perform tasks
Automated daily backups
Application level support and customer support around the clock
With these services, managed hosting enables you to spend more time building out your site's content and helping your customers. 
With an unmanaged server, you may save money initially, but as a result, you'll have to do more work on your own to maintain it. For example, you'll likely have to install your own software, control panel, and security, and then maintain it all with updates. 
In addition to potentially reducing cost, this can give you more control over how your server is set up. However, you'll need to invest more time and expertise to make the most of it. 
2. Support
Your host's customer service (or the lack there of) can have a huge impact not only on your site, but also your business as a whole. 
For example, imagine that you start running a new, wildly successful digital marketing campaign. Then, just as you start to see amazing results, your website goes offline, and none of those potential customers can get to it. 
Without reliable customer support, how quickly do you think you could resolve that issue? How many potential sales would you lose in the process? And what about your data—has it been backed up? Can they help you restore it? 
Choose a web host that offers the support you need. For example, Cloudways offers: 
24/7/365 support via live chat and ticketing system
Normal and high-priority online ticketing
Support with customizing your server and troubleshooting 
Proactive monitoring
Alternative contact methods, including phone support and private Slack channels (with advanced support add-on)
Once you've confirmed that your host offers support on channels that work for you, evaluate the quality of that support. For example, Tom's Guide recommends reaching out to the support team directly to have a conversation with them. You can also read customer reviews or talk to current or former customers to ask them about their experiences. 
In addition to customer support, make sure your host is flexible enough to continue to meet your needs. For example, if you suddenly find yourself needing more bandwidth, or paying for too much of it, can you easily adjust your plan as you go?
With a supportive hosting plan, you'll be able to scale your business more easily with less worry.
3. Security
Now that you've tackled your technical and support needs, it's time to think about security. How safe will your site data be with your hosting provider? What measures will they take to ensure that safety?
Some providers take a more relaxed approach to this, opting to give users more control over the security they want for their own site. If you want total control over your server and its security options, this might be a good choice for you. 
Other providers, particularly with managed hosting plans like those at Cloudways, have more robust coverage that users don't have to worry about. 
For example, Cloudways offers: 
Dedicated firewalls at the operating system level
Web application firewalls
SSL encryption
IP whitelisting
Two-factor authentication
Protection from malicious bots and Direct Denial of Service (DDoS) attacks
Regular security patches, delivered automatically to your server
As you consider potential hosting providers, carefully review their security options and select one that offers the options best for your business.
4. Reputation 
Technical capabilities, customer support, and security offerings are important considerations, but so is a host's reputation in the industry. 
Look for third-party sources, such as reviews by experts in industry publications, awards, and ratings on user review sites.
Cloudways, for example, has a 4.6 star rating on Trustpilot, and three awards from G2 from winter 2022: Easiest to Use, Users Most Likely To Recommend, and High Performer (Europe). 
In addition to high ratings and awards, read user reviews to get a holistic picture of what it's like to use that platform, in addition to TrustPilot and G2, try TrustRadius and even social media.
 5. Budget
One final consideration is your budget. 
Web hosts typically price their services by monthly subscription, and those rates can vary significantly depending on your package and the features you select. 
Ideally, look for: 
A solid balance between the savings you want and the features you need
Enough flexibility to add more features to your plan later, without breaking your budget
Quality of services high enough to justify your spend
Amp Up Your Online Presence
If you want potential customers to see your business online, the first step is to build an enticing, reliable website, hosted by a platform you can depend on. For simple, fast, and convenient managed hosting, scalable for your unique needs, consider Cloudways. 
Use promo code SEMRUSH to take advantage of 20% off of any Cloudways plan for three months.
Of course, building and publishing your website is only the start of your business's online journey. With a solid SEO strategy (and the help of Semrush), your new site can dominate search engines, attract new customers, and expand your reach.