If you've started developing your own SEO strategy, then you're intimately acquainted with the persistent quest for a coveted top spot in the SERPs (search engine result pages) for your important keywords. 
You also know that some keywords are harder to master than others. And the ones that we want to rank for are almost always the ones already taken by the biggest players in the game. So, if you feel like you aren't getting the reach you need, know that there's another way.
It's called Surround Sound SEO. 
What is Surround Sound SEO?
Rather than only trying to rank your own website domain, what if you were featured in the content that is already ranking as well? Ranking number one is great, but being seen throughout the top-ranking pages in the SERPs for your keywords? That's even better.
Being #1 is great. Being everywhere is better.
This is the concept of Surround Sound SEO. Coined by Hubspot, the strategy is designed to create a "surround sound" effect by having your brand featured on the top sites associated with your target keywords, where people who are ready to buy will see you over and over again on sites that they trust. 
This helps you stay relevant and impossible to ignore—even if the person searching isn't on your own site.
Research shows that prospects visit an average of three websites before making a purchase, so the idea is to be in as many places as possible. The more people see your brand on trusted websites in the consideration stage, the more likely you'll be a candidate in the buying stage. 
The best time to implement Surround Sound SEO is after you have laid down the foundational SEO basics for your own website. Surround Sound SEO is most effective after you have developed some level of authority and have begun to work on ranking your own domain first. 
It's also a long-game strategy, relying on relationship building to get your brand featured in other peoples' content. So it's not for everyone. But if you're intrigued, follow my Surround Sound SEO Roadmap to see if you're ready.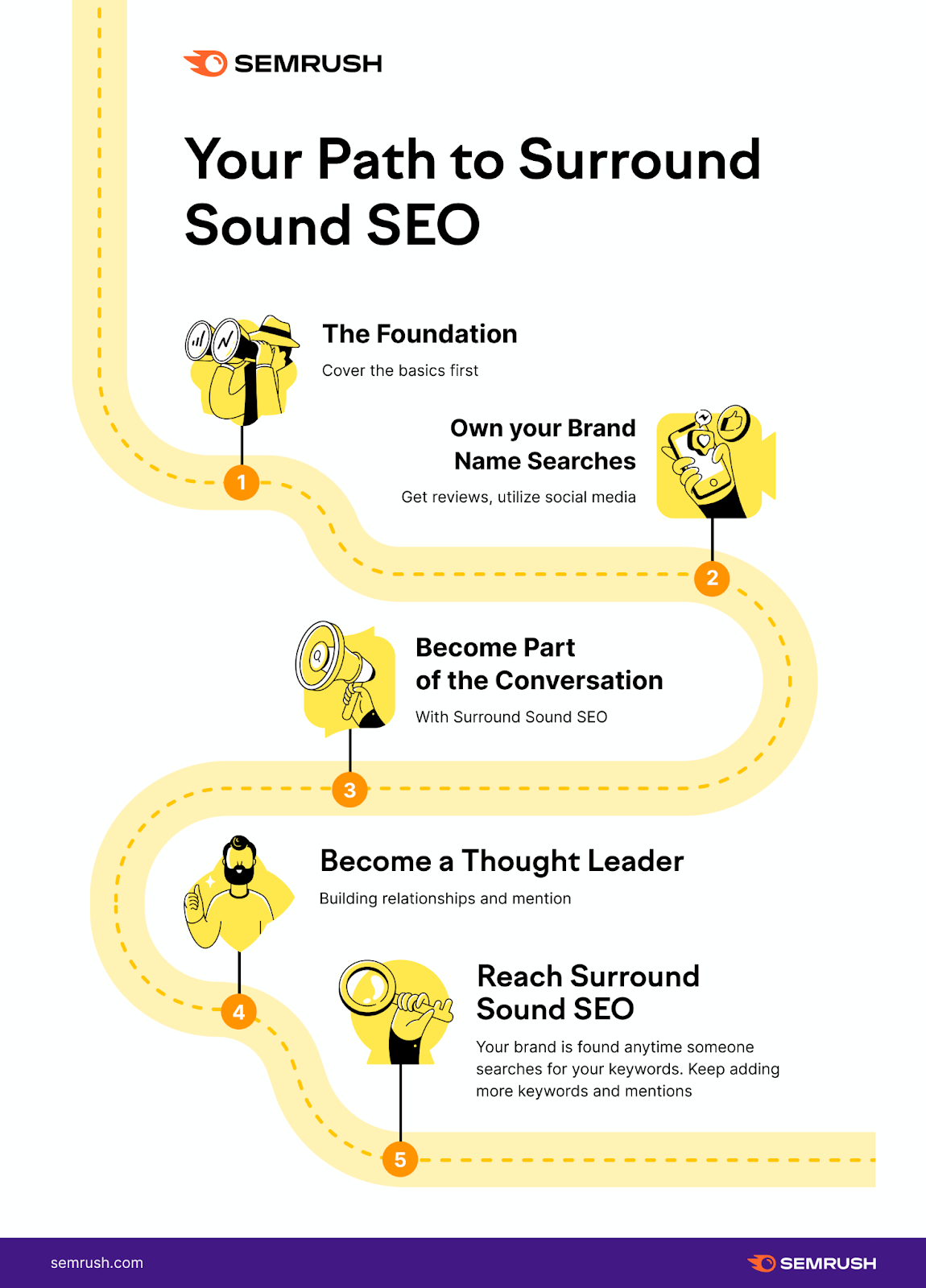 Sometimes, getting top-ranking sites to feature your brand can be just as hard as getting your own domain to rank. But by following this roadmap, you'll first conquer smaller and more achievable wins before you move on to bigger players.
SEO Foundations
There are some foundational SEO basics to implement before you can effectively develop your Surround Sound SEO strategy for your brand. 
Start by establishing business credibility and building trust with your audience. The best way to do this is by creating a professional website. 
Having a professional, fast-loading website is table stakes in ranking for SERPs. You cannot rank without one. Whether you already have a website or are creating one, make sure you have the following:
These essential pages:

Landing pages
About Us page
A blog 
Contact Us page

Social proof:

Reviews/testimonials
Trust badges
Links to active social media profiles
When you have these few basics, you're on your way to developing trust and establishing a strong first impression with your audience and potential partners.
Gather Your Resources
Before you start your Surround Sound SEO strategy, you should also consider the internal and external resources you might need to make this scale.
A few questions to consider are:
Who will write the content? 
Who will research and be your liaison between partners to negotiate logistics? 
Who will design and edit? Do you need to hire help or freelancers? 
It takes a team (or some pretty awesome software) to tackle any marketing strategy—especially Surround Sound SEO. To get the best results, I recommend you have the following players on your team:
An Outreach Specialist
Arguably one of the most important roles. This person will own your outreach strategy and execution. They are responsible for crafting emails that build relationships with editors and publishers on high-ranking sites to get you into those important conversations. 
A Writer and Editor
The writer and editor are best defined as two separate roles, but there is the rare writer who can also edit their own work. The writer and/or editor is responsible for outlining, writing, and editing all the content. They'll also ensure that brand style standards are maintained.
A Project Manager
The project manager is responsible for making sure everything goes as smoothly as possible. They monitor progress, delegate tasks and serve as the middleman between the internal and external parties if you choose to work with freelancers.
If you don't have the bandwidth to hire for all of these positions, that's OK. You're still in the game! Try to find these types of skills in people already on your team. They may enjoy taking on this new challenge.
Level 1 – Own Your Brand Name Searches
Once your professional website is up and running, the next phase is to establish trust with your audience by: 
Getting listed on popular SaaS review websites like G2 or Capterra.
Establishing your social media presence. 
At this stage, you're playing "catch up." Your more established competitors already have some SERP real estate, so it's important to get features on third-party websites that'll rank alongside your brand name. Some general examples include sites like Yelp or Glassdoor. 
The review sites that are relevant to you will vary by industry. If you haven't discovered them already, you can find them by researching where your competitors are listed (and you can find that by running a competitor analysis).
Once you've identified the review sites and directories you want to be featured on, make sure you include as much information as possible for a complete and trustworthy listing. Add all your business details including full descriptions and images (bonus points for videos).
As far as social media goes, you should focus on the top four: Facebook, Instagram, Linkedin, and Twitter, focusing on those your target audience frequents. Be sure to review your accounts and update any outdated information.
Once you start to become part of the conversation about your brand, you're ready to expand to mentions on other websites.
Level 2 – Become Part of the Conversation with Surround Sound SEO
This step is all about collaborating with other websites and media to develop your brand recognition and authority in your industry space. The goal is to get featured on as many sites and media platforms as possible so that you become an important part of any conversation relevant to your brand. 
Deepening trust with the consumer and building brand awareness is the core concept of this level. By taking part in industry conversations, you're building both. You'll also let these objective 3rd-party sites be the ones to tell buyers how great your brand is – those recommendations can be quite effective.
It's also time to start thinking about building relationships with important websites in your space. Eventually, you will be reaching out to bigger and more well-known sites who are approached by many brands each week. Establishing that first collaboration can have a profound impact on your reputation and help propel you to the next level in the Surround Sound SEO Roadmap. 
Get Mentioned on Top-Ranking Pages for Your Keywords
This is the core concept of Surround Sound SEO. If a trusted source is talking about "the best bed in a box mattresses" and you are Purple or Casper, you need to be mentioned in that article, especially if they mention Tuft & Needle but don't mention you!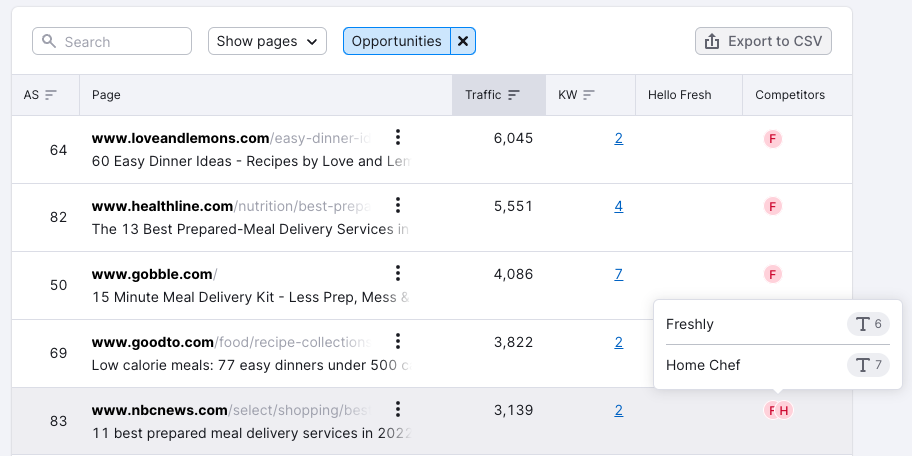 While you will need to follow up with outreach and it can take some time to establish these mentions, the value is hard to overestimate. In the screenshot above, if you could get mentioned on that love and lemons page, your brand could potentially be seen (in a positive light and by people who are ready to act) by over six thousand extra people each month. 
You can find these opportunities by searching for your top keywords, and then looking at each result to see if they mention you or your competitors. Or you could use Surround Sound from Semrush, which serves those up to you instantly. 
Level 3 – Leveraging Your Share of Search for Bigger Opportunities
Press Coverage 
If you're building a Saas company — whether you're pre-seed or have raised money — getting media coverage is part of your growth journey. Combining all the pieces of effective PR outreach is much easier with a comprehensive tool like Prowly.
You get everything you need to get started by writing a press release that tells the world what you're about, how the product you make is going to shake things up or anything else of interest to journalists and others who follow your industry. 
When that's ready, you have access to a massive searchable database of journalists you can select on the basis of their location, subject focus, platform and more. After you've created a media audience of those most likely to respond to your message, you can track the reaction of recipients and follow up as needed, moving the conversation forward towards the goal of coverage for you & your brand.
Guest Blogging
Every industry has its own gallery of niche blogs, associations, and information sites. To grow your Surround Sound SEO authority in level two, prioritize these sites in order of influence and SERP ranking. 
Then, start near the bottom of that list, contacting the "little guys" for guest posts and content collaborations. As your brand awareness grows, you'll be able to work your way up your niche blog list and land more reputable collaborations. 
Collaborate with Indirect Competitors
Another great level two strategy is to collaborate with people who serve the same market as you but provide a different solution. 
For example, HigherMe is a restaurant hiring solution built for busy restaurant owners and franchisees. Their software services the hiring process only. So, what about post-hire? 
A company called 7shifts provides a solution that picks up the customer journey where HigherMe left off. They help solve problems that restaurateurs face when trying to organize, track, and schedule shifts for multiple staff. 
A collaboration between these two companies could be helpful for both because they serve the same market but solve different problems. 
A great way to grow your reach is to find these types of indirect competitors in your market and reach out to them with a proposal for collaboration. Suggesting a specific activity, such as a co-marketed webinar, is more likely to result in a conversation than simply proposing a collaboration. 
Podcasts Appearances
Last but not least, let's talk about podcasts.
Use the same strategy recommended for niche blog collaborations for this approach. Start with entry-level podcasters before tackling the industry leaders. More established podcasts can be hard to get onto and you'll want to be prepared and confident before you approach those with a big audience.
The best way to discover podcasts is to use a site like Listen Notes. Also, check out this site by Bonjoro's head of growth Casey Hill to learn more about how to get booked on podcasts. 
You can get more ideas from our recently-published case study showing how Surround Sound SEO helped one podcaster grow his share of search from 0 to over 45%. 
Level 4 – Expanding Surround Sound by Becoming a Thought Leader
By the time you've reached this level, you're becoming well known in your space for collaborating with others and producing great educational content.
You've built your site and have been featured on a handful of podcasts and websites. A Google search for your brand won't just show your domain and social media but will also include the interviews, podcasts, and content you've been working on in the previous levels. 
Your brand is starting to increase share of search as you get mentioned in more pages that rank for your keywords, too. The surround sound effect is in full force.
You're now ready to take the leap to collaborate with more influential people with a larger audience. In this level, you're shooting for the more authoritative sites both in your niche and those well-respected sites with broad topic coverage. These may include:
1. Wikipedia
2. National and international news websites
3. Authoritative blogs or podcasts from thought leaders in your space
4. Close competitors 
Now that you have some experience and are a confident content creator, it doesn't hurt to try with the larger creators.
In fact, as you establish yourself as an expert, you may find that larger publishers start reaching out to you for input. 
Continue to take the initiative, using Surround Sound to find more and more high-value opportunities, especially as you add new products or services. 
By this point in your Surround Sound strategy, the focus turns to encompassing branding as a whole rather than relying solely on SEO. You've done the work to build credibility in your space and in SERP rankings. Now is the time to expand your brand authority to a wider audience. 
Thanks to your hard work and your progress through the Surround Sound SEO Roadmap, you're now at the level where you can approach more complex options:
Wikipedia 
Wikipedia—once deemed unreliable—has leveled up its monitoring. It's now one of the hardest places to get a link that isn't removed by the editors. 
Because of Wikipedia's rebranding and exclusivity, getting a link on Wikipedia would be an incredibly impactful backlink for your brand and SEO. 
You can create an account and go through the process to get auto verified so you can edit pages. It takes some work and patience, but the fruit is worth the squeeze if you can pull it off!
Once verified, you should be able to create a page for your company and add in details that would make the page worthwhile for Wikipedia to keep. Think: company history including your unique story in detail and growth figures.
Leverage High-Value Partnerships 
Once you're seen as an authority in your space, smaller players may ask to work or partner with you. You could even be asked to speak at industry events or conferences. 
This may seem intimidating at first, but don't be fearful of these opportunities. These smaller players are trying to work up the same levels as you and by helping them, you're staying in the conversation and strengthening your network of backlinks and relationships. 
Here are a few collaboration tips to make sure you're always benefiting when working with other partners:
Get your website link featured on their website.
Get your brand name mentioned in their podcast or YouTube video. Provide a short link to a special landing page whenever possible.
Include your logo on any collaborative content pieces.
Include a description of your company in every piece of collaborative content—either in the About section of a YouTube video, footer of a PDF guide, or as a summary at the end of a guest blog post. 
Closing out Surround Sound SEO
Whether you're a long-time SEO competing with higher-ranking competitors or have just established your foundational SEO and are ready for the next step, Surround Sound SEO is an effective way to expand your reach. Like with most good things in life, consistency and hard work are key.
Surround Sound will help you navigate Surround Sound SEO with the simplest way to spot opportunities based on your important keywords and your closest competitors. Try it for free today.