Real Estate is an industry that thrives on up-to-the-minute information. Content marketing is, therefore, the perfect vehicle to deliver practical and valuable advice to your local market. 
The question is, how can you make it work for your real estate business? 
In this 9-step guide to content marketing for real estate agents, we speak to the industry experts Christy Murdoch Edgar and Chris Linsell. 
We'll look at how you can create content that appeals to your local communities and scale up your real estate business through content marketing. 
What Is Content Marketing in Real Estate?
Content marketing helps real estate agents connect with their local communities through valuable and actionable content.
Videos, guides, podcasts, infographics, social media and other forms of content work together to establish and grow your reputation, showcase your work and draw people into your sales funnel. 
Do Real Estate Companies Need Content Marketing?
The real estate market is always in flux. 
That means people are constantly searching for up-to-date insights into the best time to buy or sell, the types of property to invest in, the trends and top insider knowledge. 
This provides agents with a golden opportunity to become local thought leaders in the space. 
In fact, data from our The State of Content Marketing Global report, focusing on real estate, shows that 93% of real estate marketers have some degree of success—with nearly a quarter saying they are "very successful" in their efforts.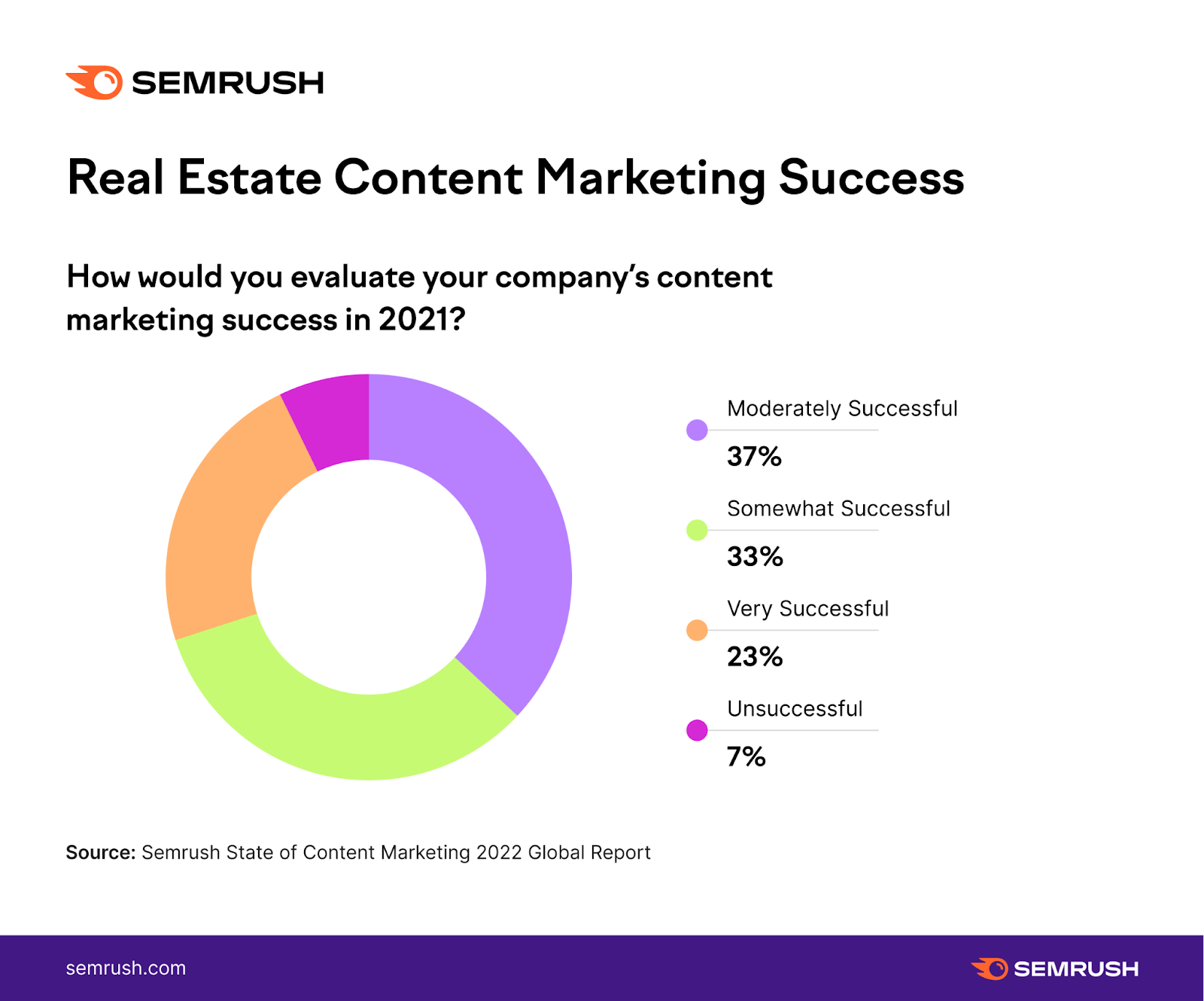 By offering buyers, sellers and commercial clients expert content pertaining to the local real estate market, your real estate agency can stand out from the competition. 
At the same time, a well-executed content marketing strategy can help you generate sustainable organic website traffic that really moves the needle. 
How to Tackle Real Estate Content Marketing in 9 Steps
Every realtor's content marketing plan will be unique. While many of the themes you cover will look similar, everything will be adapted to your local market and your buyers, sellers and corporate partners' questions. 
Across the following steps, we'll explore how you can create the most successful content plan for your real estate business—and bring in valuable leads. 
1. Leverage Your Everyday Interactions
When you consider that buying, renting, or selling property is one of the biggest life decisions people make, the importance of timely and relevant content soon becomes apparent. 
Real estate content needs to be localized, personal and directed at your market. Fluffy, vague or general content just won't hit home. It must have a personal element to it.
Personalization requires an emotionally intelligent approach. While a 30-something professional might be buying for the first time, and a couple of retirement age might be down-sizing, for instance. 
When writing for these audiences, you need to reflect on their motivations, worries and challenges.
Christy Murdoch Edgar says:
Making your content personal and being able to break it down for an individual market or neighborhood is powerful. Curated content can be very specific and localized. You might want to talk about how a certain market shift affects the value of their home, for example. Information is power, both for the agent and the individual homeowner or buyer. It can make tens of thousands of dollars of difference.
Ultimately, success in real estate comes down to how you to approach your clients in both your everyday interactions and in your content marketing. 
Chris Linsell from The Close agrees. saying:
Real Estate is a belly-to-belly business. In other words, it's a community-based effort. It places value on the personal. That means you really do have to be a local expert—what works in one community may not work in yours. You want to make sure you're focusing on content that meets the needs of your community.
For example, in more rural areas, people might be more concerned about infrastructure, the proximity of local health care providers, schools or even local stores. 
Whereas more urban communities might be concerned about security in the local area, levels of pollution, local entertainment options, or simply which areas are up-and-coming. 
Be sure to:
Take note of the questions and challenges ща your clients from different market segments
From this, over time, develop an FAQ—the top priority questions and challenges you hear. This can inform your content marketing plan later.
When creating content, adopt a conversational tone that matches your clients—just as you would when speaking to them. Avoid too much jargon, and use a level of formality that makes sense for the buyer.
Real estate content marketing example focused on personalization
Let's take a look at an example of content in real estate that does a great job with personalization.
Jade Mills, owner of a Luxury Realtor in Beverly Hills does this very well on her Instagram channel in "30 seconds with Jade", a video segment where she offers insights and advice to her audience. 
Here she is speaking about how the local market is changing: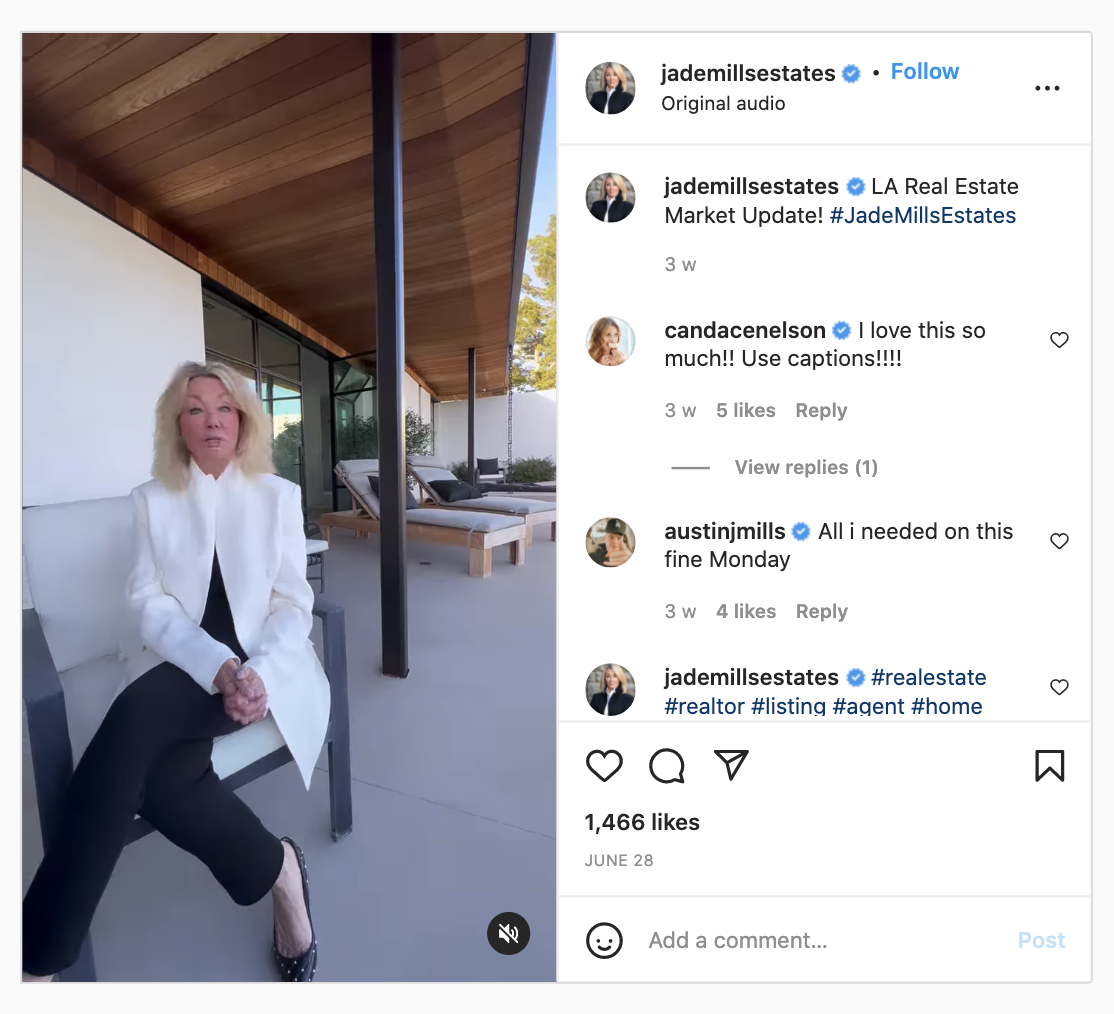 As we covered, what works with one community might not work in another community or location. 
So, to succeed in each specific community, you need to understand the people in the areas you serve deeply.
In addition to talking to your clients directly, there are lots of places you can go, both physically and online, to learn more about the concerns, questions and doubts of your community. For example:
Attend school board meetings and Town hall meetings
Participate in planning committees
Attend buyer and seller seminars that bring in lenders and other people to talk about the transaction process. This gives Real Estate Agents the chance to get feedback and understand the questions people really have. 
Leverage your mailing list. Send out emails to your sphere of influence, sharing information and asking for feedback. You can follow up with a phone call, where appropriate—it's a great way to stay top of mind and generate engagement. 
 Analyze and participate in Facebook, Whatsapp, Telegram or other social media conversation groups
For example, let's imagine you are looking to find out what questions and requests people have regarding real estate in New York.
To start, head to Facebook and type in your keyword in the search bar (we chose "NYC real estate").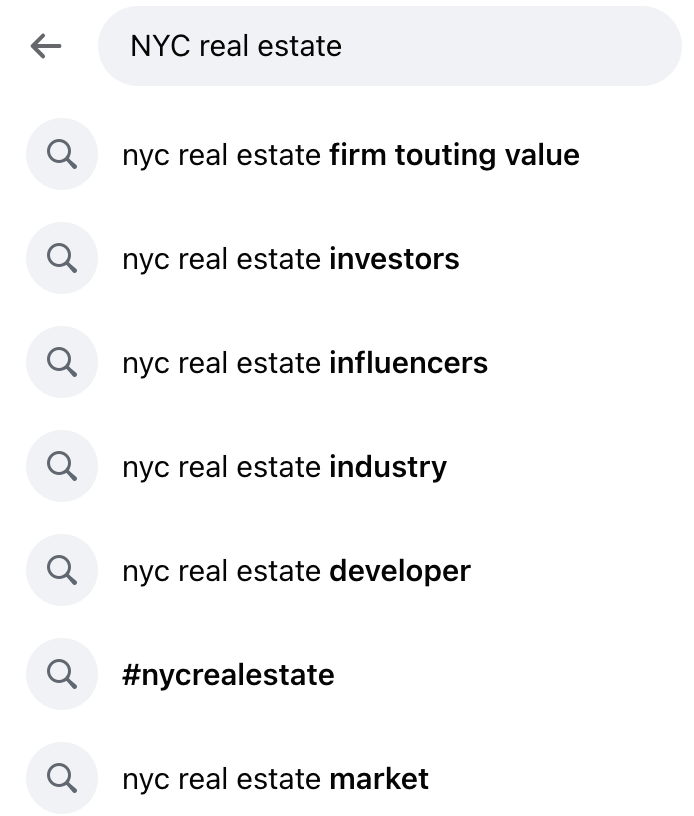 Once you get the results, click "Groups" on the left-hand navigation bar. You will see various groups and communities where people talk about real estate in New York. 
Join and explore relevant groups to learn more about your audience and get inspiration for content topics.
Local knowledge goes hand-in-hand with online topic research.
Your first aim should be to build local topical authority—that is, to develop content across several core topics (and all related subtopics) important for your audience. 
We analyzed 100 real estate blogs that generate the most organic traffic and identified 17 top popular content topics. These included selling property, area & neighborhood description, renting & leasing, and more: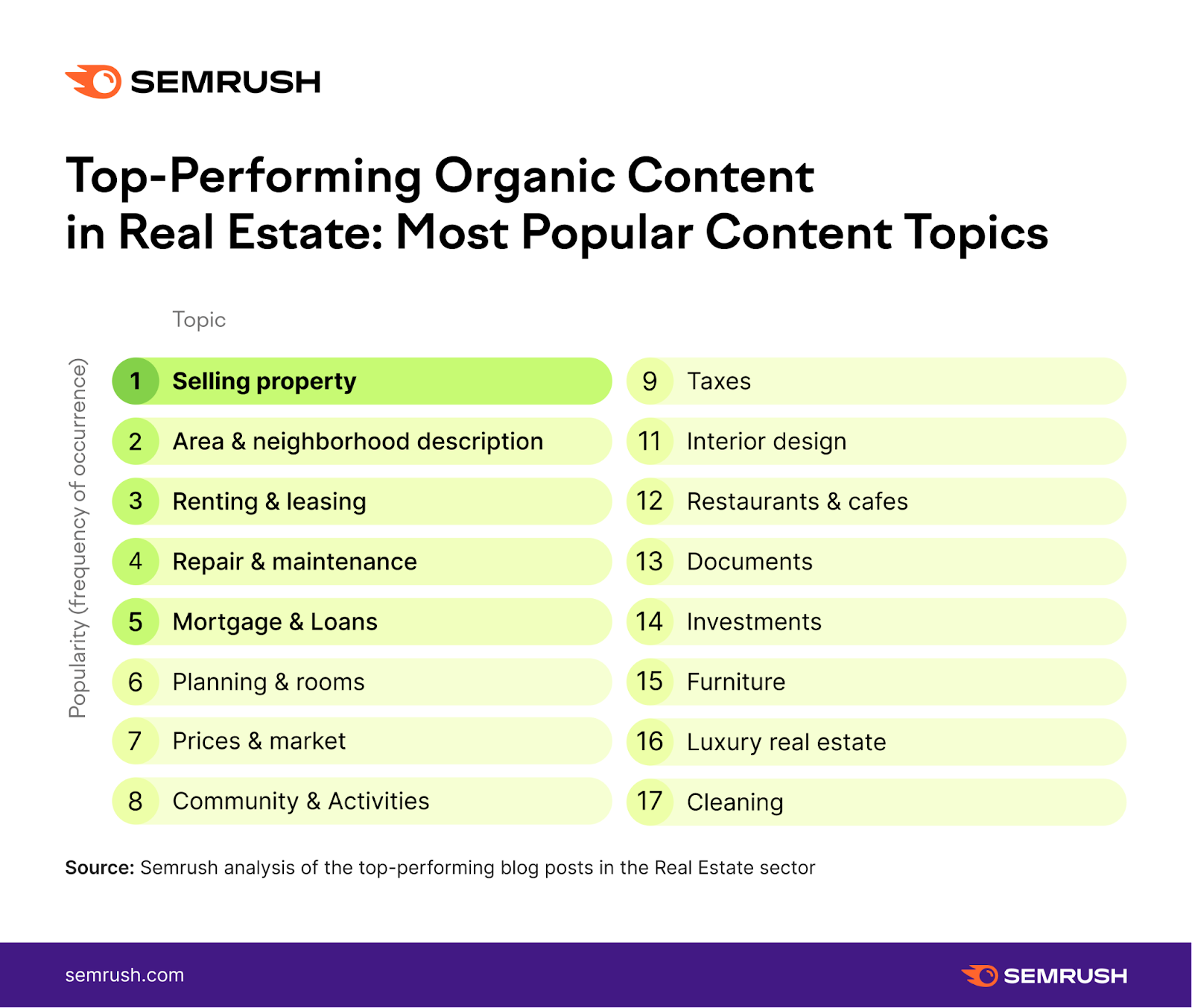 A topic research workflow for your real estate business 
In the following example, we can see how a marketer in a local real estate company can discover local content ideas based on one topic—Network City Real estate—by using the Semrush Topic Research tool.
First, select the location—for example, the US, New York State and New York City.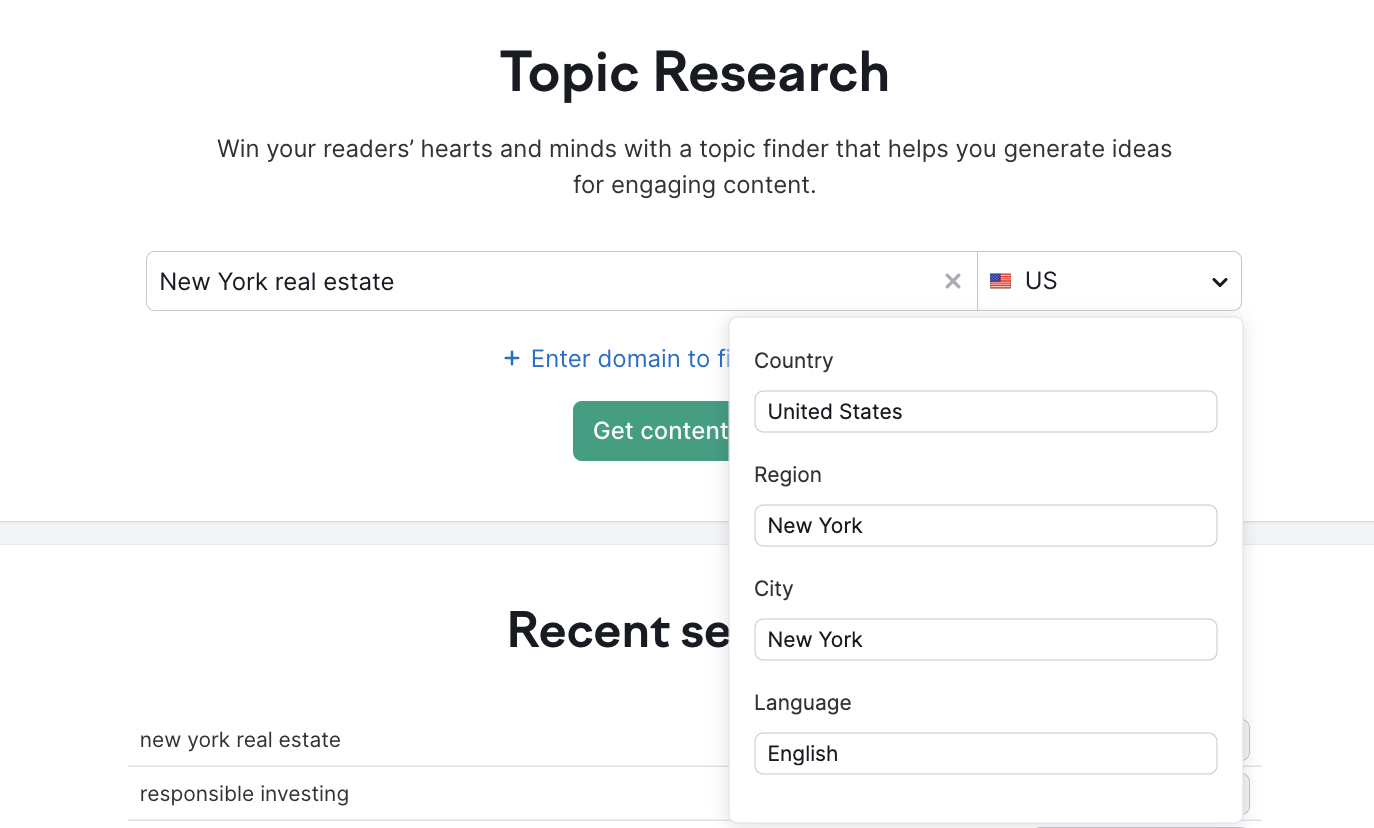 Click "Get content ideas" and you will see a list of related subtopics trending in your area.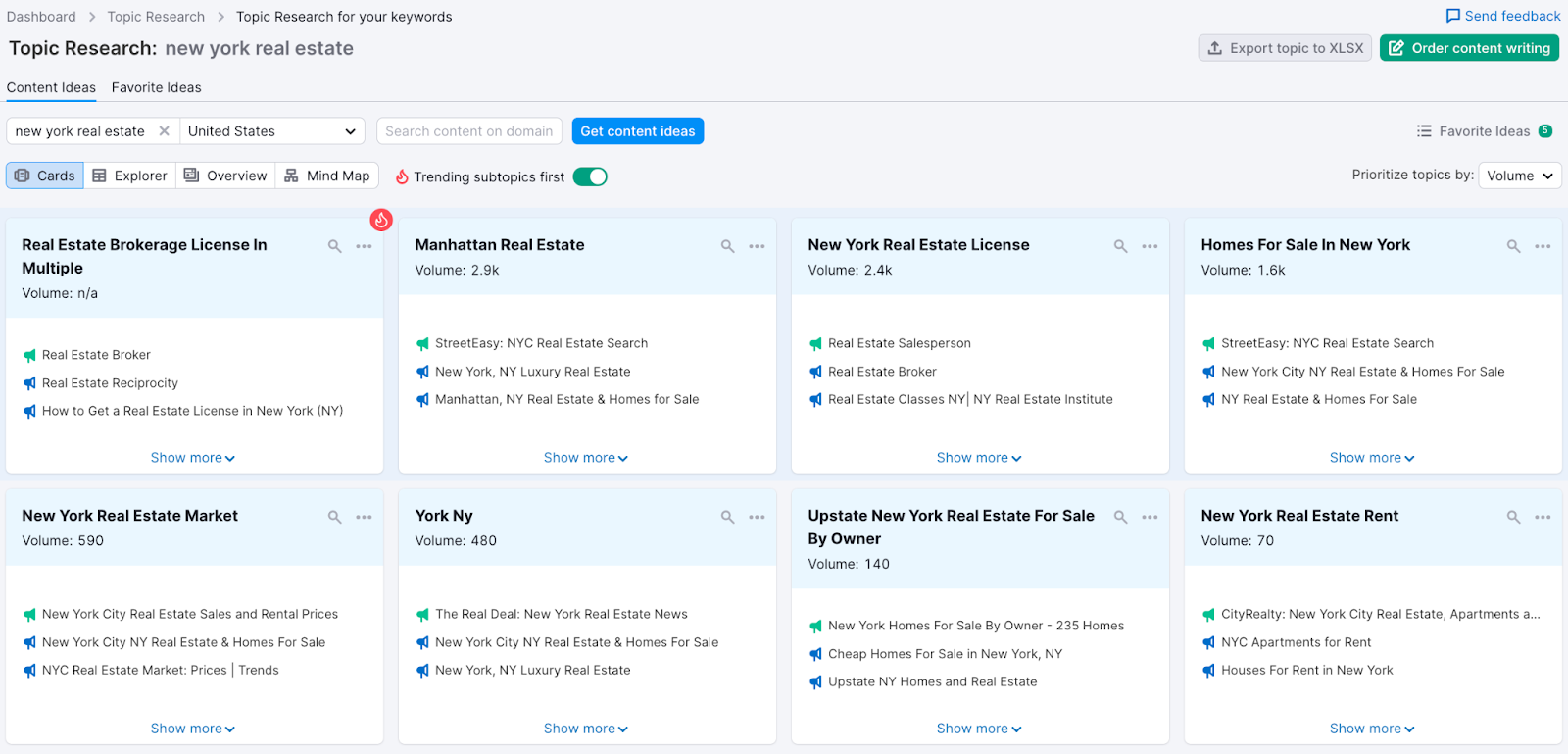 Let's select the "Manhattan Real Estate" subtopic. Click on the card, and you'll see a set of common questions, headlines, and searches connected to it.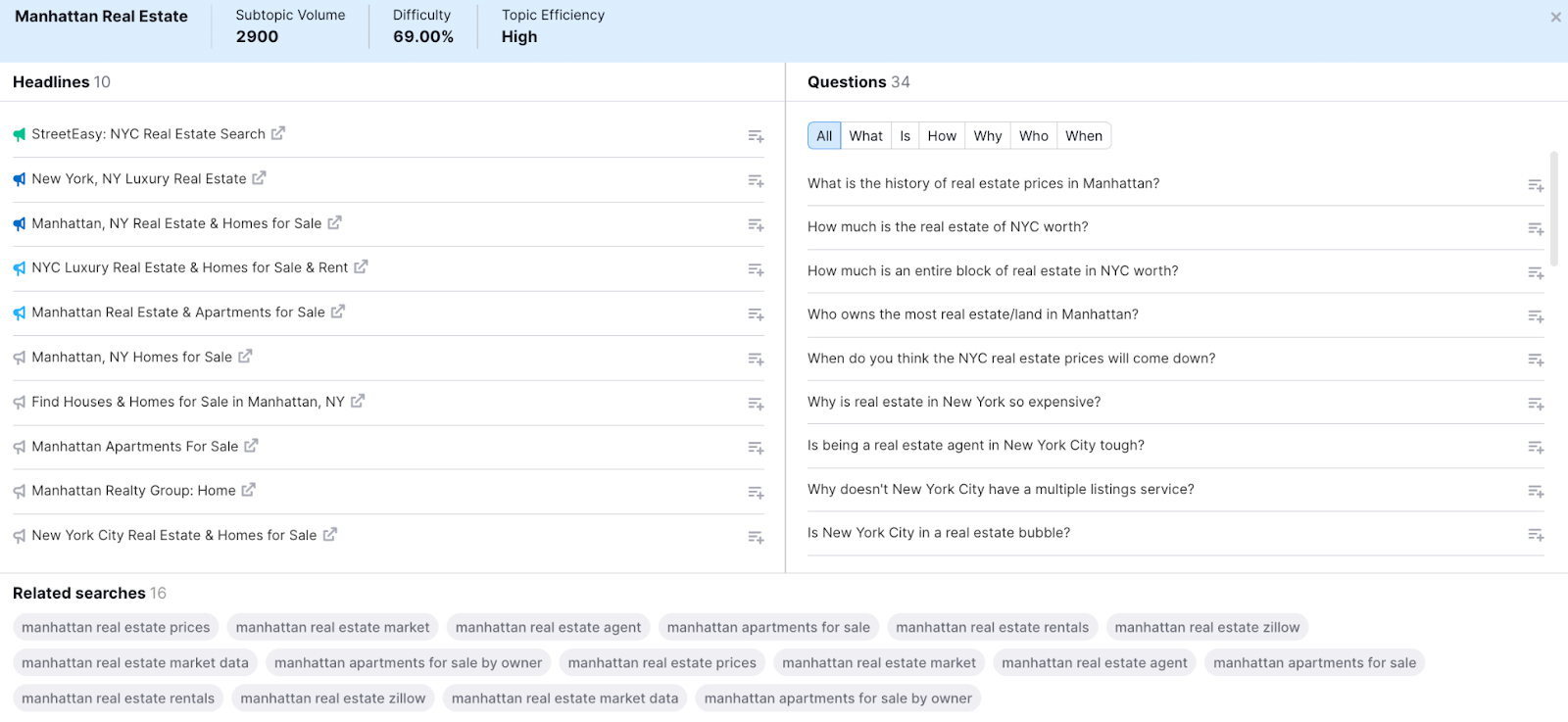 By looking at the related questions, you can get ideas for structuring your blogs, as well as for creating content on other platforms—for example, on social media.
To illustrate, creating short videos to answer such questions as "When do you think the NYC real estate prices will come down?" and "Is it hard to sell your own property in New York without brokers?" could help you increase awareness among your target audience. 
Next, you could repurpose these into blog posts optimized for search.
To find out the exact keywords to include in your article, take the same phrase and paste it into the Keyword Magic Tool. This will give you a range of ideas for related keywords.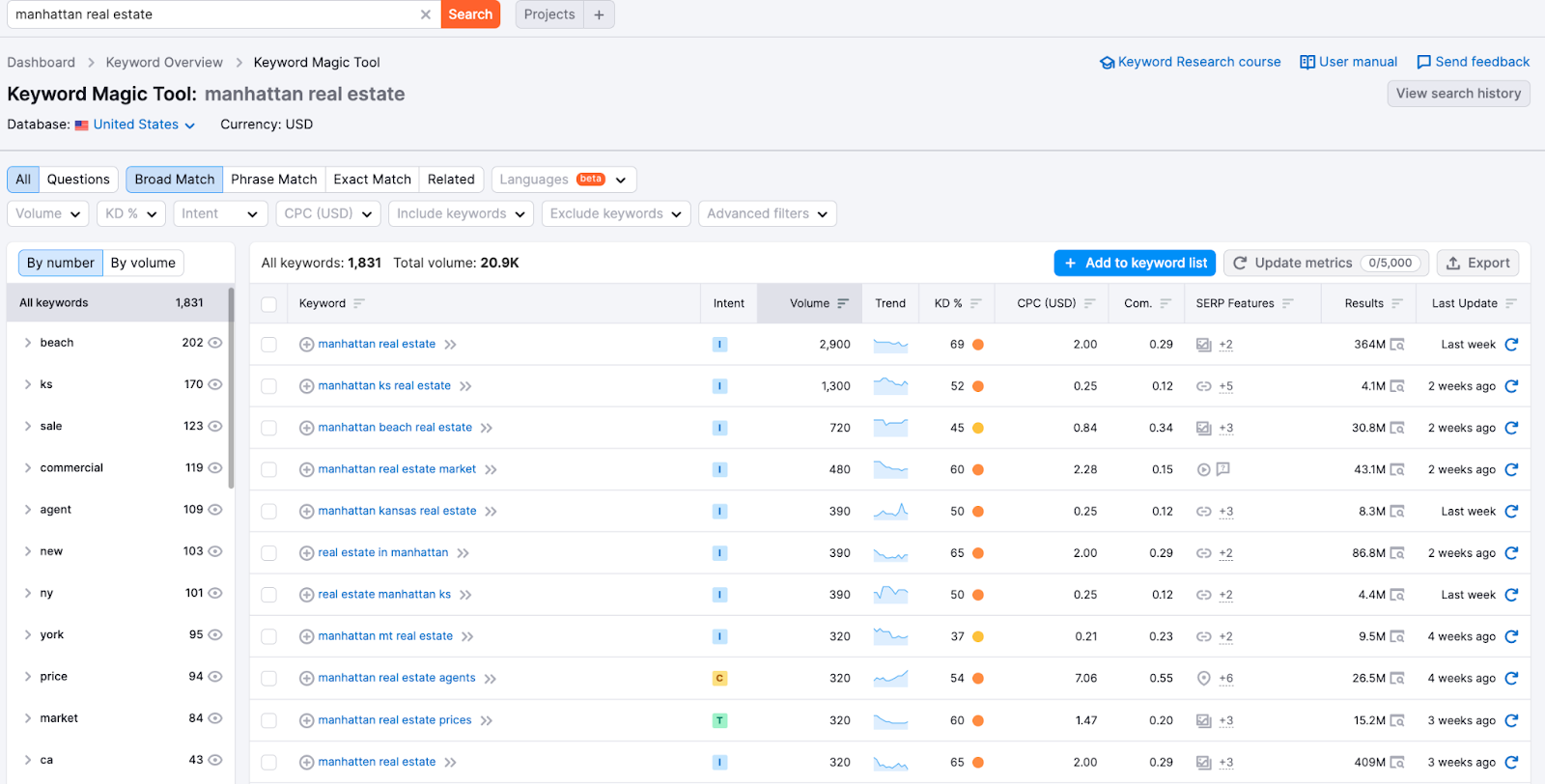 For example, you could focus on "Manhattan real estate" as your main keyword and include such related keywords as "Manhattan real estate prices" and "Manhattan luxury real estate".
3. Develop a Relevant Brand Voice that Resonates with Your Diverse Audiences
Your brand tone of voice is how you present your company through any form of written or spoken media, including real estate blogs, guides, videos, etc.
It includes word choice, style, and emotional tone. It can adapt to whatever the situation demands. 
Your brand tone of voice is one of your differentiating factors and helps you communicate your values. 
So what happens to your brand voice if your real estate company connects with various audiences?
Just as you adapt the way you speak to people depending on their understanding of a subject, your brand voice can adopt different tones and different levels of complexity. 
Developing a brand voice
First, consider your mission statement. What does your real estate company want to achieve? Consider:
Company goals
Target audience
Your specific areas of expertise
Once these points have been determined, you can write a mission statement. Here's an example from the Realtors at Story House:
We aim to delight and surprise our clients, deliver exceptional service, and exceed their expectations at every step in the transaction. Our goal is to make the real estate process memorable and one that our clients want others to experience.
We especially like the idea that they want to make the experience a memorable one. That gives everyone from the marketing team to the realtors themselves something positive to strive for in their everyday work. 
Building a foundation for your messaging
Really, you are building a personality here.
Consider what the most important aspects of your brand character are. Are you funny? Formal? Irreverent? The image below will give you some ideas, but don't limit yourself to it.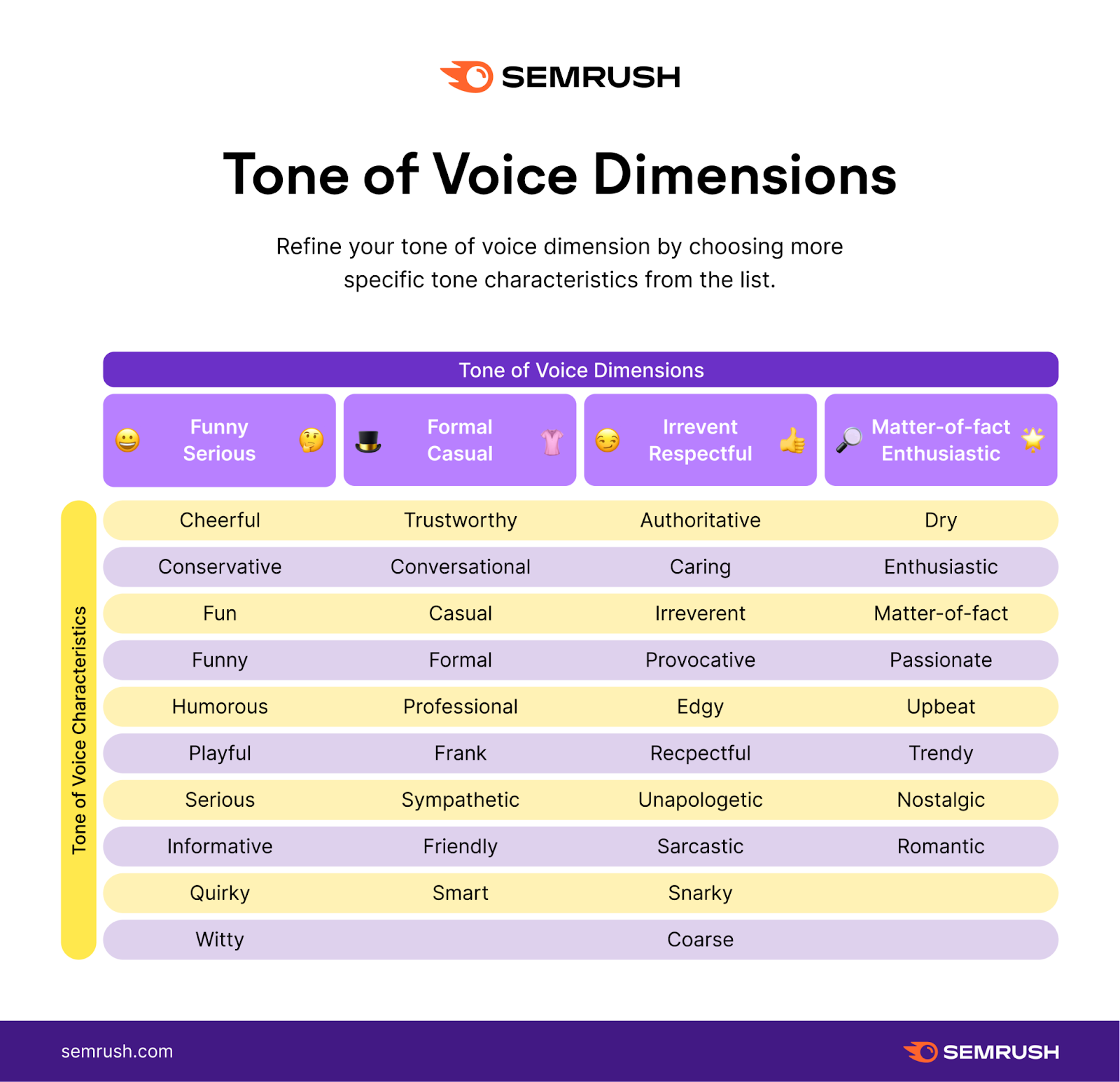 Use the image above to choose your tone of voice dimensions. Once you've done so, list your top three to five traits and extrapolate how these attributes affect your communications. 
You can do this using a table like the one below:
| | | |
| --- | --- | --- |
| Experimental | Future-focused | Community-focused |
| We like to be creative with our content | We stay on top of trends | Our conversations center on what our community needs to know  |
| We are playful in our speech | We use the latest tech | We connect and support people regardless of age, income or status |
| We like to surprise people | We explain things simply, acting as a mentor for our readers | We guide and inform, without being pushy or salesy |
Once you have identified a brand voice and tone that reflects your real estate business, you will be in a better position to create content briefs and produce consistent content.
4. Work with Local Data to Power Up Your Content
Having several trusted information sources and combining them with your own understanding of real estate in your area is a powerful combination. 
Remember that many themes covered by Real Estate companies can be attributed to the YMYL (Your money or your life) content, which Google takes very seriously.
So, ensure that your content only provides highly accurate information.
If you're employing writers to create content, it's important that they either have knowledge of the real estate market themselves or can work with a subject matter expert. 
This experience will shine through in your content. 
Christy Murdoch Edgar says:
All realtors belong to the National Association of Realtors and their local association—and the local one is your best resource. They provide those stats and market snapshots, and everything you need to know. Just being able to pull and analyze the numbers at the local level and then communicate that is a major service that you can provide.
In the example below, the National Association of REALTORS® shares interesting stats on the economic impact of a home sale: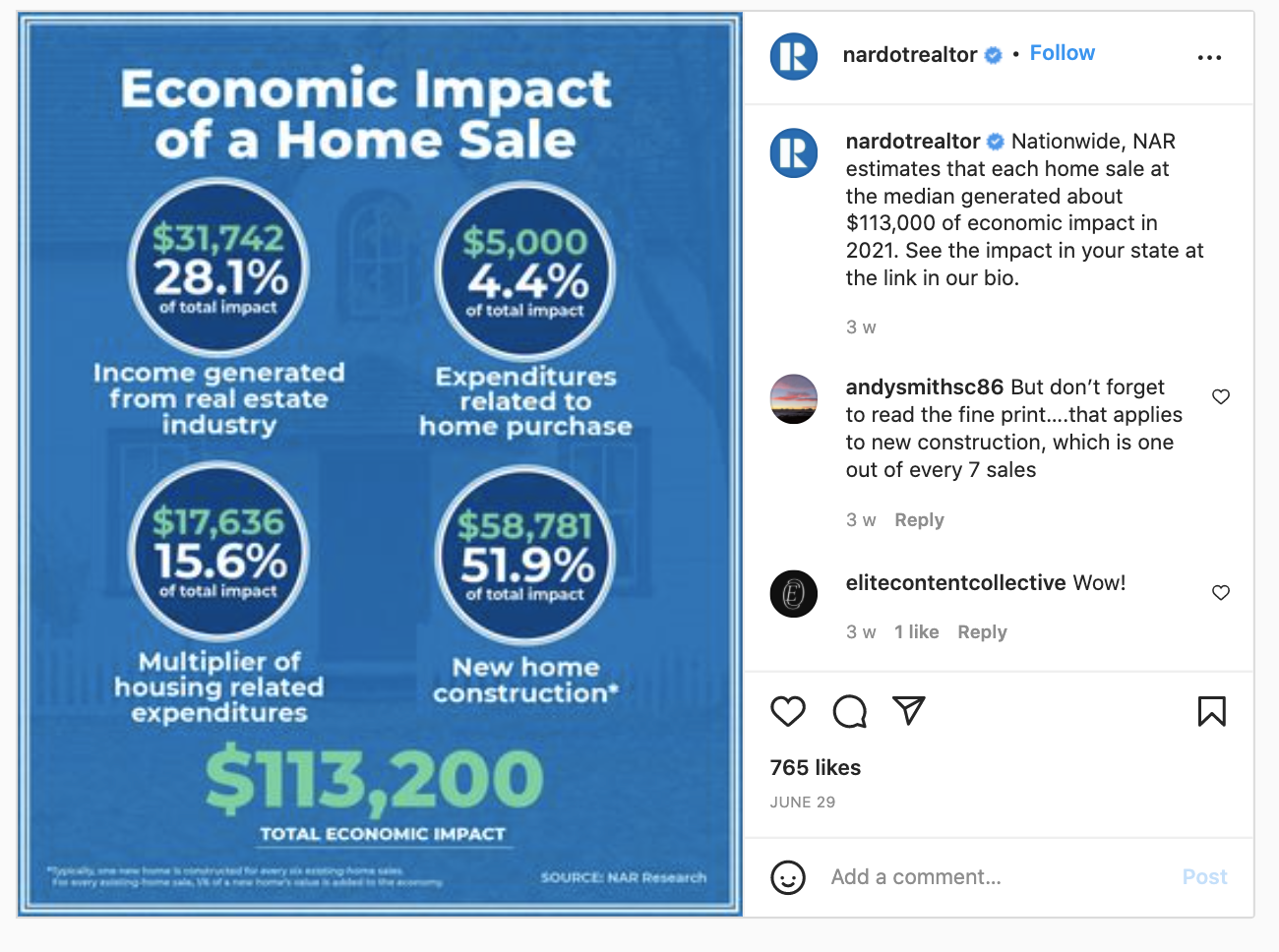 Useful sources of US-based real estate data:
A leading example of expert-level content in real estate
Remax does an incredible job catering to the needs and interests of various audiences. 
Their educational hub covers multiple themes that are relevant to their diverse readers.

Below you can see:
An Interior design-focused post
Content about cryptocurrency and real estate investing
An article for people who want to move somewhere they can enjoy nature
A sneak-peak at a celebrity's childhood home
To make sure their content is expertise-driven, Remax uses insights provided by the agents working for the company.

They also publish unique research, which helps it strengthen its thought leadership in the industry.
For example, you can check out their 2021 Future of Real Estate report.
Another impactful way to connect to your community through content is to become an advocate for them. 
By creating content that touches on the issues that people care about (e.g. lack of affordable housing, local amenities, infrastructure and transportation, community education programs, etc.), you'll make a big impact on your local area.
While part of the discovery process can be online, the most effective way to go about this is to be active and engaged with people on the ground. 
Chris Linsell, says:
Real estate agents and brokers are touching the inventory every day. They know what buyers want and need and know where the gaps are. They should be showing up at planning meetings, town and county meetings, anywhere housing is discussed—they should be writing blogs, speaking about this. Everyone cares about housing and having a place. Those who do this, have huge success. If you're a thoughtful advocate for housing in your community, you will get business.
Your advocacy action plan
First, identify where the gaps in the market are—list these in order of priority. These gaps can simply be defined as what your buyers want but can't get hold of in the current market.
For example, there could be a lack of affordable housing in your city or local area.
Next, identify where you can engage with the community on these topics. 
Following the example above, if the local town hall is holding a discussion on planning new homes, apply to attend. 
Raise the issue of affordable housing for young people, citing your own expertise and experience. 
Write up your findings on the blog, including what you brought up in the meeting and the action points you suggested (or that were discussed).
Make sure to share the content with your community. Your advocacy posts can be distributed across your social media channels. 
Also, speak up in local newspapers and radio stations once you understand the issue and how it impacts the community.
While this might be a hard process at first, it will soon become much easier as people recognize you as an advocate and start approaching you with their questions and doubts. 
Quality partnerships drive businesses forward. 
Not only are they mutually beneficial, helping you reach other target audiences—but they create a FOMO effect (fear of missing out), encouraging other local businesses to reach out to you too, so they can also get involved.
Chris Linsell says:
Partner with people who do stuff really well in your community and create multi-purpose media and marketing with the best restaurateurs, best teachers, schools, landscapers, etc. Both parties can use this content to promote their businesses—it truly buffs up your referrals and expands reach and funnel.
What a good content partnership involves
The three pillars of a solid content partnership agreement are:
It's important to find content and a message that resonates with both audiences and has a significant impact on each business. Seek partnerships with other providers that serve similar demographics or interests. 
For example: a home improvement provider may work well with a realtor. 
Before rushing into content production, ensure that you and your partner have established a set of business goals. These will help guide the content you produce and ensure you are working towards the same objectives.
Balance and reciprocity and a clear understanding of what each partner brings to the table are key to any successful partnership. Be sure to put in writing what is expected of both parties and when. 
Partnership scenarios
For example, a home decoration service could collaborate with a realtor in a series of before and after videos, showing how they have transformed a family's new home. 
A local landscaping company could create content with a realtor by demonstrating different options for developing the yard or gardens of exciting new listings.
A realtor with a large audience of young families could do a tour of the local school. Not only might this encourage a family to consider moving to the area, but it would show the school in a positive light. 
7. Experiment with Various Content Formats and Plan Them Ahead
The format in which you deliver your content will depend on what your customers need at any given moment and where they consume information online.
For instance, you might find out that an Instagram post or video might be an excellent place to share a new listing, with high-quality photos/video and a clear description of the property.
The example below is from a luxury real estate firm, The Wealthy Lion: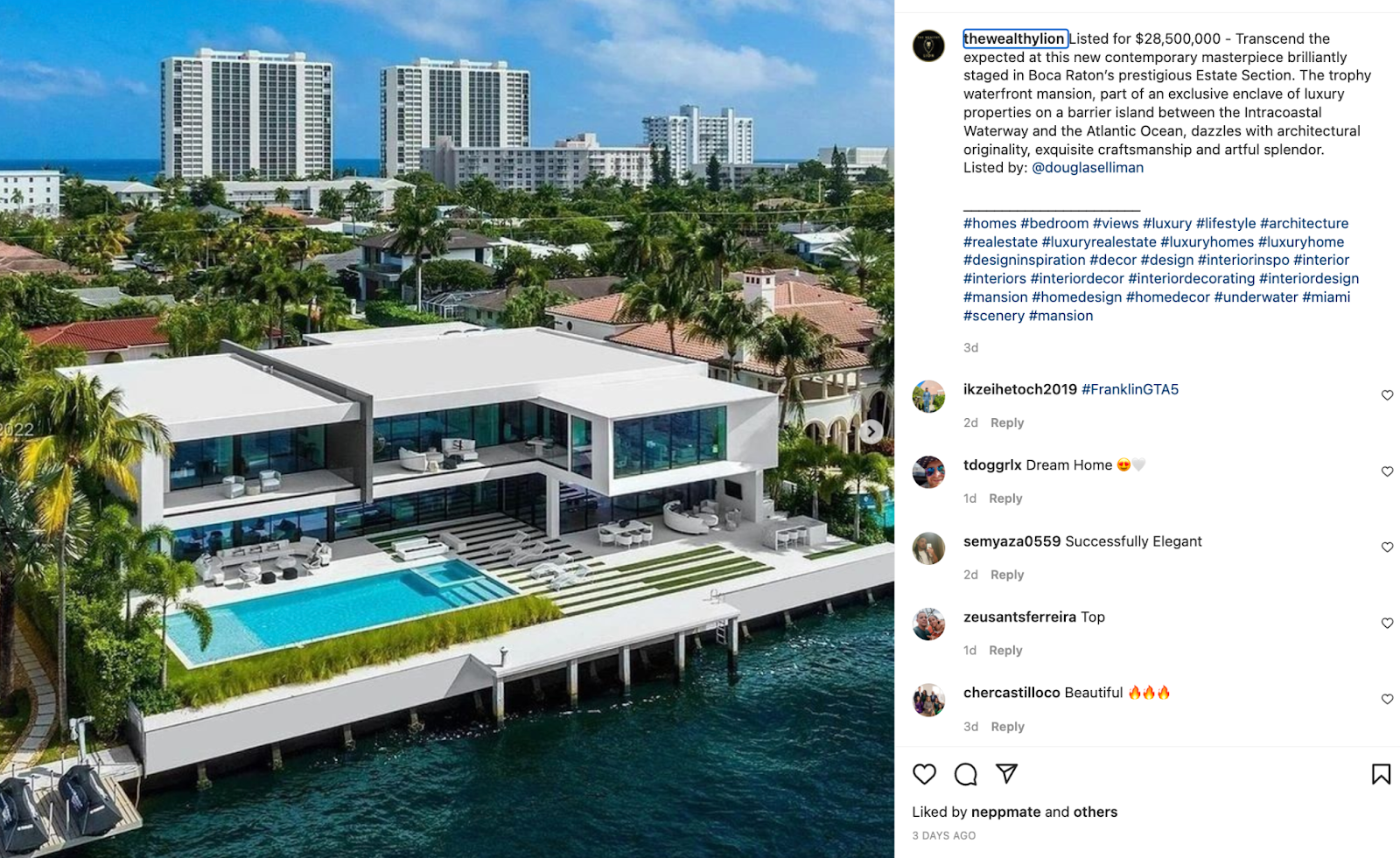 On the other hand, your blog could be more appropriate to host more in-depth informational content.
For example, this guide from Barratt Homes, a UK-based estate agent, shows first-time buyers how to secure a mortgage with a smaller deposit.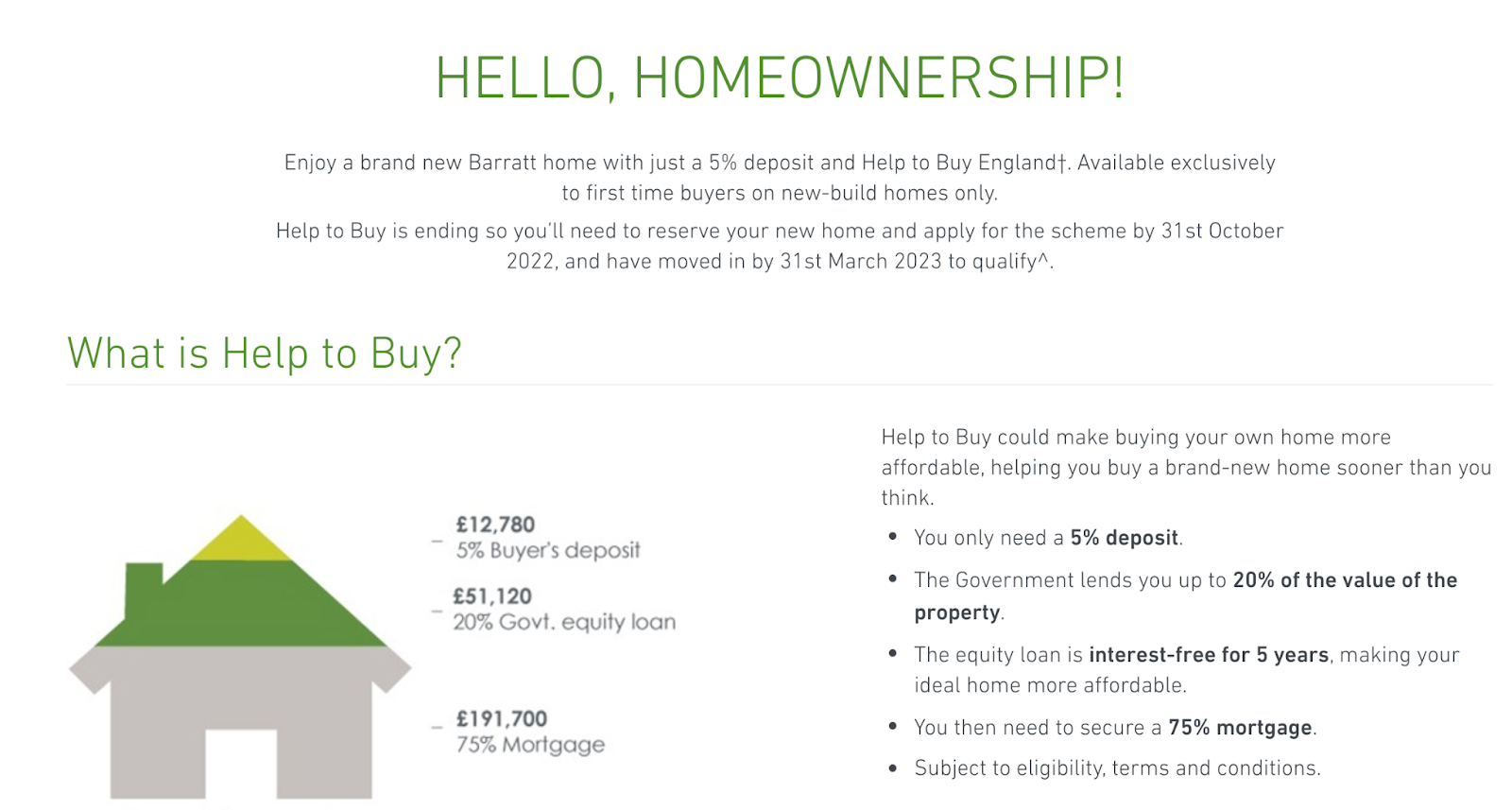 The specific formats of your social media posts or blog articles are also something to consider. 
Based on our research of the biggest organic blogs in real estate, the top 3 highest-performing blog formats are "Top+Number" (e.g. Top 10 Tips), "Question," and "How-to".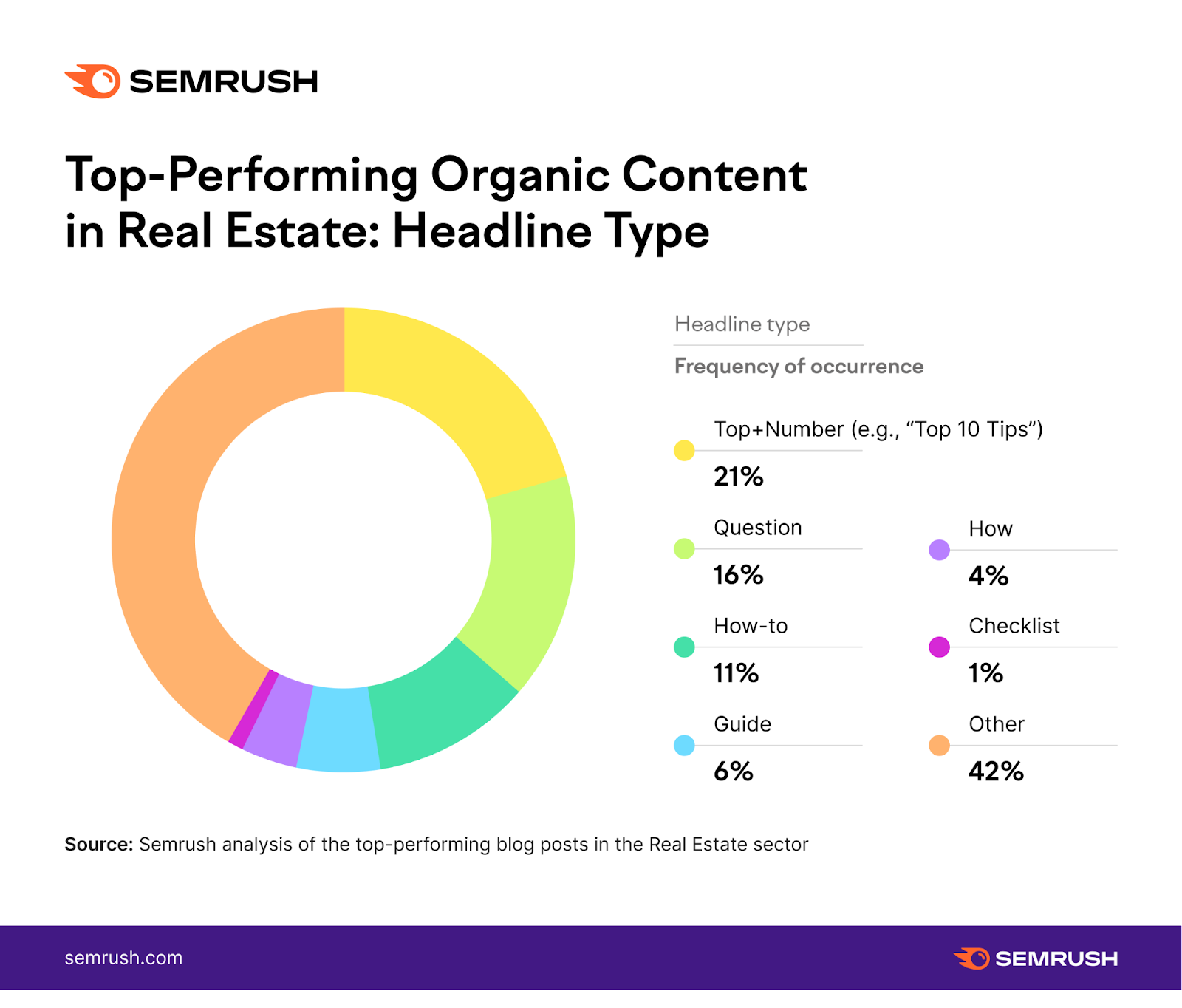 Video content leads to success in real estate
Video can be an excellent medium for various content types.
Semrush's State of Content Marketing 2022 research found that the top found real estate content types were Video (61% of responses), Blog posts (44%), Success stories (39%) and Product guides/manuals (39%).
See the table below for the complete break down: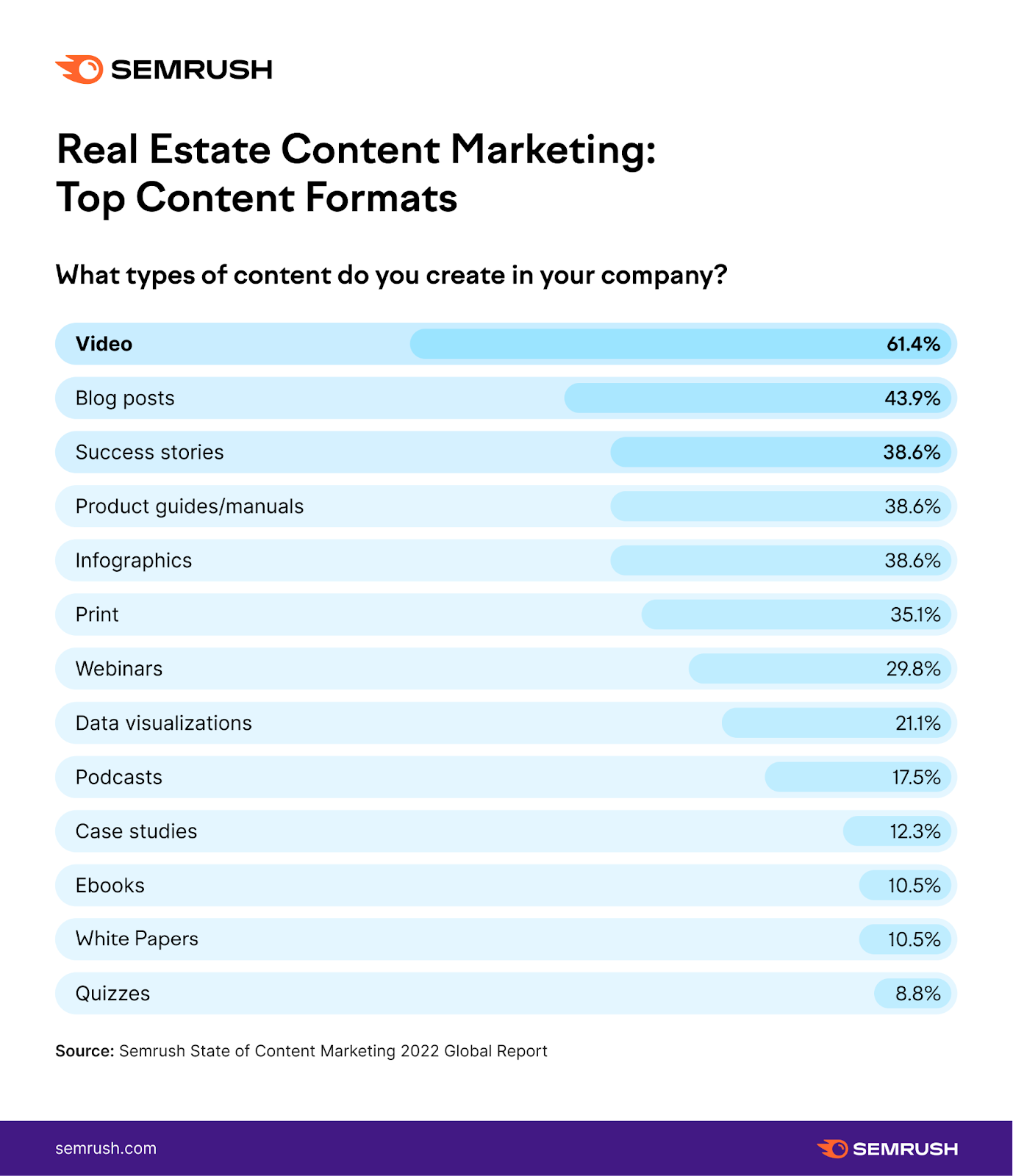 Chris Linsell explains why video continues to be one of the most important content delivery formats in real estate. 
Not only does it help you transparently showcase your properties, but it's also great for sharing your personality and engaging your audience.
Every video you create should either demonstrate your knowledge, experience, or your activity. Here's how it breaks down:
Knowledge: This shows you know what you're talking about and expresses what's important to you and your audience
Expertise: This demonstrates that you know how to execute real estate transactions
Activity: This shows that you are out there doing things. You might share a house a view can come and see, for example.
8. Find Effective Distribution Channels for Your Real Estate Business
Finally, you'll also need to have a solid content distribution strategy.
In fact, before the content creation process, you will need to decide on which channels you will use:
Owned channels belong to your business. They might include a blog, mailing list, social media, etc.).
Earned and shared channels belong to third parties. They might include blogs, news websites, and forums. You can post here, but the content is then out of your hands. 
Paid channels will promote your product for a fee.
Choosing your channels
When evaluating channels for your content, think about the following:
Your audience: based on your customer analysis, which platforms do your customers tend to interact with. Is it social media, events, or maybe even direct mail?
Your historical performance: based on your analytics of traffic and conversions, which channels perform the best?
Your resources: how easy will it be for you to create consistent content for each channel you have selected?
However, as Christy Murdoch Edgar says:
Many real estate agents fail to differentiate or optimize their content for each channel—it's better to find a medium you love working in and then communicate that way. You don't need all the channels. Go all in on one of them. Do one thing well. That's always more successful.
At the same time, if you can optimize content for each channel, Christy says that it's a good idea to mix content distribution methods.
For example, in real estate, traditional direct mail works well alongside video content. And running a localized social media paid campaign alongside local events can help you connect to your audience on a deeper level. 
Leveraging an omnichannel approach can generate qualified leads
This omnichannel approach on such a local level can be a powerful way to funnel leads into your sales process. How this might look in practice:
Step one: A future client searches for a guide to getting a mortgage on Google and clicks on your content. 
Step two: You use ads to retarget them on social media, asking them to sign up for a first-time buyer's newsletter. They sign up.
Step three: The future client regularly visits your blog for regular updates on local listings and events. They give you their address so you can supply them with localized information.
Step four: You send out a leaflet with information about an upcoming event. 
Step five: They come to the event and meet your team.
Step six: They visit an open house and make their first bid. 
Success in Real Estate Content Marketing 
Content marketing for real estate companies means focusing on your local audience and translating the bigger picture to a much more concentrated niche market. 
The biggest challenges you'll face revolve around getting to know the local community and standing out from the crowd. Do this by being present physically and being sure your topic research really speaks to the needs of the people you serve. 
Learn how to achieve content marketing success with the Semrush Content Marketing Platform. We walk you through the whole process and help you increase your online visibility and reach buyers and sellers.