Google and Bing offer unique methods of video discovery, through https://google.com/video and https://bing.com/videos respectively. However, the way they discover, rank and present videos are very different. In this post, we'll break down the ways in which the two platforms differ. And we'll discuss what you need to do to make your videos well optimized for both search engines.
To get videos indexed on Google and Bing, you generally need to provide search engines with specific bits of data relating to your video. These are:
The video title
A video description
The URL of the page where the video is embedded
The publication date
A link to an image file of the video thumbnail
The length of the video (duration)
The URL of the actual video file or embedded player.
This is essentially the same for both Google and Bing. However, they don't accept the data the same way.
Video sitemap
The simplest way to provide a video sitemap? Via a link in your robots.txt file. But you can also manually submit a sitemap via Google Search Console and Bing Webmaster Tools.
Good to note: Google and Bing will accept an XML video sitemap that includes all of the data stipulated above. 
Schema.org markup
Instead of using a video sitemap, you can provide the same video metadata through schema.org markup. This could be either via microdata within the body of the HTML of any given page, or via JSON-LD in the head of the page.
Using schema.org is by far the simplest and cleanest way to deliver video metadata. That's because it involves just augmenting an existing embedded video with further information, rather than putting the relevant information into an entirely new web asset. However, only Google currently reliably uses this method to discover and index video content through Googlebot Video.
Bing does not currently have a separate bot for crawling and discovering video content, so unfortunately this method does not work for Bing.
The Yoast Video SEO plugin automates both video sitemaps and Schema.org markup for videos. Which solves the problem of indexation for both Google and Bing.
As an alternative or supplement to a video sitemap, Bing allows you to provide an mRSS feed. An mRSS feed stipulates all the necessary video data so your video can be indexed within Bing Video. You have two options: a full feed or an incremental feed. A full feed will give Bing a rundown of all the video content you wish to be indexed. An incremental feed, on the other hand, indicates when aspects of video data have changed or updated; for example, a different thumbnail.
What about content on YouTube?
Both Google and Bing treat videos on YouTube differently than videos from other websites. Google owns YouTube, and (we assume) they have something akin to a feed that automatically assesses and indexes all publicly available YouTube videos in Google search. As for Bing, they crawl YouTube specifically and index all YouTube content to bring into Bing Video. As mentioned before, other websites generally need to provide a sitemap or mRSS feed to have a chance of getting their videos indexed by Bing.
Google also offers a more nuanced ranking method than Bing. They can work out when a YouTube video is embedded on a specific page, then decide whether to rank the version of the video on youtube.com or another website. Google makes this choice based on which result seems more appropriate and authoritative for any given query.
Bing, on the other hand, always ranks YouTube videos in reference to youtube.com. Therefore, even though Google owns YouTube, Bing has a greater majority of YouTube videos on their platform.
Video search
Google and Bing have very different approaches to video-specific search. On Google, video search acts much like the regular "universal" search. Which is to say that users are provided with a vertical list of blue links, usually accompanied with a thumbnail and description.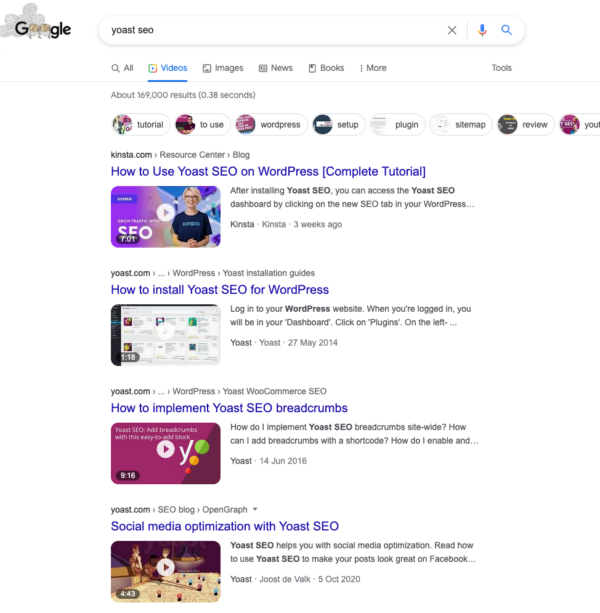 On Bing, videos are presented as a grid without a clear hierarchy.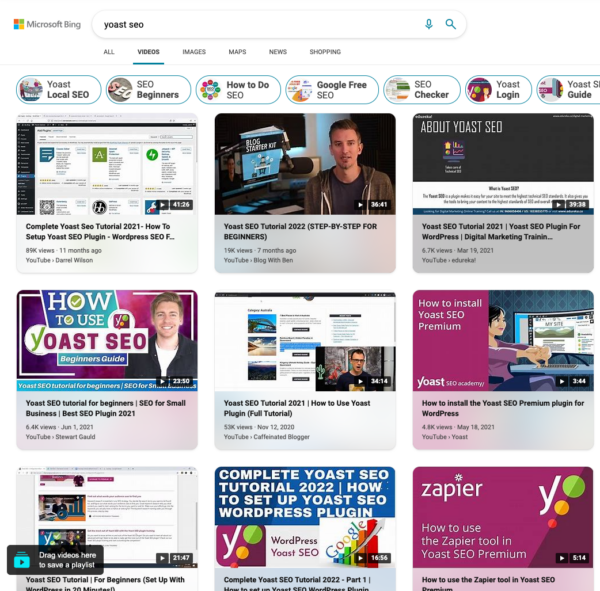 Another difference: Results in Google video search always take you away from Google. You'll be sent to sites like youtube.com or vimeo.com, or a page on another website with an embedded video.
When you click on a Bing result, however, it will open up a video panel and give you the option to watch the video from within Bing itself. This is clearly done to ensure Bing keeps most of its traffic within its own system, rather than sending the majority to its largest competitor's property.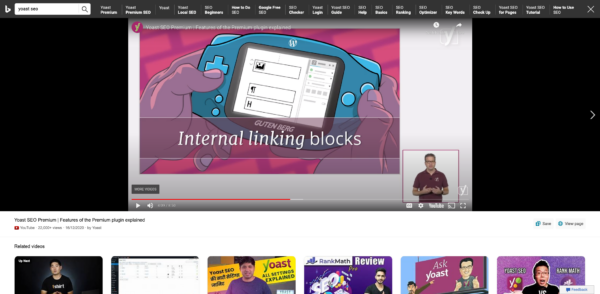 Additionally, the user experience in Bing video search is fairly good. Most importantly, it has no ads on display (unlike YouTube).
Above the video player is a list of related keywords to help users discover new videos. Below the video player, you can find a selection of similar videos which users can watch instead. To that extent, the experience of Bing video search is far more similar to Google image search than Google video search.
And finally, Bing pulls in time stamp information directly from YouTube. This creates a chaptering feature in its video player for any videos that have time stamps (i.e. key moments) specified.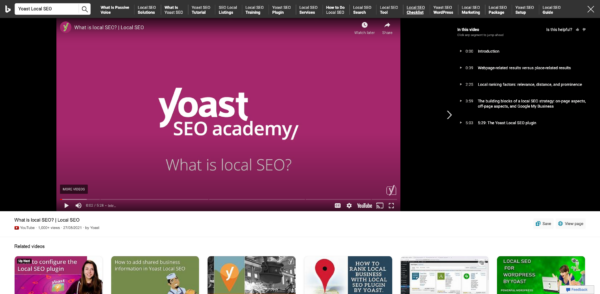 Universal search
Video results are well integrated into Google's universal (web) results. For queries where the search engine deems videos especially appropriate, you'll find them presented in a variety of different SERP features and rich results. This includes "Key moments" links that link directly to a specific timestamp within a video.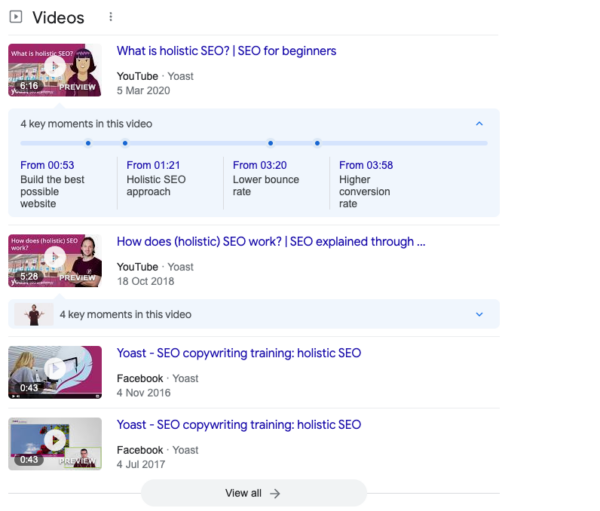 Good to note: The results stipulated for a video pack in Google universal results often don't correlate precisely with the results as ranked in the video-specific search tabs.
It's common that universal results will display more results from YouTube, whereas the video-specific search results will show a much wider selection of sources. This may be because the rankings for the two different types of searches are handled very differently and by different algorithms.
Bing also includes videos within universal search results. However, they have a much more limited selection of options- only a horizontal scroller, in which every link takes you to the video within the Bing videos infrastructure rather than the specified website.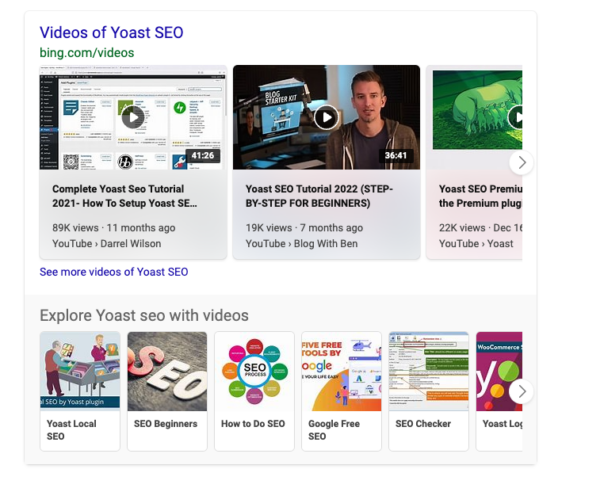 In conclusion
Both Google and Bing can be very useful tools for video distribution. Just remember to employ different strategies for them, since the way they discover and rank videos is also different. And if you use the Yoast Video SEO for WordPress plugin, you can easily ensure that you're able to rank and drive traffic views from both. How? Because the plugin automates your video's technical SEO, which will greatly improve its performance and findability!