Non-inclusive language excludes people based on beliefs, gender, sexuality, or health, while inclusive language uses better alternatives to the words that people might find harmful. Making your content inclusive helps you to reach a broader audience. But while writing, it is surprisingly easy to exclude people by accidentally using the wrong words. As inclusive language is getting more important by the day, we are launching a new inclusive language analysis in Yoast SEO Premium 19.2.
How does inclusive language help SEO?
If you want your pages to be found, you need to use the language your audience uses to search. So as language and society evolve, so must your writing and content. You probably also don't want to alienate or offend people who might engage with, convert, buy from, link to, or share your content!
But what is inclusive language? According to Wikipedia,
"Inclusive language avoids expressions that are considered to express or imply ideas that are sexist, racist, or otherwise biased, prejudiced, or denigrating to any particular group of people (and sometimes animals as well). Inclusive language aims to produce content that is accessible and credible to the widest possible audience. What inclusive language actually looks like varies based on standards in education, religion, and publishing."
With the new inclusive language analysis in Yoast SEO Premium, we're enabling you to attract a wider audience and reduce the risk of alienating people from your content. We're also helping you make the web a better place by promoting content that makes everyone feel included and recognized, regardless of their diverse identities.
The inclusive language analysis is opt-in, so it won't be activated by default. It's your choice to use it to write inclusive content for your audience. You can activate it by going to Yoast SEO > General > Features and toggle the inclusive language analysis to on.
It's also good to remember that the other analyses won't change if you choose not to use this new feature. Also, we're releasing it in beta, but that's not because the feature is not done — because it is –, but because we want your feedback to make it even better! If you don't have Yoast SEO Premium yet, now might be a good time to get it.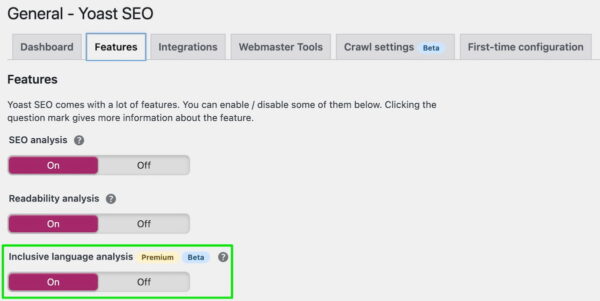 Keeping an eye on the inclusiveness of your language
What is and isn't inclusive can be hard to figure out as a writer. Especially when you are not part of a minority, it's tough to stay on track to keep everyone happy. Non-inclusive language is broad and ranges from gender to race and from age to physical and mental health.
As we've been giving you writing advice for years, it only made sense for us to dive deeper into this topic to help you figure out what to write to keep your content inclusive.
Our team of linguists used the inclusive language expertise of Maxwell Hope from the University of Delaware to develop this feature. Together, they extensively researched the topic and created a vast list of non-inclusive terms and inclusive alternatives for those. We made an intelligent analysis that considers how you use the terms. It guides you using inclusive language and signals where you might have used non-inclusive words.
For instance, when talking about obese people, it might be better to use terms like has/have a higher weight; higher-weight person/people; person/people in higher weight body/bodies; heavier person/people. Or, when you want to call someone retarded in your writing, the inclusive alternatives would be uninformed, ignorant, foolish, irrational, or insensible.
Of course, we have described the things we're looking for in-depth in our help documentation on inclusive language:
The inclusive language analysis is only available for the English language for now. We have almost 200 terms in our database, and we're actively maintaining and expanding that list. If you have feedback on the list or the workings of the assessment, please get in touch with us!
Inclusive language analysis is in beta
We're launching the inclusive language analysis in beta, and we won't activate it by default. If you want to try it out, head to the settings of Yoast SEO and activate the new feature. As the feature is in beta, we are actively improving it, and we're listening to your feedback on how to make the most of this new feature.
As always, there's more to an update than a new feature. In Yoast SEO 19.6, we've also done a lot of bug fixes and performance enhancements. Read on to find out more.
Significant performance updates in Yoast SEO 19.6
We have users with sites in all shapes and sizes — from sites with just a couple of pages to huge ones with an enormous amount of custom code and large taxonomies. Usually, it's not hard to keep a small site performant, but that's harder when your site gets more complex.
The same goes for Yoast SEO; sometimes, the plugin's performance suffers when encountering extreme situations. In Yoast SEO 19.6, we fixed two issues that hindered the plugin from performing well on sites with particular set-ups and large taxonomies.
One issue concerning the performance of the link suggestions in particular situations. On some sites, those requests would take ages to load and clog up servers. It took some time, but we've now fixed this issue.
The other issue concerns the performance of the Yoast SEO fields in the editor. It fixes a performance issue in the meta description, SEO title, and social meta field editors, which could occur when using large amounts of custom fields.
Both fixes should make Yoast SEO make performant in more complex situations.
Update now!
Yoast SEO 19.6 and Premium 19.2 are out today. In these releases, we've introduced a brand-new inclusive language assessment in beta and significant performance improvements for more complex websites.