There's no better feeling than directly associating revenue with organic search. Some of the biggest SEO wins come from high-ranking keywords with buying intent. 
But occupying a top position is only half the battle for commercial keywords. When people search in the consideration stage of their journey, they want to see multiple reviews, comparisons, and unique perspectives from 3rd-party sources before making a purchasing decision. 
As SEOs, we need to look beyond our rankings to include our SERP Visibility. 
Enter: Surround Sound
What is Surround Sound SEO?
The Surround Sound SEO Strategy focuses on increasing visibility and share of search for your brand on pages that rank for your commercial keywords. It helps you measure your exposure for search queries that are further down the funnel.
For example, ClickUp wants to rank for "Jira alternatives" but also wants to be listed in the other articles that rank for that same search query.
Rather than only monitoring one website's ranking, surround sound SEO considers the competing articles where your brand is also mentioned. The result is a weighted percentage that predicts your SERP visibility or share of search for each keyword.

Surround sound is changing the way you track and prioritize keywords with commercial intent. 
Who Benefits From Surround Sound?
The surround sound SEO strategy can be applied to a wide range of sites. This approach first surfaced for SaaS products but can also extend into brands selling physical products or services.
Essentially, any brand targeting commercial keywords with listicle results is a candidate for this strategy. This is especially true for new brands or those in a competitive market. 
Example Keywords for Surround Sound:
keyword research tools
loom alternatives
free sales crm
boat tours san diego
mattresses for back pain 
top seo agencies in buffalo
best sauvignon blanc for risotto
task management software
best prepared meal delivery service
free goal tracking apps
best mics for podcasting
top chicago divorce attorneys
marketers to follow on twitter
romantic restaurants in las vegas
hubspot competitors
If you're not sure if this works for you, search one of your keywords. Are the top spots taken by retailers or by large publications? Now try adding an adjective to one of your keywords. Does this change the top spots? In either case if you find media outlets and publications with "X Top" type roundup posts, Surround Sound can work for you.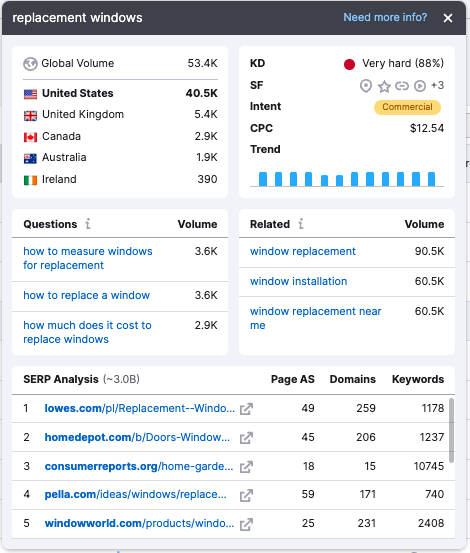 This keyword is owned by publications who may be willing to add you to their page if they haven't already. You can visit each page to determine if they've added you or not, or use Surround Sound to find out instantly.
Why Surround Sound SEO?
Whether you're positioning yourself as the "best sushi restaurant in San Diego" or a "free project management tool for marketers," surround sound SEO creates more opportunities for organic touch points in the customer journey.
Like traditional SEO, benefits of the Surround Sound strategy are widespread. Not only are you improving your share of impressions for important keywords, but you also increase your visibility in the SERPs before any clicks take place.
Let's take this even further and look at the five most common benefits from surround sound strategy for your business:
 
1. Brand Visibility in Search Results
The most underrated benefit to Surround SoundSEO is the opportunity to put your brand directly in search results. In a world where zero-click searches are growing, the battle for organic real estate is increasingly competitive. Google continues to bring more content into the SERPs.
Here are a few examples: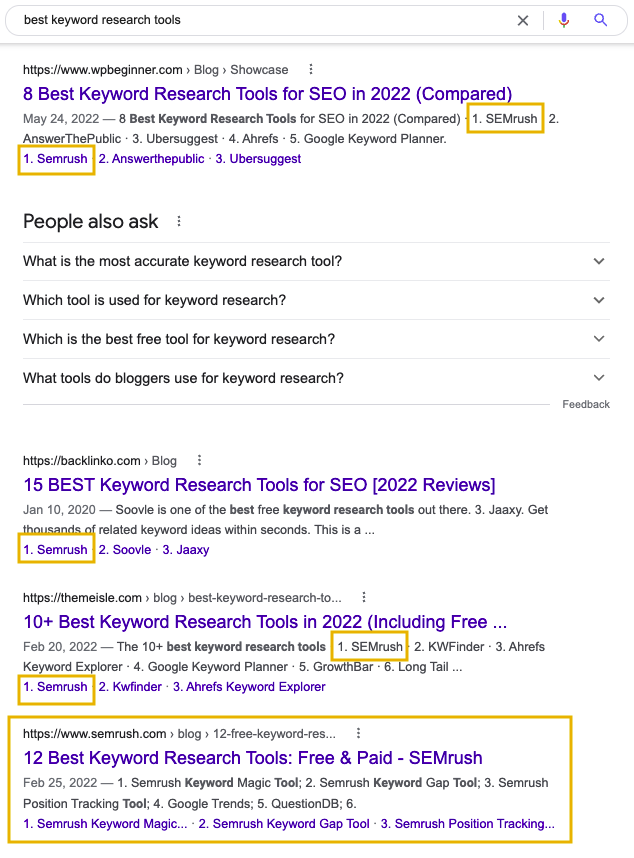 In this example, Semrush ranks No. 4 for best keyword research tools, but the three articles positioned above them also mention Semrush as the top tool in their listicles. 
And with Semrush's acquisition of Backlinko, technically the second article is an owned asset as well. 
It's like owning two property sets next to each other in the game of Monopoly. It would be tough for visitors not to see Semrush in this SERP.
Having your brand listed toward the top of a listicle article not only puts your brand name in the meta description, but Google often creates jump links (as seen above) that send users directly to that brand mentioned in the article. 
This is why placement matters.
Here is a recent search I did when looking for a coffee subscription service.
I didn't want to take the time to check out each of these articles, but I noticed that Mistobox was listed in three of the top four results. This led me to believe they're a popular option in this product category. I then changed my search to Mistobox to check out their service and reviews directly.
If I'm doing this, then I know others are too! This search approach even leads to other brand queries like "Mistobox vs. Atlas" or "Mistobox alternatives."
 
2. Brand Visibility in Content
When searchers visit listicles, they have an opportunity to learn more about your product or service offering. The depth of content varies by listicle. With SaaS platforms, you'll typically see an overview of each software followed by key features or a breakdown of its pros and cons.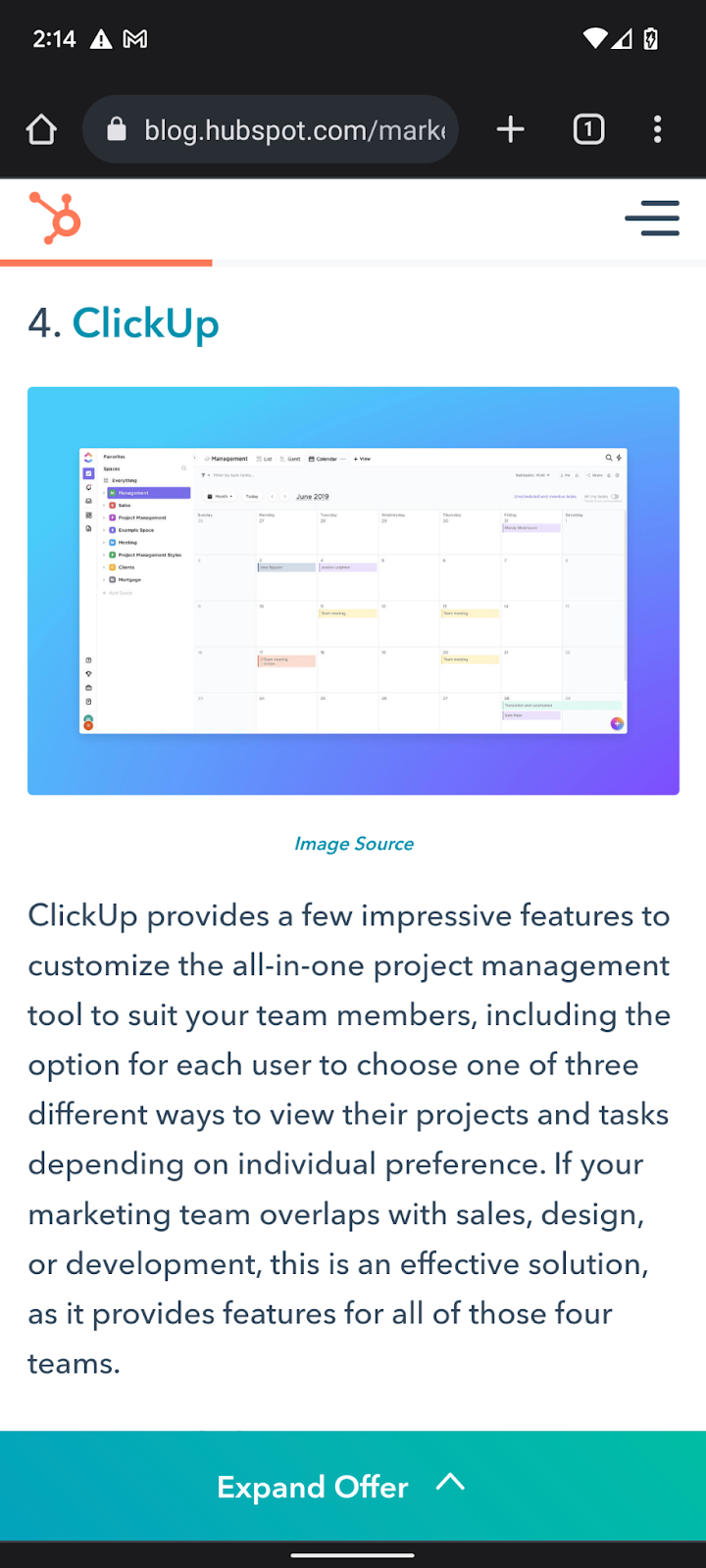 Authenticity and listicle position are important. Brands that are mentioned last in an article have a slim chance of being seen by the page visitor—much like an article ranking on the fifth page of Google will get very few impressions.
According to scroll depth data gathered from ClickUp's top software listicles, 50% of page visitors scroll through an average of four tools and 25% scroll as far as 10 tools.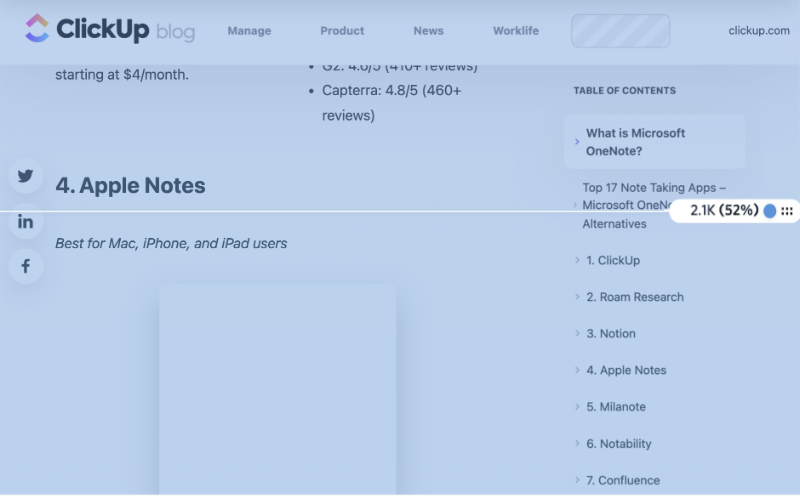 3. Backlinks
If your primary goal is to build backlinks, I wouldn't recommend surround sound SEO as your core strategy. 
Why?
There are simply other link strategies that have a better ROI for improving link authority. However, we can't deny that your Surround Sound efforts will result in some do-follow backlinks. Since these pages often include your direct competitors, surround sound can be a natural remedy to link gaps. 
In some cases, you get the chance to negotiate the exact URL for your placement links. Rather than defaulting to your homepage, request a link to the most relevant product or service page. Send the user down the right path and pass any potential link authority to the proper topic. 

Choosing a purposeful URL gives readers the opportunity to go directly to your site–whether the backlink is a no-follow or not. 
4. Referral Traffic
Featuring and linking your brand in these listicles supports driving traffic back to your site. These ideal visitors are primed to engage with your site and convert. 
Sites like Capterra have built a profitable business model around selling these types of clicks.
Though not all surround sound efforts will result in referral traffic, it is the most tangible measurement of success. Build yourself a referral dashboard, track events, and gather any relevant data to visualize these user journeys. 
Google Analytics is definitely your friend here. 
5. Naturally Acquire More Mentions
Brands constantly create new listicles for the same keywords you're targeting. Being prominent in existing articles means you'll also naturally show up more in the SERPs when writers research these specific topics for their own content. 
Getting Your Brand on Board With Surround Sound SEO
Investment in SEO continues to rise, but resource buy in is still difficult for off-page efforts such as Surround Sound.
Telling clients or executives how many more referring domains your competitors have or worse, what your domain "authority" is compared to your competitor, doesn't make a strong enough case to increase spend.
Here are a few quick ways to position the surround sound SEO strategy with your team.
1. Describe Surround Sound Visibility or Share of Search as a Competitive KPI
You may be familiar with the metric share of voice. It predicts estimated organic visitors for a search query based on your rank and the average monthly searches.
SEOs are often asked questions like "what's our share of voice" or "what's our organic market share against competitor X?" 
You can compare your list of keyword rankings against your competitor, but for high-intent search queries, this data fails to paint the full picture. Not only that, but the competitors for these specific keywords aren't always the same brands.
This is where the surround sound shines. 
Unlike share of voice, think of surround sound visibility like Share of Search or SERP density. It predicts your estimated visibility for a search query based on mentions of your brand in ranking pages and how high those pages rank.
 
With this data, you can respond to the question this way:
 
Competitor X has 20 more mentions on other ranking websites and 50% more visibility in search results for [insert important keyword].
 
The conversation becomes less about comparing individual keyword rankings and more about your total search exposure for a keyword versus alternate products.
Surround sound or "share of search" can be leveraged as a competitive pain point.
 
2. Engage Other Marketing Team Members 
Surround sound blends your keyword optimization efforts with link building. But depending on the search results, this strategy can also fuse with teams outside of your SEO squad.
There are many types of sites that rank for the commercial intent queries you are targeting. Paid directories, competitors, publishers, and niche bloggers are a few examples you may encounter in the SERPs. 
For example, these top two results for "best whiteboard software" include a popular paid listing site (Capterra) and an authoritative software company (Zapier).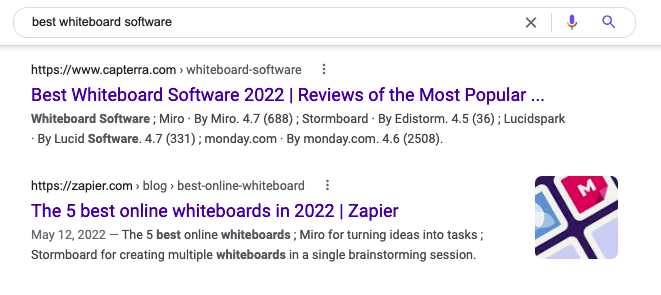 It will be difficult to rank above these two sites. If one of your goals is to improve visibility for searches around whiteboard software, connect with your paid team to see if getting added to this Capterra listicle is in the budget. Or reach out to Zapier and simply ask for consideration when they next update their article. 
Surround sound SEO can align link building, content, paid, and PR efforts. It creates one central visibility or "share of search" metric that teams can influence cross-functionally. 
How cool is that?
3. Identify Surround Sound as an Alternative to Ranking 
Ranking your own website No. 1 for high-intent keywords is the ultimate goal and contributes the most toward your visibility. Unfortunately, for newer companies or brands in competitive markets, some keywords may be too difficult to rank..
In this case, approach surround sound similarly to the Barnacle SEO strategy. Improve your brand's visibility by showing up on other websites for keywords you can't compete for at the moment. 
Tips for Approaching Surround Sound SEO
ClickUp is all in on surround sound because of what it's done for our brand. So here are a few of our own tips for brands looking to standardize their approach to improving the SERP density. 
1. Target the Right Keywords
Depending on how many products and services you offer, eligible surround sound keywords could be in the thousands. Start with commercial-intent keywords, the keywords that people use when they are ready to purchase. These are the same keywords whose searches often return reviews and list articles. Those will often be keywords including adjectives such as "best" or "easiest."
If your brand offers distinctively different products or services, split these up into different lists that will become unique campaigns in Surround Sound.
For example, if I'm a clothing brand, I might want to evaluate my share of search for all of my keywords, but to make progress, I will want to break it down by clothing type. 
My keyword "best lightweight parkas" would therefore be in my "all keywords" campaign and my "outerwear" campaign. You can break it down as much as you want to see which product or service keywords need the most attention.
2. Negotiate the Details 
Details matter. As shown in earlier examples, your position in the listicle, link placement, and even destination URL all have an impact on your success. For paid listing sites, your budget determines many of these factors.
For co-marketing relationships and outreach, all bets are off. It depends on the implication of the placement.
Is the site authentically reviewing your product? Are they adding you to their article in exchange for something else? Consider all variables when managing surround sound campaigns—including your time investment.
3. Track Your Efforts
You have to track your keyword visibility! The Surround Sound tool by Semrush helps track your SERP density for target keywords and compare it to your competitors. 
ClickUp takes it a step further by blending our surround sound visibility with other data sets such as Google Search Console. 

In this example, you can see that ClickUp ranks in position No. 1 for both "Jira alternatives" and "Airtable alternatives." However, ClickUp is mentioned less for Airtable and ultimately has lower visibility. 
Despite the lower visibility, you see that "Jira alternatives" is searched significantly more often and can be identified as a higher priority keyword to gain mentions for.
For the search term "Miro alternatives," ClickUp ranks well. But ClickUp just launched its newest Whiteboard feature in the last year and is still emerging in this market. It's clear more work is needed in this category to create awareness for our product.
 
Surround sound visibility for "Trello alternatives" is the highest at 75%, and ClickUp is listed in 21 of the top 30 search results for that query. If we were to improve our ranking on that keyword, ClickUp would have dominant visibility for that specific SERP.
Surround sound visibility should not be an isolated metric. Instead, it needs to be a supporting KPI to the data you already view. Once you blend conversion data, you start to really see what keywords to prioritize with this strategy! 
3. Invest in Brand Authenticity
In a listicle world full of paid placements and link exchanges, there's no doubt the search results are a little dirty. Some of these results may become more biased before they get better.
Google will eventually improve rewarding sites where products and services are authentically reviewed. But don't expect this to happen overnight.
With the help of Google's product review update and growing noise about E-A-T quality standards, things appear to be going in the right direction. 
Even if Google is slow to improve, isn't it in your best interest to have your brand genuinely positioned for your most valuable keywords? Invest in brand authenticity by doing the following:
 
Monitor sentiment trends. Your product or service offerings are explained from a different lens than a standard review site. Are there common attributes being missed by writers? Since not all listicles are authentic, bloggers are often at the mercy of what your website shows or what other sites claim. Are there complaints about your product features lacking for a specific use case? See if this aligns with what your customers are saying through other channels. 
Build relationships with people that know and love your offerings and can speak about them. (a.k.a. your customers)
Don't overlook video investment. For platforms like YouTube, Google may have better signals to understand content quality. I wouldn't be surprised to see more videos appear in search results for commercial intent queries. 
As search results and user behavior change, our strategies will change too. Improving brand visibility and share of search with surround sound will remain a key objective as far as we can see.
With marketers like Rand Fishkin theorizing that inferred links will have a stronger contribution to authority in the future, you can stir up a laundry list of reasons to invest more in brand mentions for purchase intent search results.
Turn Up the Volume on Your Surround Sound SEO
Surround sound visibility and share of search are emerging KPIs that brands need to know. More likely than not, different members of your team already contribute to this strategy, but aren't measuring it! 
Using Surround Sound from Semrush, set up tracking for surround sound visibility today and see how you truly stack up against your competitors.