Buying backlinks…it's a tempting idea.
You've been watching your site closely, and maybe it feels like it's growing at a snail's pace. But you know that search engine optimization (SEO) tactics like building backlinks—that is, the act of sourcing links from external, reputable sites that point back to your own website—take time to implement and to see results.
Even the most patient SEO expert can be lured by the idea of paying for backlinks.
But should you buy backlinks? That's the big question, and one we will cover in detail here. By the end of this article, you'll know the ins and outs of link buying, who buys links, what the disadvantages and advantages are, and how you can source organic backlink opportunities. 
Without further ado, let's discuss.
Buying Backlinks—What You Should Know
Buying backlinks is the practice of paying for an external site to link back to your website. Backlink buying is something businesses and SEO specialists do in order to improve search engine rankings.
Link building takes work and expertise, which is why many SEOs are tempted to just buy them. 
In an ideal world, backlinks come from high-quality websites within your industry, and they come to you organically—that is, the person linking to your website found your content helpful or useful and decided to share it with their audience all on their own. 
But the internet is an infinite place now; with so many sites vying for very limited, high-value space on Google's first page, it can be extremely difficult to get enough organic backlinks to bolster your website's position in the search engine results pages (SERPs). 
While it is tempting to spend money for these valuable backlinks while you're building an SEO campaign, there is one big and very important thing to consider: 
Buying backlinks breaks Google's Webmaster Guidelines and could result in harsh penalties if you are caught (like having your site de-indexed from Google). If you choose not to mark a backlink you purchased as "sponsored," you are essentially attempting to fool Google into thinking you earned that link. And be warned: Google has caught countless sites harboring purchased backlinks, which can lead to stiff penalties.
Are you asking yourself whether it is worth the risk? Let's dive deeper into the practice of backlink buying so you can make a more informed decision. 
How Can Google Catch You Buying Backlinks? 
People who don't quite understand how Google works often think they can fool the algorithm when they buy high-quality backlinks. But Google has become vastly more intelligent in the last few years, and its ability to sniff out paid backlinks is unparalleled. 
The website Search Engine Watch notes that some SEO specialists work so hard to cloak their link-buying activities that they do all of their business over a dedicated IP VPN. 
But even if you believe yourself to be tech-savvy, don't assume you can hide your backlink purchases from Google. 
It may come as a surprise, but one way nefarious backlinks are caught is through Google's manual review team. That's right, a live person might catch you! 
And you never know when they'll strike. You could be happily buying your links for five years without issue when suddenly you get alerted that the worst has happened: after a surprise manual audit, your site has been wiped from Google's index.
Another way to get caught is by Google's spam report feature, which allows users to report suspicious links to Google. This might seem like a small risk, but if you have particularly vicious competition in your industry, nothing will stop them from hopping over to your site and filing a spam report.
The third way that you can be caught is by the algorithm itself, which grows smarter by the day. It swoops up below-board links by identifying link networks and connecting the dots. If you have a link to your website that is part of one of these identified networks, you may get hit with a penalty that could significantly reduce your website traffic.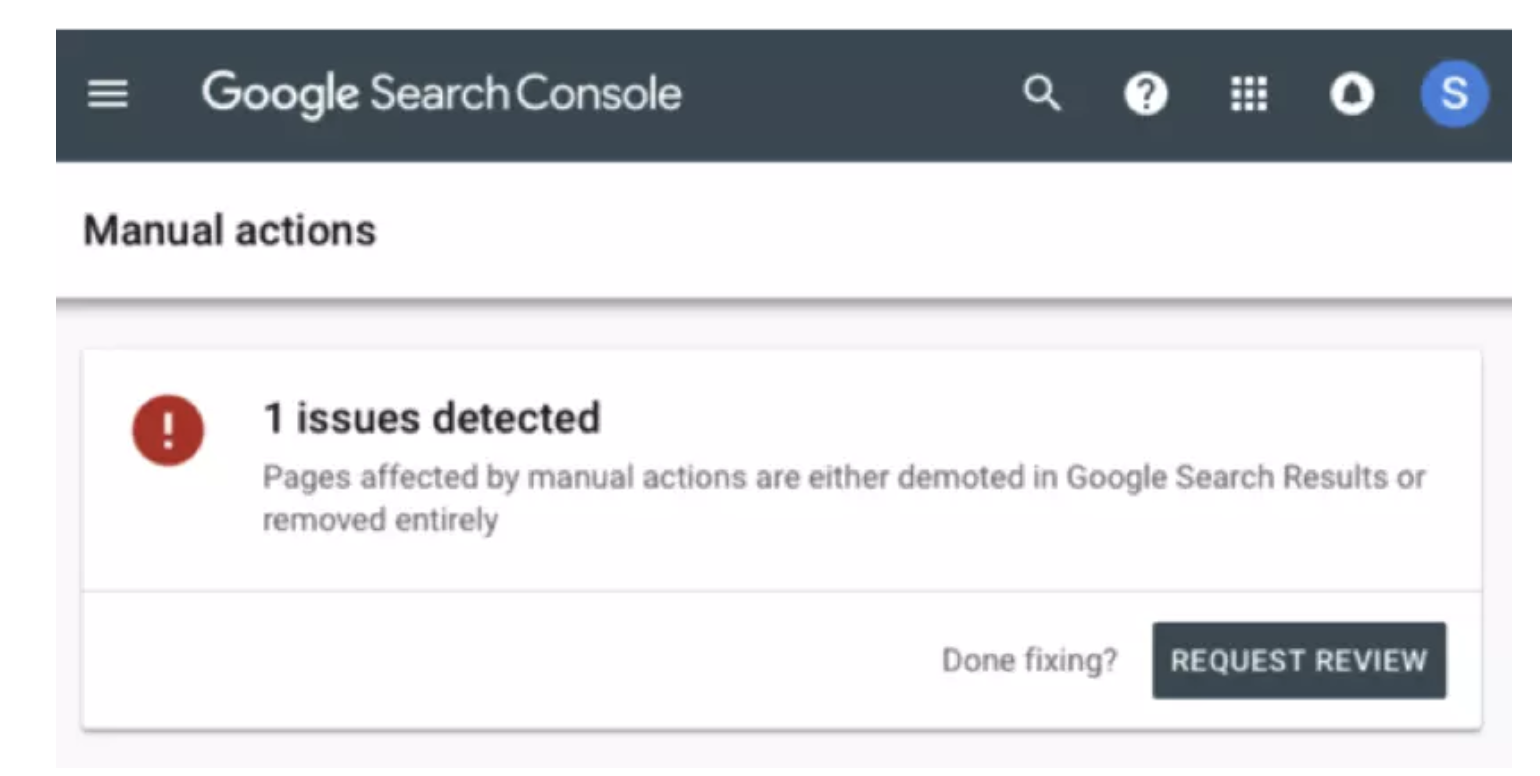 So, Google has plenty of tools in its arsenal to take down rule-breaking link builders. This is a risk many reputable SEO agencies and digital marketers choose not to take. 
Who Buys Backlinks? 
While many experts steer clear of purchased backlinks, some still don't mind shouldering the risk. They'll pay big money to have a business generate links for them that pass PageRank.
People who buy backlinks have all sorts of titles and job descriptions: 
Solopreneurs who are struggling to get their site to rank 
Busy agency staff with lots of clients to manage and little time to manually build links 
People who are new to the world of SEO 
Digital marketing teams looking to get a small edge on a competitor by combining earned backlink strategies with paid backlinks
The decision to purchase links is a weighty one, and for some, the risk is worth the reward. For other SEO experts, the mere thought of purchasing a link and getting busted by Google makes them break out in a cold sweat. 
Are There Safe Ways to Buy Backlinks?
Sort of. While outright buying of links is a definite no-no, there are a few situations where indirectly paying for links is fine. 
For example, review sites like Capterra and G2 don't exactly charge for links; they charge for a listing or to promote a listing, which is more about showcasing customer reviews than helping your site to rank. This won't get you in trouble.
Then there are affiliate programs such as shareasale, where you don't pay for a link but you might pay for a click, signup, or a sale resulting from that link. This is also perfectly fine and won't get you in trouble. 
How Do People Buy Backlinks? 
Buying links is just one of the strategies digital marketers use for link building. Link-building daredevils have several ways to purchase links: 
Forums specializing in link buying 
Freelance sites
Paid link-building agencies 
Backlink farms specializing in low-quality links (highly risky)
These are the most popular options for those who feel the risk is worth the reward. 
There are several well-known paid link agencies on the market. They often bill their services as a fast option for purchasing quality links.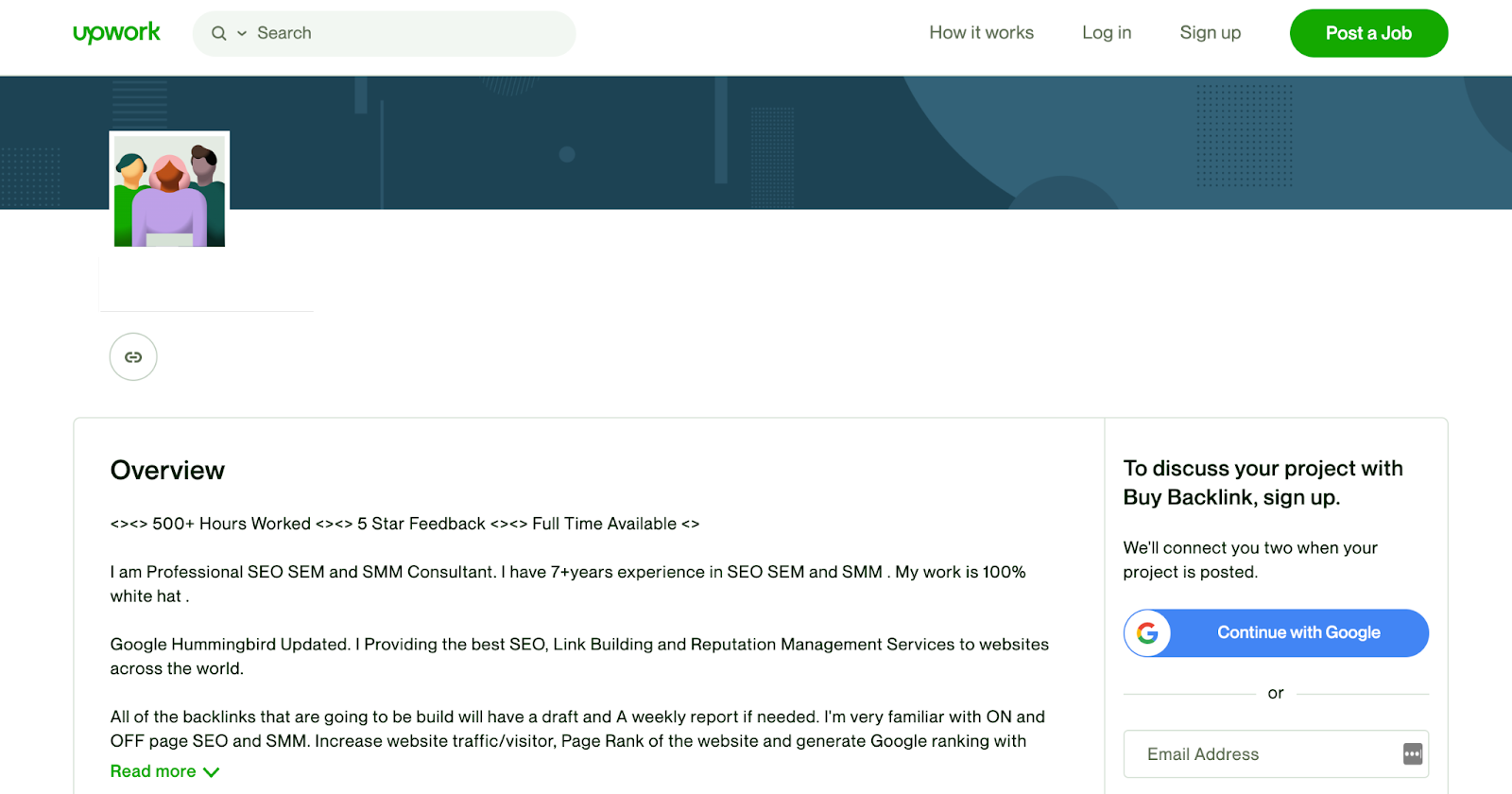 Upwork is a freelance platform where SEO aficionados can market their services, ad hoc, to businesses and agencies. If you browse their website, you are likely to find members selling link-building services like the one above. While customers work directly with the person building the backlinks, there is virtually no way to tell if they are of high quality before committing to working with them. 
These are all considered link schemes by Google, and what some would call "below-board SEO." Be warned, this is often an expensive link-building method.
How Much Do People Pay for Links? 
The price range for backlinks varies so greatly between businesses and websites that it is truly hard to pin down. Outreach Monks estimates that buying links can cost a business anywhere from a breezy $100 to a stunning $20,000 per month! 
So, buying links could bruise a website and a wallet in the long run in two ways. Imagine paying $20,000 a month for backlinks, only to be caught up in a manual review that results in a heavy penalty from Google. That has to hurt!
Some websites (like the one below) offer an estimate, provided you give them your web URL, your priority keywords, and your email address. 
This company offers a custom quote for your backlink buying needs. They advertise that you can get links for just over $6 from websites with a domain authority between 40 and 60. 
So, in summary, anyone who wants to buy links will really have to do their research to find a price range that works. Depending on the domain authority (DA) of the sites the links are coming from, they could be looking at some eye-popping bills. Low DA websites are more likely to raise red flags, which is why many people choose to pay extra for links from websites that are more reputable.
If you've decided that backlink buying isn't for you, we support you! But stick around a bit longer to hear the flip side of the story. We will even supply you with a clever strategy and tool for earning legitimate backlinks. 
What Are the Advantages of Buying Backlinks?
You might be thinking to yourself, "What possible advantages could there be to link buying?" While it's a fair question, especially after reading everything we have covered in this article, some people have fooled Google for a number of years and managed to pay for and build impressively large backlink profiles without the algorithm catching wind. 
After all, it can feel like an uphill battle to build an earned backlink profile with links coming from websites with high domain authority. 
In the rare circumstances where this strategy works, the advantages are clear: 
Often (but not always) higher rankings in the SERPs
Reduced overhead by eliminating the need for link-building staff
Freed resources to help with other important marketing tasks 
Links originating from trustworthy, reputable sources 
It's also true that big brands and businesses are probably buying links, which obviously puts them at an advantage over smaller websites with less traction. This can lead to a fish-in-a-barrel situation where everyone is fighting for their foot of water—which works out great in the link seller's favor. 
Of course, you aren't likely to hear about which of these big brands are engaging in this gray-area practice because they don't want to be caught. But what happens if you do get caught buying links? Let's discuss that next. 
What to Do if Google Places a Manual Action on Your Site 
The worst has happened. Despite the warnings, you bought what you thought were high-quality links from a reputable backlink builder. You spent a good chunk of your marketing budget on this purchase to bolster your (or worse, your client's) link-building strategies. 
Then one morning you log in to your Google Search Console to check something and there it is—a stern notice from Google letting you know the ruse is over. They have caught you buying links. You've gotten your first manual action (or maybe several). 
So, what happens next? Fortunately, Google Search Console's Help Center has a full breakdown of what to do. Here's a quick summary:
Read the manual action all the way through
Verify which parts of your site are impacted by the penalty 
Click on the "learn more" feature to get a thorough understanding of where things went wrong 
Fix every single page on your site that has been impacted by the manual action—don't assume just fixing one page will bring you back into the SERP folds; it won't 
Ensure that all of your pages are accessible (aka not behind a paywall) so that the Google bots can recrawl these pages to make sure they meet the webmaster standards 
Submit your hard work for re-review by selecting "Request Review" 
Make sure you explain what happened, why it happened, and how you've fixed it with good outcomes
A re-review request can take days or weeks to be vetted. This is also why buying links can end in an especially painful slap on the wrist—days and weeks where your site no longer shows up in the SERPs can really hit your bottom dollar. 
That's why we always recommend gaining quality, earned links instead of buying them. Let's talk about your other options. 
Earned Backlinking Opportunities—There Is a Better Way! 
Hopefully by now you've come to the conclusion that buying links is tricky business at best, dangerous at worst. You could be gambling with the health of your website and the bottom line of your business, even when you buy quality backlinks from a seller.
But let's face it—many small businesses, internal marketing teams, and other digital marketing professionals cannot scale to do the massive amount of in-house outreach needed to gain quality links. So, what's an SEO to do when it comes to their link profile and overall SEO strategy?
Fortunately, there is a solution. Surround Sound is a tool from Semrush that helps you leverage the power of sites that already rank for your keywords. With Surround Sound SEO, you're not trying to rank your own domain; you're trying to get mentioned on every domain in the SERPs.
With Surround Sound, you can instantly identify third-party sites that rank for your keywords and see those who link to you and those who link to your competitors. Sites that already mention and link to similar businesses may be more open to linking to you than those with no mentions and links.
You can then sort by traffic, which indicates the number of views your brand could be getting if that article mentioned you.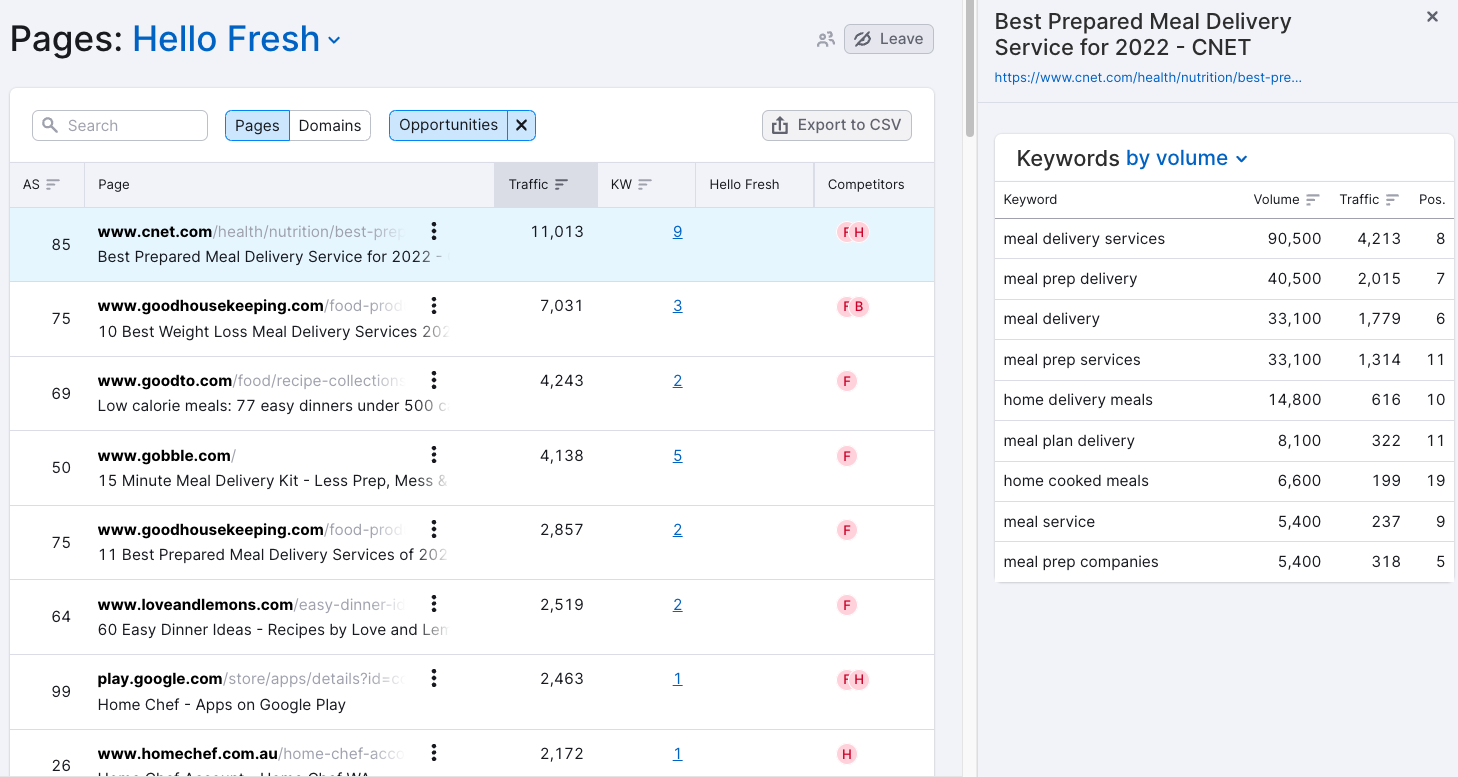 With that information, you can contact the site owner to see if you can generate a follow link back to your site, or maybe even write some high-quality content on their website in the form of guest posting! If you're Hello Fresh, you can offer to send them some sample meals so they can honestly evaluate your service in comparison to others. 
Are you ready to test the power or Surround Sound? Try it free today and start building dependable, high-quality backlinks that will help boost your site to the top of the SERPs, not drop you to the bottom with a penalty.