There are thousands of affiliate marketing programs out there. However, not all of them are beginner-friendly. Some are more complex than others.
That's why we created this guide to the best affiliate marketing programs for beginners. Here, you'll find all the information you need to get started in affiliate marketing.
Throughout this article, you'll see examples of many affiliate programs. But what's most important here are actually affiliate networks. Many people use these terms interchangeably, but a network is a place where you go to find the individual programs.
The way I wrote this article is to share the best networks for beginners—then within each network, I share some programs (and their niches) that you can sign up for.
This is the best way of sharing affiliate programs—because regardless of your niche, these networks will be great for you.
1. Amazon Associates
Amazon Associates is the absolute best affiliate marketing program for beginners.
You can sign up for its affiliate account in just a few minutes, and it sells virtually everything. So you'll be able to promote Amazon products, regardless of your niche.
That said, its commission rates are very low. You can see up-to-date rates on this page. But as of this writing, most of the rates range from just 1–3%.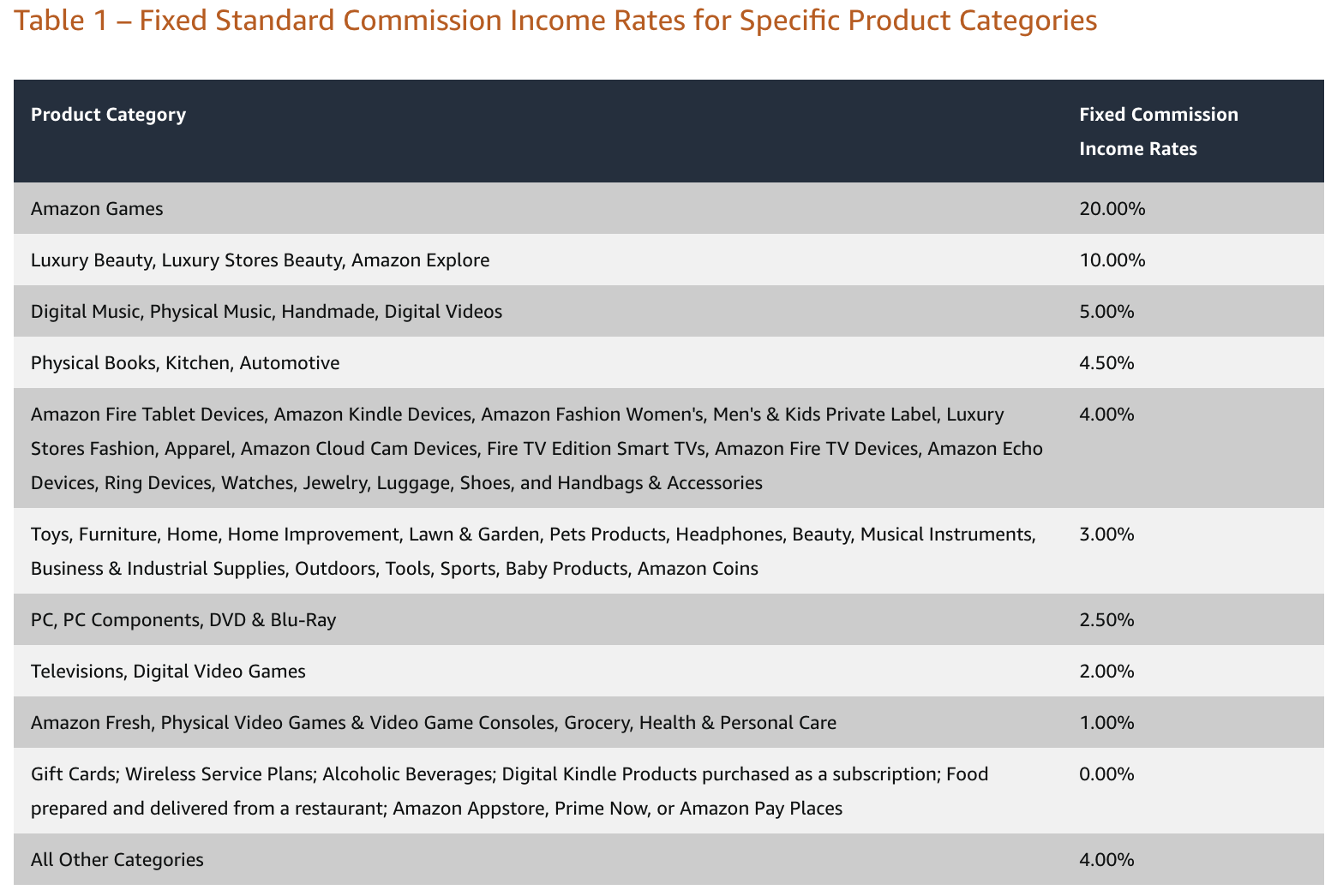 Still, it's super easy to use. Check out our guide to creating an Amazon affiliate site to learn more.
2. All the big box stores
Like Amazon, all the big box stores have affiliate programs that are really easy to use.
These include:
Also like Amazon, their commission rates are pretty poor. But they are an easy way to get started while you grow to eventually move to better-paying partners.
3. AvantLink
AvantLink is the first affiliate network I ever signed up for. I'm not a huge fan of its reporting dashboard (it's not the most intuitive), but it's super easy to sign up and get started.

Some of the best and highest-paying affiliate programs available through AvantLink include:
FFL123.com | 50% commission | Firearms/Tactical
Super Speciosa | 40% commission | Health/Wellness
Reddiyo | 30% commission | Cycling
Wedding Hashers | 30% commission | Custom/Personalized Products
Sprinkle & Sweep | 25% commission | Pet Products
Of course, it has thousands of other programs, all categorized by niche. You can find the above programs and many more through AvantLink's merchant list.
4. ShareASale
ShareASale is another popular network for affiliate partners. It also lacks in the reporting department but is good enough for beginners.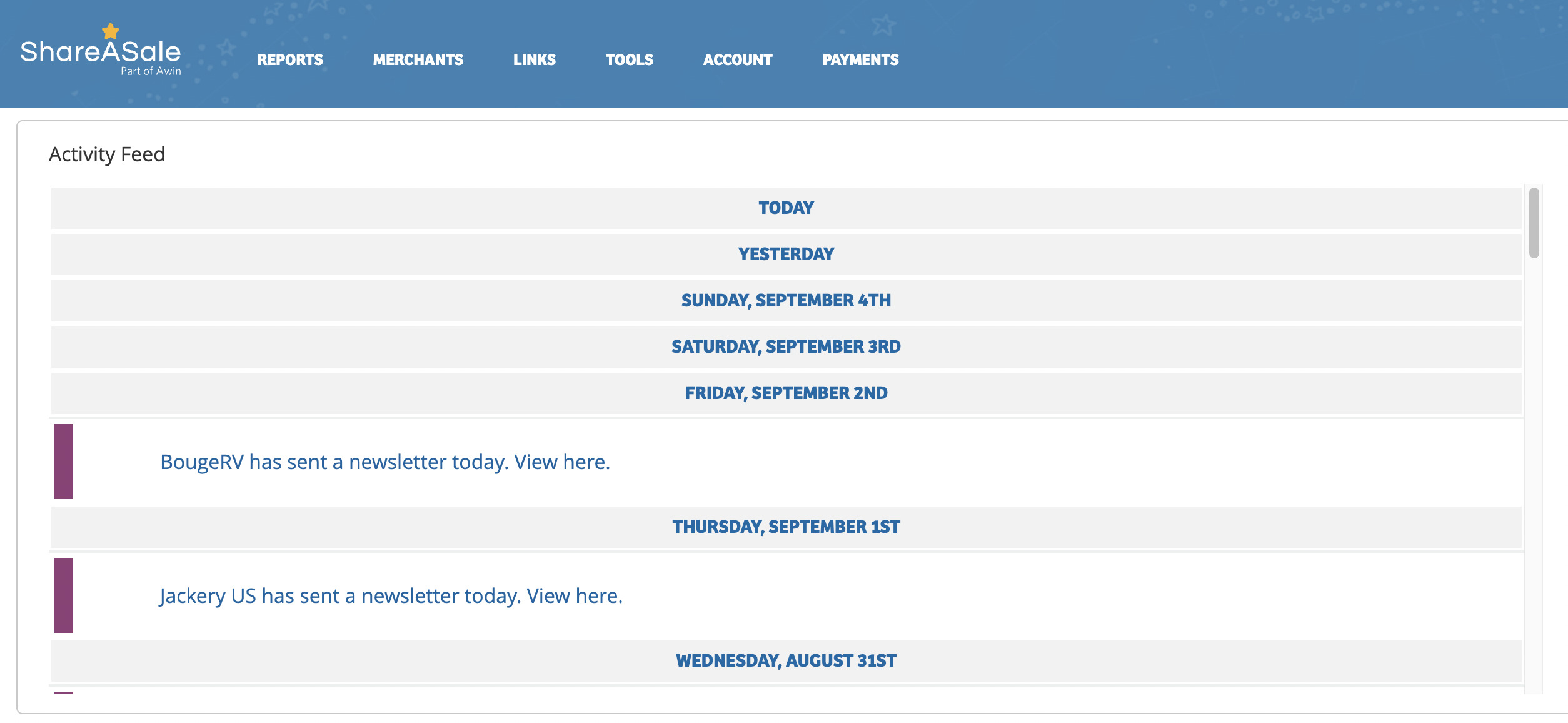 Some great affiliate options on ShareASale include:
Northwest Registered Agent LLC | $100 commission | Business Registrant
Promaster | 15% commission | Photography
Print Games Now | 35–45% commission | Printing/Games
FreshBooks | $55 commission | Small Business/Finance
Aviron Interactive | $110 commission | Fitness
You can find these merchants and many more on ShareASale's merchant page.
5. Commission Junction
Commission Junction (CJ) is one of the oldest affiliate networks out there, founded all the way back in 1998. Because of that, it has one of the widest selections of affiliate programs.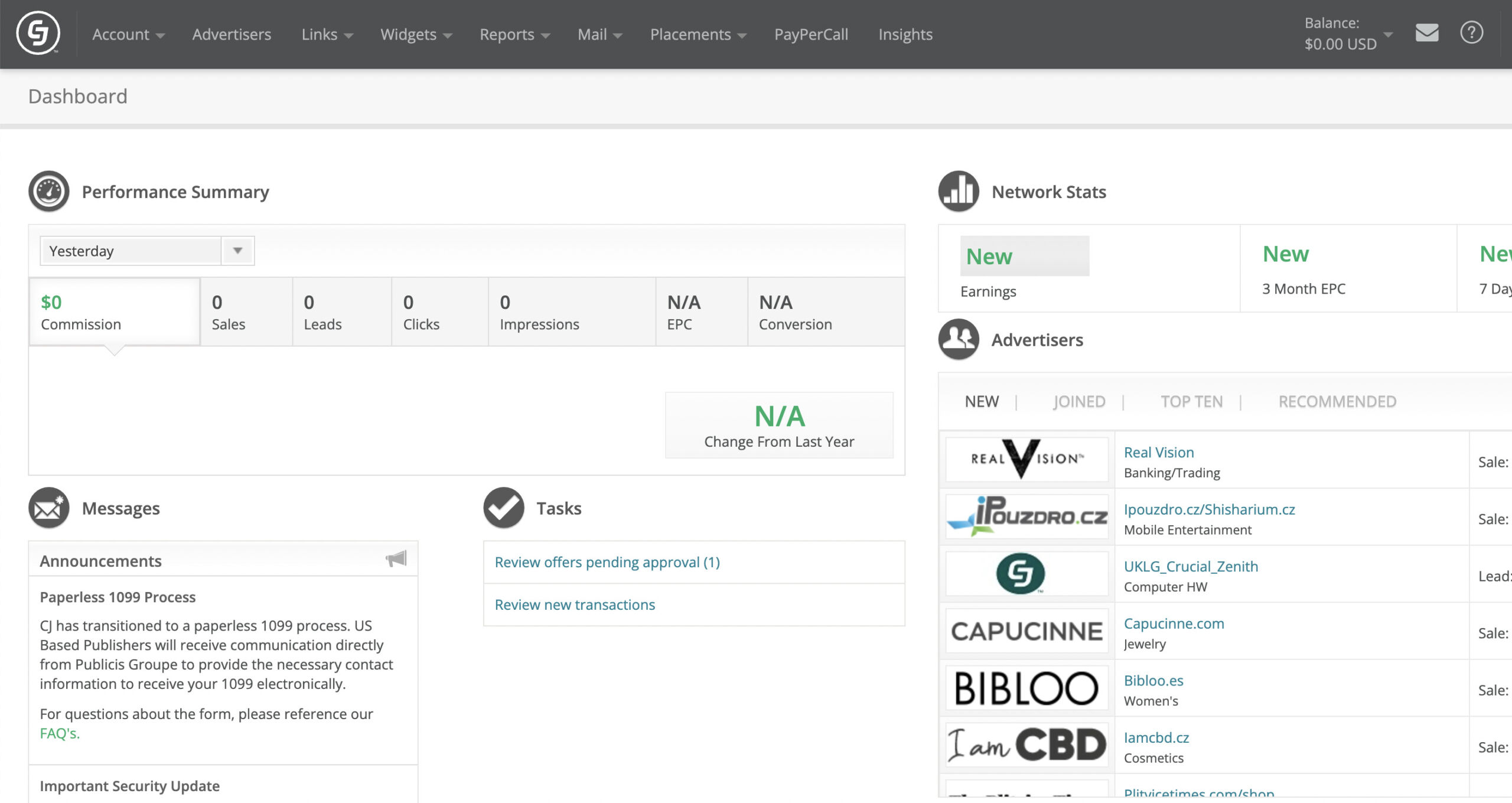 Some cool programs on CJ include:
Slova Cosmetics | 20% commission | Bath & Body
Separatec Underwear | 20% commission | Clothing
US Service Animals | 25% commission | Pets
Puraclenz | 25% commission | Equipment
eHarmony | 30% commission | Dating
The only downside to CJ is that its dashboard feels a little dated, and it is harder to sort through its affiliate merchants compared to the other platforms on this list.
6. TUNE
TUNE is my personal favorite affiliate software due to its excellent reporting dashboard and ease of use. However, it's a bit different than the others on this list. Instead of being able to browse its affiliate partners, you have to find someone using its platform to use TUNE.

Rather than recommending specific partners for this one, I'll refer you to apply to become a TUNE media partner. Once you sign up, it will automatically connect you with the best affiliate partners for your specific niche.
Note that you do need to already have an affiliate business in place to apply.
7. Impact Radius
Impact Radius has been extremely successful in the affiliate space, with brand partners including Airbnb, Adidas, Lenovo, and more.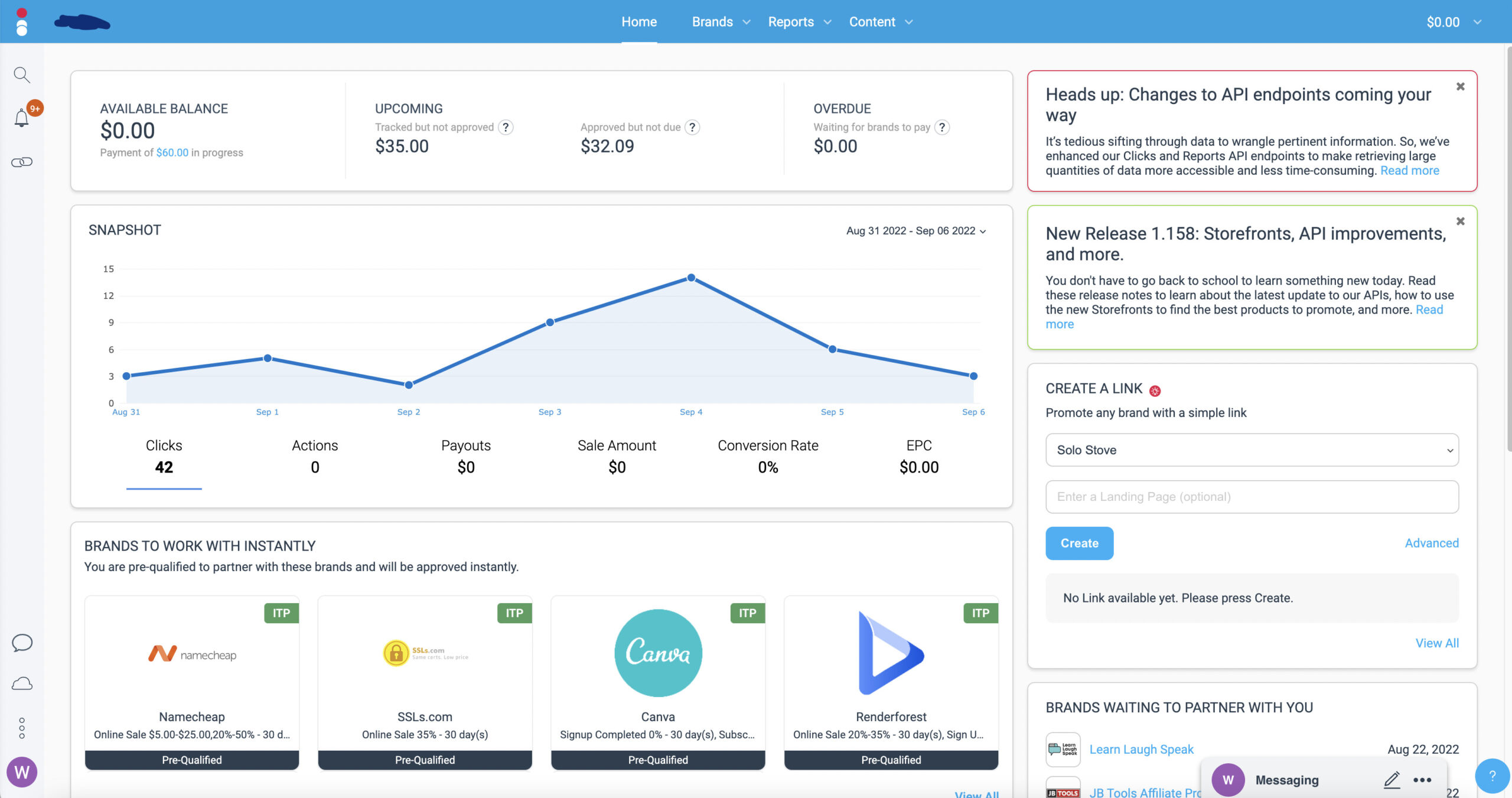 One of the nice things about Impact is that it will continually recommend you brand partners based on your niche and current partners. This makes it easy to find new affiliate programs with minimal effort.
Some great affiliate options on Impact include:
Canva | 16–80% commission | Graphic Design
Pure Hemp Botanicals | 50% commission | CBD
Thumbtack | 30% commission | Services
Hyphen Sleep | 18% commission | Mattresses
Skillshare | 40% commission | Education
8. Refersion Marketplace
Refersion is one of the most successful affiliate software out there, with big brand name partners including Amazon, Shopify, and BigCommerce. Its dashboard is super simplistic and easy to use, which is great for beginners.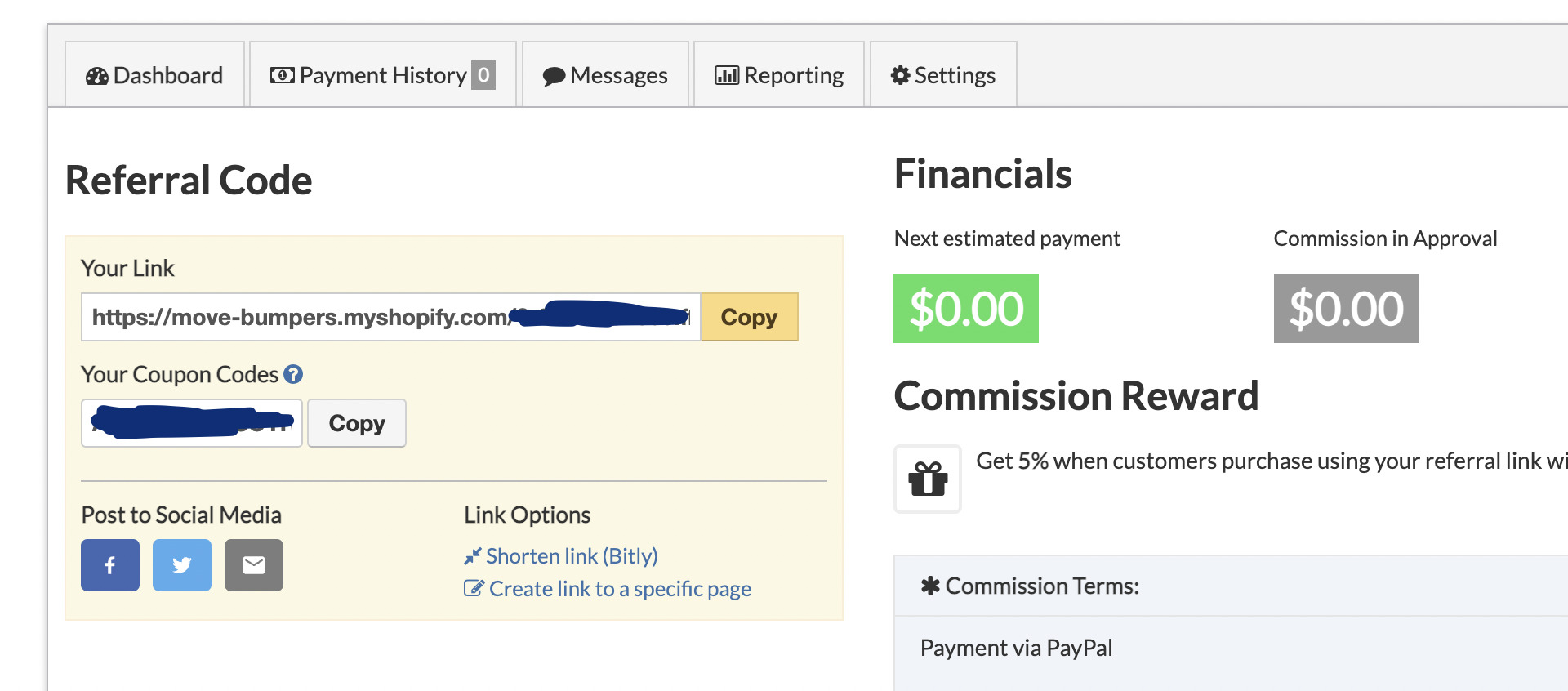 To find affiliates to partner with, you can sign up on the Refersion Marketplace. It has a great user interface to filter and find brands to partner with.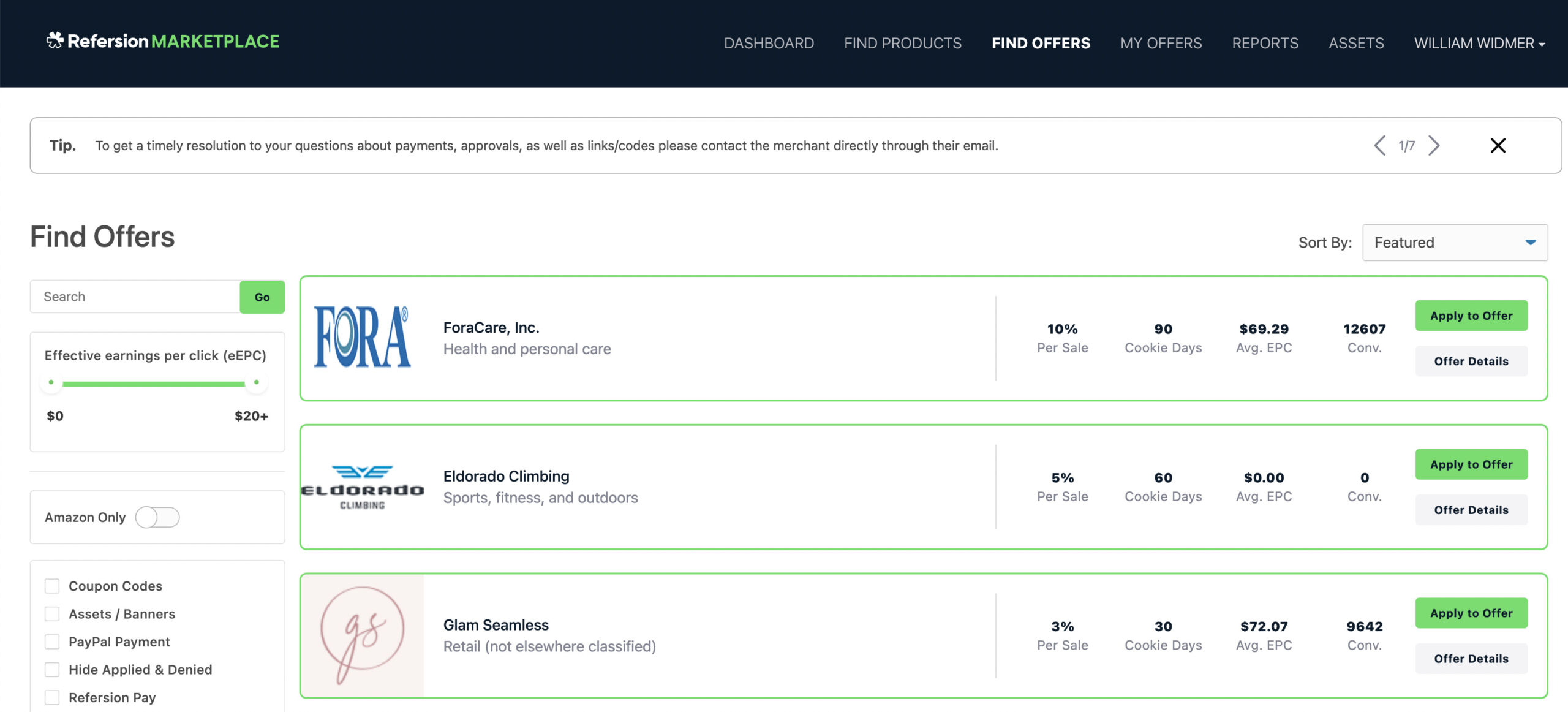 Some excellent brand partner options on Refersion include:
ZUGU iPad Cases | 15% commission | Phones
Peejamas | 10–20% commission | Kid's Clothing
Bodhi Dog | 20% commission | Pet Care
LUNA Sandals | 10–30% commission | Footwear
Bare & Bones | 20% commission | Food
9. Rakuten
Last but not least, Rakuten Advertising is another of the oldest affiliate networks out there that started in 1997. Like CJ, it suffers from dated-feeling interfaces but has a wide selection of brands.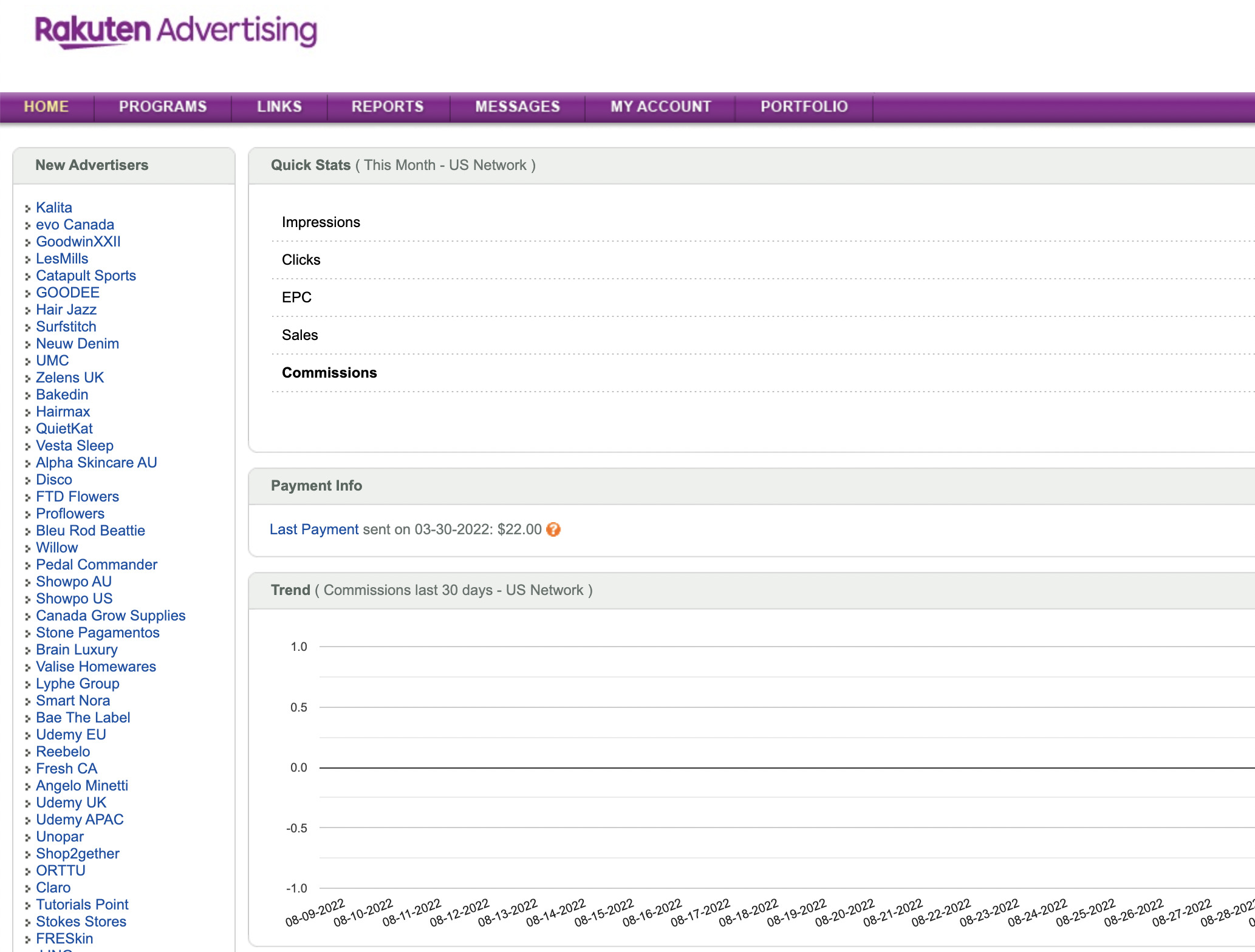 Some options for beginners include:
Valise Homewares | 14% commission | House Goods
Ryderwear | 4–10% commission | Athletic Clothing
Trafalgar | 10% commission | Leather Goods
Big Little Feelings | 10% commission | Parenting
La Mariposa | 15% commission | Luxury Women's Clothing
Overall, Rakuten is my least favorite network because its interface is so poor, but it does have some interesting affiliate programs.
Found an affiliate program that works for you? Awesome—this section will give you an overview of how to get started earning your first affiliate dollars.
Getting started with affiliate marketing can be done in three steps:
Choosing an affiliate niche
Creating your website and content
Getting traffic to your content
1. Making sure you choose the right niche
Your niche is the thing you talk about on your blog or in your videos. It can be anything from a hobby, to a lifestyle, or to just about any other topic you can think of.
As long as there are people interested in the stuff you want to talk about, you can choose it as an affiliate niche.
Examples of niches include things like:
Gaming
Travel
Knitting
Woodworking
Etc
If you're not sure what to talk about, here are a few questions to ask yourself:
What am I good at?
What am I curious about?
What do I know a lot about?
What do other people tell me I'm good at or compliment me on?
The overlap in your answers is often a good starting point. For example, I'm good at and curious about entrepreneurship, and people often compliment me on how creative I am at finding ways to make money. So on my own website, I blog about finance and entrepreneurship.
You can also use Ahrefs' SEO Toolbar to find an affiliate niche while doing your everyday Google searches. 
As you're searching whatever questions you have, the toolbar will give you keyword data like how many people search that keyword per month and how difficult it may be to rank for: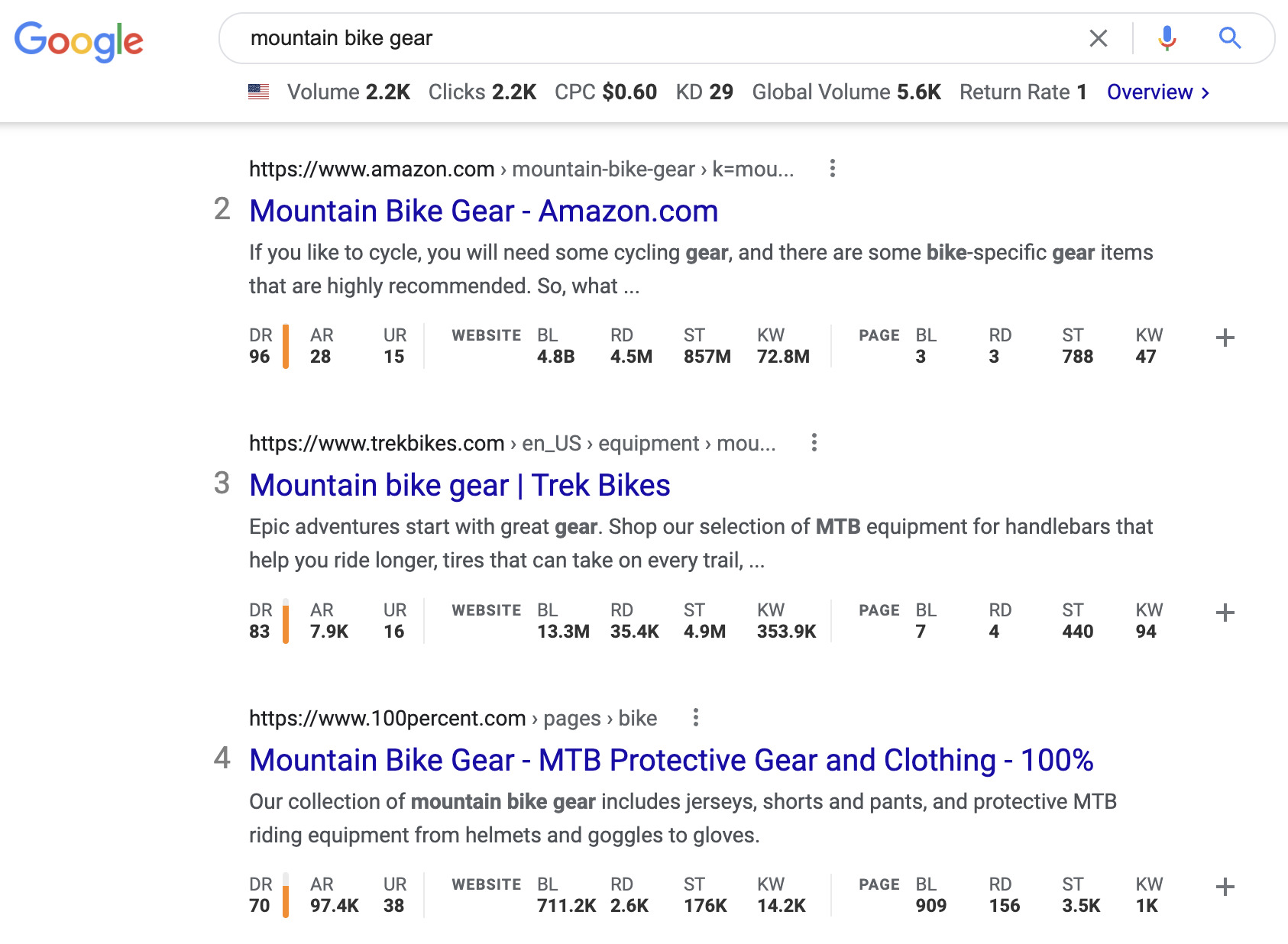 If you find a keyword that gets a lot of monthly searches and seems easy to rank for, it may indicate a potentially good niche.
Got some niche ideas that you're excited and know a lot about? The last main thing to check is their competitiveness.
You can check competitiveness easily using Ahrefs' free keyword difficulty checker. Just enter your keyword idea in the tool, and it will give you a Keyword Difficulty (KD) score on a scale of 0–100.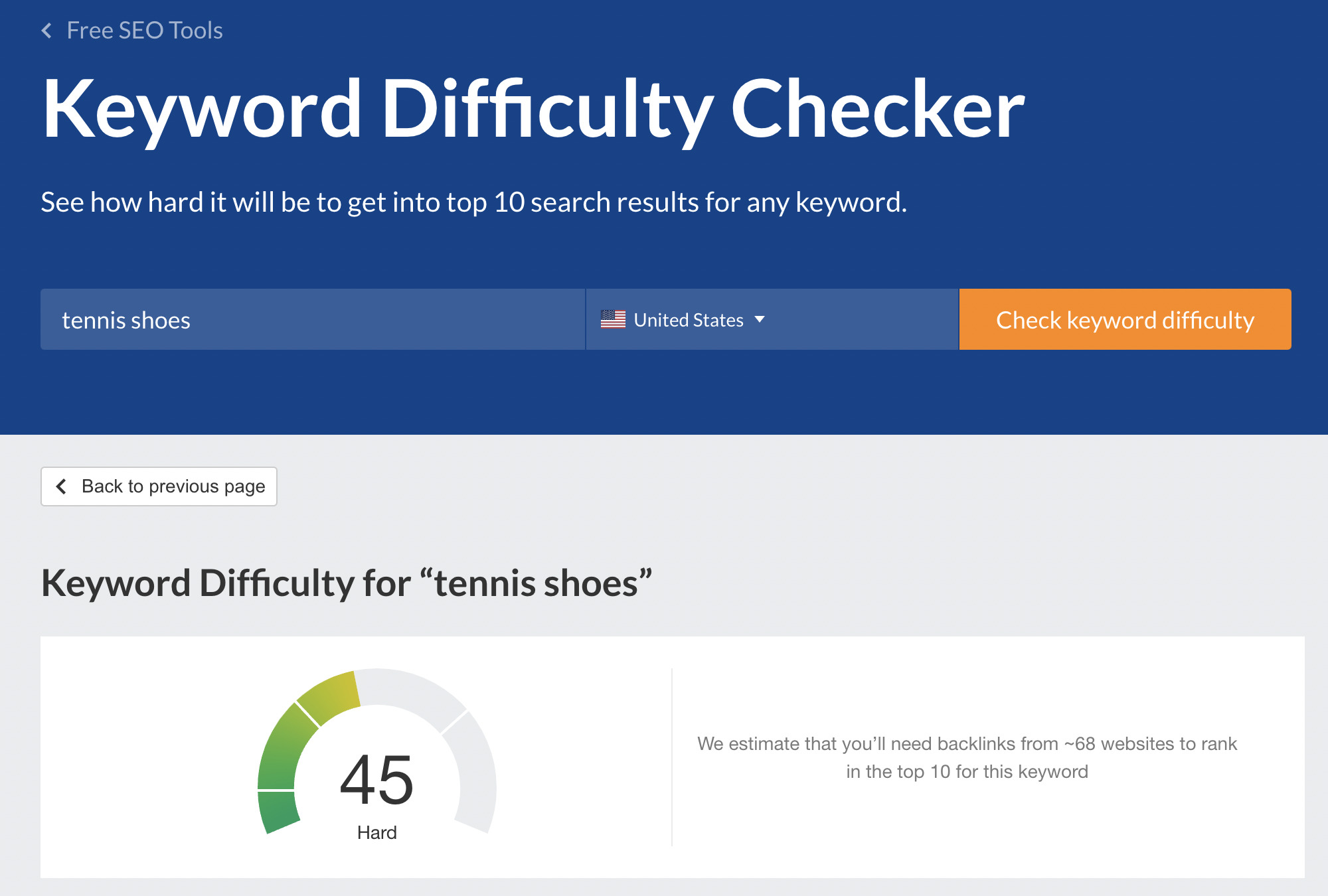 As you can see, the keyword "tennis shoes" has a KD of 45, which may be hard for a newer website to rank for.
In general, as a new site, you want to look for KD scores under 30. Anything under 30 could be relatively easy to rank for.
2. Creating your website and content
Once you have an idea of a niche, it's time to create a niche site. This can quickly be done by buying a domain name and website hosting, then linking your website to WordPress to edit the backend.
It may sound a bit complicated, but it's actually pretty easy. Here's a comprehensive video on how to get started by WPBeginner:
Once your website is set up, you'll need to do some basic affiliate keyword research to map out the content you want to create.
When you're ready to begin writing, I recommend checking out our guide to content creation to learn how to make content that people will want to consume.
3. Promoting your content
Finally, once your content is created, it's time to promote that content to start driving traffic (and sales) to your new affiliate site.
There are lots of ways to promote your content—like sharing it on social media, doing email outreach to other bloggers who may find it interesting, or even paid advertising.
However, the best return on your investment (in my opinion) is going to be search engine optimization (SEO).
Ranking on the first page of search engines like Google will ensure you get recurring traffic without constantly reaching out to promote your content or spending money on advertising. 
Better yet, SEO pairs perfectly with affiliate marketing because people who are searching for an answer are closer to being ready to buy than people mindlessly browsing social media. The former is actively looking for a solution to a problem.
SEO does take time and effort to learn, but it's a skill you won't regret investing in.
Final thoughts
With so many affiliate marketing programs out there, it can be overwhelming to get started.
However, there are plenty of super simple and easy-to-use affiliate programs and networks that you can get up and running in just minutes.
I hope this guide helps you to start your affiliate marketing journey. If you're ready to learn more, check out some of these other helpful guides: