Content strategy for ecommerce helps retailers build relationships with their audience and win customers. 
Brands should focus on addressing the specific needs of their target market by answering their questions and concerns. Ultimately, this helps buyers complete their purchase journey.
To help you achieve this, Semrush spoke to four experts in ecommerce who shared their top tips for creating and promoting high-performing content. 
The following guide to ecommerce content creation is based on the latest insights from: Aaron Orendorff, former Editor-in-Chief at Shopify+; Vanhishikha Bhargava, Founder at Contensify; Jordi Ordonez, ecommerce consultant for Amazon; and Robyn Johnson, CEO of Marketplace Blueprint.
What Is Ecommerce Content Marketing?
Content marketing for ecommerce is focused on supporting the customer through the buyer's journey in order to maximize online sales.
An effective strategy integrates valuable content throughout the customer journey, ensuring potential buyers can access the information they need at any time and in the relevant channel. 
Content for ecommerce websites is differentiated by the value it delivers to its audience. Examples of how ecommerce content can be valuable include:
Video guides about how products work
High-quality images of a product
Online forums for getting answers to questions
Search engine-optimized blog posts about issues of interest to buyers
Why Is Ecommerce Content Marketing Important?
According to our research, 91% of ecommerce and retail companies have some degree of success when reaching their content marketing goals.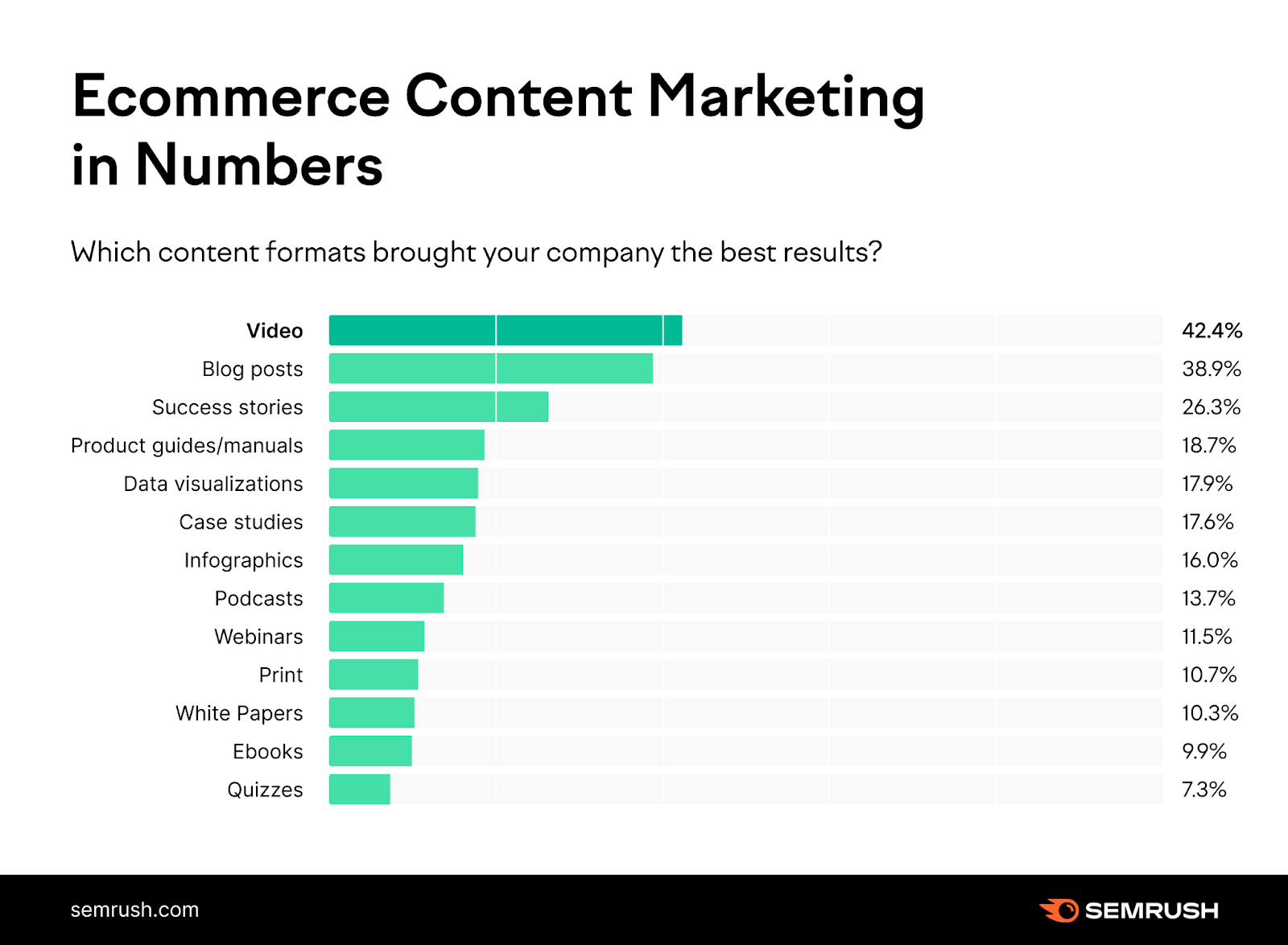 It's clear that creating and sharing valuable, free content, therefore, builds trust with potential buyers. 
The practice also keeps customers engaged, giving them something to share on social media. If ecommerce brands consistently deliver valuable content without asking for anything in return, readers will respond by becoming loyal customers.
Below, we'll explore eight tactics for succeeding in ecommerce content marketing.
Tactic #1: Ensure Your Content Is Visually Appealing
In ecommerce, there is a greater emphasis on visual content than in other sectors because in nearly every case, buyers want to see what they are buying—and in as much detail as possible. 
A video or still image of a product in use gives the buyer a good indication of quality and suitability. 
This is why many of the best ecommerce marketers focus their content marketing efforts exclusively on producing high-quality videos.
A good example is U.S. grooming brand Beardbrand, which grew quickly through smart content marketing. 
Specifically, this meant founder Eric Bandholz spent time and effort creating video content for each part of the acquisition funnel.
In the example above, we can see a number of important elements:
An interesting title—we have a central character (the Marine) and the fact he hasn't trimmed his beard for 2 years
Human interest: we want to know the story and the results
Clear links to the brand's value proposition (i.e., beard and men's hair care)
Links to the website and other social media platforms
This video generated 71,000 views in its first eight days online. 
The brand's YouTube channels now have over 1M subscribers and generate almost all of their views organically.
Eric Bandholz attributes the success of Beardbrand's content marketing to the fact that "we were willing to suffer for very long periods of time. In the world of content, no one's going to view your early output, so you have to create it for your own joy."
Tactic #2: Double Down on the Channel that Works Best for You 
Successful content is a long-term investment, so content creators need to find the channel they feel most comfortable generating a lot of content within. 
Possible channels include:
Blogs: Sharing lists, guides, thought leadership, and more for all of your audiences, no matter where they are in the buyer's journey 
YouTube: By establishing a presence on YouTube, you "humanize" your brand and lay out your area of expertise
Instagram: Whether creating bite-size stories or longer form Reels, Instagram is a good way to connect with a larger audience via social media
LinkedIn: Generally thought of as a more business-focused platform, this is a great social channel to find and connect with the professionals you seek to connect with
TikTok: It feels like the whole world is on TikTok now, and it's increasingly being used by a younger audience in place of regular search engines
A good example is Bobby Hundreds, the founder of streetwear brand The Hundreds. For the first 10 years of The Hundreds' existence, Bobby's blog was "the definitive streetwear resource."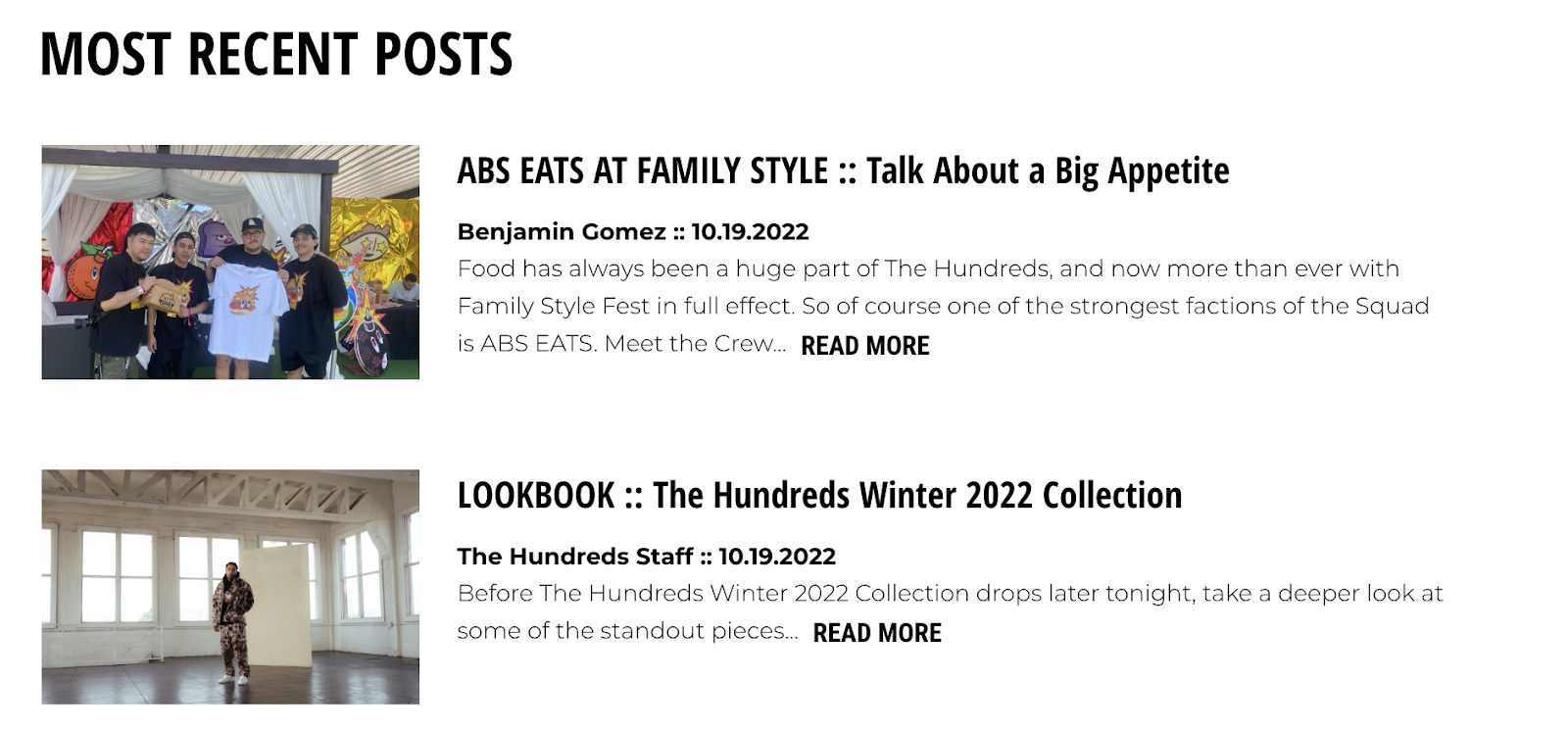 "It was the blog to check daily for updates because Bobby literally scheduled a post every day at 3 am PST. In many ways, he pulled back the veil; streetwear was elusive—the nature of street fashion is that it is born on the street, evolves on the street, and spreads by word of mouth, communally."
Bobby blogs remotely and has posted more than 5,000 times. His blog posts are full of great images of his collections, the latest streetwear items, and cool graphics and social media posts.
The website receives over 65,000 pageviews a month and has earned more than 87,000 backlinks as of October 2022. 

Tactic #3: Use Video to Build Your Brand Character
Ecommerce is about products. For online retailers, marketing is about raising awareness, increasing understanding, and helping people buy products.
According to our research, video is the most effective content format for retail and ecommerce businesses. 
Popular categories of video include:
Product explainer and description videos
Customer testimonial videos
Live shopping videos
Long-form videos are usually posted on YouTube channels, while shorter videos are typically shared on TikTok or Instagram.
According to Aaron Orendorff, videos tend to work best if there are people in them:
People will always gravitate towards people over products, so companies need someone in-house to create videos at scale as it's a volume game. You need someone who has 'a face' and who can get memes.
He cites Isaac Medeiros, founder of Japanese sword company Mini. Katana, as a great example of someone who used their personality to build a brand.
Mini. Katana has's YouTube channel has 1.05Mm subscribers to its YouTube channel and over 280,000 followers on Instagram.
Medeiros ​​marketed Mini. Katana's range of miniature Japanese swords on platforms like TikTok and Instagram. He spent no money on advertisements and relied solely on organic traffic on social media to reach his potential customers. 
Our takeaway?
Work with a person who has an engaging and likable personality to create a following on top video channels like YouTube and TikTok. 
Your central character builds trust and becomes a strong representation of your brand, generating more engagement, views, and customers over time. 
Tactic #4: Optimize Your Presence on Amazon
Many people looking to buy specific products begin by searching on Amazon—not search engines like Google, as they would if their query was more informational.
As a result, companies need to pay close attention to each piece of content that accompanies their products on Amazon and ensure it aligns closely with their own website and their brand overall. Failure to do this means shoppers may choose to buy a competitor's product instead.
Amazon has expanded the content options available to brands beyond just the title, description, and images of their product to include:
A+ is a premium content feature that allows sellers to improve the description and merchandising of their products by adding richer text and high-definition videos and images. 
Here's an example from Ren Skincare: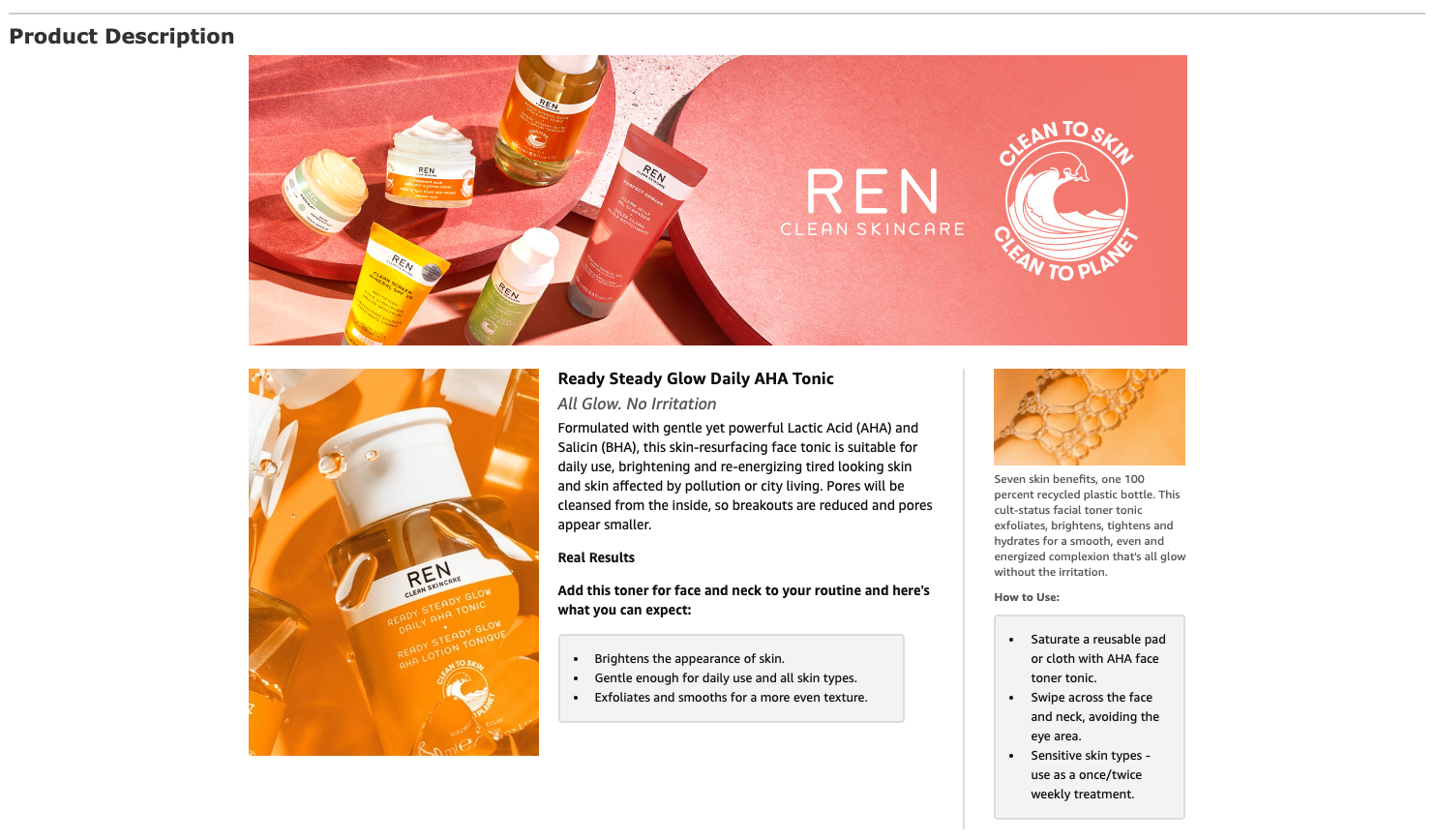 Amazon Posts gives brands the ability to create social media-style feeds with lifestyle imagery, captions, and direct links to their product pages. 
An example from Canadian camping equipment brand Offroading Gear is below: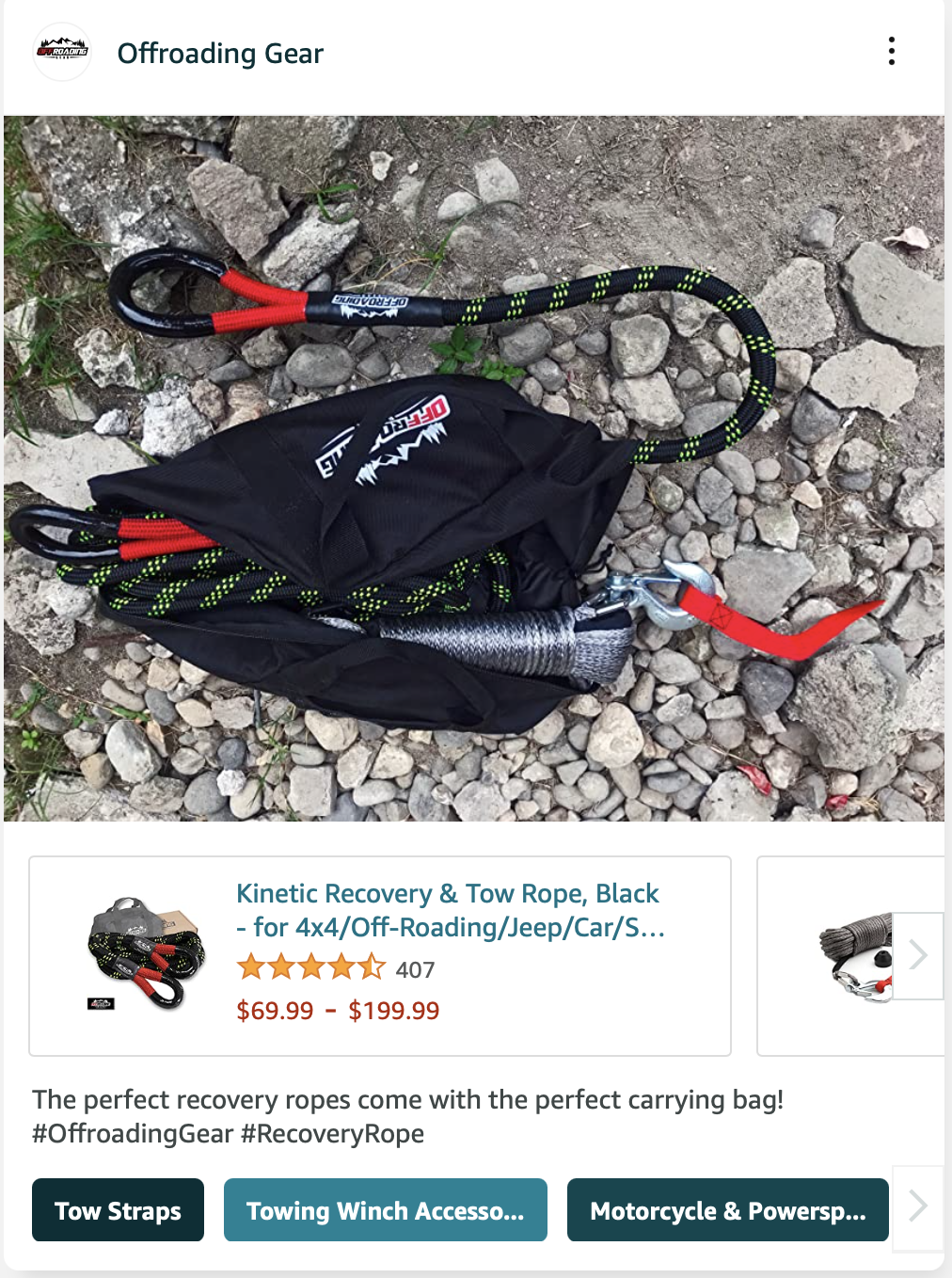 Robyn Johnson highlights the role Amazon plays in the overall customer journey:
Some people will window-shop on Amazon and then go to your website, so it can help with your direct-to-your-consumer site when used in combination with a strategy to ensure you're not cannibalizing your ecommerce sales.
As Amazon's search function ranks products based on sales, it's vital for retailers to optimize their conversion rates—even if Amazon is not their primary sales channel—to ensure their competitors' products don't feature more prominently.
A good example is Dorai, a homewares company from the U.S. that specializes in eco-friendly products.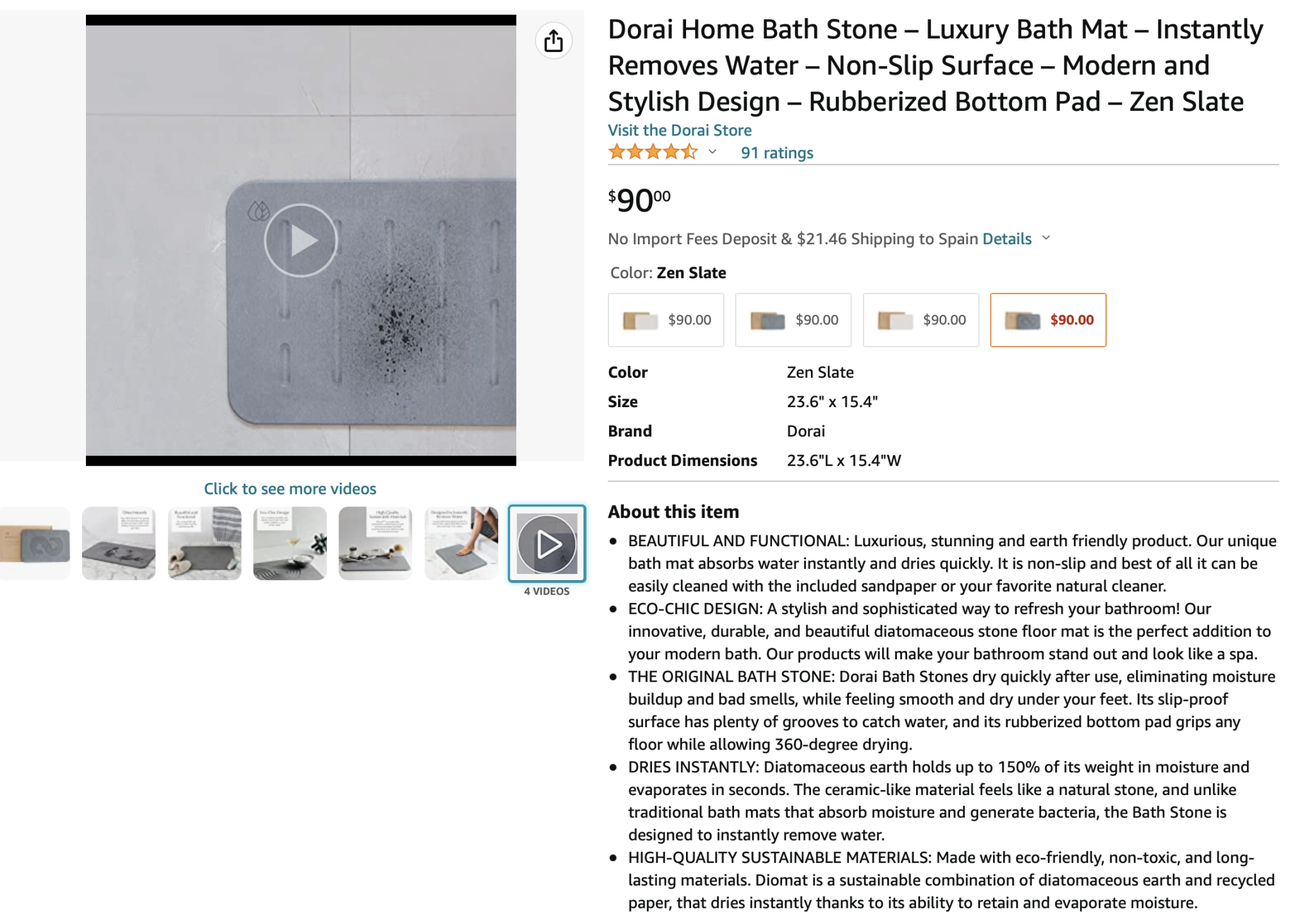 Our takeaway?
Dorai's product pages take advantage of the merchandising options Amazon now offers in terms of imagery, videos, and brand assets. If you use Amazon Marketplace, be sure to do the same. 
To further optimize your presence on Amazon, use the Listing Quality Check tool that audits your product listings and provides actionable recommendations.
Tactic #5: Partner with Influencers and Experts
We mentioned earlier the important role that personalities (i.e., people) play in ecommerce content marketing. For some brands, the founders, such as Bobby Hundreds and Eric Bandholz, fulfill this role.
For other retailers, working with sector experts can be a great option, not least because it shows Google that your content has authority.
Examples include fashion brands collaborating with social media influencers or bloggers and health and wellness brands partnering with doctors or nutritionists. 
For instance, UK fashion retailer Boohoo partnered with CottonConnect, agricultural experts from Pakistan, on a project called REEL (Responsible Environment Enhanced Livelihoods) cotton.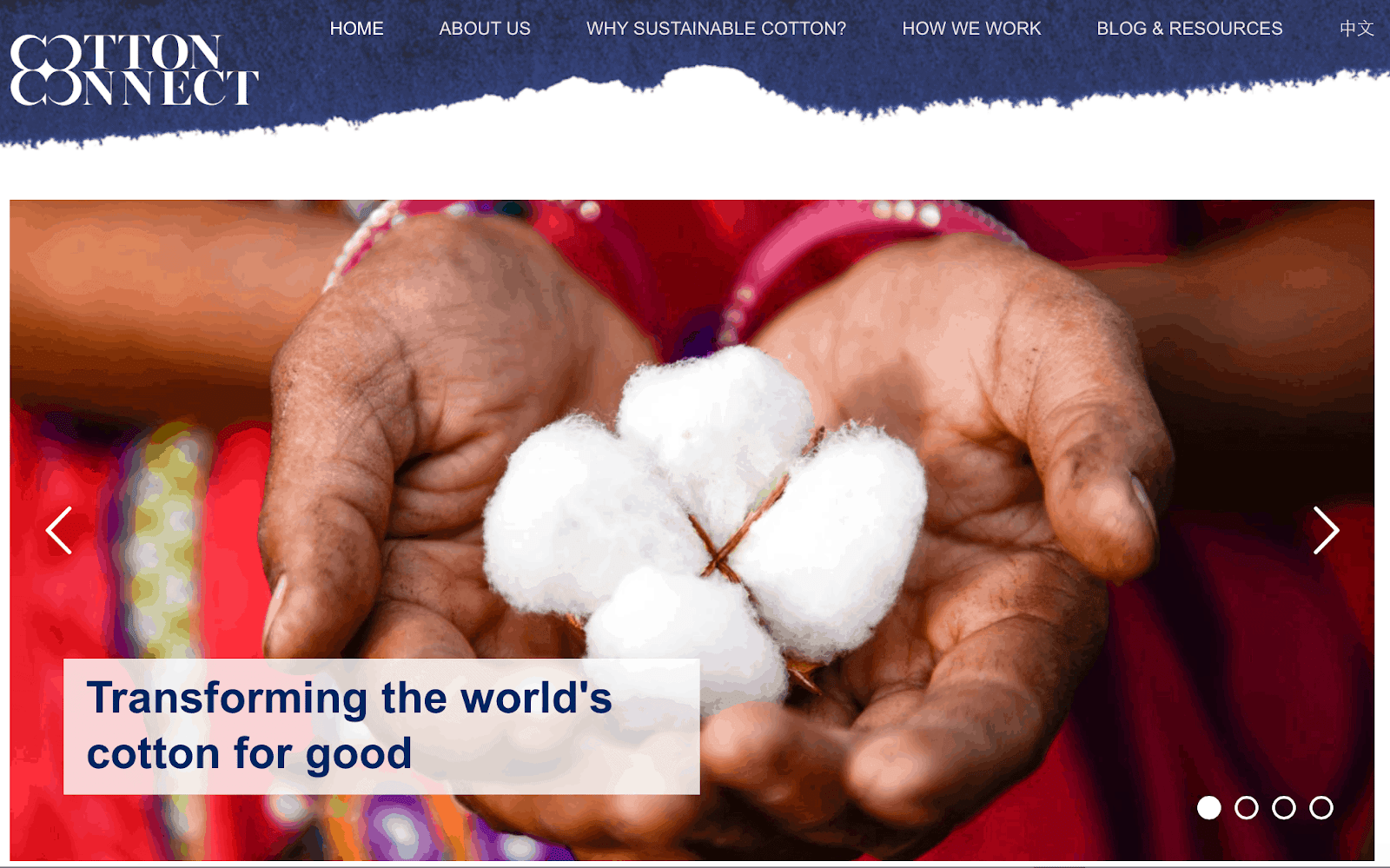 CottonConnect is a purpose-driven company that advises brands on how to source cotton more fairly and sustainably by creating more robust and successful supply chains. 
This works well because it shows their values in action and gives the audience another reason to choose the brand over a competitor. 
Another UK online retailer, PrettyLittleThing (a subsidiary of Boohoo), regularly collaborates with rappers (including Saweetie, Teyana Taylor, and Doja Cat) to produce collections.
Our takeaway?
The cool branding and influencer alliance enhances their credibility and really connects to their target audience. In fact, this has become a unique selling point for them, helping them stand out from the crowd in a busy marketplace. 
Partnering with third-party experts to conduct research is another valuable investment that incurs no loss of credibility or authority.
Tactic #6: Pay Attention to the Marketing Tactics of Marketplaces
An ecommerce marketplace is a collection of online stores offering different products from different vendors. 
They serve as digital destinations for shoppers looking to browse and purchase from a variety of brands, just as marketplaces do in the real world. 
Brands that participate in these create digital "storefronts." Examples include: 
Amazon Marketplace
Walmart Marketplace
eBay
Chewy
Wayfair
Alibaba
Rakuten
Houzz
Jordi Ordonez recommends paying close attention to the content marketing strategies of marketplaces, as they administer millions of URLs and need to promote thousands of brands without cannibalizing their search rankings or getting penalized by Google.
He cites French DIY and home improvement marketplace ManoMano as a good example to follow.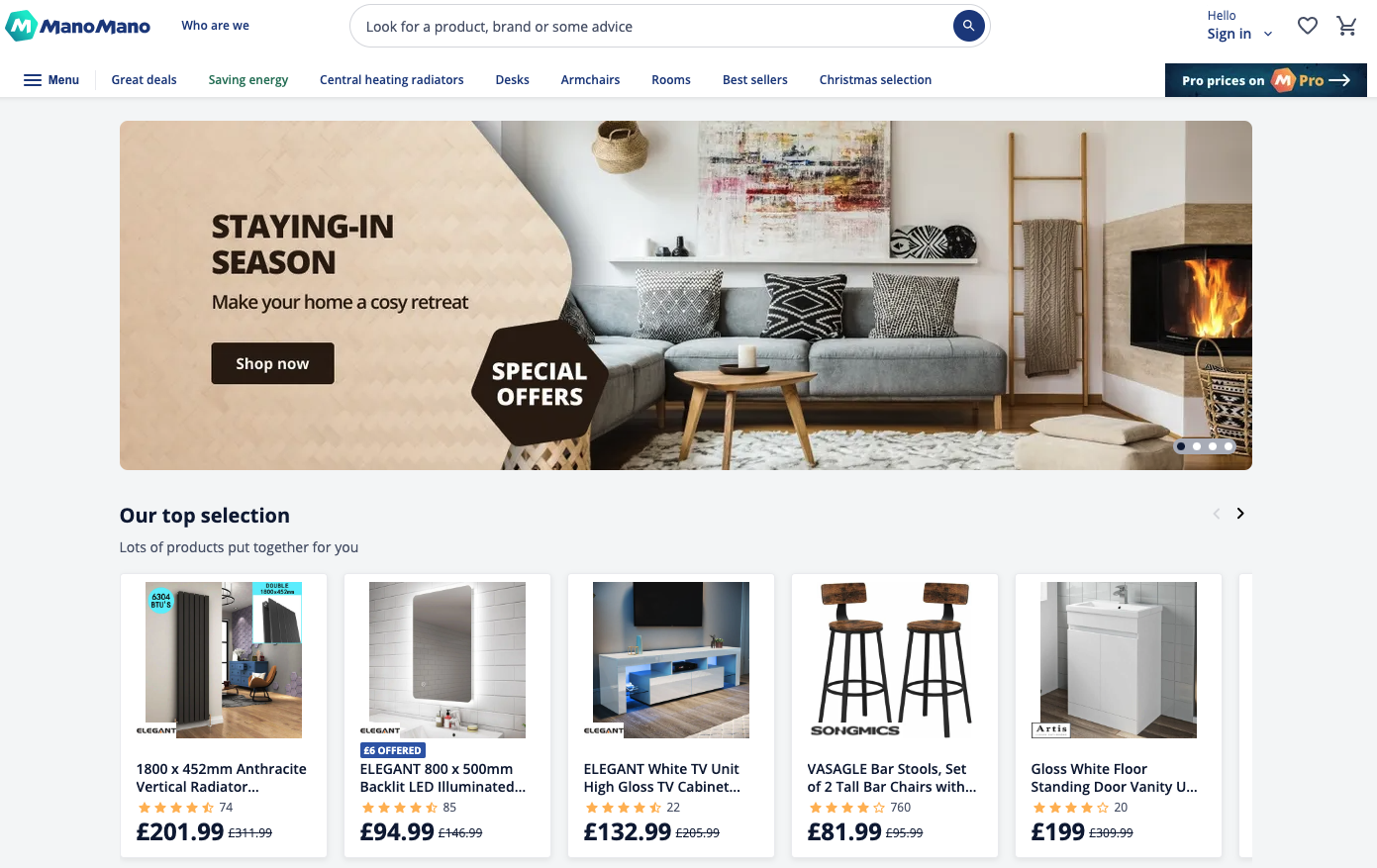 Our takeaways?
The firm built an online community of experts and enthusiasts in an effort to recreate the in-store shopping experience 
Shoppers can start a conversation with "Manodvisors" and receive a response from an expert; if a purchase takes place, the Manodvisor receives a commission
Anybody can become a certified Manodviser and earn income from ManoMano
According to ManoMano, over a million conversations are started with Manodvisors every year.
In fashion ecommerce in particular, "lookbooks" are becoming increasingly popular in place of traditional blogs.
Lookbooks are digital recreations of printed promotional catalogs that retailers used to create for in-store browsing before ecommerce even existed. Here's an example from Lookbook.nu: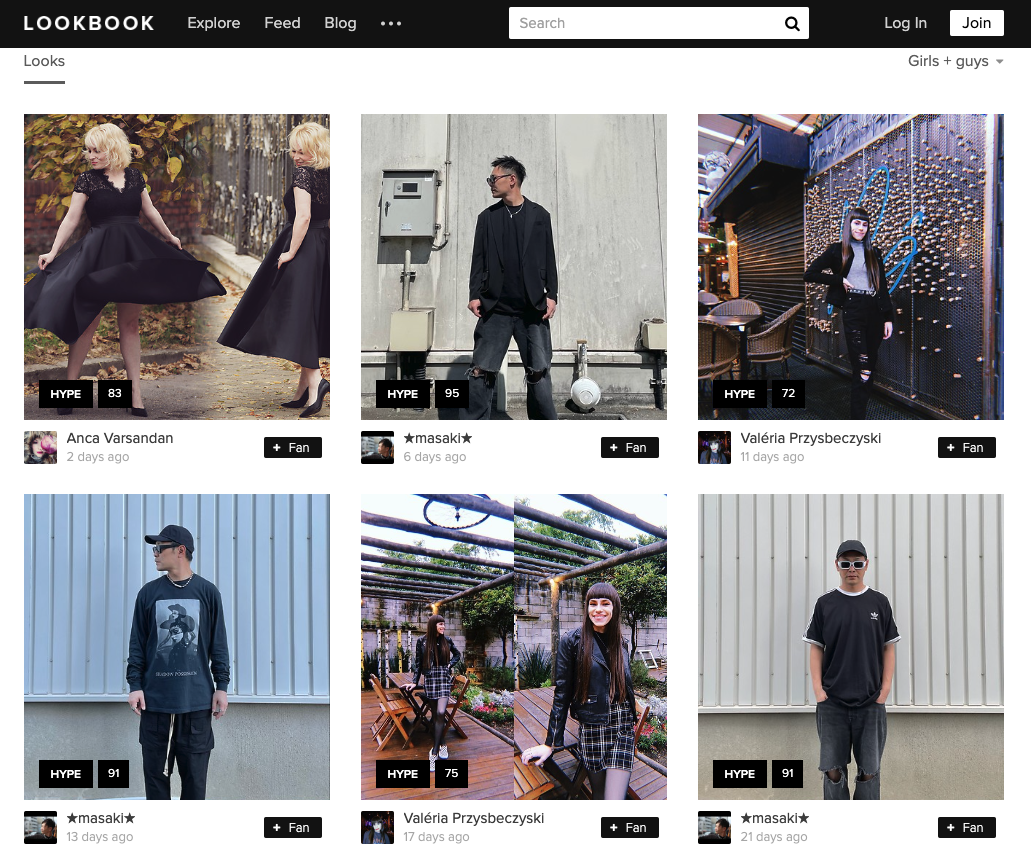 Digital retailers now create online lookbooks to showcase their products in an eye-catching way.
Fashion brands will often release a lookbook for a new season or line. 
Lookbooks can be produced in different formats, including:
Scrollable carousels of images of models wearing key items from featured collections
Short-form videos of models wearing outfits from specific collections
Live videos of people shopping and creating outfits
Even blogs with explanations, like this one featuring interesting staircase designs from Dezeen 
Live shopping videos are also becoming increasingly popular, especially in China and now the U.S., and feature heavily in content marketing campaigns from fashion and beauty brands.
A good example of the above is U.S. makeup brand NYX, which has over 150,000 subscribers on YouTube.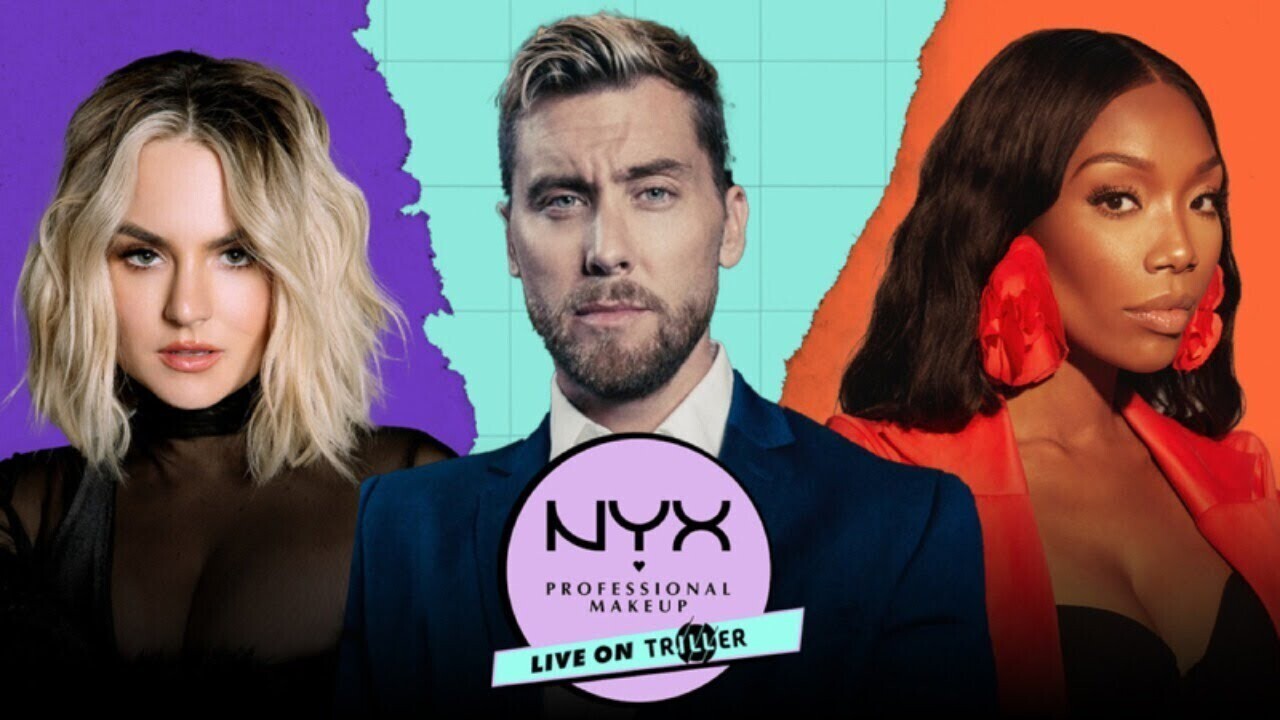 They frequently post livestreams (hosted by influencers and celebrities such as Brandy, Chantal Jeffries, and Alissa Violet) that merge live shopping and makeup tutorials. Viewers of the live makeup tutorials get the opportunity to shop the look directly from the stream. 
Our takeaway?
Allowing the viewers to buy directly from the livestream is a smart move, as the brand capitalizes on the excitement generated by the influencer in the moment. 
Tactic #8: Make SEO a Central Part of Your Plan
Due to an above-average focus on visual content, many ecommerce websites have overlooked the opportunities afforded by more traditional text-based content marketing.
However, creating educational blog content and optimizing your website for search should be an essential part of your strategy. 
Aaron Orendorff again is keen to highlight the extent to which online retailers are still getting up to speed in this respect. 
He cites the importance of informational queries that can only be addressed in blog post format, explaining that many ecommerce brands have overlooked the opportunity to create educational pages (e.g., "How to" guides and listicles):
Most ecommerce sites have been built for the onsite user experience (i.e., "What it looks like") but the technical SEO under the hood (i.e., the header depth, the URL structure, etc.) is often very poorly implemented, with different pages on the same site frequently cannibalizing each other for the same keyword.
Our takeaways?
We follow Aaron's recommendation that ecommerce marketers should engage technical SEO experts and implement what they suggest. 
On top of this, tools like the Semrush Topic Research tool can assist you in finding key areas to write about and optimize for search.
For example, if you are a website offering skin care, you can simply type "skin care" and explore a broad range of related subtopics. You can also choose a relevant geographical area, up to the city level.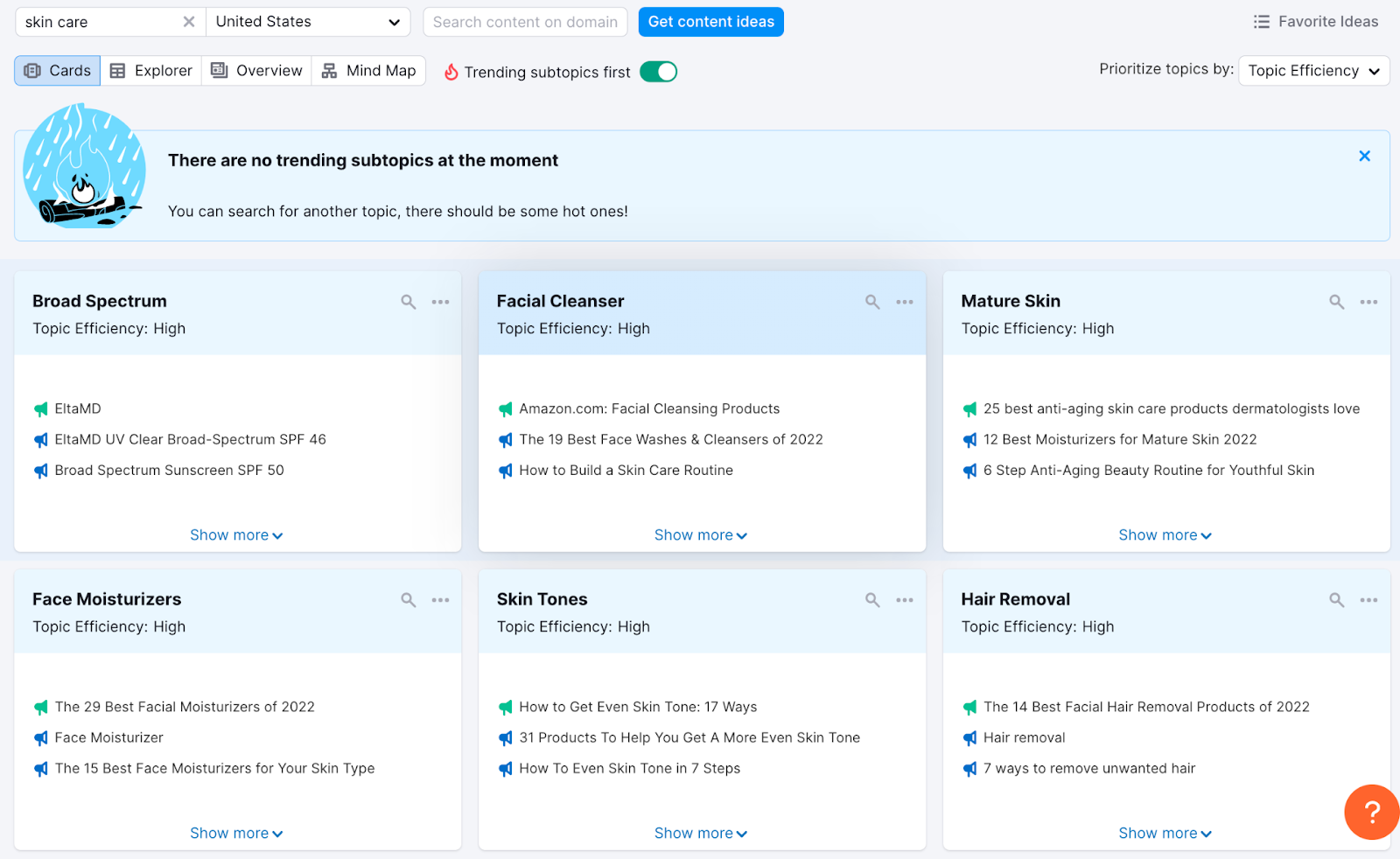 You can then click on any subtopic that caught your attention and generate more content ideas.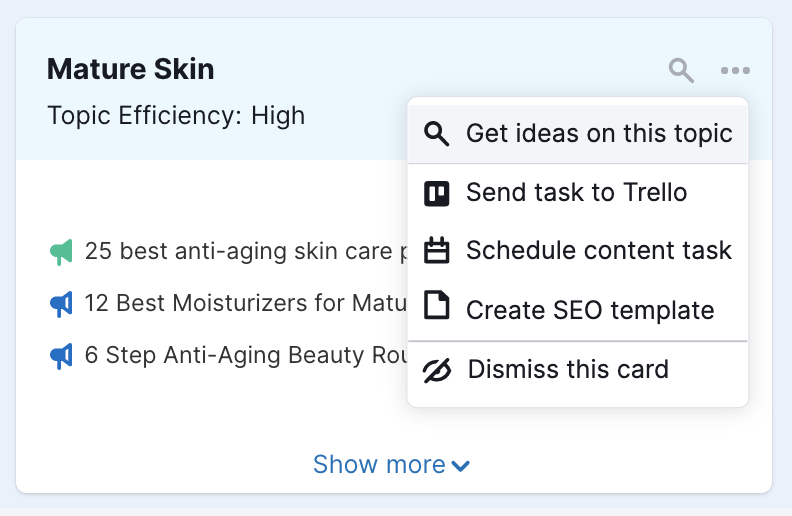 Final Thoughts
The purpose of ecommerce content marketing is to support the customer throughout their purchase journey and increase a brand's online sales.
It is different from other forms of content marketing in the following ways:
It emphasizes visual content more than traditional text formats
Its audience sometimes starts their acquisition journey on Amazon rather than on search engines such as Google; however, Google still plays an essential role
The most successful brands leverage personalities, especially via video, and establish authority by partnerships with experts
Traditional SEO and text-based formats (such as educational blog posts) sometimes remain overlooked, which presents opportunities for brands that want to rank highly
Creating content for ecommerce websites therefore requires a multi-pronged approach that balances both the visual and the text-based.