A meta description is an HTML element that summarizes a webpage's content. This short description shows up in the search engine results page (SERP) below the page title and URL.
Like this:

Meta descriptions can influence click-through rate (CTR). Which means they can influence whether a user decides to visit your page.
That makes them a critical on-page SEO factor.
In this article, we'll cover how to write engaging meta descriptions and how to use tools that check for meta description issues.
Let's begin with some examples.
Meta descriptions appear in your page code, on the SERP, and in some social media shares.
Here's what each one looks like:
In Page Code
Here's an example of what a page's HTML meta description looks like: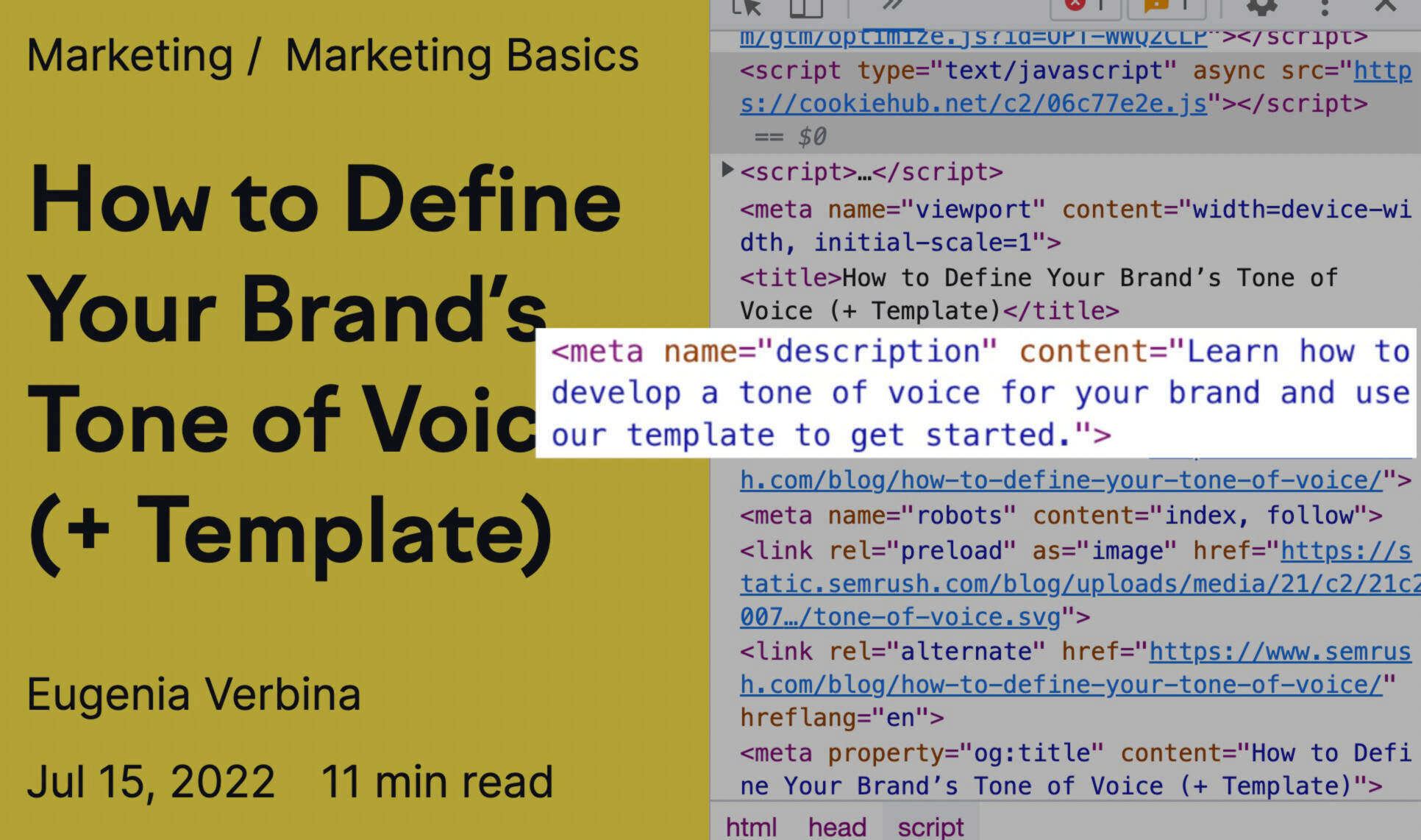 You can find the meta description in a page's <head> HTML code.
Most content management systems (CMSs) and plug-ins allow you to add and edit meta descriptions by typing in a designated field:
Here's what that often looks like in WordPress:
On the SERP
Meta descriptions also appear under the title tag on the SERP:
Keep in mind that Google does frequently rewrite meta descriptions that don't match users' search queries well.
According to Google, they use meta descriptions, rich snippets, and content on the page to decide what snippet to show on the SERP.
And your page's meta description may change depending on the search term someone uses.
But if you follow the best practices to match user intent, you'll have a better chance of Google using your description (more on that later).
In Social Media Shares
Meta descriptions also often appear in many social shares. 
Like this:
If you don't include a meta description, social media platforms will use the first text they can find or none at all. Which may not make sense or be a good hook.
An effective meta description is like a good sales pitch. It quickly gives readers your value proposition and makes them want to buy in—i.e., click your link.
Your goal is to improve the CTR of your pages with enticing meta descriptions that make users want to click. Because more clicks means more visitors to your page.
Meta descriptions aren't a direct SEO ranking factor. But they can indirectly influence rankings by encouraging a higher organic CTR for particular keywords.
Here's what meta descriptions can do:
Improve CTR
Differentiate your SERP result from competitors
Help with brand exposure
And those factors can indirectly influence your rankings.
Here are a few meta description best practices to follow, plus some examples.
Be Aware of Meta Description Length
Meta descriptions can technically be any length. But Google will cut them off after about 160 characters on desktop and 120 characters on mobile.
(This is equivalent to about 960 pixels on desktop and 680 pixels on mobile.)
If your meta description is cut off in the SERP, users may not get the full context of your page from your meta description. And they may click on a different search result.
❌ Bad example: A meta description is a blurb that describes what a page is about. Meta descriptions don't influence rankings, but can influence whether or not a user clicks your link.
✅ How to fix: A meta description is an HTML element that provides users and search engines with a summary of a webpage.
It's best to keep your meta description around 120 characters or fewer. That way, mobile and desktop users can read the full thing. 
The bad example above is 168 characters. Google would truncate it in both mobile and desktop search results.
Here's what it looks like on the SERP when the description is cut off:

The user might get the gist of it. But they likely won't ever see anything past the cutoff point. So it's best to keep it brief.
That being said: 
You should take up as much of your 120 characters as possible. If your meta description is only a few words, you probably aren't adequately communicating your page's topic.
Use a Target Keyword
It's best to include your target keyword in your meta description. 
Meta descriptions don't directly impact rankings. But they can encourage users to click. 
That's particularly true if you include the keyword the user is likely searching. And if those keywords match the user's search intent.
Let's say your target keyword was "best trail running shoes."
❌ Bad example: Explore our athletic shoes today. Whether you need cross trainers or running shoes, we have what you need.
✅ How to fix: Find the best trail running shoes available in store or online. We have Brooks, On Cloud, Adidas, & more.
The above bad example doesn't mention "best trail running shoes" specifically. Even though that's what our fictional page is about.
It's also helpful to use your target keyword because Google will bold relevant words and synonyms from the search query that appear in the meta description.
In this example, "best trail running shoes" is bolded: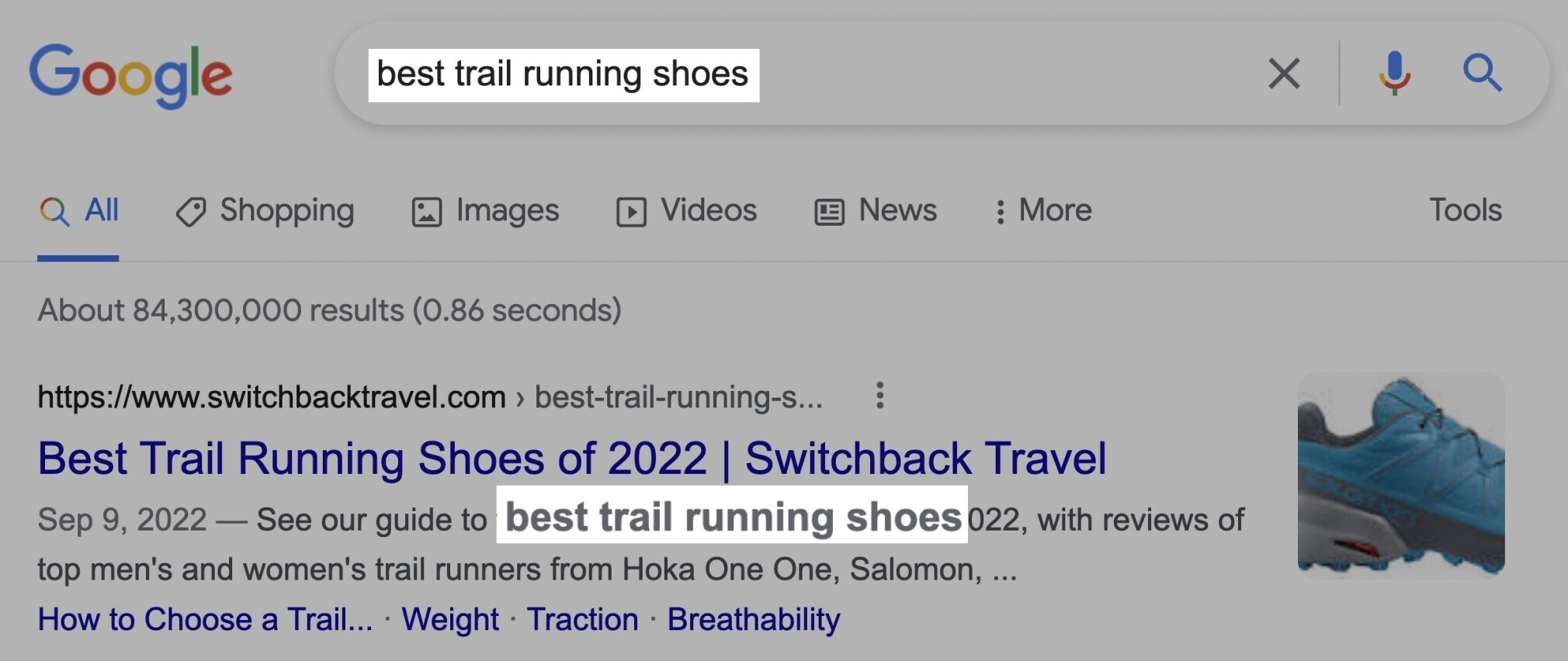 So if you include the keyword a user is searching for, Google may bold it. Making it more visible (and possibly more clickable).
Use Active Voice & a Clear Call to Action
Meta descriptions are supposed to encourage users to visit your page. Active voice can help with that. 
Here's an example of active vs. passive voice:
Active voice: Evelyn ate a piece of cake.
Passive voice: The piece of cake was eaten by Evelyn.
Active voice is more direct—the subject (Evelyn) performs the action the verb expresses (eating). 
Using active voice can save you characters and clearly explain to users what they're going to see if they click on your page.
Active voice inspires action. And action is the point of any call to action.
Think phrases like:
Learn more
Try for free
Find out more
Explore our services
Here are a couple of examples:
❌ Bad example: Luggage, travel accessories, and more are available on our website. Complimentary monogramming can be accessed with any purchase.
✅ How to fix: Shop online for premium luggage & travel accessories. Access complimentary monogramming with purchase.
Both examples above technically say the same thing. But the first one is a bit clunky and longer (and uses passive voice in the second sentence).
The short (corrected) description above lets us know the details in a brief, direct way (and in active voice).
Make Unique Meta Descriptions
Use unique meta descriptions for every page. That way, users will have an easier time understanding what each of your specific pages is about.
Here's what it would look like if you used duplicate meta descriptions: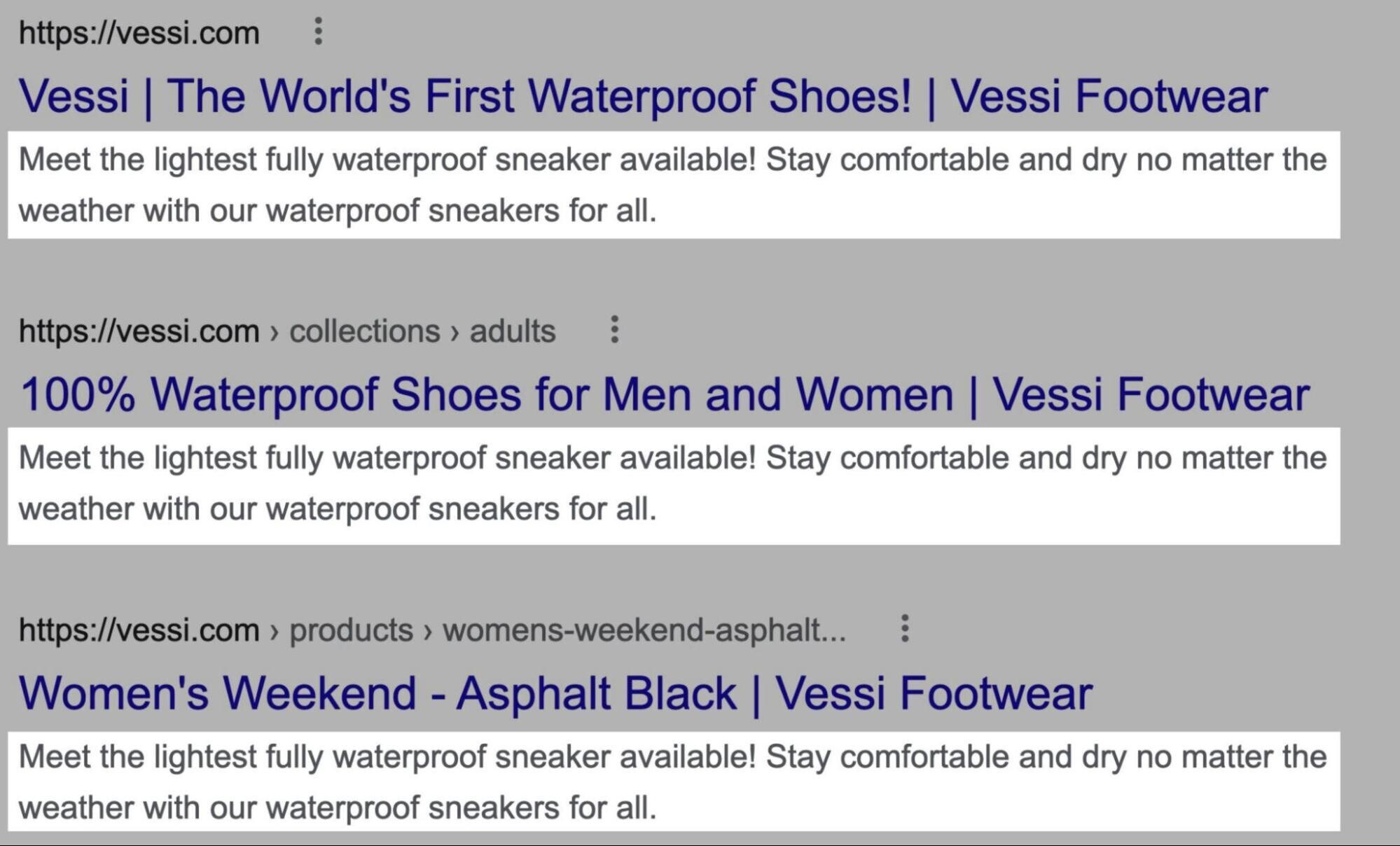 These are all different pages, but they use the exact same meta descriptions.
Generic, duplicate meta descriptions don't add value. And they definitely don't describe what you'll find on a specific product or category page or blog post.
Instead of reusing the same meta description, be specific about what the user will find on each page.
Here's how to correct the duplicate meta descriptions from the image above: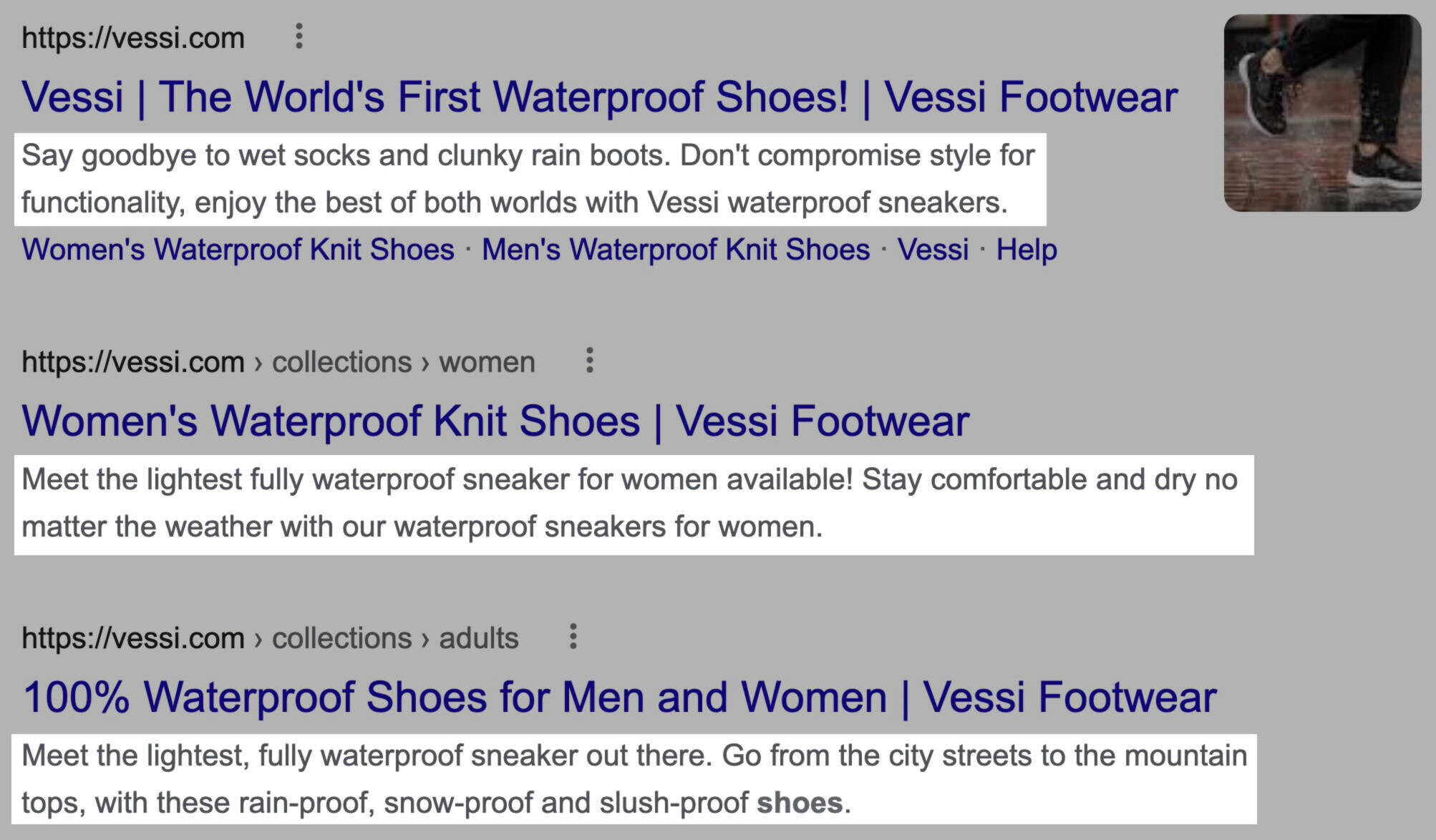 Now, each search result's meta description reflects a separate page and topic.
And users can easily tell what kind of page they're navigating to. 
Identify Duplicate Meta Descriptions
Use our Site Audit tool to identify pages on your site with duplicate meta descriptions.
Enter your domain name in the tool search bar and hit "Start Audit."
The tool will take a few minutes to analyze your pages. When your report is ready, head over to the "Issues" tab.
Enter "duplicate meta description" in the search bar. And click on the first result that pops up.
You'll get a full list of pages with duplicate meta descriptions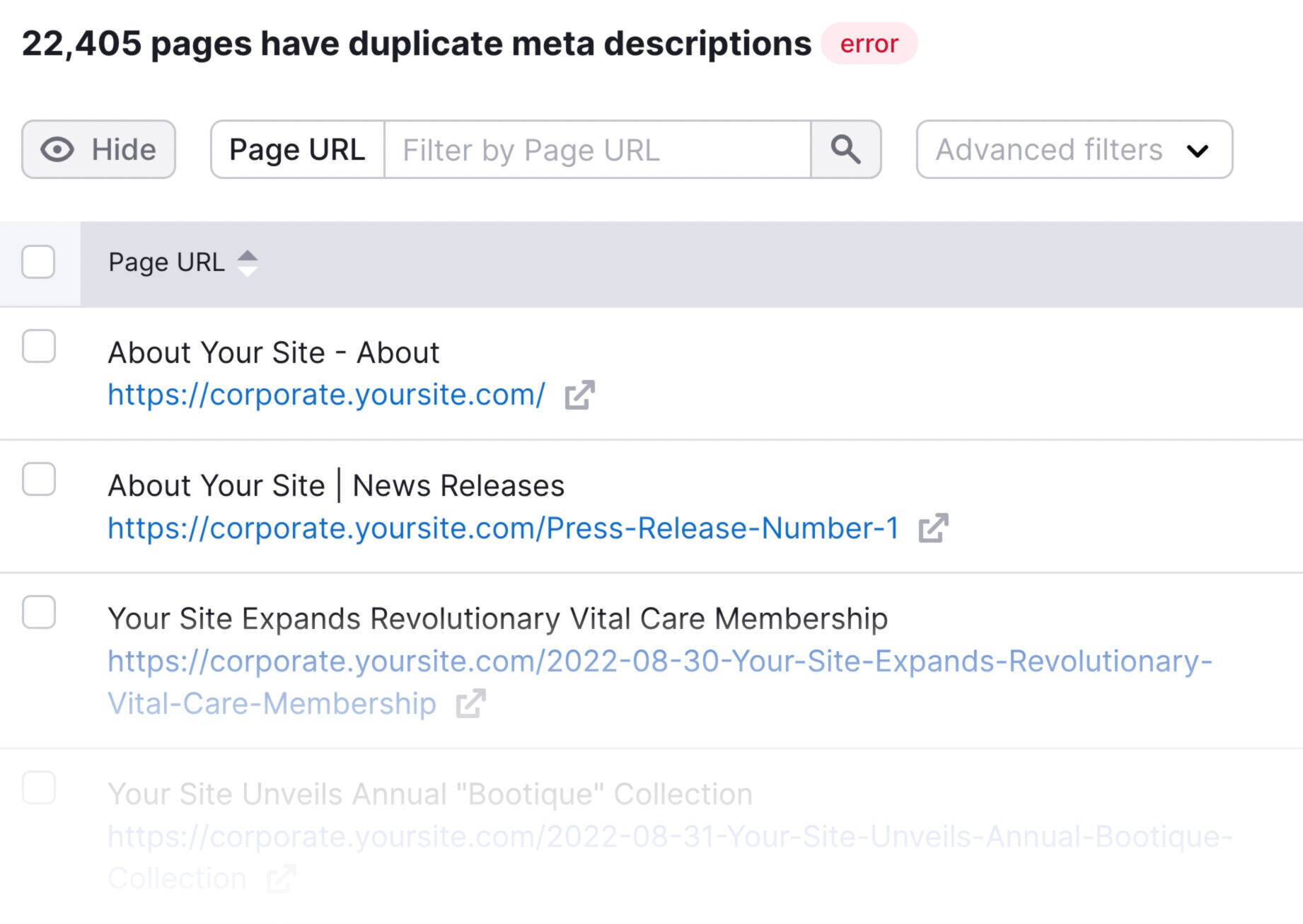 Go through the list and identify which meta descriptions to update. Then, change the meta description on each page to be more specific.
Review How Google Displays Your Meta Description on the SERP
You can use our On Page SEO Checker to see whether Google is rewriting your meta descriptions.
Start by entering your domain name into the tool. Then click the "Get Ideas" button.
Next, scroll down to the "TOP pages to optimize" table. Choose a page and click the "# ideas" button to the right of the page title.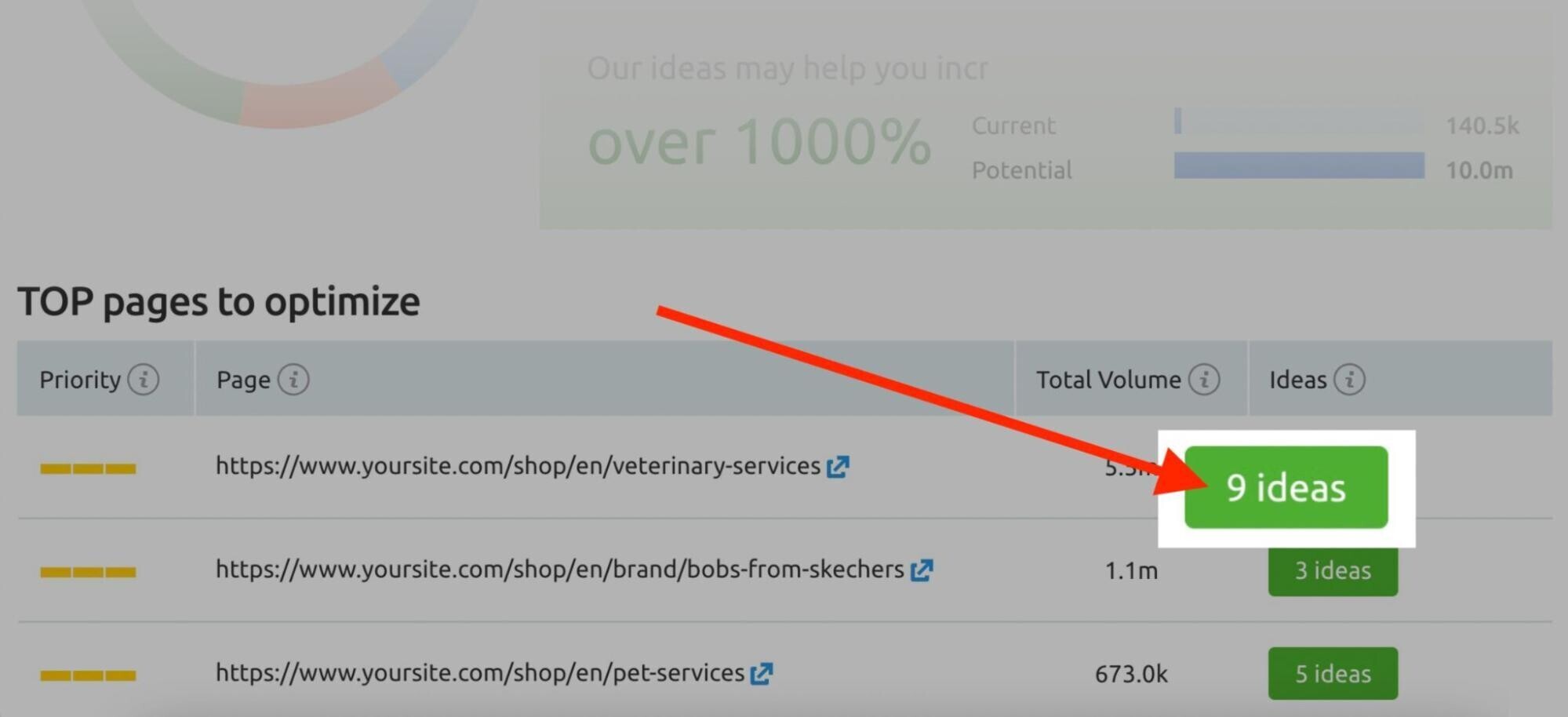 Go to the "Content" section to find details about your meta description.
If your meta description doesn't match what Google's showing in its search results, you'll see this message: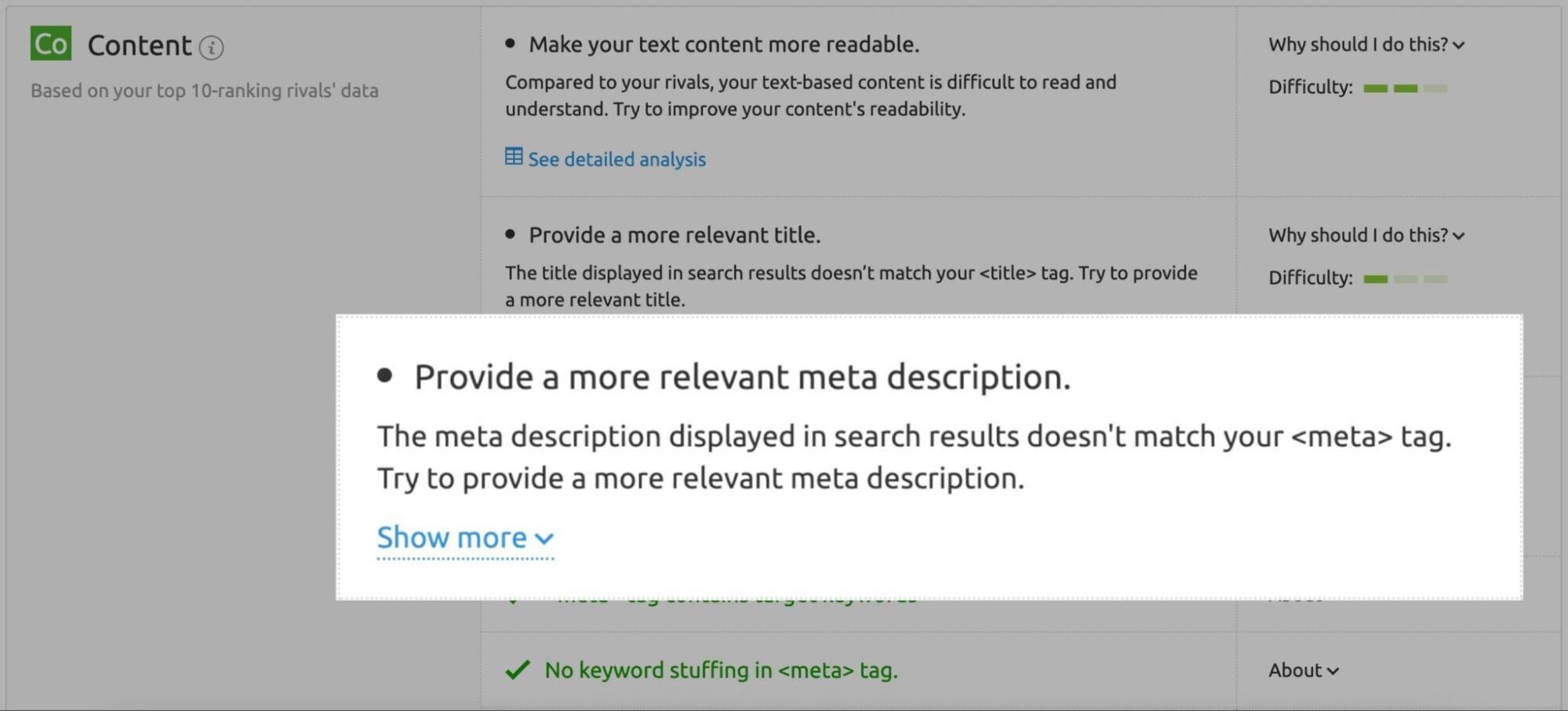 Keep in mind that you won't be penalized if Google chooses to rewrite your meta description. 
But if you don't think Google's version is the most helpful, you can edit your current meta description. Try to make it more relevant to the page's topic.
Make Quick On-Page SEO Changes from Your Browser
PageImprove can instantly make changes to meta descriptions, title tags, links, canonicals, and more. 
All you need to do is add a piece of code to your site. Then, you can update on-page SEO elements like meta descriptions without logging into your CMS from then on.
So, if you find yourself procrastinating with on-page SEO changes, PageImprove is a great option.
Here's how to use it:
Install the PageImprove Google Chrome extension by clicking the "Try It For Free" button on the product landing page. Follow the prompts that appear.
Install the code snippet onto your site. (Using Google Tag Manager is the quickest way to add it to every page on your site.)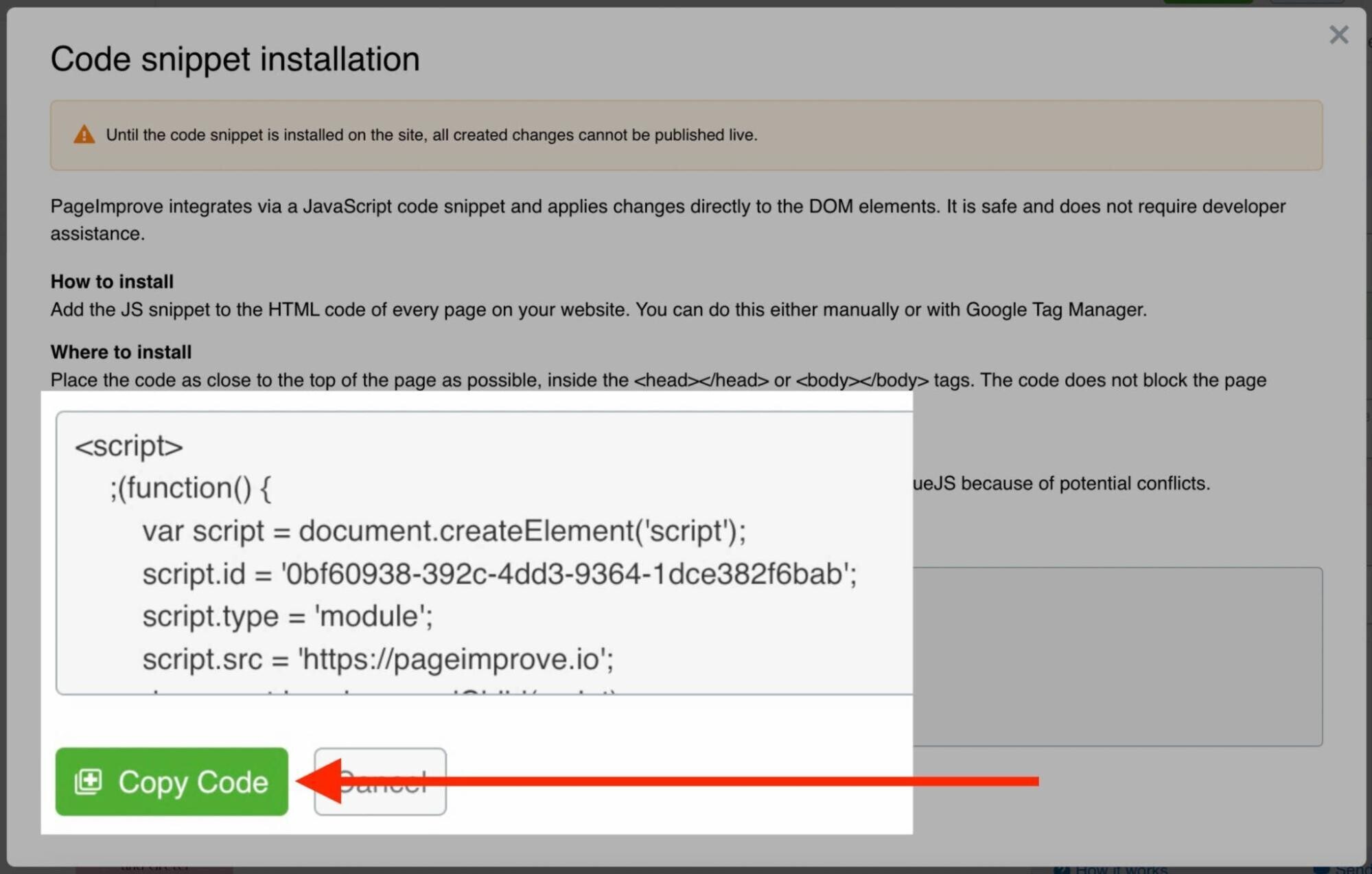 And voila! Once you add the code snippet to your site, you can edit your meta description right on your live page.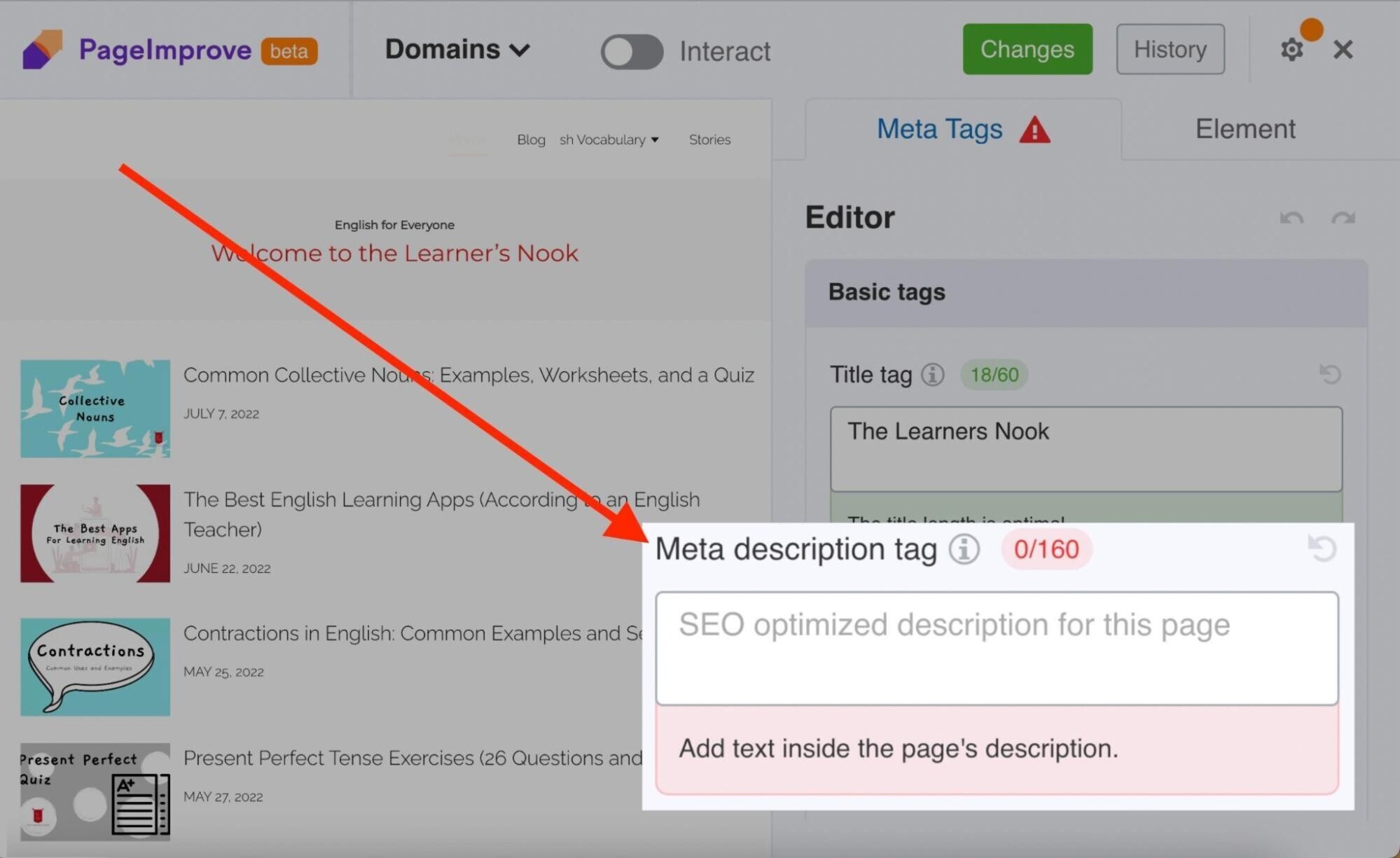 When you're done writing your meta description, hit the green "Changes" button in the top right corner of your screen.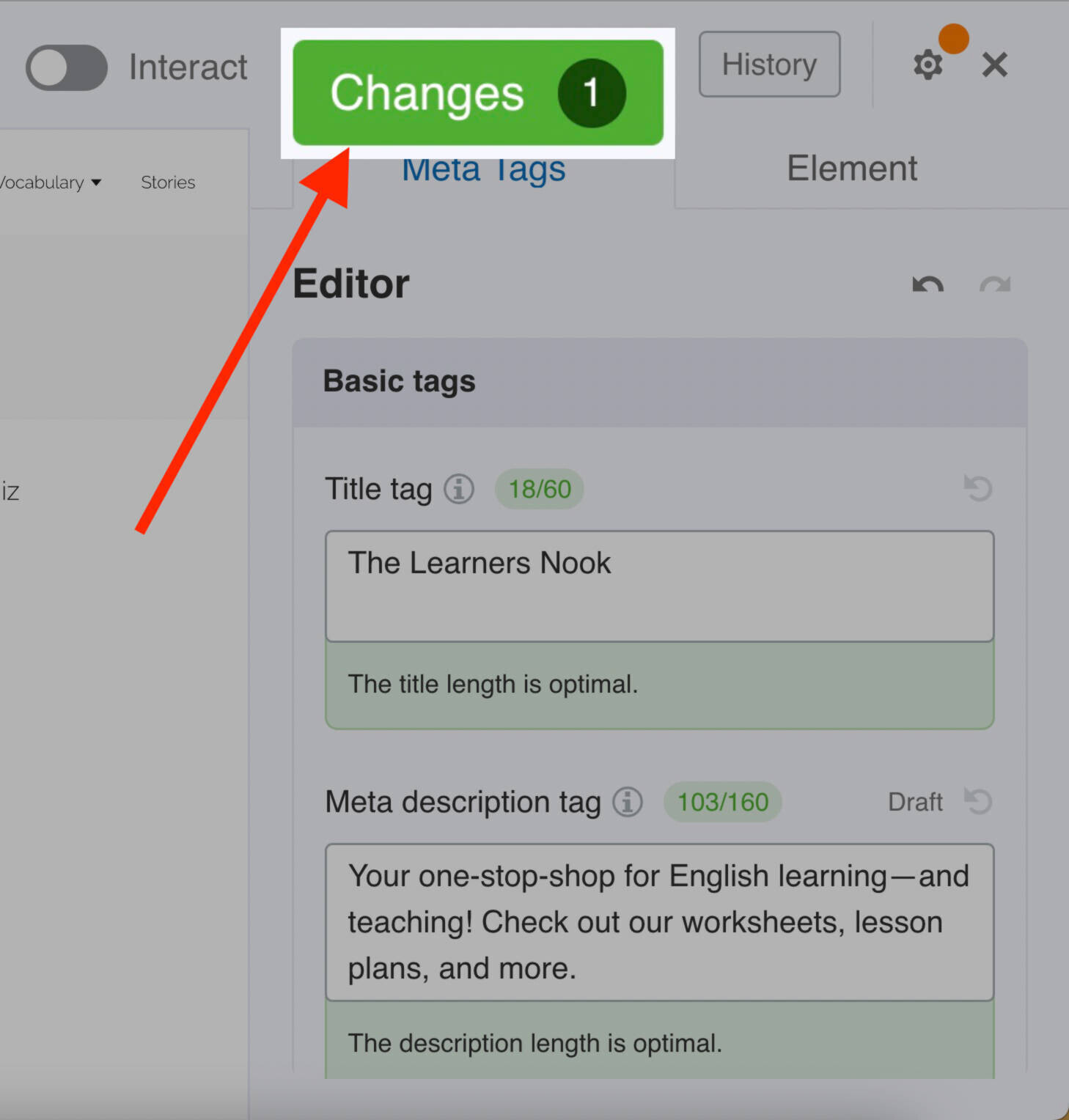 Review your draft and hit "Continue to publishing" to save your work.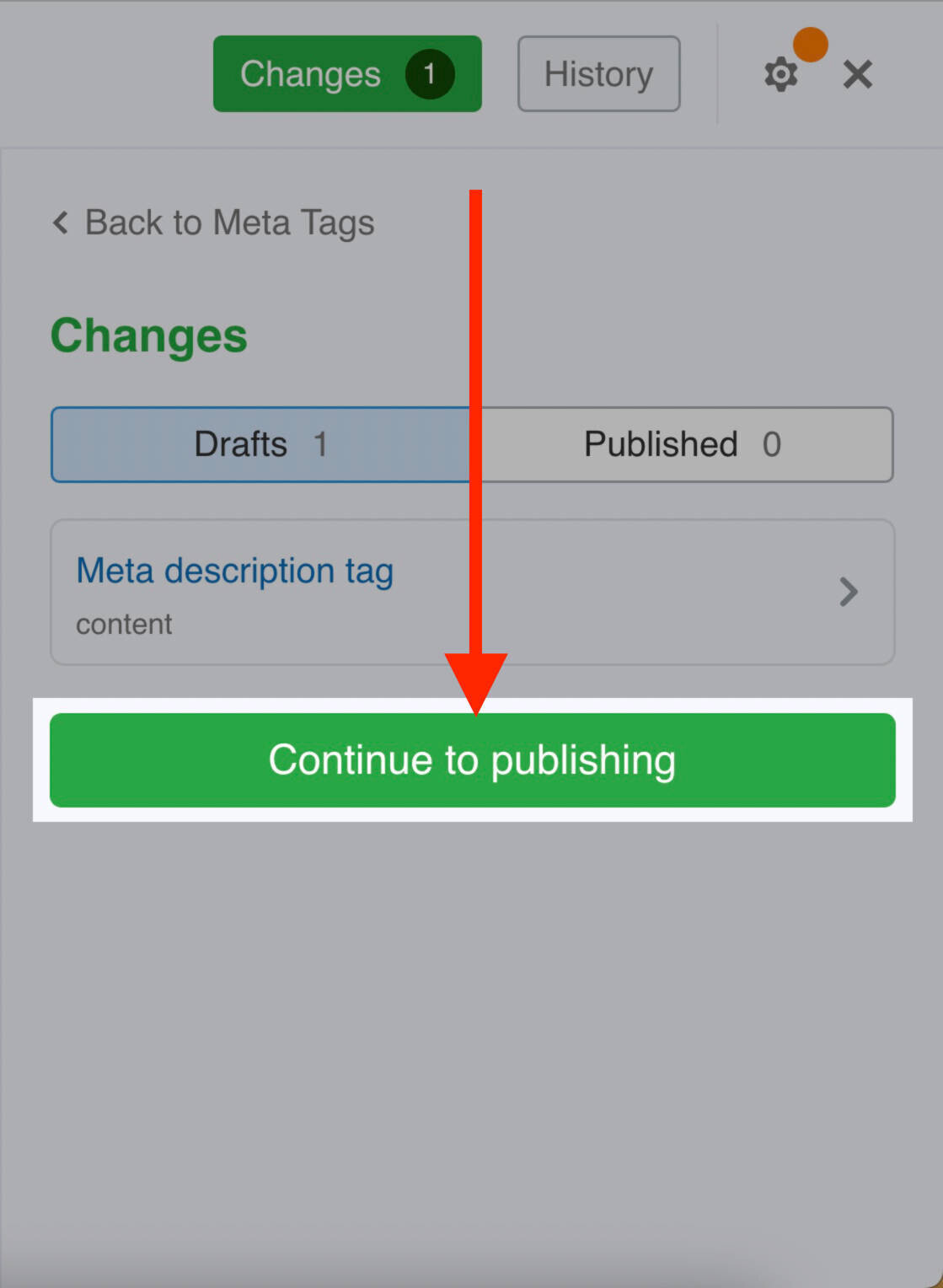 Download Free Chrome Extensions
Several free Chrome extensions can help you check your meta descriptions and get other useful on-page SEO info.
Here are a few of our favorites:
SEOquake: Audit on-page SEO factors, including meta descriptions
SEO META in 1 CLICK: Check your meta descriptions, title tags, header structure, images, links, and more
META SEO Inspector: Discover all of a page's metadata in one click
Keep Learning About On-Page SEO
Now that you've learned how to write a meta description, learn how to write an effective title tag.Or learn about other on-page SEO factors in our in-depth on-page SEO guide.