Customer relationship management (CRM) tools allow businesses to manage and track interactions with customers across all their platforms. 
These platforms have evolved over the years and now cover a range of features. We'll dive into some CRM examples to better understand how these tools actually help businesses. 
Whether you work at a growing startup, a brick-and-mortar business, or an enterprise company, these CRM software examples will set you on the right track.
Let's get into it.
What Is Customer Relationship Management (CRM)?
Customer relationship management refers to the process of tracking and handling all interactions between a business and its customers.
This is most commonly used to refer to CRM tools that carry out a range of functions normally conducted manually or through multiple spreadsheets and databases. 
You can track forms, emails, text messages, social posts, quotes, and even purchases in one location using the platform. 
Customers used to go through only a few steps to complete a purchase. But there are many more avenues to a buyer's journey in the digital era. CRMs capture the entirety of this journey, data and all, while automating much of the communication process. 
Essentially, it's managing the relationship between your business and your customers'. 
Why Is CRM Software Important? 
CRM software is important because it allows you to streamline your sales, marketing, customer service, and accounting efforts by moving relevant data into the same platform.
This has a positive impact on your business from two main perspectives. You can:
Improve current customer relationships
Develop strategies to bring in in new customers
CRM tools accomplish this by giving businesses a 360-degree view of potential and existing customers as they move through their relationship with the business. 
In other words, they give businesses the ability to see how customers respond to sales and marketing efforts. Allowing for real-time adjustments that lower costs and increase revenue.
CRMs also provide a single source of information to track relationships between your business and each individual customer. That means more transparency and efficient communication between internal teams. 
All of these beneficial features add up to a comprehensive platform that helps businesses save money, keep customers, and bring in more business.
Main Benefits of a CRM Platform
So, you know that CRM platforms help businesses plan, manage, and track all interactions between brands and customers to provide them with a better overall experience. Now let's take a look at some of their main benefits: 
1. 360-View of Customer Experience
Your business interacts with customers across numerous digital marketing channels—from social media and SMS messaging to search engines and websites. CRM platforms let you easily track and interact with customers as they move from channel to channel. 
This is known as a 360-view of the customer. 
2. Automations
One of the most notable benefits of CRM platforms is that they let marketing, sales, and other departments offload the manual tasks that take up more and more time as businesses grow. 
Whether it's sending out automated email responses or automatically sorting and segmenting leads based on their online behavior, CRM automation greatly improves the efficiency of marketing and sales efforts. 
3. Personalized Customer Experiences
Customers want to have a more personalized connection with the businesses they buy from: around 80% of survey respondents want a personalized experience from retailers. 
CRMs give businesses the flexibility to craft specific marketing materials for each and every customer; you can sort your leads based on which messaging they respond to, craft more personalized content using templates, and schedule follow ups based on their behavior.
4. Data Alignment
CRMs provide a single source of truth for all customer-related data. This means regardless of the department or team you're on, you will see the same information about existing and potential customers. 
This seems straightforward, but many companies struggle to keep data aligned, especially as they grow and take on more customers. Instead of having distinct data hubs that are prone to error, CRMs store all data in a single location, so everyone is working off accurate information. 
5. Data Tracking and Security
Not only do CRMs keep data aligned, but they also ensure that data is updated regularly while restricting access on a need-to-know basis. 
Updating customer data manually means more opportunities for error and giving more people access to key insights about your target audience. CRMs automatically update customer profiles based on their actions and let you keep this information password protected. 
Okay, now that we've gone over some of the main benefits of these platforms, let's look at some examples of CRMs commonly used by businesses.
There are tons of CRM platforms out there that businesses can use depending on their size, industry, and specific needs. Let's cover some of the most popular:
Semrush CRM
Semrush may be known for its SEO tools. But we also offer a dedicated CRM that's perfect for digital marketing agencies, freelancers, and consultants.
Semrush CRM enables you to:
Track and manage new and existing customers
Maintain and organize key customer information
Set and manage client tasks
Track multiple Semrush projects for a specific client
Create Client Portals for closer client collaboration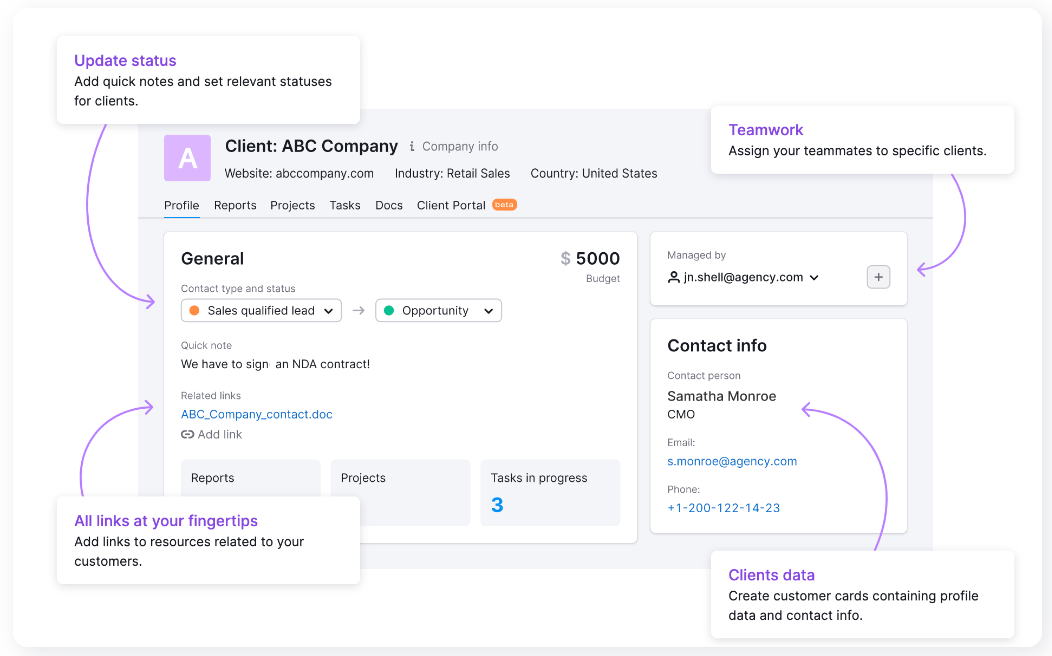 Semrush CRM lets you store all client information and communication in the same platform. This helps agencies drastically reduce the amount of time they spend searching across different channels for important information about specific clients. 
And you can set up a Client Portal for each client. So they can see reports and project statuses.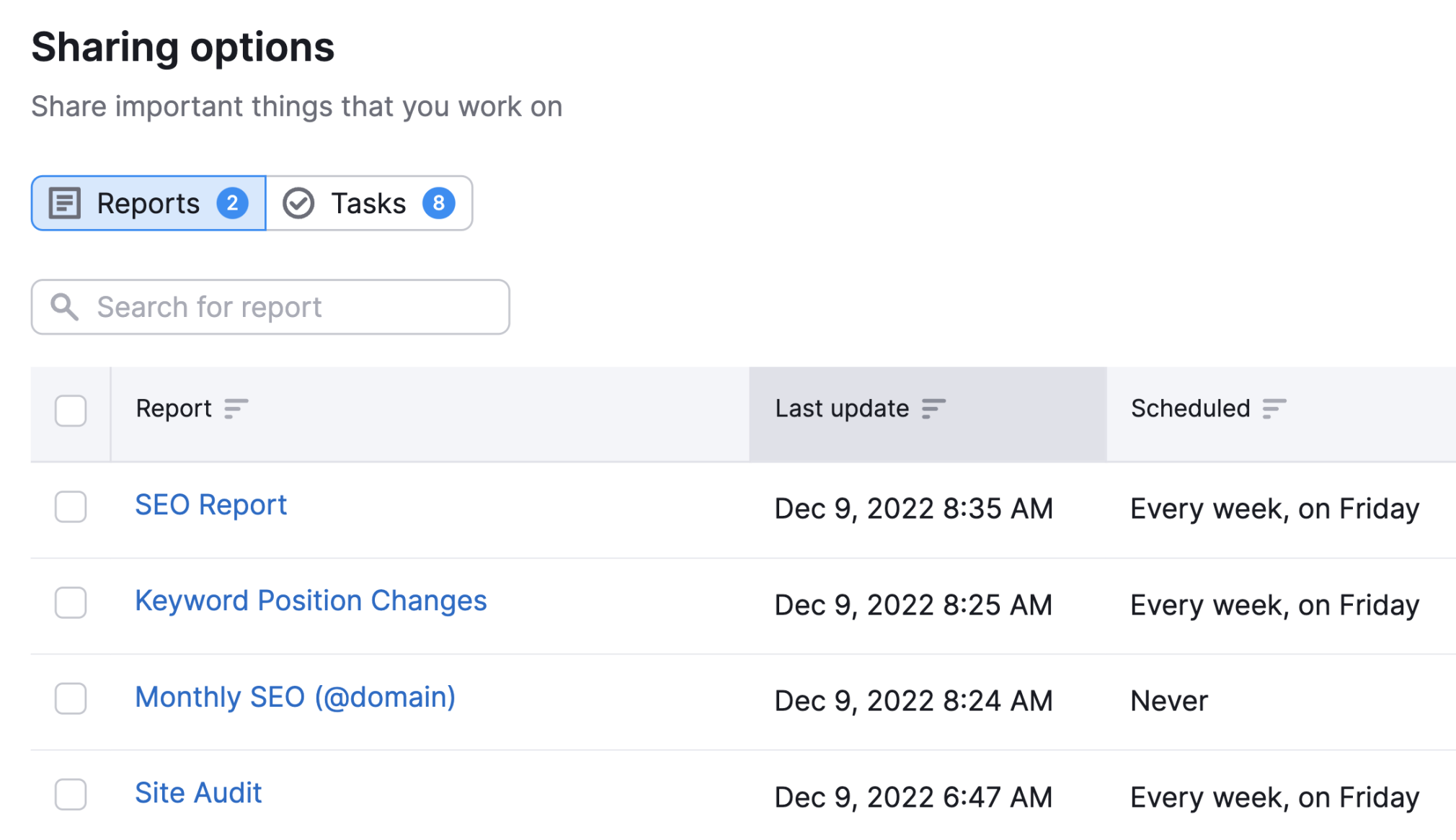 Pro tip: Semrush CRM is free. But some features may require a subscription to Agency Growth Kit. 
Salesforce
Salesforce is one of the original SaaS CRM tools and is a common choice for enterprise companies with large customer bases. 
Salesforce takes an approach they call Customer 360, where you can download apps to address different stages of the customer journey.
Some Customer 360 features include:
An AI system that suggests next steps and assists with decision-making
Real-time analytics and easy-to-understand data visualizations
A single, shared view of each customer for easier cross-team collaboration
Salesforce is especially useful for large enterprises because it allows them to integrate customer data that is typically spread across multiple tools.
Salesforce integrates with many major tools businesses use. This allows you to connect all your data so it's stored in a single space.
Here are some of the tools that Salesforce integrates with:
Google Workspace
Slack
LinkedIn
MailChimp
DropBox
DocuSign
HubSpot
HubSpot is a popular CRM platform that combines a variety of hubs and integrations for a customized experience.
What started as a sales CRM has evolved to include other department-specific products like:
Marketing Hub: Helps business attract their ideal audience, convert them into customers, and retain them long-term
Service Hub: Deepens customers relationships at scale with customer service automations, multiple ticket pipelines, and onboarding features
CMS Hub: Provides content management software that includes blog and content creation tools
Operations Hub: Lets you sync and curate customer data, plus automate business processes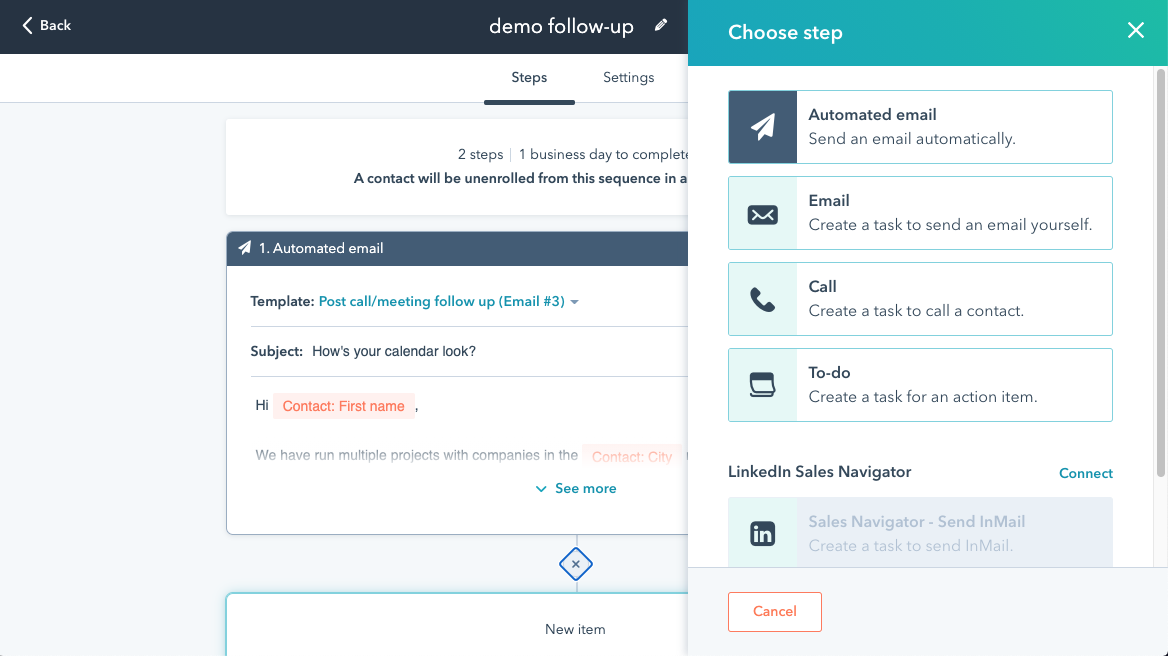 HubSpot's Marketing Hub is the perfect tool for large enterprise marketing departments that want to create personalized customer journeys at scale. 
Creating custom marketing content for specific customers is a great way for brands to connect with their audience. But it's difficult to accomplish as the size of a business (and its number of customers) increases. 
Marketing Hub provides templates for blogs, social media, email content, and even entire sales funnels. So you can quickly create targeted promotional material without sacrificing overall quality. 
Deskera
Deskera is a CRM tool that provides businesses with additional features to help turn potential customers into long-term customers. This includes: 
Creation of custom landing pages with interactive features
Lead forms to sort people into customer profiles
Customized sales pipelines to fit different customer profiles
Email integration and automated campaign functions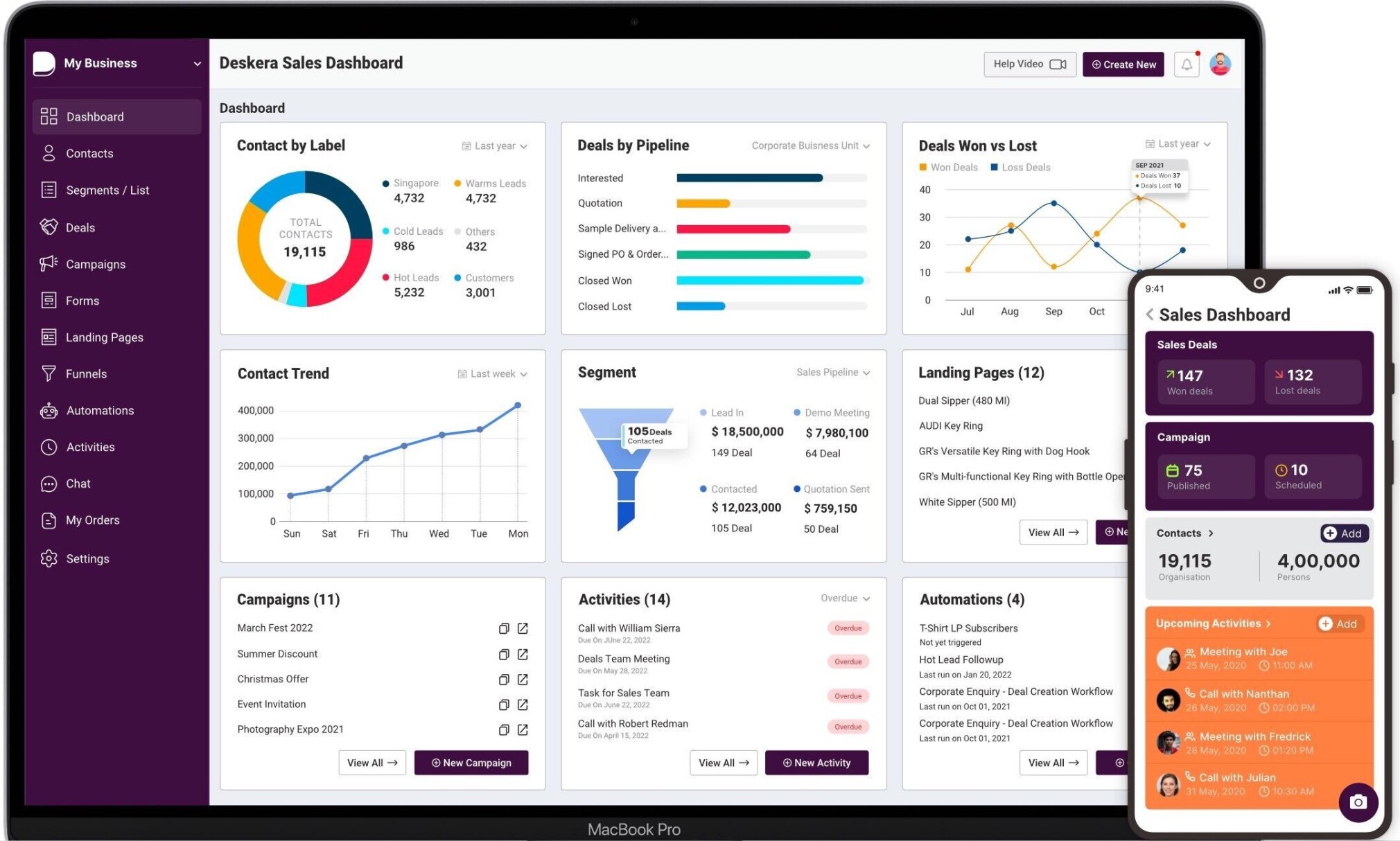 Deskera's CRM is well-suited for sales teams. It allows you to create "activities," or tasks that can remind you to follow up or take another action.
Deskera also features a visual pipeline so you can see exactly where your prospects are in the process. This eliminates the need for confusing spreadsheets.
Zoho
Zoho CRM is another platform commonly used by large companies, giving their marketing and sales departments control over every step of the customer journey with multiple tools. 
Zoho CRM offers the following features: 
Management of contact list, sales funnels, and marketing campaigns
Workflow automation for marketing and other departments
An AI customer service assistant to improve customer experience
Data analytics and reporting functions
Zoho CRM is so common among enterprise companies because it provides a range of marketing and sales automations that save you time on manual processes like data entry and analysis. 
It also uses predictive intelligence to deliver personalized messaging to customers at the right time. Which means you can engage with customers at scale.
Close
Close is a sales CRM designed to help small-medium businesses scale their sales and marketing efforts to drive revenue. 
In particular, Close claims their call feature helps sales teams double their output in terms of daily calls. 
Close also enables small businesses to: 
Easily import and update contact lists
Synchronize email communication
Automate drip marketing campaigns
Keep track of video meetings with integrations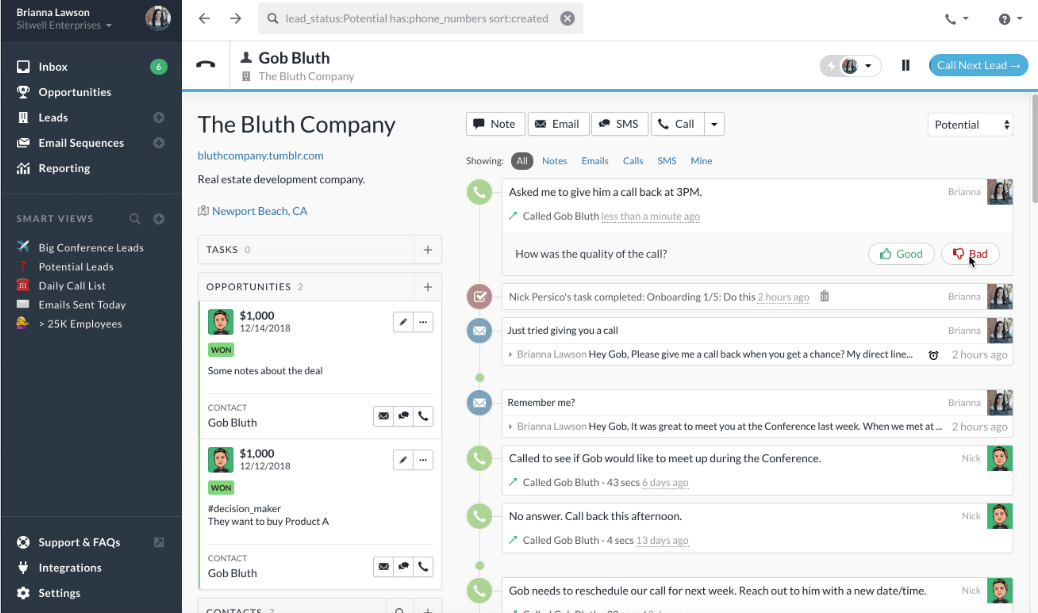 Close is particularly popular among growing small businesses because of its marketing automation capabilities. 
Close CRM workflows, known as sequences, are intuitive and let sales teams easily reach out to potential customers using custom templates for email, text messages, and even voice calls. 
Teams can easily tweak the specifics of these sequences until they find the winning formula. 
Pipedrive
Pipedrive is a CRM tool businesses of all sizes can use to bring in new customers. Primarily a tool for sales teams, the Pipedrive CRM offers powerful features such as: 
Automation of administrative sales tasks
Customizable data collection and reporting
Tracking and management of email communication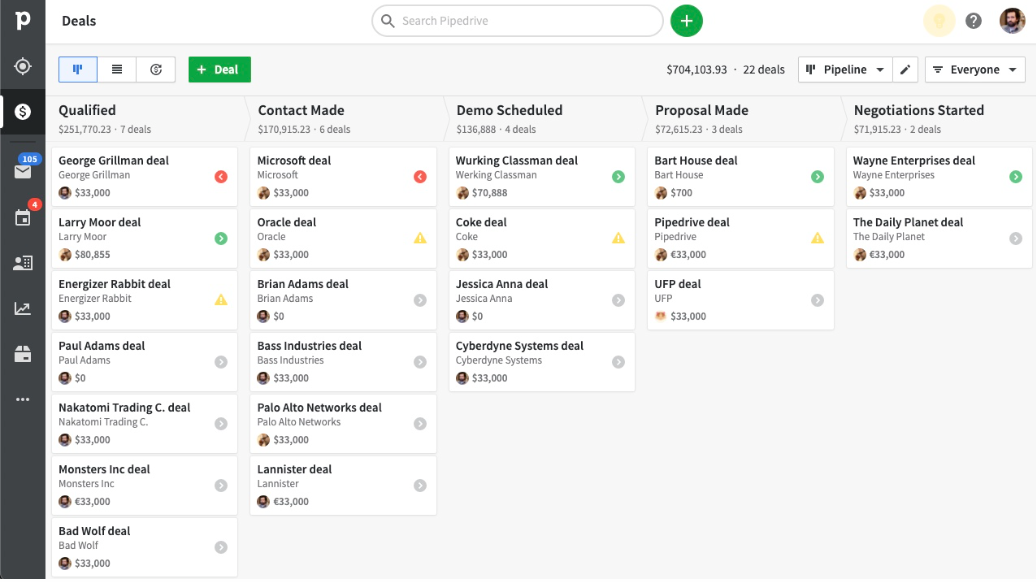 One of the key benefits that Pipedrive brings to sales teams is its ability to separate potential customers into different groups through the process of lead segmentation. 
Customers begin their journey with your business through different marketing channels and by responding to different messaging techniques. Pipedrive provides the tools to separate these leads so your sales teams can apply specific tactics.
ActiveCampaign
ActiveCampaign is a CRM that provides businesses with tools and custom automation options to streamline specific marketing and sales efforts, particularly through email. 
Personalized, targeted messaging generates a lot more interest from potential customers. And ActiveCampaign enables companies to create personalized content to reach, nurture, convert, and grow their customer base. 
Here are some of the specific email campaigns this CRM allows you to send: 
Event-triggered
Personalized 
Autoresponse 
Scheduled 
Broadcast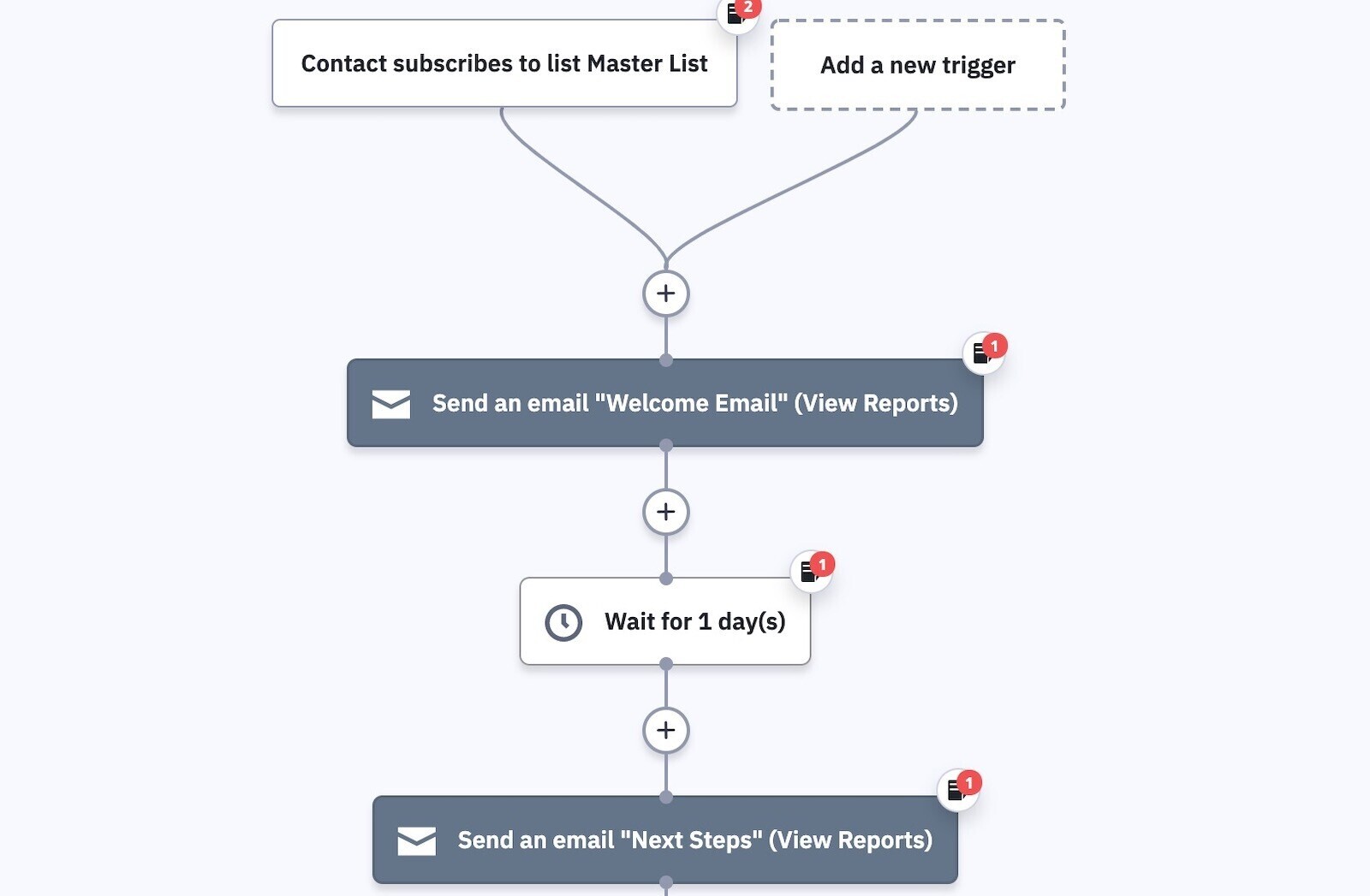 A key benefit of ActiveCampaign is its ability to improve marketing and sales performance with automation. 
The platform offers over 750+ different automation options, giving businesses a huge array of options for targeted customer interactions.
Here are a few of the ways you can use ActiveCampaign automations: 
Send targeted follow-up emails based on specific link clicks and actions
Respond to the actions of your leads in real-time
Track and collect information on customer behavior to update profiles
Segment and re-segment leads based on their behavior
Copper
Copper is a simple but powerful CRM that helps small and medium-sized businesses stay on top of their sales activities. 
It integrates with your Google Workspace for maximum efficiency.
Copper's benefits include:
Tracking your Gmail activity with automatic inbox sync to copper
Automatically updating records and data based on the communication happening within your inbox
Syncing directly with your Google calendar to record and synchronize meetings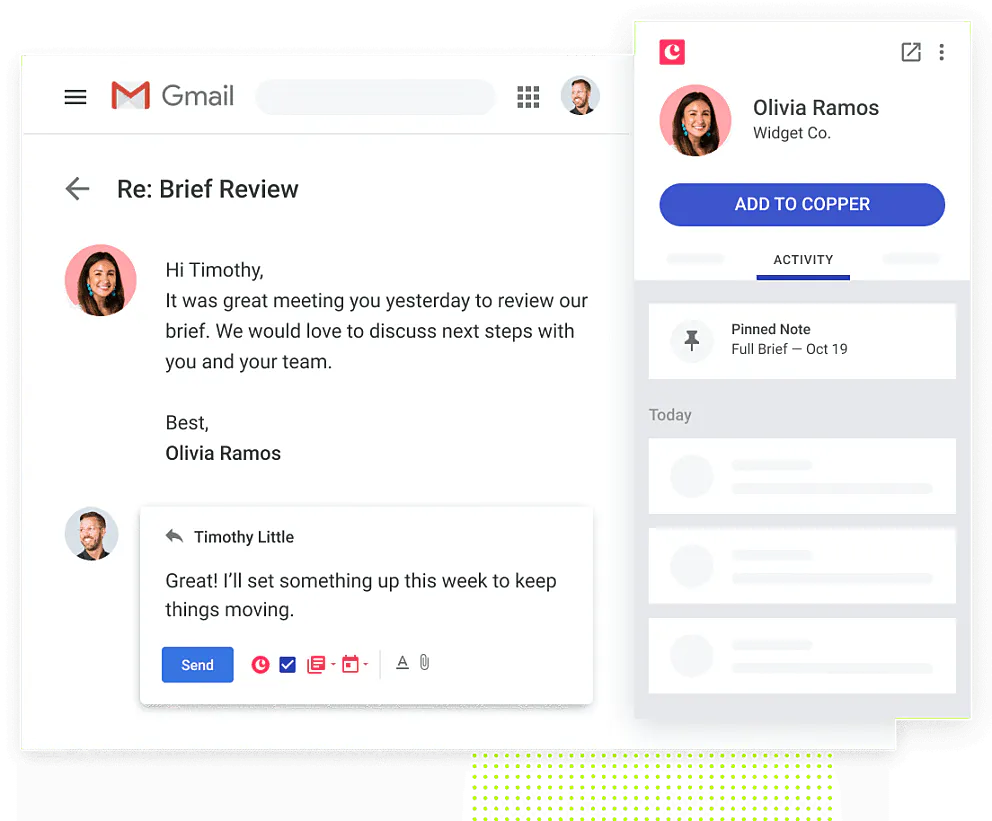 Copper prioritizes apps and tools you're already using to streamline your pipeline.
Besides Google's suite of tools, you can connect Slack, Mailchimp, Docusign, and much more. See their full list of integrations to learn more.
Zendesk
Zendesk is a platform that offers CRM tools with features that help sales teams and customer service departments at startups, SMBs, and enterprise businesses. The four main products that Zendesk has to offer include: 
A CRM for customer service teams
A CRM for sales teams 
Sunshine customer experience platform
Zendesk Marketplace for apps and integrations
The main function of Zendesk for sales is improving productivity with tools and integrations. Which provides a better customer experience and gives visibility into the sales pipeline for analysis and forecasting.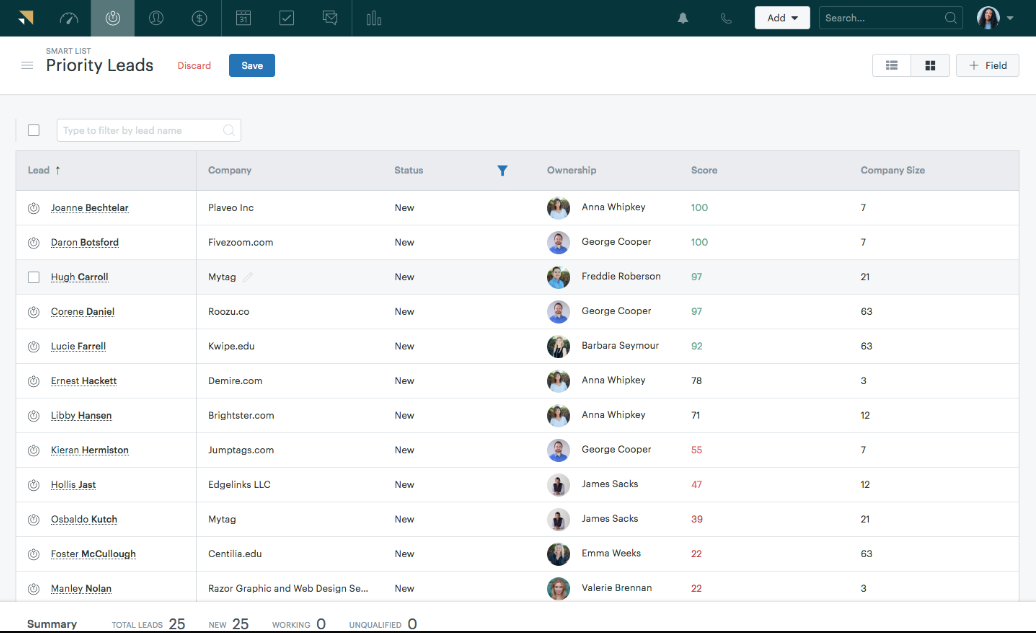 Sunshine is considered "the foundation" of Zendesk.
And you can customize it as much as you'd like. You're welcome to add your own code, or you can use its many available apps and automations.
Chat automations in particular can help you speed up resolutions for customers and improve team productivity.
Microsoft Dynamics 365 
Microsoft's CRM, Dynamics 365, offers a range of CRM tools for various parts of your business. Including:
Sales and marketing
Service
Finance
Commerce
Supply chain
It's particularly popular among enterprise-level companies.
Their platform allows teams to design and deliver content in a customized way based on customer journeys and AI-driven recommendations.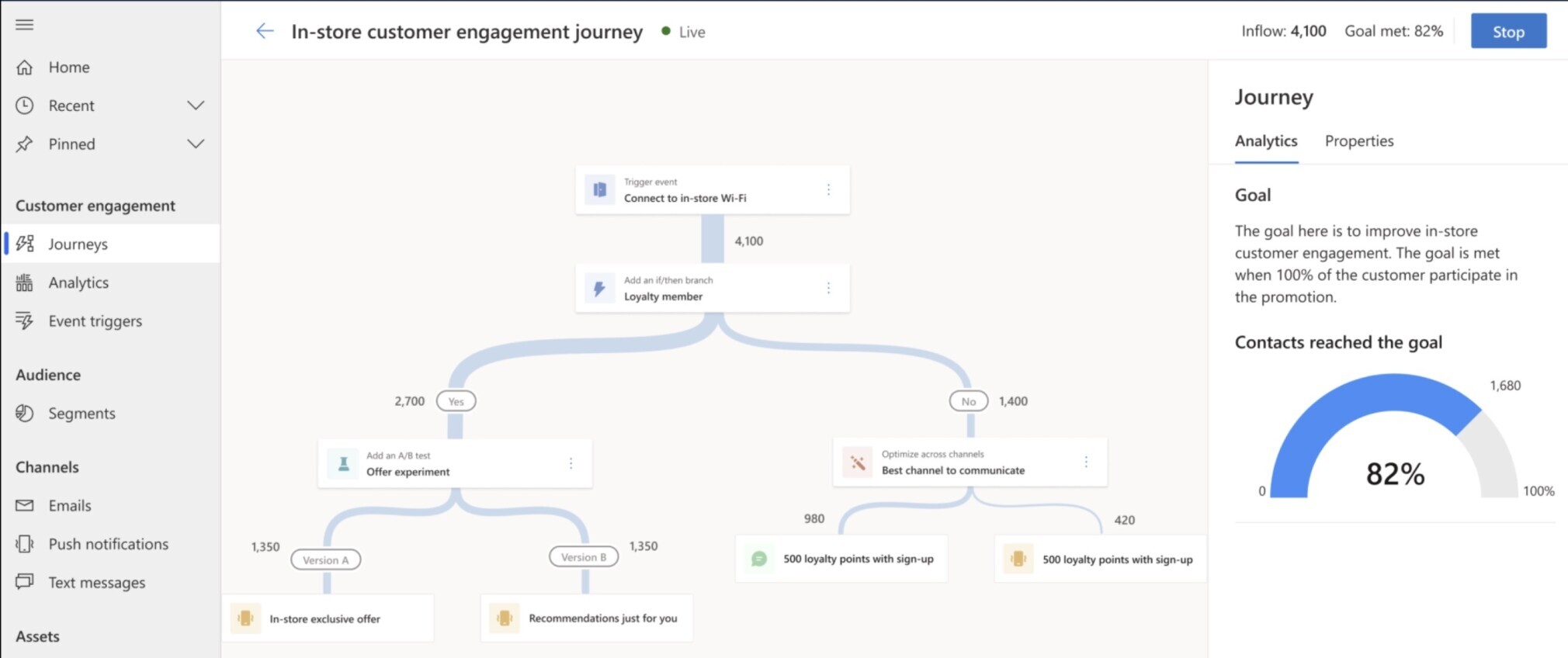 You can customize Dynamics CRM to meet your needs by choosing one application or several. This allows you to connect every aspect of your business.
The sales and marketing applications in particular allow you to:
Visualize your customers with data
Accelerate your sales pipeline
Mentor team members with coaching and productivity tools
Start Your CRM Journey Today
It's crucial to keep track of customer data. And choosing the right CRM software will help you achieve that and so much more.
You can streamline the customer experience, save time with automations, and grow overall as a business.
Ready to get started today? Try Semrush CRM for free.