What Is Ecommerce Marketing?
Ecommerce marketing is a strategic approach to promoting a business's products/services online to drive traffic, convert visitors into paying customers, and retain them post-purchase.
There are different types of ecommerce businesses. 
Knowing which one your business falls under can help you develop a solid marketing strategy that positions your brand for long-term success. 
Types of Ecommerce
There are six common ecommerce business models:
An ecommerce business can also be a blend of two or more of these models, depending on its product and service offerings. 
Let's go over each one briefly:
Business-to-Business (B2B) 
B2B is an ecommerce model where a business sells its products or services to other businesses. 
These businesses are either the end-users or middlemen who resell to consumers. Slack and Zoom are examples of B2B ecommerce businesses. 
Business-to-Consumer (B2C) 
B2C is an ecommerce model where businesses sell products and services directly to the consumer. This is also known as Direct-to-Consumer (D2C). 
However, while B2C brands sell products from different companies to consumers, D2C only sells its own products directly to consumers. 
Airbnb and Alibaba are examples of B2C ecommerce brands, while Glossier and Dollar Shave Club are D2C examples. 
Business-to-Government (B2G) 
This model allows businesses to sell to federal, state, or local government agencies. OpenGov.com is an example of a B2G ecommerce brand. 
Consumer-to-Consumer (C2C) 
C2C is an ecommerce business model where consumers sell products and services to other consumers using the company as a platform. eBay and Craigslist are examples of C2C brands. 
Consumer-to-Business (C2B) 
C2B allows consumers to sell valuable products and services to businesses, which can then resell those items to other customers. Shutterstock is an example of a C2B business. 
Consumer-to-Government (C2G) 
This business model allows consumers to transact with government agencies. An example of the C2G model is paying utility bills, health insurance, or taxes through a government website. 
Now, let's go over the benefits of ecommerce marketing.
4 Key Benefits of Ecommerce Marketing
Identifying your ecommerce business model is a good place to start building your marketing strategy. 
Digital marketing delivers educational and promotional content to ideal buyers across multiple channels to drive brand awareness and acquire qualified leads. That can ultimately lead to more sales.
Ecommerce marketing offers four key advantages to businesses:
Lowers transaction costs
Maintains an accurate customer database
Improves customer experience
Allows you to reach more people 
Let's go over each benefit briefly:
1. Lowers Transaction Costs
Ecommerce marketing reduces and eliminates high transaction costs, which is especially helpful for startups. 
You expand your reach and sell to more businesses and consumers across the globe, using low- and zero-cost digital marketing channels with less inventory and affordable branding. 
You only need a logo, a website with an online store to get started, and an ecommerce marketing strategy to scale. 
2. Maintain an Accurate Customer Database
A functional ecommerce marketing strategy helps you identify helpful tools to gather accurate, relevant customer data in one place.
You can track where visitors come from, how they interact with your site, and learn their buying behavior. That way, you can create content that resonates with customers and drives sales. 
3. Improves the Customer Experience 
Having unrestricted access to customer insights is a powerful advantage of ecommerce marketing. You can: 
Identify popular channels your customers use to find you 
Identify channels your competitors use but you aren't exploring yet
Create accurate customer segments and personalized experiences 
Create content that resonates with your audience at every stage of their buying journey
Overall, improving the customer experience makes your ideal buyers feel more connected to your brand so they ultimately choose you over competitors. 
4. Allows You to Reach More People
Increasing reach is another benefit of an effective ecommerce strategy. 
Your business can attract and sell to customers worldwide at any time of the day. Reaching more people boosts your chances of converting and retaining them if you play your cards right. 
Ecommerce marketers use a variety of organic and paid digital channels, including search engines, social media, email campaigns, and influencer campaigns, to drive online purchases. 
Now, let's go over the different types of ecommerce marketing. 
Types of Ecommerce Marketing
Ecommerce marketing can take various forms, including: 
Search Engine Optimization (SEO)
Pay-Per-Click Advertising (PPC) 
Web Push Marketing 
Social Media Marketing 
Content Marketing 
Influencer Marketing 
Email Marketing 
Chatbot Marketing
Let's go over each type in detail:
Search Engine Optimization (SEO)
Ecommerce SEO is the act of improving your pages' rankings on search engines to drive organic traffic to your website and online store. 
That could mean optimizing product, category, or individual web pages, fixing your site architecture, acquiring backlinks from high-authority websites, and updating old or mediocre content. 
SEO is important because ranking for branded and non-branded industry keywords makes your business discoverable, which drives organic traffic to your website. It can also position you as an authority. 
Patagonia is an example of a brand that ranks for more than 449,000+ keywords on Google. One of its most popular keywords is the branded phrase 'patagonia jackets'
According to our Keyword Overview tool, the keyword receives over 90,000 monthly searches in the US alone and 120k globally. 
Because SEO is free to implement, it can save you a lot of money compared to running ads.
Case in point:
Anyone who wants to run ads to capture the same global traffic from the "patagonia jackets" keyword will spend about $47,000 every month. Because the estimated cost per click for the keyword is 39 cents per click: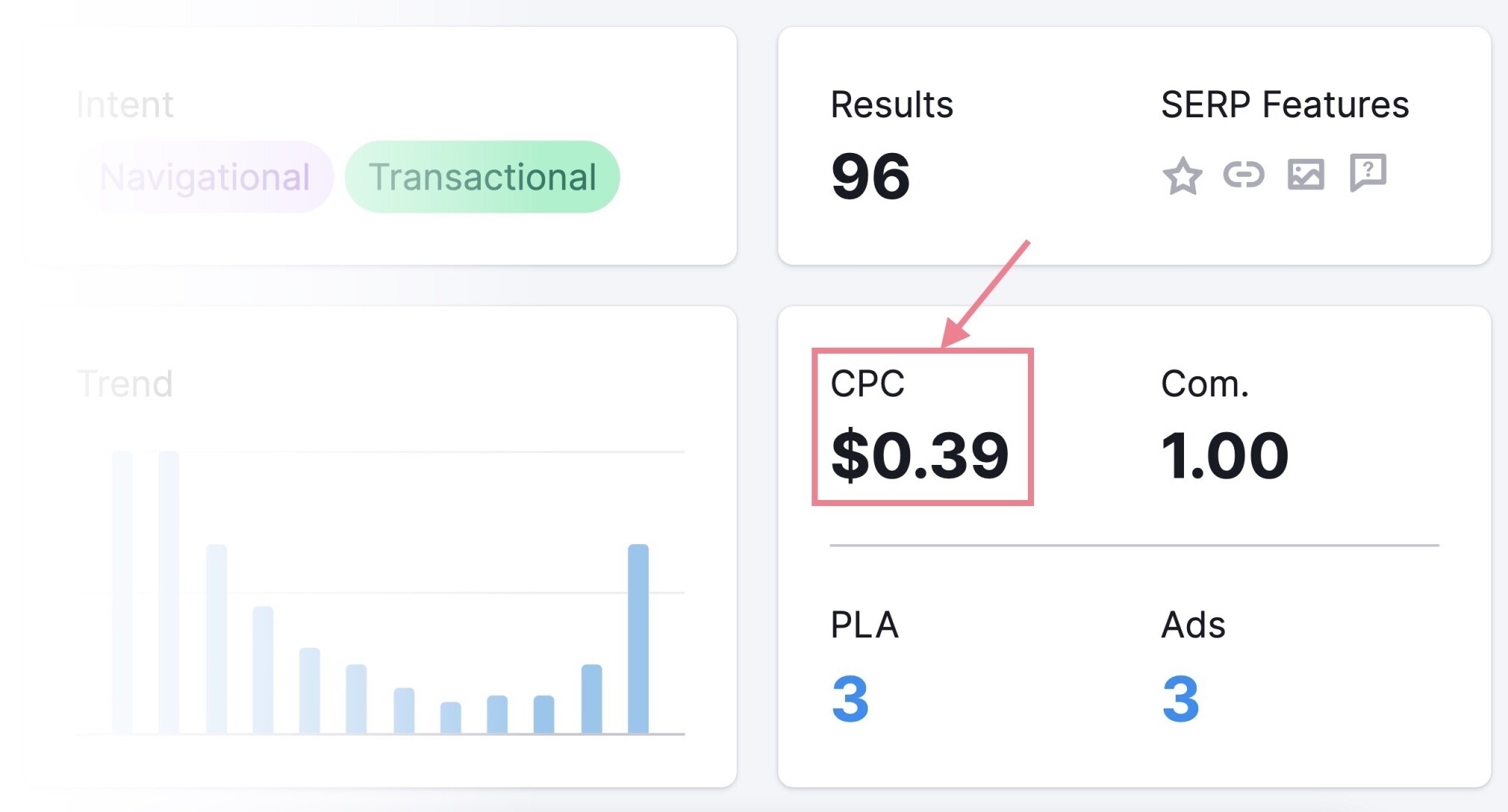 Patagonia ranks #1 for this keyword on Google. 
The brand created a landing page around the keyword to tell its own story while showcasing jackets and vests available for purchase. As a result, the page drives over 34,000 monthly visits. 
The secret to making SEO work for you is to create product- or niche-specific blog posts, landing pages, and product pages centered on your ecommerce offerings.
Look for keywords that help amplify your brand's story and solution. 
These keywords should directly address search intent, whether informational, navigational, commercial, or transactional. 
Then, create content that customers will find valuable. 
Pay-Per-Click Advertising (PPC) 
PPC is an ecommerce digital marketing strategy that uses paid advertising to drive traffic and sales from search engines. You pay every time someone clicks on your ad.
Google Shopping ads are one of the most effective types of ads to run as part of an ecommerce marketing campaign: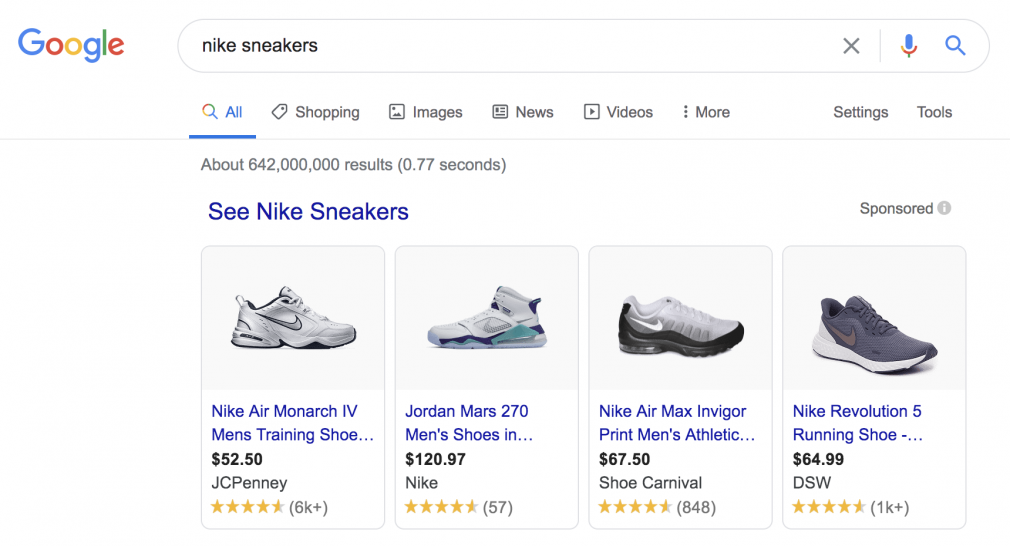 Shopping ads are effective because they allow you to show customers both images and prices directly in the search engine results page (SERP). They also receive higher clickthrough rates because these ads target prospects with transactional intent—those ready to buy immediately. 
Those with investigational intent who see these ads can click to read third-party reviews before making a purchase.
With PPC, you can target people in precise locations who actually need your product or service. You can also gather customer insights to improve the channel's efficiency as you go. 
Push Marketing 
Push marketing involves sending customers informative and relevant product updates to keep them in the loop, whether or not they are currently on your website or using your app. 
Here's an example of a web push notification on a website:
When used correctly, push notifications present a great opportunity for marketers to build stronger connections with ideal customers. 
As a result, the push marketing strategy has an 80% market reach, with 7x click-through rates and open rates 50% higher than email marketing.
Social Media Marketing 
Social media marketing is how your business distributes its marketing content on social media.
It's a strategy ecommerce brands use to build awareness, nurture customer relationships, drive more website traffic, and ultimately generate more sales. 
Social media marketing includes: 
Content planning and creation
Graphics design
Strategic scheduling of communications
Tracking analytics
Optimizing content and strategy based on insights
Of course, these activities seem like a lot for one person or a bunch of people. As a result, many ecommerce brands rely on tools to make social media management easier. 
Semrush's social media toolkit has a variety of data and creative tools that makes managing your accounts a breeze. 
For example, the Social Media Poster lets you create and schedule posts on Twitter, Facebook, Instagram, Pinterest, your Google Business Profile, and LinkedIn.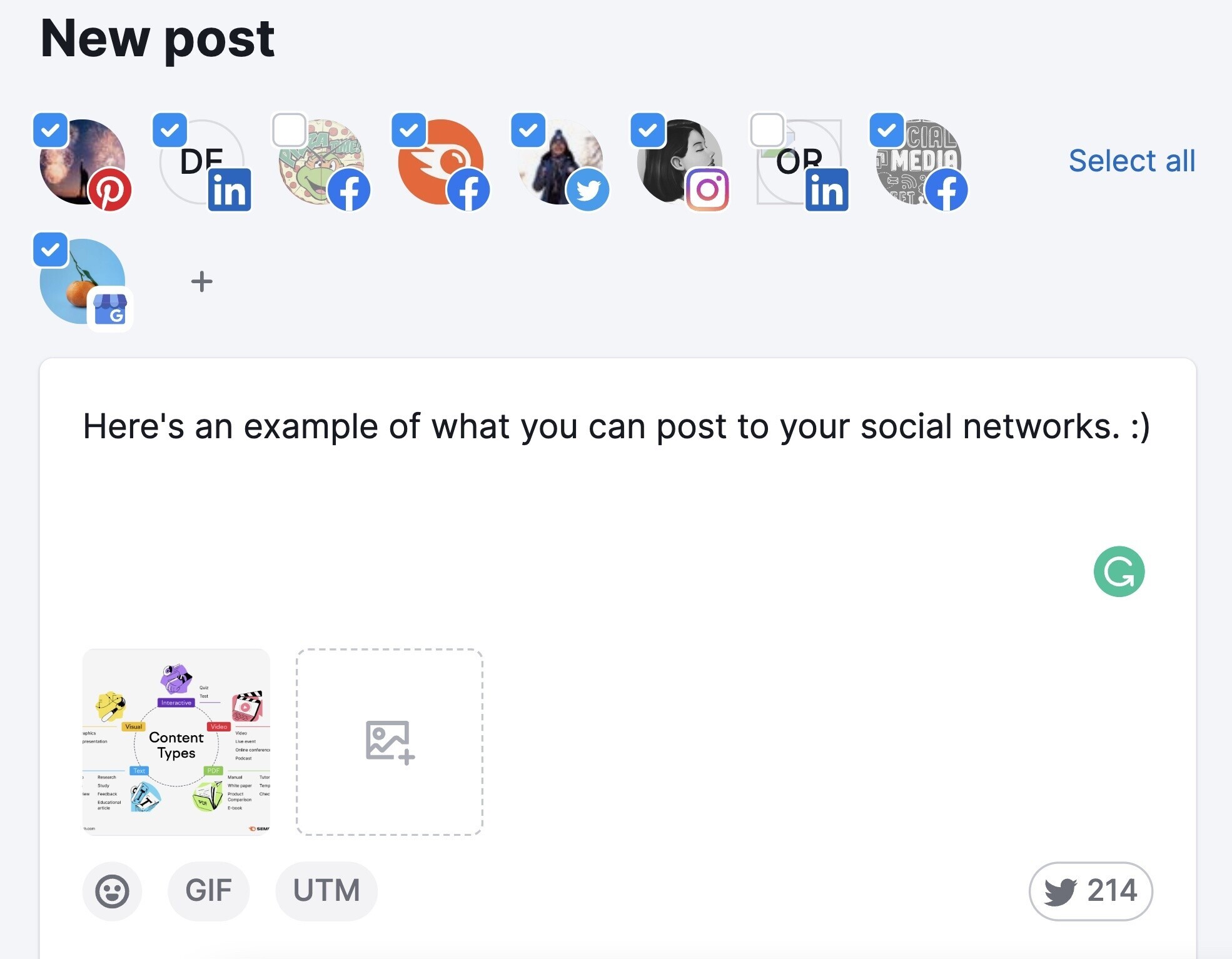 You can shorten links, edit images, and track engagement and other relevant social metrics. You can also keep an eye on your competitor's social platforms to see how they are doing and learn from their strategy. 
Identifying the right social media channel for your brand is important. That's because not all social platforms are an absolute fit for reaching your audience. 
Instagram, TikTok, and Facebook are good examples of social media channels. They support high-resolution videos and photos which appeal to their users. On those sites, brands can create shoppable content that allows visitors to purchase a product with a single click. 
Content Marketing 
The primary goal of content marketing is to use several different marketing channels to generate demand for your product and service. 
Brands rely on various content types to drive demand, including blog posts, downloadable templates, free tools, infographics, original reports, case studies, videos, podcasts, and more. 
A successful content marketing strategy can help you establish topical authority and generate more qualified leads. 
For example, if you offer dropshipping services, you can build a cluster around that core service. Semrush's Topic Research tool identifies questions prospects ask and related subjects. It also offers headline ideas. 
The toolkit also allows you to audit existing content on your website, conduct competitor research, identify content gaps, and track your performance. 
Influencer Marketing 
Influencer marketing is a paid partnership between businesses and individuals with large online followings. 
It's how brands reach new ideal buyers, increase brand awareness, and drive more traffic, potentially resulting in more sales. 
The influencers promote the business's products and services to their network. Because they wield influence over their audience, influencers provide social proof they need to potential customers and validate their buying decisions.
And people are more likely to buy a product if someone they trust or respect recommends it. 
Email Marketing 
Email marketing involves sending personalized email campaigns to subscribers—prospects, and customers to sign up for your email list.
It's a direct ecommerce marketing strategy that allows you to nurture customer relationships, drive first-time and repeat sales, and boost retention rates. 
Setting up an email marketing campaign is super easy and affordable. 
All you have to do is to build your own list to get started. You can use gated blog posts, free tools, or a newsletter to populate your email list. 
Next, choose a reliable email service provider. Some examples include MailChimp, ActiveCampaign, and ConvertKit. 
Use Semrush's Marketing Calendar to manage your email marketing campaigns. This tool helps you know when your emails are sent out, and it can track engagement and other critical metrics to better understand your audience.
Then, you can use that data to optimize your campaigns and increase conversions.
Chatbot Marketing
An ecommerce marketing chatbot is a strategy that helps customers get value quickly. 
These chatbots interact with website visitors in real time. They answer FAQs, offer support, gather user feedback, engage customers, and automate sales.
With chatbots, you can recommend complementary products and services to go with a purchase, offer 24/7 support, suggest resources, and give checkout and add-to-cart prompts. 
Next, let's dive into how to build an ecommerce marketing strategy. 
How to Build an Ecommerce Marketing Strategy
A strategy to scale your ecommerce business is super important to drive growth. 
Whether or not you have set up your ecommerce website, here are four tips to help you build an ecommerce marketing strategy and hit your sales goals:
Define Your Goals
You should start by defining what outcome you want to achieve within a specific timeframe. 
What are your company's ultimate business and marketing goals and objectives? For example, you could want to be the leader in your category with a specific annual revenue goal.
Next, determine how content brings you closer to your goal and what success will look like. 
These content marketing metrics could be organic traffic volume, number of qualified leads, number of sales made and revenue generated, or how much engagement your content gets. 
Be sure to set CLEAR goals and objectives. Your goals should be:
Collaborative—encourage teamwork
Limited—in scope and duration
Emotional—inspire and motivate your team
Appreciable—broken down into smaller micro-objectives
Refinable—redefined according to circumstances and needs
Such goals give your team direction and a target to reach within the agreed time frame. 
Also, set Objectives and Key Results (OKRs) to make your goals more flexible. That means breaking down an ambitious business goal into achievable milestones.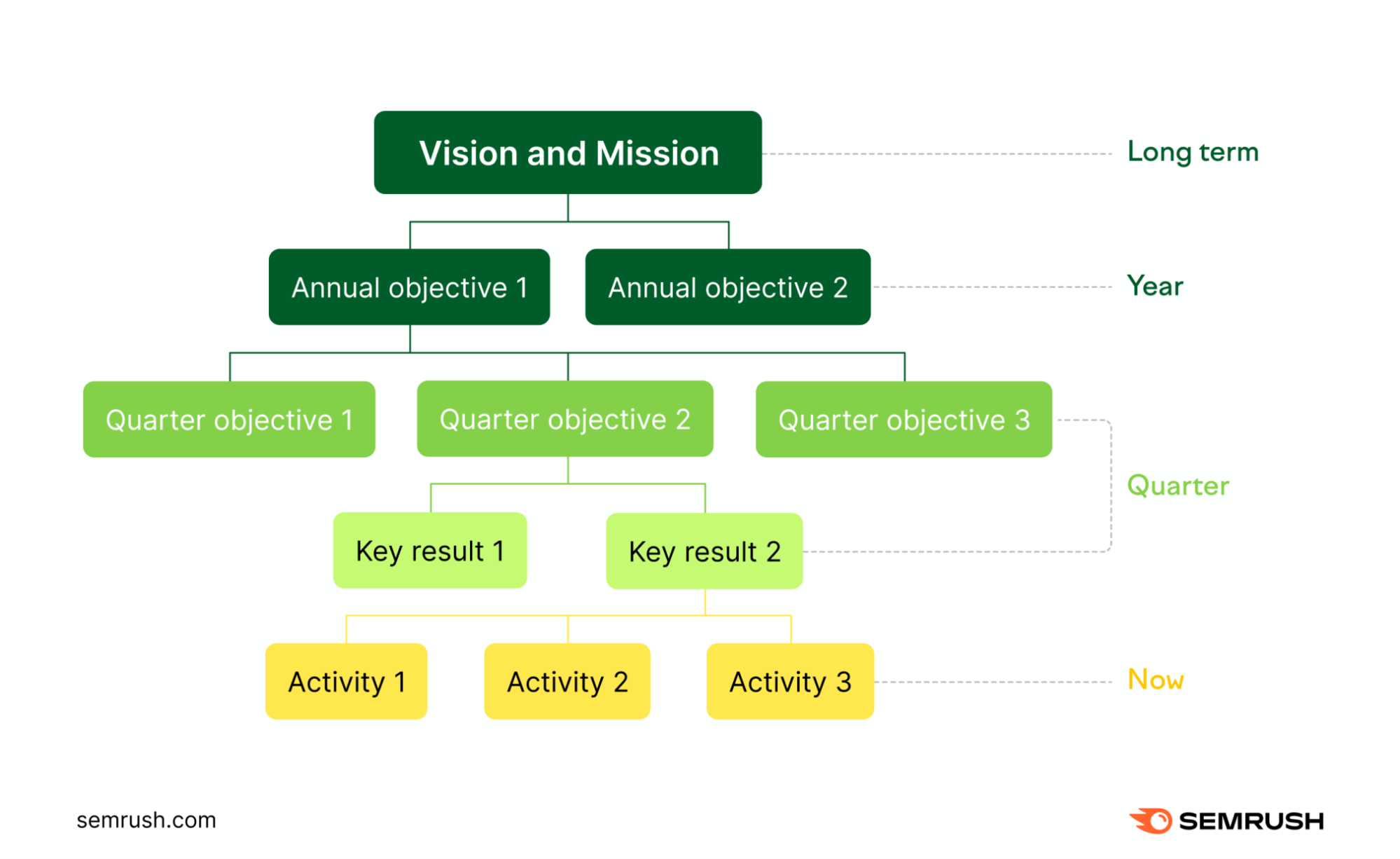 Breaking goals down this way helps you determine when initial conditions for achieving a goal change, identify when there's some progress, and know when a goal is no longer relevant. 
That way, you can focus your efforts on goals that bring you closer to achieving your company's overall mission and vision. 
Identify Your Target Audience
You can identify and understand your target audience using an empathy map. 
An empathy map is a collaborative tool that lets you step into the buyer's shoes to understand how they think, feel, see, or hear about your product or service.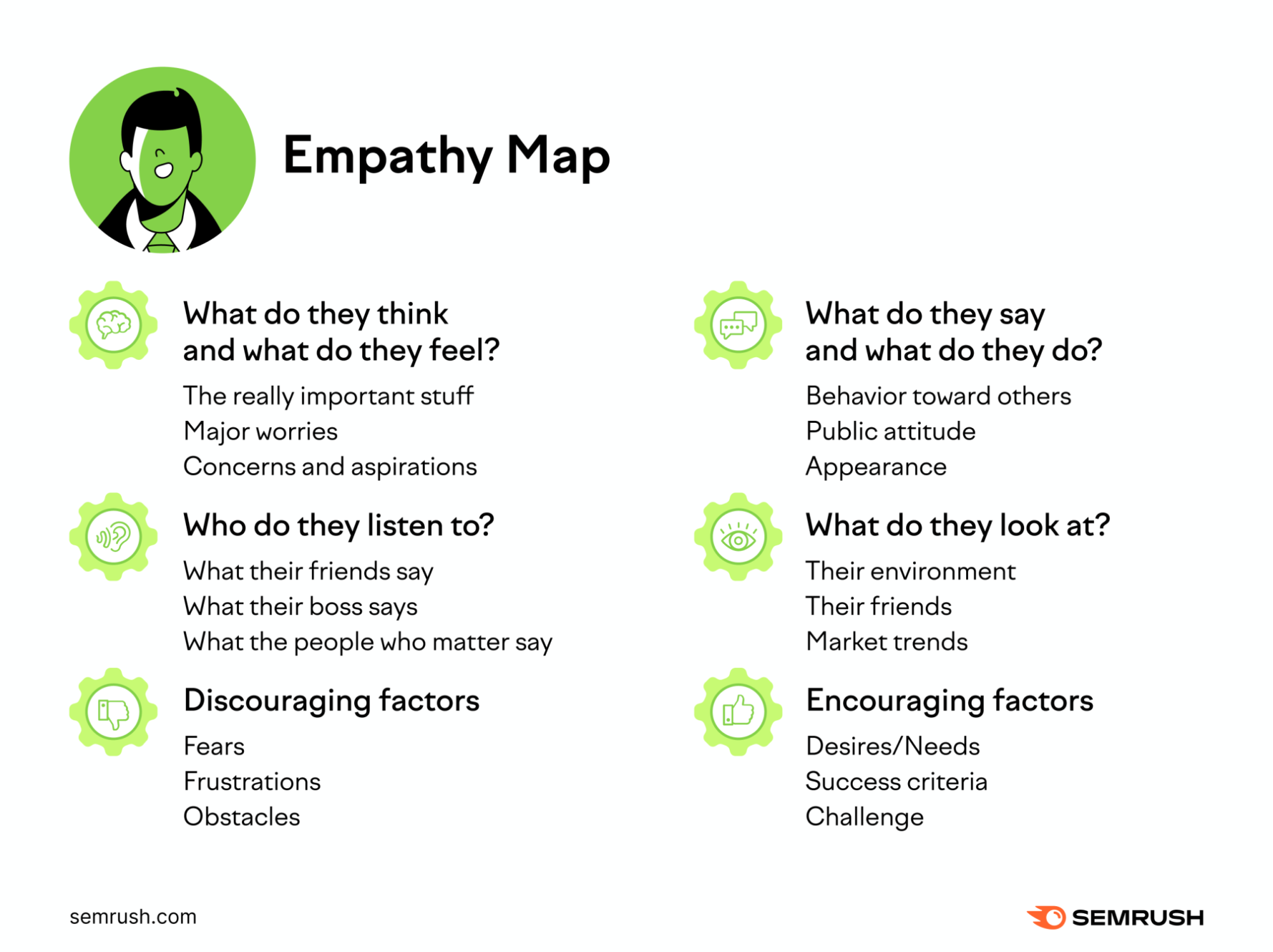 This framework helps you identify the buyer's goals, pain points, and aspirations so you can improve their experience and satisfy them. 
You can also gather user insights by listening to sales calls or reviewing customer data from your CRM tool or Google Analytics (GA).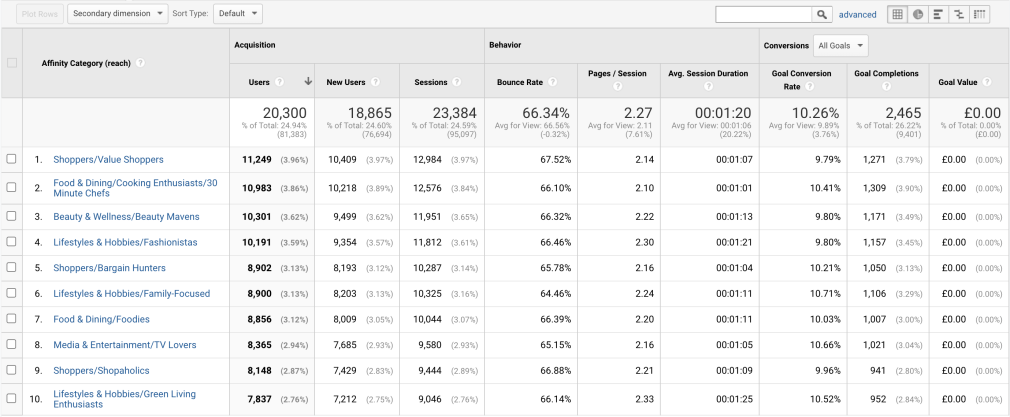 You can also use audience insights from social media platforms. 
Using Semrush's Keyword Research tool, you can analyze page ranking for your target keywords to understand search intent. This can help you optimize your content to reach the right audience at the right time.
Interviewing and surveying existing customers are other ways to learn more about what resonates with them and what does not. 
Studying your competitors' playbooks is another great strategy, which leads us to the next tip. 
Research Your Competitors
Researching your competitors is a great way to learn about their strengths and weaknesses. 
These insights can help you position your product better and adjust your ecommerce marketing strategy. And that can lead to higher conversions. 
You can use Semrush's Competitive Research tool to identify competitors and gather relevant insights such as: 
Brand positioning
Target audience
Main content categories
Popular keywords 
Top-performing content 
This tool will tell you which keywords your competitors are ranking for. Then, you can optimize your content or create new content to rank for those same keywords.
If you invest in paid advertising, go to the Advertising Research Competitors report to identify websites that outrank or compete with your site the most among Google's PPC ads results. 
Simply type your domain name and click the Competitors tab to get the report: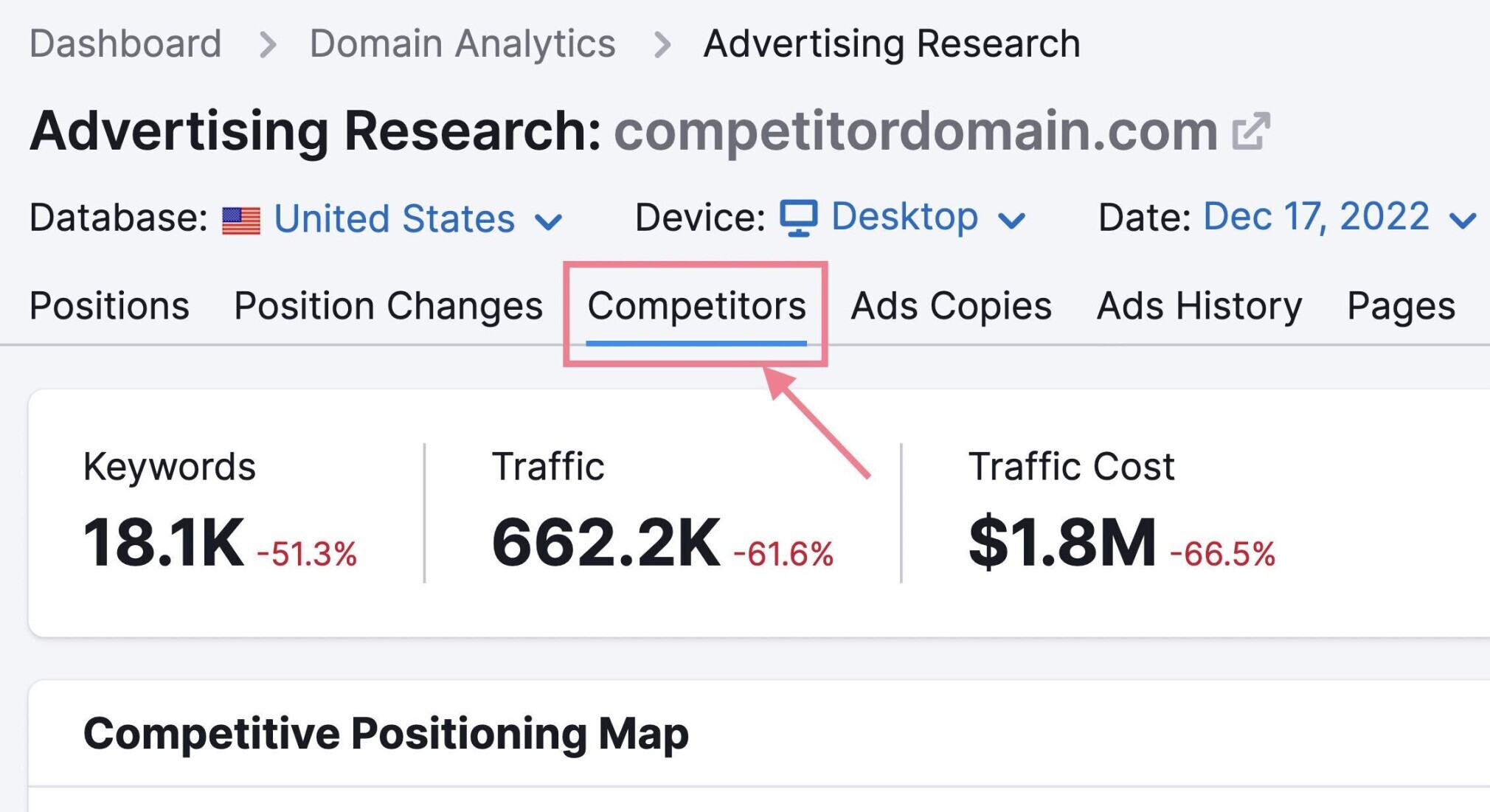 To get more return on investment for your PPC efforts, analyze these competitors in Semrush to gather more insights to inform your strategy. 
Beyond organic and paid search, you should also check out your competitor's social media pages to see the content they are creating. 
Look for social media posts with high engagement to see what kind of content resonates with your audience. Then improve on their strategy.
Focus On Website Optimization
Optimizing your content is super important for SEO. 
By identifying and optimizing high-traffic pages, you can improve your rankings on search engines like Google 
Any content you want your customers to see can be optimized. That could mean your homepage, category pages, free tools, product pages, or even blog posts
Update the page's URL, metadata, design, and structure so that search engines and people can find them easily. 
Semrush's On-page SEO Checker lets you achieve this. You can use the tool to identify top pages to optimize: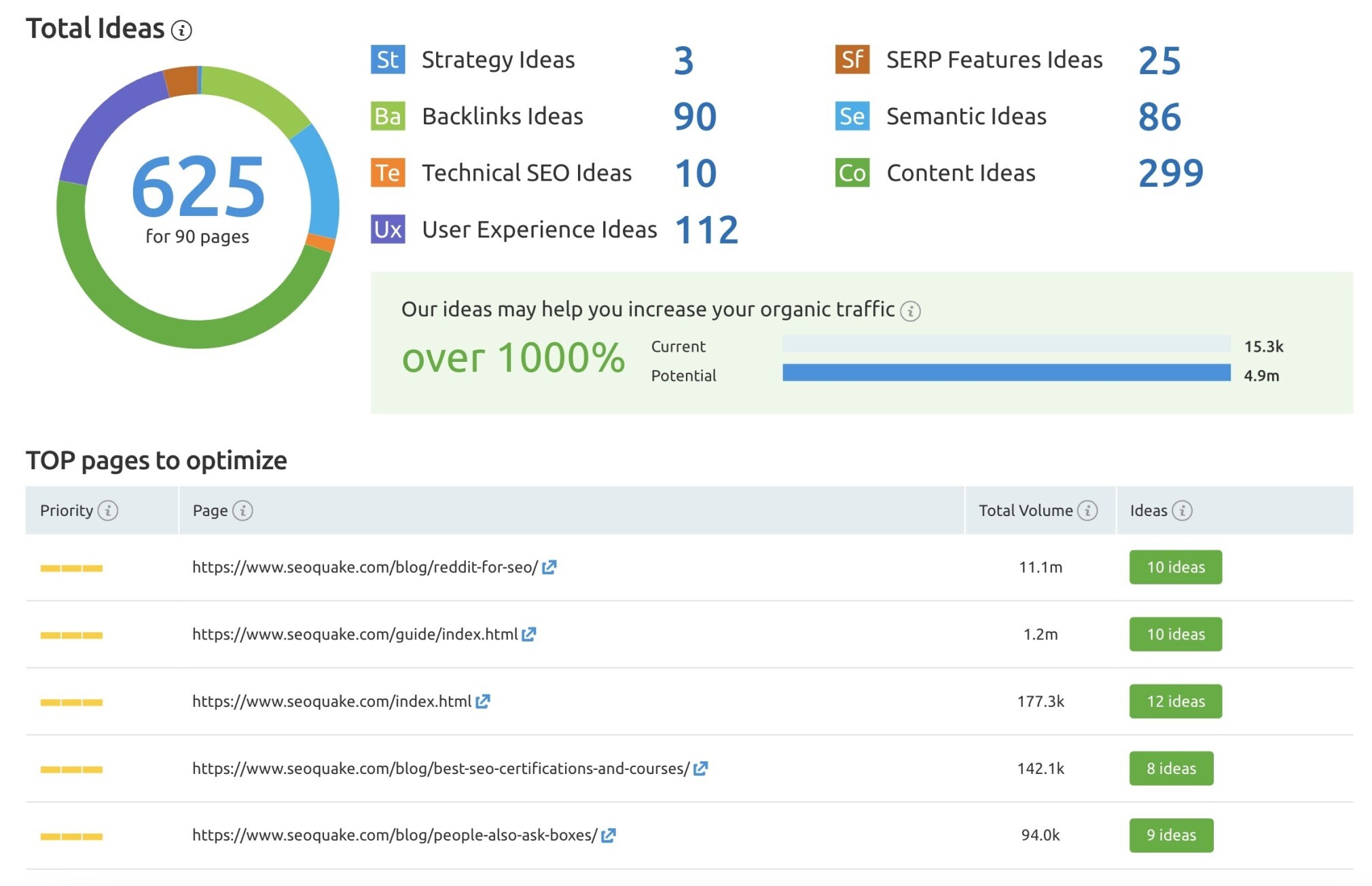 You can optimize those web pages by doing these:
Use keyword tools to identify common words your competitors and audience use. Then, add them to your metadata and those high-traffic pages
Incorporate long-tail keywords into your strategy as they have higher conversion rates
Create benefit-driven metadata for each page
Use descriptive alt tags that include these keywords on your images
Use search-friendly, human-first URLs
Add links to your most popular product/services pages on your home page
In addition to these suggestions, you should use internal linking. 
Internal linking helps readers navigate your website easily. Also, ensure your website is mobile-friendly, as 70% to 90% of consumers shop through mobile devices.
Build an Effective Ecommerce Marketing Strategy 
Your ecommerce marketing strategy is your secret weapon to generate a higher return on investment from your product or service. 
That's why you should invest in creating an effective one. 
To recap, keep these tips in mind when creating your ecommerce strategy:
Define your goals
Identify your target audience
Research your competitors
Decide how to price and position your product
Focus on optimizing your website
Using Semrush, you can put these ideas into practice today to start optimizing your digital marketing practices. That's how you build a strategy that drives more traffic, hits your revenue goals, and inspires customer loyalty.