A subdomain is an extension of your domain name used to organize separate parts of your website.
Let's take www.google.com.
Google uses a subdomain for Gmail—mail.google.com. The subdomain here is "mail."
Despite the slight URL change, you're still on Google's website. Just on a subdomain.
Let's start by covering the anatomy of a URL, plus some examples of subdomains in action.
What Is a Subdomain?
A subdomain is an additional piece of information added to the beginning of your domain name.
It's used to organize content that serves a specific function on a website. Like an online store, blog, or careers page.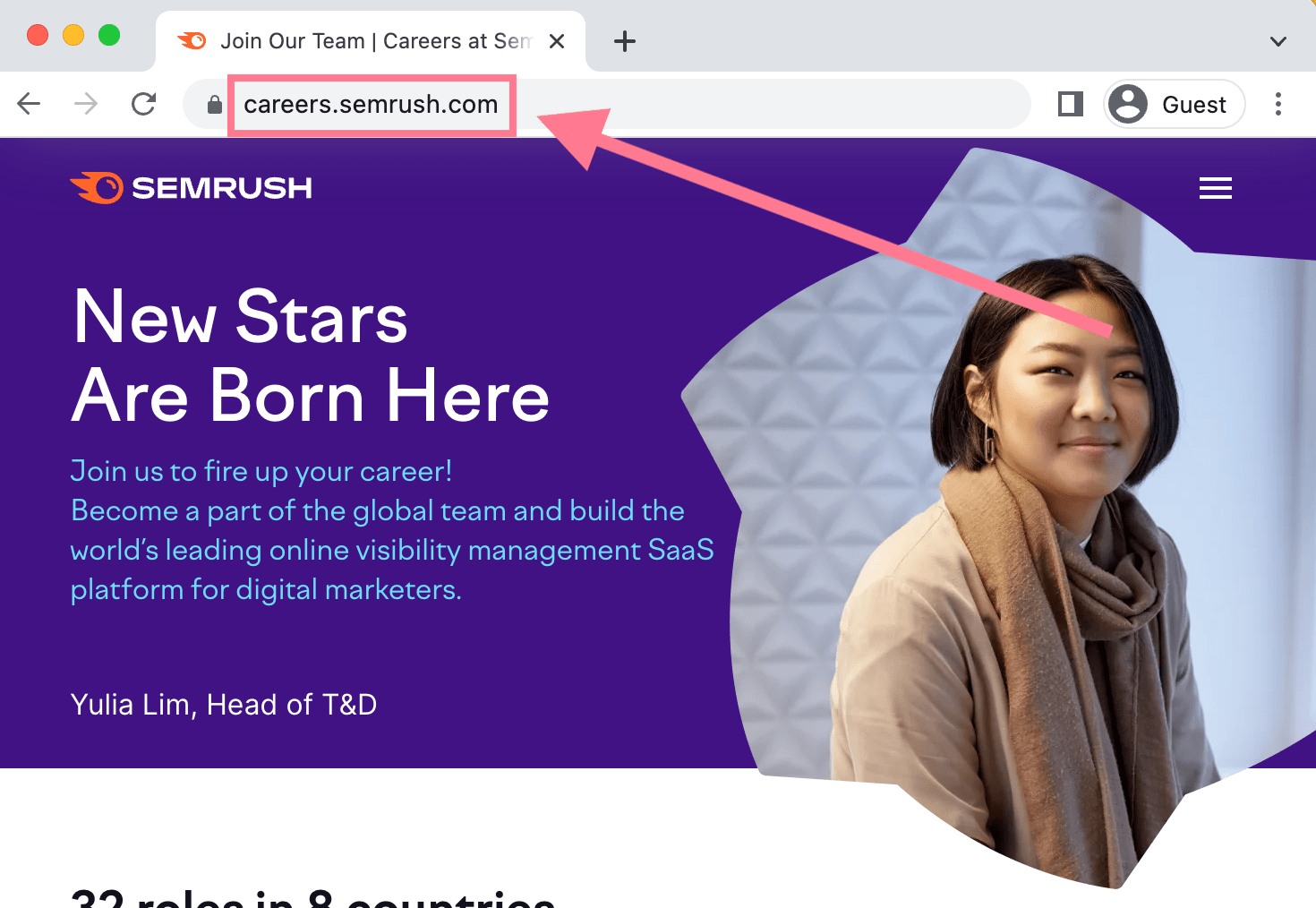 The most common subdomain is www, but there are many others that can be used. (We'll cover some examples in the next section).
Domains typically have two other parts:
The top-level domain (TLD) is the end of your domain (like ".com" or ".org")
The second-level domain (SLD) is what you choose to call your site (usually your business or brand name)
A subdomain comes before a second-level domain (SLD) in a URL. 
Add a protocol to the beginning (like HTTP or HTTPS) and a file path to the end (i.e., what part of the site you're visiting) and you have a full URL: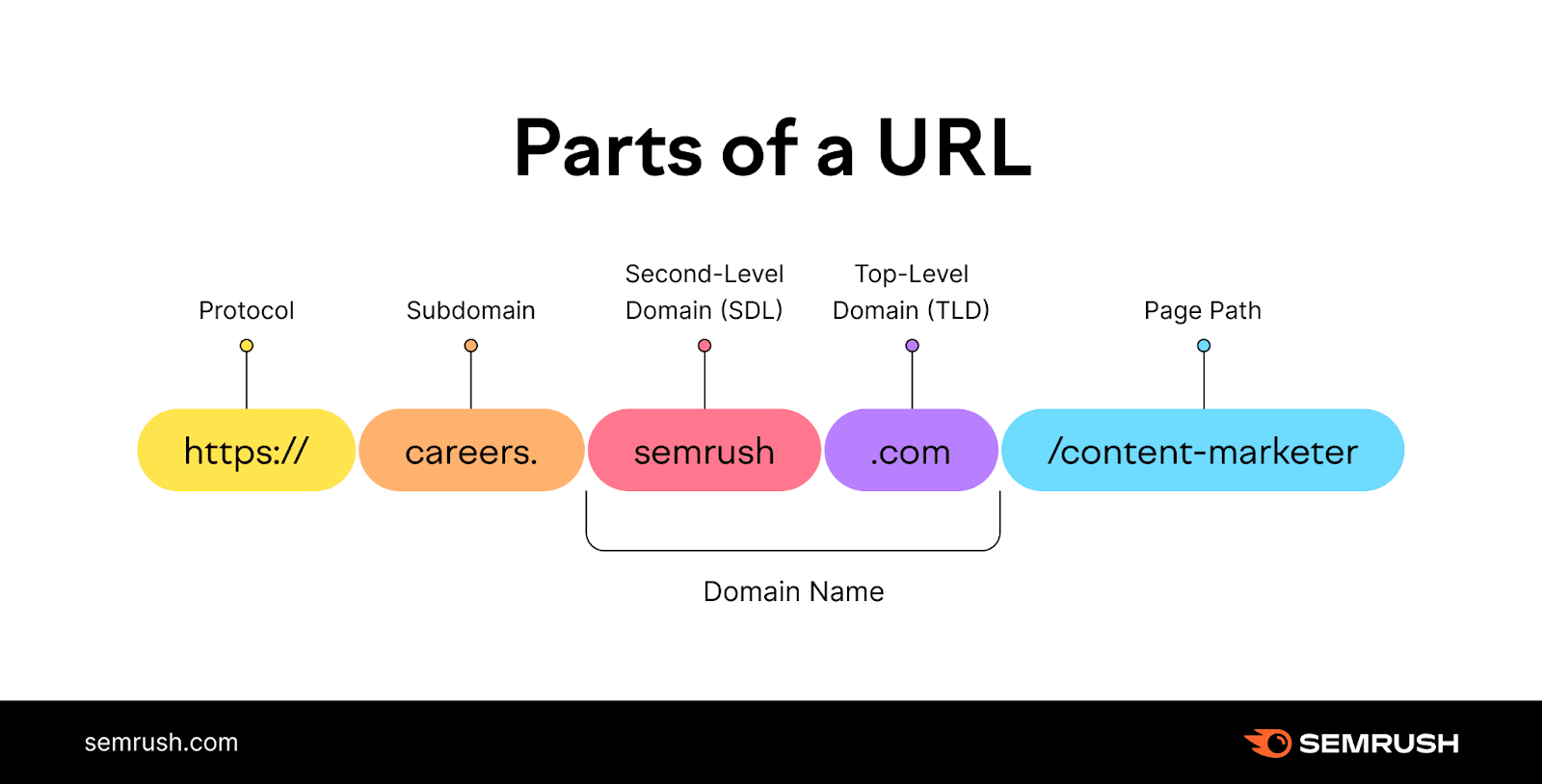 Here's an example.
The TLD for hotjar.com is ".com"and the SLD is "hotjar." 
So, "help" in the URL help.hotjar.com is the subdomain. It's where Hotjar stores all their helpdesk content.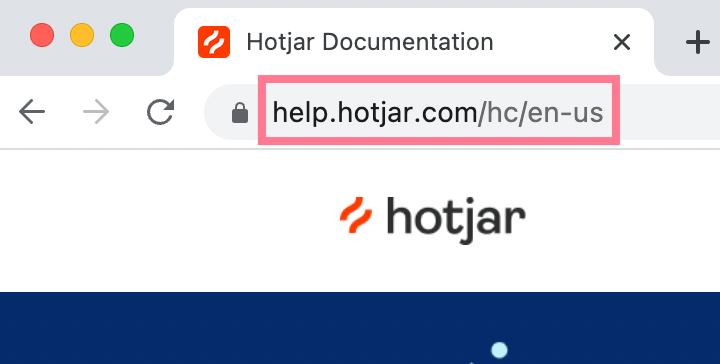 Why Use a Subdomain?
In addition to organizing functions of your website, subdomains also make it easier for users to find these functions.
Think about a subdomain like a department store. 
The TLD would be the city the store is located. And the SLD would be the store's address. 
But department stores are big. So shoppers may still need more assistance finding what they need.
So the subdomain would be like the individual department within the store. Women's clothing, home decor, shoes, etc.
Each department has a specific function and only houses products related to that function.
Subdomains are similar—they work well when your website has lots of content that's difficult to manage on one website.
A few specific use cases for subdomains include:
Testing a new version of your site before it launches
Creating an online store
Creating a separate "help" section of your site
Separating your blog from the rest of your website
Organizing content from different locations of a franchise
Denoting language or region
Let's look at a few examples in action.
Subdomain Examples
There are several different reasons you may choose a subdomain. Here are a few popular ones:
Squarespace uses a "support" subdomain to house all of its help center content.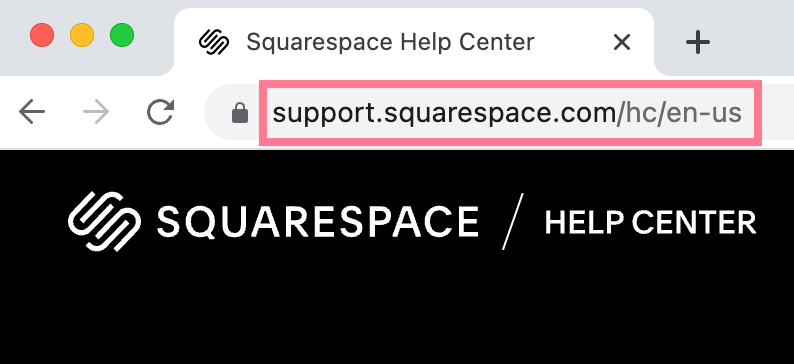 This makes it clear to users that all support topics are housed in this section of the website.
Gymshark is another good example. They have 10+ subdomains—one for each country they serve.
Here's what their Canadian subdomain looks like: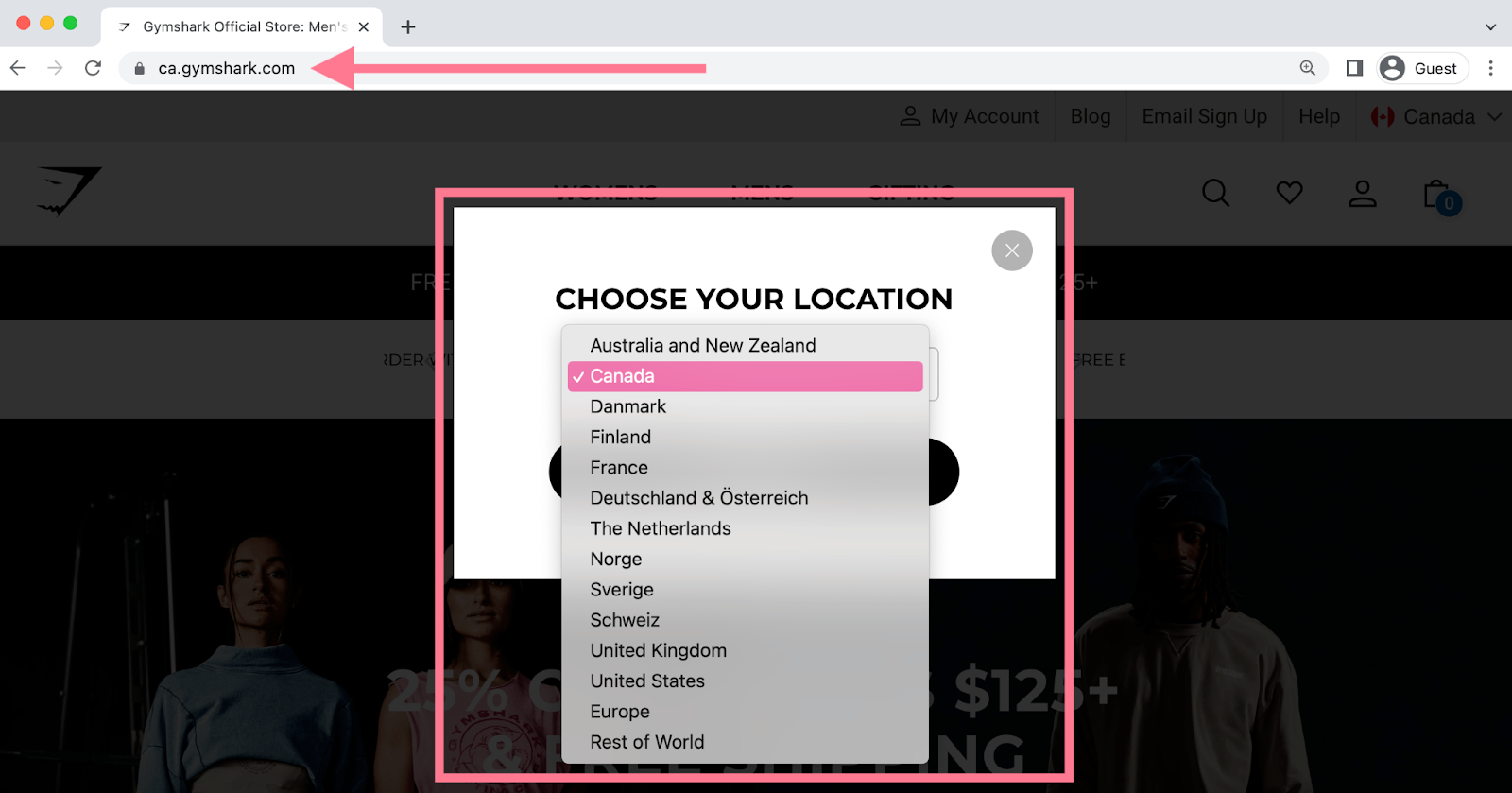 Location-based subdomains allow you to better cater to customers who live in different areas and/or speak different languages.
Ecommerce store subdomains are another common use case.
Here's what Adele's online store looks like: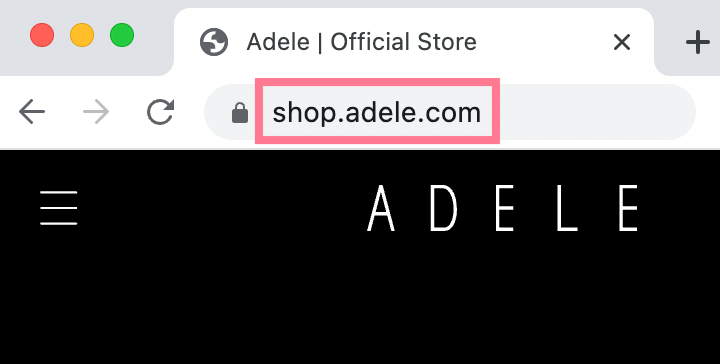 A "shop" subdomain helps separate the ecommerce portion of a website from its parent domain. 
In this example from Adele, her parent website features her latest music and tour schedule.
Her ecommerce store is different. It's the place where her fans can purchase Adele's merchandise and albums. The shop page and parent website carry out two distinct roles. 
Lastly, let's look at Disney's "movies" subdomain.

Disney has distinct brands that fall into different categories of entertainment. That's why they either host each brand's website on separate subdomains or create new websites for each altogether. 
For example, Disney's movies are hosted on movies.disney.com. But Disney's live shows are hosted on liveshows.disney.com. 
You can use a similar strategy if you have separate brands associated with your parent company. 
Subdomains vs. Subdirectories for SEO
Google views subdomains as completely separate websites from your domain. So search engines will crawl and index subdomains individually.
This means any authority your site earns from backlinks will not be shared between your domain and your subdomains. 
Subdirectories, on the other hand, are files that exist under your primary domain. Google views these as a part of your site. So authority can be passed from your domain to subdirectories.
Subdirectories are found directly after the TLD. For example, the subdirectory in "semrush.com/blog" is "blog."
Subdirectories and subfolders are the same thing and can be used interchangeably.
You should only use a subdomain if there's a good reason. Otherwise you risk cannibalizing keywords (i.e., competing against yourself for target keywords).
Subdomains can work well if you:
Have a large and/or complex ecommerce site and want a separate "store" section (store.examplesite.com)
Run the site for one location of a larger franchise (chicago.examplerestaurant.com)
Cater to a language other than that of your main site (en.examplesite.com) 
Keep in mind that having a subdomain essentially requires you to perform SEO tasks for two separate sites (in the eyes of Google).
So if you have limited resources, maintaining a subdomain may be out of your scope.
Subdirectories are generally easier to maintain. And will work well if you simply need to separate distinct sections of content on your site.
Pro tip: Read our guide to subdomains vs. subdirectories to learn more.
How to Create a Subdomain
Most hosting providers provide a way to create a subdomain within their interface.
We'll use the hosting provider SiteGround as an example, but the process is similar across platforms.
First log in and access the subdomain settings.
For SiteGround, go to "Site Tools" > "Domain" > "Subdomains" > "Create New Subdomain."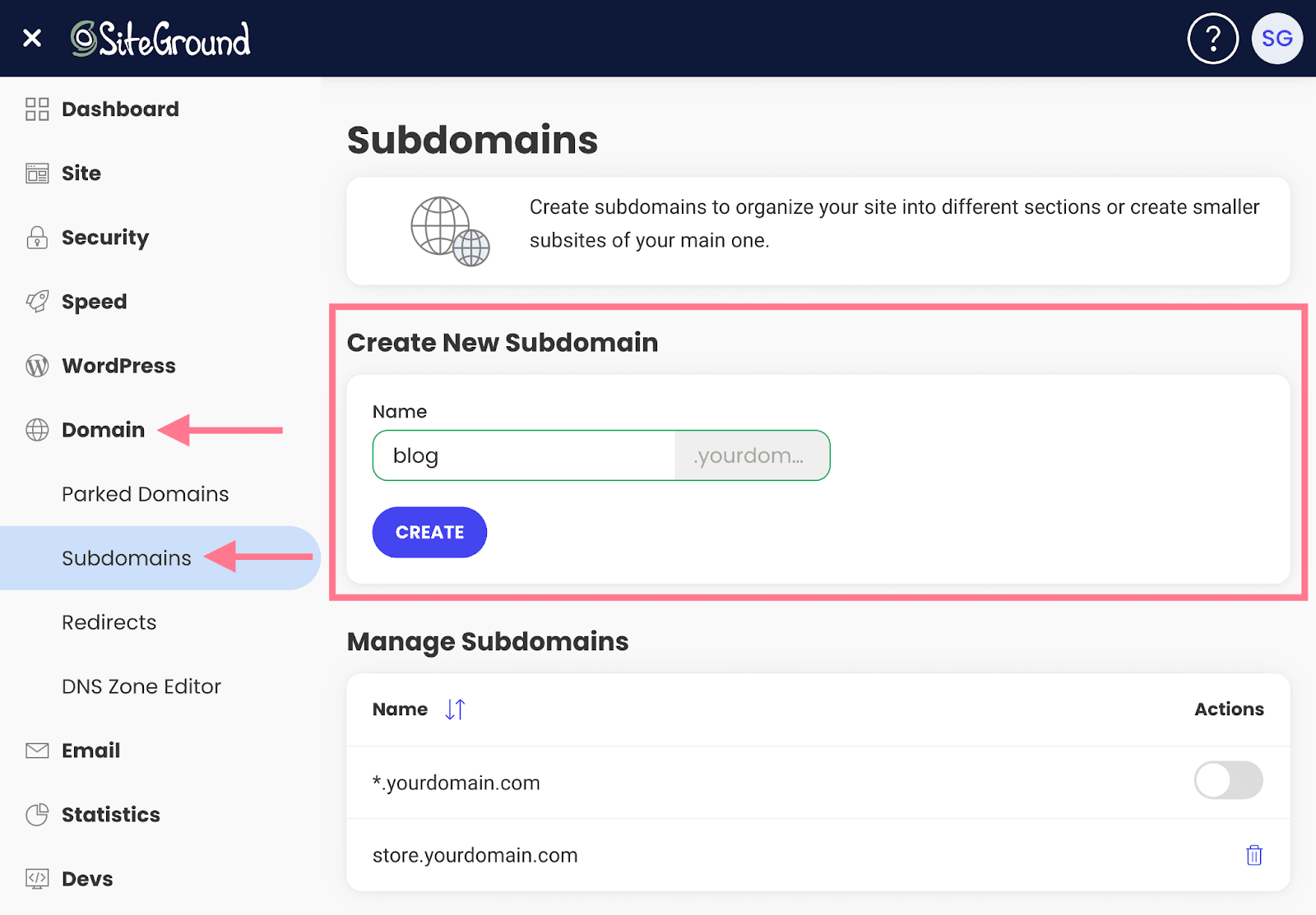 Type the subdomain prefix you plan to use in the "Name" field. Like "shop," "blog," "help," etc.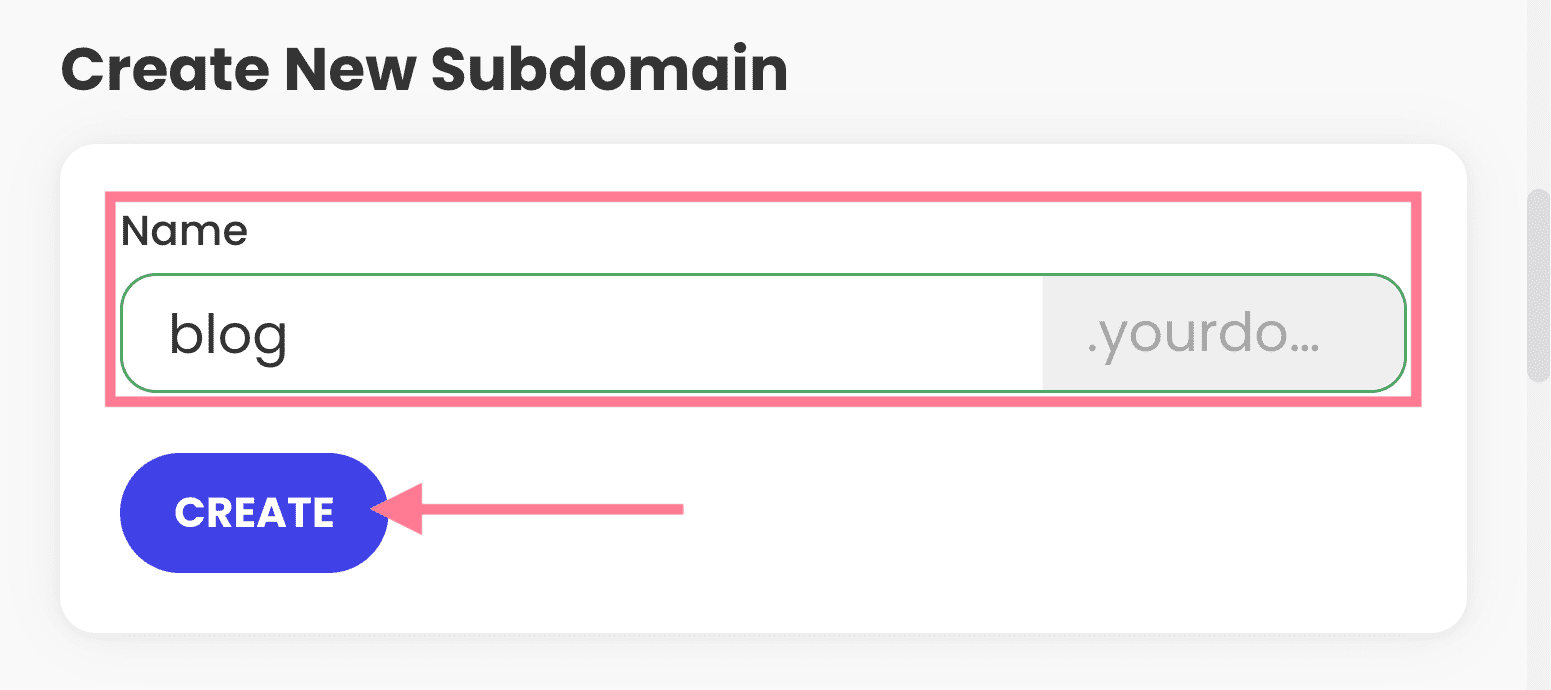 After you type in the name of your new subdomain, click "Create."
Now you have a new subdomain.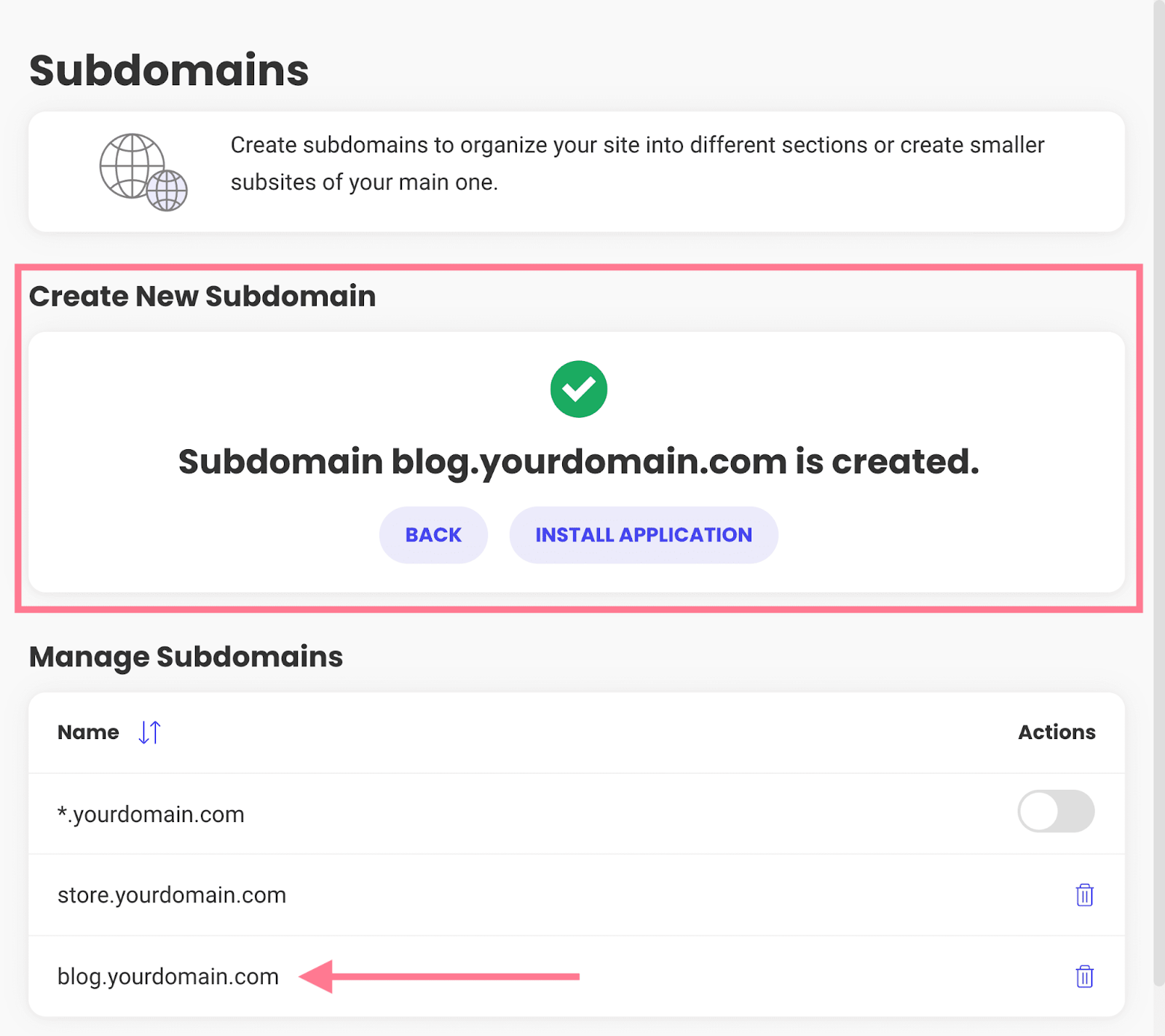 Note: It can take up to a day or two for your subdomain to be fully implemented on your site.
Audit Your Subdomains with Semrush
You can audit specific subdomains using Semrush's Site Audit tool.
First, enter your domain into the search bar and hit "Start Audit."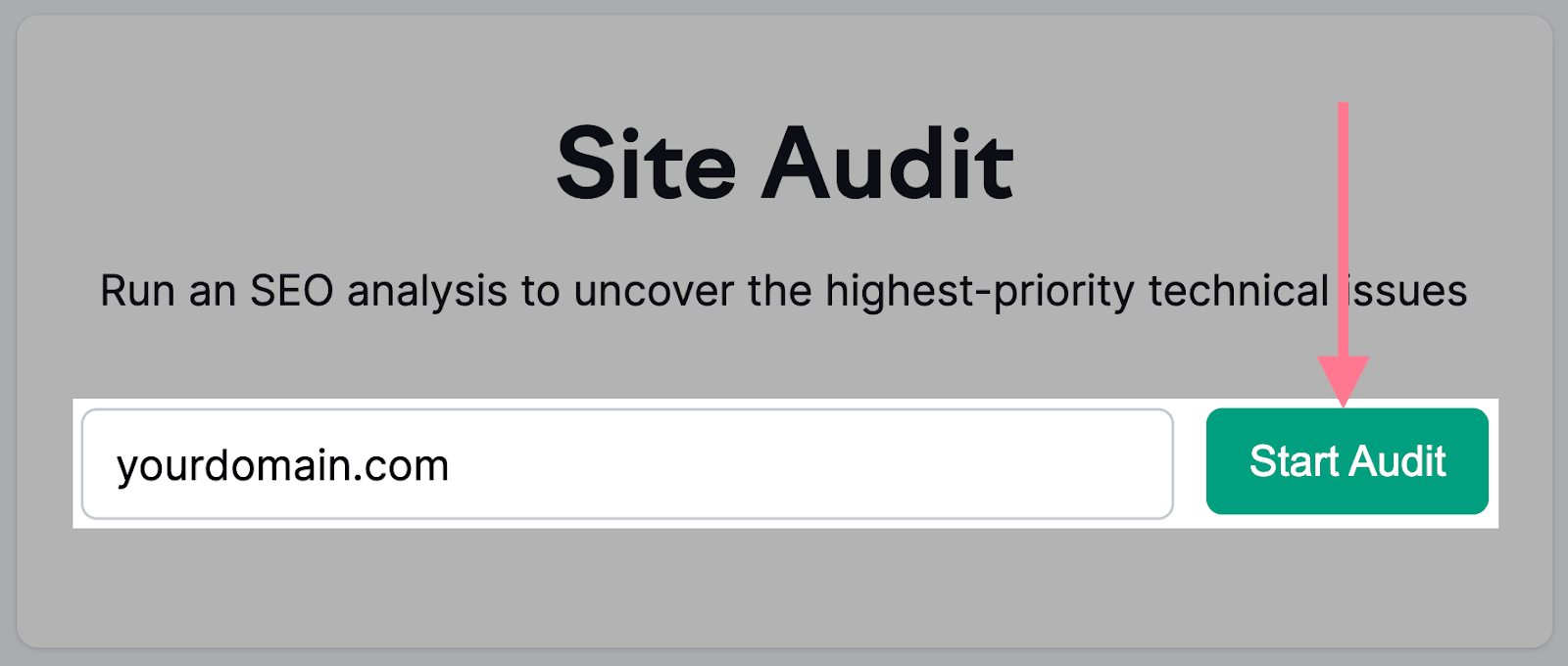 A pop-up will appear where you can configure your audit settings. Click the edit button beside the Crawl scope field.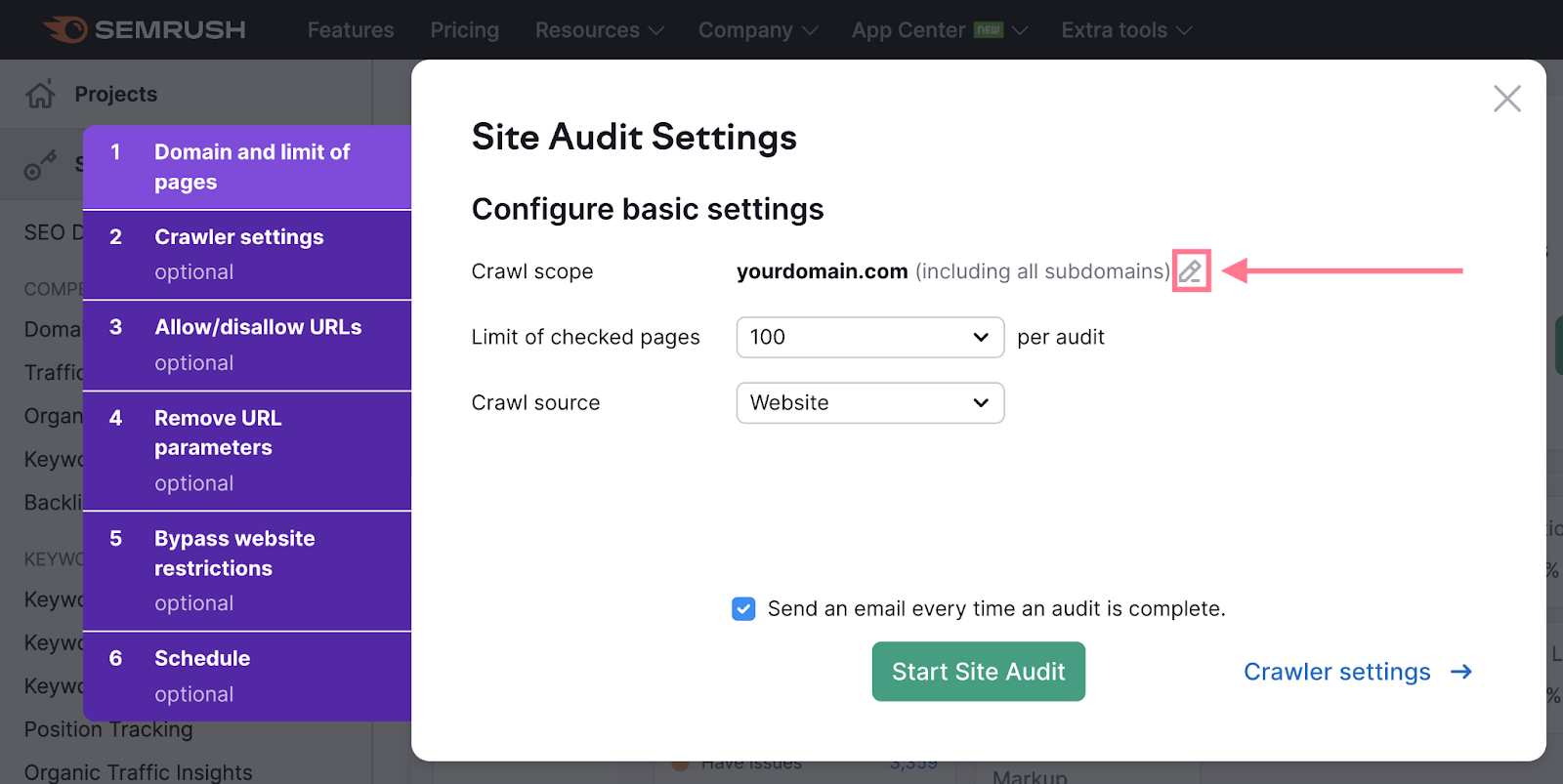 Change your domain name to the subdomain URL (e.g., help.yourdomain.com). Then hit "Update."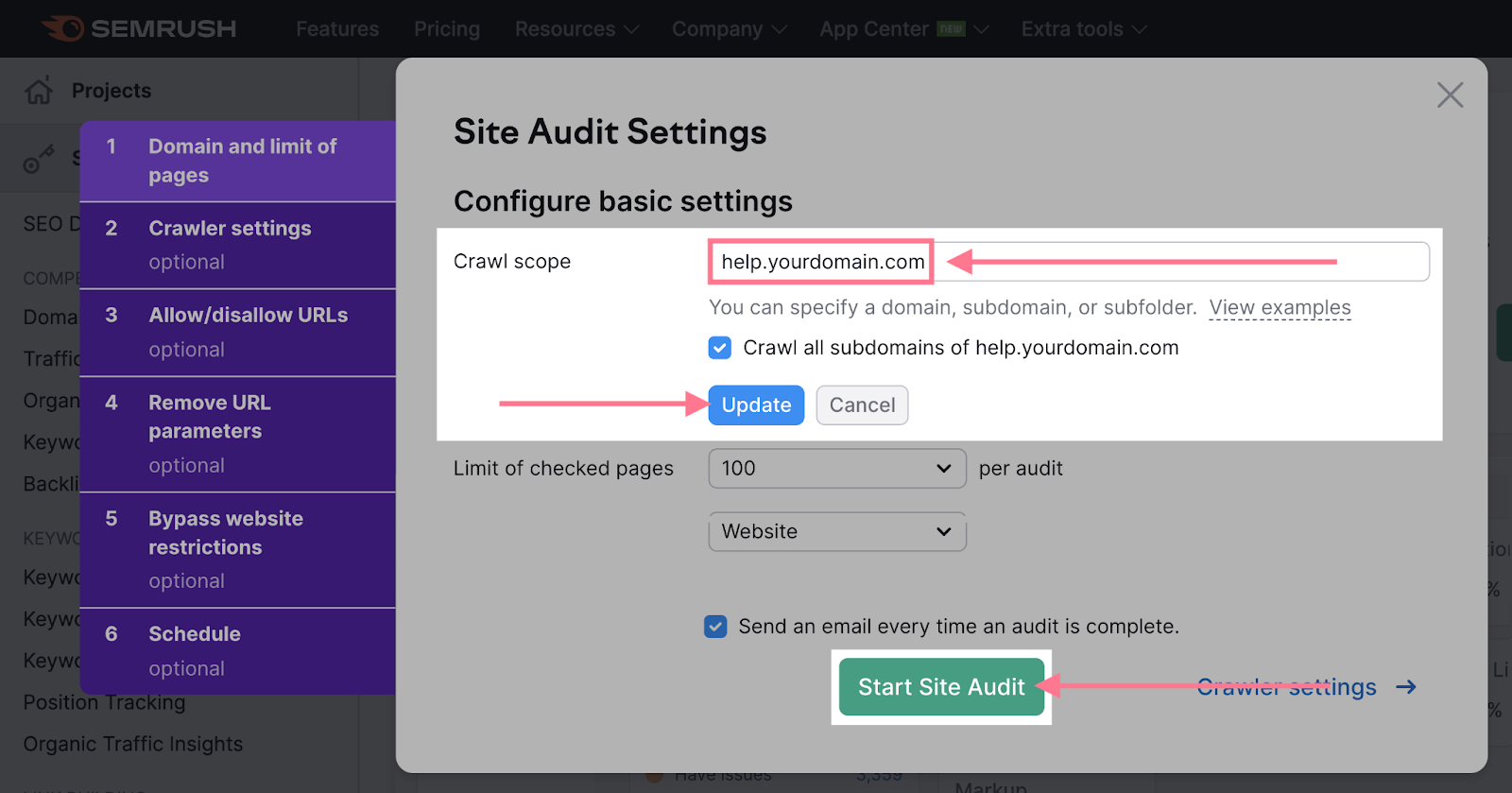 Narrow down your scope using the optional items on the left side of the pop-up window.
When you're done, hit "Start Site Audit."
The Site Audit tool results will give you a summary of how your subdomain is doing. And what you can do to make it better.
Pro tip: There are a number of Semrush tools that allow you to analyze at the subdomain level. Other than Site Audit, this includes Traffic Analytics, Position Tracking, and the Domain Analytics toolset.
Keep Learning
Not sure whether a subdomain is right for your website? Think about the goal of each page you publish.
Is it related to the main content on your "www" subdomain? Or does it have a specific purpose outside of your main site?
With the latter, it's best to publish on a separate subdomain (like "blog," "shop," etc.).
Ready to keep learning more? Take a look at these related resources: