Content intelligence refers to software that uses machine learning and AI to measure how different types of content will perform with your target audience.
You can use these insights to improve your online marketing strategy by picking topics or content types that resonate with your readers. 
Content intelligence takes the guesswork out of content strategy. 
You can analyze data about content that performs well with your audience and use that information to fine-tune your content strategy. Which can help drive more leads, traffic, and sales. 
Below, we'll discuss why content intelligence is important for your business, which features to prioritize when choosing a platform, and five of our favorite tools to get you started.
Why You Need Content Intelligence
Many marketers use content marketing to reach prospective customers. This means creating content meant to grow, engage, and retain your audience.
But there are so many ways to reach an audience. You can publish blog posts, host a webinar, write a social post, etc. 
Content intelligence uses data to help you understand the impact of your content. So you can replicate previous successes and cut what doesn't work.
You can use content intelligence tools to access real-time reporting. Plus insights on what type of content will get results.
Here are just a few things you can accomplish with the help of content intelligence:
Find out what types of content your audience will enjoy based on previous data and competitor analysis
Predict your content's performance based on audience and competitor data
Measure the impact of your content with real-time data
Create content that addresses your audience's search intent
Automate the content creation process with AI insights
How to Choose a Content Intelligence Platform 
Before you choose a content intelligence platform, there are a few important things to consider:
1. Does It Collect Data in Real Time?
Good content intelligence platforms track live audience insights. Which helps you keep up with customer behavior and ever-changing market trends.
Learning from audience behavior in real time allows you to spot those changes and act promptly. You can use the insights to quickly create more relevant content for readers. 
2. Does It Automate Repetitive Processes?
The goal of content intelligence is to create impactful content at scale. So it's important to see how different tools can automate more tedious tasks.
Here are a few examples of tasks that content intelligence software should automate:
Market and competitor research
Audience segmentation
Keyword research
Traffic analysis 
Content research
By reducing manual tasks, you can increase your productivity and make time for more complex projects.
3. Does It Provide Both Audience and Competitor Insights?
It's not enough to analyze your own content's performance.
Opt for a content intelligence tool that also provides insight on competitor and market research.
The point of content intelligence is to learn how to create better-performing content. And to accomplish that, it's crucial to understand both your audience and your competitors.
Look for a tool that provides in-depth analysis of both.
Pro tip: Semrush offers a full suite of competitor research tools, plus tools like Market Explorer for market research.
4. Does It Offer Third-party Integrations?
A good content intelligence platform should support third-party integrations that make collaboration easier.
For example, you may want to connect Google Search Console and Google Analytics for a broader data overview.
Or, you might want to export information directly to Google Docs or Google Sheets.
Check what integrations are available before choosing a platform.
5. Does It Streamline the Content Creation Process?
Content intelligence software typically offers a wide range of related tools. But ensure that the tools you're paying for will actually help streamline the content creation process.
Here are some examples of what you may want to accomplish within the same toolset:
Perform keyword research 
Analyze competing pages
Create content outlines
Write engaging content
Optimize content for SEO best practices
Content Intelligence Tools
Using content intelligence tools helps automate the content creation process and gain performance insights quickly. 
Here are a few options you can try to get started.
1. Semrush 
Semrush offers a suite of 40+ SEO and marketing tools, many of which can be used for content intelligence purposes.
The SEO toolkit allows you to analyze competitors so you can gain insights into their strategies and see how your site compares.
And the Content Marketing toolkit provides a variety of tools that help you research content ideas, create templates, and write SEO-friendly copy.
Semrush SEO Toolkit
The SEO toolkit has over 20 tools and reports to assist you with your website's SEO success.
You can use tools and create reports for the following five areas of SEO:
Start analyzing your own website performance using the SEO dashboard. The dashboard helps you track your visibility and audience behavior over time. 
To access the SEO dashboard, you must select or create a project.
After you set up your project, the dashboard will show you a range of reports, including:
Domain Analytics
Site Audit
On Page SEO Checker
Organic Traffic Insights
And more
This data comes from individual Semrush SEO tools. Click "View full report" underneath and widget to see the complete information.
Use Competitive Research tools to access competitors' traffic estimations. 
Or use other Semrush tools to perform keyword research, start link building, and keep tabs on your site's on-page and technical SEO health.
Try starting with the On Page SEO Checker. It analyzes your webpages and provides actionable steps to improve your rankings.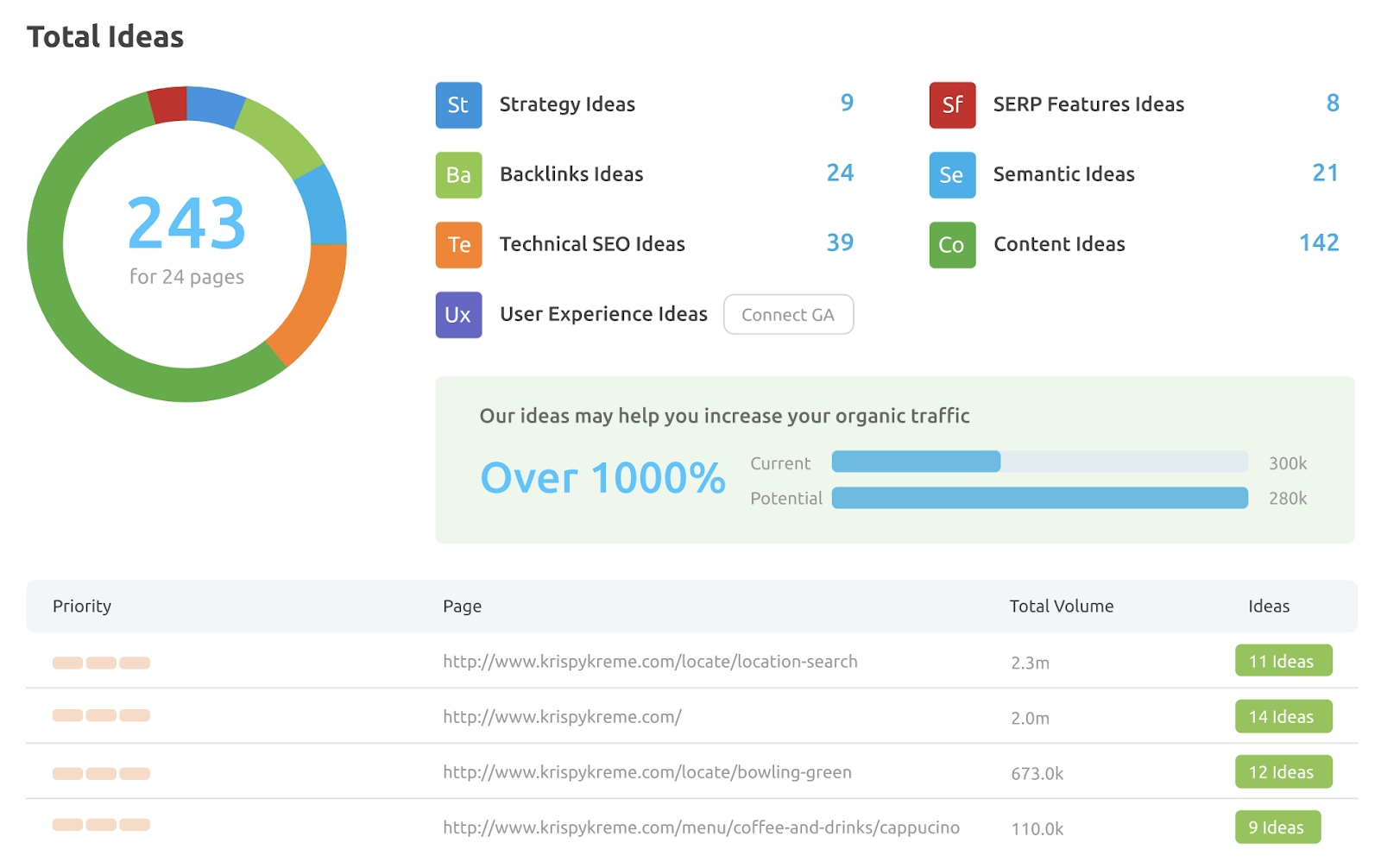 You can also integrate Google Analytics and Search Console with your Semrush account. This helps you access your site's most recent, precise data without leaving Semrush.
Start by clicking "Google account setup" under the "Settings" icon.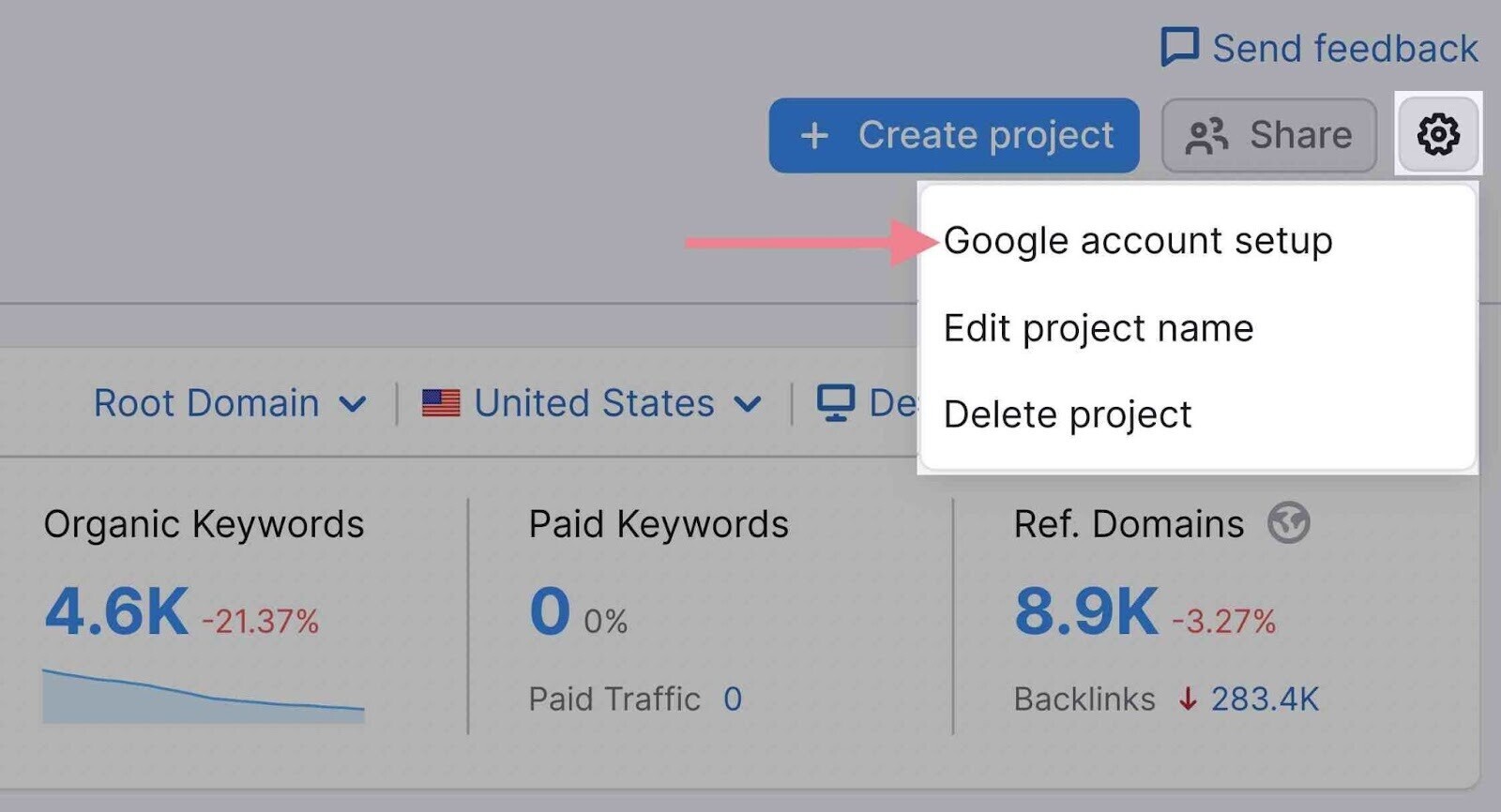 Read our guide to Semrush integrations to learn more.
Semrush Content Marketing Toolkit
The Content Marketing toolkit helps you create data-driven content that resonates with your audience.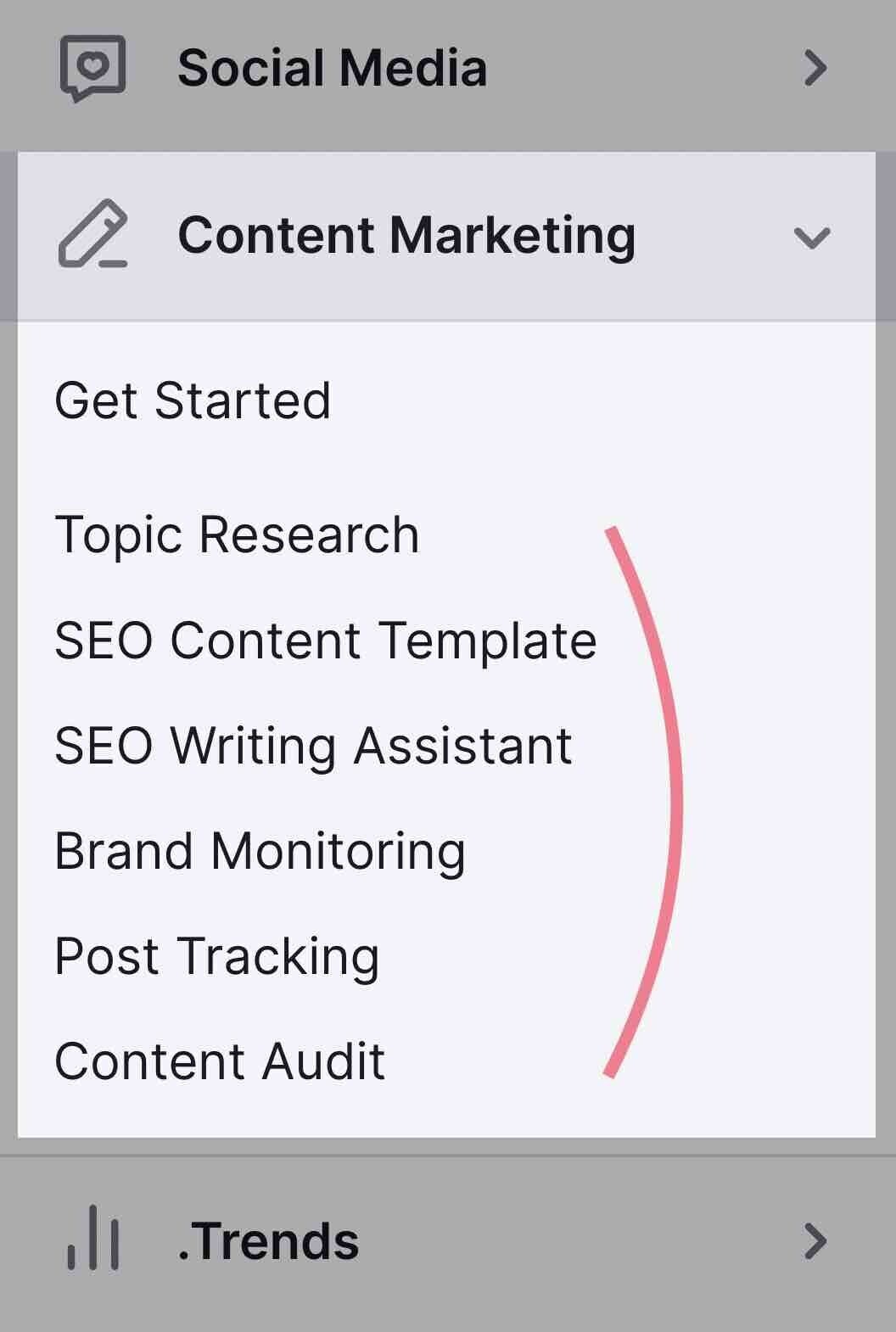 Optimize existing content, identify content gaps, and audit content to see how it performs. 
The Content Audit tool, for example, allows you to audit a website's content to find pages that may need improvement.
Connect your Google Analytics account to categorized groups based on performance: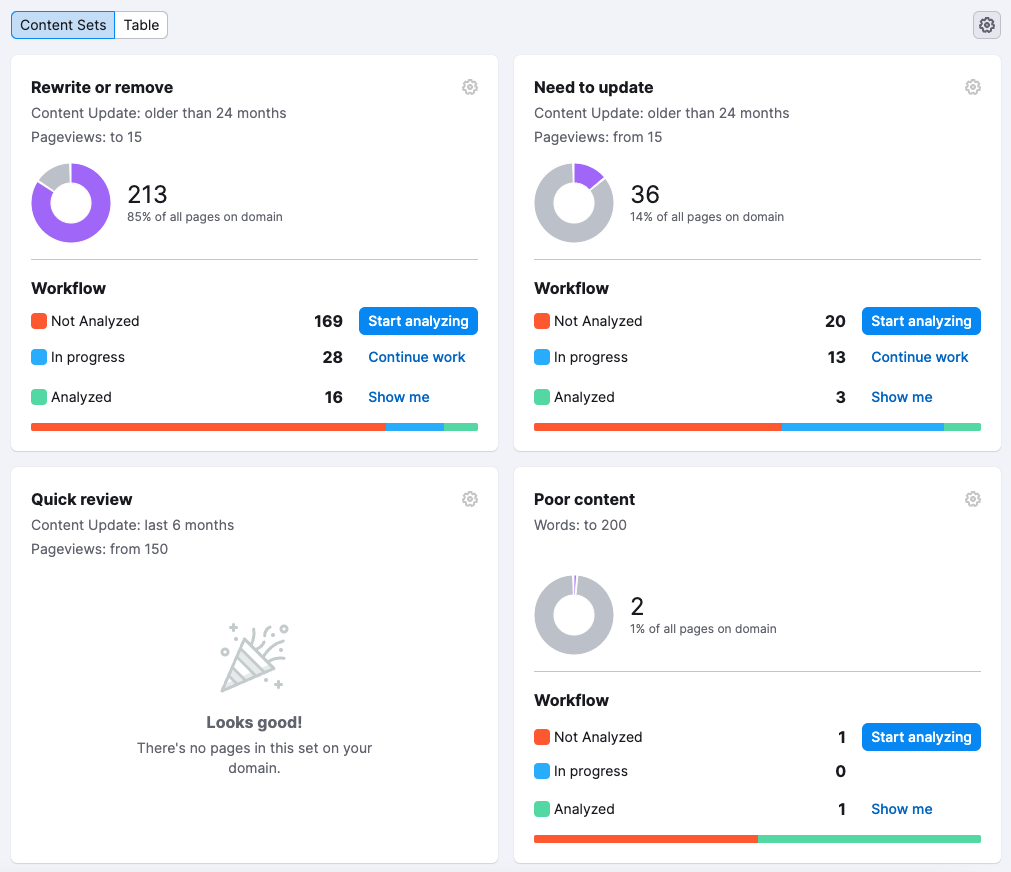 And analyze pages one by one for a full picture: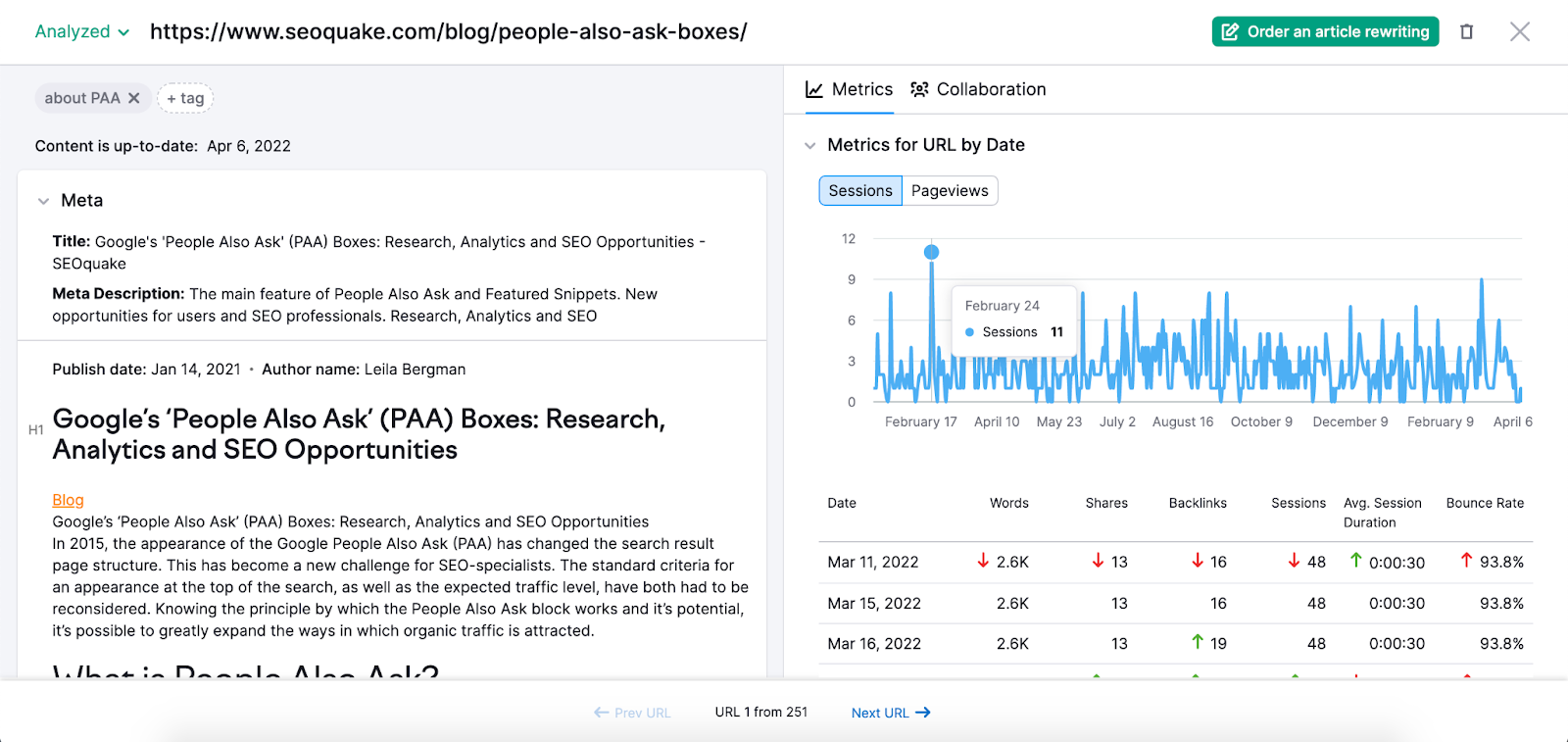 Ready to create content? Use the Topic Research tool to generate topic ideas based on top-performing content.
Add a topic, and you'll see related headlines, questions, and searches: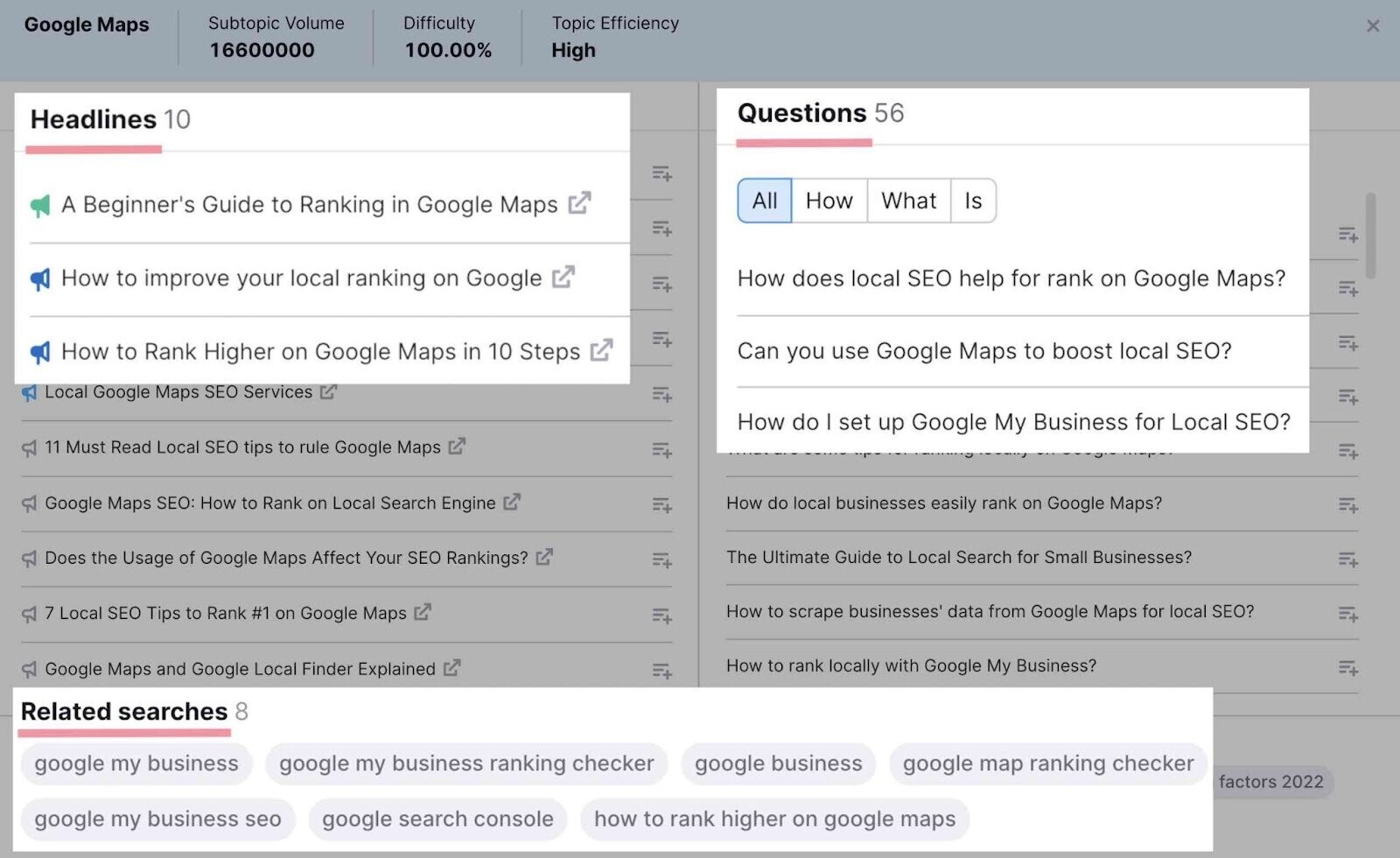 Once you have an idea, you can use the SEO Content Template to get started. 
Simply enter your keyword, and you'll get SEO recommendations based on the top 10 competing pages: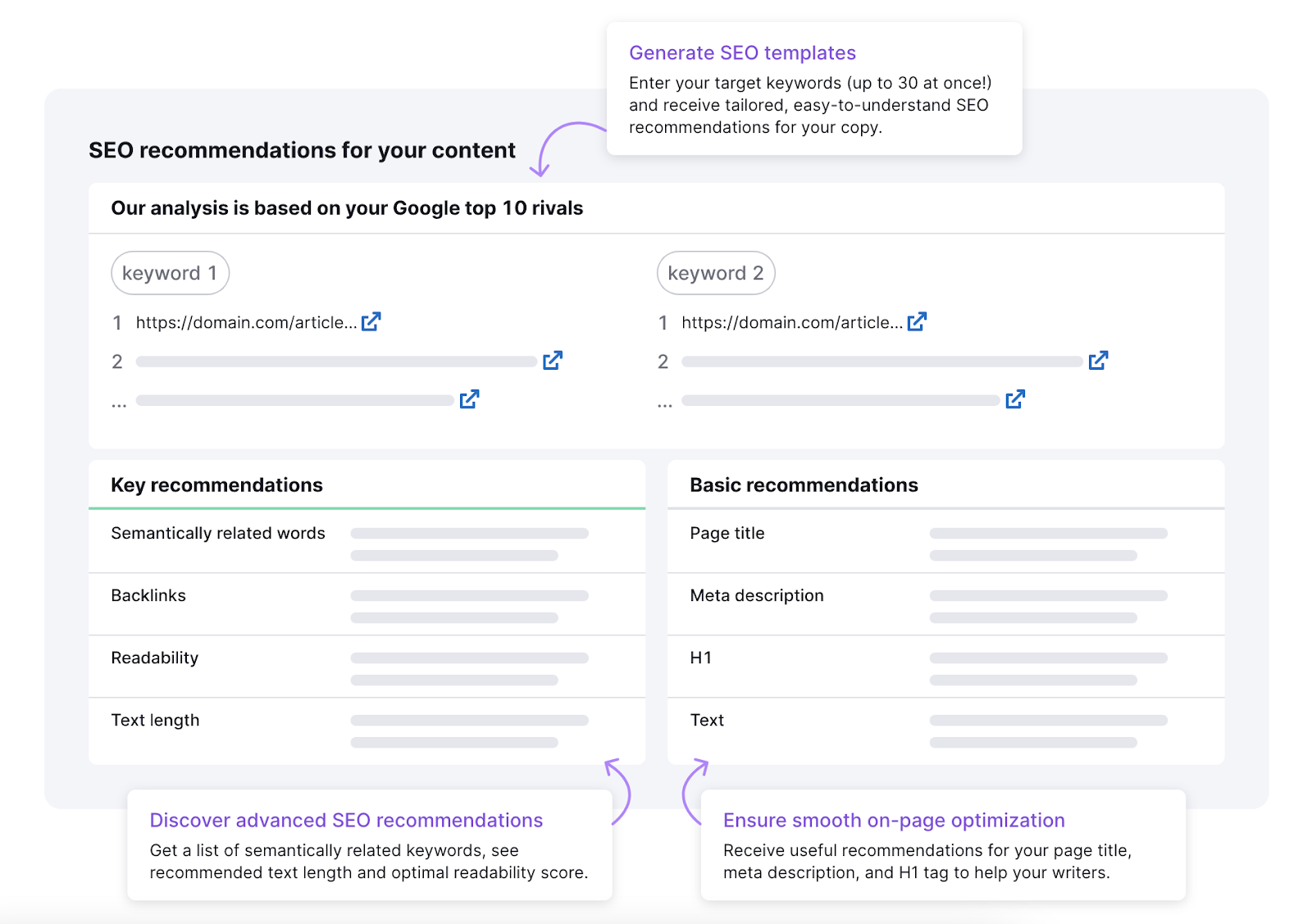 And once you're ready to write, fire up the SEO Writing Assistant. Start typing or import an existing page from the web to get scores and suggestions for readability, SEO, originality, and tone of voice:
You can also use the SEO Writing Assistant's AI Rephraser option to rephrase, simplify, expand, or summarize parts of your text: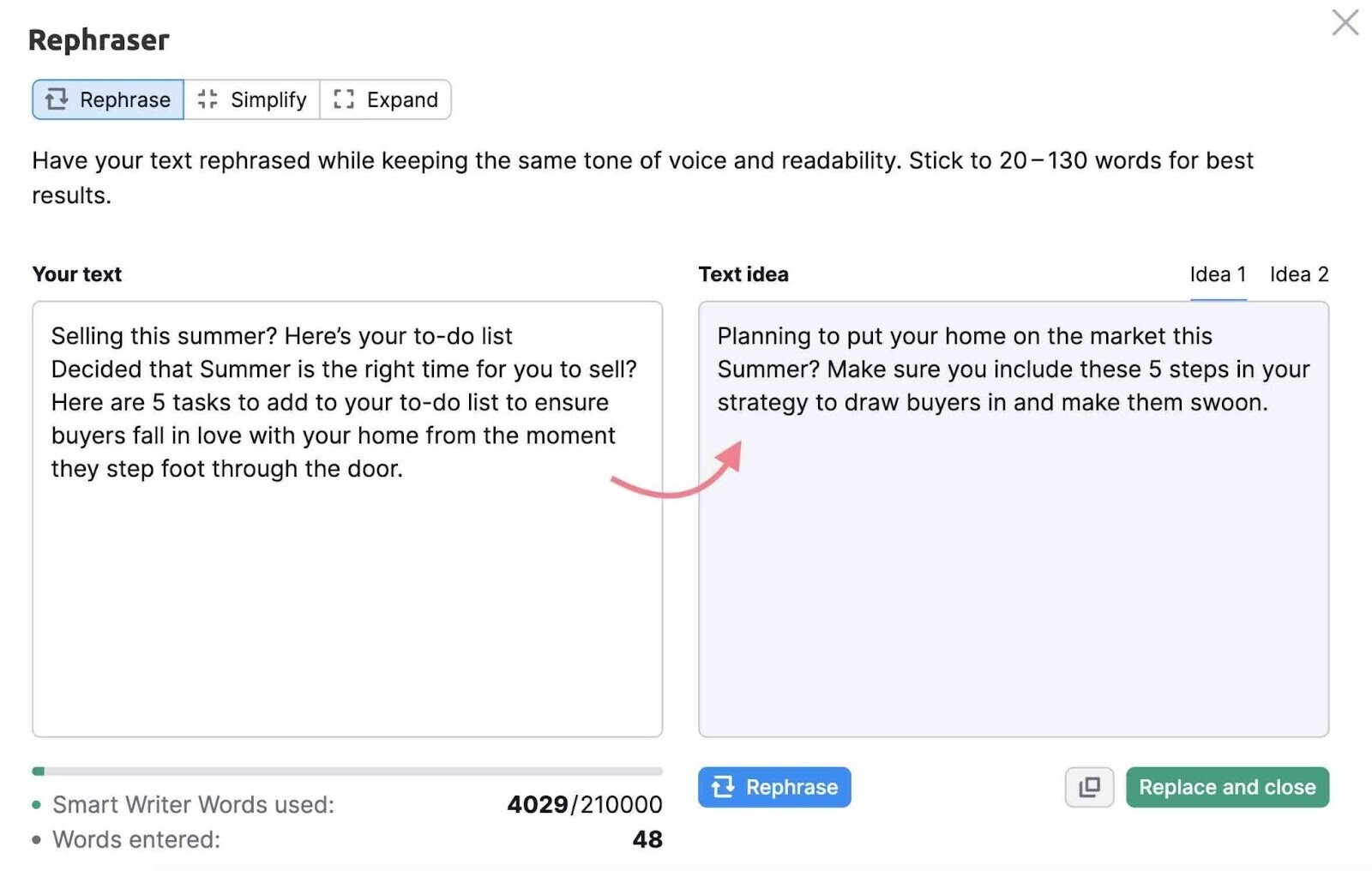 Read our Content Marketing toolkit guide for more details.
2. ImpactHero
ImpactHero is an AI-powered tool that shows you what content is most impactful at every stage in the customer journey. 
The tool provides each page with an "Impact Score." Which details how much money a page makes based on the value of a goal and the user's decision to convert.
ImpactHero also provides tips on how to create content that performs better.
Additional features include the following:
Find out where users are dropping off so you can improve weak spots
View content by stage (attraction, impact, conversion) to better analyze the customer journey
Avoid sifting through tons of data—you'll only see data relevant to your content in this tool
Set up custom goals for more in-depth analysis
Begin by finding your top-performing channels: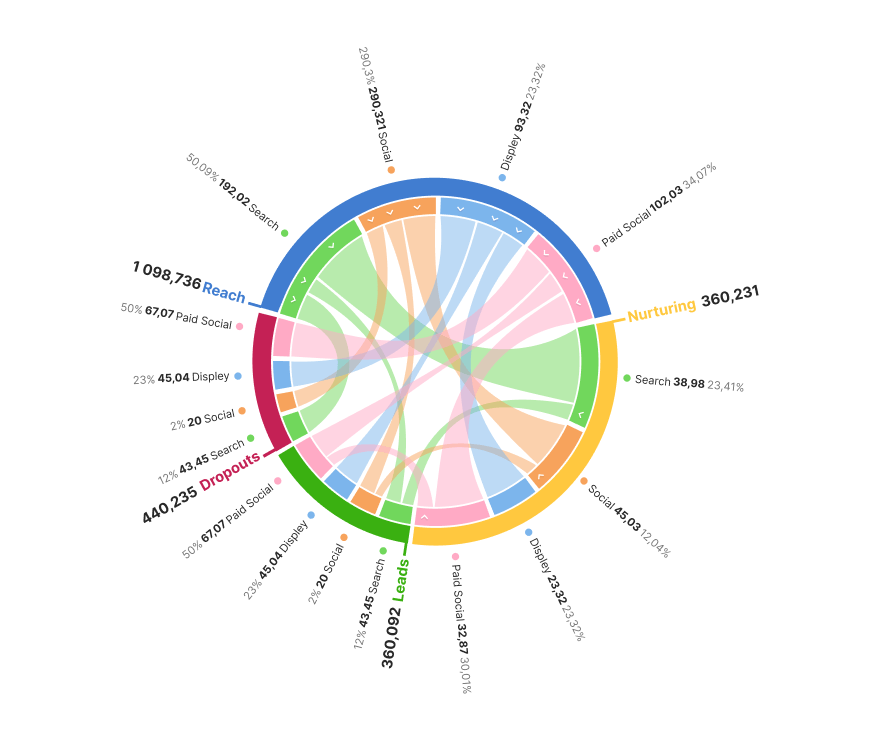 Then learn what types of content are performing the best. ImpactHero reports on content length and content type (e.g., list articles, how-to articles, question articles).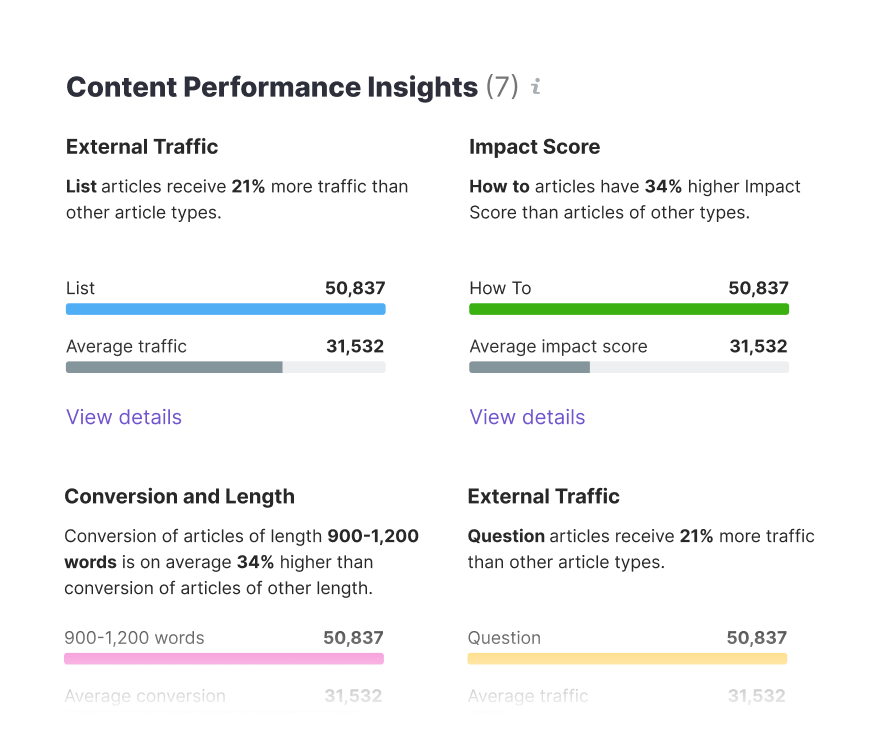 Use this information to decide what type of content to create next.
ImpactHero also reports on a variety of analytics that matter to content marketers. So you don't even need to leave the platform to get all the data you need.
3. Curata
Curata calls itself a "Content Curation Software." You can find, curate, and share content all from the platform.
Its self-learning engine adapts to your preferences over time to help you find relevant content and replicate its success.
Curata estimates revenue by content type. So you can see which types of content perform the best and make you the most money. Which allows you to make strong content strategy decisions moving forward.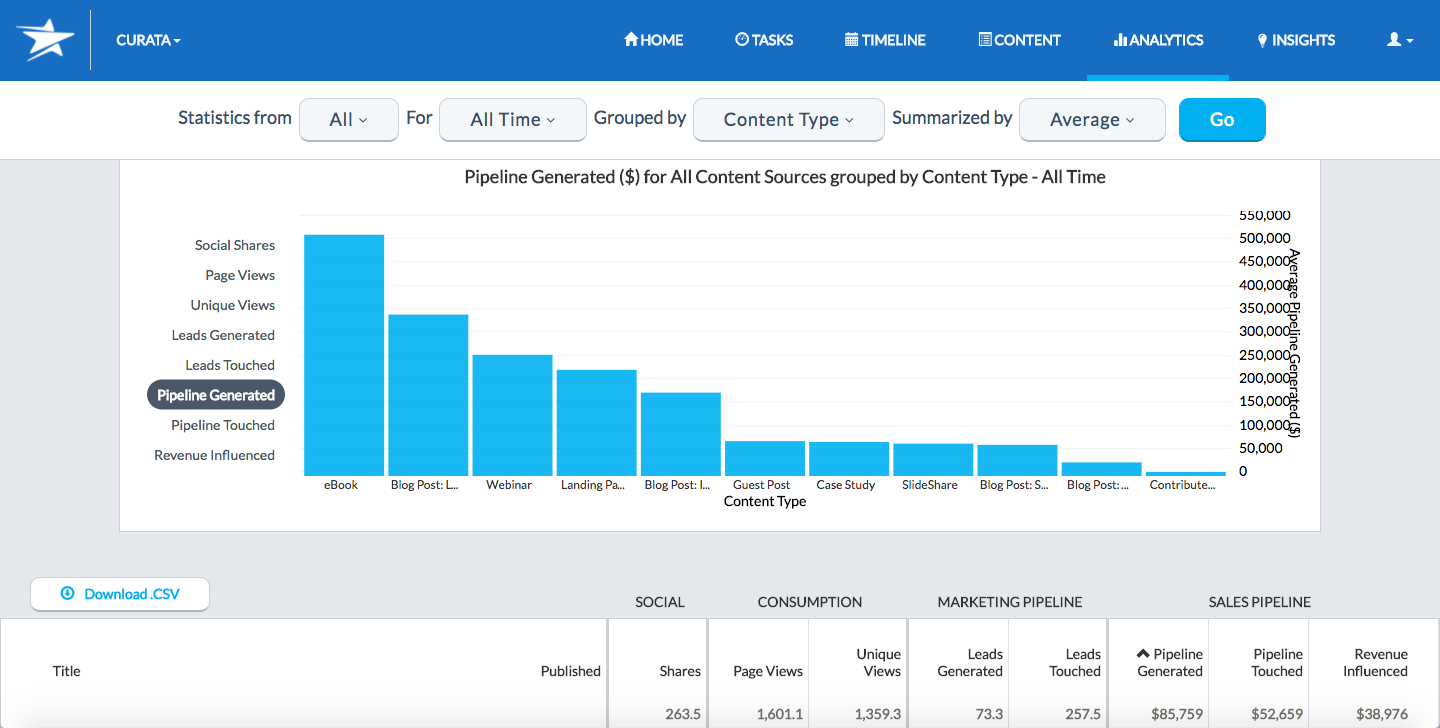 You can also set up custom reports to track specific metrics (and export data to Excel or PDF).
Additional ways to use Curate include:
Author and publish original content directly from the platform
Integrate with your content management system (CMS) and marketing automation tools (like HubSpot and MailChimp)
Discover content that's performing well on social media
4. Contently 
Contently is an enterprise product that allows you to create, distribute, and track your content within the platform.
Start with "SEO Story ideas"—content topics Contently recommends based on your specific content strategy. Or create custom pitches for Contently's freelance network.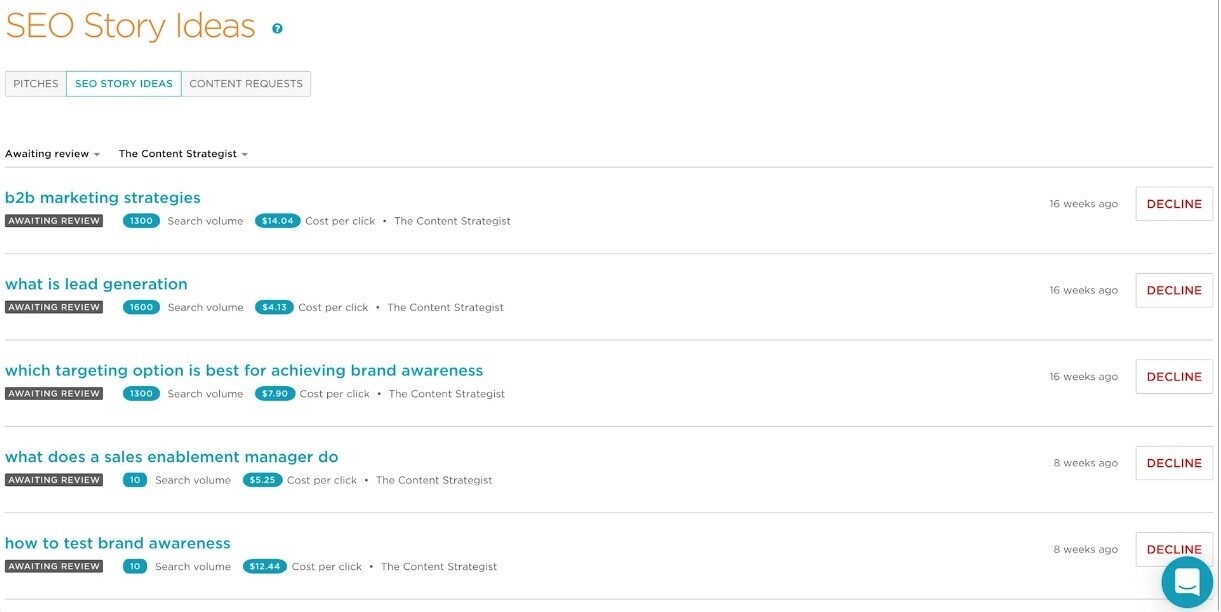 Once you publish your content, you can track its value in the analytics dashboard.
The analytics dashboard shows your SEO traffic value and organic search traffic: ​​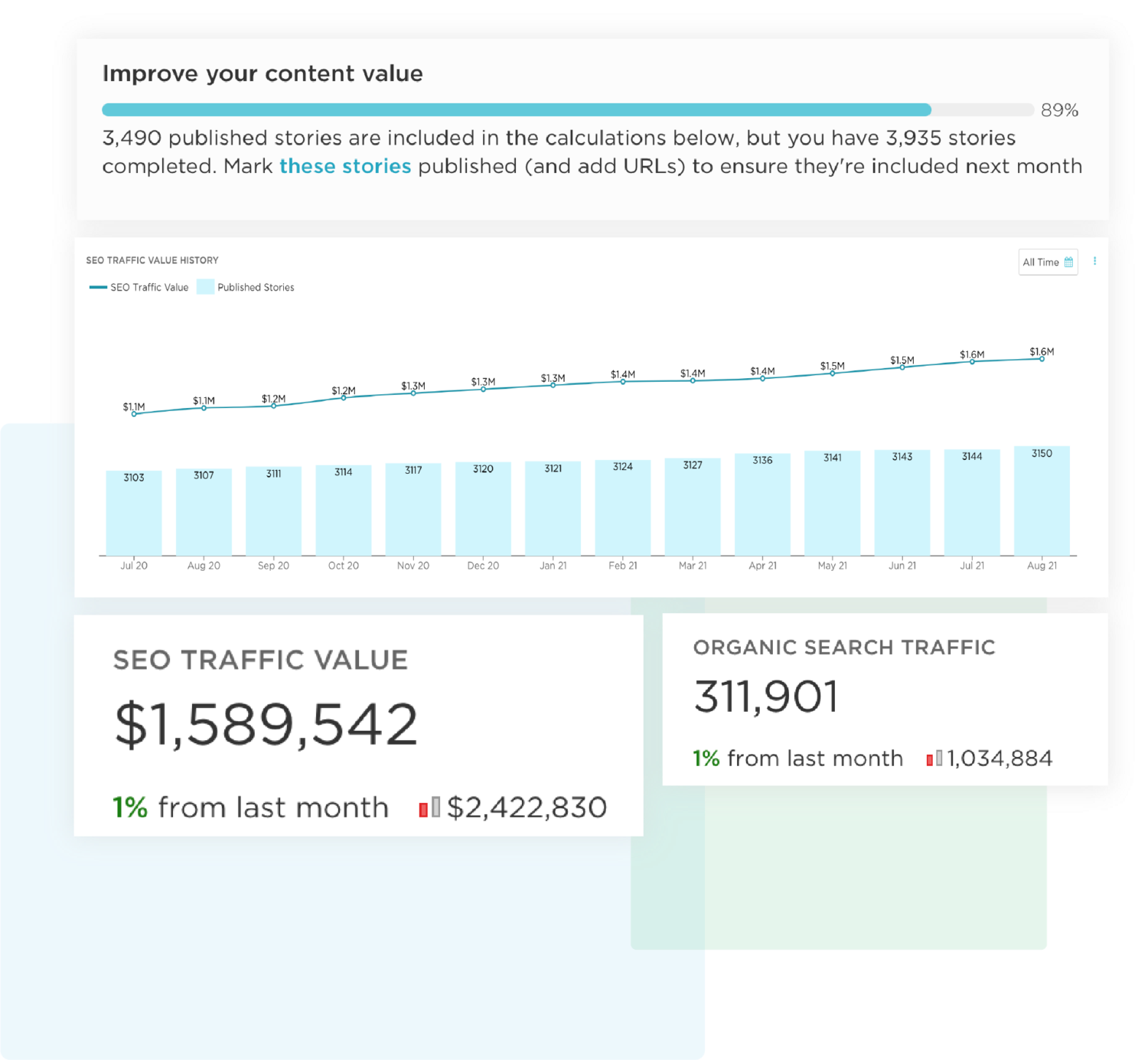 And stats like "People per day," "Attention Time," and "Average attention time per person":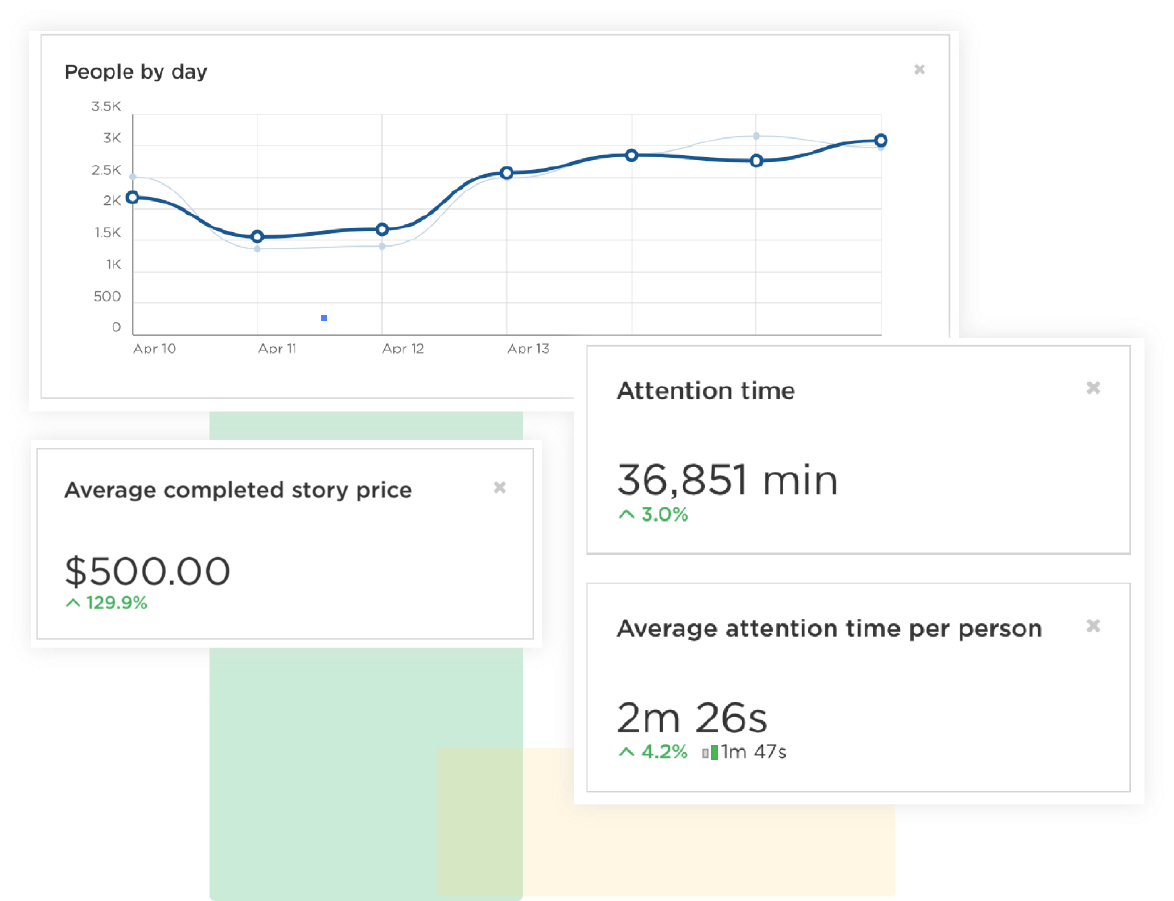 Contently also allows you to measure your content performance across different channels, like websites, social media, and email. 
This helps you understand which channels are most effective at driving engagement and conversions. So you can optimize your distribution strategy.
You can also set up custom reports to track key business metrics and export data to Excel or PDF.
Additional features include:
An intuitive drag-and-drop marketing calendar
The ability to track content marketing campaigns
Content workflow and brief templates
Plagiarism and SEO checkers
A voice and tone analyzer
5. Optimizely
Optimizely is an enterprise CMS that uses content intelligence technology to provide real-time content recommendations. Directly within the CMS itself.
Its goal is to assist you in producing content that will convert and drive revenue.
You can find out exactly which topics drive high-value actions (like conversions or revenue) so you can focus on content that helps you reach your goals.
Optimizely also has a digital asset management system called Library. You can organize all your digital assets in one place and find what you need quickly with advanced filters and foldering.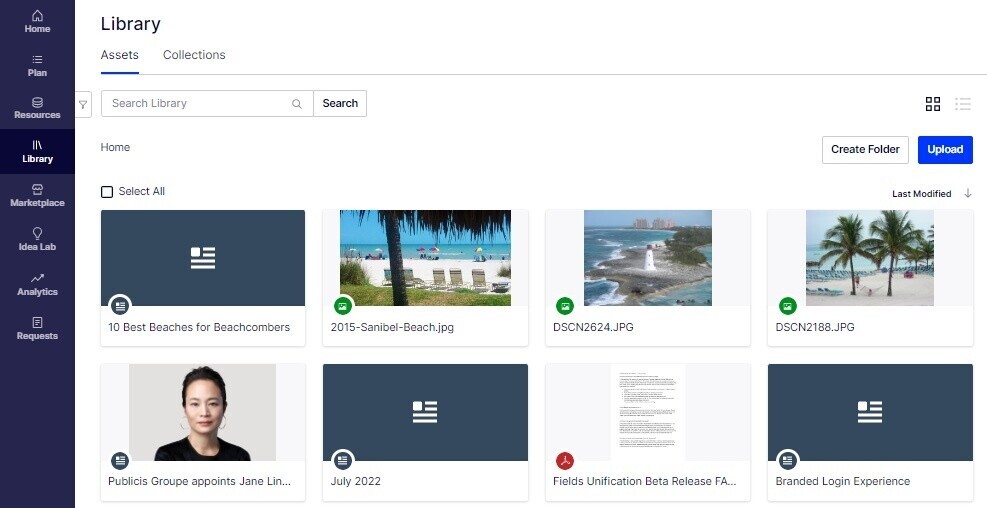 Here are just a few things Optimizely can help you with:
Web content/product recommendations
Email content/product recommendations
Retargeting
Real-time reporting
Use Content Intelligence to Grow Your Business 
Content intelligence platforms save you time by automating repetitive tasks. So your team can focus on jobs that require a human touch.
And by using content intelligence software to make data-driven decisions, your content creators can spend more time on what works. And stop wasting time on what doesn't.
There are plenty of content intelligence tools out there. Make sure you choose one that provides all of the capabilities you need—from content ideation to distribution.
Want to try out a wide range of tools for free? Start your free Semrush trial today.