Written by Mateusz Makosiewicz –

An aggregator is a business that collects and rearranges an existing commodity in a way that provides value to the customer.
Aggregators typically don't create content because the content is being provided to them through other creators. Think Google, Facebook, YouTube, or Spotify. 
Integrators are on the opposite side of the spectrum. An integrator is a business that creates new commodities (products, services, content, etc.) to meet an existing demand on the market or generate new demand. 
The subject of this case study is an aggregator. But unlike a typical aggregator, it follows a typical integrator promotion strategy: regular creation of SEO content. The results are quite impressive:

Let's see what kinds of SEO opportunities it took and how it tackled them to generate this much traffic each month. 
If you haven't heard of carwow, it's a car-buying comparison platform where you specify the kind of car you want to buy, and dealers prepare offers to compete over you.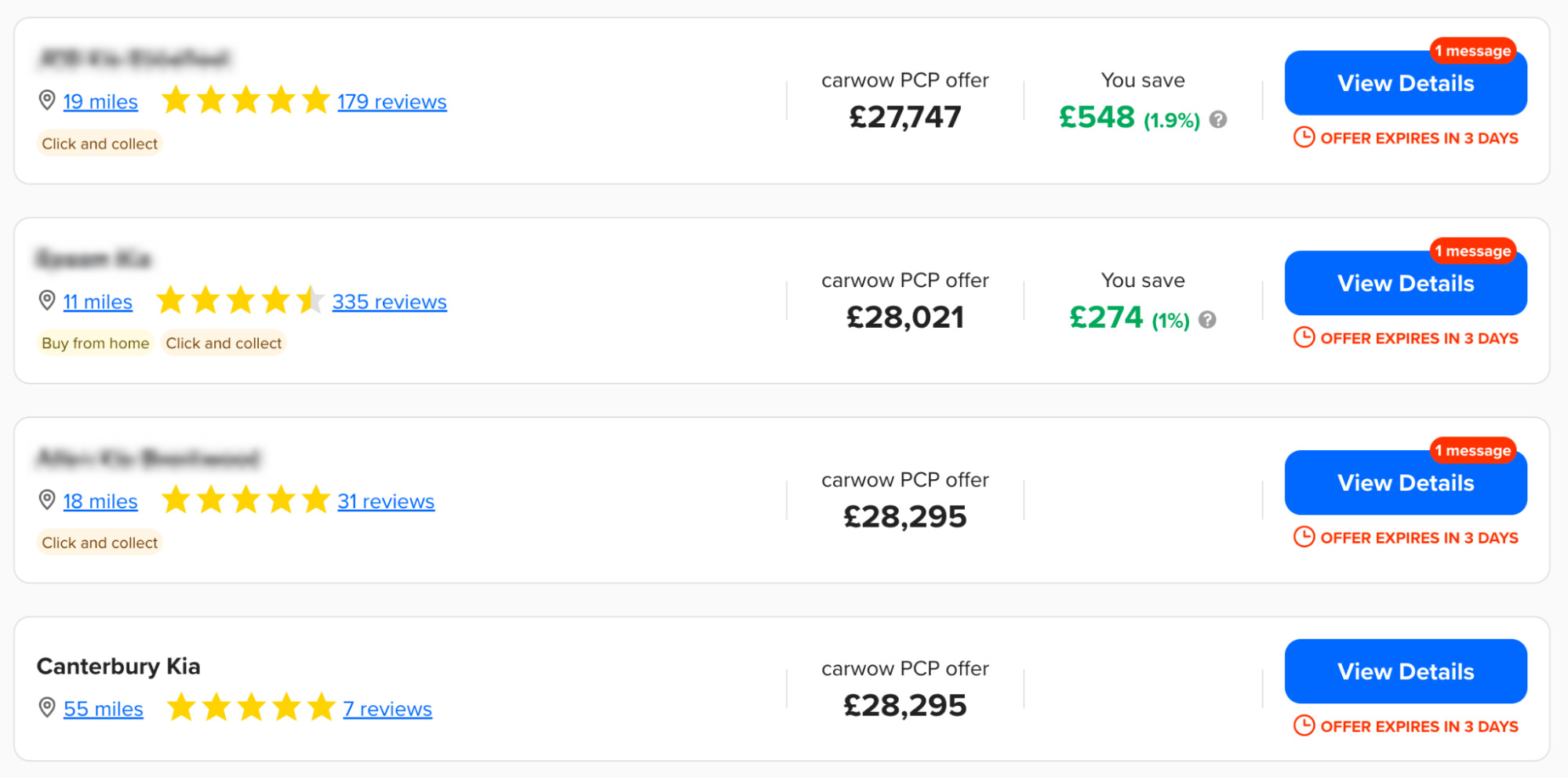 It works the same way if you want to sell a car. Basically, carwow will connect you with the best offers from car dealers. You can also view the existing stock of new and used cars. 
But most people probably know carwow through its original video car reviews. It's actually one of the biggest car YouTube channels in the world (7.73M subscribers, which may make it the biggest car channel). 
And so the aggregator side of carwow is the part where it captures car deals from one side of the market and makes them available to the other side. 
The integrator side of carwow is the part where it makes original content: car reviews, news, guides, free tools, etc.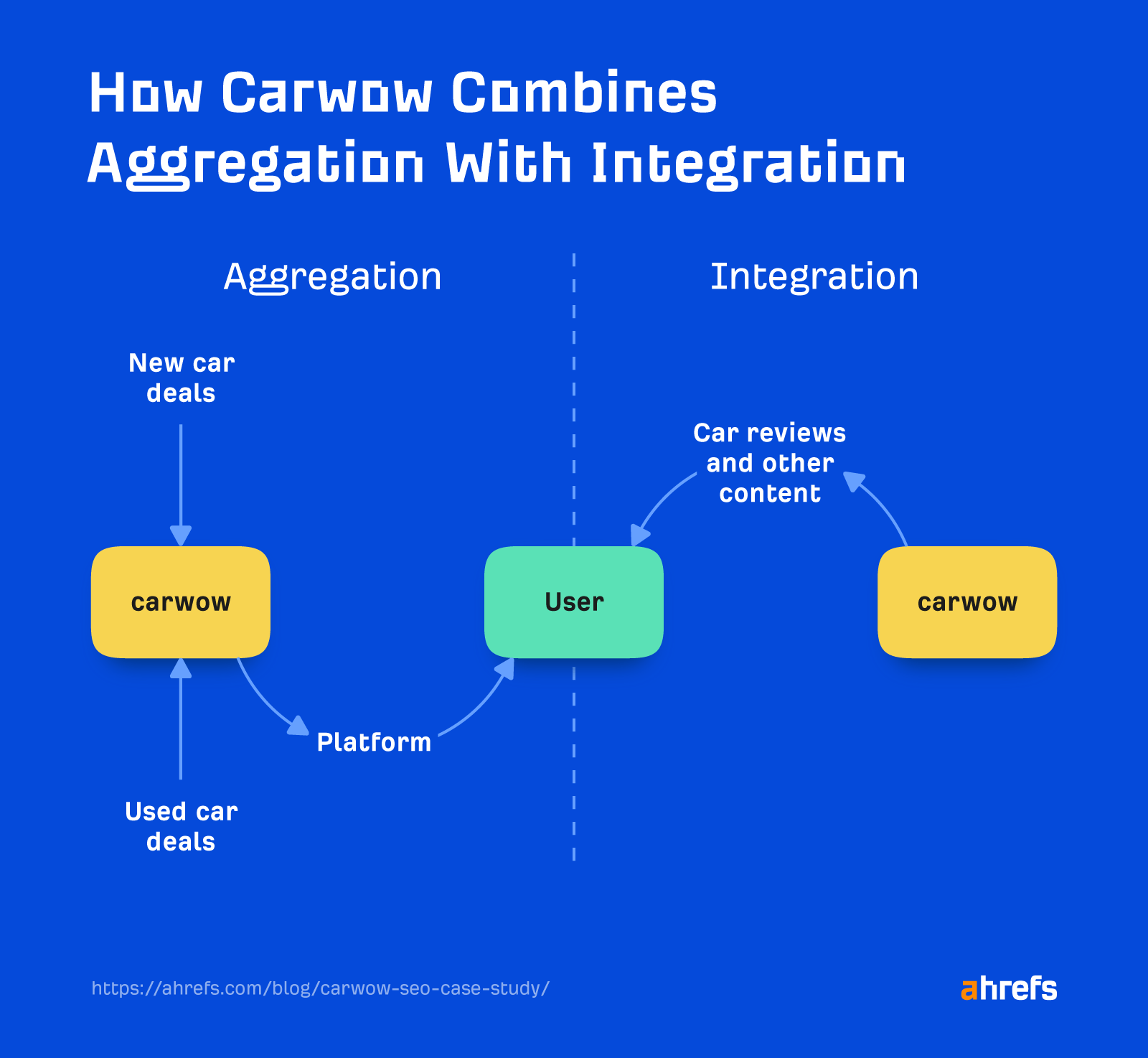 What also makes carwow special is that it was one of the first companies to introduce this kind of car-buying experience to the U.K. market (The Guardian). 
The service is free for consumers, but car dealers do pay for leads they get through carwow. If I'm reading this right, a new car inquiry that leads to a confirmation costs a dealer £38 (~USD $46), and a dealer will pay at least £99 (~USD 120.6) for buying a used car from the platform. 
This entire bid-on-consumer system works because: 
Consumers don't need to visit multiple dealerships and haggle. 
Consumers can get a better price from trusted dealers. 
Some dealerships get more clients this way (but the CEO admits that some dealers aren't very fond of carwow's existence).
Car manufacturers get better feedback on the quality of service car dealers provide. 
Manufacturers can improve brand loyalty (buyers can pick another dealership if they're not satisfied with the service instead of changing brands).
OK, now that we know how this business works, let's focus on SEO. 
Key SEO statistics 
Importantly, carwow is one of the biggest sites in its category when it comes to organic traffic and the biggest when it comes to organic traffic value.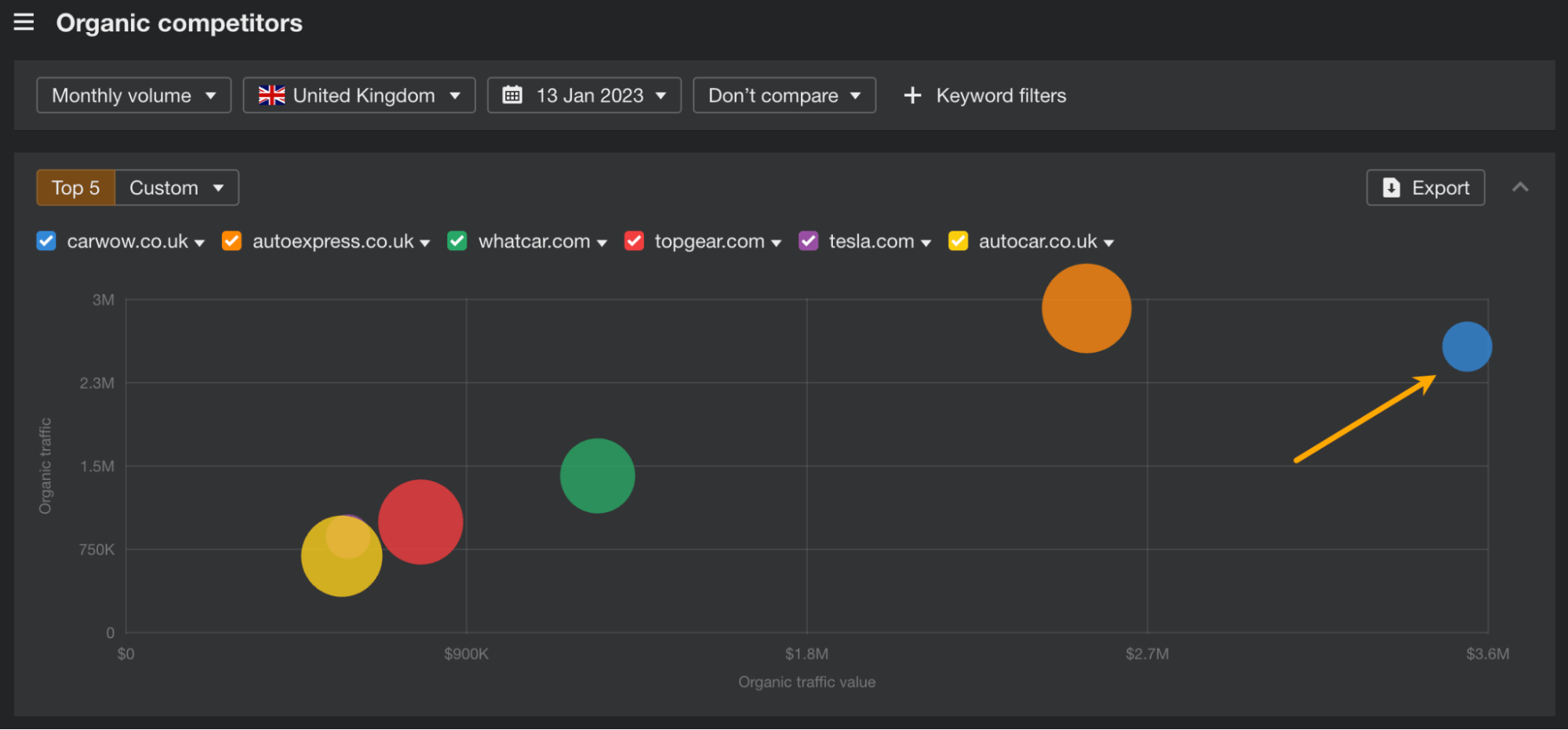 It captures an impressive 2.6M monthly organic traffic from the U.K. alone ($3.5M worth of ads), making it #2 in its niche. If we divided the traffic by pages created to generate it, carwow would be the most "efficient" site.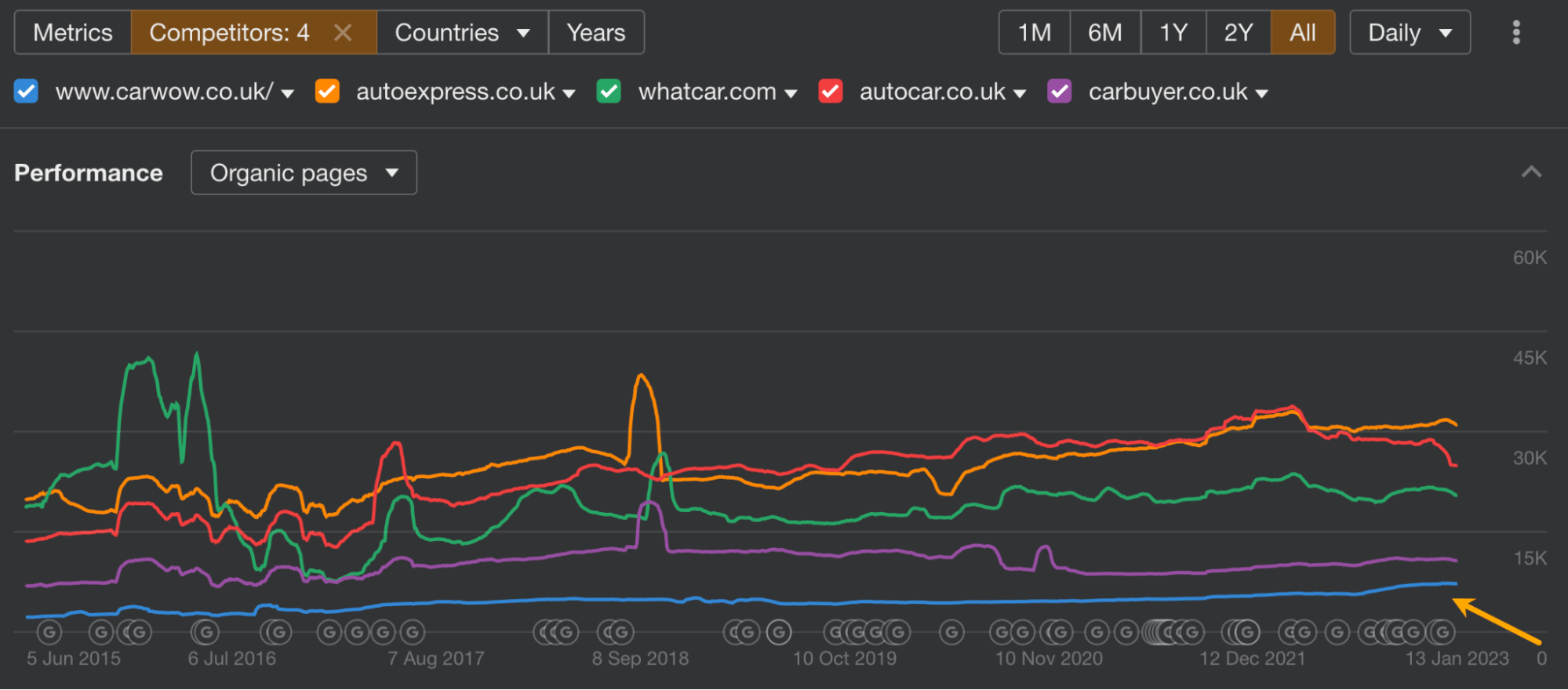 Interestingly enough, the number of referring domains paints a radically different picture than organic traffic. Only one site has fewer referring domains than carwow.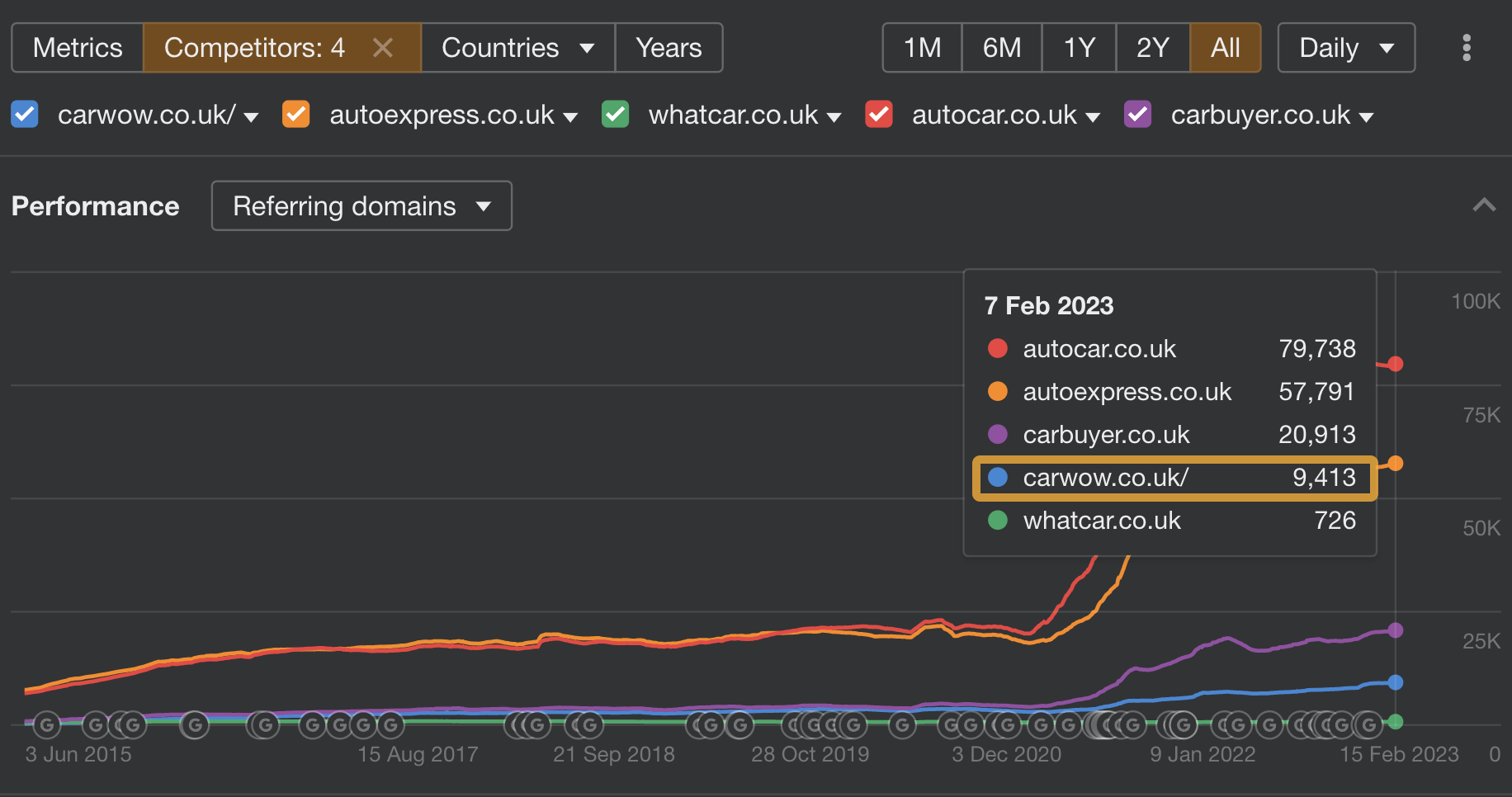 The company became an integrator (i.e., content creator) to become a successful aggregator. SEO is likely one of the key reasons. 
To understand why this company bothers to create original content on a regular basis, let's look at the volume of some keywords it successfully targets (data via Ahrefs' Keywords Explorer). 
| Keyword category | Example | Volume (U.K.) | carwow's rank (U.K.) |
| --- | --- | --- | --- |
| New cars sold on the market | Kia ev 6 | 115K | 4 |
| Used cars | Used car deals | 5.9K | 2 |
| Car brands | Skoda | 98K | 7 |
| Car types | Hybrid cards | 38K | 1 |
| Announced cars | Ferrari suv | 22K | 3 |
| Tools | Tesla supercharger map | 33K | 3 |
| How-to content | Change address on driving license | 85K | 5 |
Plus tons of keywords on car and driver-related keywords that make great blog posts, such as: 
If you multiply that by the number of available keywords (cars on the market, car-related questions, etc.) and add search demand on YouTube, you get a massive organic traffic opportunity. 
The company didn't leave that opportunity on the table. If you look at the structure breakdown of its site, you can clearly see it's the information carwow provides that drives the most organic traffic, not the business side per se. Or, in SEO terms, it's the informational keywords, not the commercial ones.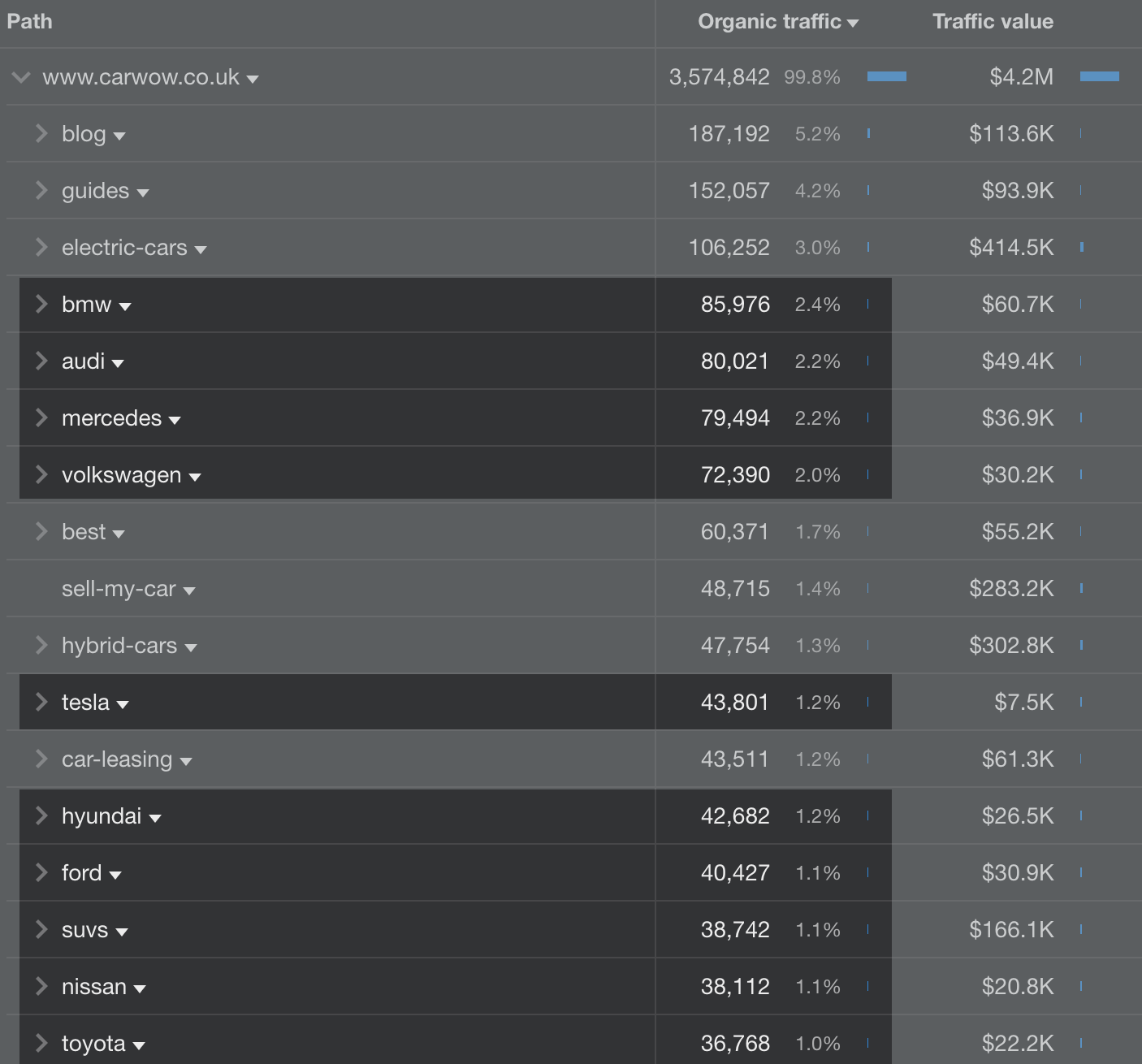 Let's start with the strategy and dive deeper into the types of content it makes. 
Strategy 
In essence, carwow is made for:
People likely to buy a car in the near future – Naturally, the brand wants to be top of mind when the time comes. 
People in the market for a used or new car  
Car owners – They will want to change their cars one day. 
Car enthusiasts – I mean, who else would watch whether an old Lexus or BMW will run longer without engine oil (1.8M views, by the way)? That group of people is important for anyone who wants to build a top brand in the automotive industry. Cars are a special kind of product. Lots of car owners are car enthusiasts too. 
With such an audience, carwow can't bet on only high-intent keywords aimed to convert "on the spot," such as "car leasing" or "buy car online." 
Instead, it needs to "assist" different types of customers on their journey. So we've got:
Purely entertaining content – Car head-to-head races, videos with weird experiments like "which car will die first."
Content meant to educate – This is where text and video car reviews come in (they're also quite entertaining too) and various guides like how to finance your car. 
Content meant to engage – Here, we'll find mostly tools: configurators, calculators, comparisons, deal browsers, etc.
Interestingly enough, carwow follows the car's journey too. It starts writing about any particular car when it's in the news, followed by a review with new car deals, and ending with used car deals. 
So for example, before VW ID.5 hit the market, carwow wrote about it in the news section. 
Then, it lost the ranking when ID.5 became available on the market—the search intent changed. But then it made a review of the car and ranked for the keyword with new content that again matched search intent. This ranking history chart tells the whole story:
Site structure 
The two most important assets carwow holds are car deals and car reviews. Those assets have their distinct SEO opportunity, which would be wasted with an unoptimized site structure (such as gated content or useless content categories). 
How carwow "serves" those assets to the user is a beautiful marriage of SEO and usability. 
The thing is that the same content can be served for different segments of users who look for different things. It's all about how you serve it.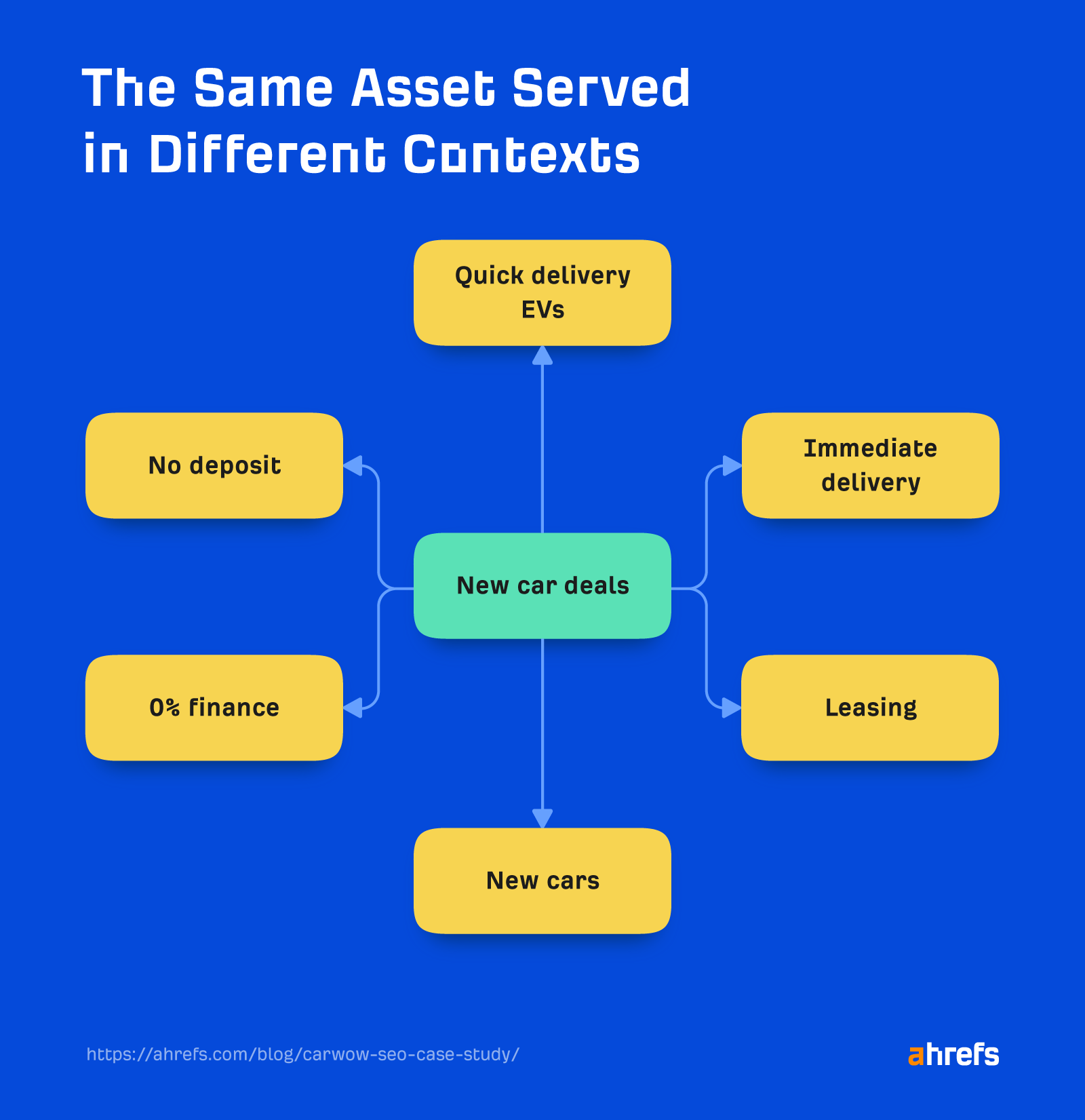 So not only do the assets get organic traffic, but the categories of those assets also get organic traffic too. 
By the way, this is exactly why SEOs should have their say in how websites look and work.
The same idea of "repackaging" content can be observed in various roundup articles, such as "Safest Cars of 2023" (2.4K organic views monthly) or "10 most fun cars to drive" (3.9K views), which features car deals and reviews. 
Car deals 
Let's take a quick look at car deals before we go into car reviews. 
What's interesting here is that carwow doesn't need to show the actual deals to rank for keywords related to car deals. It can get free traffic from search engines without giving out all the information reserved for logged-in users. 
What seems to do the trick for these pages is:
A bunch of car specs.
A recommended price. 
Some financing details.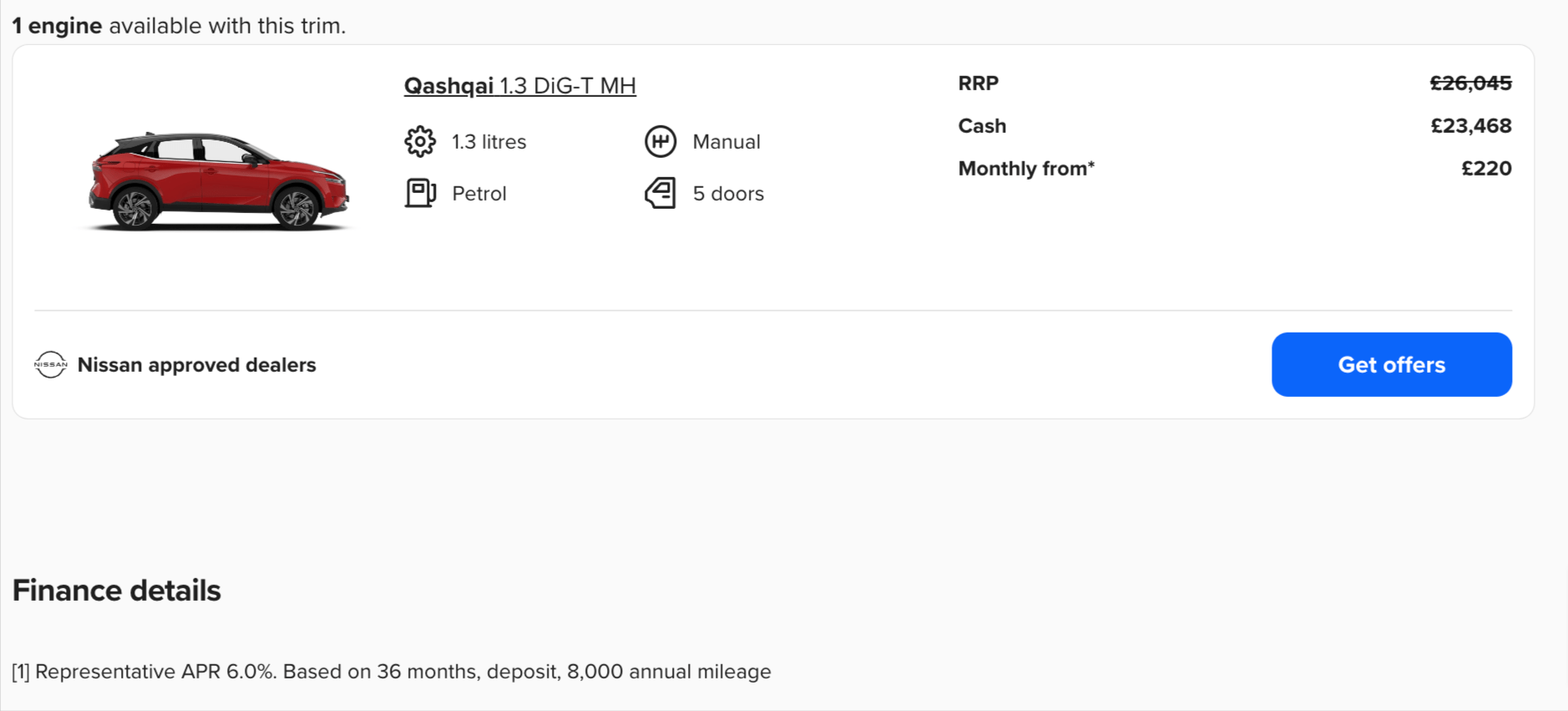 Car reviews
Car reviews are where this content machine really shines. After all, this is what brings this website the most organic traffic and what the website is known for. 
I'll save you the standard SEO stuff and focus on things that stand out. 
First, its car reviews are not just written-down impressions after test driving a car; they're not reviews in the traditional meaning.
They're more like small content hubs that are only based on reviews. In practice, they are as much about learning about cars as buying them.
Of course, this particular mix is obvious for this kind of business. But what's interesting is that it's also a specific kind of search intent recognized by Google. More often than not, it's this kind of page that has the most chance to rank in the top 10 for car models (except those from car manufacturers and Wikipedia).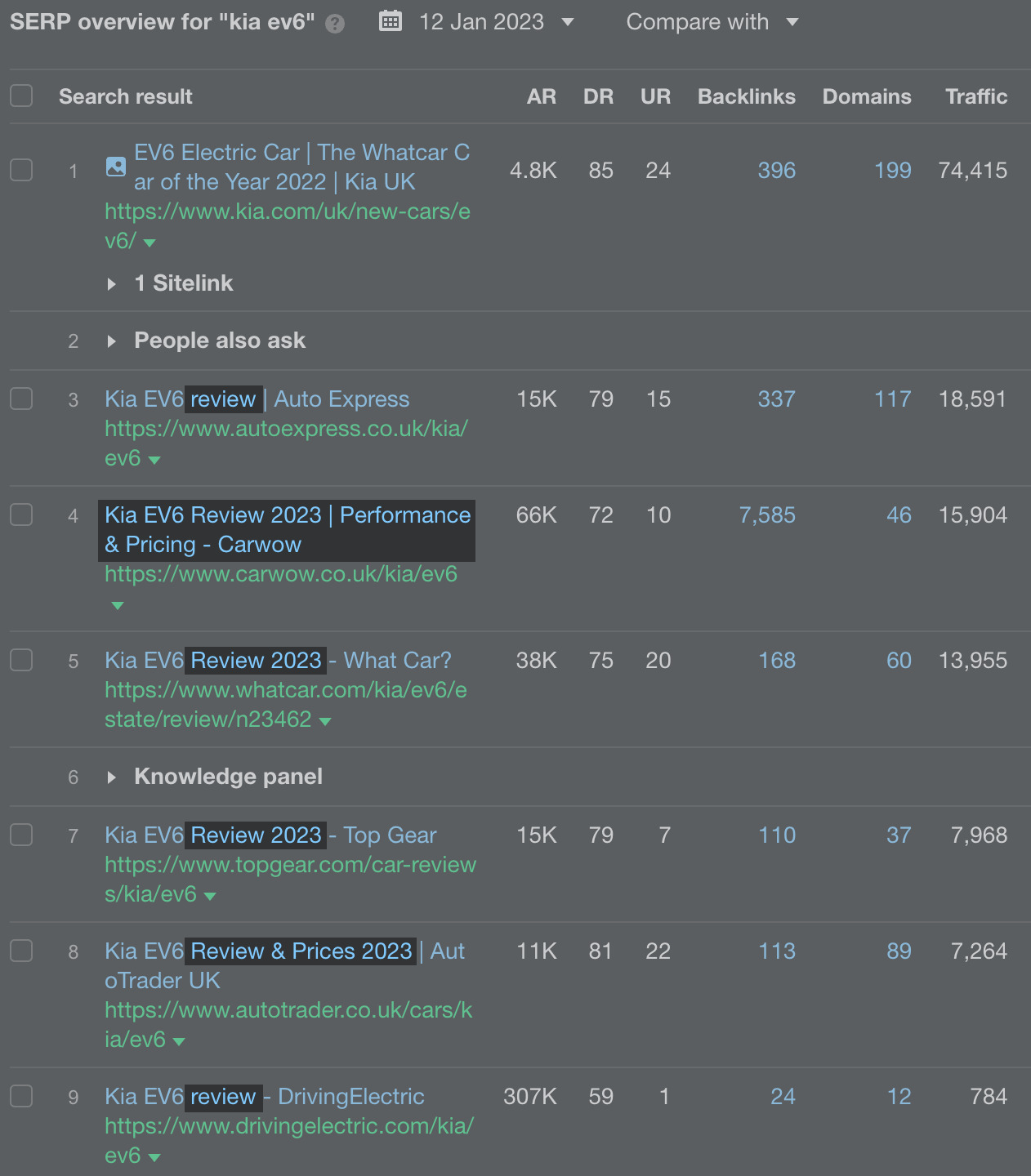 You can see the difference when comparing a traditional review, such as this one from Wired, and carwow. 
Just like any content hub, carwow's reviews aren't just a single page. They feature subpages about certain characteristics of the cars, such as the interior, specs, or colors.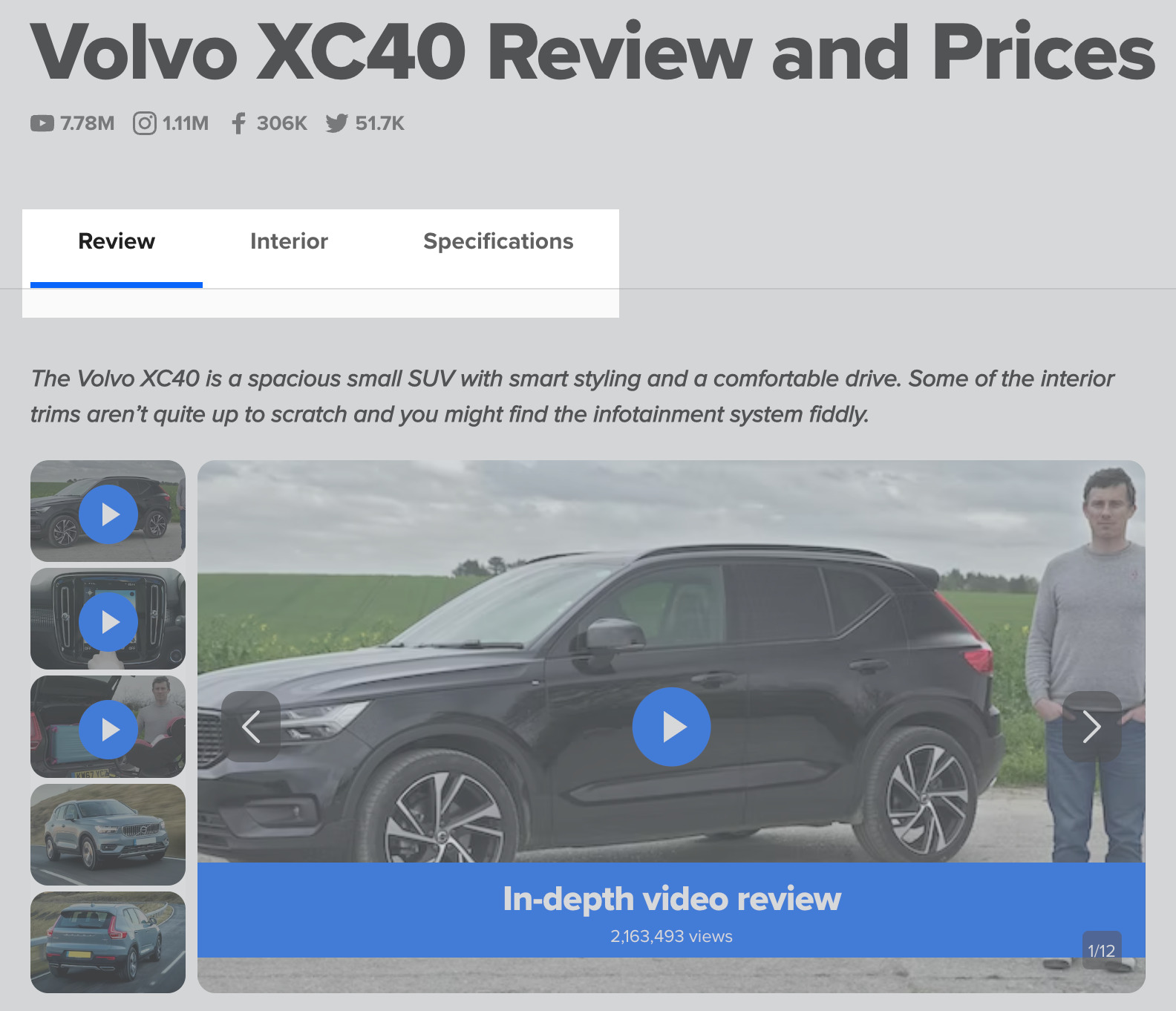 I think this tactic helps carwow to nail the search intent. For example, since the keyword "volvo xc40" can mean different things related to the car, this makes every sense to serve content in the form of a hub. And when you look at carwow's competitors, they're doing the same thing. 
As with all content hubs, by making a review about a car, it ranks for the keywords that the pillar page targets but also the keywords the cluster content (subpages) targets. 

Also, it's worth mentioning how this impacts the UX. At least in my opinion, it's way easier to navigate the review with this kind of pagination than scrolling through a page with everything on it (that's what it used to have). 
As for the content itself, carwow bets on original content produced by an in-house team. This is an interesting turn of events because before it became the carwow we know today, it was a car review aggregator. 
No doubt, original car reviews make it more trustworthy as a business that acts as an intermediary between the buyer and seller. But at the same time, it sends a powerful E-E-A-T signal to Google, as the search giant prefers original content created by people with first-hand experience in the topic who have actually used the product they review.
At the same time, the content is approachable, easy to digest, and even entertaining—very much like its video reviews. It's written in a language everybody can understand, and it covers all the main aspects of buying and owning a car. Sounds exactly like the type of content Google wants.
Once carwow crystalized its winning tactic, it's been repeating it ever since, consistently ranking in the top 10 for car reviews. 
Free tools 
From a business perspective, an integrator won't have to create a tool for something like checking congestion charges in the U.K. 
But it's a great opportunity for free organic traffic and an opportunity for helping drivers. A brand like carwow should do that at all times. 
So what if a ULEZ checker and a congestion charge checker are practically identical tools? Google doesn't mind, and I bet neither do users. 

If Google sees these as different things, this means it's an opportunity to tap into both search demands with a practically identical solution. 

At the same time, these two tools pose an excellent business opportunity. The tools work by showing data based on registration plates, and entering a registration plate is a few steps away from getting a deal on your car.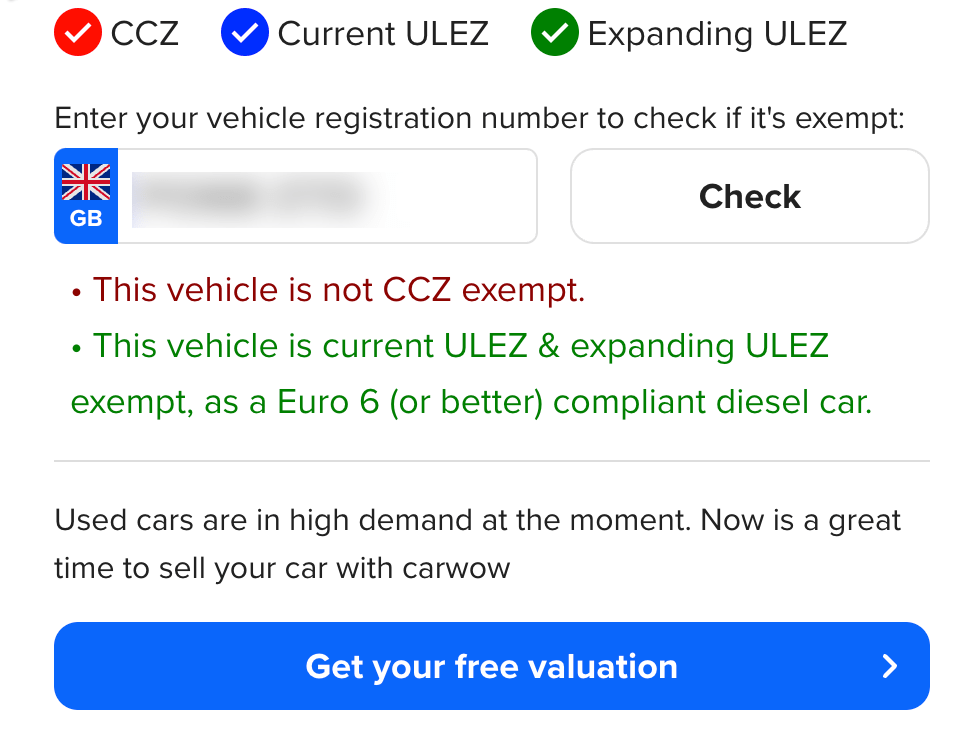 Nice conversion path. 
This brings us to the next point. 
Conversion 
Is SEO more about bringing traffic to a website or what comes after that? 
Well, it may be about both. After all, the best kind of traffic is the one that brings potential customers, right? 
I thought it might be interesting to see how a website that produces a variety of content aims to convert visitors. 
Looking at this website, you can't help the feeling that it has been carefully designed to squeeze the most out of the traffic. We've got:
Highlighting offers and pushing reviews to the back.
Sticky banners. 
Footer banners. 
Contextual prompts in text. 
Tools (car quiz and car valuator). 
It seems like a lot. But let's keep in mind that prices and deals are what users are eventually after, even though they came for the reviews. So in such a case, a brand can probably push things a bit further and do things like highlighting offers on a page about reviews.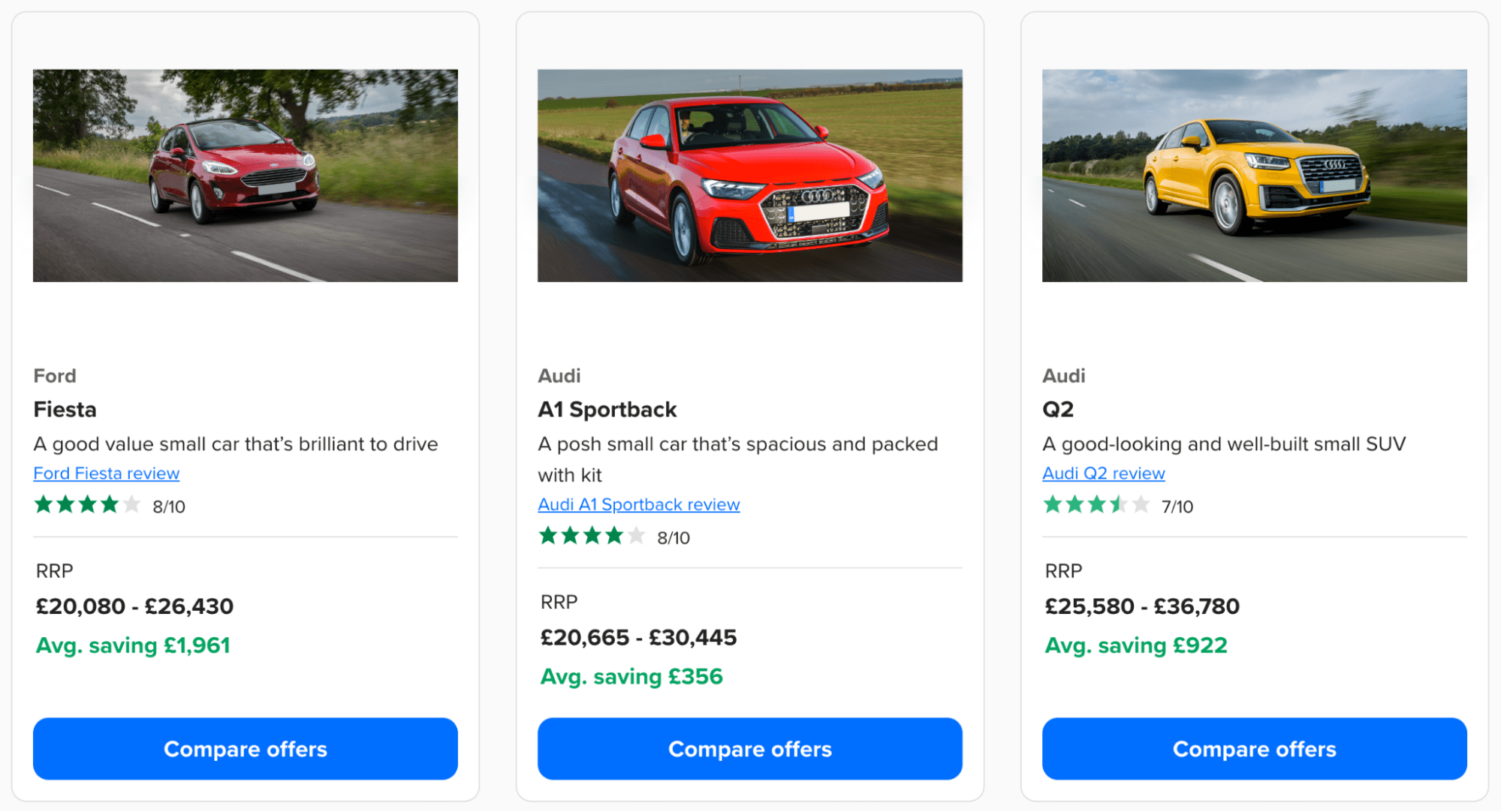 Except for content, carwow shows SEO expertise in a couple of other areas. 
Topical authority 
How is it that carwow instantly ranks for new car reviews? And why does a review on Kia EV6 from a reputable magazine like Wired fall behind sites like carwow? 
I think it's because of topical authority.   
Topical authority is an SEO concept where a website aims to become the go-to authority on one or more topics. 
To illustrate, Wired is not a website dedicated to cars while carwow is. So even though Wired did a review of the Kia EV6, it does not aim to be the go-to authority on cars. Unlike carwow. 
The company writes about cars and car-related topics extensively and often. That allows it to achieve two things: interlink densely and get a lot of backlink opportunities. And these help to build topical authority in the eyes of Google. 
And when you're an authority on cars in Google's eyes, you can rank for car-related keywords instantly. 
I think that in carwow's case, topical authority is a must-have tactic because it competes with sites that live and breathe car-related content. In carwow's market, investing in SEO is going all in.
Interlinking 
It's quite a well-known SEO practice to keep your important pages linked to your homepage. This is usually done by interlinking those pages in the menu. 
However, this is not always the best solution. You can have too many important pages to include in the menu, and some pages may be important for SEO but not the best way to navigate the website.
And this is the case with carwow. The upper menu holds only the most important pages navigation-wise. All of the other important pages SEO-wise are linked in the lower part of the site. A simple solution that's worth keeping in mind when dealing with big websites.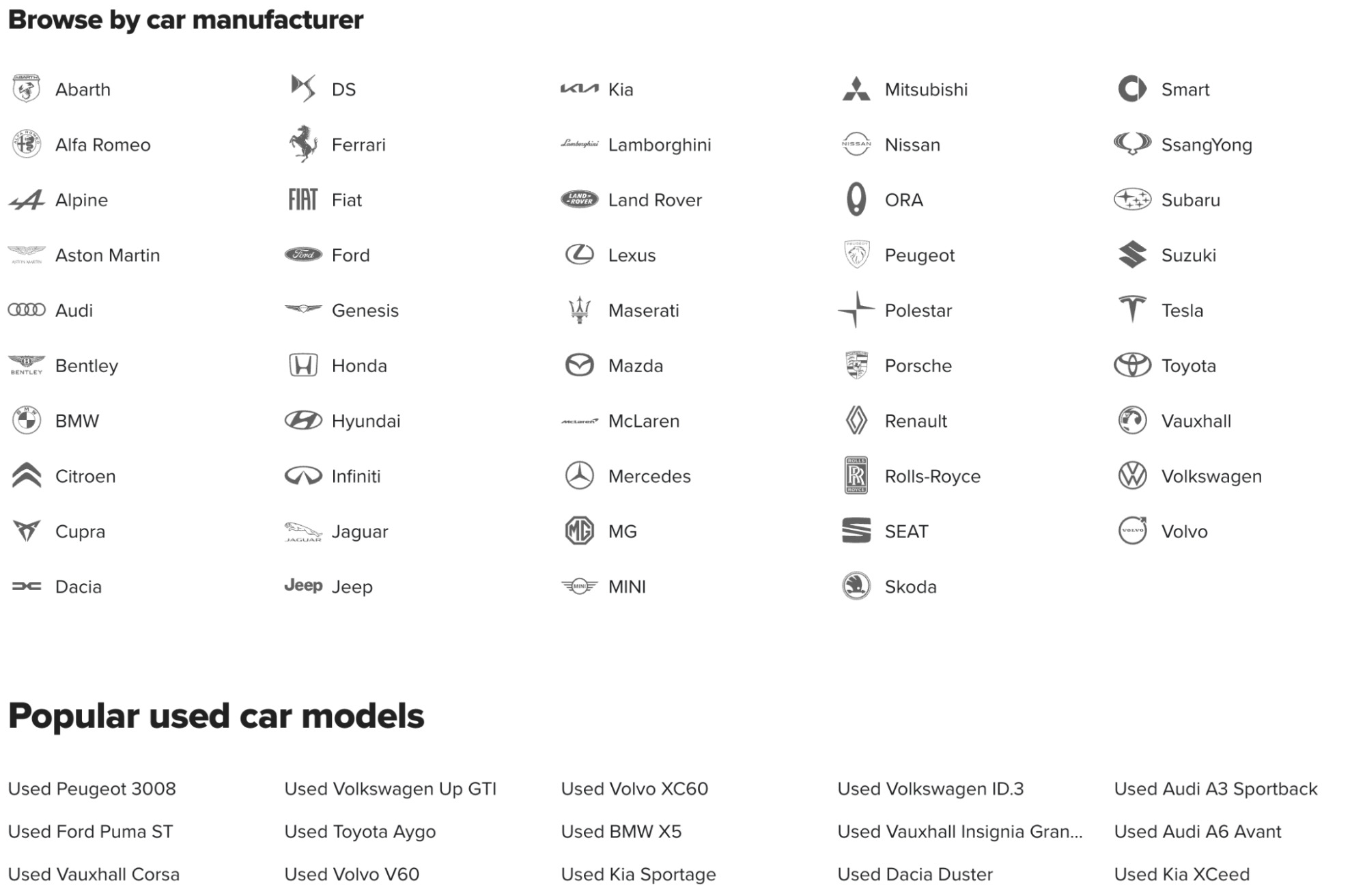 SEO of acquiring Wizzle 
In June 2021, carwow acquired Wizzle, a used car buying platform. This way, carwow became the go-to place not only for new cars but also used cars. 
The way carwow handled the acquisition in terms of SEO is a useful reminder of some of the best practices in this matter. 
One look at Ahrefs' Linked Domains report, and it's all clear: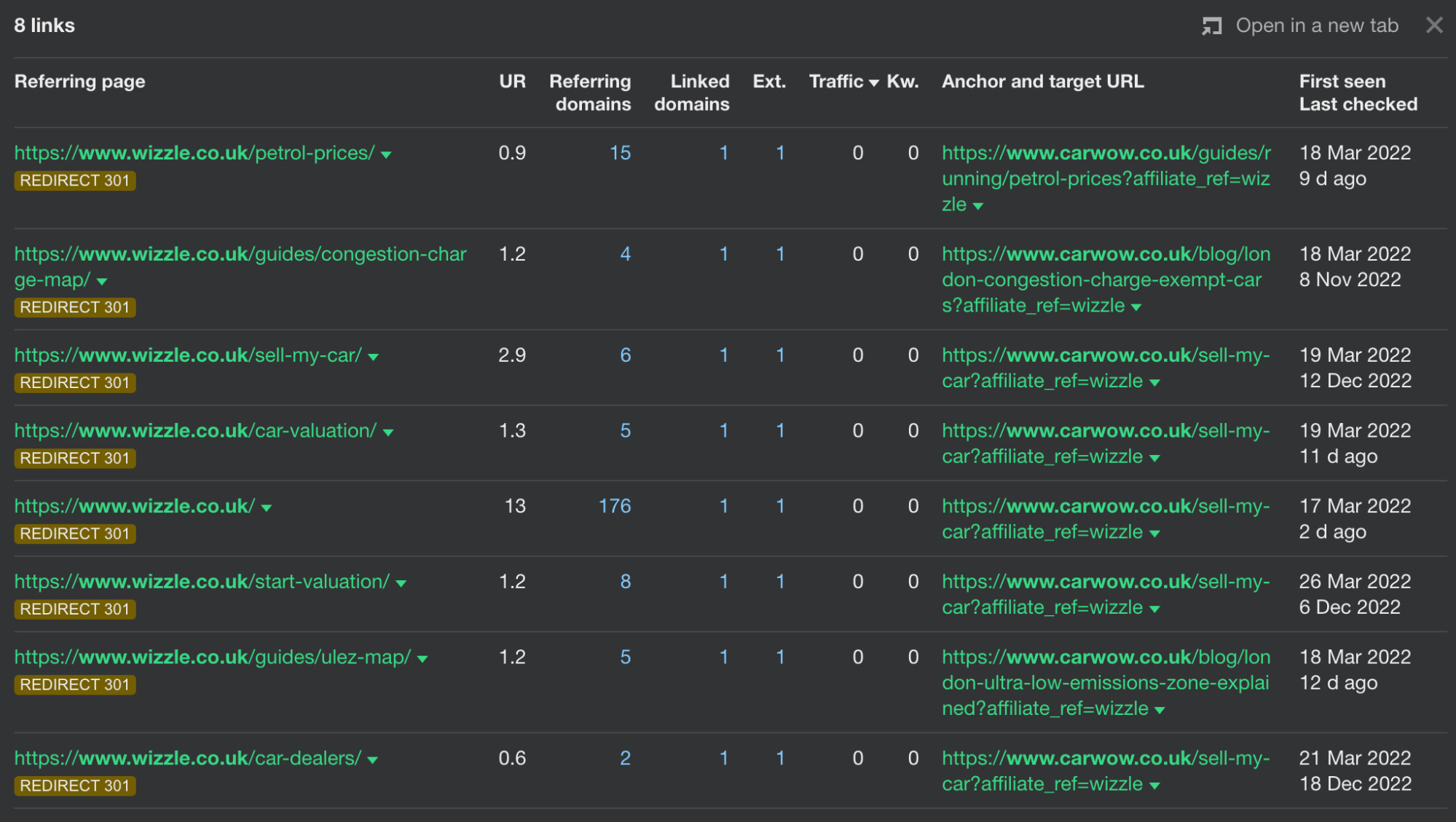 First, the homepage. We can see that Wizzle's homepage has been permanently redirected—but not to carwow's homepage. The company made the right move to make the link equity flow. The redirect has been made to the section of carwow.co.uk that serves the same purpose as the redirected page (selling used cars).
We can also see the same logic has been applied to certain pages from Wizzle. Pages on petrol prices, congestion charges, and ULEZ have been redirected to corresponding pages on carwow.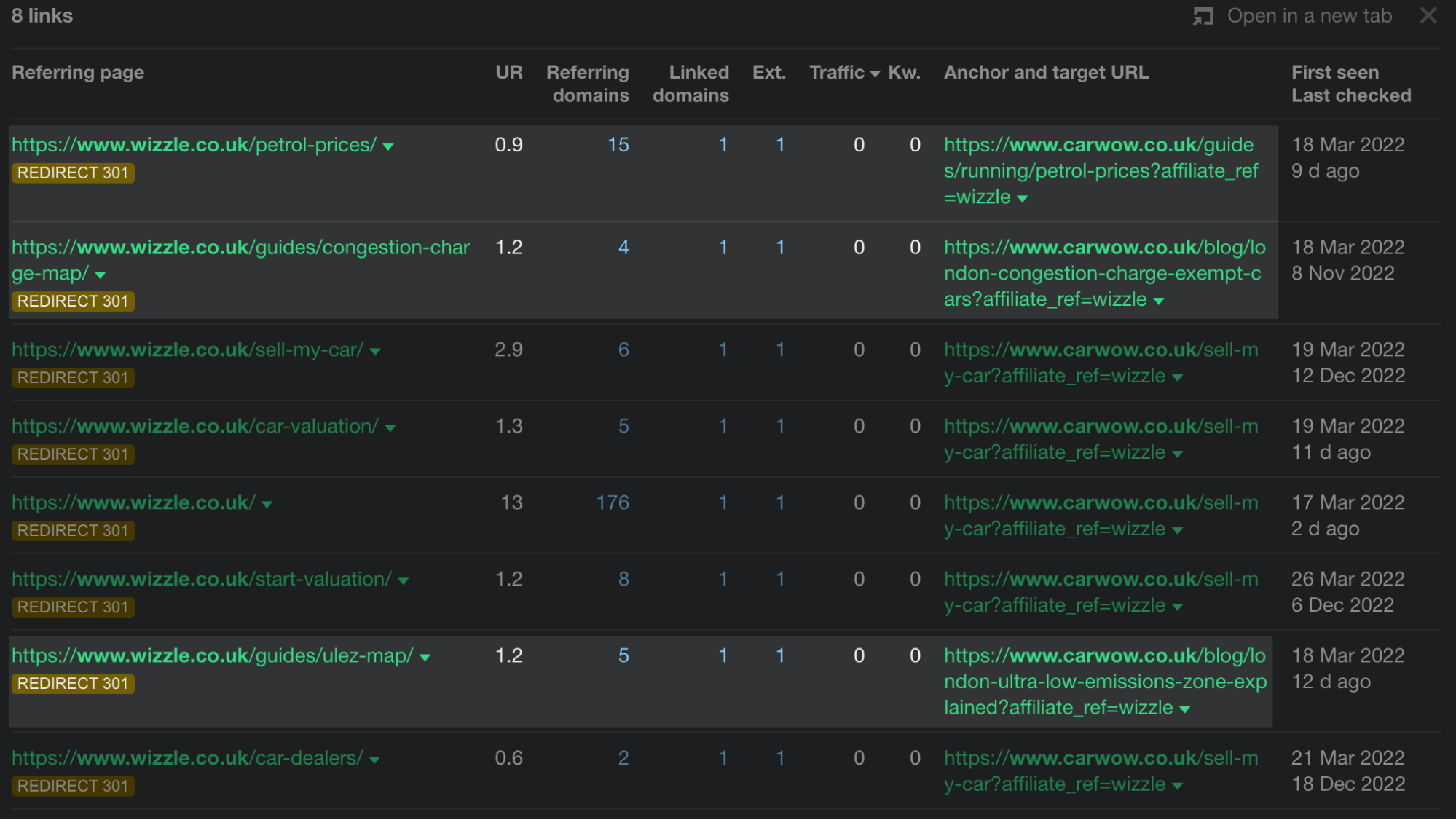 Car news gets redirected to car reviews 
Remember how carwow manages to capture the search intent of car models at all times? Quick reminder: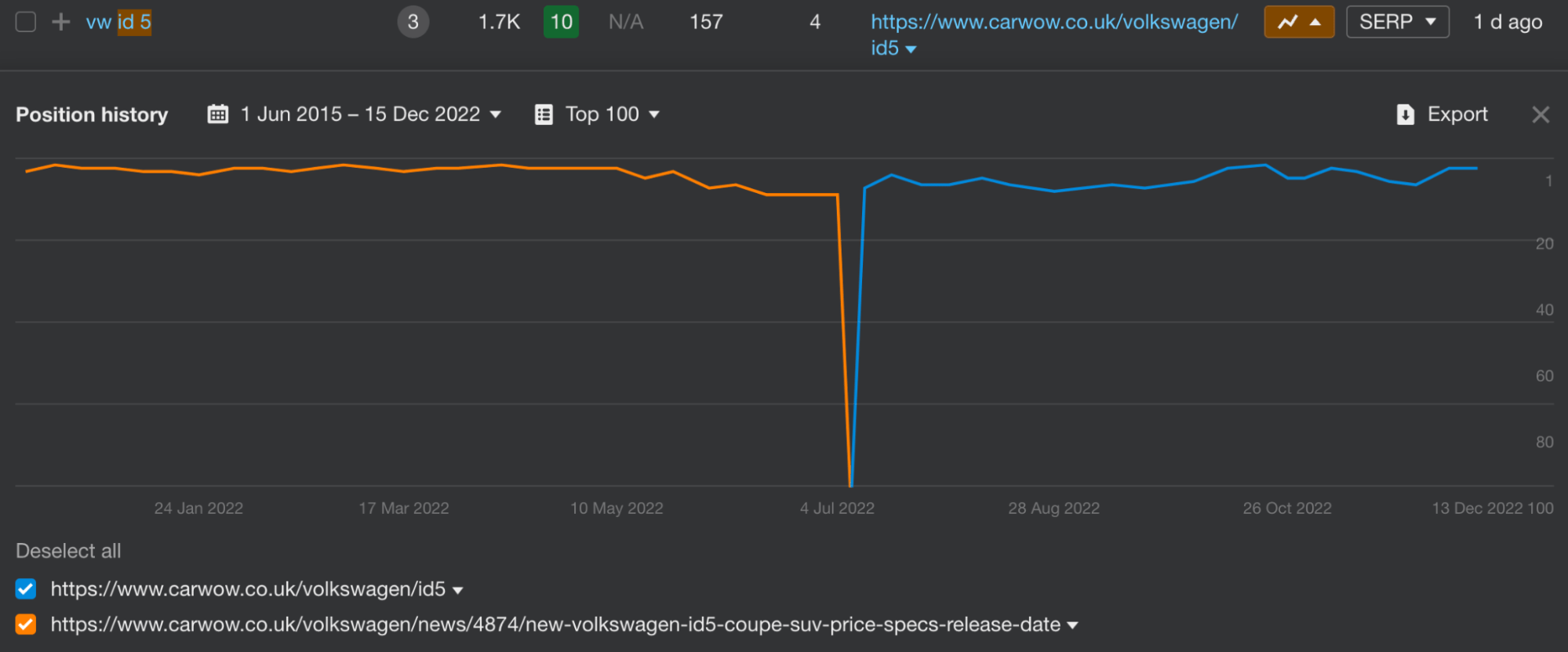 First, it writes about a car in the news section. And when the car becomes available on the market, it does a review. 
What caught my attention here is that it doesn't keep the news when that becomes outdated. A fair portion of news articles gets redirected to reviews.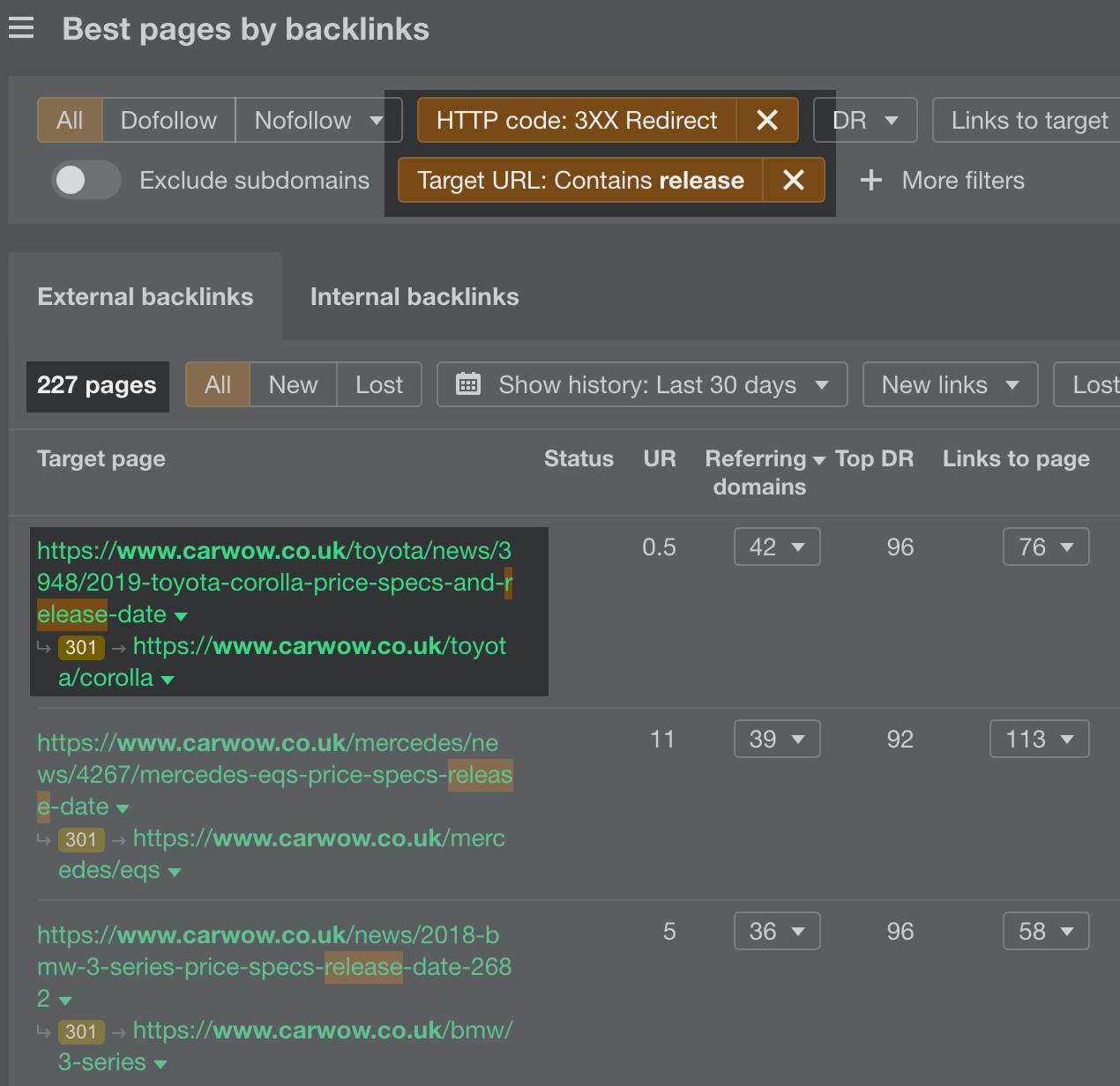 I can see two main benefits of such a move. 
First, link equity can flow from the news page to the review page. And some of the news articles get links from Wikipedia. 

The other is getting rid of underperforming content to make way for more up-to-date and search intent–aligned content. It's not a secret that Google sees underperforming content as a sign of poor content quality. 
Final thoughts
To take advantage of an SEO opportunity is easier said than done. For carwow, taking on its opportunity means putting on an integrator hat and running a media company alongside the "regular" business. 
That's a high cost to pay. But if your business is selling cars and Google lists you next to the company that actually made the car, this has to be worth something. 
But what if you're so good at making content that people forget about your business? This is a typical pitfall in content marketing, and it happens to the best. It may happen to carwow too. 
For this reason, it doesn't surprise me much that carwow makes the conversion path really visible on its site. It even invented a search query, "help me carwow," which it promotes in every review. I believe it's supposed to make the conversion path from watching a video review to using the platform even shorter. 
Got questions or comments? Ping me on Twitter or Mastodon.