A good brief is the starting point of a new project, outlining key elements for stakeholders and teams. Its goal is to help everyone involved understand what's needed and why. 
But there's a fine line between providing enough information to encourage creativity and bogging a team down in details that restrict their freedom.
A well-planned brief saves time because there will be less back-and-forth between you and the agency or team completing the project. It also documents roles and responsibilities, which clarifies accountability for the deliverable. 
A brief can include high-level details on: 
Company history
Project goals
Target audience
Creative requirements
Key messaging and assets (e.g., tone of voice guidelines, logo usage, image formats, etc.)
Deliverables (e.g., ad campaign, ebook, video, webinar, etc.)
Expectations (i.e., who is accountable for different parts of a project)
A brief should help teams complete work efficiently and deliver the expected results. Without overwhelming them with details.
In this post, you'll learn how to write a brief that's clear and complete. We'll also cover real-world examples and give you a free creative brief template.
Free Creative Brief Template
A brief template can help you organize your thoughts and outline project requirements. Putting the details in writing ensures your team has all the data they need to do their best work.
Download our free template here to create an easy-to-read brief based on the essential elements we discuss below. Fill it out as you read.
Types of Briefs
In a marketing, design, or advertising context, there are two types of briefs: 
Project brief. An overview of the key technical elements of a project, such as deliverables, audience, and timeline
Creative brief. Specific details to guide creative work (like an ad campaign or other marketing or design projects) including challenges, audience, messaging and tone, and formatting
If you're managing a project with creative work, you'll likely need to create both types of briefs. 
For example, if you're creating an app for your business, a project brief will outline the project in broad strokes: 
Description of the app
Overview of the organization
Project goals (e.g., to improve the shopping experience to increase sales)
Target audience
Project timeline and key milestones
A creative brief provides direction on the creative aspects of the project. An advertising campaign to promote the app, for instance, will need a creative brief to help teams create ads that grab attention. 
Project Brief vs. Project Plan
A brief is essentially a shorter version of a project plan. A project plan is a formal document that details the following in depth:
Project goals
Project phases
Activities and tasks in each phase
Budget
Stakeholders and team roles
Start and end dates
Deliverables
Milestones
A project brief condenses the essential information from your project plan into one or two pages so key stakeholders and team members can quickly understand what's required. 
10 Essential Elements of a Great Brief
Though each brief is unique in purpose, all should have the same types of basic information to inform the final product. 
For the purposes of this article, we'll focus on how to write a creative brief. But regardless of type, all briefs should include the following 10 foundational elements:
1. Project Name
Every project needs a title. The name keeps everything organized and eliminates confusion when talking about the project. 
So, create a name that's simple and clear. 
This brief from Pantone, for example, named its project after the creative challenge they were running: 
"Reimagine Your Hometown Through the Language of Colour."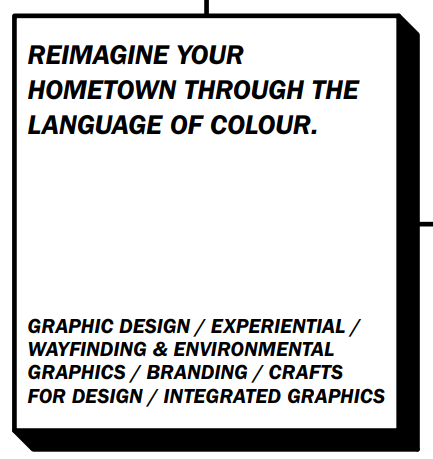 2. Background Information
The company background section introduces the brand and focuses on key features or benefits that relate to the project. 
For example, here's how AmazonFresh describes its service in a brief outlining how they'd create a new brand identity: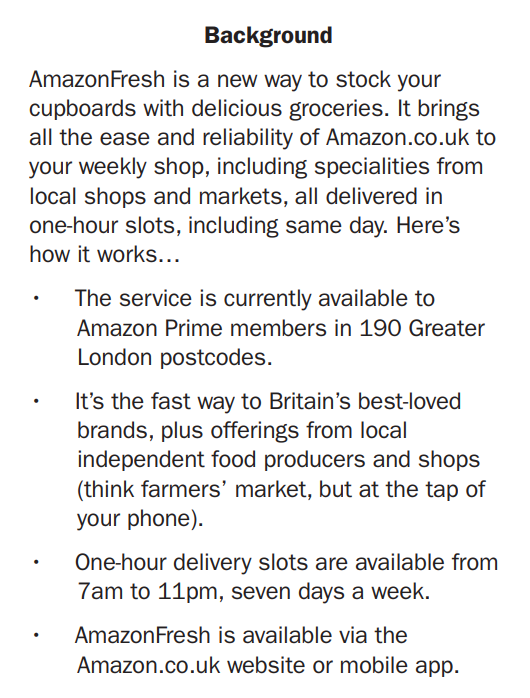 This introductory paragraph avoids a general history and instead focuses on what sets their brand apart.
And the bullet points help readers easily process important details that are relevant to the work.
From this, teams understand who they're working for and why. 
Background details might seem obvious for in-house projects, but don't discount the power of including thorough background information. Providing this information to internal teams helps them maintain focus. 
It also helps new hires or freelancers get up to speed without needing a detailed brand history. 
3. Project or Content Goal
Project goals drive the brief. They set out exactly what the client wants to achieve. 
 Take this sample PayPal brief, created and shared by Maggie Wang and Alan Arguelles. It sums up the goal of the company. But then adds a specific project goal in a single line: 
"Clarify the misconceptions surrounding the brand and reiterate what PauPal is all about: A virtual wallet where the user's in control."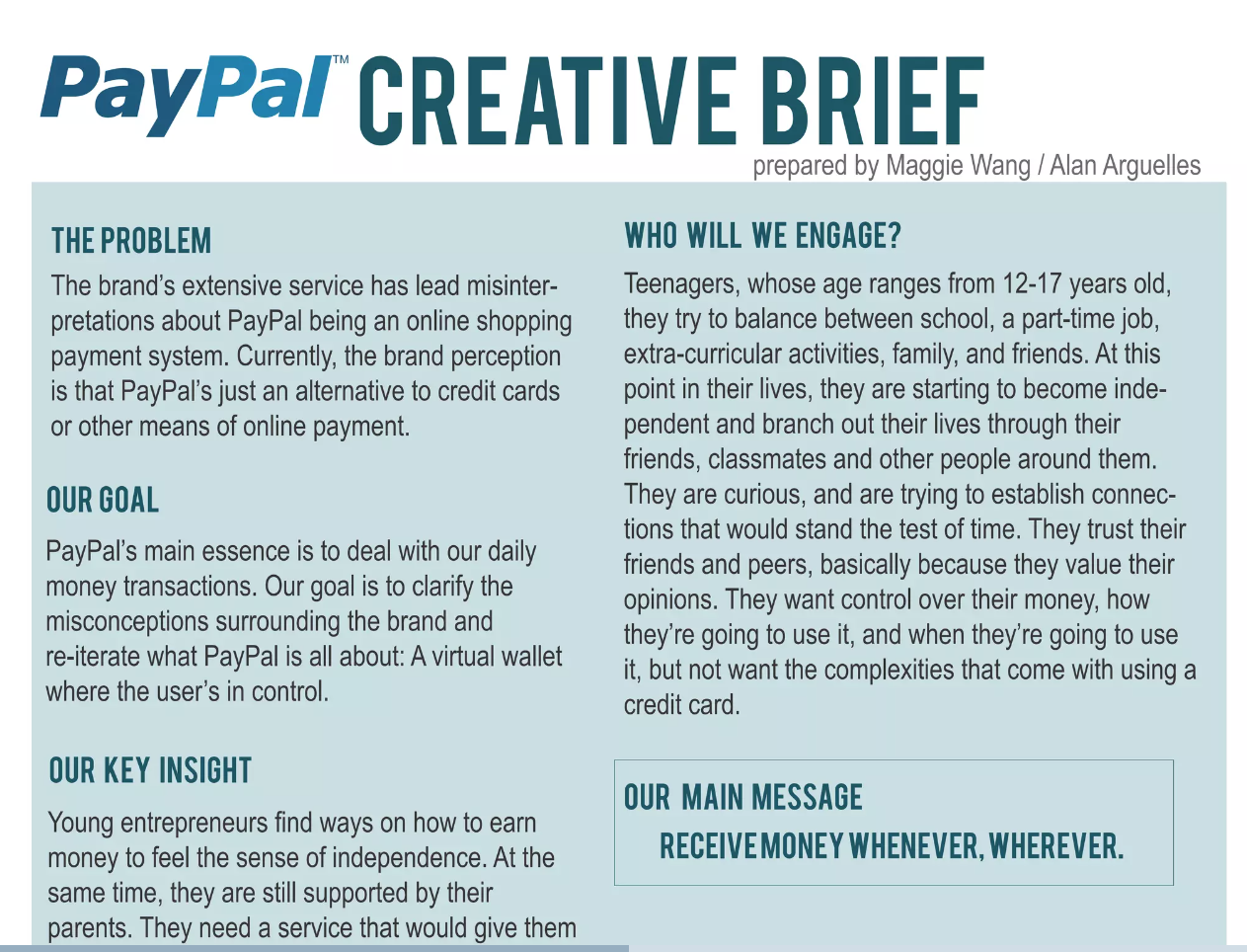 The task is clear and helps content creators know exactly what they have to do (clarify misconceptions and reiterate the core purpose of the product). It also includes the central message content needs to get across with a clear callout ("Receive money whenever, wherever).
For external teams, it's helpful to pair a goal with a problem or desire. This gives a team context for why they're doing the work. 
The following Netflix brief, shared by designer Laura Ferrari, does this by linking the purpose of its project to key challenges: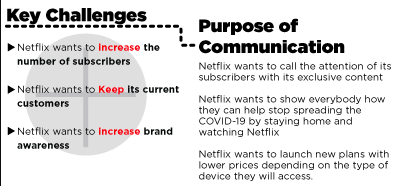 The company could have used this brief to plan a pandemic-era media strategy. The strategy would be targeted at gaining more subscribers, keeping existing customers, and increasing brand awareness. 
The goal of the communication was to address these particular challenges by promoting exclusive content, showing how staying home to watch Netflix could stop the spread of COVID-19, and launching new plans. 
Your brief might have one goal or several. But each should tie in with an opportunity or challenge you're facing.
4. Target Audience
A project can only be successful if it grabs attention and encourages action from the right audience. 
In a brief, a target audience section lets teams know who they need to appeal to. Information is based on your buyer personas or key audience demographics (i.e., the group of people your product or services are aimed at).
You can often narrow down your target audience using the data you have on your customers in analytics platforms or your customer relationship management (CRM) software. 
Defining your audience in the brief ensures work is based around what you know your audience likes, rather than what you guess they might like. 
For example, the Netflix sample brief uses demographics to help creative teams visualize the audience: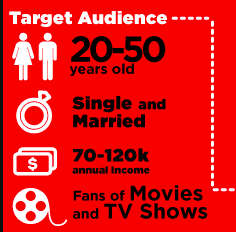 And this brief from Burger King includes behavioral traits to give creatives a picture of who they need to win over: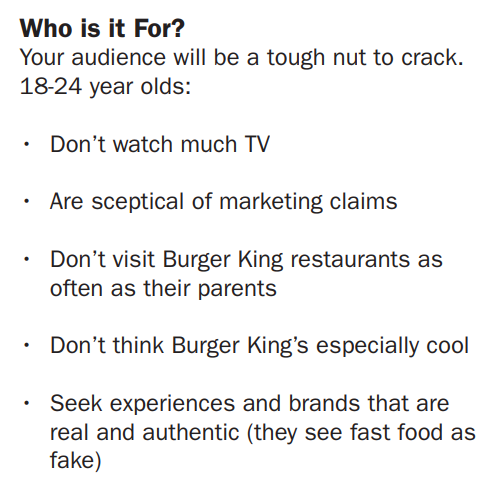 The more specific the target audience details, the better chance your campaign has of cutting through the noise and grabbing the right people's attention. 
5. Key Messaging and Tone of Voice
Messaging establishes the personality and attitude you want to portray. And how you want your audience to react. 
It covers what people should:
Take this mock-up brief for Gray's Cookies prepared by Graham Robertson, which centers its message on the brand's "guilt-free" positioning: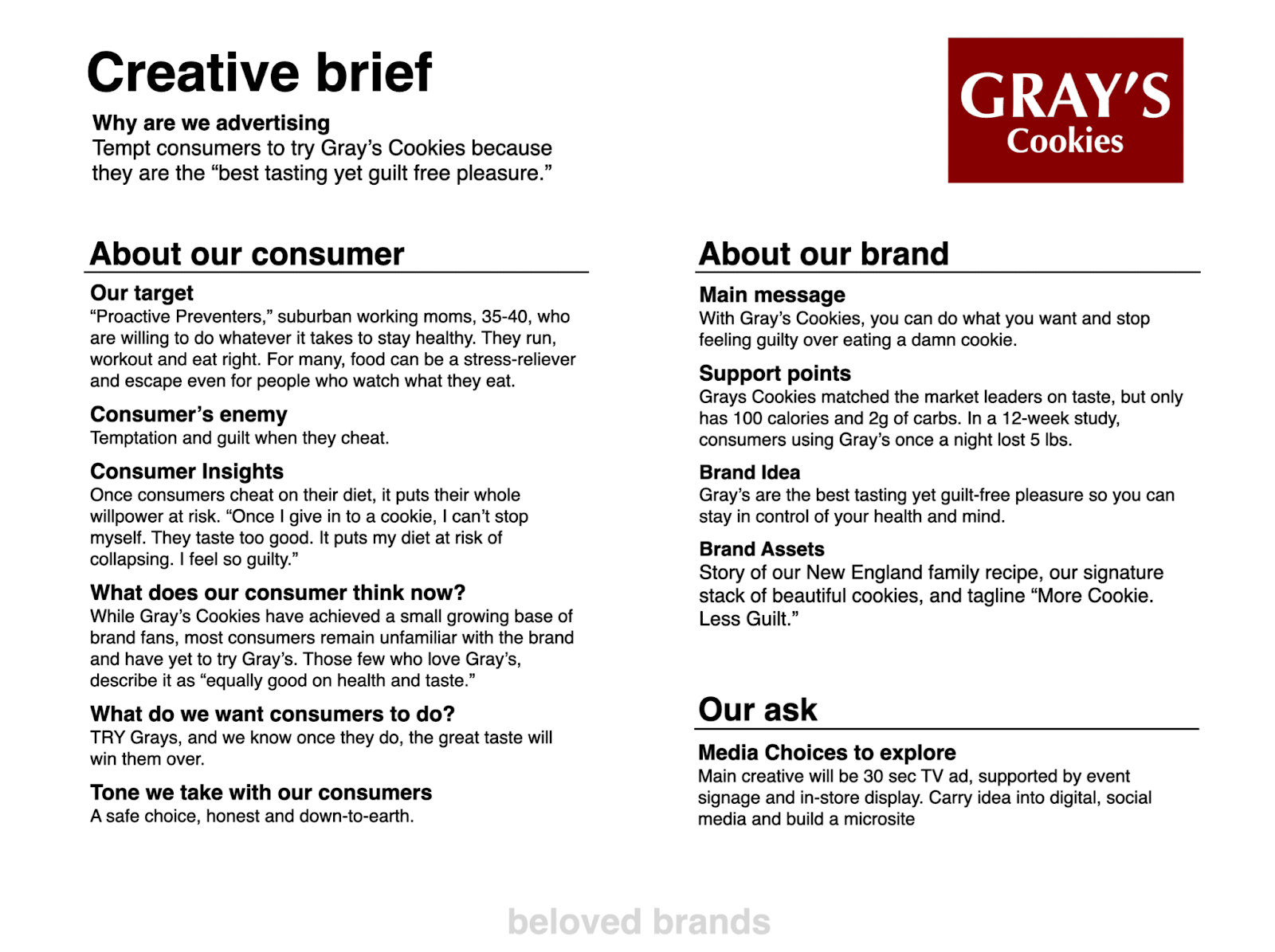 In the brief scenario, Gray's wants to tempt consumers into trying its cookies. And it plans to do that by telling consumers that Gray's allows them to "do what they want" and "stop feeling guilty" about eating a cookie. 
The ad campaign doesn't need to repeat this message verbatim. But it should convey to users that they don't need to feel guilty about eating cookies in the brand's tone of voice:
"A safe choice, honest and down-to-earth."
Information about desired messaging and tone is crucial if you're planning to give your brief to an external team. According to one study about outsourced content writing, companies that outsource their content creation cite lack of understanding of brand voice or business values as the biggest bottleneck to a successful deliverable.
If you have brand guidelines or successful examples of your message and tone from previous campaigns, link to them in your brief. 
The more reference material a creative team has, the easier it is for them to replicate your message. 
For written content, your brief should also include keywords or phrases you want in the final copy. 
If you're unsure what words people are using to find your brand, Semrush's keyword tools can help.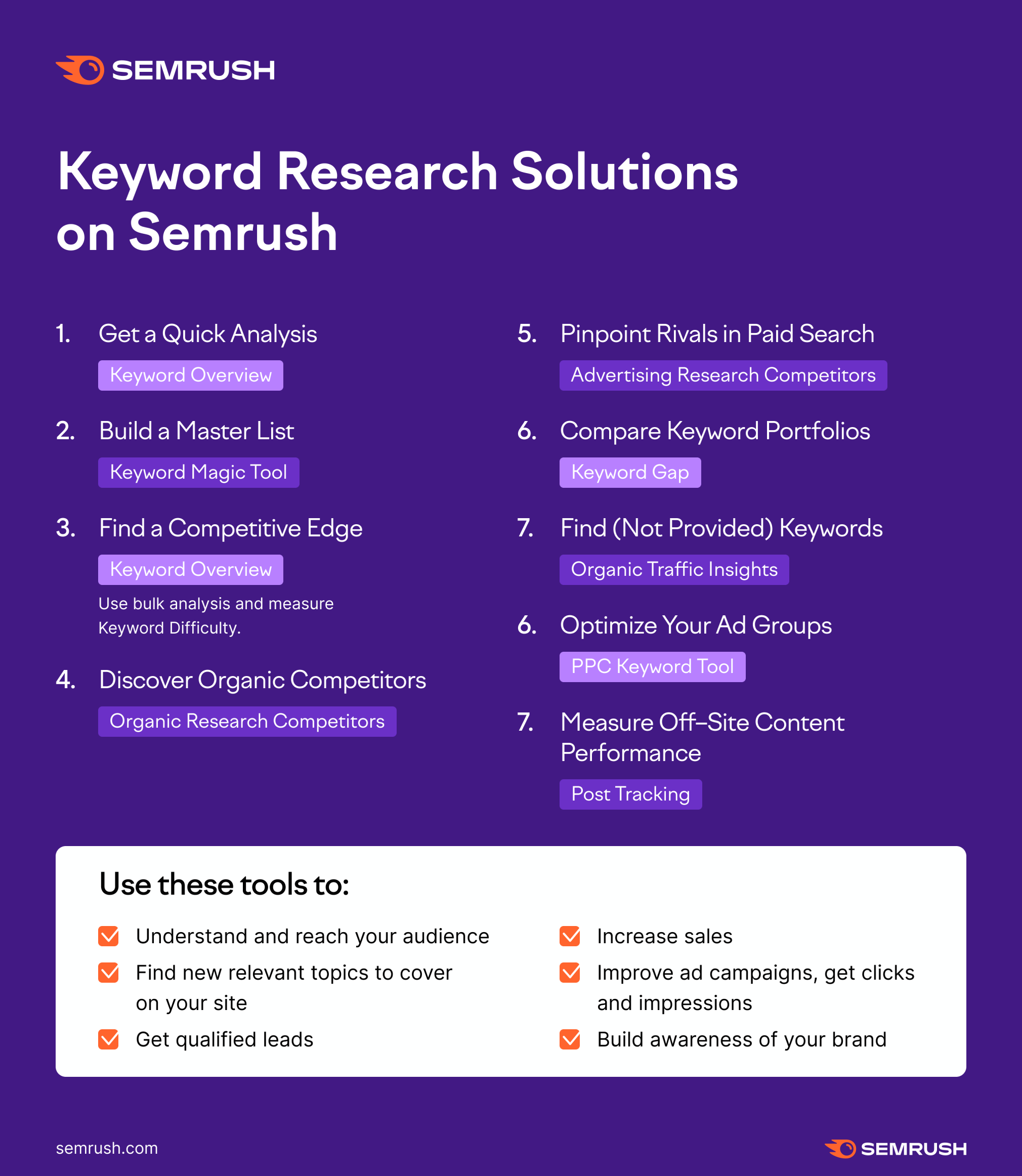 Learn how in our guide to using Semrush for keyword research. 
6. Competitor Analysis
Include information about your closest competitors in your brief.
In her brief template, copywriter Caroline Gibson asks clients two important questions: 
Who are your competitors?
What makes you unique or different from them?
With this information, she's able to: 
Understand how other brands approach the same problem
Come up with ideas to differentiate the client's copy
Steer the direction of the project
Knowing what others are doing puts you in a position of power. It helps you improve on what they do well and highlight what you do better.
Your competitor analysis doesn't need to be too in-depth. Stick to the following:
A list of three or four names
Links to websites or marketing assets (e.g., blogs, social media profiles, landing pages, etc.)
Things you have in common
Qualities that make you stand out
Pro Tip: Semrush can make your competitor analysis easier with Market Explorer.
7. Project Deliverables
Your brief should detail what assets will be produced—including specifications like format, sizing, etc. For example, if the brief is to design a new brand logo, the deliverable asset would be the actual logo. 
Be clear on rules and formats to ensure the final deliverables fit with your branding and internal style guides. 
This brief for a Holiday Inn campaign, for instance, includes details on accepted image formats: 

The specific list of format types eliminates confusion and keeps work consistent. It also ensures delivered work maintains the style the client's audience is familiar with. 
8. Stakeholder Details
Creative projects are often collaborative efforts. Several individuals may be working on different things at the same time. 
For example, a website redesign will involve designers, developers, and marketers. 
Identifying stakeholders ensures each team member knows their role and responsibilities. It also lets people know who to contact to discuss specific aspects of the project. 
List each department and team member involved in the work. For instance:
Project Manager: Kate
Design team: Paul (web design), Jen (development)
Copywriter: Stephen
Marketing team: Ed (marketing manager), Joe (SEO), Steph (email marketing campaign)
9. Project Deadlines and Milestones
List all deadlines with specific dates so individuals can plan accordingly and keep the project running smoothly. 
Deadlines often depend on a series of milestones. Break these down into the most basic tasks to keep everything on track. For instance, blog content needs to be written, edited, and proofread before it can be published, so add each task to the timeline.
This design brief example from Slider Revolution features a timeline for each part of the project:

The specific dates give the design team clarity. They know what they have to do and how long they have to complete each task.
10. Distribution Details
For creative assets, include details about how completed work will be distributed (e.g., through Facebook, Google Ads, email, etc.). 
While it's important to have a distribution strategy that outlines how and when you share assets, the brief only needs to outline what channels you'll use. This information will influence the design and style of content. 
A press release, for example, would look and sound different from a social post, so you want your creative team to be crystal clear on where the final content will be shared.
Distribution details might look like this in a creative brief: 
Distribution. Copy to be published on company news blogs and PR Newswire.
How to Write a Clear Brief: 8 Questions to Answer
Your brief should give your creative team all the information they need to do their best work. 
As you fill out the sections of your brief, answer the following questions to ensure your document is as clear and helpful as possible: 
1. What Is Our Main Objective?
As you set the project or content goal, think about your ultimate business goal. This is bigger than the goal of the brief. 
For example, the goal of a Burger King brief may be to make more young people aware of its flame-grilled burgers. 
This might contribute to a bigger business objective of increasing sales or lowering the average age of its customer base. Burger King will have other campaigns (e.g., content marketing or social media marketing) that also contribute to its broader goal. 
Your main objective doesn't have to feature in your brief, but you should consider it as you write your brief.
When defining your ultimate goal, get specific. Rather than setting a goal to "get more customers," aim to "get 300 more clients by the end of November." 
This gives you something concrete to work toward and helps you make your brief more targeted. 
Use the SMART framework to make goals: 
Specific
Measurable
Actionable
Relevant
Time-bound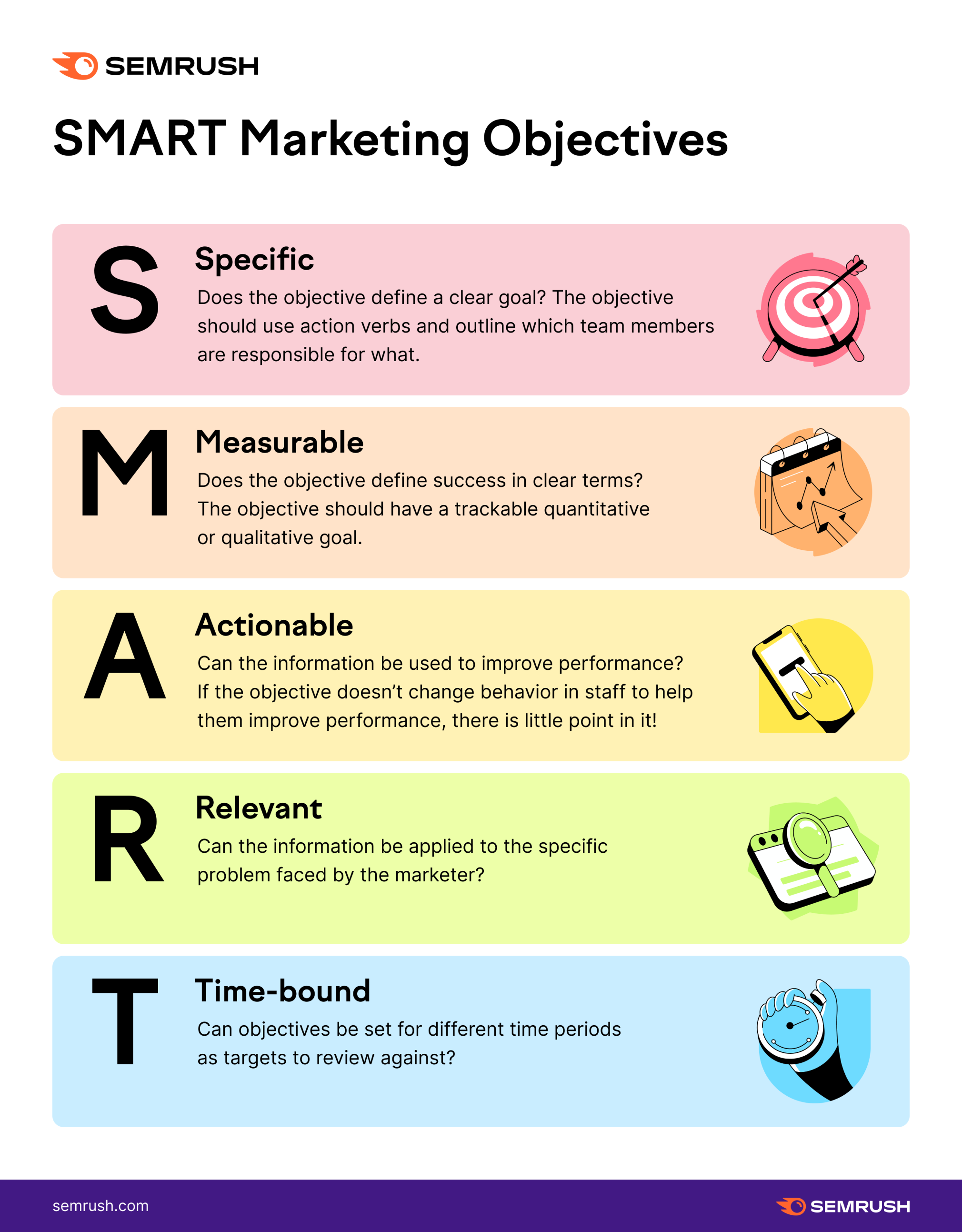 2. Why Are We Creating This Project?
Ask this as you fill in the background information for your brief. The "why" of your project provides the background context and reason for the brief. Teams need to know the problem, challenge, or opportunity they're addressing. 
To get this information across, answer the following questions: 
What got you to where you are now?
What's stopping you from moving forward? 
How will completing this brief help you improve? 
Take this snippet on the "why" of a creative brief from WWF: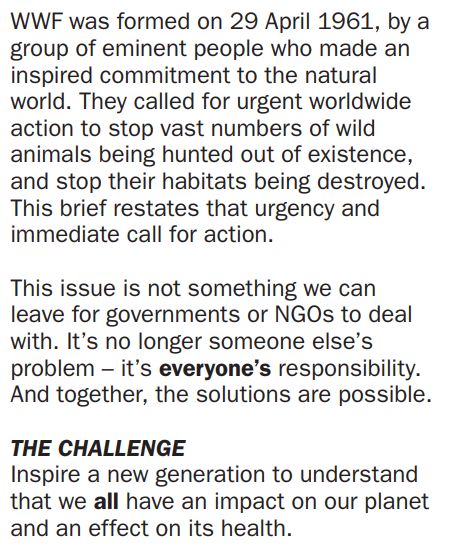 In three paragraphs, the brief defines the problem and challenge. Readers can quickly understand:
How WWF got to where they are now. WWF is inspired by a commitment to the natural world. It exists to protect habitats and animals.
The problem stopping them from moving forward. It can't rely on governments or NGOs. It needs everyone to work together to continue its work.
How solving the brief will help. Inspiring a new generation to understand that we all have an impact on the planet will get more people to take up the cause.
Try to answer each question in two or three sentences. This will help you focus on what's important and deliver your "why" concisely. 
3. Who Is This Project For?
This question will help you dig into the details of your target audience. The team working on your brief should be able to visualize your audience so they can appeal to their wants and needs. 
At a minimum, your brief should answer your target audience's: 
Gender
Age
Average salary
Location (if the project is location dependent)
Interests
Here's how the sample PayPal brief describes the customer it wants to target: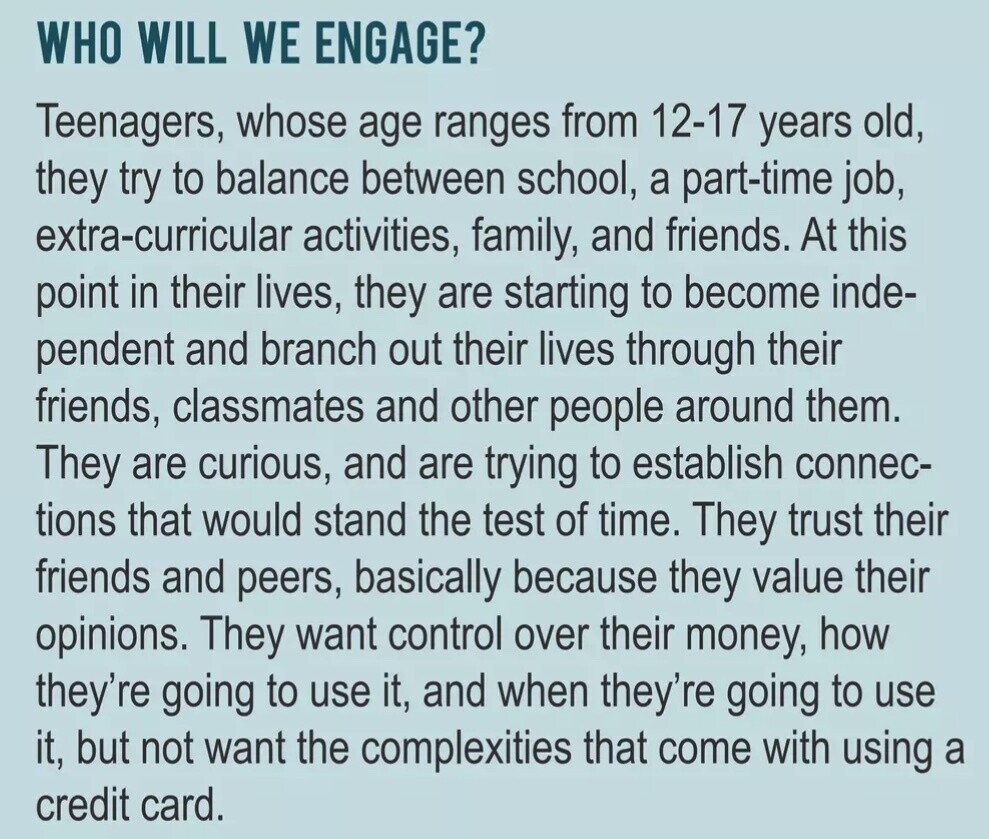 Reading this helps paint a picture. This campaign is aimed at teenagers who are becoming more independent and want more control over their money.
If you use Google Analytics for your website, you'll find audience demographics under "User" in "Reports."
Supplement this information with Semrush's "Audience" report from its Market Explorer to get a breakdown of demographics for your industry.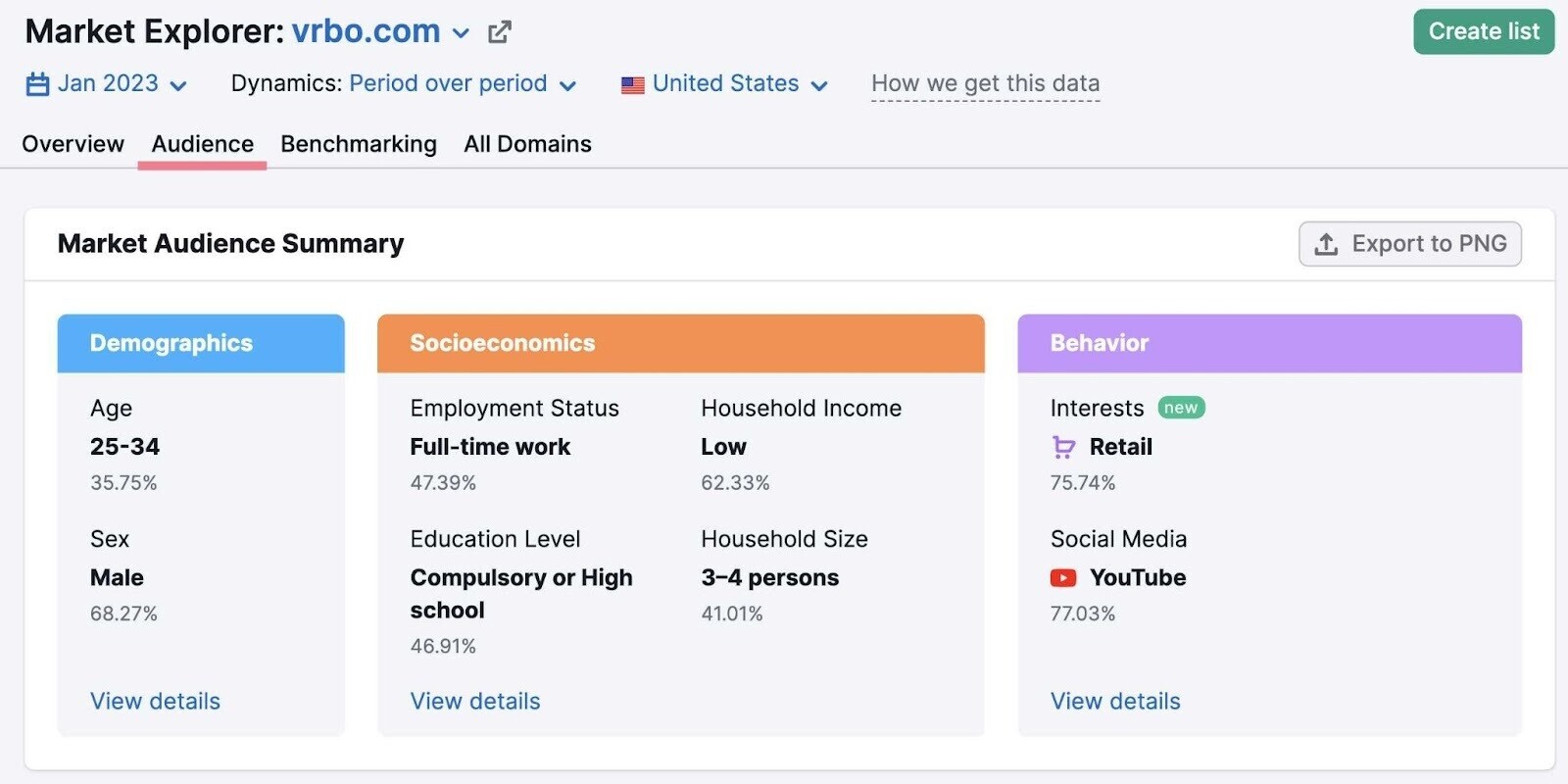 If you have an established website that ranks well for a significant number of keywords in Google, enter your website domain to get an overview of your industry. If you run a newer website that doesn't rank well yet, use the website of a well-known player in your market.
In either case, you'll see the Market Audience Summary after you enter a domain in the tool. Here, you'll find characteristics for the largest segments of your audience, including the following:
Demographics (age and gender)
Socioeconomics (employment status, income, education, and household size)
Behavior (interests and favorite social media sites)
Use this to build an accurate representation of your visitors and the people you want to target. 
5. Who Are We Up Against?
Your main competitors should feature at the top of the list in your brief's competitor analysis. But you want to dig deeper and answer this question more thoroughly. 
Other key players might be less obvious. But including them in your brief is important to help teams get a clear picture of the landscape. 
Use Market Explorer to quickly find competitors. Semrush will show you top rivals based on market share and website traffic. All you have to do is enter your website into the tool. (Or, if your site isn't yet performing well in search engines, enter the website of a well-known player in your industry.)
In this example, we can see that Booking.com's top competitors are Tripadvisor and Expedia: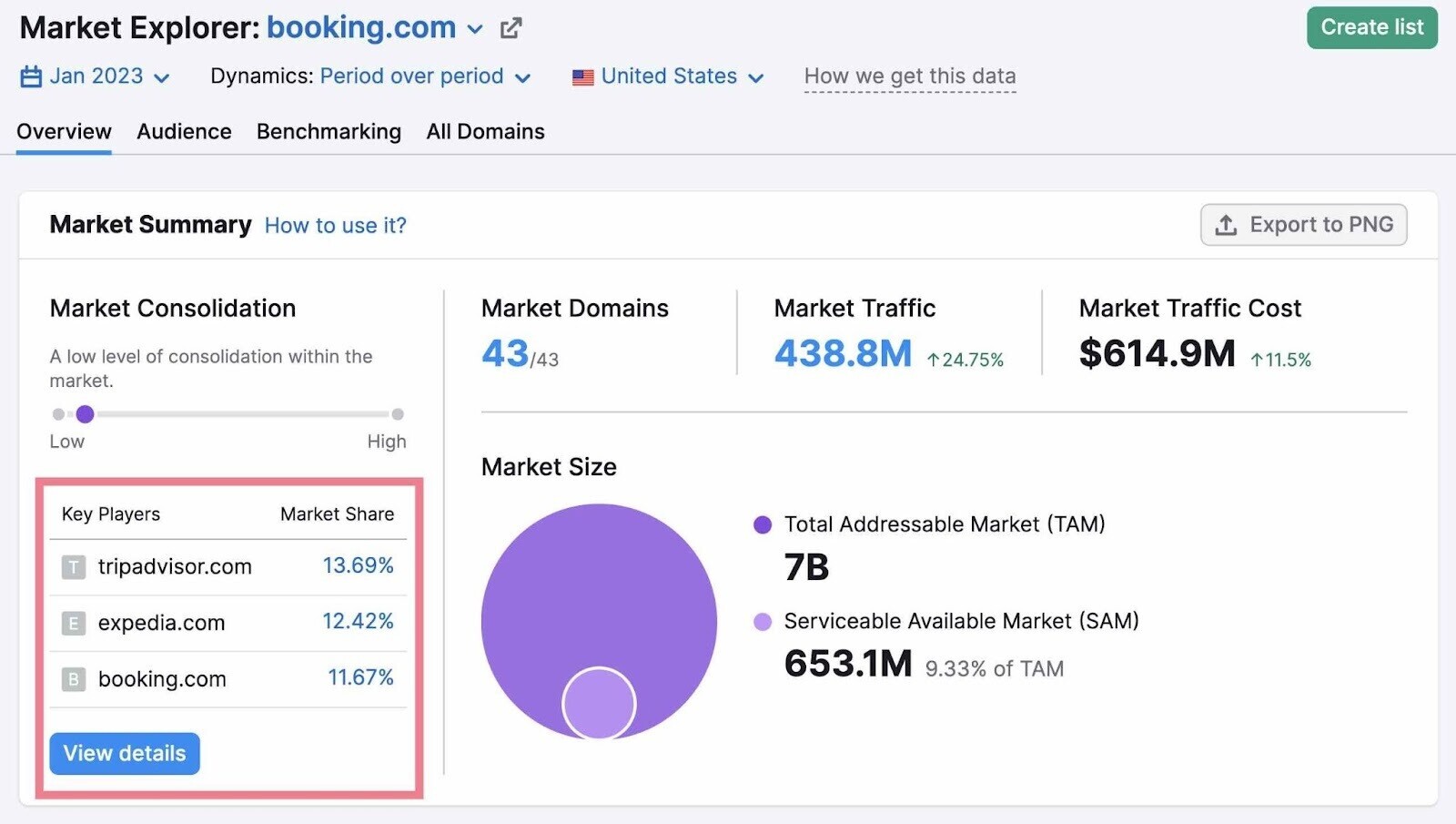 The Growth Quadrant also reveals Kayak and AAA as Niche Players (newer or low-growth companies relative to the rest of the market) that are developing into Game Changers.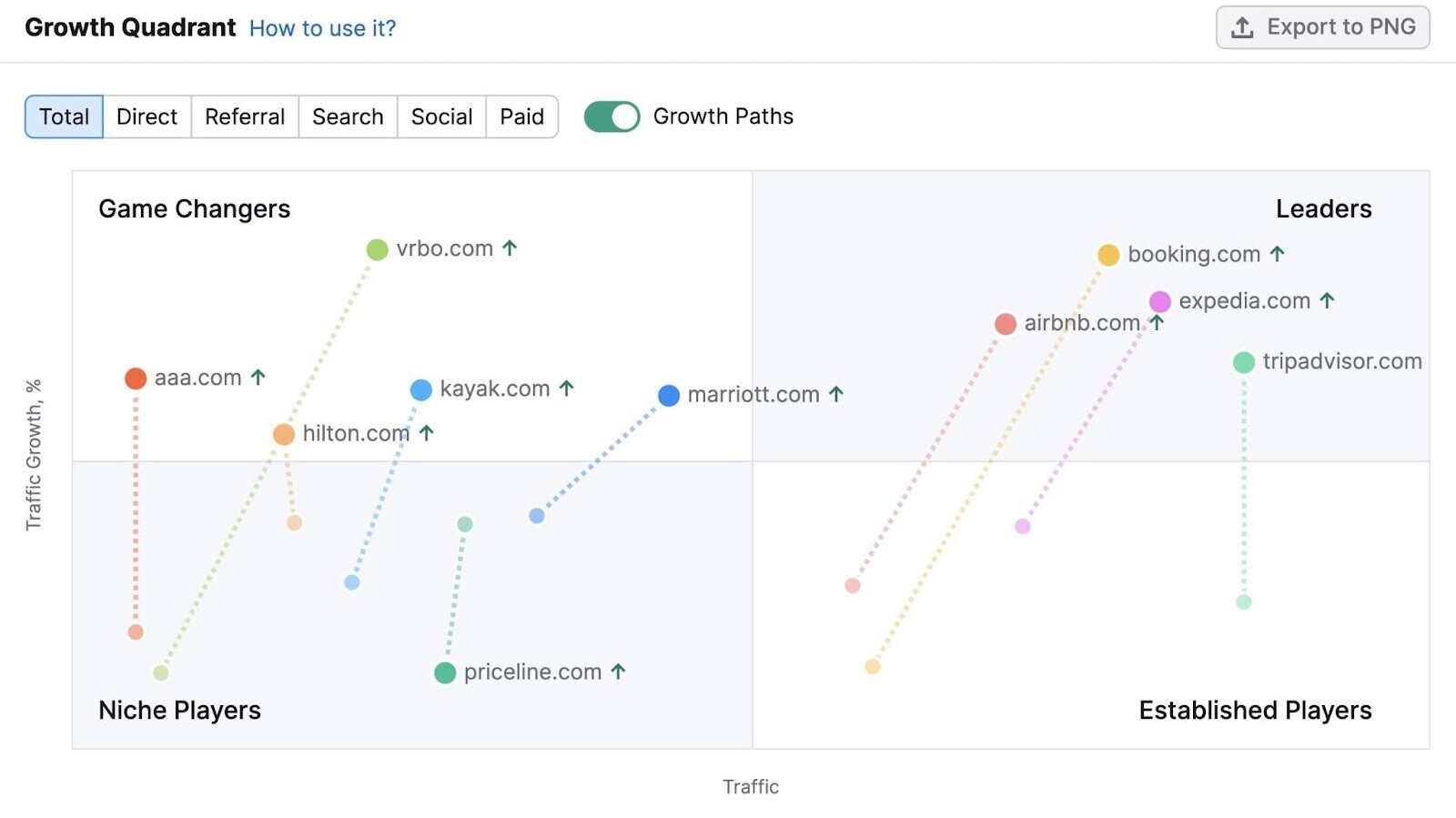 Niche Players make for good research material. Their need to stand out from established rivals means they often come up with fresh ideas and strategies. These tactics can serve as fuel for creative teams. 
Visit the websites of each competitor featured in Market Explorer and note the following:
What they offer
What they do well
What you do differently
Include these details in your brief's competitor analysis to steer research.
6. What Do We Want to Deliver? 
A good brief brings your vision to life with a clear description of the end results. As you work to describe this vision in your project deliverables section, break it down. Rather than attempting a brain dump of information, get specific on individual aspects of the end result.
Charity & Biscuits' client copywriting brief does this well. 
Rather than asking broad questions, such as "what is your project?" or "what content do you need?" Charity & Biscuits gets specific to gather essential information. 
Here are the project, content, and tone of voice questions the brief asks: 
Your Project
Briefly describe the overall project that the copy will be a part of
In what format will the copy appear?
What do you want the piece of communication to achieve (e.g., inspire people to donate)?
Your Content
What are the key messages that the copy needs to communicate (provide specific detail)?
What is your call to action (e.g., visit your website or sign up for email newsletters)?
What is your ideal word count or maximum word limit?
What is the single most important point that the copy must communicate? If the audience were to remember one thing after reading, what would you want it to be?
Are there any pre-agreed straplines or sentences that you want the copy to include?
Do you have imagery to accompany the copy?
Your Tone of Voice
Outline your brand's tone of voice (e.g., warm and friendly but not overly familiar)
These questions help Charity & Biscuits' clients clarify their thoughts and give answers that contribute directly to the project and content. They simplify the vision, making it easier for copywriters to produce work that meets expectations.
7. When Do We Need It Delivered? 
Think through the key requirements of your project as you set deadlines and milestones in your brief. 
For example, you set a brief to create an advertising campaign. This campaign is part of a wider strategy to achieve your goal of getting 300 more clients by the end of November. 
Establish how soon you need your project or asset published to contribute to the goal. Advertising campaigns run for around three months, on average. This gives you a deadline of Aug. 31.
Work backward from your deadline to create a timeline that covers the following: 
Start date
Delivery of the final version
Milestones
Deadlines for subtasks (e.g., designing, writing, editing, etc.)
Here's how that roadmap might look:
Project duration: July 1st to Aug. 31st
July 1: Kickoff meeting
July 20: Ad copy draft is delivered
July 25: Ad copy approved
Aug. 4: Initial ad designs are delivered
Aug. 13: Ad designs approved
Aug. 20: Ads sent to the publisher
Aug. 25: Ads uploaded to Google Adwords and Facebook Ads
Aug. 31: Ads go live
If your brief is for an internal team, include a full timeline so team members can view the workflow and communicate with each other to ensure everything runs smoothly. 
If you're creating a brief for a freelancer or agency, stick to key dates for their tasks. A copywriter, for instance, only needs to know when the copy is due.
8. How Can We Improve This Brief?
Once you've drafted your brief, give it another review to see where it could be better. Share it with your team and gather feedback. 
Ask the following:
Does the brief clarify what's needed?
Is it easy to understand?
Is there any unnecessary jargon?
Are industry terms and acronyms properly explained?
Is all of the information relevant?
What else could we add? 
Your brief is a living document. Until work starts, be open to ideas and edits. The best way to spot things you might have missed is to get a fresh perspective.
Write a Brief That Inspires Great Work
A good brief guides and inspires project teams. Your job is to provide direction without restricting creativity. 
Writing a brief with a clear strategy in place will ensure your final deliverables meet your vision. Complete your brief using the template provided to help creators hit the ground running and make sure you reach your goals.