What Is a Content Calendar?
A content calendar is a resource that helps you organize what you're going to publish, when, and where. 
You can create one with a simple spreadsheet. Or use a project management tool.
Your content calendar will help you:
Simplify collaboration between team members
Save time
Minimize errors
Streamline processes
This is a content calendar example: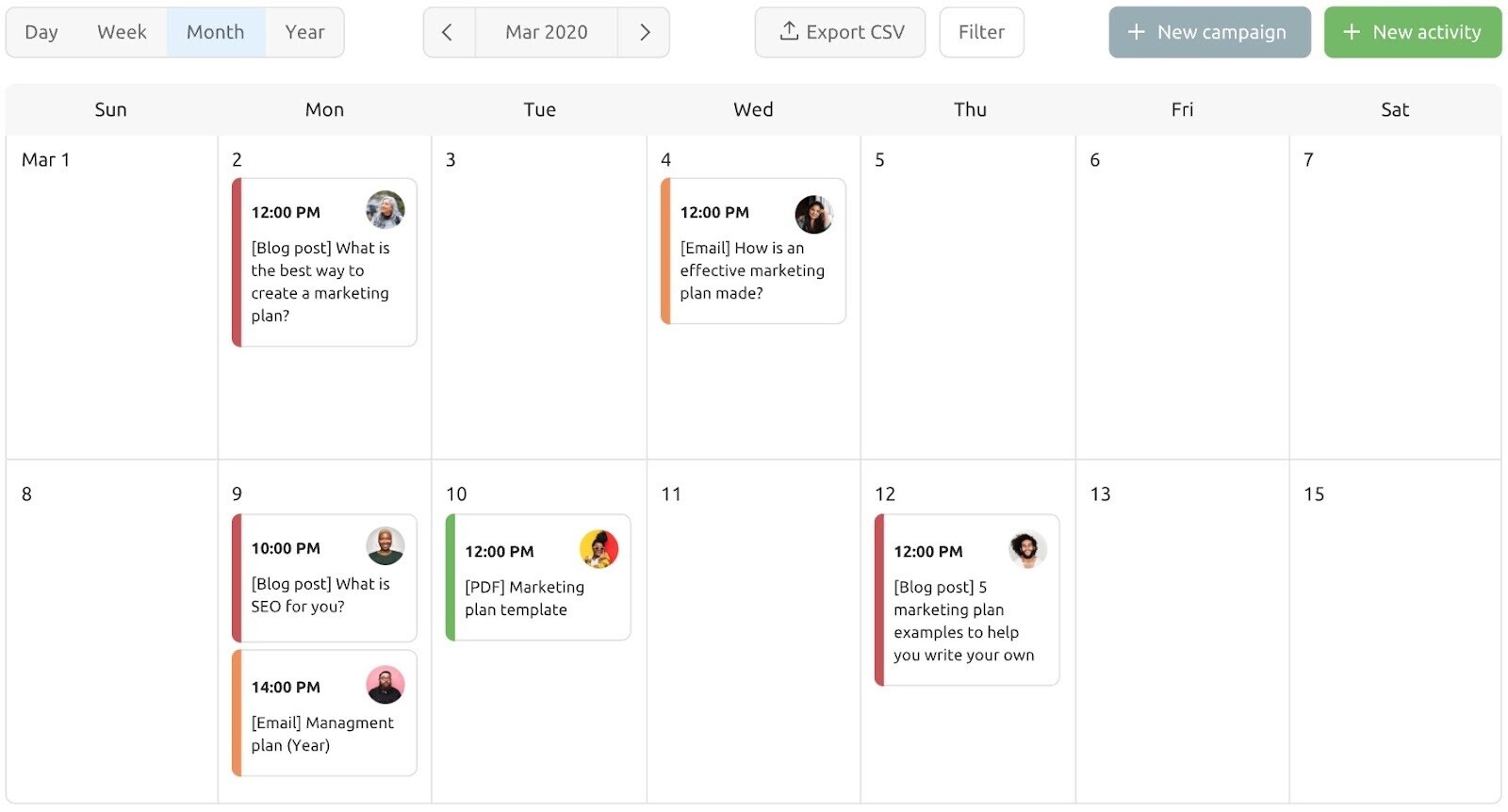 You need a content marketing calendar if: 
You regularly publish content to achieve specific goals
You collaborate with different people to generate and publish these content pieces
Content calendars help you manage all types of content: blog posts, videos, social posts, and more.
(Interested in a content calendar specifically for social media? Check out our article about social media content calendars and get a free template.)
Now, let's learn how to build a content calendar that meets your needs. 
How to Create a Content Calendar, Step by Step
Below, we'll walk you through how to build your own template. And plan and publish your content. 
If you already have that down, feel free to skip to our list of the best content calendar tools.
1. Build Your Template
There isn't a right or wrong way to build a content calendar template. (As long as it helps you plan and publish content on time.)
However, most content calendars will need the following information to keep you on track:
Publish date
Due date
Owner or author
Status
Title or topic
Content type
Link to files (Google Docs, Google Drive, etc.)

Each content marketing calendar will look different, depending on the content formats you publish.
Because each content type has specific requirements.
Here's what you might include for these popular content types:
For blog posts:
For social posts:
Image or video file
Caption
Tagged users
Hashtags
For podcasts:
Link to script
Interviewee information: Name, contact info, social handles, etc.
Original audio files
Edited audio file
For videos: 
Link to script
Interviewee information
Caption
Original video files
Edited video file
Thumbnail
Our free template includes a "basic" content calendar, as well as optional fields for each content type:
Once you've created your content calendar, share it with everyone on your team (and any other teams involved). And make sure they understand how to use it. 
Remember to document those instructions:
Create a step-by-step document in which you explain how to use your content calendar. 
Then, share it with your colleagues. And keep it updated.
These types of documents are called Standard Operating Procedures. They prevent mistakes and help you onboard new employees and collaborators. 
2. Plan Your Content
To plan your content, you need to choose the topics you'll talk about. And assign tasks to everyone involved. 
How to Choose Topics
Choosing topics that will engage your target audience is key. 
To do that, you must first research your customers and potential customers. Understand their interests, pain points, and expectations. 
Then, you can start coming up with a list of specific content pieces.
Audience research is a wide topic, though. 
It involves talking to your customers, looking at your data, analyzing your competitors, and more. 
(Read this article on content planning to learn the basics).
Say you own an online tool for ecommerce professionals. 
After analyzing your audience, you've found that your customers are interested in the following topics:
Improving their logistic management processes
Finding profitable products to sell
Dealing with taxes and customs when selling abroad
So you have the "broad" topics. Now you need to define the topics of specific content pieces. 
You can come up with those ideas on your own—or you can run a Google search and see what other sites are doing. 
Semrush's Topic Research tool also expedites your search. 
Go to the tool and type in a topic, like "ecommerce logistics."
Then, click "Get content ideas."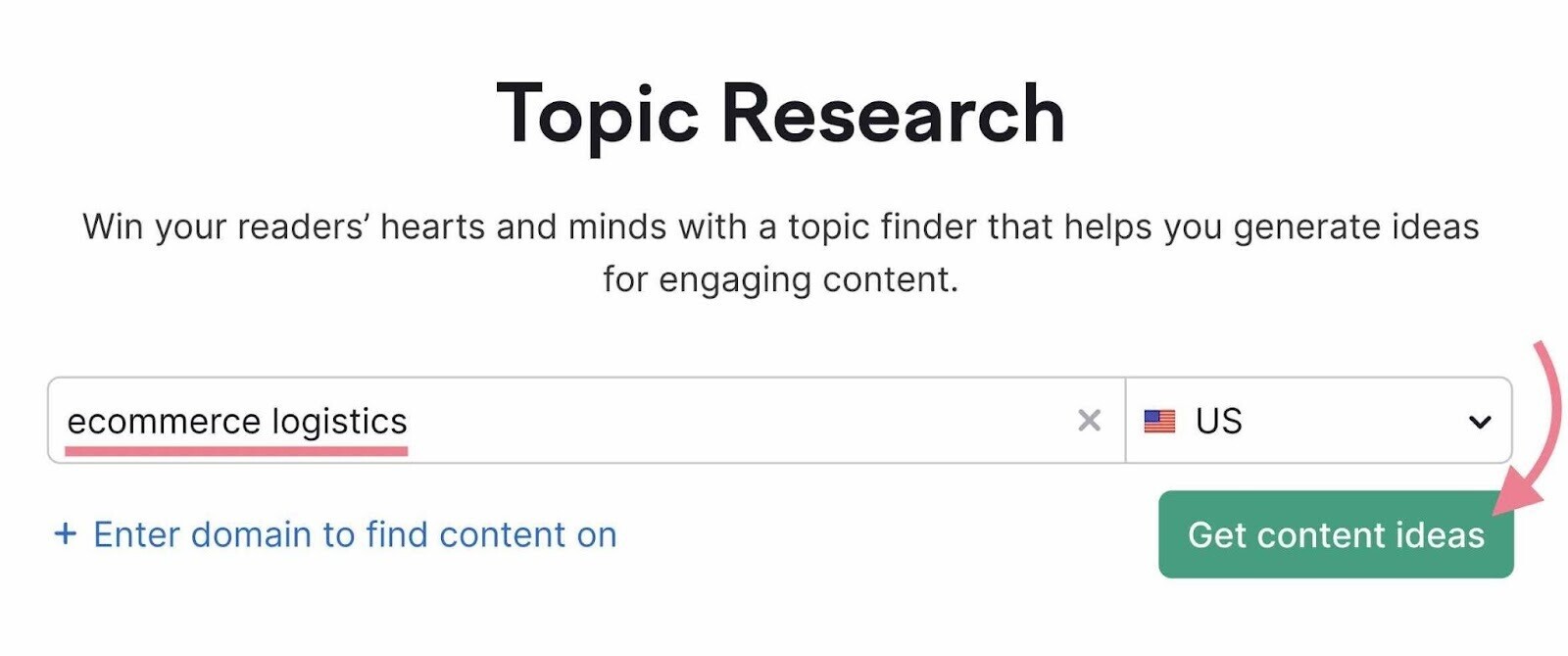 You'll see different cards. Each of them is a related topic.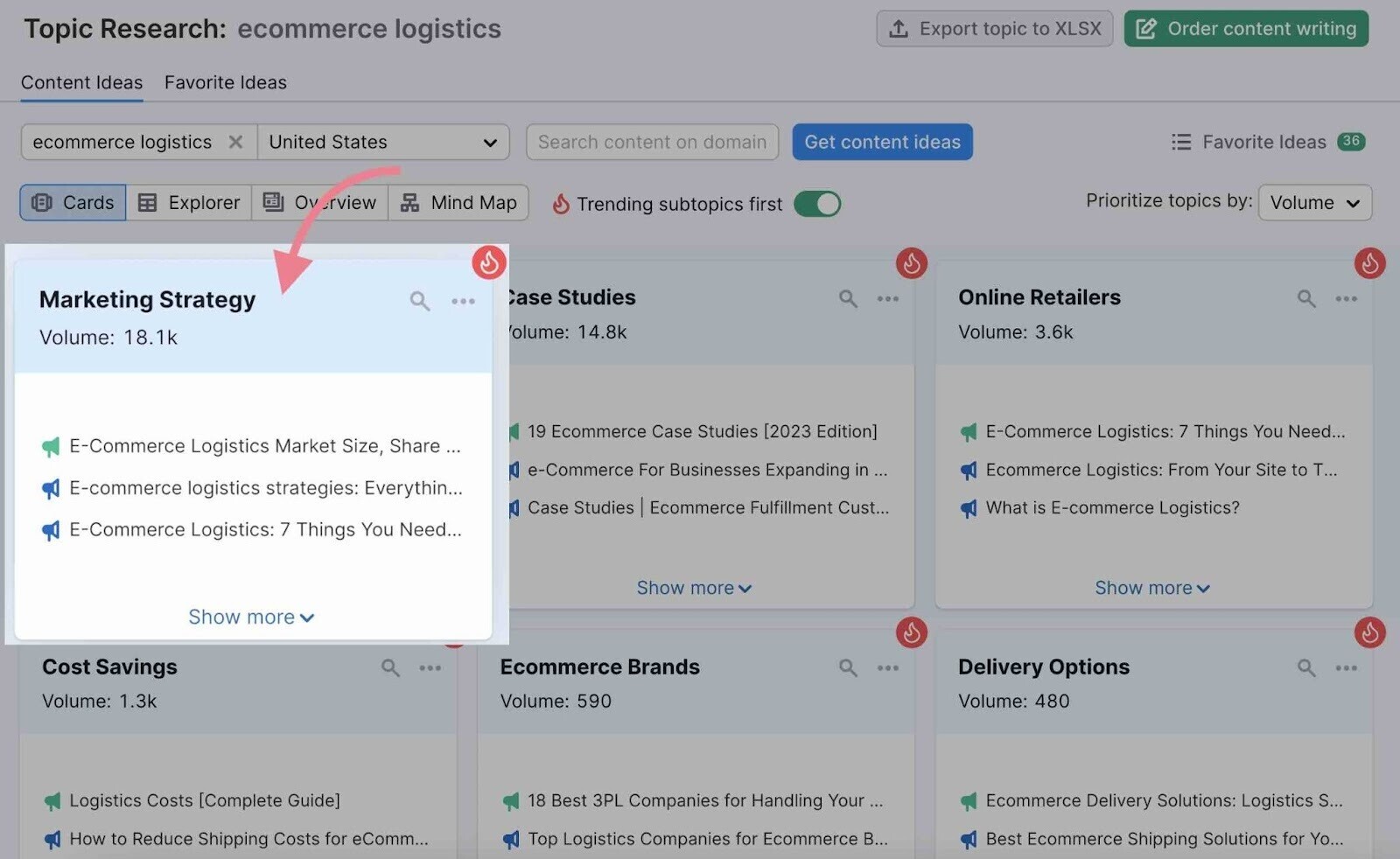 If you click on one of these cards, you'll see the "Subtopic volume." 
This is the search volume of that keyword: the estimated number of times users search for that keyword on Google in a month. 
The higher this number is, the higher the interest in the topic. 
You'll also see headlines of other articles, as well as related questions.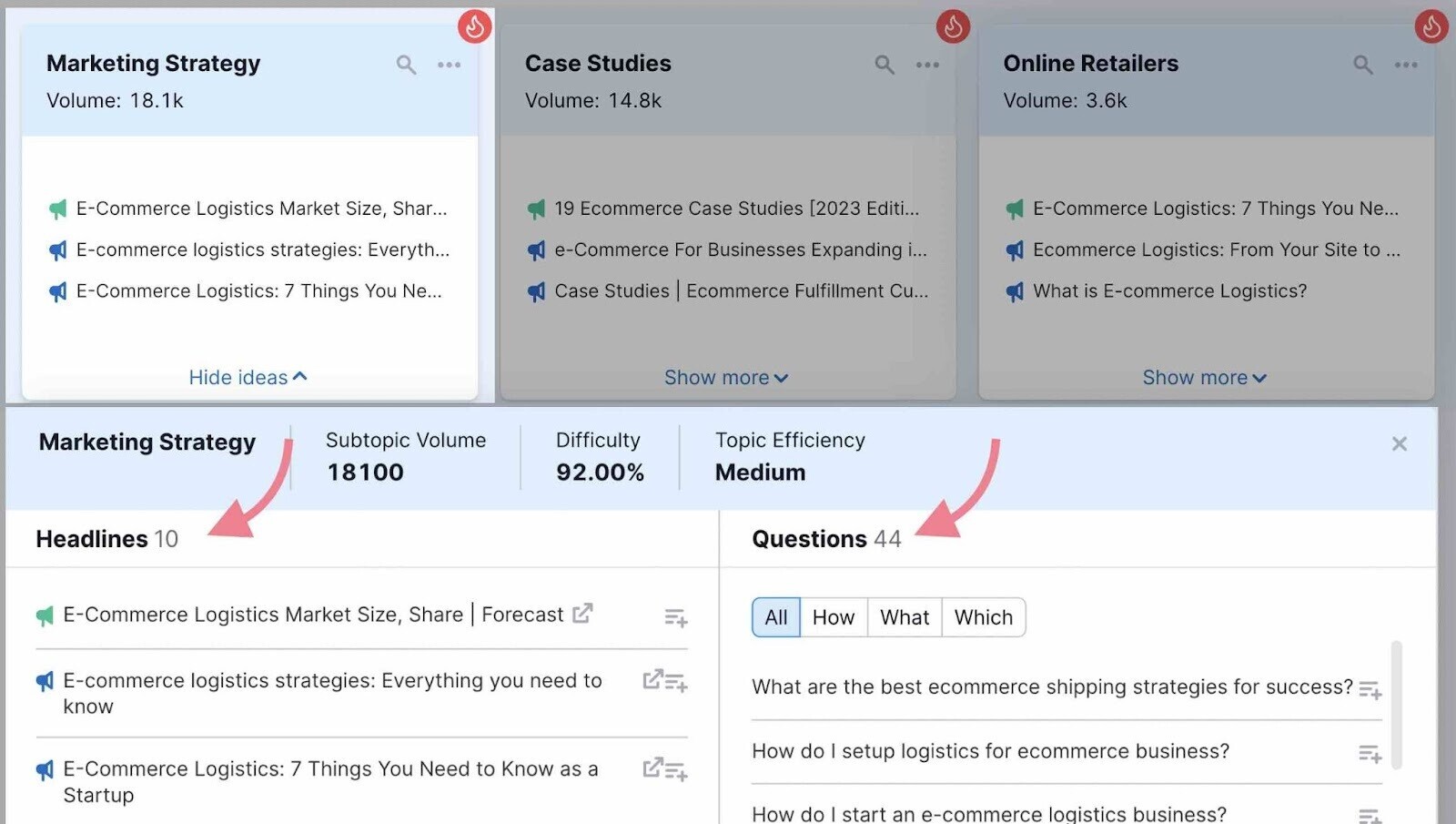 One question that usually comes up at this stage: How often should you update your content calendar? 
If you're a solo marketer publishing simple social posts, you can plan a week or a month in advance. 
If you have a big team, or if your content requires a lot of work, you'll need more time. Some companies plan well in advance (six months or even a year).
As a guideline, the more complex your processes are, the more time you'll need. 
Remember that a content calendar is just a tool to help you plan and develop your content pieces. You can be flexible and change your schedule if needed. 
How to Assign Tasks
If you use a spreadsheet, you can tag users (writing "@ + [their name]") to indicate that they're in charge of a task.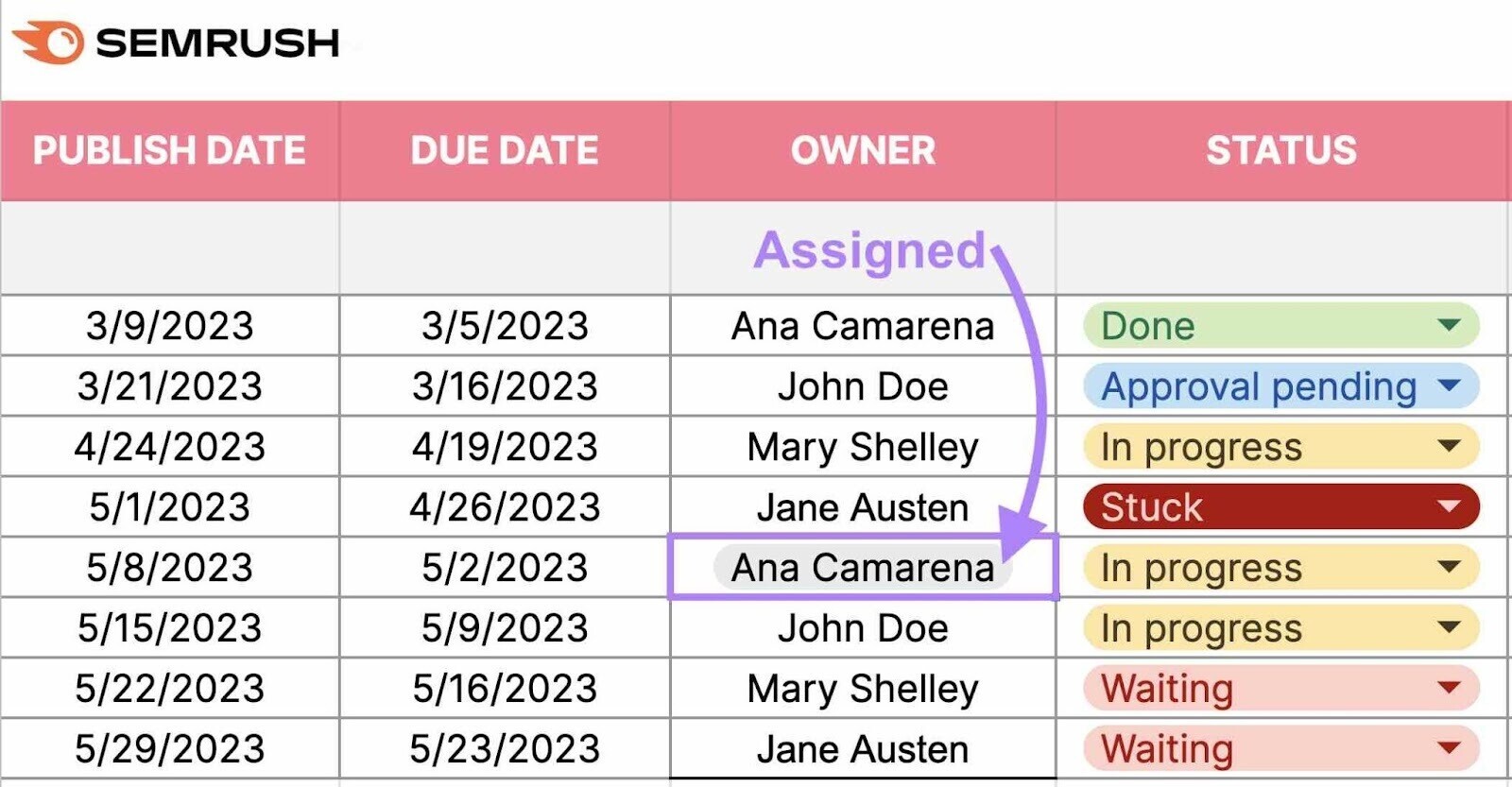 This method will do the job for small teams with simple processes. But it's not the best option for bigger projects, with several people involved in each content piece.
In those cases, it's better to use a project management tool.
First, invite colleagues and collaborators to your calendar. 
Most project management software allows you to assign users as "Owners" of a task. And they receive a notification when the status of the task changes in some way. 
With these tools, it's a lot easier for users to see the tasks they're in charge of. 
For example, with Semrush's Marketing Calendar, you can check the "My Tasks" tab.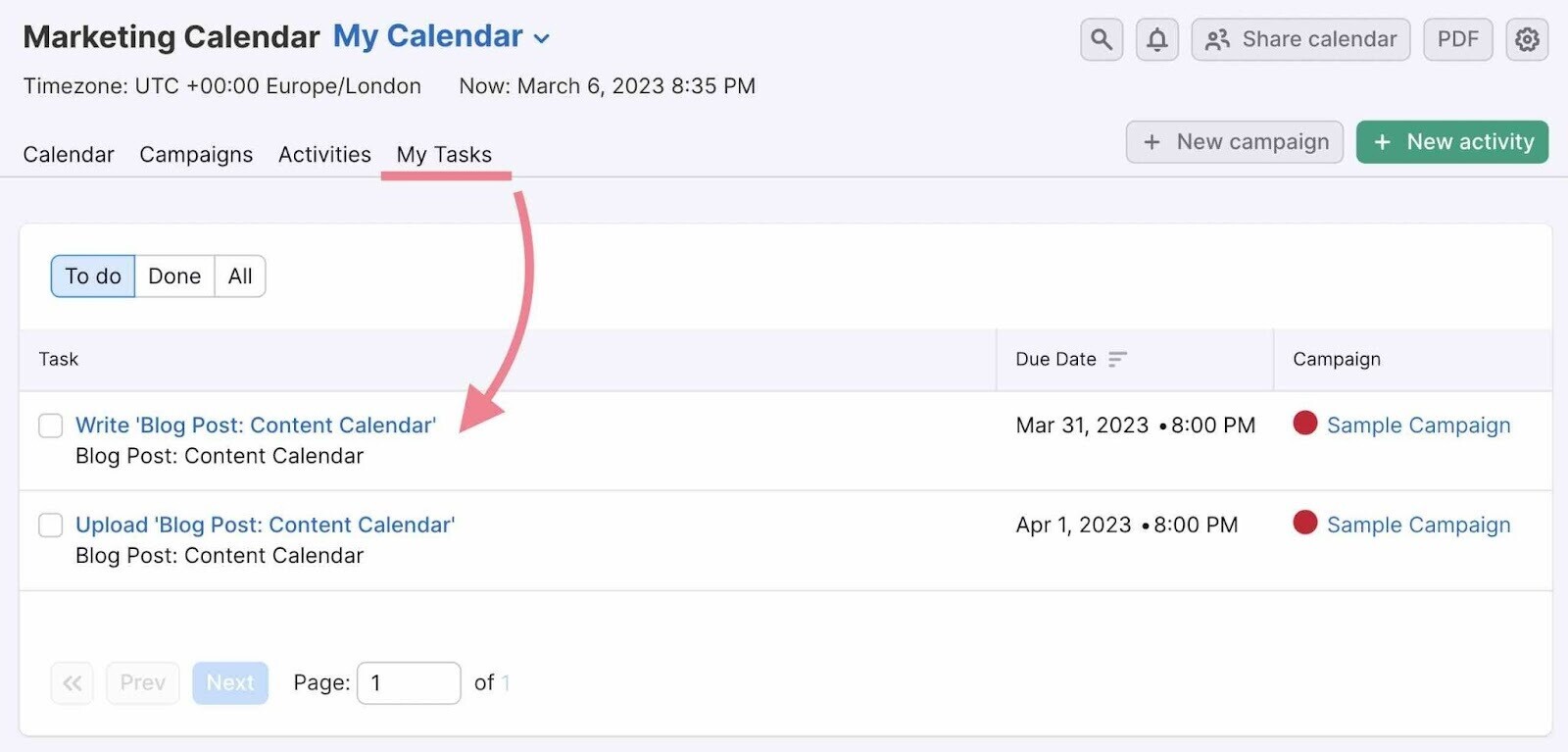 Tip: If you need to get someone's approval before publishing, plan for at least two or three extra days. This way, if they request changes or don't reply right away, you can still meet your deadline. 
Your content calendar will allow you to monitor the content creation process.
3. Publish Your Content
Publish your content directly. Or schedule it to publish ahead of time. 
Most platforms include built-in scheduling features: social media sites, WordPress, Anchor (for podcasts), and more. 
These are some cases in which scheduling content pieces is recommended:
If you're managing the content strategy of different businesses (like in the case of freelancers or agencies) 
If the best time to publish content doesn't match your working hours (or your employees')
If you're publishing content for users in a different time zone
If you reach an agreement with another business to publish something at the same time (like a case study)
In these cases, scheduling content minimizes errors and helps you stay on track.
The Best Content Calendar Tools (+ Templates)
There are many content calendar software options. They can be online platforms, apps, or plugins. 
Here are our favorites, arranged by business size:
For solo marketers with limited budgets:
For businesses with a team of content creators (internal and/or external):
Let's review each one and share content calendar examples and templates. 
Google Sheets
Google Sheets is a great starting point for creating your content calendar. It's free, and all your work is stored in the cloud. 
This is what a content calendar built with Google Sheets looks like:

Google Sheets is a solid option for your content calendar if you're a beginner or a solo marketer. 
(Once you start scaling your content production, it's better to rely on a more robust project management tool.)
Download our Google Sheets content calendar template. 
Note: You can also use other spreadsheet software, like Microsoft Excel or Numbers. 
WordPress Editorial Calendar 
The WordPress Editorial Calendar is a free plugin that helps you manage your blog content calendar. 
It's a simple but effective plugin.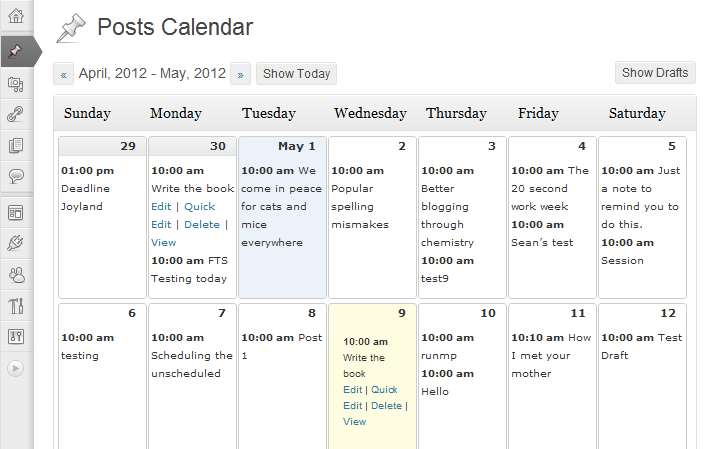 The plugin generates a calendar that shows all your articles (drafts, scheduled, and published).
You can edit or delete posts from the calendar. And use the drag-and-drop feature to make changes easily. 
This plugin helps you schedule your blog posts, but it doesn't offer any collaboration options. 
Semrush Marketing Calendar
Semrush's Marketing Calendar lets you create and manage your marketing calendar while collaborating with other teams.
This tool lets you map out all your marketing activities. 
With it, you can visualize all your content pieces in a single calendar, assign tasks, attach files, and more. 
To get started, go to the Marketing Calendar and click the "+ New activity" button.

A form will pop up. Add all the details of your content piece. Among other things, you can attach files, assign tasks, and set deadlines.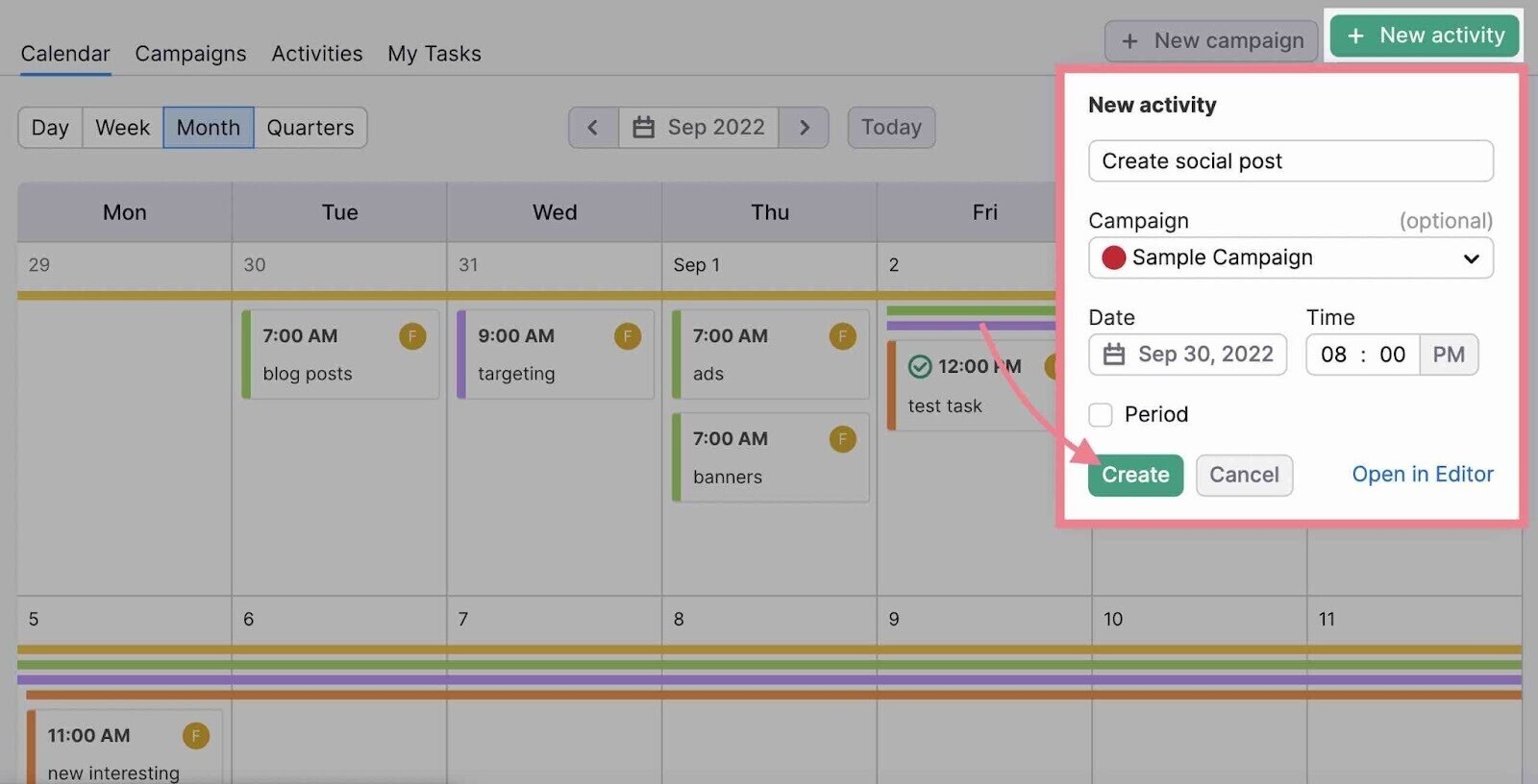 You can even filter your view by Campaign, Status, User, or Tag. 
To do so, click the "Filter" button and choose your filters.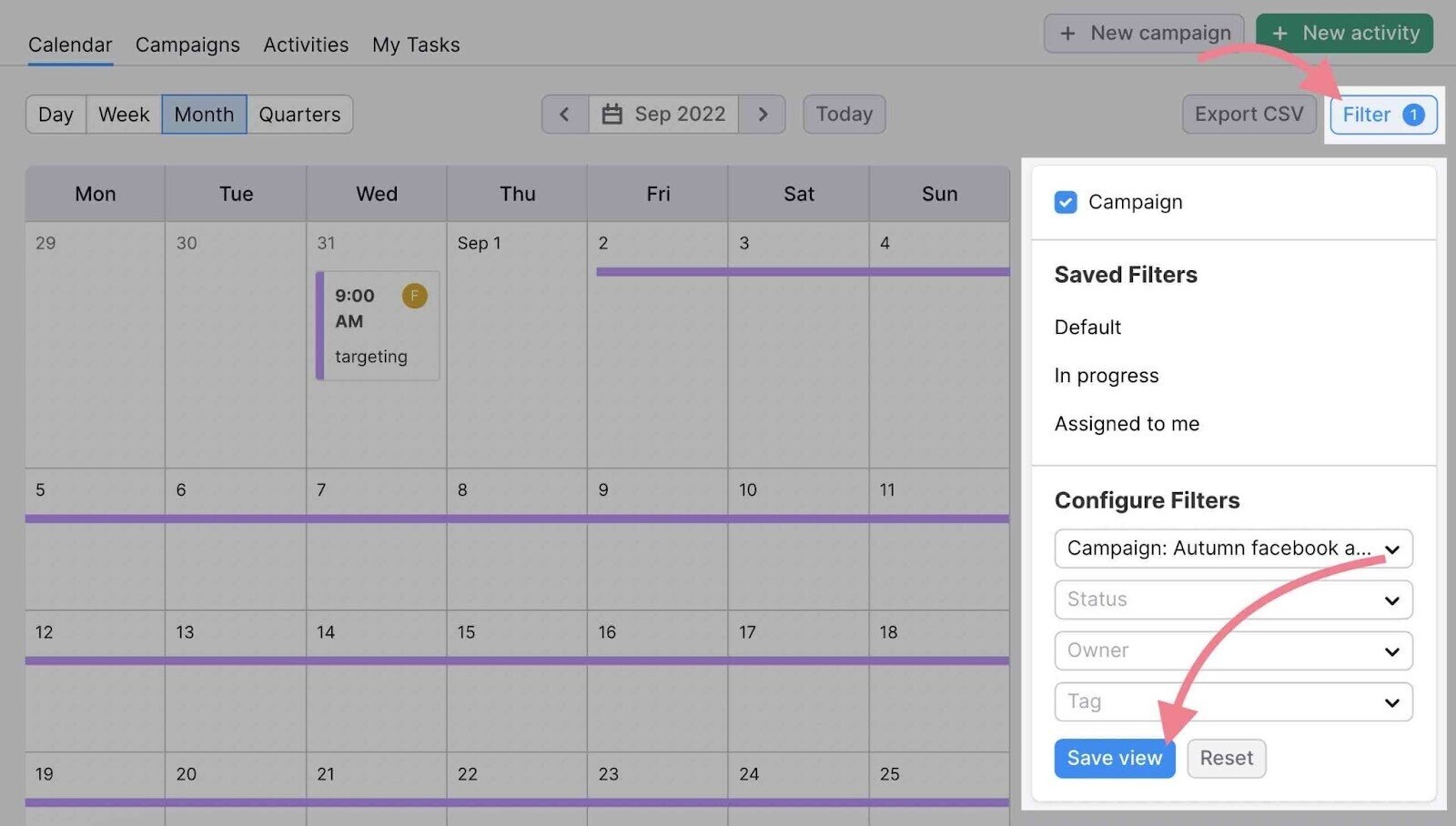 Then, click "Save view" and add a name. This will create a new view, which you can come back to later. 
For example, you could create a filter that shows every "In progress" task assigned to you. 
This would give you a bird's-eye view of everything you should be working on, with deadlines. 
Trello 
Trello allows you to create and manage kanban boards. 
A kanban view is like a Post-it board hanging on your wall. It allows you to visualize your progress in one place. 
It looks like this: 

As you work on a task, you use Trello's drag-and-drop features to change it to a different status. 
Start with this Trello content calendar template. 
Trello also allows you to visualize your kanban board as a calendar. (But you'll need to pay for a Premium account.) 
Note: To see the Calendar view, go to your board, click on the arrow button, and then check "Calendar." You need to add deadlines to your tasks if you want them to show on the calendar. 
Notion
Notion allows you to create a tailor-made content calendar and configure different views for it.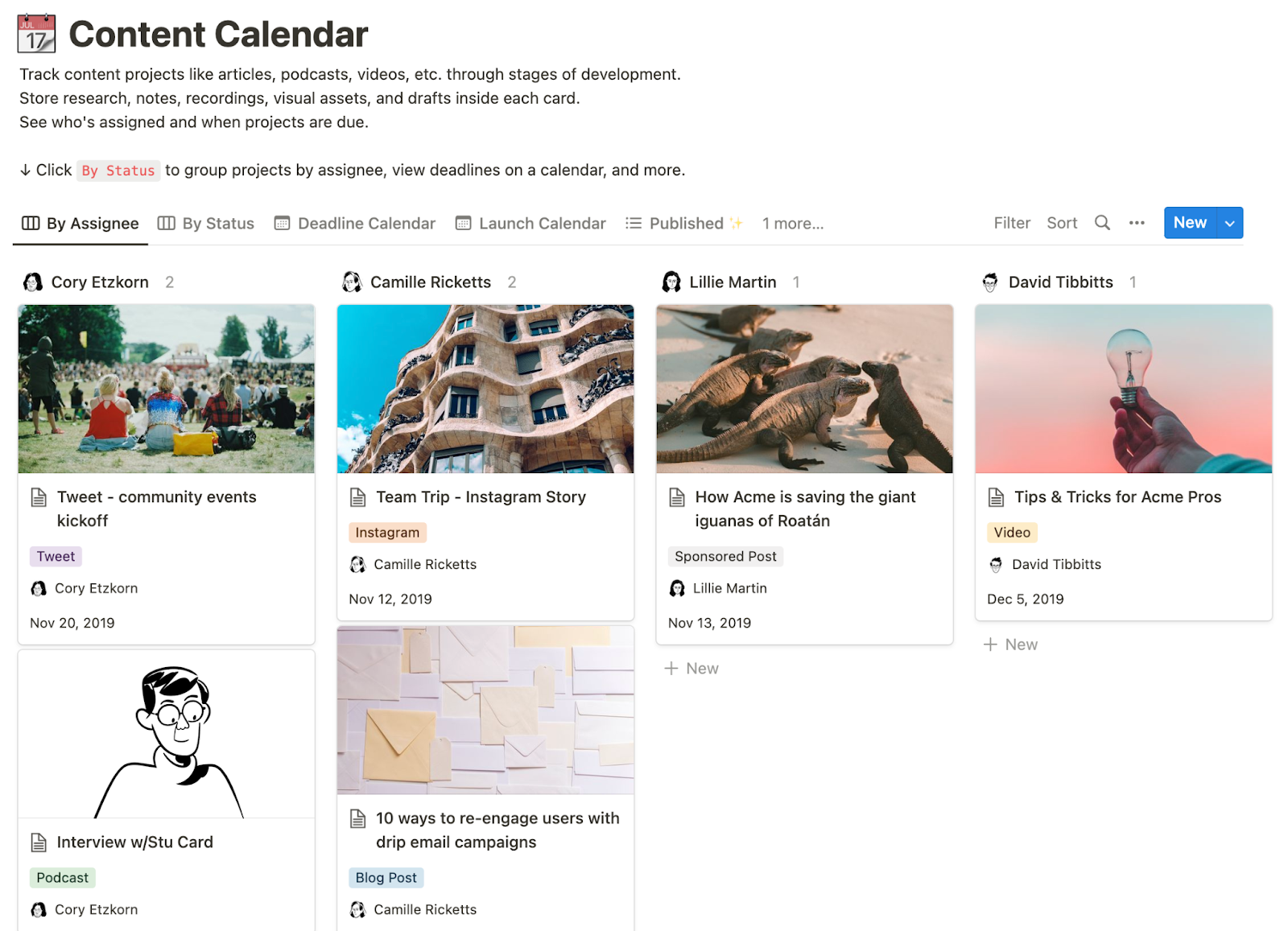 Notion stands out because it's highly customizable. You can use it to create your content calendar marketing tool, among many other things. 
This versatility has its disadvantages, though: 
You will need some time to get used to Notion's interface. It offers a lot of options, and it can get overwhelming. 
But once you get the hang of it, you'll find that it's a very powerful tool. 
To speed up the process, download this Notion content calendar template.
Asana
Asana is an easy-to-use, powerful tool. It's a good option for bigger teams, with complex processes. 
This is what it looks like: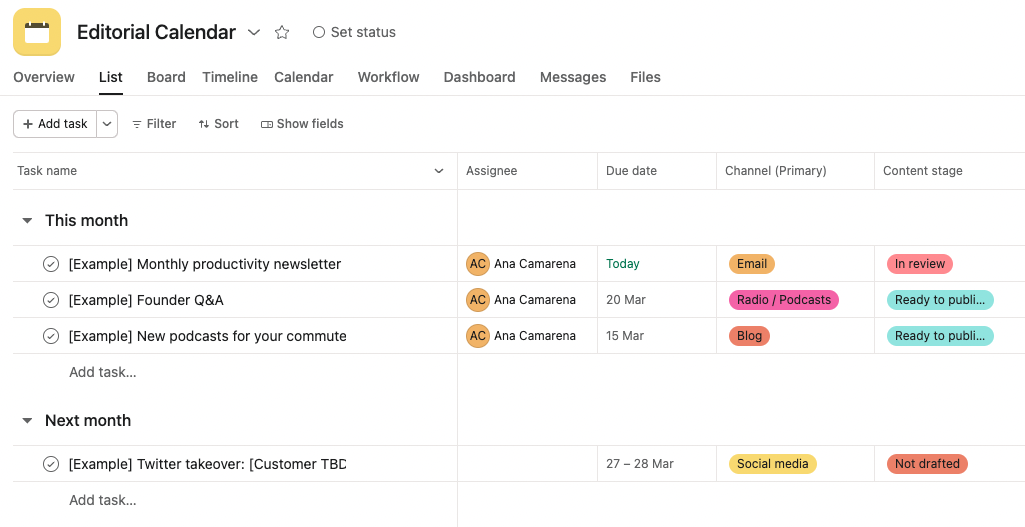 With Asana, you can create and assign tasks, visualize your progress using different views (like a calendar or timeline), and manage your workflows.
It also offers integrations with some of the most popular tools out there (like Slack, Gmail, Zoom, and many others).
Try this Asana content calendar template. 
The Strategy Behind Your Content Calendar
Your content calendar and content strategy are not the same thing. Your content calendar is merely the place to manage the execution of your content strategy. 
Here's an example to demonstrate the differences between the two terms: 
You're organizing an event for marketers. You want to create content to generate more registrations. 
Your content strategy could state that you want to reach 500 registrations before February 20. To achieve your goal, you'll publish two videos per week interviewing your panelists. 
With your content calendar, you plan each specific video. It could state, for instance, that on February 1 you will publish a two-minute video interview with Mary Connors, a pay-per-click (PPC) specialist. 
As you can see, your strategy must always come first. Your content calendar helps you execute that strategy.
Let's briefly cover the basics to define your content strategy. 
Understand Your Target Audience
Before you start creating content, you must understand your target audience and define your buyer persona (a detailed profile of your potential customer).
This is key for creating quality content that brings results. 
By defining your buyer persona, you can decide the following:
The topics you'll talk about
The content formats you'll use
The platforms you'll be on
Tip: You can have multiple buyer personas and define a different strategy for each of them. Since resources are limited, it's better to prioritize content for your buyer persona with the greatest potential. This means focusing first on content for audiences with higher content marketing ROI (return on investment). 
And how do you perform audience research?
You can do the following:
Talk to employees in your organization who are in touch with customers
Interview your customers
Study the industry and your competitors
Your employees and (especially) your customers are the best sources of information.
By talking to employees and customers, you'll collect insights on the topics you should cover (and the best formats to do so).
Ask them how your company helps them, the problems they face every day, or the types of content that they prefer (blog posts, newsletters, LinkedIn posts, etc.). 
Use your customers' replies to start defining specific pieces of content. 
Besides talking to your customers, you can rely on Semrush tools to analyze your industry and competitors. 
One2Target is a tool that helps you get to know your potential customers. 
Start by entering your competitors' domains. (You can add up to five.) Click "Analyze."

You'll see a dashboard with in-depth information about their audience (demographics, socioeconomic information, behavior, and more).
This is a great way to understand your audience (or your potential audience) and plan content that fits their needs. 
Read our in-depth guide to finding your target audience for more details.
Perform a Content Audit
Conducting a content audit means analyzing the performance of your content. 
It will help you understand the following: 
The types of content that work best. Analyze these to create similar ones in the future.
The content pieces that are outdated. You can improve them or delete them. 
You can perform a content audit for all types of content: blog posts, social media posts, YouTube videos, and so on.
After conducting a content audit, you can start filling out your content calendar with new content pieces. Or content pieces that need improvement. 
The Semrush Content Audit Tool can help you analyze your website's content. 
Get started by clicking "+ Create project."

A form will pop up. Fill out your domain, choose a name for your project, and click "Create project."
Now, select the folder that you want to audit (like "/blog") and click "Start Audit."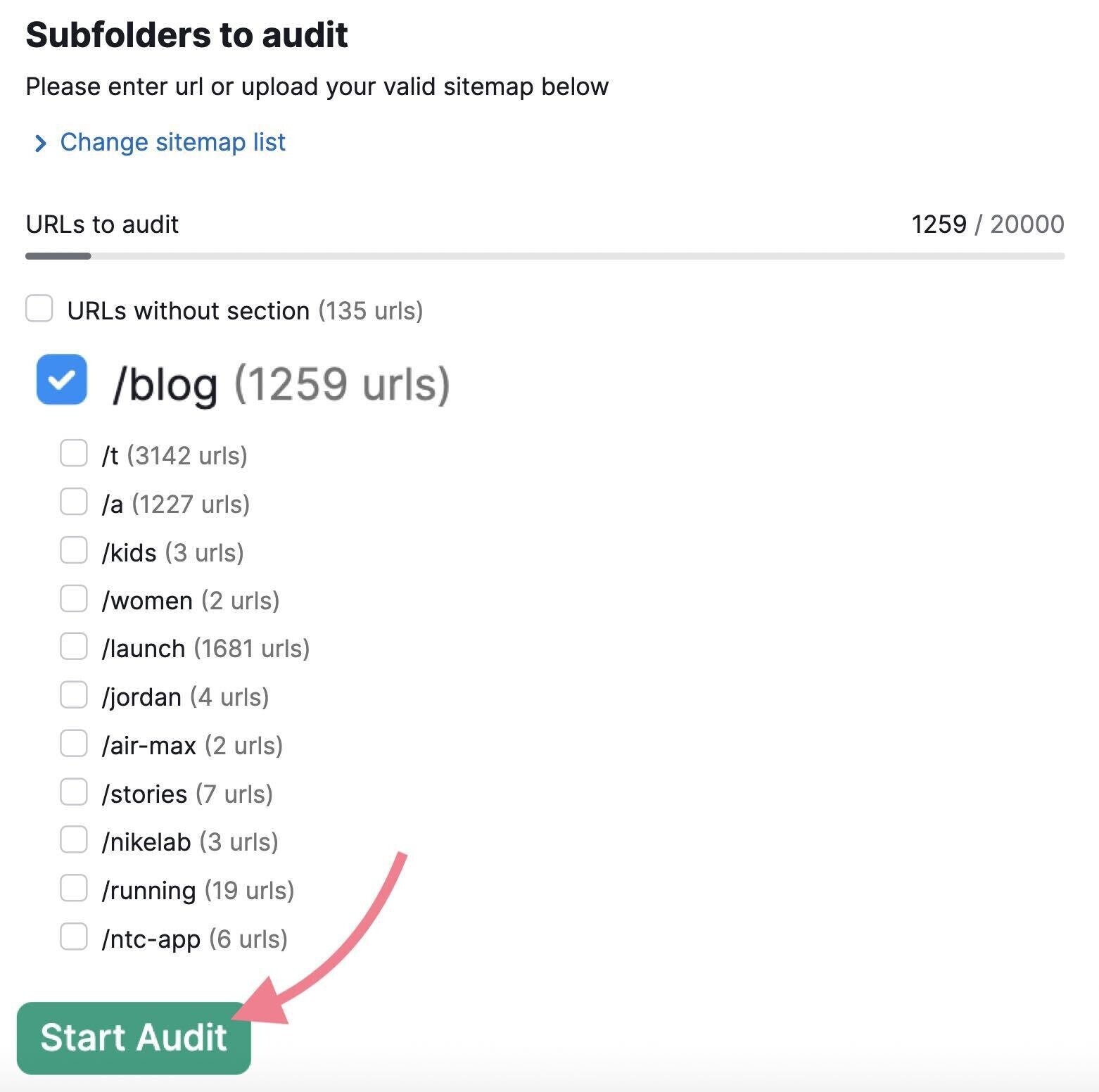 Connect your Google Analytics account for additional information, like Content Sets. 
Content Sets classify your content into four categories:
Rewrite or remove
Need to update
Quick review
Poor content
To do so, the tool considers different criteria (such as page views, backlinks, and more). 
You can customize these categories: Click the "Settings" button and hit "Edit set."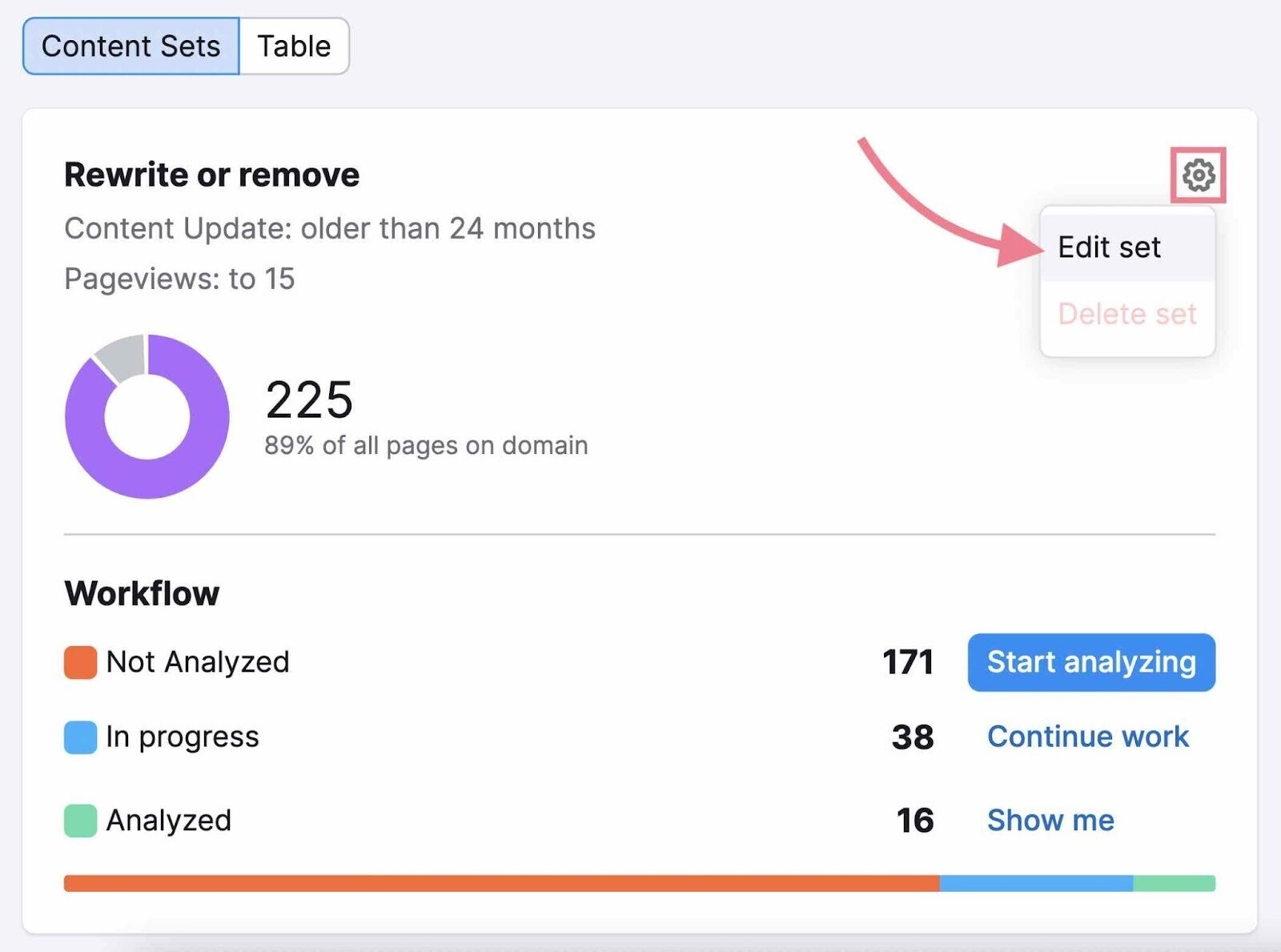 Define your own criteria, like word count, backlinks, page views, and more. Then, click "Apply changes."
The tool will reclassify your content pieces based on your choices.
Pro tip: The Content Audit Tool helps you audit your site's content. If you want to monitor guest posts (on external sites), use our Post Tracking tool. 
Set Goals and Define Your Strategy
Before you create any piece of content, you must set clear goals. 
Remember that your goals must be SMART:
Specific
Measurable
Actionable
Relevant 
Time-bound
Say you're creating a series of articles explaining how your online platform works. 
An example of a SMART goal would be: Publish four articles per month to improve retention by 3% in Q1. 
Or: Update five blog articles that rank in positions 11 to 20 per week to increase traffic to the blog by 15% before the end of the year. 
Learn more about content marketing metrics that you should be tracking. 
To set these goals, you must understand your audience and their expectations.
And you also need to know how your current content is performing. That's why running a content audit is important. 
Once you have set goals, start adding specific tasks to your content calendar. 
To find new content ideas, check these articles: 
Start Filling Out Your Content Calendar
As you can see, a content calendar is a simple tool for managing everyday content-related tasks. 
Behind this resource, there's a whole content strategy you must plan out. 
Learn more about content marketing with these in-depth resources:
And if you're ready to start working on your content strategy, check out the Semrush Content Marketing toolkit.