Social media is a powerful marketing tool for real estate firms because it helps you reach a wide audience, engage with potential clients, and get leads. 
Use this guide to learn real estate social media content ideas that'll help grow your business. 
Pro tip: Use a social media management tool such as Semrush Social Media Toolkit to make the most of your realtor social media content. It helps you publish posts, analyze performance, track competitors, and schedule campaigns. 
25 Real Estate Social Media Content Ideas to Drive Engagement
The best real estate social media strategy includes a mix of educational, promotional, and interactive posts. 
Why?
Because a varied social media calendar helps you appeal to a wider, more diverse audience.  You'll increase awareness, build trust, and turn fans into potential buyers.
Here are 25 real estate content ideas to help you gain visibility and attract potential leads.
1. Showcase New Listings
Sharing property listings is one of the most common real estate social media posts. But to attract the right buyers, you need to go beyond the basics and effectively communicate your property's value.
Here's an example from a real estate firm that gets it right: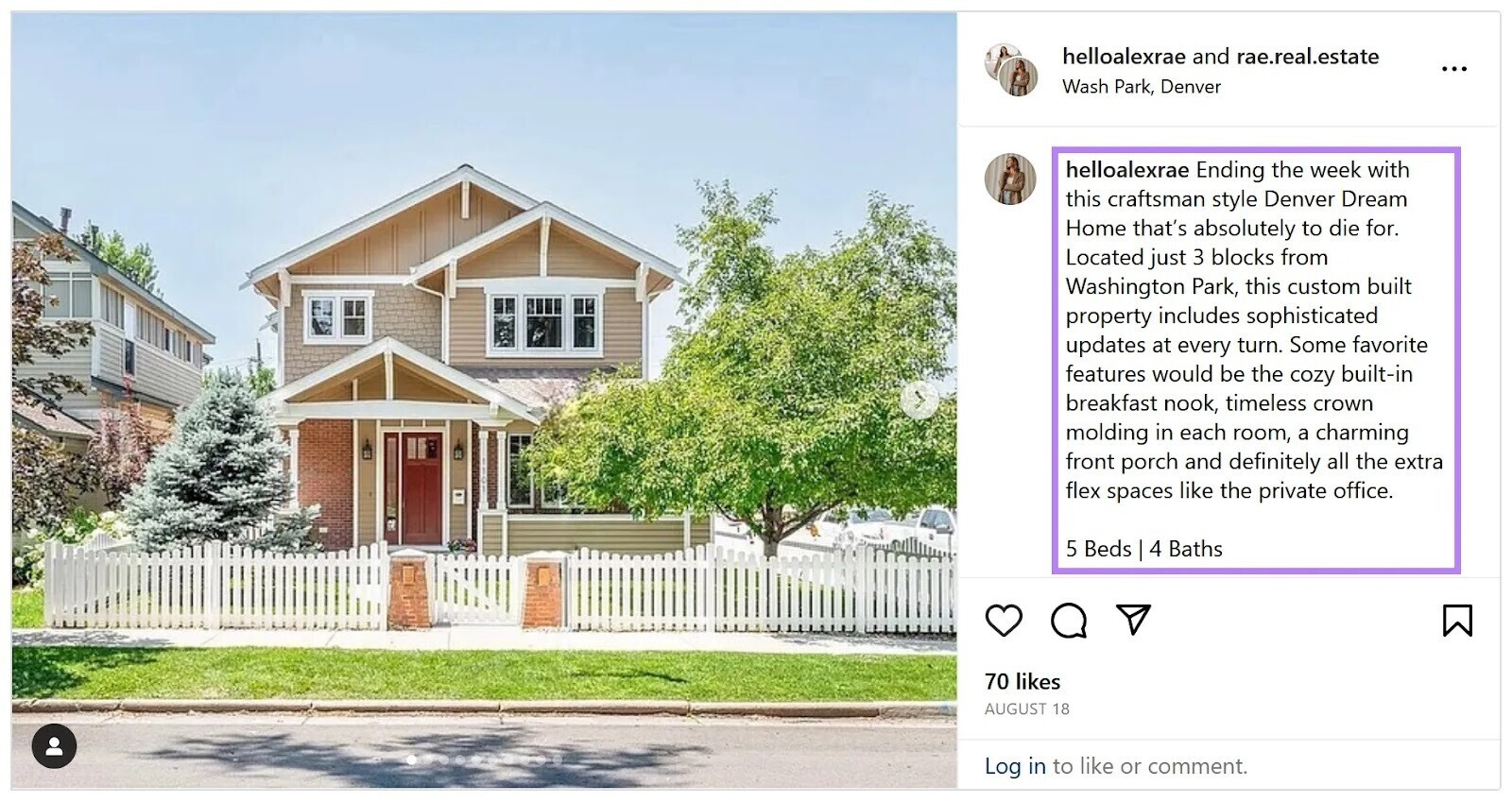 In addition to several high-quality photos of the property, they include a clear description highlighting its selling points and unique features. This instantly grabs attention and piques interest.
Use the highest quality images you can. A grainy, poorly lit image makes it difficult for viewers—and encourages them to click away.
Write a clear description outlining key selling points (e.g., number of bedrooms, price, modern kitchen, patio, etc.). Lifestyle benefits are a huge decision point for most viewers. 
Include benefits like local amenities, distance to schools and parks, and nearby shopping and entertainment centers.
Finally, don't forget to include your contact information so interested prospects can reach you easily.
Pro tip: Bird's-eye-view images (taken by drone) offer a unique angle and can be enticing enough to stop the scroll.
2. Do Video Walk-Throughs
Go beyond static images and create video tours of the property. This gives potential buyers a virtual walk-through and a better sense of the space. It also helps viewers imagine living there, which is a powerful motivator to learn more about the property.
For instance, look at this video realtor Client First Collective posted on Instagram.
The video starts with an inviting introduction and gives a quick view of the rooms in less than a minute. The smooth camera movement makes it feel like you're actually walking through the property. 
To ensure you include everything you need in your walk-through, outline the sequence of rooms you'll feature in the video. 
Then, use the following real estate social media content ideas to produce a high-quality final result:
Use a stabilizer or tripod to avoid shaky footage
Shoot during daylight because natural light enhances the appeal of the property
Aim for 1-2 minute-long videos to keep viewers engaged
Add background music that matches the property's ambiance without being distracting
Create vertical videos and optimize them for mobile viewing 
Pro tip: You can include narration over drone footage for an interesting perspective on the property. It's a great way to showcase large yards, interesting driveways, and more.
3. Announce Open Houses
Announcing open houses on social media can attract potential buyers and create excitement about a property. 
Use high-resolution images (or videos) of the property and include details of the open house event, such as date, time, and location. 
Here's an example of a well-designed open house post. It mentions the key details on the picture itself, like the date, time, address, square footage, and number of bedrooms and bathrooms.
Doing so gives viewers easy access to critical information they can screenshot, share, or jot down—even if they're scrolling quickly through their feeds.
You can also post a video inviting prospects to your open house.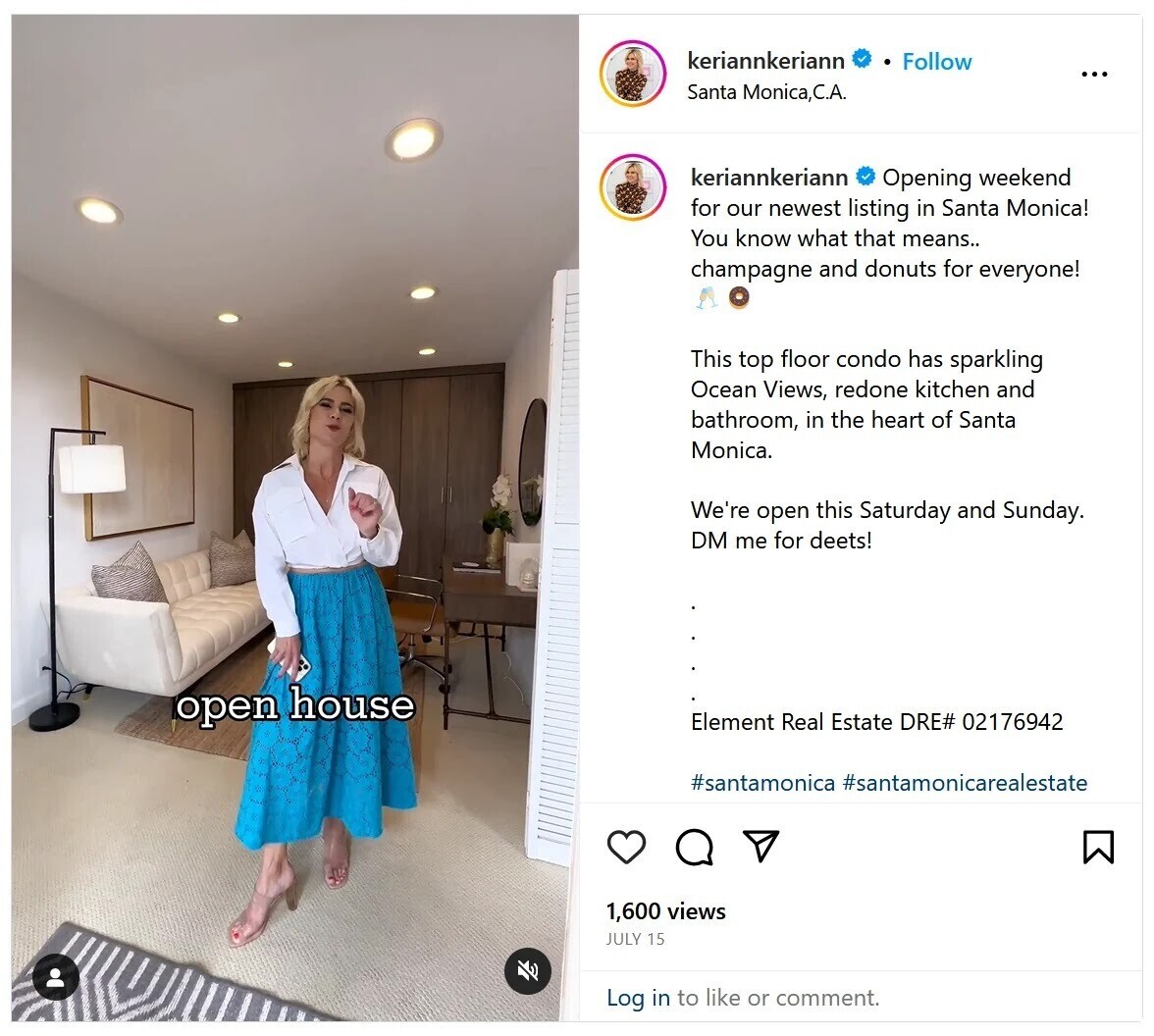 The above example makes for the perfect social media content for realtors and followers: it delivers the message, sets clear expectations, and makes the invite more personal. 
Videos also let viewers see the property, which makes them more interested and likelier to attend the event.
Make your post easy to find by using relevant hashtags like #openhouse and location-specific phrases like #sandiegorealestate. This makes it more likely people searching for an open house, especially those in the local area, will discover your event.
Also, share open house announcements multiple times before the event. This will ensure your message doesn't get lost. It'll also increase your chances of catching the attention of potential attendees.
Promoting your real estate services on social media helps you establish your expertise and build trust with potential clients. 
Create dedicated posts for each service you offer so prospects can better understand what you provide. 
Use various formats like carousels, reels, Instagram Stories, static images, and videos to keep your real estate content fresh and appealing. 
This variety caters to different preferences within your audience. It ensures everyone can engage with your content in their preferred way. 
Carousel posts, for example, are a great way to break down information into bite-sized pieces through a series of slides. This makes it easier for people to digest and understand the content, keeping them engaged throughout the carousel.
Here's an example of a carousel post where the real estate agent explains her services and highlights the value she provides.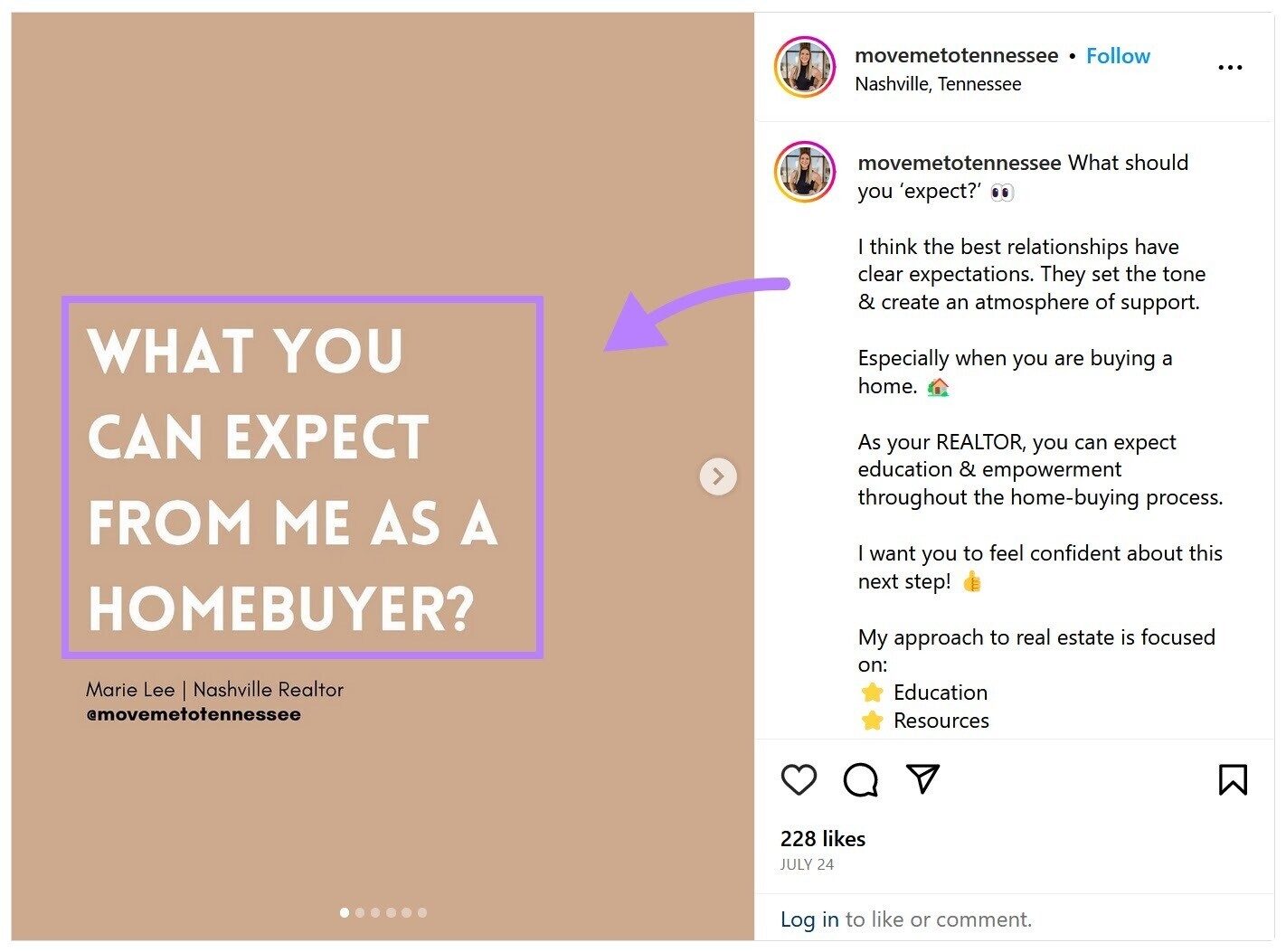 The first slide starts with addressing the key question. This sets the stage for the entire carousel by presenting a clear and relevant question that gets the audience interested.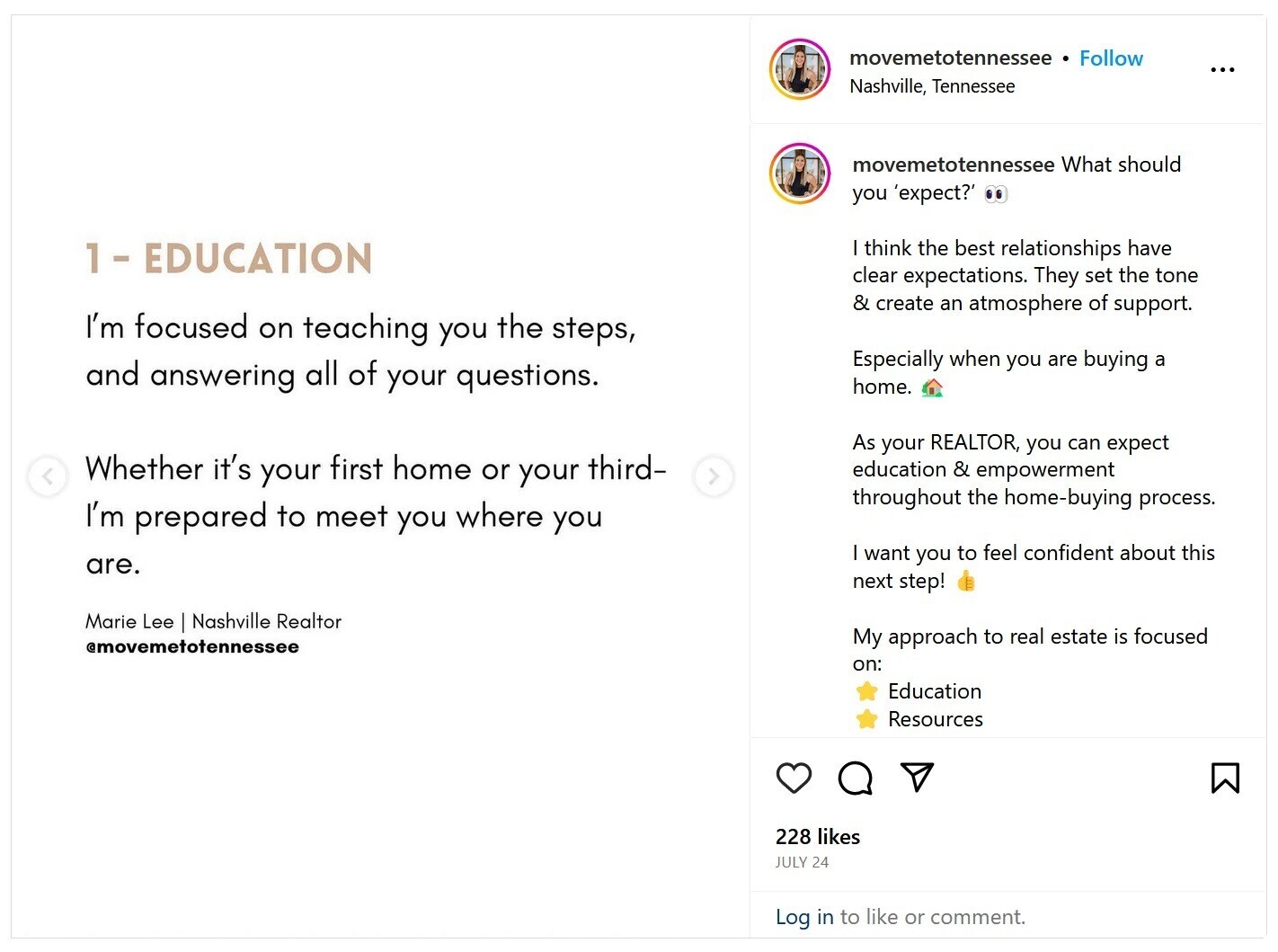 Subsequently, each slide focuses on a different aspect of what clients can expect from the real estate agent. It creates a clear and concise narrative. 
This format not only keeps the audience engaged; it allows them to absorb each point one at a time, making the information more memorable and understandable.
5. Recap the Month
A monthly recap is a quick roundup of recent wins, deals, and exciting moments from the past month. 
Sharing your wins acts as social proof, which builds trust. It shows potential clients you're the go-to expert they need. Plus, it's a fast and easy way to create engaging real estate social media content for your audience. 
Here's an example of a monthly recap post with a clean design that communicates essential data points, including homes sold, new listings, and average sale price.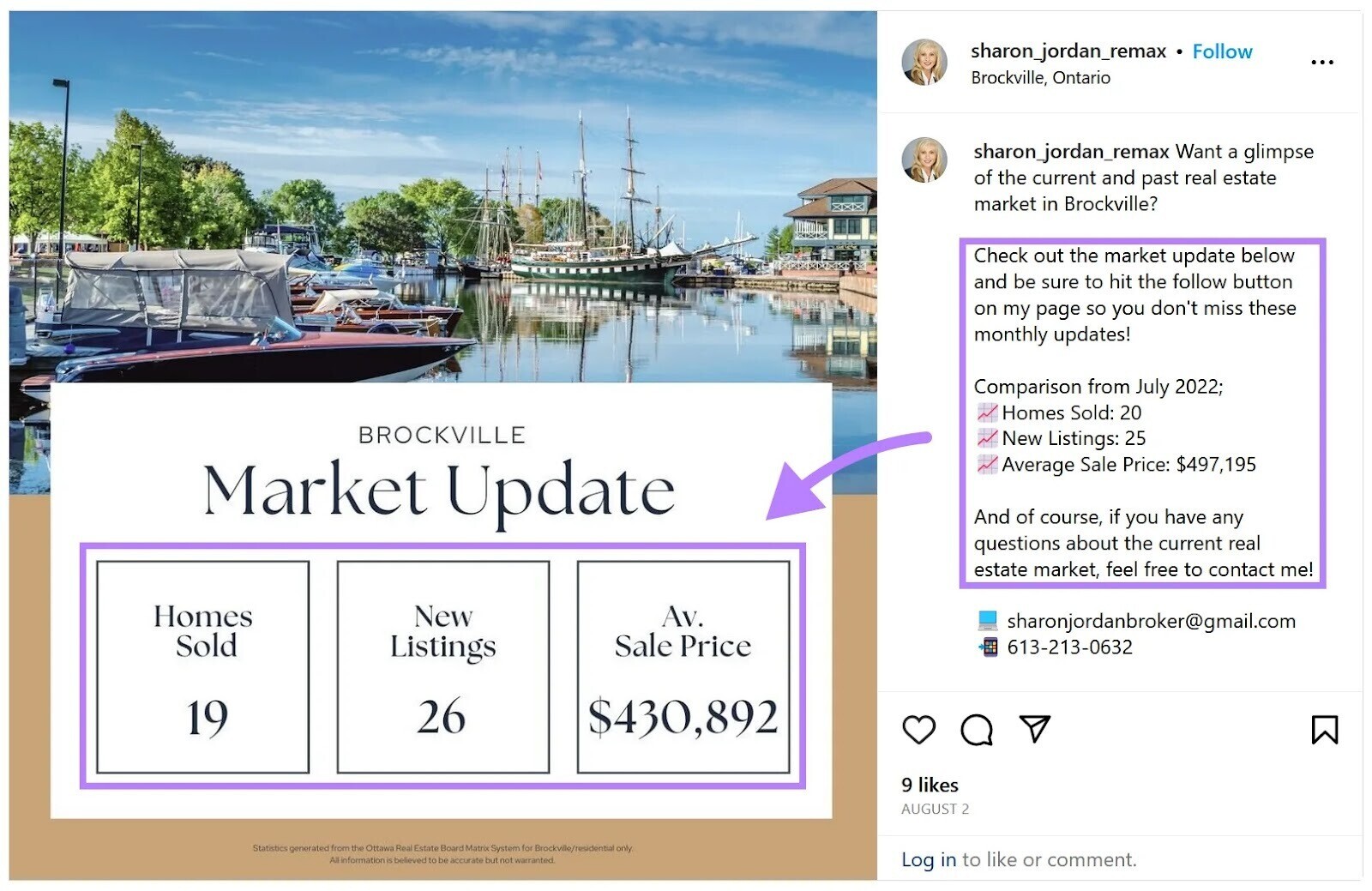 You can do the same by sharing the past month's most important events, listings, or milestones to provide your audience with valuable and relevant content.
Also, use concise and clear headlines for each highlight. This helps people quickly understand the significance of each item.
Finally, end with a call to action to encourage meaningful interactions and prompt your audience to do something. This could be anything from "contact me for more details" and "sign up for my newsletter" to "list your home now." 
6. Offer Actionable Tips and Advice
While promoting your services is necessary, sharing helpful advice and useful tips can be just as valuable. These posts provide your audience with insights and help you build topical authority.
To come up with ideas, consider your audience's needs, questions, and concerns. This helps you tailor your content to what matters most to them.
Take the following educational real estate social media post. The realtor addresses the concern of a slow market.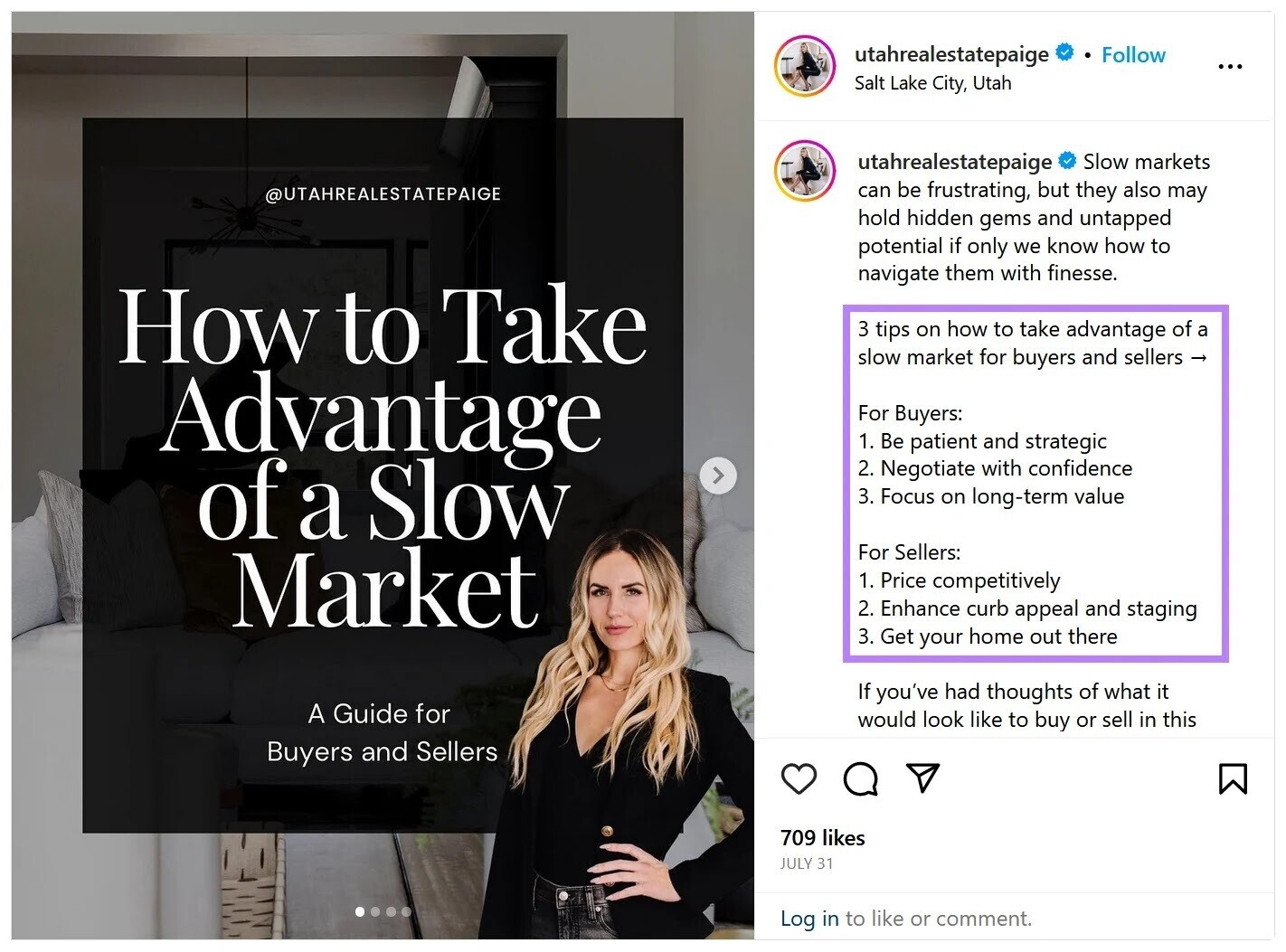 Instead of just highlighting a problem, the realtor offers actionable steps for buyers and sellers to navigate a slowdown.
You can get content inspiration from client questions as well by turning a common question into an engaging social media post. 
The following post, for instance, takes on the question of whether to buy a new home before selling a current home.
The realtor addresses the question in a lengthy post that includes questions to ask and factors to consider. The informative content gives readers a clear starting point for making their decision. 
Educational content is all about building a connection and being genuinely helpful. The best part? When people find your tips useful, they're more likely to remember you when they need a real estate expert.
Pro tip: Get competitor social media insights to help you create better, more relevant content with the Semrush Social Media Tracker. View the most engaging posts from your competitors, their audience's behavior and activity, and much more.
7. Address Misconceptions
People may hesitate to buy or sell a home because of myths they've heard. 
By addressing these misconceptions in your social media posts, you prove your expertise and give them the confidence to make informed decisions. 
Here's a good example of a post addressing the misconception about interest rates.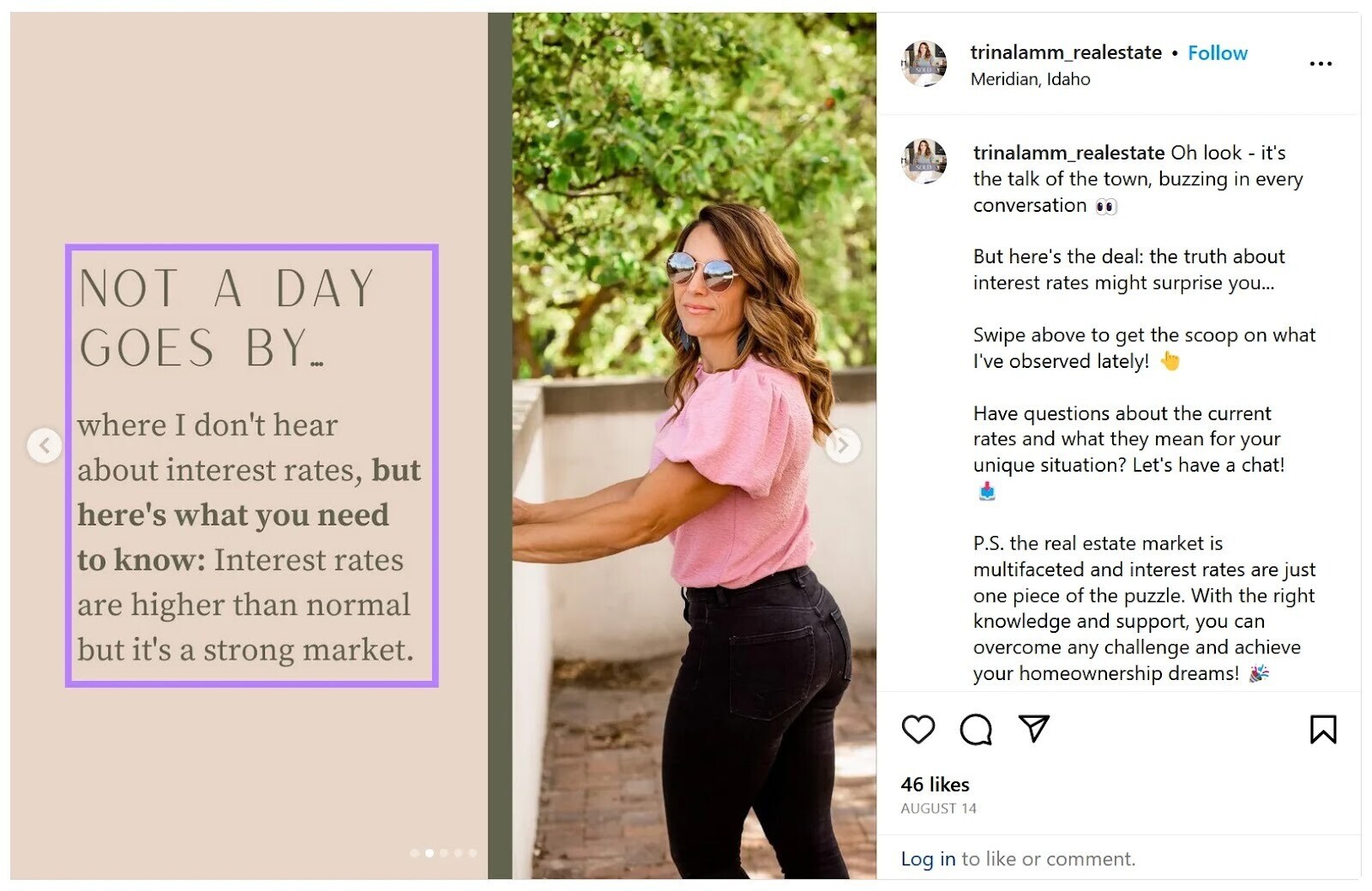 The realtor walks readers through the truth about interest rates and their options for getting around them.
This approach educates the audience and positions the realtor as a reliable source of accurate information in the real estate market.
Start by learning about the common myths in real estate (e.g., down payments, interest rates, property value, etc.). 
Then, research and gather accurate information to clear up myths affecting your target audience. Next, offer tips and actionable steps to educate your audience and establish yourself as a thought leader. 
8. Discuss Market Trends
Talking about market trends shows you're not just focused on promoting properties; you genuinely care about your clients' well-being. 
Sharing trends builds trust by helping potential buyers and sellers understand the bigger picture before making decisions.
Take a look at this post, for example.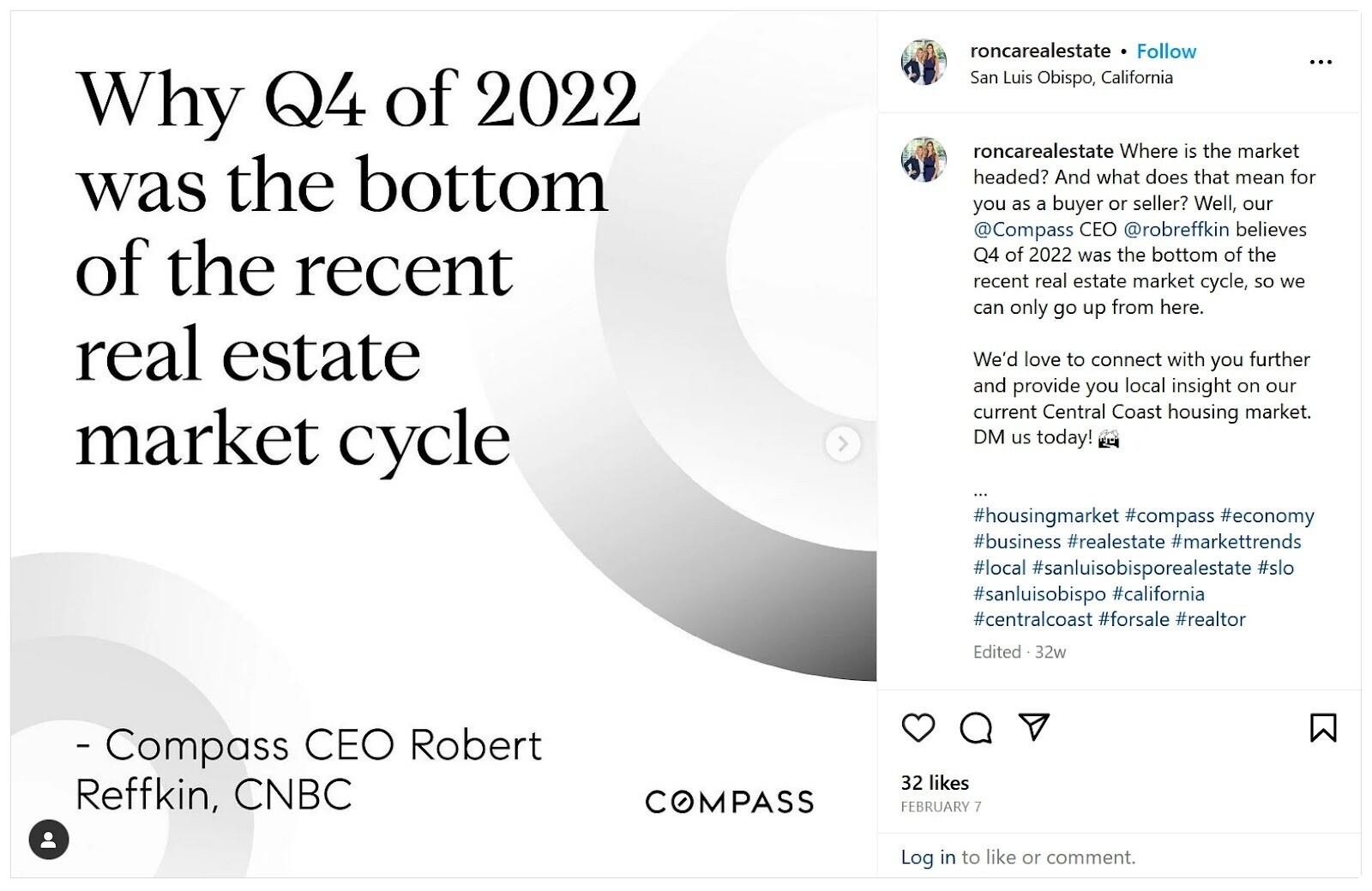 Each screen in the carousel simplifies the state of the industry into easy-to-process nuggets of information. 
The post ends with a strong call to action, "DM us today!" inviting the audience to connect for personalized advice.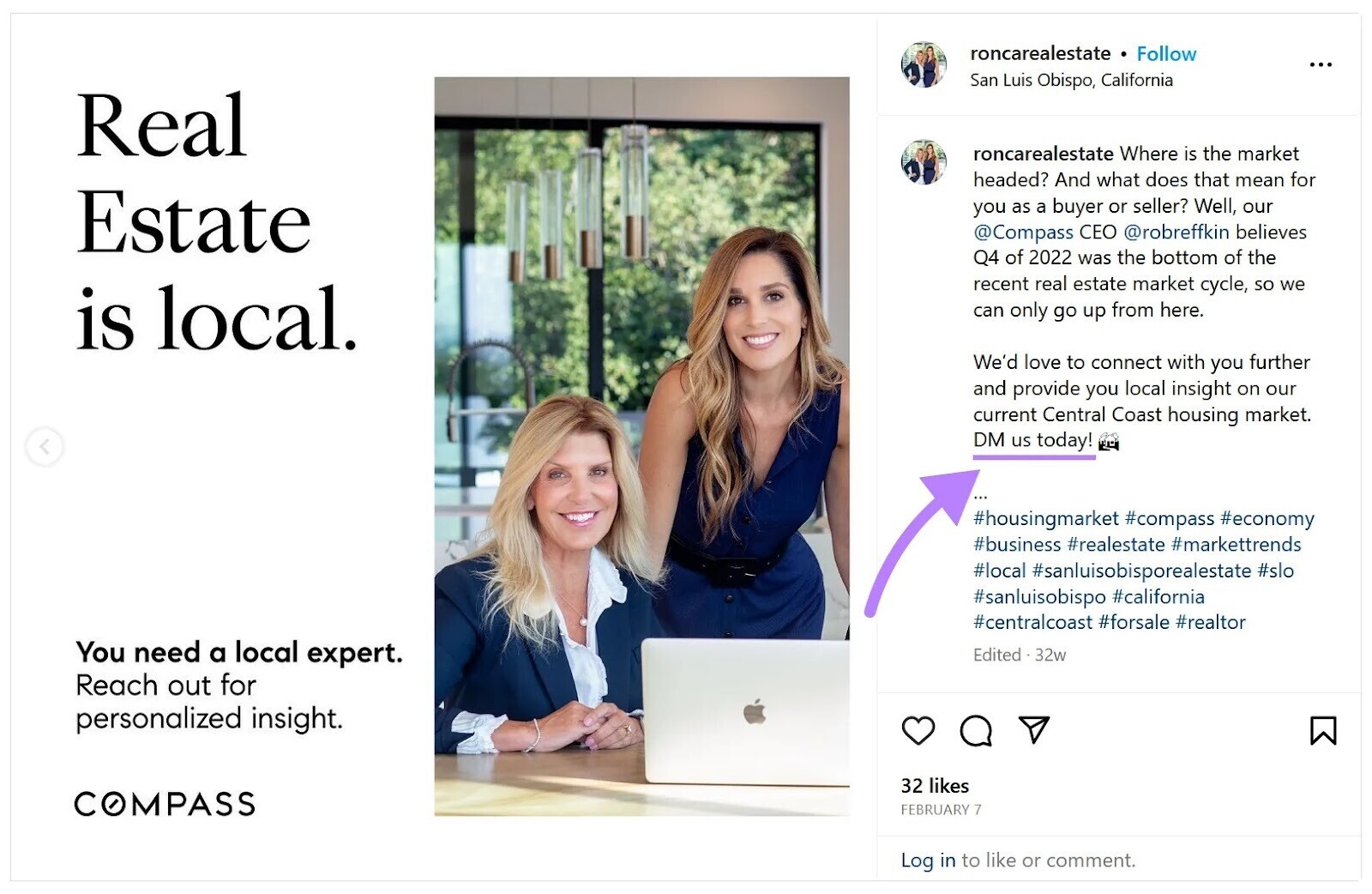 When you share such posts, go beyond just summarizing trends. Instead, explain how these trends impact your audience as a buyer or seller in the real estate market.
9. Share Relevant News or Updates
People want to work with knowledgeable agents who have their finger on the pulse of the industry.  A smart way to show your knowledge is by sharing relevant news and updates related to the real estate industry. 
For instance, post when there's a change in mortgage rates, housing policies, or even local developments. Sharing this information keeps your followers in the loop and positions you as a reliable source.
Here's an example of a realtor duo highlighting a market update that impacts real estate decisions.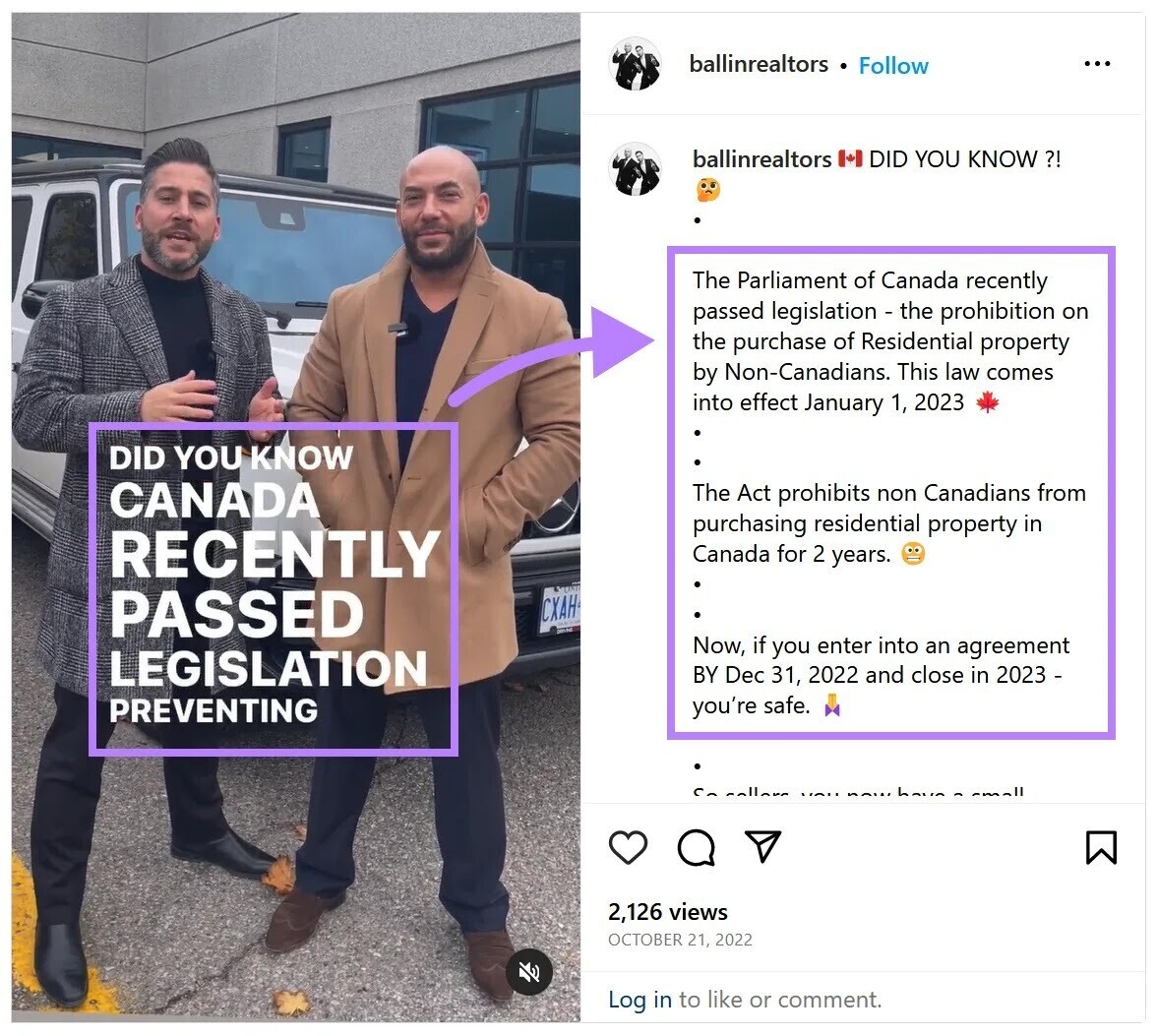 By providing timely and relevant information, this post keeps the audience informed about important changes in the industry.
10. Voice Your Opinion
When you share your opinion on social media, you add a personal touch to your online presence and genuinely connect with your audience. 
It shows you're not just a real estate professional but a real person with ideas and knowledge to share. Your real estate social media content helps you build trust and credibility. People see your commitment to sharing valuable, relevant insights that go beyond property sales.
The below is a good example of an appropriate opinion-sharing post. It's relatable and direct, addressing a common misunderstanding in real estate.
In addition to sharing her opinion, the realtor provides examples that resonate with potential buyers and sellers. This adds weight to her perspective and helps viewers grasp the details that shape their decisions.
Share opinions that help your audience understand real estate better or make smarter decisions. 
As you do so, keep a respectful tone and avoid using aggressive language. This will help you maintain an open dialogue with your followers.
You can also create an authentic connection by sharing your own experiences or stories related to your opinion. And by encouraging your audience to share their thoughts and experiences on the topic.
11. Feature Client Testimonials
Sharing testimonials from happy clients is like putting a spotlight on your success. 
Plus, social proof from someone who has personally experienced your service can help build trust with potential clients. Testimonials and reviews act as effective referrals from those who've had experience with you.
Here's an example of a client testimonial post.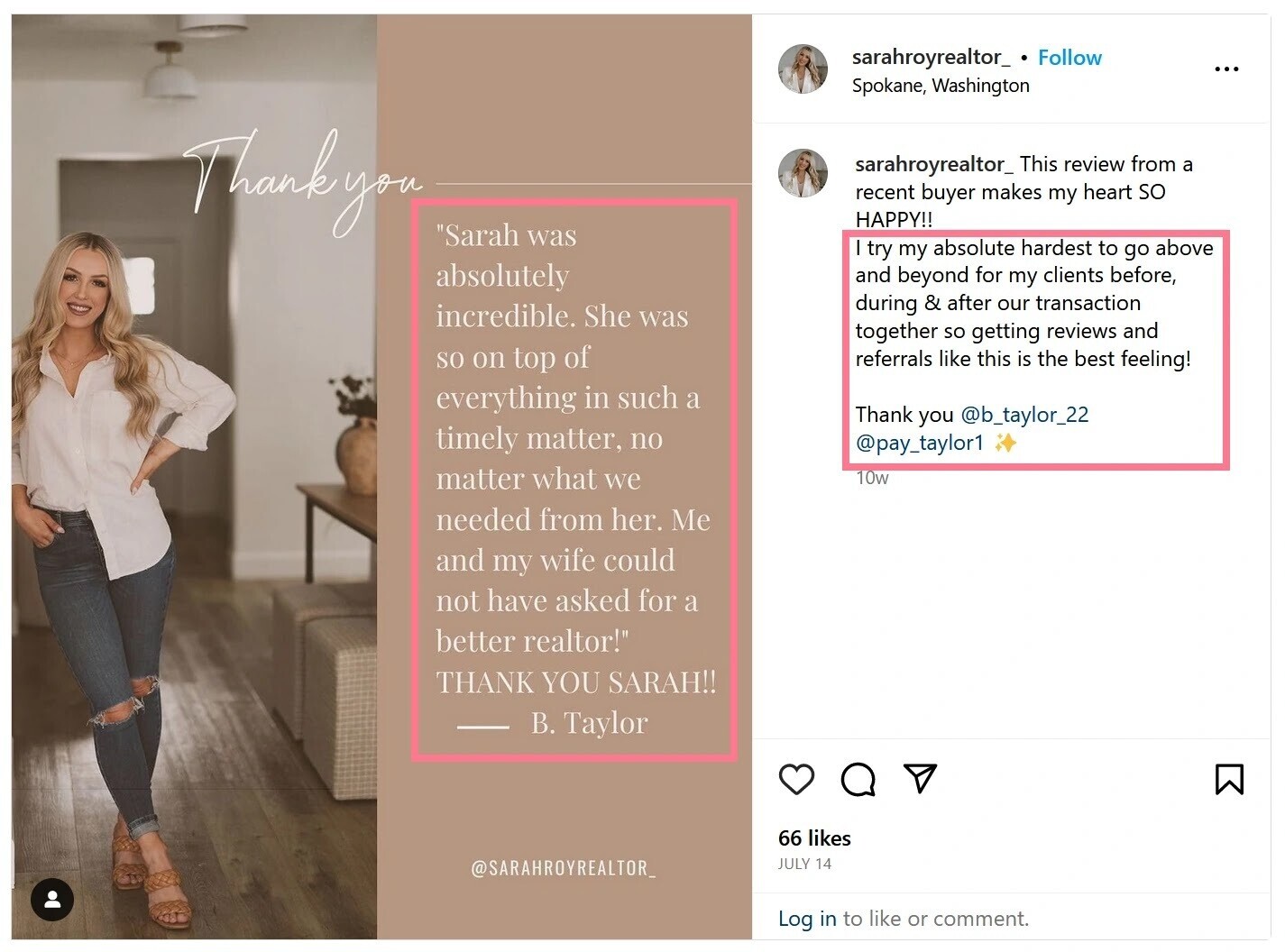 The review is concise and specific, giving potential clients a clear sense of the value they can expect from the realtor.
Make sure the testimonials you share are specific by detailing how clients have benefited from your services. This provides concrete evidence of the value you offer.
You may also want to tag or mention the clients in your social media post to make it more authentic.
Finally, feature testimonials from different types of clients (e.g., buyers, homeowners, first-time homebuyers, and investors). This will showcase your versatility and ability to meet various needs.
12. Share Success Stories
Think of client success stories as more in-depth versions of testimonials. While testimonials are usually brief client statements, client success stories provide a fuller picture.
Success stories walk you through a client's journey: where they started, how you assisted them, and the positive outcome you achieved (i.e., getting them into their dream home). 
These stories offer real-life proof of your skills in action. You're not just telling them—you're showing them the value you bring to the table. 
Here's an example of a client success story post. It talks about negotiating seller contributions and securing a new home for the client, giving a clear idea of how the realtor added value.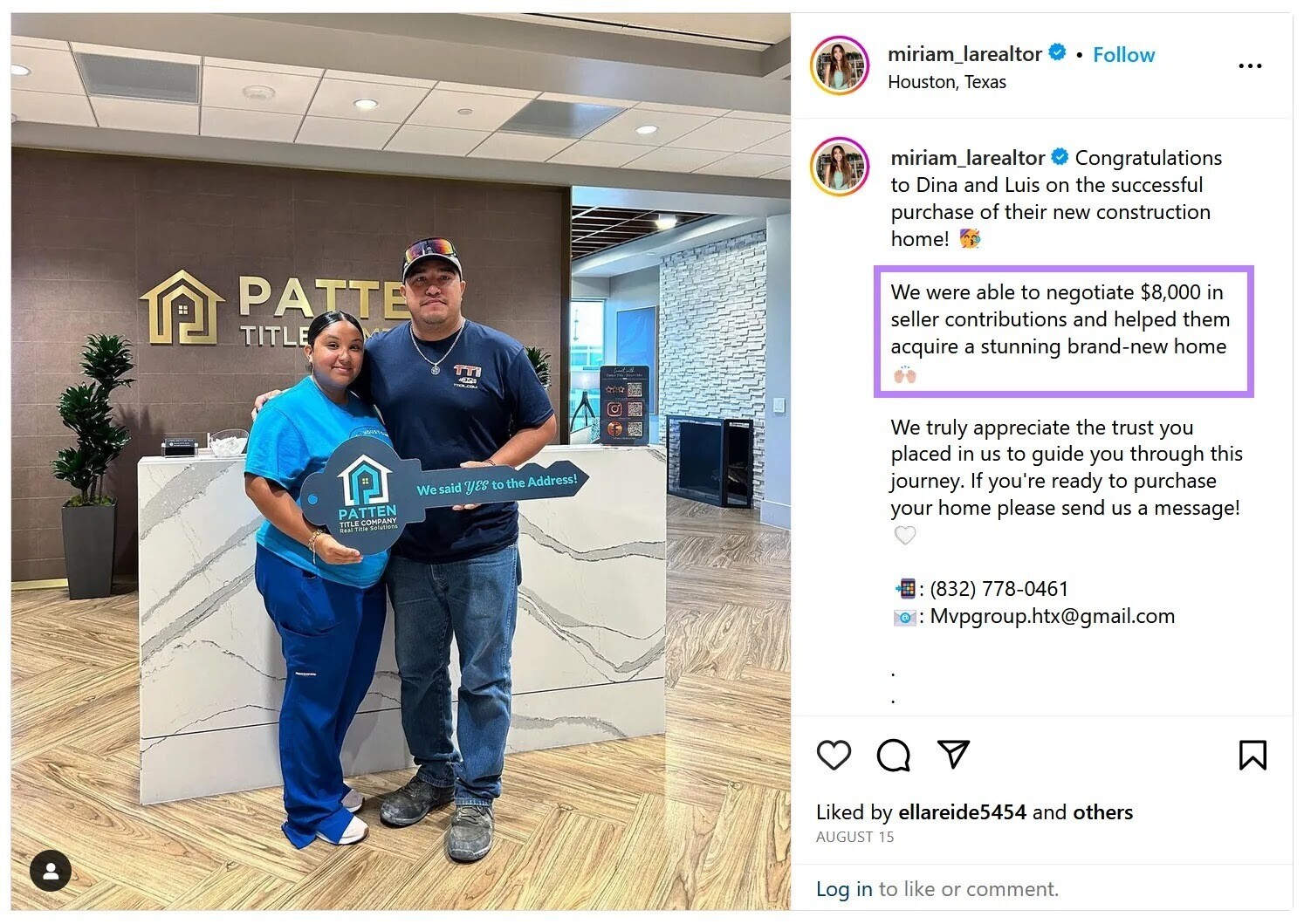 You can also share a detailed example like the one below.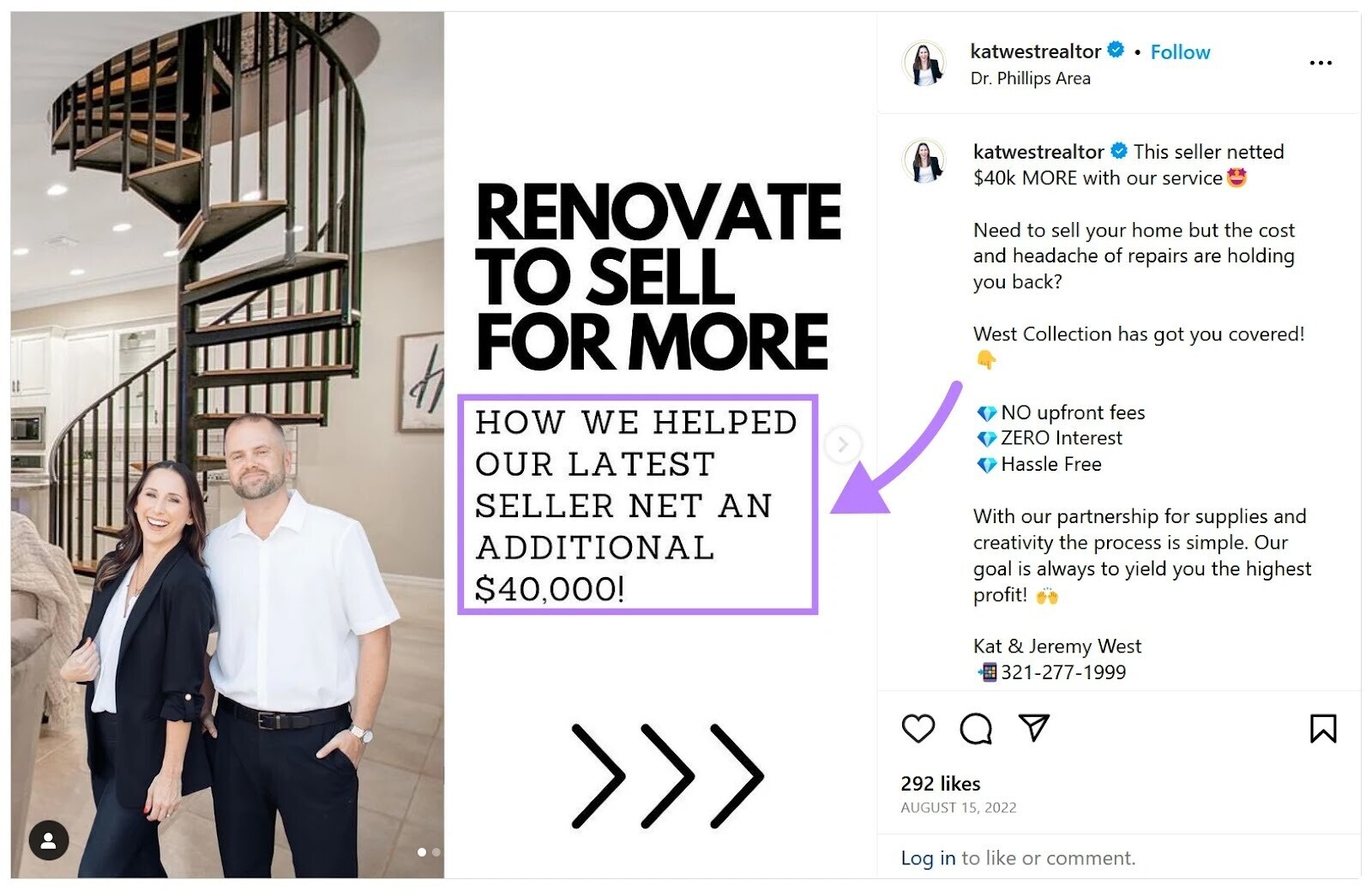 It addresses a common concern (cost and hassle of repairs) and highlights how the realtor made a significant difference—$40,000 more than asking—for a client.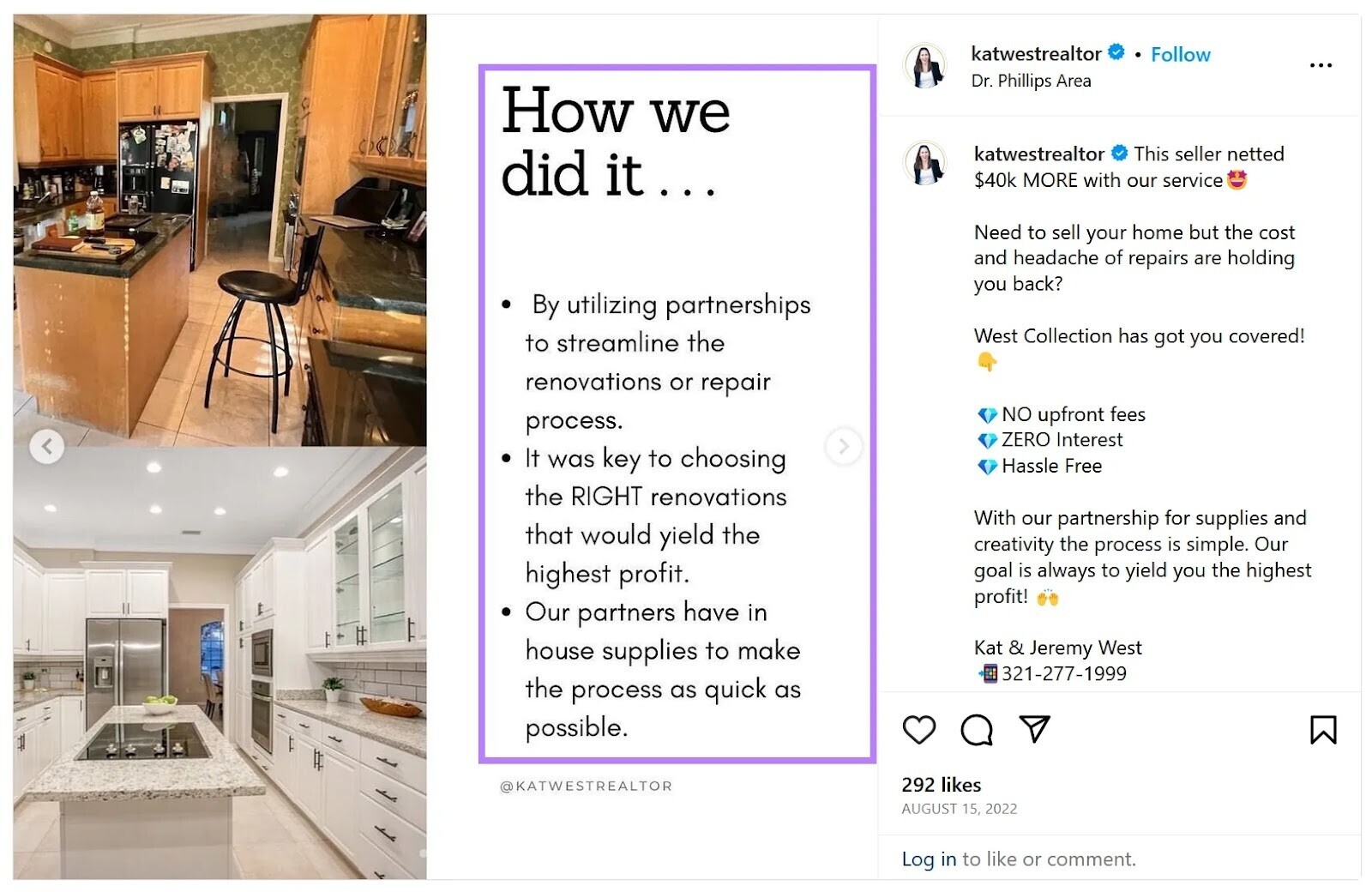 13. Spotlight a Neighborhood or City
When you shine a light on a neighborhood, you're giving people a glimpse into the lifestyle they could have in that area—the parks, cafes, community, and more. 
These posts allow you to showcase your knowledge about local communities. They position you as a trusted local expert.
Take a look at this example. The realtor paints a picture of the neighborhood's backstory and selling points. 

The post is informative and personal, giving the audience a taste of what it's like to live in Augusta, Maine. 
14. Feature a Team Member
Introducing the faces behind your real estate services adds a personal touch to your online presence. 
When clients see your team's faces, it humanizes the transaction process.
Create social media posts that introduce individual team members. Share their professional background, areas of expertise, and a little about their personalities. You can also incorporate fun facts and hobbies to make the posts relatable.
Here's an example of a post introducing a new team member. The video kicks off with an enthusiastic welcome. It also talks about the new employee's extensive industry experience.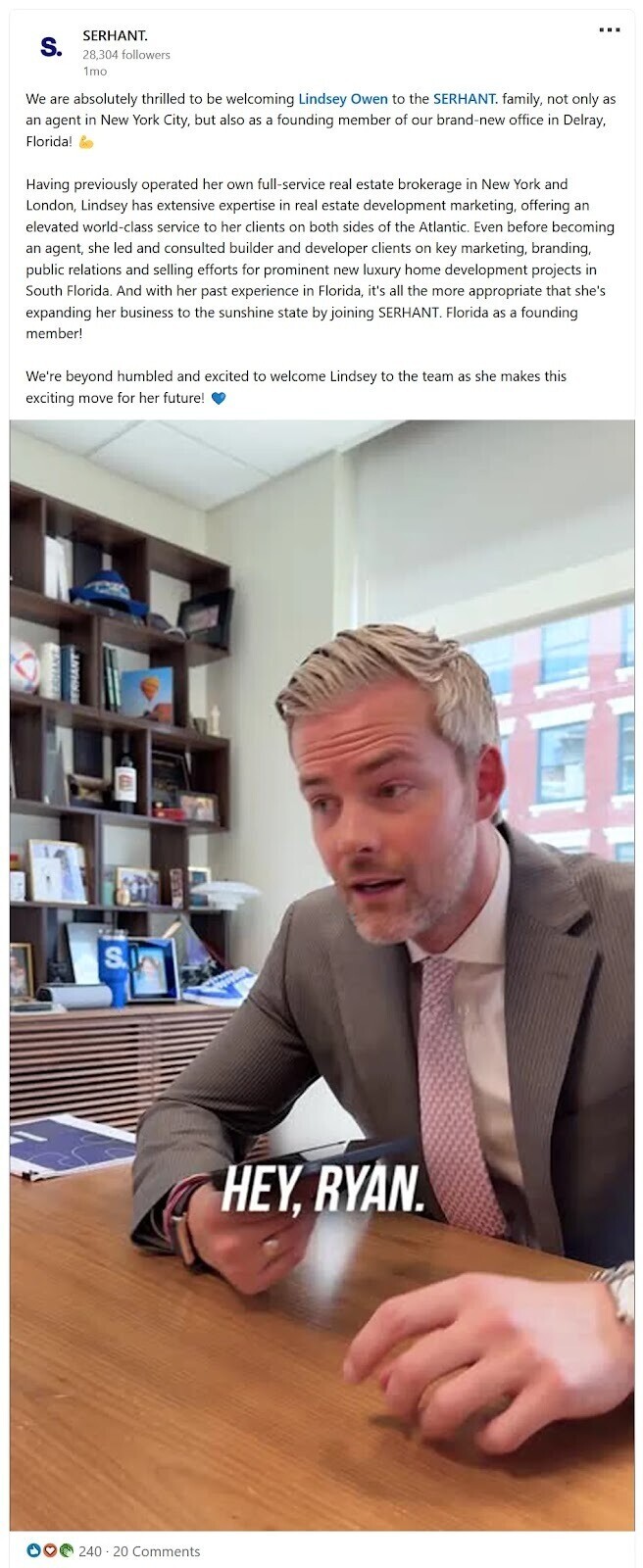 This introduction helps people get to know the employee and also builds immediate trust in her expertise.
15. Host Contests and Giveaways
People love freebies. This is why a giveaway can grab their attention and encourage participation. 
Contests and giveaways prompt users to interact with your real estate social media content by tagging friends, leaving comments, and liking your posts. All of which boost engagement.
But it's not just about the prizes. 
Use this opportunity to showcase your local expertise by partnering with local businesses or offering prizes related to your area.
Here's an example of a giveaway post done well.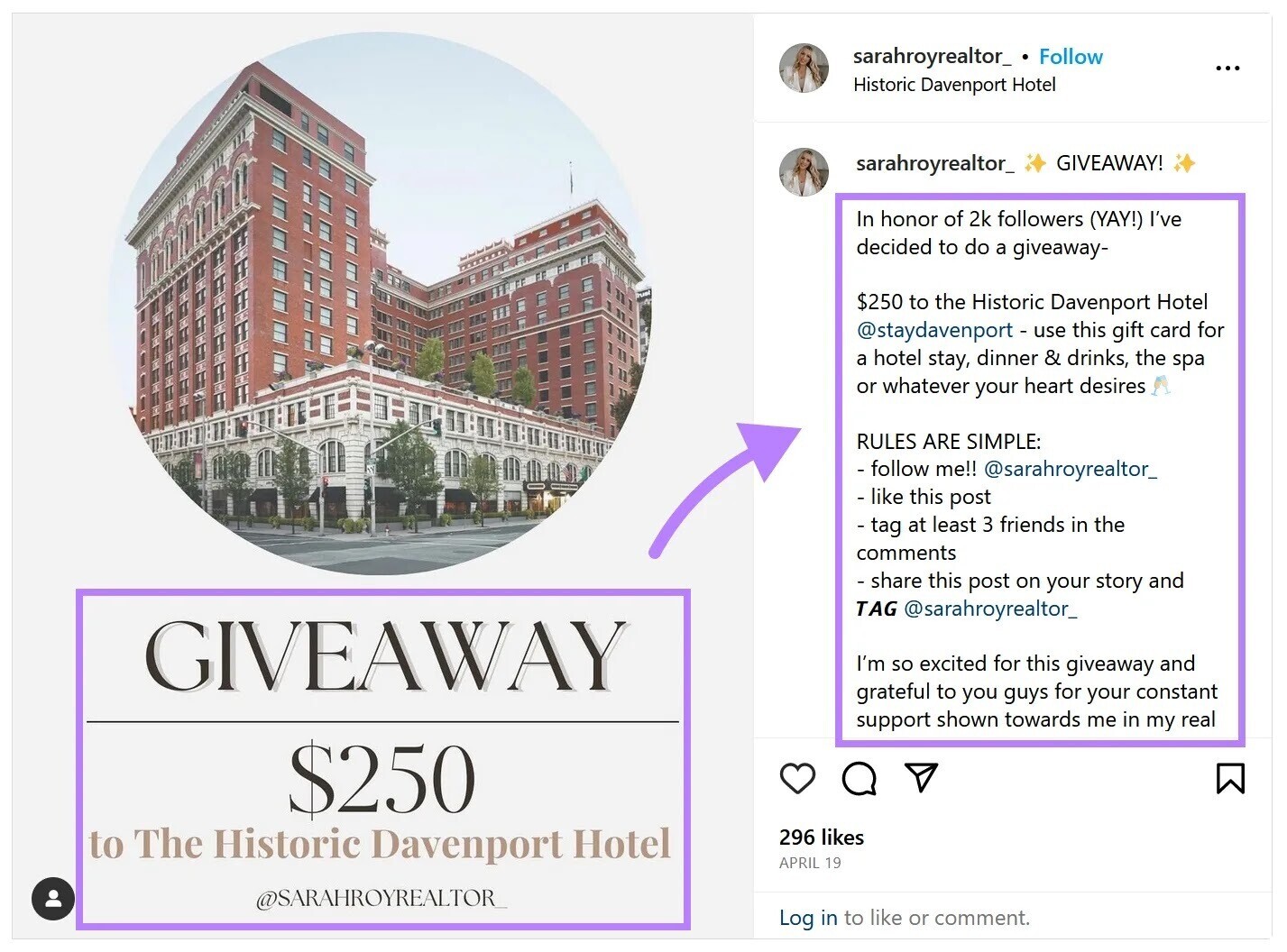 The contest has clear and simple rules, making it easy for people to participate. It also offers a prize from a local establishment, showing a connection to the community.
16. Host a Live Virtual Open House
Hosting a live open house lets you showcase properties in real time and connect directly with your audience. 
It's like inviting people into the property from the comfort of their own screens. And it creates a personal and engaging experience.
Take a look at this strong example that advertises an upcoming live virtual open house.
The social post includes the details of the open house. It also shares a list of features that provides a quick and clear overview of what viewers can expect to see during the live tour. This helps viewers decide if it's worth tuning in. 
Announce the date and time of your live open house in advance. This will allow potential attendees to plan ahead and result in a higher turnout. 
Then, before going live, check your internet connection, camera, and microphone for a smooth, uninterrupted experience.
To boost engagement, respond to comments in real time. 
You can continue to get hits from the event by saving the video and sharing it on your social media platforms. This will extend reach and allow those who missed it to catch up.
17. Create Relatable and Original Memes
Using different social media content types, like memes, helps prevent your content from getting stale. Plus, it'll help catch people's attention and make them smile, helping you stand out in their feeds and connect with them on a personal level.
Create memes that connect with your audience's experiences, challenges, or aspirations. This way you're able to create a shared connection. 
Here's an example of a real estate meme.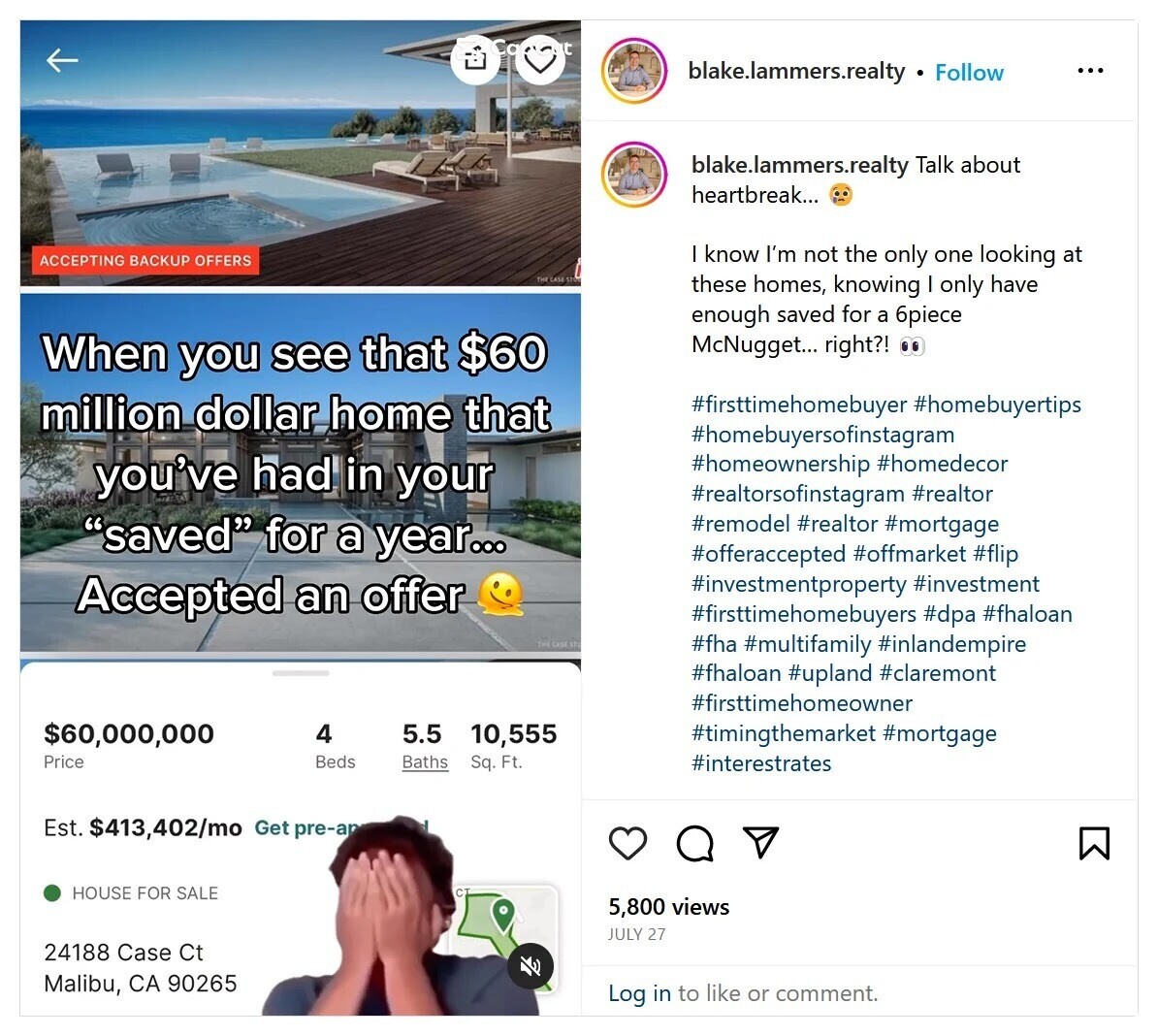 It combines a widely recognized meme format (Pedro Pascal laughing, then crying) with a relatable message.
18. Make Reels
Another way to add an entertaining touch to your posts is by creating Instagram Reels. These are short, engaging videos that quickly capture your audience's attention. 
When you create content that resonates with your viewers, you make them stop scrolling and watch. You also showcase your personality and humanize your brand.
Take a look at the below example. It uses humor to highlight a relatable situation in the real estate world.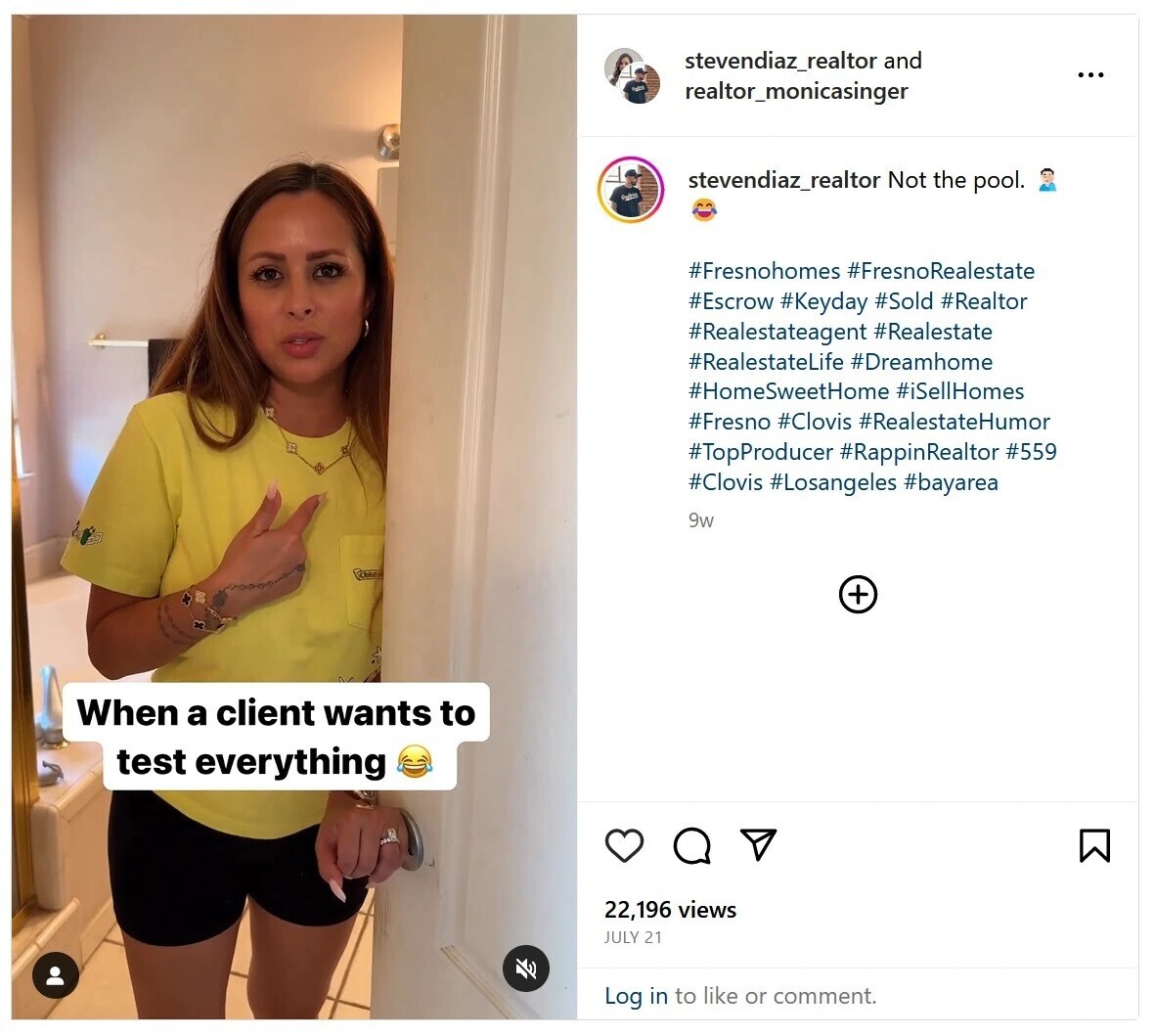 19. Create "Day in the Life of a Realtor" Videos
Sharing "day in the life" videos allows potential and new clients to see the real you. It personalizes your brand by going beyond the professional facade. 
When people feel they know you better, it makes it easier for them to trust you.
Show what you do behind the scenes, such as property visits, client meetings, and even moments of downtime. 
Here's a stellar example that takes a playful approach. Instead of just posting polished listings, it offers a glimpse into the relatable life of realtors.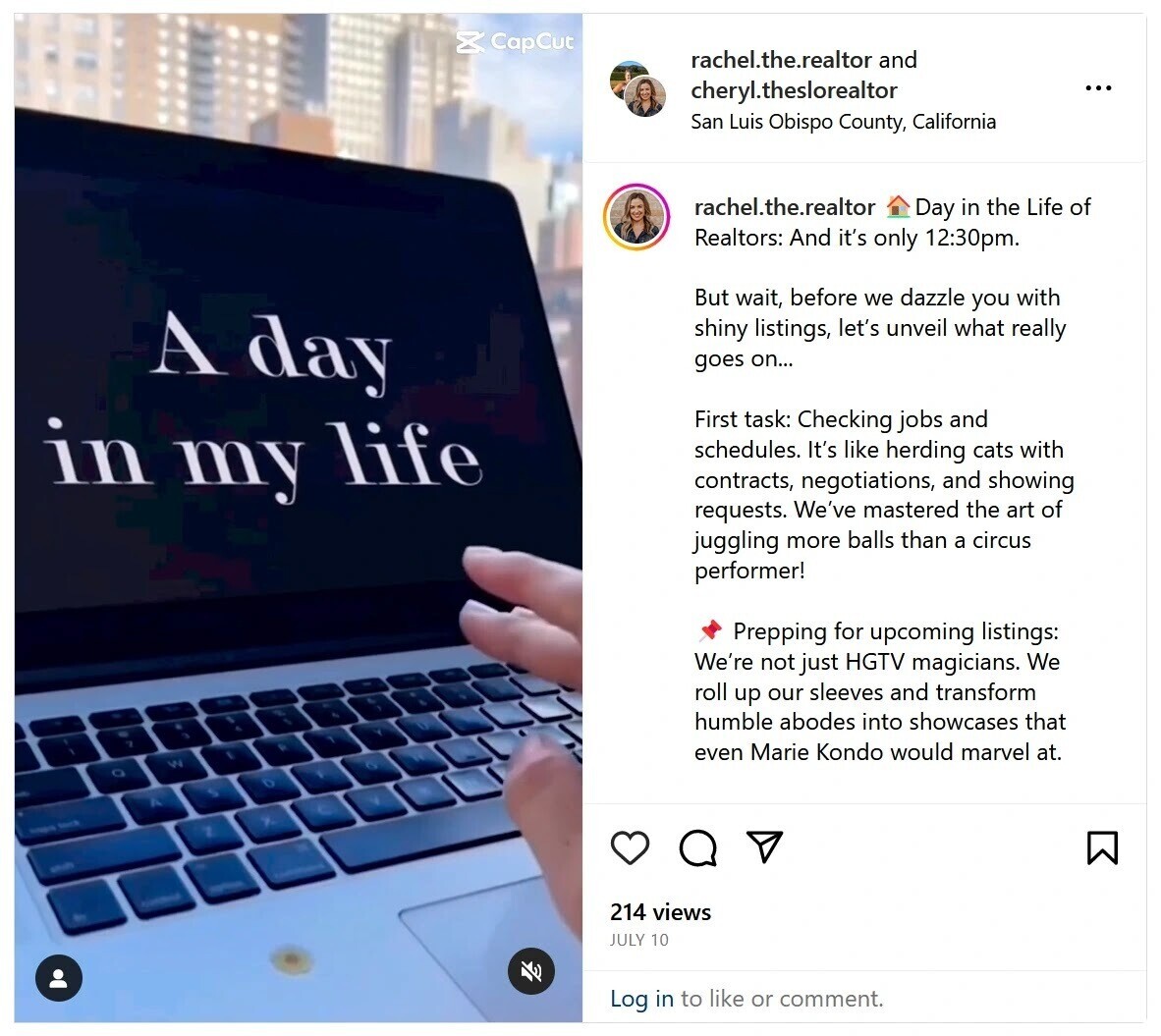 It shows a quick glimpse into the many tasks that go into preparing to list a home.
20. Show Before/After Property Pictures
Visual comparisons of the property "before and after" grab attention and provide concrete proof of the value you bring to clients. 
This type of real estate social media content will showcase how properties have changed under your guidance, from their initial condition to their improved state. 
For example, the post below shows an overly crowded space transformed into a light-filled spacious room that's ready to impress at an open house.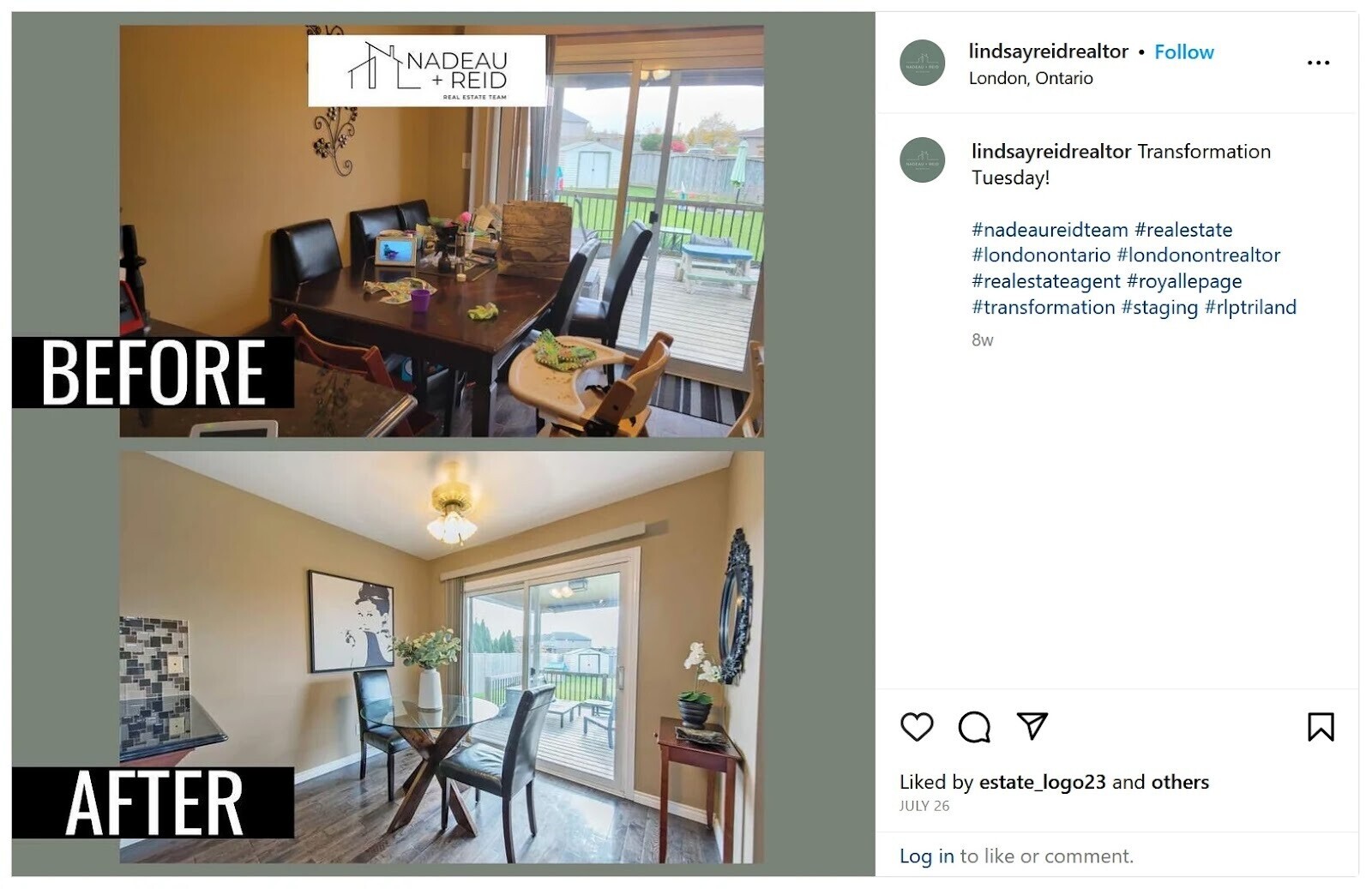 21. Create "Just Sold" Posts 
Include posts showcasing properties you've recently sold. These types of posts will highlight your successful transactions and build credibility. 
But it's not just about bragging—it's about proving to future clients you can deliver results.
Here's an example of a "just sold" post that's interesting and informative. It highlights the realtor's negotiation skills and market expertise.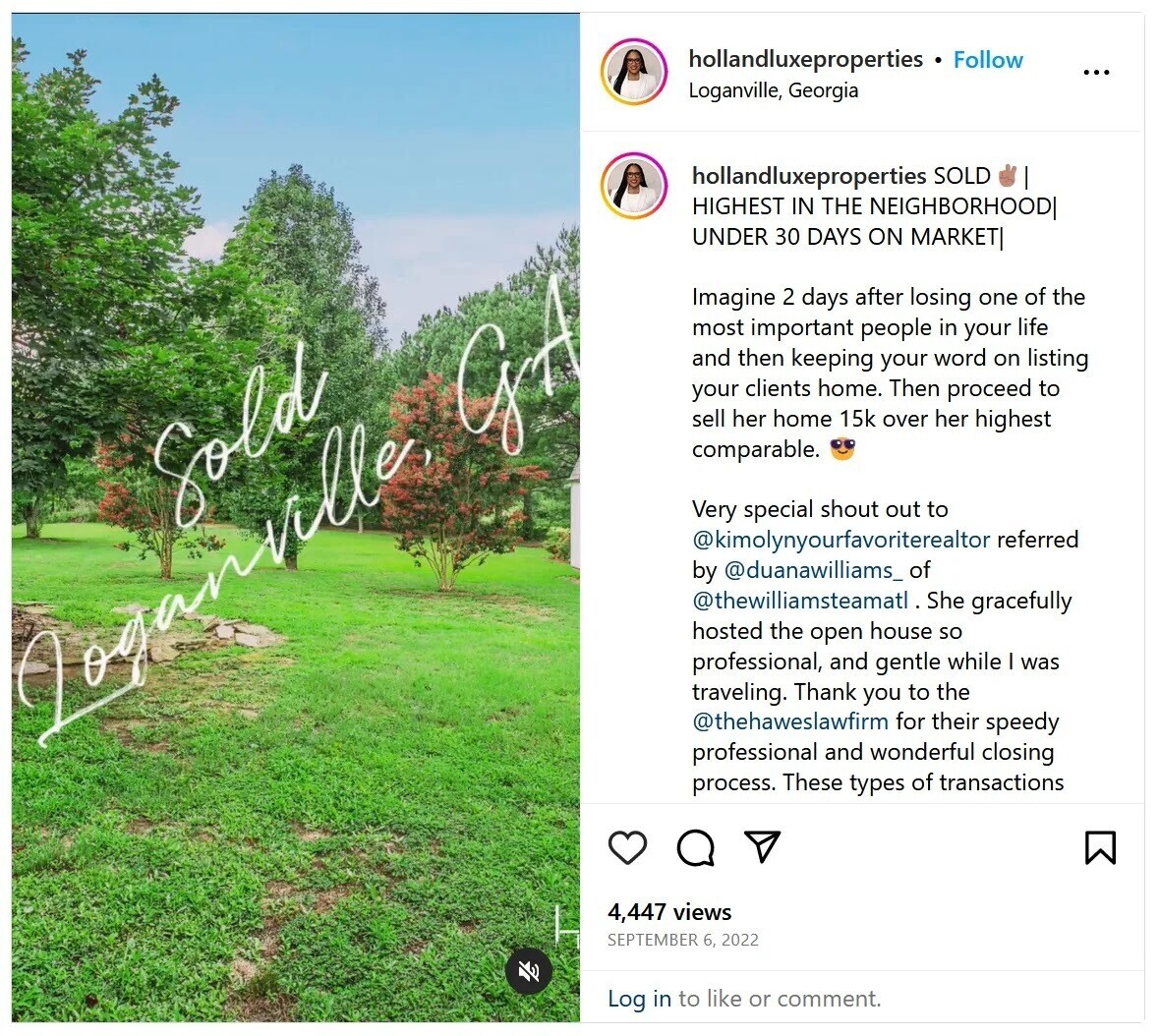 22. Ask a Question 
Posing a question in a post encourages engagement. Invite your audience to share their thoughts, experiences, and opinions in the comments.
Such posts also help you understand your audience better so you can tailor your future content to their interests and needs. 
Look at the post below. The "which home buyer are you?" quiz is a friendly and approachable way to connect with followers, get to know them, and spark meaningful conversations.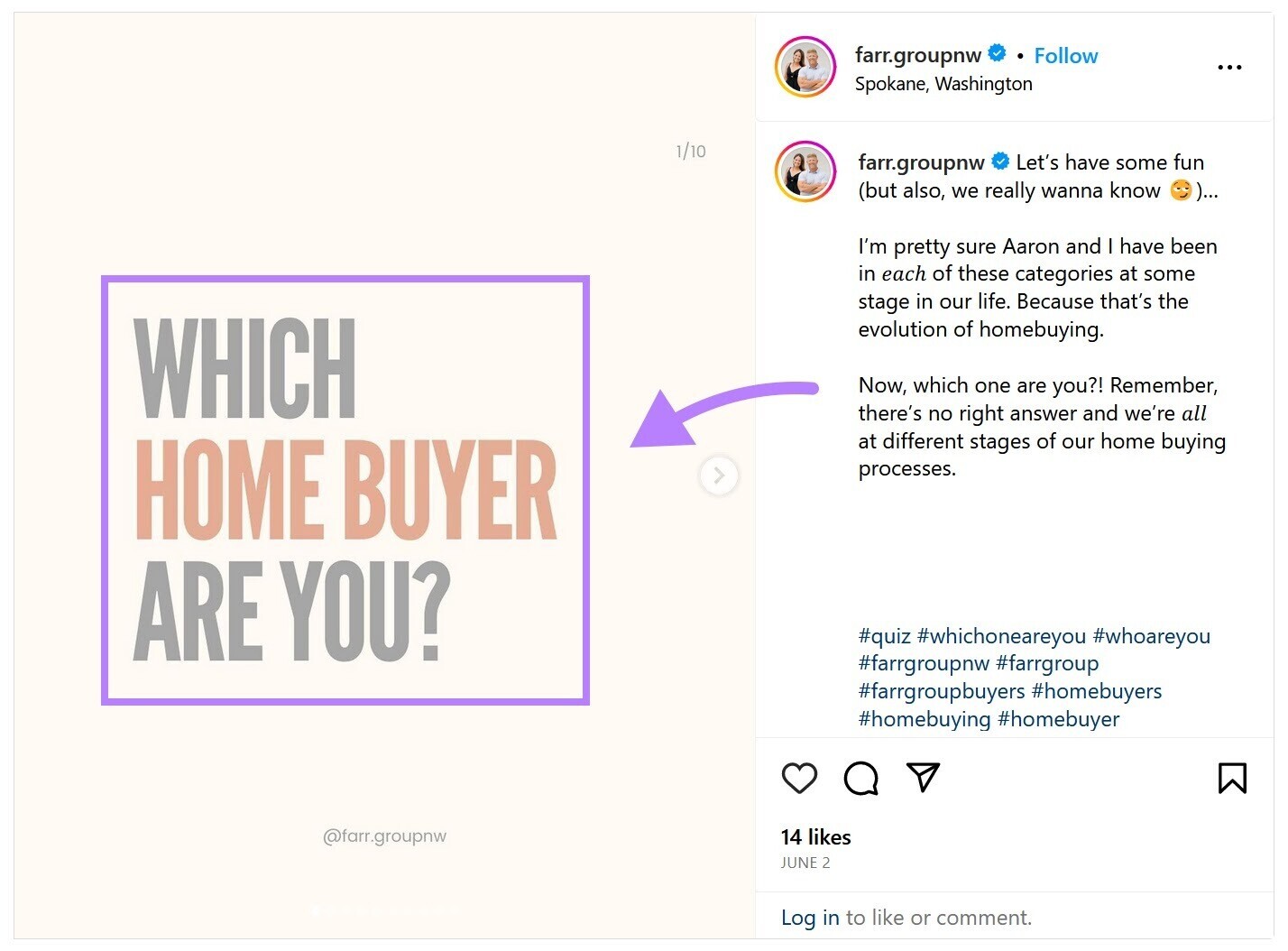 Pro tip: You can use Semrush Social Media Inbox to review and reply to comments and messages received across Facebook, Instagram, and LinkedIn.
23. Jump on Trends
Integrate currently popular hashtags, challenges, or viral topics into your posts. Jumping on trends keeps you up-to-date and relatable. 
Plus, it can get your posts in front of more eyes. People searching or engaging with trending topics might come across your posts, expanding your social media visibility.
Here's an example of a real estate post that taps into the Barbie trend. It's a clever way to draw attention to your post and spark conversations with a trending, timely topic.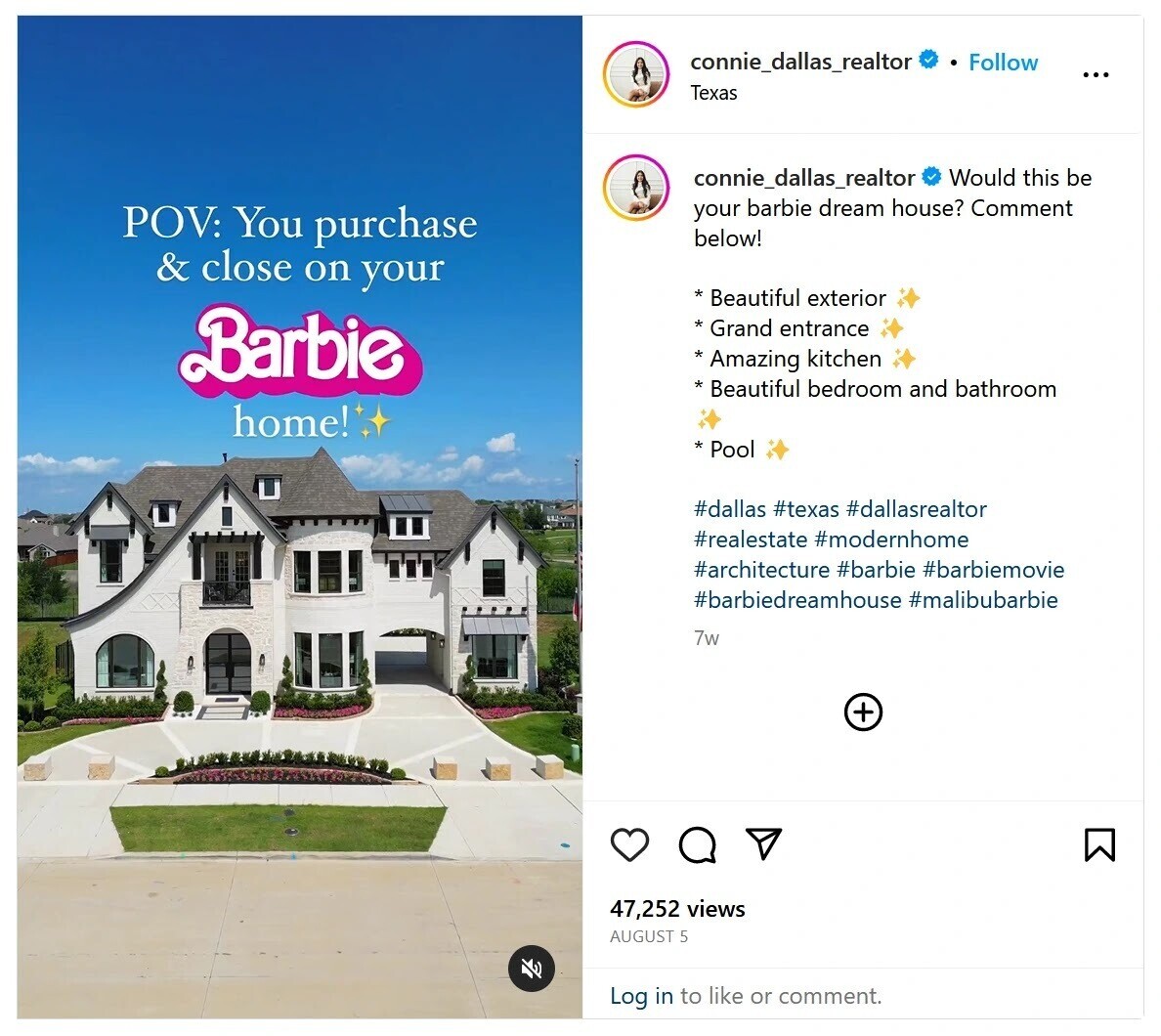 24. Play "Guess the Rent"
"Guess the rent" posts present visuals of a property and challenge the audience to guess how much the rent might be. 
It's a lighthearted way to spark interaction and discussions among your audience. People enjoy participating and comparing their guesses with others. 
Plus, it's an excellent opportunity to showcase a property and its features.
Here's an example of such a post. The realtor shows the penthouse's attractive features and hints about the starting rates for different units. Then, they encourage their followers to share their guess in comments. 
Post about local events, charity work, or community projects to show your genuine commitment to the areas you serve. 
Sharing your community work shows you care about making a positive difference. These types of posts can also inspire others to join in, creating a sense of togetherness and goodwill.
The following example successfully demonstrates the real estate company's commitment to the community.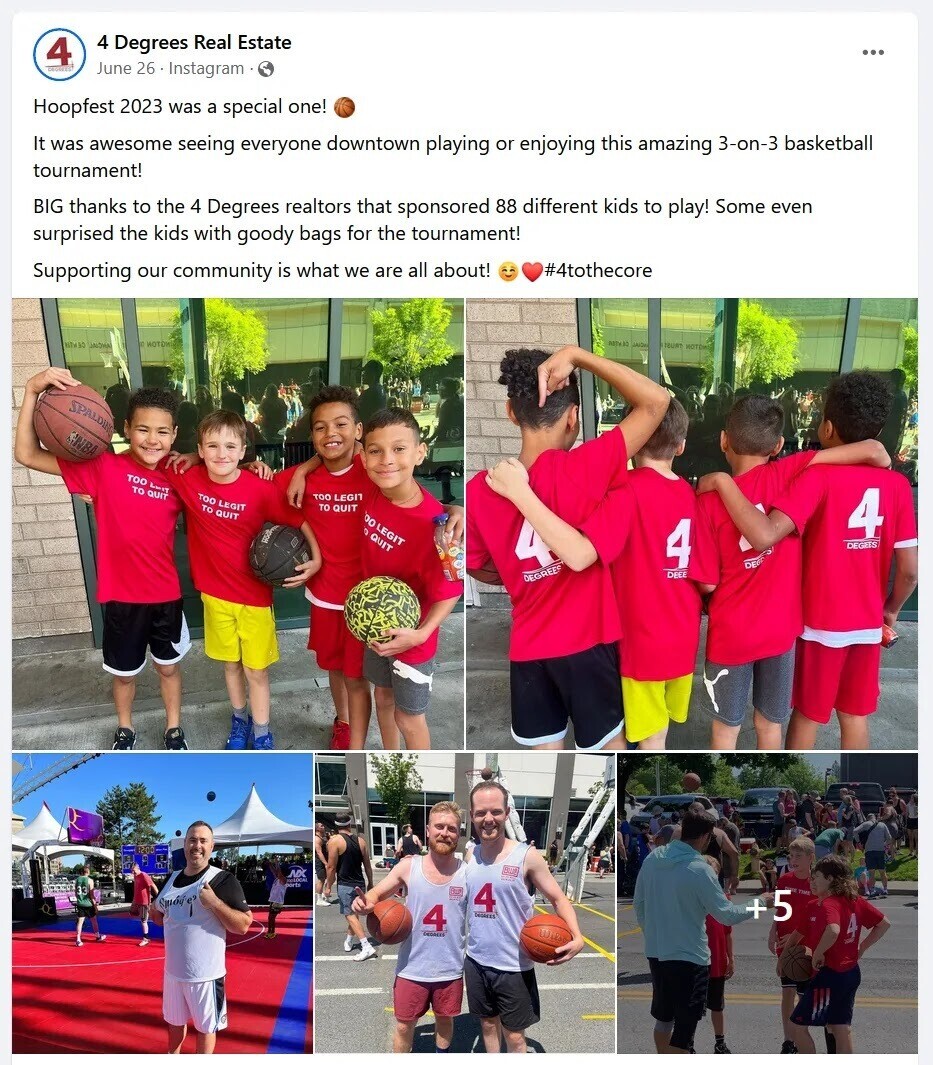 The heartwarming post features pictures of the realtors participating in a local charity event. It resonates with followers who appreciate businesses that care about their neighborhoods.
FAQs
What Is the Most Popular Social Media for Real Estate Agents?
The top three social media channels used in real estate are Facebook, Instagram, and LinkedIn.
Most homebuyers are older millennials or GenXers, so you want to show up on the platforms these demographics use most.  
According to a report, 89% of realtors use Facebook for their real estate business followed by Instagram (59%).
How Often Should You Post on Social Media for Real Estate?
While there is no one-size-fits-all answer, it's important to find a balance between staying active and avoiding overwhelming your audience. 
It's better to have two to three posts a week that resonate than to flood your followers' feeds with content that might be overlooked. The bottom line: aim for quality and consistency. 
How Do You Introduce Yourself as a New Realtor on Social Media?
Before you post anything, it's important to make your role and purpose clear. Create a bio for all of your social media accounts that outlines who you are and how you can help followers. 
Be sure to list your experience, the brokerage you work for, and where you're located. 
Once you've established yourself, post content that shows off your expertise. Use any of the real estate social media post ideas above to get started. 
As you can see from these 25 simple yet effective content ideas for real estate brokers, social media marketing doesn't require a hefty budget or a large team. All you need is creativity and consistency to connect with your audience in meaningful ways. 
These real estate social media content ideas, coupled with an efficient social media management tool, can help you boost your social media presence, engage your audience, and increase leads. 
The good news is that the Semrush Social Media Toolkit has a suite of tools that helps you schedule posts, consolidate mentions and messages, analyze performance, and much more.